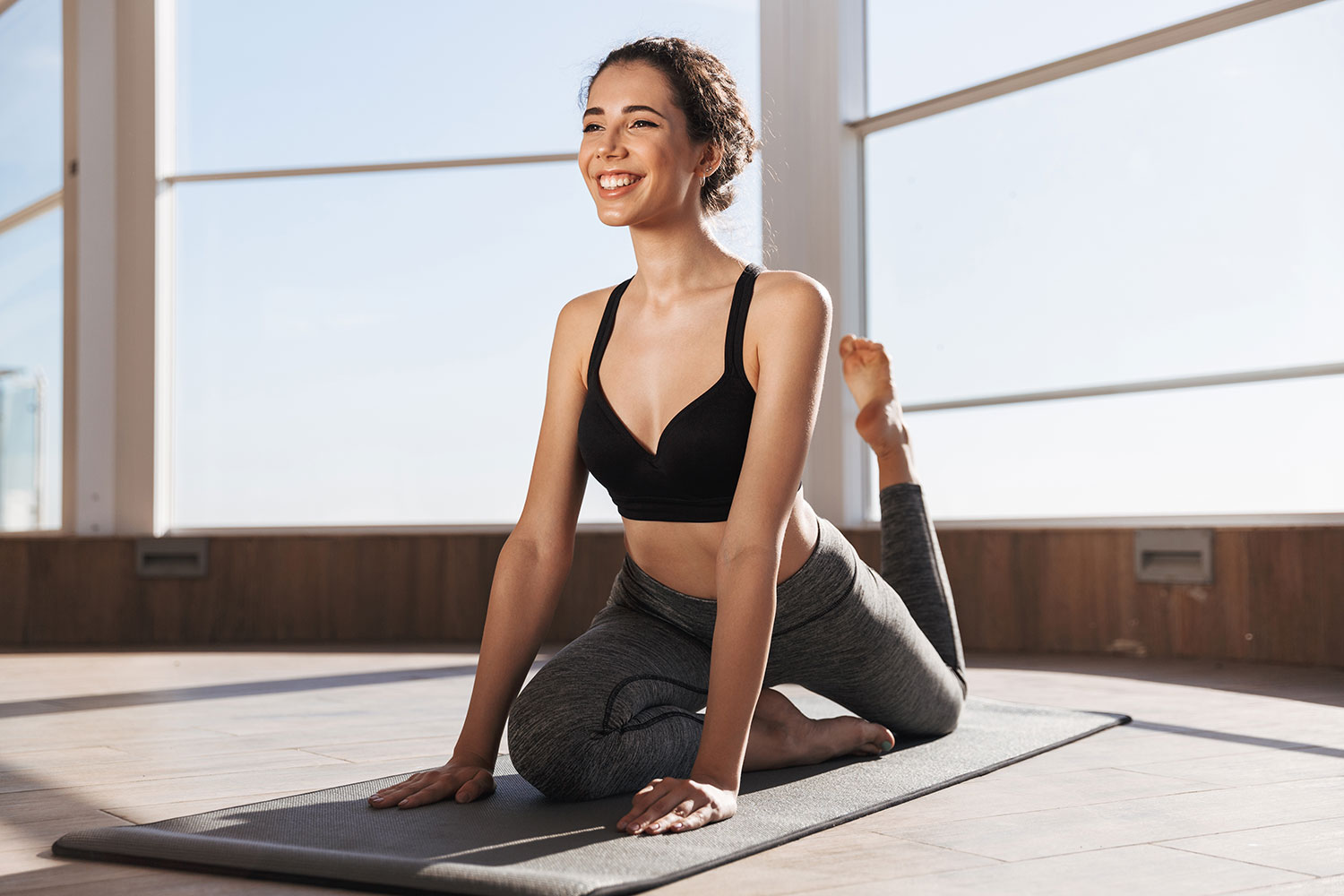 Sick, stuck, sad, scared. Millions of Americans suffer from depression and anxiety, and nearly everyone knows someone who is struggling with the day-to-day. Depression and anxiety can feel inescapable and impossible to overcome at times. Even the small daily tasks of life can be painful and it can feel like a never-ending cycle.
Everyone's experience is different, but I'd like to share with you how yoga helped me return to my true self. I had always loved yoga. I began taking classes at my local gym when I was in high school, then more serious classes in college. I dipped in and out of yoga studios. Nothing too regular, but I enjoyed it and never questioned its power as a healing wellness practice. Once I became a health care practitioner, I often recommended yoga to my clients and patients as part of their integrative wellness plans.
When my depression began to creep in more steadily after some relationship and financial failures, I gave up my yoga practice. I was taking care of others in my holistic health practice, but couldn't bare the thought of putting any energy into my own health. My office was even attached to a yoga studio where I could take classes anytime I wanted. But under the cloud and weight of my depression, I couldn't be bothered to step in. In my cloudy state, I didn't feel I belonged.
Time went on and eventually anxiety started to develop as well. My heart would race at the thought of human interaction, but I pressed on and functioned through my days. For weeks I would lay in bed at night with racing thoughts, tight chest, and a knot in my stomach. I started to see myself as I saw my own clients. What would I tell them? Among other things, I would tell them to go to yoga.
And so I slowly got back into the habit. It took dedication and trust that this was going to make the difference. Some days the last thing I wanted to do was get on my mat. Sometimes I forced myself, working up the energy to just do it. Other times I didn't. It wasn't a miracle fix, but yoga was responsible for the initial shift that helped me fully find my way out of depression and anxiety. Here's how.
The Benefits of a Yoga Practice
Yoga is often touted as a wholesome fitness practice with a great potential for relaxing the mind and body. We know that it can help to improve flexibility, strength, and stamina. We know we feel relaxed after a great class. But the real benefits of yoga go much deeper.
For me, yoga brought me back to myself. It connected me to my body and renewed my sense of responsibility for taking care of it. It gave me a purpose, a goal, and in some ways, a distraction. Yoga provided a positive outlet for the homeless energy running around my head.
On a more scientific level, yoga can help to reduce the stress responses and regulate hormone balance. This in turn improves mood and promotes a healthy neurological system. Yoga circulates blood and body fluids to make sure every cell is getting the nutrition it deserves. It relieves pain, smooths energy, and stimulates focused attention.
Yoga Helped Me Find Strength
A strong body is a strong mind. Finding the power in your physical form can also help you shape your emotions and how you feel about yourself. Consider the psychology studies done to understand how body language changes the way we feel. Researchers found that taking on certain poses can actually change your brain chemistry. Stand in a pose of power or victory and you will actually feel more powerful. Consider, then, the beauty of practicing poses like Mountain, Warrior, Triangle, Star, and many others. A daily practice of these powerful poses will change your brain chemistry and you will begin to naturally feel more open, engaged, and strong.
Yoga Helped Me Stretch Away the Blues
Movement is medicine. In fact, lack of movement is linked to depression and other mood disorders. While I had always been an active person, the few years surrounding my depression I was definitely spending less time sweating with exercise and more time sweating the small stuff. Work was busier (a good thing) but I became glued to my computer, desk chair, or the next door coffee shop. I was exhausted from work and had no energy to devote to exercise.
After being inspired to get back into my yoga practice, I ditched the late nights on the couch and spent more time on my mat and on daily walks. These sessions worked immediately to improve my mood and built up over time. Soon I could feel when I hadn't stretched in too long and I knew it was time to act proactively to rescue my mind.
When you stretch your body, you stretch your mind. Your flexibility increases holistically, you learn to be adaptable. Even though my depression kept me off the mat a good portion of the time (half the battle is starting), once I was there I always found some peace. No matter how much I didn't want to spend the energy to practice yoga, I never regretted a session. Once I realized this pattern, I skipped out on my daily yoga less and less and my mood became more and more balanced.
Yoga Helped Me Focus
The time I spent in classes or practicing on my own became my favorite part of the day. I was more cheerful, eagerly interacted with others, and generally felt lighter. It was like life felt more on cruise control after my yoga became more regular. I began to respond, rather than react.
Later, I realized this was because I was focused – and not just focused, but focused on the right things. We meditated on gratitude, connection, inner strength, compassion, and purpose. I was spending more time shifting my thoughts from what was wrong with me and the world at large to what was good. This realization marked a huge transition in my recovery from depression and anxiety. Once I realized that my mood and outlook was improving (and my late nights of worry were diminishing) with my yoga practice, I knew I had to multiply this effect for true change. I began shifting my focus to the good more easily in day-to-day life as well. I did everything with more intention, and I felt empowered.
Yoga Helped Me Conquer My Mind
I felt helpless in trying to control my mind and thoughts when I was working through my depression. I had no power, and my thoughts would overpower any attempt I made at positive thinking or  meditation. When I returned to yoga, I was able to slowly take back my power. There's something about applying intentional movement to mindfulness that worked well for me.
After I began to take back control of my mind, I was able to use the techniques I used in yoga off the mat and in my day to day world. I no longer felt my heart pound going into work or sitting down with a new client. I had learned to conquer my restless mind. Simple breathing techniques that we did in class such as Alternate Nostril Breathing and the 4-7-8 Breathing Exercise were easy to do in the office, at the store, in bed, on the train – you name it. Simple brain hacks like this and my increased focus completely changed how I approached my day. I had a secret weapon.
Yoga Helped Me Gain Confidence
In my experience with depression, I struggled deeply with self-confidence. I didn't feel capable in many ways – both physically, mentally, and in my career and relationships. For years I struggled with body image and other areas of confidence. I loved yoga for the fact that it truly is a personal practice. Sure, it's easy to compare yourself to others, but once I started to see changes in myself, my confidence skyrocketed. Seeing progress in my asanas, strength in arms and legs, and feeling healthier and more energized throughout the day helped me to overcome the silly things in my head that had caused me so much pain. I began to realize how much better I could be for myself, my clients, and my friends and family if I was confident and happy with who I was.
Will Yoga Help You Rise Above Your Depression and Anxiety?
Each person's struggle with depression and anxiety is different, we are all walking our own paths. Some journeys will involve yoga or meditation, some may require counseling or medications. Some people will conquer their issues slowly while some may break free in a whirlwind. I hope that wherever your journey takes you, you find peace and empowerment in the ways that suit you best.
While yoga may not be the answer (or part of the answer) for everyone, I encourage you to give it a try. There are so many health and mental benefits from practicing yoga that it would be rare for someone to not benefit from a practice in some way. Find a style that suits you, or a teacher that really speaks to your heart. Engaging in a wellness-minded community will help to relieve some of the loneliness so common in the experience of depression and anxiety.
Remember to take it day-by-day. Release any judgements or feelings of inadequacy. Your practice is yours and yours alone. Honor your body and all of its accomplishments and its challenges. Celebrate the small victories that a yoga practice provides. Open up to your happier, healthier self. Namaste.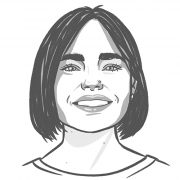 Jacqueline Roberts
Paving the way for yogic living in Nebraska, Jacqueline Roberts is adored by her students as a constant source of support and inspiration. A knack for writing allows her to share what she has learned with the world.