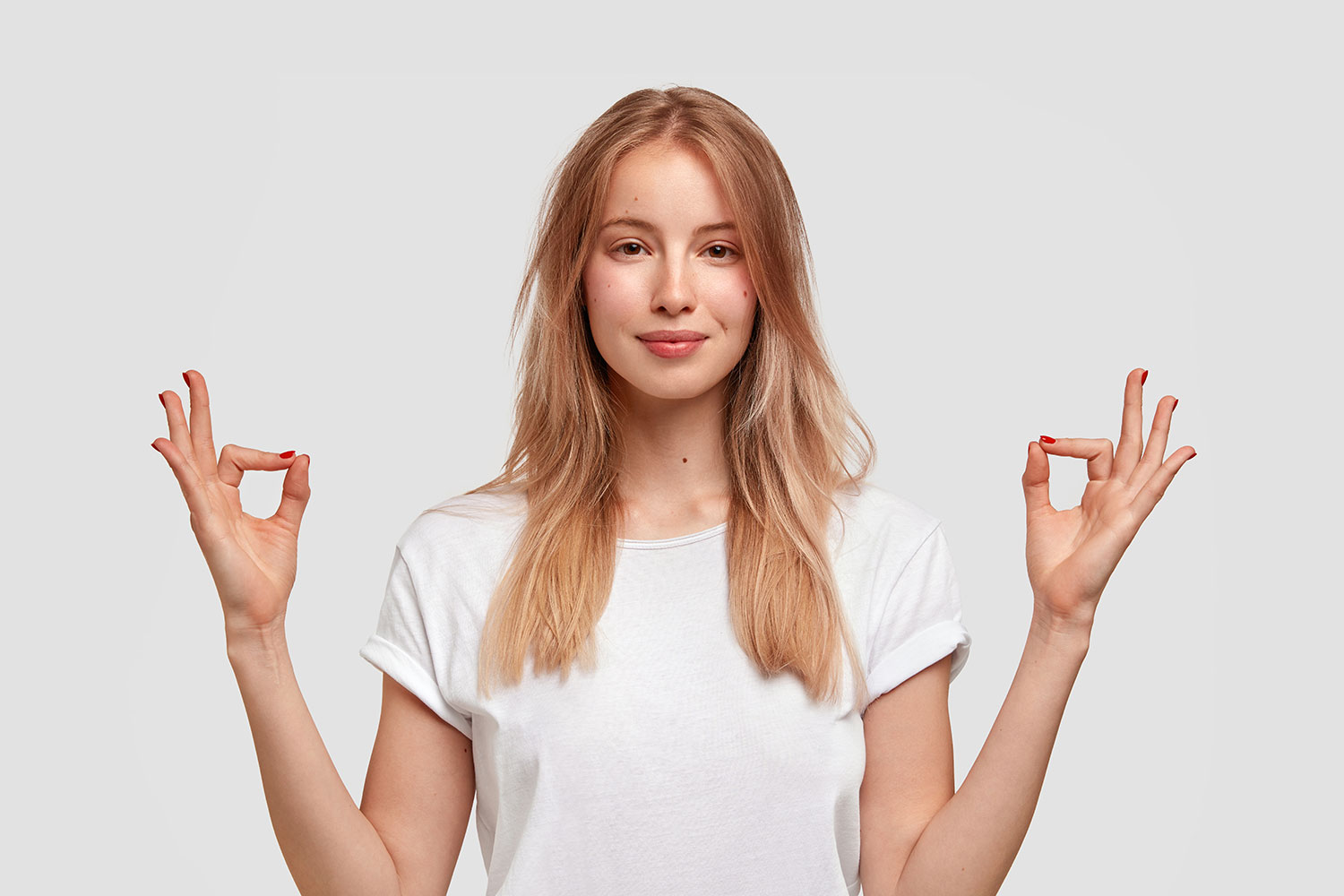 Most modern yoga practices do not put any attention on traditional hand mudras, or hand gestures. But these are also important parts of a yoga practice because they are believed to help focus and direct energies and intentions for your practice and even help with manifestation and connecting with your higher self. If you would like to explore the use of hand mudras in your yoga asana and meditation practice, here are a few common ones to start with and a few of the traditional beliefs associated with them.
What are Hand Mudras
Hand Mudras are specific ways to position the hands and fingers during your yoga practice to bring about certain intentions and energies into your being. Some hand mudras are symmetrical, meaning both left and right hands are in the same position, while others can be asymmetrical. Some may be practiced during various asana, or yoga poses, while some are practiced while in seated meditation.
According to Deepak Chopra, a leading meditation and yoga speaker based in the US, there are over 100 mudras that have been documented by vedic sages and all of them help to channel specific energy flows through the body. It is although thought that each finger helps to regulate the flow of a certain element through the body to create balance and harmony.
Hasta Mudras and the Five Elements
Many traditional yogic texts speak of five elements which flow through the body. These are earth, fire, water, air, and space. By using specific hand mudras, these elements and energies are awakened.
Hasta, means hand in Sanskrit, so when referring to these intention-filled hand gestures, many articles and texts will call them Hasta Mudras. Here are the five elements in the body, and the whole universe, as they correspond to each finger.
1. Thumb – fire element
2. Index finger – air element
3. Middle finger – element of space (also called ether)
4. Ring finger – earth element
5. Pinky or little finger – water element
In addition, it is believed that the left side of the body is where the river of divine feminine energy flows, and the right side of the body is where the river or the divine masculine energy flows.
Why Should I Start Using Hand Mudras in My Practice?
If you already have a regular yoga asana or meditation practice, you may already be using hasta mudras within your practice without even realizing it. Hundreds of different mudras were not only recorded by yogic sages over many centuries, but there is also evidence that other ancient cultures and spiritual practices had their own form of hand gestures. From ancient Egypt to Chinese Taoism, hasta mudras are believed to balance, heal, and set sacred space for your practice and through your body for a more holistic body and spirit approach to life.
Scientifically, studies have already shown that free electrons move through the body, especially through the fingertips, so squeezing them helps to create a seal, (the word "mudra" in Sanskrit directly translates as "sealing in the energy") which help to energize or relax you.
Common Hand Mudras and When to Use Them
Here are some common hand mudras that you may already be incorporating in your yoga asana and meditation practice and how you can direct them to set intention, manifestation, and flow.
Namaskara / Anjali Mudra
Even those who do not have a regular yoga practice may be familiar with this hand mudra. Namaskara, or Anjali Mudra, is practiced by bringing the palms together in front of the heart and bowing the third eye (the space between the eyebrows) slightly down towards the fingertips. You may also bring your elbows in line with each other, forming a straight line across the front of your body from elbow to elbow. Relax your shoulders and simply allow the relaxed pressure of your palms pushing against each other to keep the mudra in place.
Not only is this a gesture of prayer in many religions and spiritual practices, it is also a greeting and an offering of adoration and devotion. Many yoga teachers will start and end their yoga class with this mudra and also say the word, "Namaste," which is mostly translated as, "the light in me sees the light in you."
Gyana Mudra
The Gyana Mudra is also a commonly used hasta mudra. It is practiced by forming a ring with the thumb and index finger, with the tips slightly pressing against each other to create gentle pressure. The remaining three fingers are left open and relaxed. Also known as the mudra of knowledge, the Gyana Mudra is said to help with the absorption of wisdom and allows you to connect to and speak to and from your highest self.
This mudra is both stimulating for the red or root chakra, which helps with grounding, but also helps to empower the mind — the violet or crown chakra — so using the gyana mudra in your practice helps to connect to the universal flow of the universe.
Dhyana Mudra
The Dhyana Mudra, also known as samadhi mudra, is practiced while in seated meditation. It is said that this hand mudra represents complete balance and the person who practices it while in meditation will be able to embody and be immersed in limitless space. To practice this hand gesture, place the left hand with palm facing up in your lap and place the right hand into the left palm, facing up as well. Let the tips of the thumbs touch, forming a slight cup or basket shape with both hands.
Both yogic and Buddhist traditions practice this hand mudra. It is said the the joining of the two thumbs represents the union of the feminine and masculine energies present in all beings.
Kali Mudra
While many mudras are practiced while meditating, some mudras, like Kali Mudra, can help to focus energy during asana. To practice Kali Mudra, bring both palms together and interlace your fingers. Release your and index fingers to create a point. This mudra is said to represent the sword of the goddess Kali — the destroyer of time — and helps to channel her energy into your asana practice.
This mudra is one of empowerment and helps to destroy negative thoughts and emotions. The swords shape create by this hand mudra helps to slay illusions to cultivate courage and step into your inner power and strength.
Ganesha Mudra
Another mudra named after a deity from Vedic and Hindu mythology is the Ganesha Mudra. Ganesh is one of the most well-known and favourite among the gods. With his elephant head and love for sweets, he is also known as the remover of obstacles and brings good fortune, especially to children. To practice the Ganesha Mudra, first place both hands in Anjali or Namaskara Mudra in front of your chest. Swivel your hands so that your right palm faces towards your and your left palm faces outwards. Bend your fingers so that they lock together without interlacing them. For balance, after a few breaths on this side, repeat the mudra with the palms switched.
The connection of the left and right side of the body through the hands in this Ganesha Mudra represents power and strength in both the energetic and physical heart. It is a reminder that most obstacles in life often come from within rather than from external forces so it is up to us to remove our own obstacles — with aid from Ganesha if requested.
Padma Mudra
Padma is the Sanskrit word for the lotus flower. A lotus is a very auspicious symbol in yoga. The actual flower thrives and blooms even in muddy waters, which is a reminder for those who practice yoga that you do not need to be perfect to start and maintain a yoga practice. To practice Padma Mudra, bring your hands together in front of your chest or heart space like with Namaskara Mudra. But instead of pressing both palms completely together, only bring the heels of your hands together. Allow your pinky fingers and thumbs to touch and unfurl the rest of your fingers like a lotus flower blossoming in front of you.
This mudra helps to remind you of your own inner beauty, just like a lotus flower in muddy water. It is said to help you rise above fear, obstacles, desire, and attachments in order to inspire purity and perseverance.
Conclusion
Adding hasta mudras, or hand mudras, into your yoga practice will help to enhance your practice by connecting to subtle energies that flow through your body and everything that exists in the universe. They will help to focus attention for balance, flow, manifestation, and returning to the true, calm nature of the self.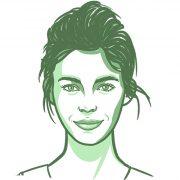 Susan Williams
Susan views the world through a lens of spirituality, health, and compassion. Her positive outlook on life shines through her writing, which is heavily focused on yogic living, meditation, and conscious eating.