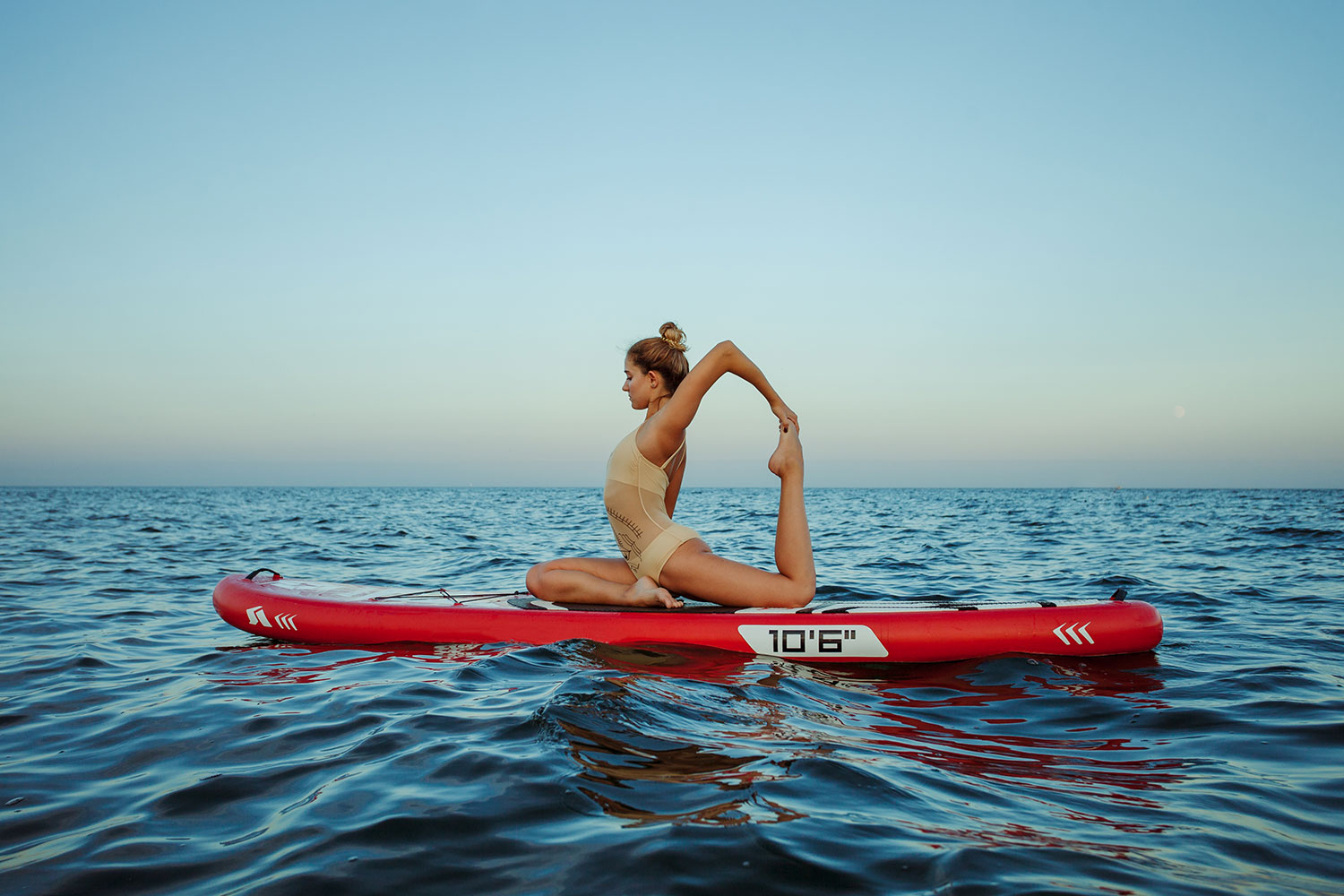 Stand Up Paddleboard Yoga (also known as SUP Yoga) is a fitness trend that has garnered a lot of attention over the past few years. This modern take on yoga brings traditional asanas out on water, allowing yogis to test their balance and challenge their practice while connecting with nature. It is practiced on a large board that looks similar to a surfboard. The thick, buoyant board is typically around 10 to 11 feet long and 2.5 to 3 feet wide, giving practitioners ample space for their practice.
Stand up paddleboarding on its own is an excellent full body workout. By merging it with yoga, practitioners of a more traditional yoga routine are able to go deeper into both their physical and mental practice.
Benefits of Paddleboard Yoga
Proper alignment is essential in SUP Yoga. Incorrectly distributed weight or a foot in the wrong position could be the reason you find yourself tumbling off your board and into the water. While falling into the water isn't the worst thing that can happen, the higher stakes will force you to take a good look at your posture to ensure you are properly aligned. This attention to alignment will serve you well when you return to your mat on solid ground.
Find Your Balance
When you are doing stand up paddleboarding on its own, good balance is key for a successful session. In SUP Yoga, balance is taken to a whole new level. By practicing yoga on a board that is sensitive to your every movement—as well as any natural movement in the water—you'll find a new exciting balance challenge that requires both mental focus and physical engagement.
Mindfulness and Focus
In a typical yoga class, it can be easy for your mind to wander, especially if you are familiar with the flow or have taken classes with a certain teacher dozens of times. Once you take your practice out on the water, you'll be so focused on a new set of challenges that you won't have the head space to think about your grocery list or what you'll be doing after class. As you are focusing on balancing and proper alignment, you'll have no choice but to be fully present on your board
Engage Your Core
You'll no longer have the steady earth to help you stay grounded, so core strength becomes much more crucial while paddleboarding. Paddleboarding itself requires consistent core engagement, so by adding yoga to the mix, you'll be giving your core a full work out. During your session, you'll find that seemingly simple poses like Mountain Pose (Tadasana) or Plank Pose (Adho Mukha Dandasana) require a lot more help from your core than you need in your normal classes.
Where to Do SUP Yoga
While many people may think SUP yoga is out of reach for them, the practice is actually very accessible. Even if you don't live by a natural body of water, many community centers offer classes at the local pool. While a pool class doesn't have the added benefit of connection with nature, you'll still be able to work on your balance and explore your practice in a new form—and you'll be a seasoned pro when you do get a chance to do SUP Yoga out in nature! Classes typically provide the paddleboards if you need one, so you won't have to worry about bringing your own.
Regardless of whether you live by the Pacific Ocean or have a pool at your local community center, check out this expansive list to see if there are any SUP Yoga classes near you. Be sure to also do an internet search in your area for the most up to date information on new studios that may be offering classes.
How to Prepare for Your First Class
Once you've picked out a class to attend, there are a few things you'll need to prepare. Since you'll likely be outside, you need to keep in mind all of the things you'll need to keep you safe and comfortable under the sun.
Be sure to bring sunglasses (particularly if you have sensitive eyes), but bring a pair you wouldn't mind losing. As you're going into inversions and backbends, you risk the possibility of them falling into the water, so leave your favorite sunglasses at home.
Protect your skin from the sun by applying sunscreen right before class. Make sure it's waterproof, in case you do end up in the water.
Finally, clothing: if you'd like, you can wear swim specific clothes, such as a rashguard and board shorts. It's best to stay clear from only wearing a swimsuit, such as a bikini or one piece. You'll want to protect your skin from getting irritated by the board, and you also want to be as comfortable as possible as you are moving throughout the poses.
While swimwear is an option, you may be able to wear the same clothing you wear to your usual yoga class. As long as it is water wicking workout gear, it is a safe option to wear during SUP yoga, so feel free to wear pants or shorts and your favorite yoga top.
Poses to Prepare for your First Class
Before you head to your first SUP Yoga class, practice these poses to work on your balance and core. This will help you get in the best shape to have a successful first practice out on the water.
Vasisthasana — Side Plank Pose
Side Plank (Vasisthasana) strengthens your core, particularly your obliques, while also challenging your balance, making it a perfect prep pose for SUP Yoga.
Instructions:
Begin in a Plank Pose, with a straight line from the back of your neck to your heels. Step your feet together behind you so that your big toes touch.
Bring your weight into your right palm, and then roll your body to the right, balancing on your right palm and outer edge of your right foot. Your left foot should be stacked on top of your right, with both feet active and flexed.
Send your left arm up, actively reaching through your fingertips. Bring awareness to your hips, and ensure that they are not dipping low. You can bring your gaze to your upper thumb, or straight ahead or to the ground if you feel unbalanced.
Continue to firm up through your arms as you lift your hips and lengthen your spine to create a diagonal line. For an added challenge, you can lift your top leg to hover above your bottom leg.
Breathe through this pose for about 30 seconds, and then release back down into plank. Repeat on the opposite side.
Vrksasana — Tree Pose
Tree Pose (Vrksasana) helps you focus your mind in as you find your balance on one standing leg.
Instructions:
Begin standing, with your arms relaxed at your sides. Bend your right knee, and place the sole of your right foot on either your ankle, calf, or inside of your thigh. Ensure that you avoid placing it on your knee.
Once your foot is in position, bring your palms together at heart center. You can keep them here, or bring your hands up above you. Your eyes can remain open with your gaze in front of you, or you can close your eyes for an added challenge.
Deeply breathe in this pose for 30 seconds to a minute, and then release your foot back down to the ground on an exhale. Repeat on the opposite side.
Navasana — Boat Pose
Boat Pose (Navasana) works deeply into the abdominal muscles, making it an excellent core strengthener.
Instructions:
Start seated with your legs out in front of you. Place your hands behind your thighs as you bend your knees, keeping your legs together and bringing your feet closer towards your glutes. Your toes should remain on the ground, but the rest of your foot should hover above your mat. Slightly lean your torso back, until you feel your core muscles engage.
Keep an elongated spine in the posture, and avoid hunching forward. If you want to take the pose further, begin by lifting one leg and then the other off the ground, creating a 'V' shape with your body. You can then let go of the backs of your legs, extending your arms out in front of you.
Ensure you are still keeping an elongated spine in this layer of the posture. Find your balance on your sits bones, and continue to breathe in this posture for about 20 to 30 seconds. Release on an exhale, grabbing hold of the back of your thighs and placing your feet on the ground.
Conclusion
Whether you are looking for a way to mix up your practice or you simply want to spend more time in nature, SUP Yoga is a great way to push your boundaries and try something new. Find some classes in your area, and see how you can deepen your practice out on the water!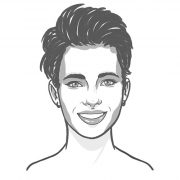 Amanda Carter
Yoga, meditation, and spirituality are at the top of the list for writer and former nutritionist Amanda Carter. This devoted practitioner enjoys writing about health and wellness just as much as she enjoys living it.