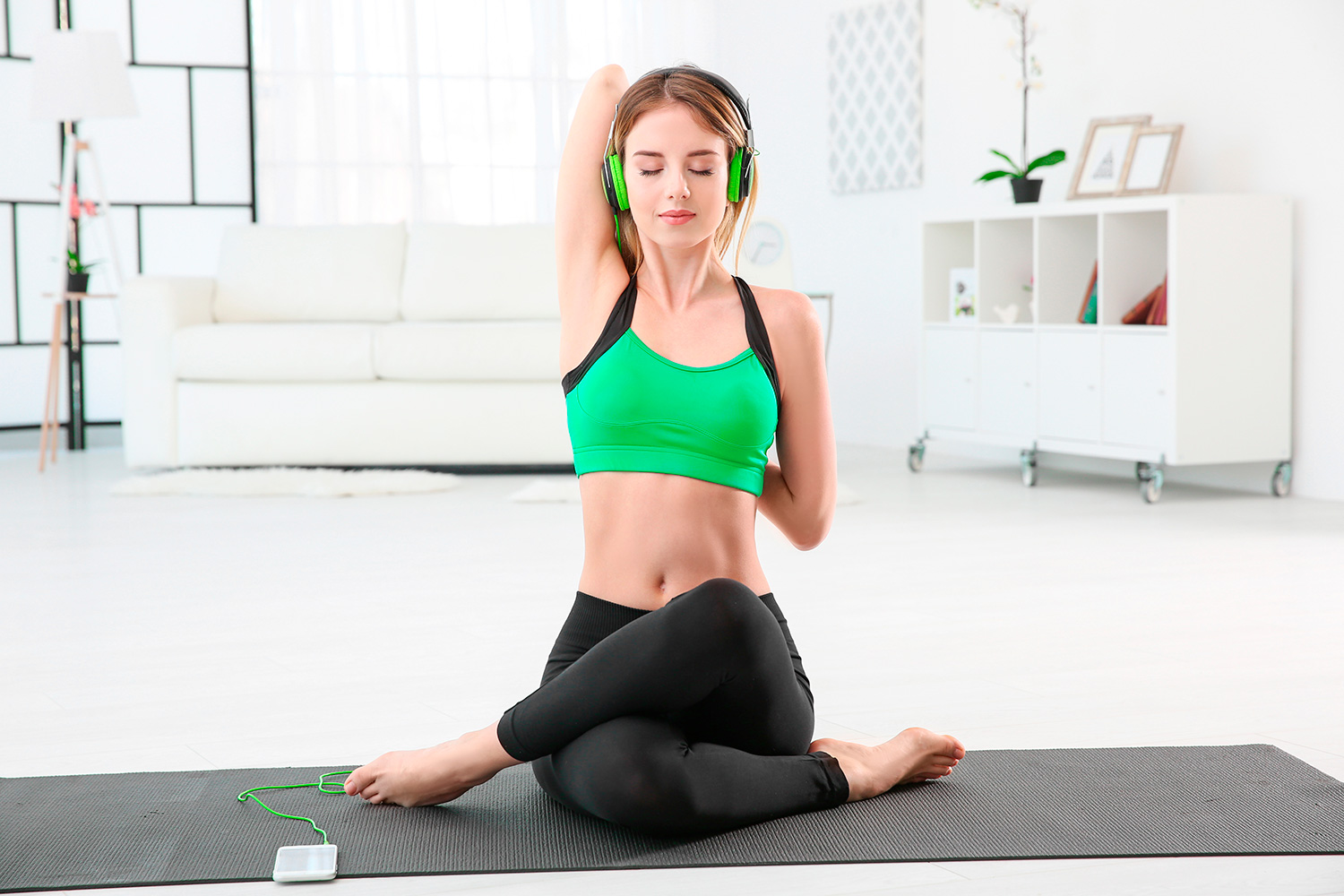 Like it or not, music can really make or break a yoga practice. Mellow flute hymns can really put a damper on a heated power flow just as eighties hair metal can ruin the ambiance of a relaxing yin class. While some music is downright distracting, the right music, on the other hand, has the power to take students on a journey of self-discovery.
What Is Yoga Music?
In its simplest form, yoga music is designed to help students find rhythm and harmony both individually and collectively as a class. The music can be filled with divine intention and instrumental melodies for penetrating our spiritual bodies, or maybe it's the latest release from Jay-Z or a classic Beatles song. Although the last two weren't necessarily created with the journey to enlightenment in mind (or maybe they were), it's really all about what brings the practitioner deeper into their practice. The music we listen to on the mat should support the emotional, spiritual, and physical transformations that yoga brings.
How To Use Yoga Music
The best way to discover what music enhances your practice is by testing it out on the mat. Put on whatever song speaks to you and flow through a few Sun Salutations. Allow the rhythm of your breath to align with that of the song as you mindfully move through the postures. Notice how the music influences your energy and mood when you cultivate this rhythmic alignment.
When we become in tune with our yoga music choice, we become in tune with our practice. The music guides us through the different dimensions of yoga – It can be uplifting during active moments and soothing during restorative postures. Essentially, it evokes different emotional and physical reactions in students to achieve balance in body and mind.
If you're grappling to find a yoga music artist that best suits your personal practice, try one of the 15 listed below!
Julie Fowlis
Julie Fowlis is a  multiple award-winning Scottish folk artist who sings primarily in Scottish Gaulic.  She is known for playing many instruments including the flute, oboe, Shruti box, English horn, accordion, bagpipe, small pipes, and melodeon. Her upbringing in North Uist strongly influences her musical style which is accompanied by a beautifully enchanting voice. She gained immense popularity from her energetic music featured in Disney's 'Brave,' but her work spans over ten years and four studio albums.
Website: www.JulieFowlis.com
Origin: North Uist, Scotland
Popular Songs:
Touch the Sky
Into the Open Air
Volaré
Hùg Air A' Bhonaid Mhòir
A La Luz Del Sol
Bachan Kaur
Bachan Kaur's album 'Illumine' is an essential addition to any yoga playlist. She's a Canadian artist as well as a long-time Kundalini teacher and practitioner. A passion for devotion inspires her to spread happiness, healing, wholeness, and deliverance using her beautifully unique voice. Her soulful, healing music provides yogis with whatever their practice needs from radiant energy to soothing harmonies.
Website:  www.huemanbeing.com
Origin: Victoria, British Columbia
Popular Songs:
Being Nothing
Bountiful, Blissful, Beautiful
Japji
Luz Del Bosque
Many Moons
Snatam Kaur
Peace activist, singer, songwriter, and author – Snatam Kaur really does it all! She performs new-age Indian devotional music and kirtan motivated by beauty and peace. Her true inspiration stems from an upbringing in the Sikh and Kundalini Yoga tradition. She's mastered the ability to reconstruct traditional Indian chants into a modern sound that appeals to the masses.
Website: www.snatamkaur.com
Origin: Trinidad, Colorado
Popular Songs:
Mul Mantra
Ardas Bhaee
Aad Guray Nameh
Ong Namo
Suni-Ai
Matisyahu
Matthew Paul Miller, commonly known as his Hebrew and stage name Matisyahu, is an American-Jewish rapper, reggae artist, beatboxer, and alternative rock musician. His music is chock-full of empowering and uplifting lyrics which perfectly coincide with the ethical principles emphasized by yoga.
Website: www.matisyahuworld.com
Origin: West Chester, Pennsylvania
Popular Songs:
One Day
King Without a Crown
Sunshine
Live Like a Warrior
Jerusalem
Alexi Murdoch
Alexi Murdoch is a multi-instrumentalist musician and songwriter from Britain who currently resides in Berlin. He uses his years of experience with vocals, piano, guitar, keyboard, drums, and bass guitar to create heartbreakingly beautiful music. His song, 'Breathe,' is a Savasana favorite among teacher and students alike.
Website: www.aleximurdoch.com
Origin: London, England
Popular Songs:
Orange Sky
All My Days
Through The Dark
Song for You
Someday Soon
Trevor Hall
Featured in numerous music festivals around the world, Trevor Hall is a soulful American singer-songwriter and guitarist with a mission to spread the good word on unity, compassion, peace, and love. His musical style is a blend of reggae, folk, and roots with a theme surrounding spirituality and existential exploration.
Website: www.trevorhallmusic.com
Origin: Hilton Head Island, South Carolina
Popular Songs:
Green Mountain State
The Lime Tree
Moon/Sun
Where's The Love
What I Know
Nirinjan Kaur
If you're searching for a perfectly tranquil song to guide you through Savasana, look no further than the meditative music of Nirinjan Kaur. She was born into a family of practicing yogis and raised under the healing practices of Kundalini, meditation, and chanting. Her music provides a profound experience that leads listeners on an inward journey.
Website: www.spiritvoyage.com
Origin: Vancouver, Canada
Popular Songs:
Chattr Chakkr Vartee
I Am
Ad Guray Nameh
Aap Sahaaee Hoaa
Mera Baid
Mirabai Ceiba
Markus Sieber and Angelika Baumbach are the power couple who deliver devotional world music using the sounds of piano, harp, guitar, and tenderly intertwines voices. The Latin-inspired music of Mirabai Ceiba captivates listeners and draws them into an experience of transcendent awe.
Website: www.mirabaiceiba.com
Origin: Tucson, Arizona, and East Germany
Popular Songs:
Ong Namo
Sa Ta Na Ma
Ajai Alai
Waheguru
Canción De La Vida
Jai-Jagdeesh
A musician isn't the only hat worn by this Indian artist – She's also a skilled actress, classical Indian dancer, photographer, and writer. Jai-Jagdeesh's singing career blossomed 25 years ago in a temple in India – The same place she spent her most formative years. Her music, inspired by the Kundalini yoga tradition and Sikh faith, combines energy, devotion, grace, and meditation.
Website: www.jaijagdeesh.com
Origin: Connecticut
Popular Songs:
In Dreams
Hallelujah
Aad Guray Nameh
Light of Love
Aap Sahaee Hoa
Krishna Das
Jeffrey Kagel, commonly known as Krishna Das, is an American vocalist, record producer, and songwriter best known for his Hindu devotional music, or 'kirtan.' His performance at the 2013 Grammy Awards granted him the nickname of 'The Yoga Rock Star.' Once you hear his music, you'll understand why people are so fond of his music for yoga practice.
Website: www.krishnadas.com
Origin: Long Island, New York
Popular Songs:
Baba Hanuman
Mere Gurudev
Saraswati
Govinda Hare
Sri Argala Stotram
MC Yogi
Nicholas Christian Giacomini, AKA MC Yogi, is a well-known American music artist and yogi. He blends reggae, hip hop, electronic, and rap music with his love and knowledge of yoga culture to spread Hindu philosophy in a captivating way. His inspiring story started with him living in a group home for at-risk youth and ultimately becoming a yoga and music sensation.
Website: www.mcyogi.com
Origin: San Francisco, California
Popular Songs:
Shanti
Threshold
Beginnings
Heaven is Here
Road Home
Elephant Revival
Elephant Revival is folk, bluegrass, indie rock group hailing from Nederland, Colorado. Their music aims to promote unity and oneness among the masses while providing variety between calm and energetic tempos. Their unique style draws in elements of Celtic, Americana, Gypsy, and folk origins using a quintet of multi-instrumentalists.
Website: www.elephantrevival.com
Origin: Nederland, Colorado
Popular Songs:
Sing to the Mountain
Ring Around the Moon
Down to the Sea
Grace of a Woman
Birds and Stars
The xx
The xx is a favorite English indie pop/alternative band from Wandsworth, London. Their two currently released studio albums are the perfect addition to any yoga practice. They each feature a variety of instruments and vocals to match the pace and nature of all yoga styles. Moody, soulful, captivating, and cool are all words you might use to describe the music of The xx.
Website: www.thexx.info/home
Origin: Wandsworth, London, England
Popular Songs:
Intro
Angels
On Hold
Crystalised
I Dare You
Moby
American singer-songwriter Richard Melville Hall, or Moby, is no stranger to the spotlight, but not everyone thinks of his music when they're crafting the perfect yoga playlist. Since 1992, Moby has created 12 studio albums and sold an estimated 20 million records worldwide. Although he's best known for his musical talents, he's also a proficient photographer, producer, author, and animal rights activist.
Website: www.moby.com
Origin: Harlem, New York
Popular Songs:
Porcelain
Flower
Why Does My Heart Feel So Bad?
Natural Blues
Extreme Ways
Deva Premal
German meditative and spiritual singer, Deva Premal, is credited with making ancient Sanskrit and Buddhist mantras and chants popular in modern culture. Her inspiring and unique take on music is heartwarming and soul-capturing to all audiences.
Website: www.devapremalmiten.com
Origin: Nuremberg, Germany
Popular Songs:
Gayatri Mantra
Om Namo Bhagavate
So Much Magnificence
Incantation
Om Sahana Vavatu
Yoga Music Playlists On Spotify
Home Yoga
Yoga Music/Spa Relaxation/Meditation Music
Calm Meditation & Yoga
Desert Dwellers and Friends
Hawaiian Heart
Yoga Flow
Yoga Music
Yoga Girl Playlist of the Month
Yoga Music/Peaceful Relaxation
Indie Yoga Flow
Mindful Bliss
Gymshark Yoga
Yoga Vibes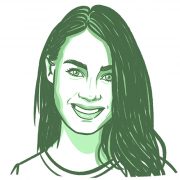 Patricia Brooks
After spending nearly two decades as a relationship therapist, Patricia journeyed down the path of writing as a vehicle for sharing her wisdom. Her work reflects a sincere interest in readers' wellbeing and is abundant with helpful advice and fascinating insight.