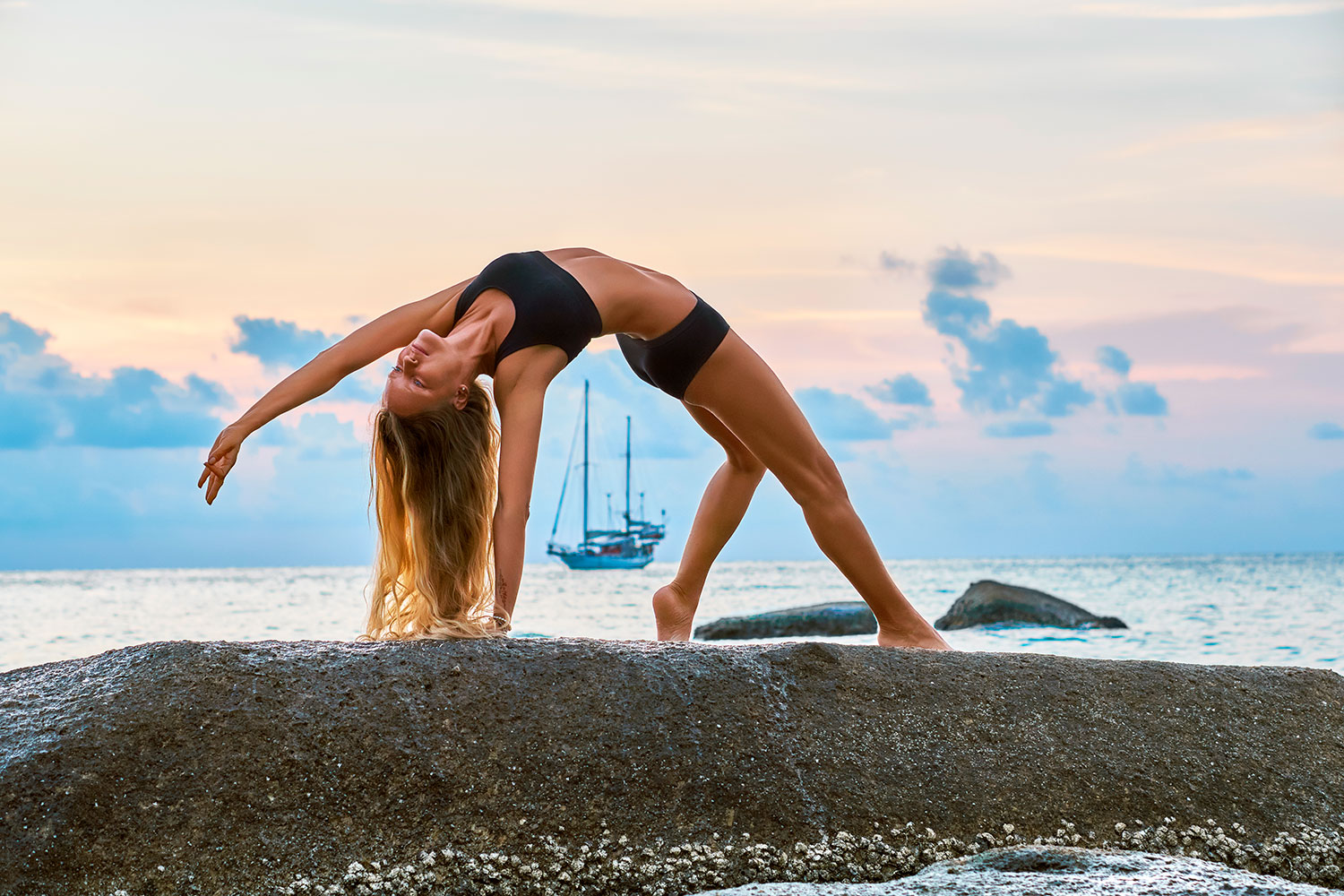 Thailand is both a vibrant, cultural hub and a tranquil slice of beachfront paradise. With countless luxury resorts spread across this diverse and spiritually-inclined country, this Southeast Asian gem makes for an idyllic home-away-from-home for those looking for a luxurious yoga retreat in 2019. Making the final choice of where to retreat to can be hard, so we've narrowed it down to the top 10 luxury retreats this incredible country has to offer.
The 10 Best Luxury Yoga Retreats in Thailand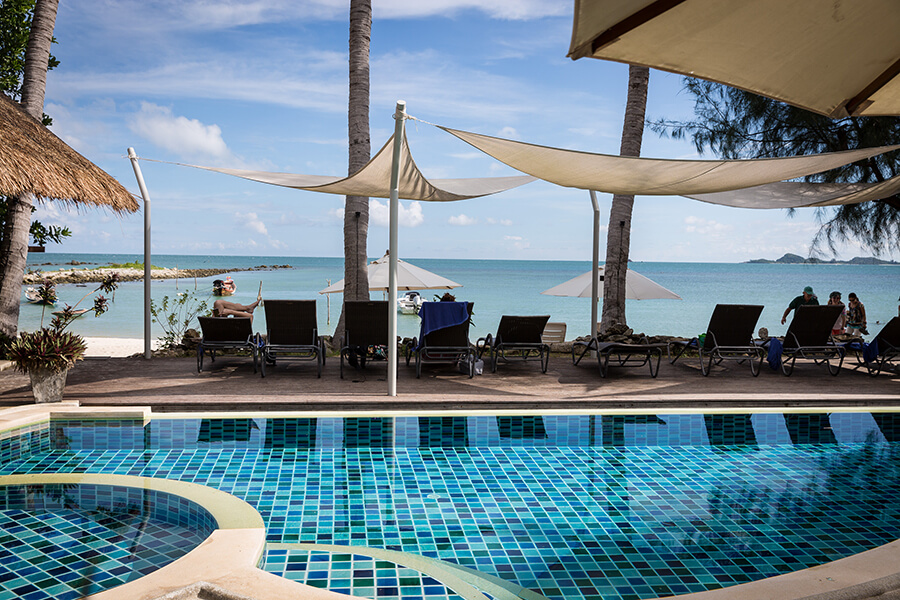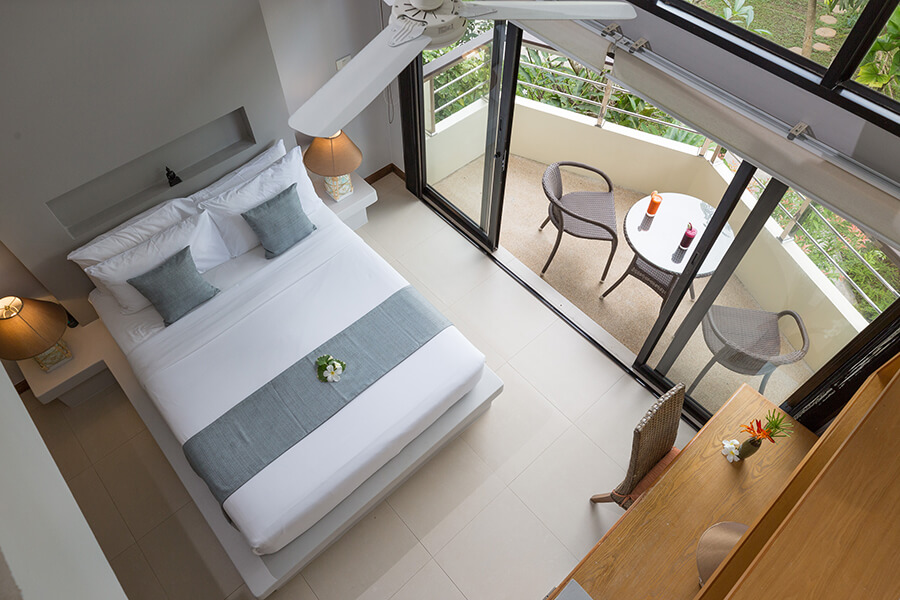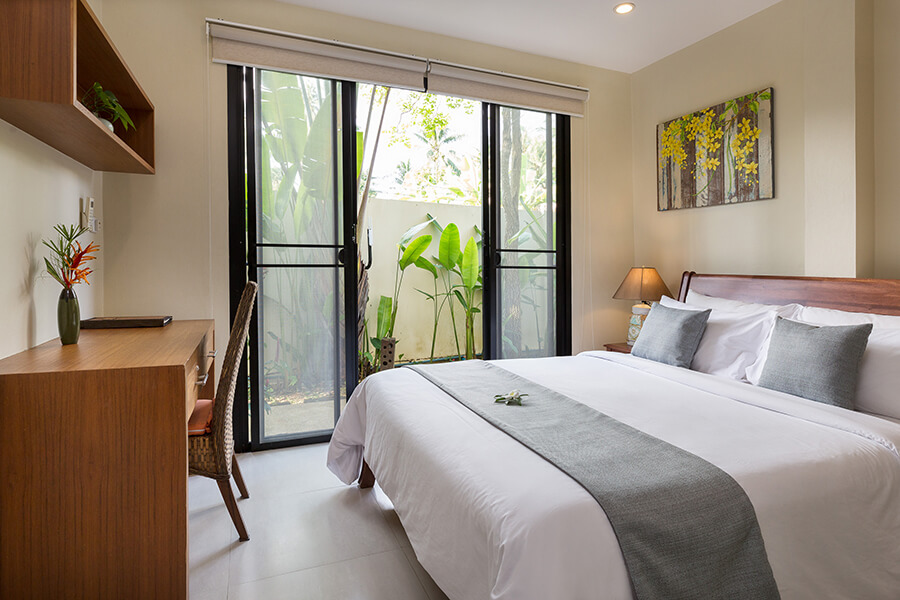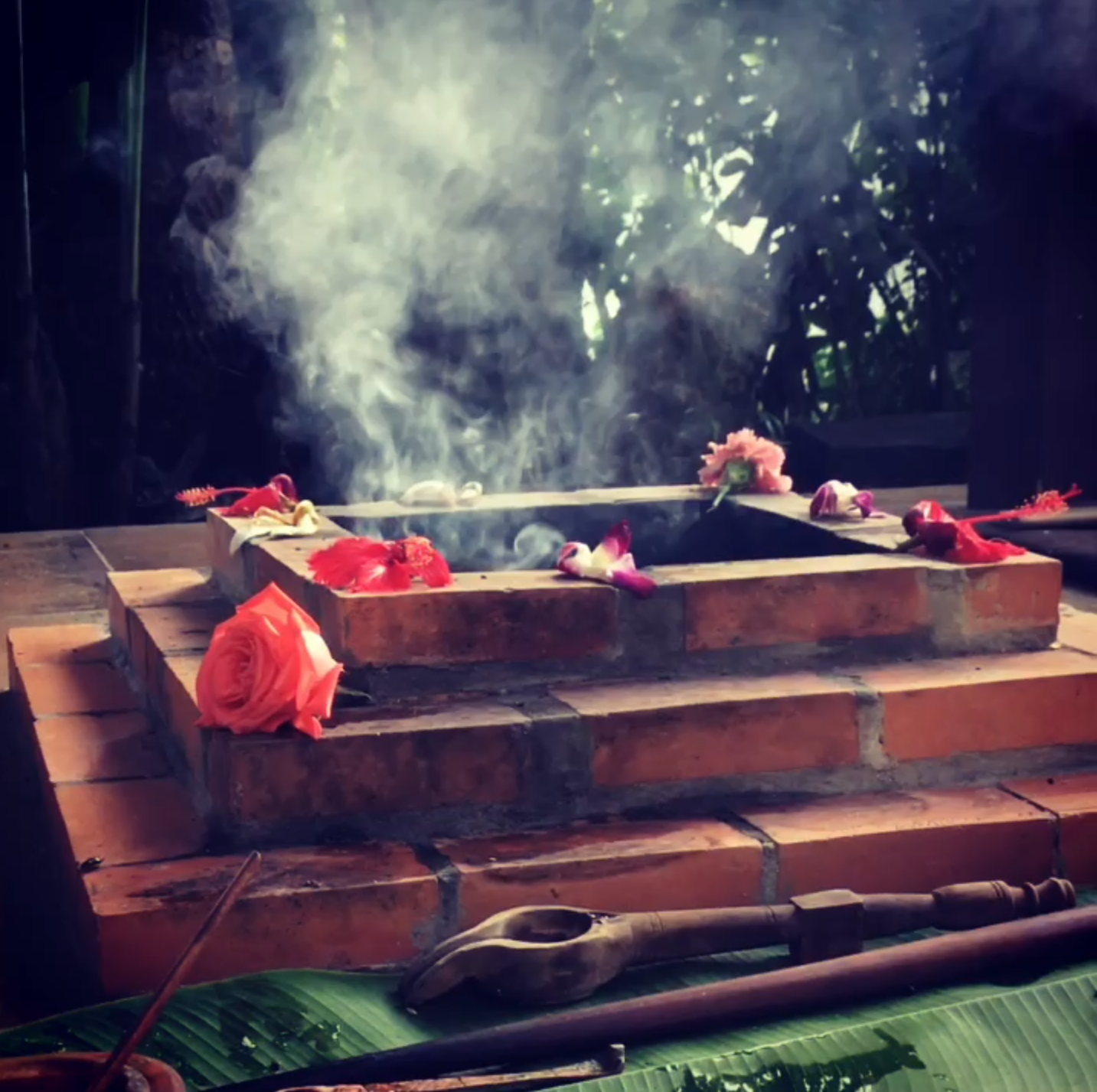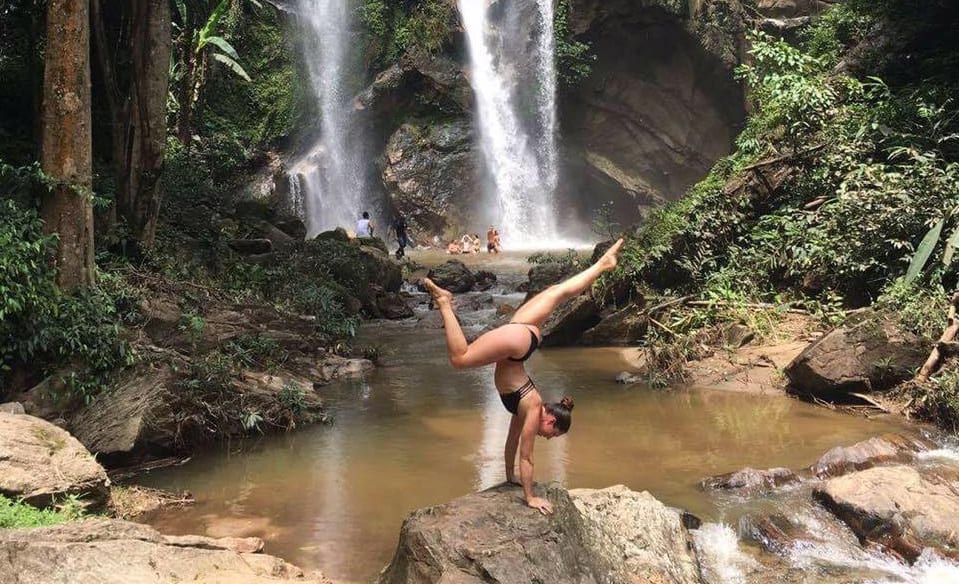 Screenshot_20190103-131711-e1548237612369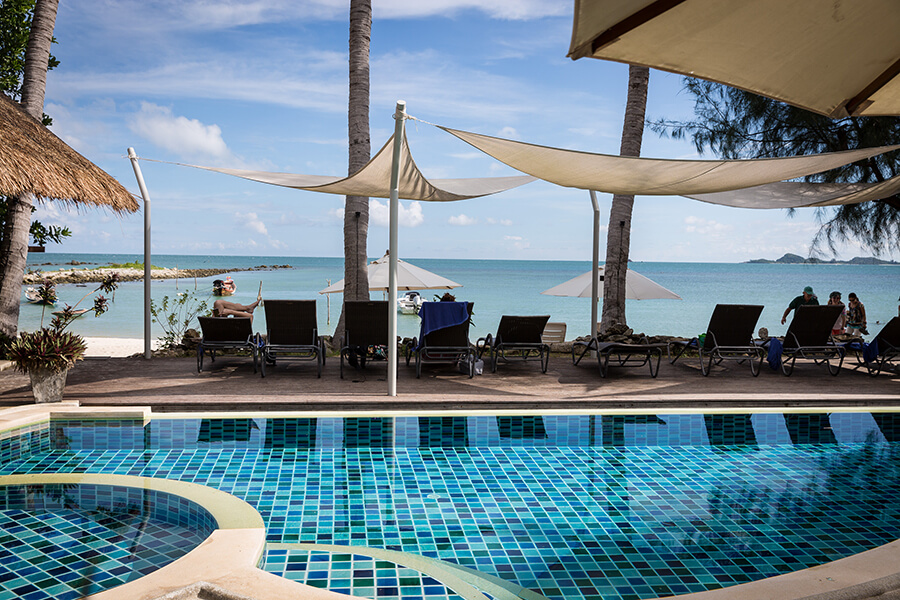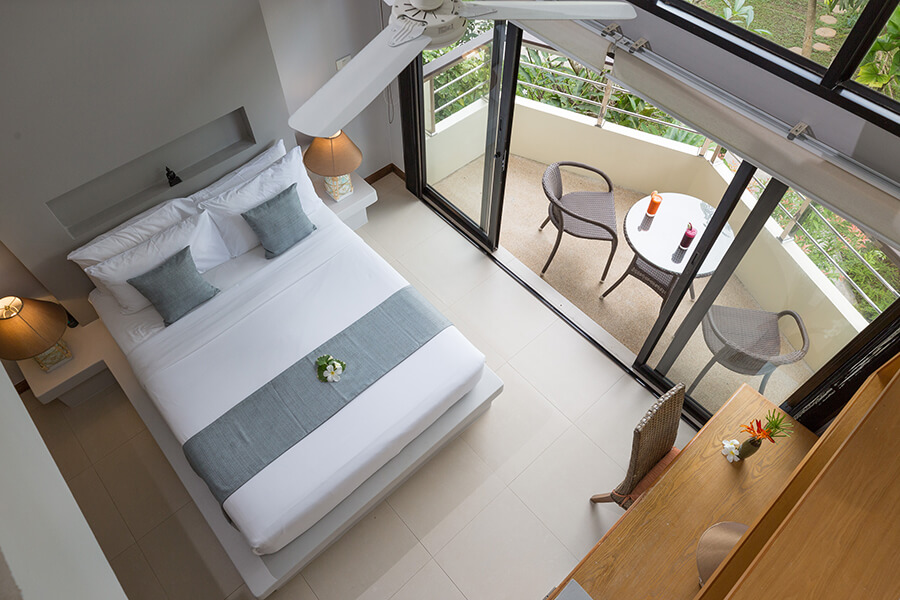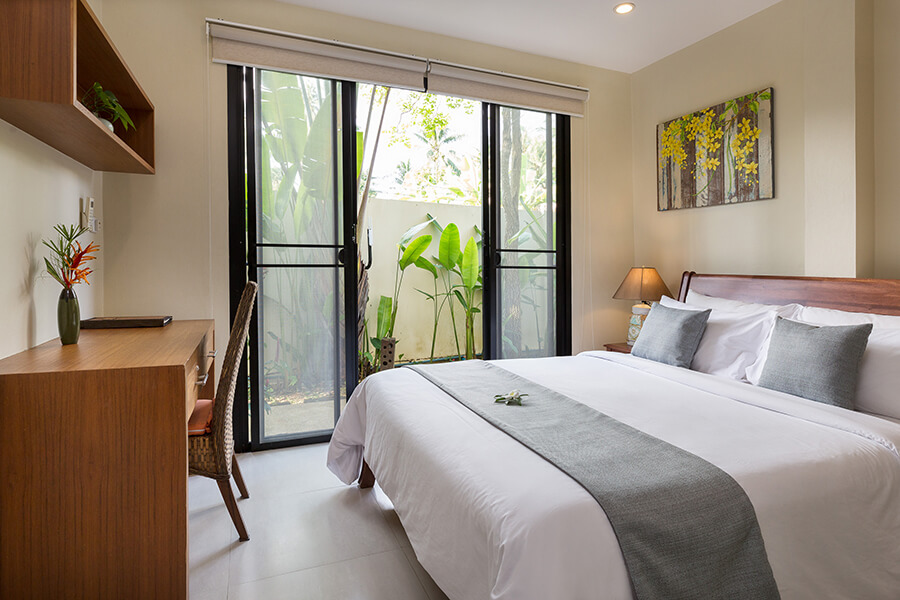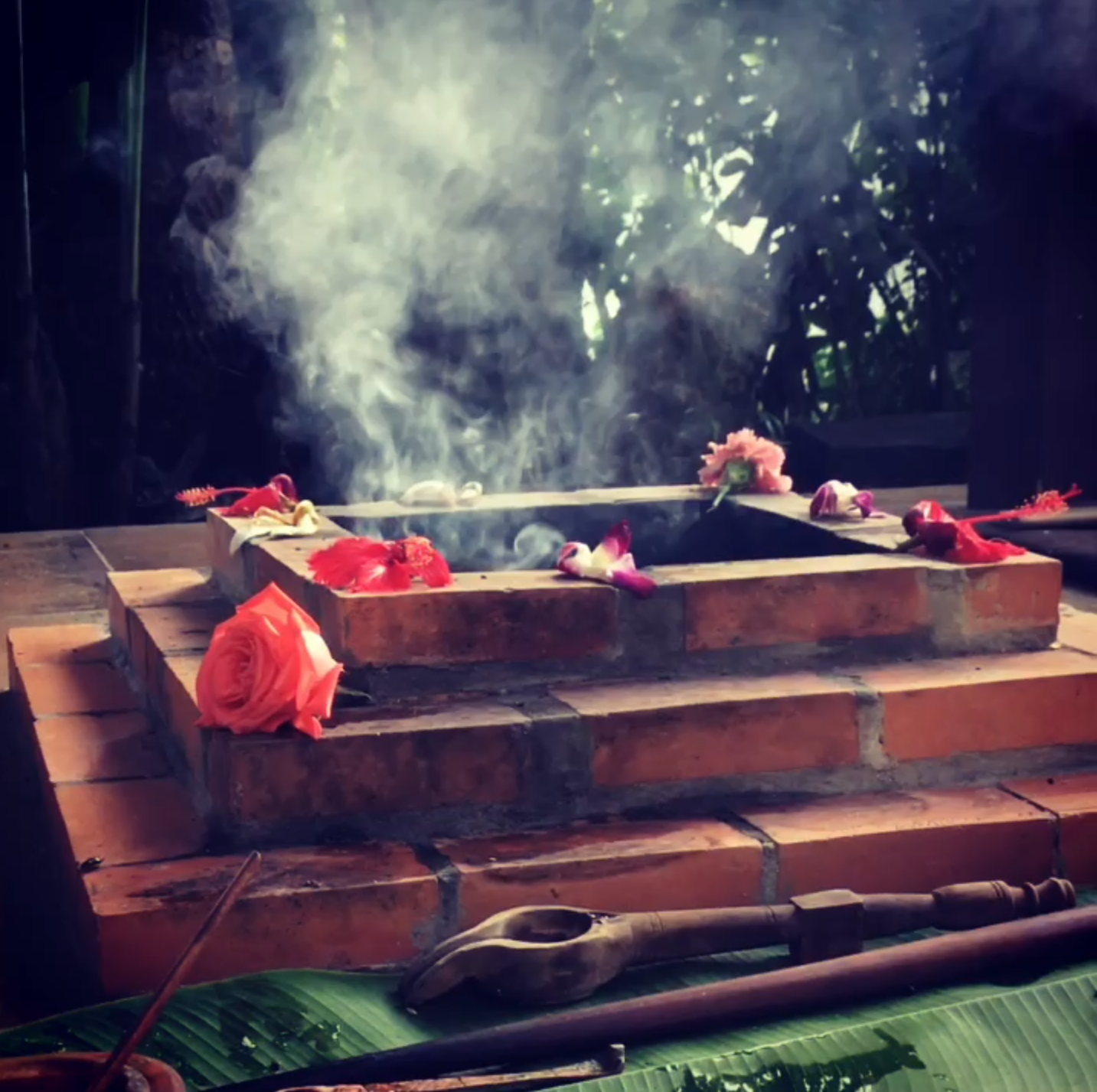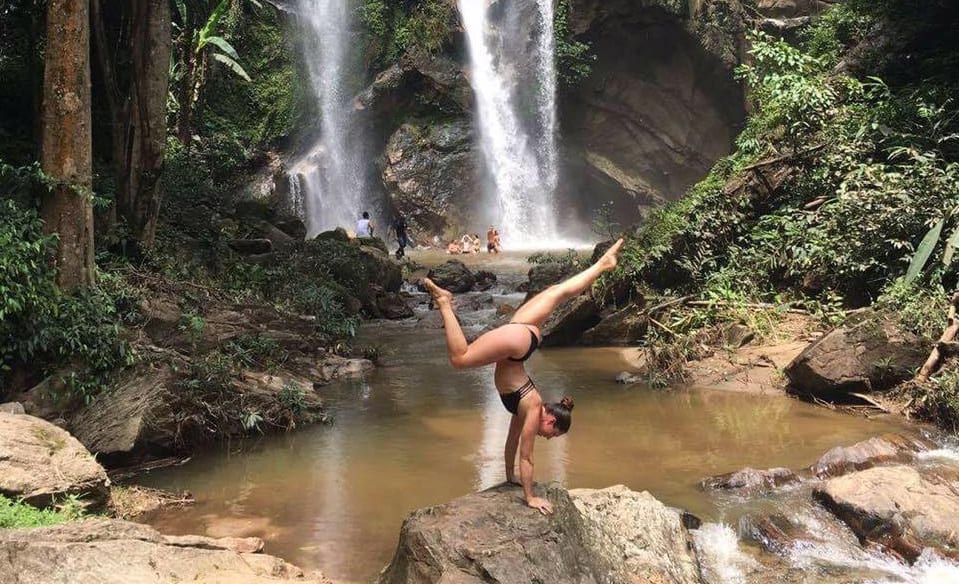 Samahita Retreat is one of Thailand's best when it comes to luxurious yoga retreats. Located on the paradise island of Koh Samui, and a 45-minute drive from the airport, this idyllic sanctuary might just be the perfect place to rest and reset for a while.
Accommodations here are clean, comfortable, and modern. They offer sustainable and natural toiletries, natural non-bleached bed linens, air conditioning, and a private balcony in all rooms. All accommodations are steps away from their yoga shalas, fitness loft, and cycle studio. They also have a saltwater swimming pool for guests to enjoy and a beachfront.
Throughout the year, Samahita Retreat offers a variety of programs run by guest instructors. Prices and inclusions for these courses vary. In addition to these retreats, they also offer ongoing wellness programs, such as the Detox Program. This program includes a choice of room, detoxifying therapies, foods, supplements, and juices, 5 hours daily of their yoga, core, and cycle classes, and use of all amenities and facilities.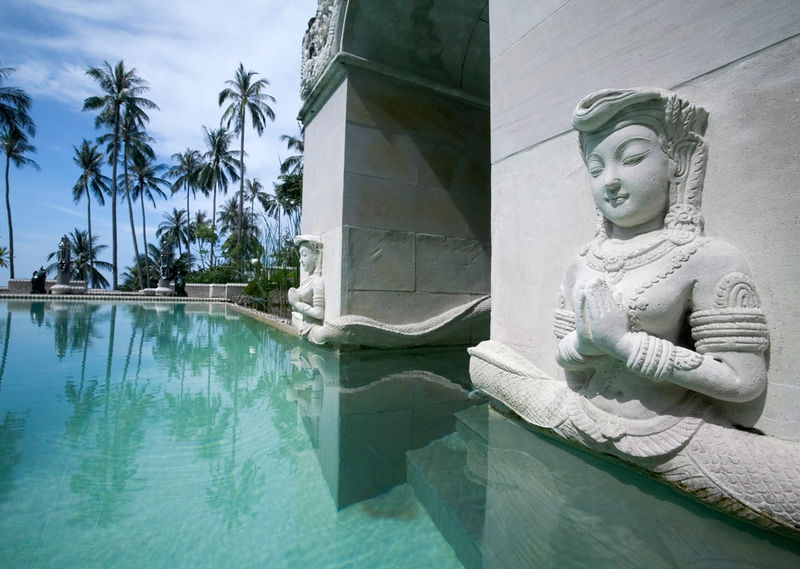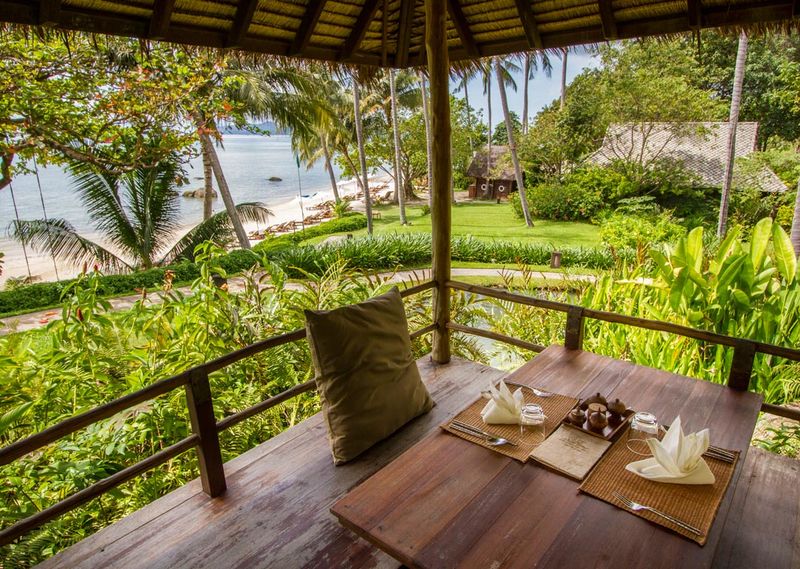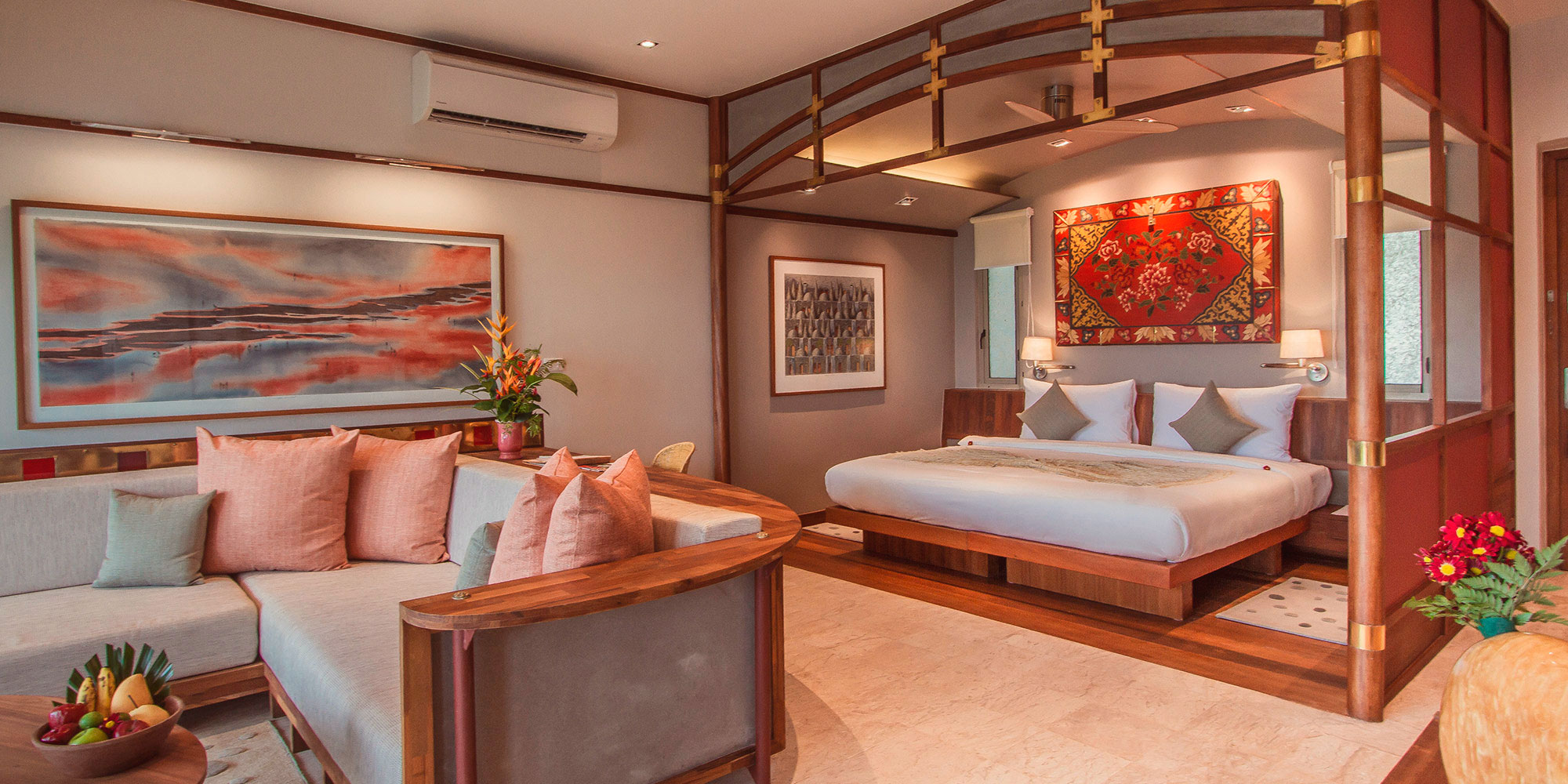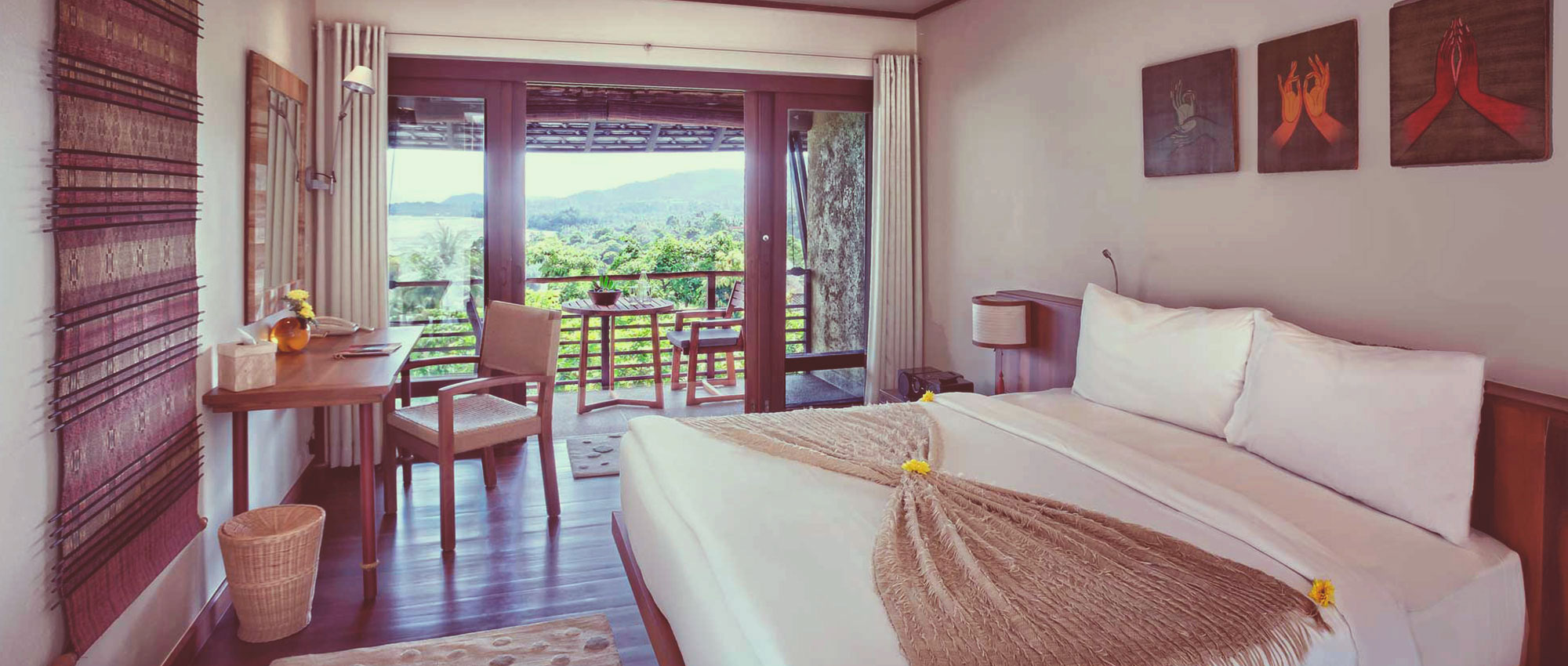 csm_luxury-spa-beach-resort-thailand_97f4fcf47d
csm_best-wellness-resort-thailand_7a0e1bd1f0
garden-pool-superior-suite01
Hillside-Sea-View-Room_thailand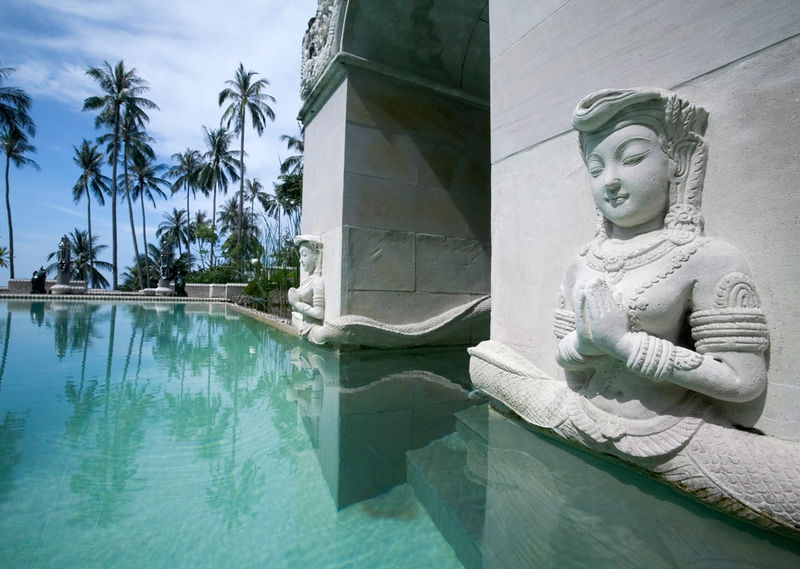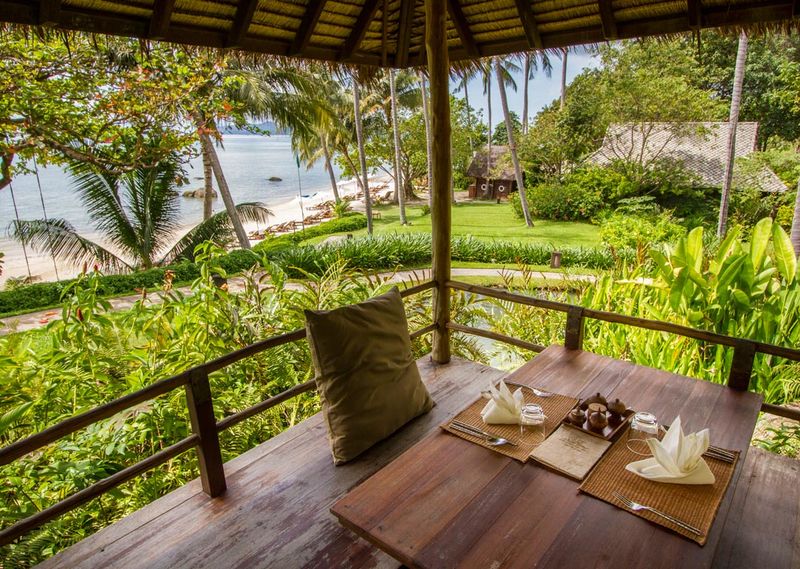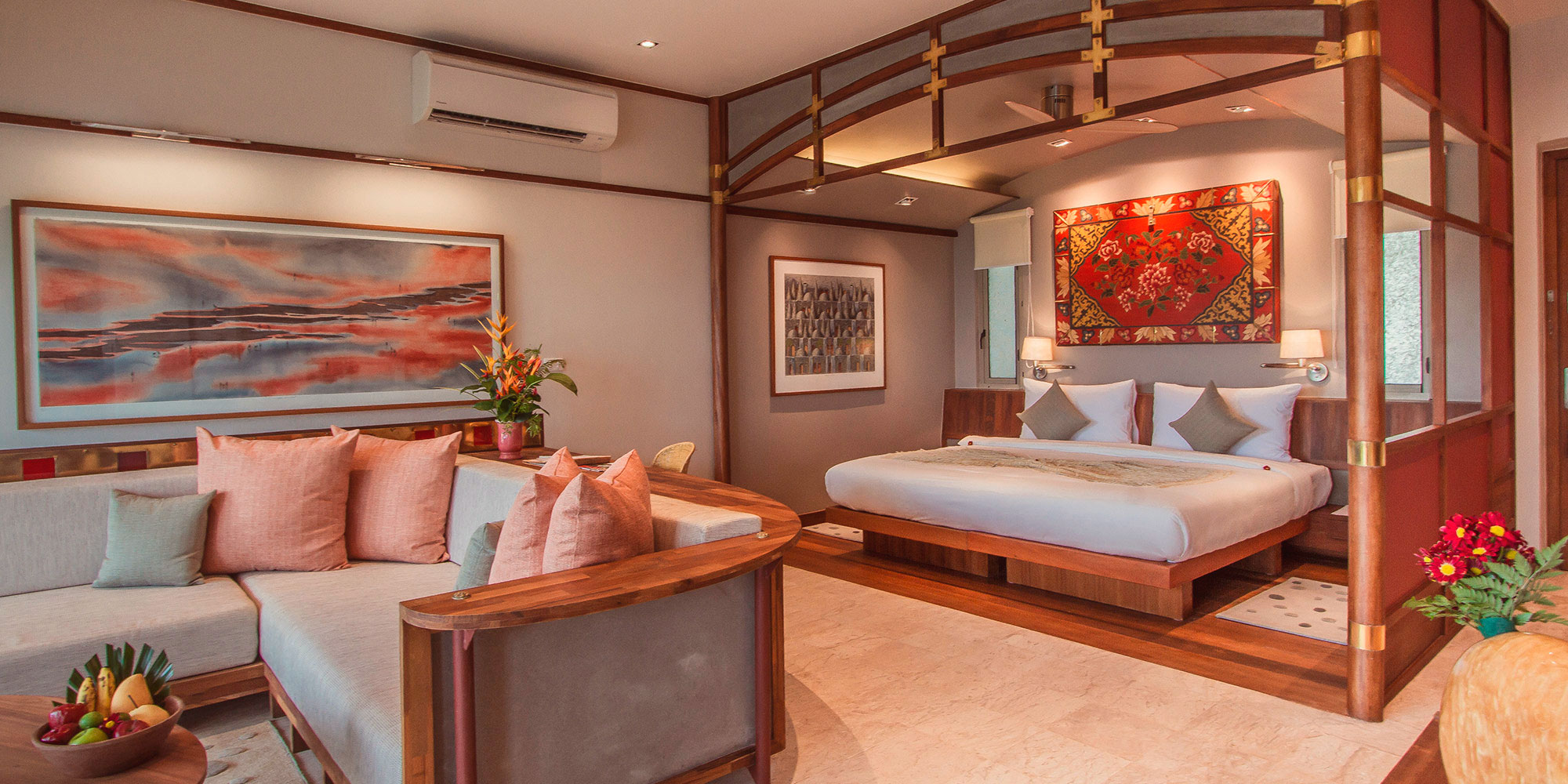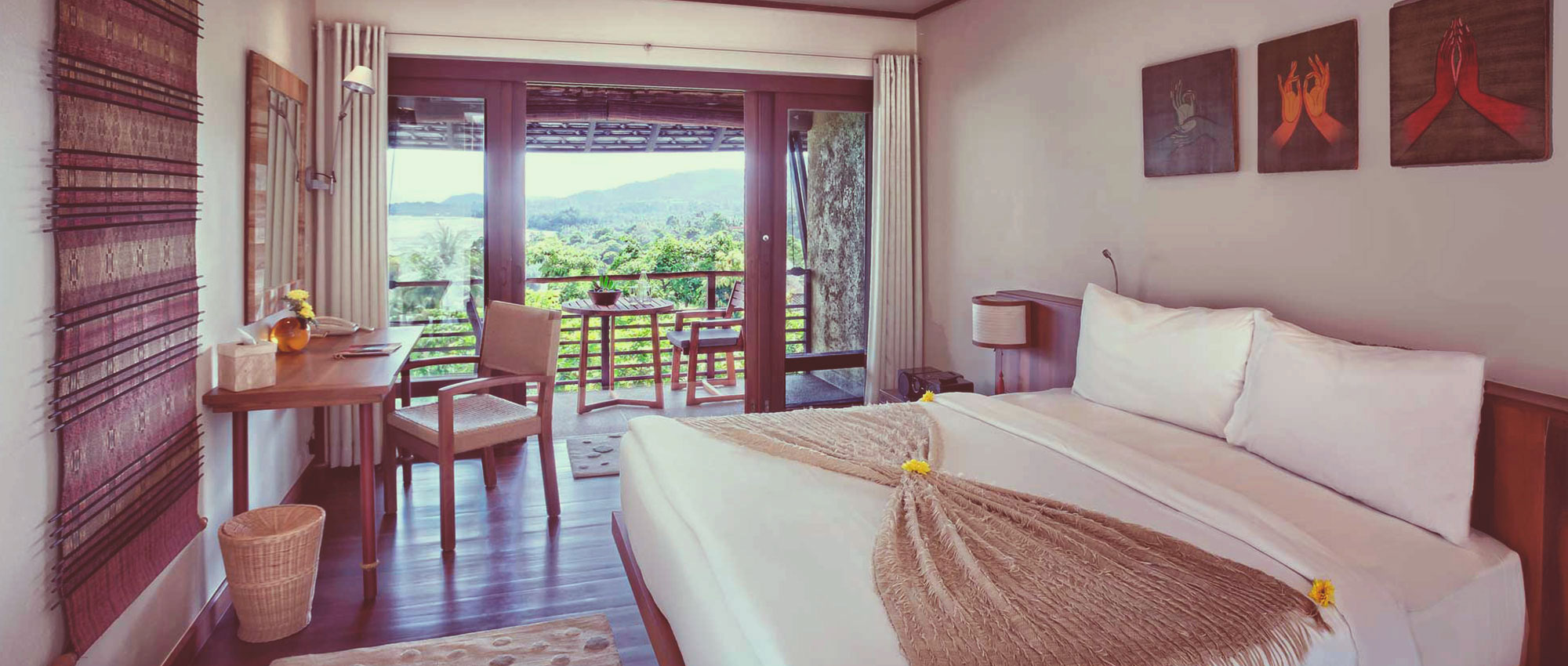 Another Koh Samui gem, Kamalaya is a luxury wellness sanctuary and spa that has been offering holistic services to its guests since 2005. When broken down, its name translates to 'lotus realm,' the lotus being a traditional symbol that represents growth and unfolding of the spirit. With this concept at its core, Kamalaya aims to provide a seamless wellness experience for those that retreat there.
This sanctuary offers a variety of wellness programs, their yoga-focused program going by the name 'Personal Yoga Synergy Program.' You can choose to stay for either 3, 5, or 7 nights with three meals included each day. In addition to food and accommodation, this package includes roundtrip airport transfer, two wellness consultations, a body bio-impedance analysis, an essential oil massage, an Ayurvedic traditional massage, and a Kati Vasti treatment. You also gain unlimited access to daily activities such as yoga classes.
Accommodation is ultra-luxe, ranging from Hillside Rooms to the Penthouse Suite with a private pool. Regardless of your room choice (and the budget that likely guides this), a retreat at Kamalaya is of the best Thailand has to offer.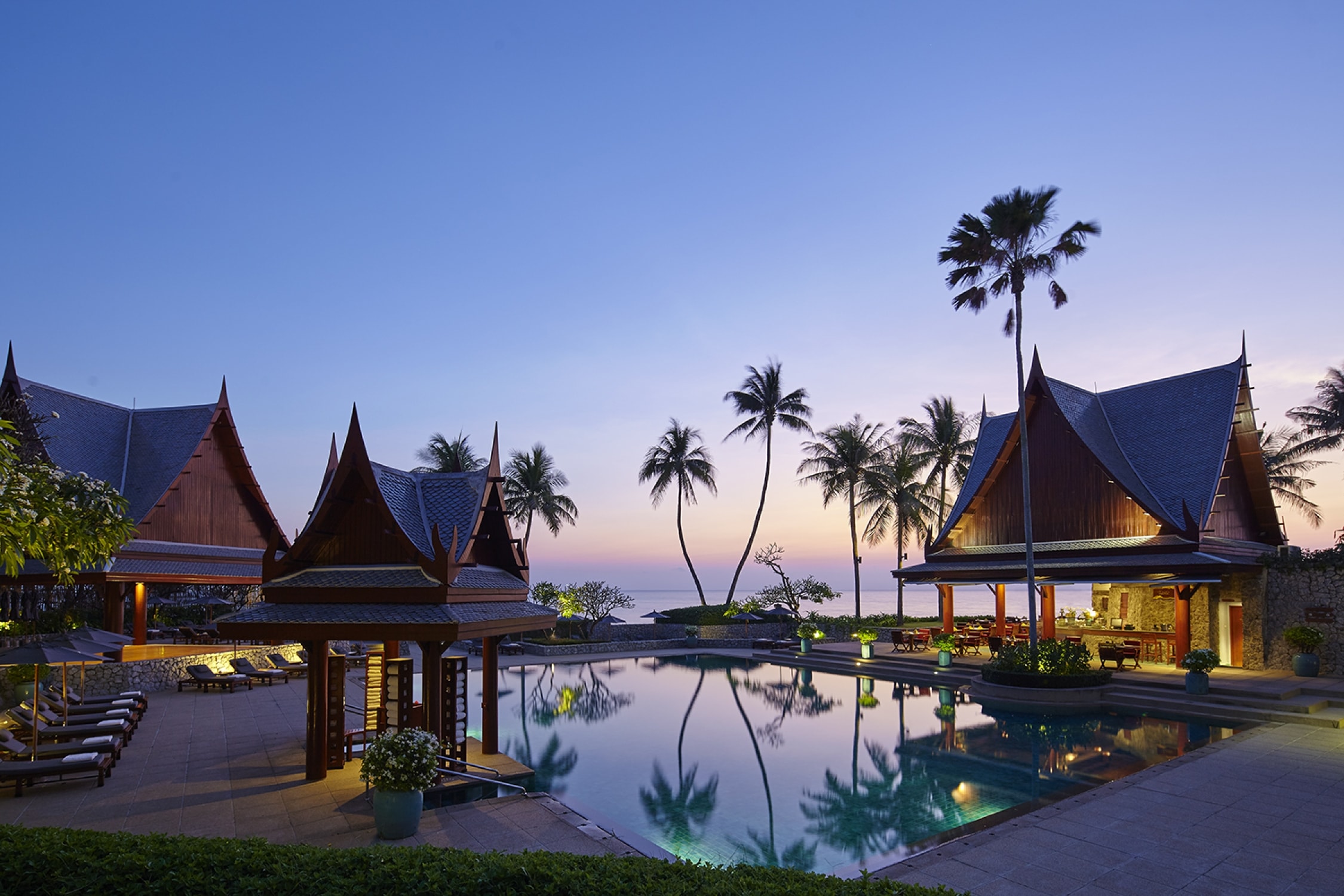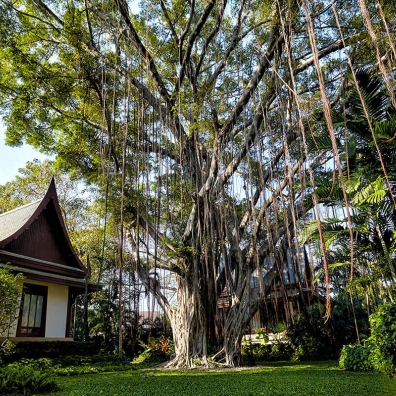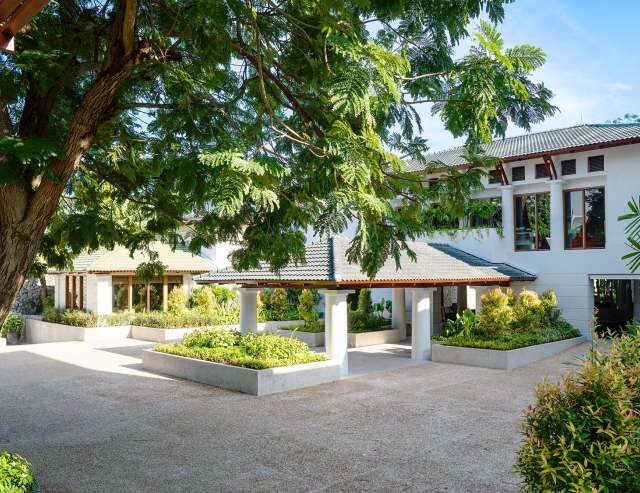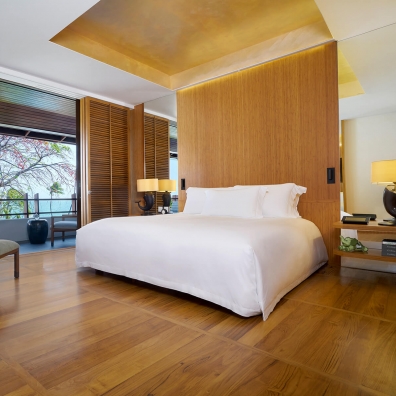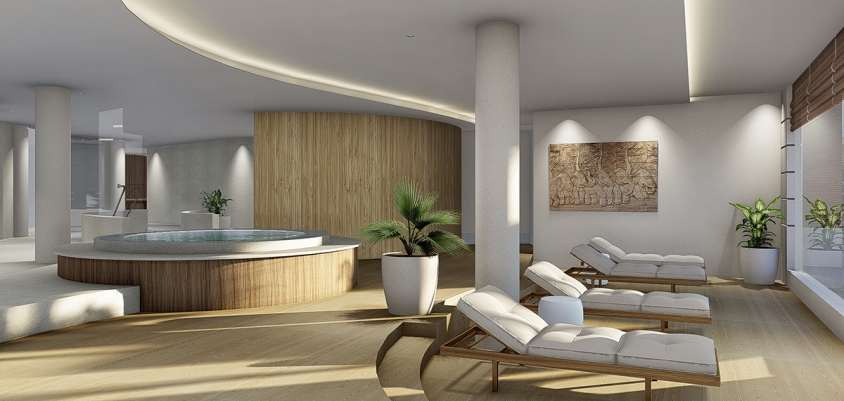 chiva-som-hua-hin-pool-restaurant
chiva-som-hua-hin-the-banyan-tree
chiva-som-orchid-lounge-courtyard
chiva-som-hua-hin-champaka-suite-bedroom
chiva-som-website-rendering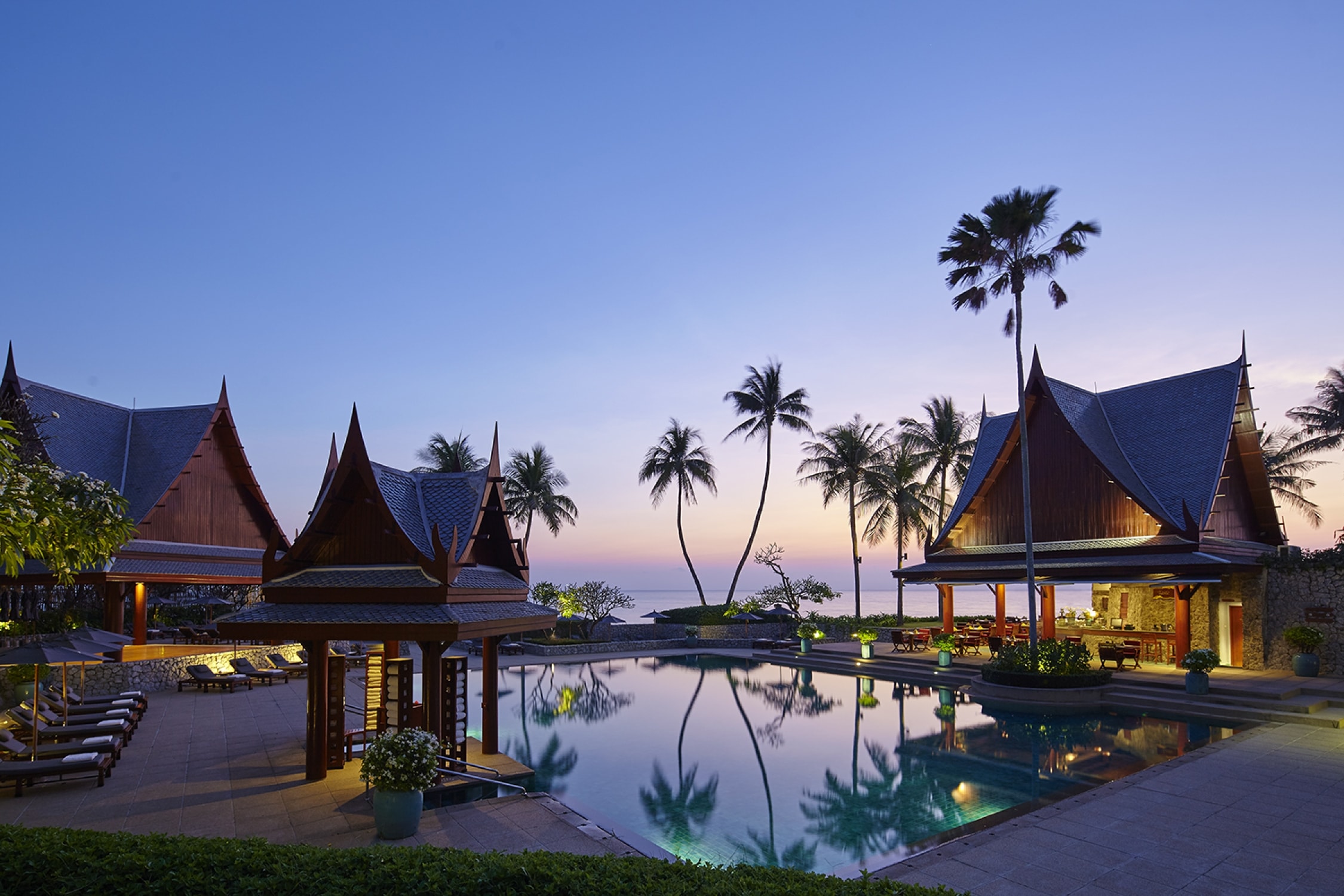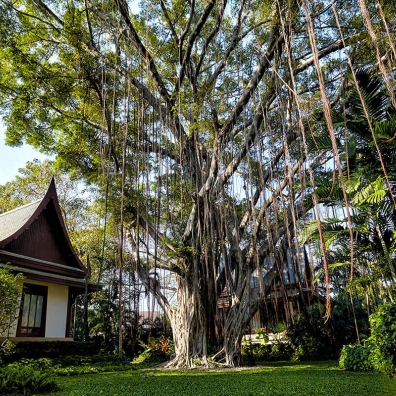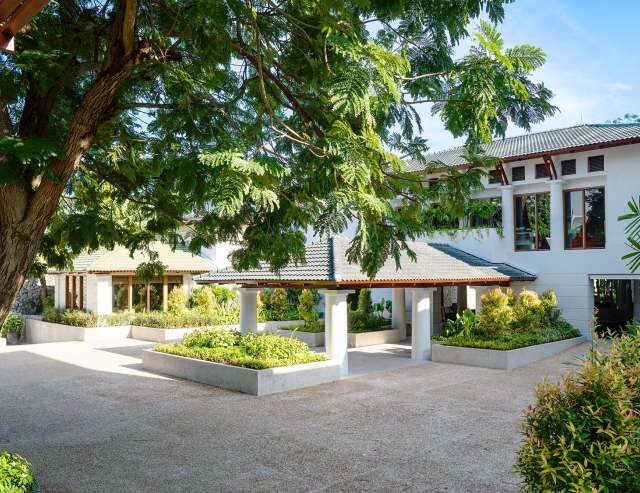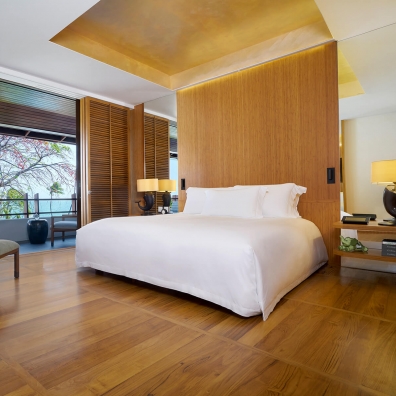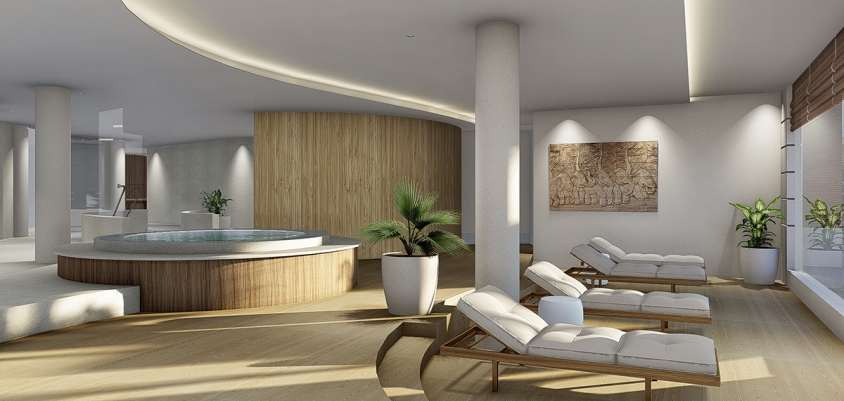 Located in Hua Hin on one of Thailand's most beautiful beaches (and away from the usual tourist route that is carved through the country), Chiva-Som is a three-hour drive from the bustling capital of Bangkok. It is without a doubt one of Thailand's most upmarket retreats, offering complete luxury to its guests. The 54 rooms on the property are all newly renovated and impeccably designed. The modern comfort of this resort's accommodations makes this property truly feel like a home away from home. Each room offers either a garden view or an ocean view.
This health resort offers retreats of various focuses, from the 'Cell Vitality' retreat to the 'Cranial Relief' retreat to their 'Yoga for Life' package. The 'Yoga for Life' retreat can be booked for 3, 5, 7, 10, or 14 nights, customizable to your preferred dates. On arrival, you'll receive a personalized Health and Wellness consultation. The package also includes three healthy meals per day, access to all fitness classes, use of Water Therapy suites, use of the gym, and a restorative treatment for each night of your stay. Meditation, pranayama, and yoga sessions are included as well.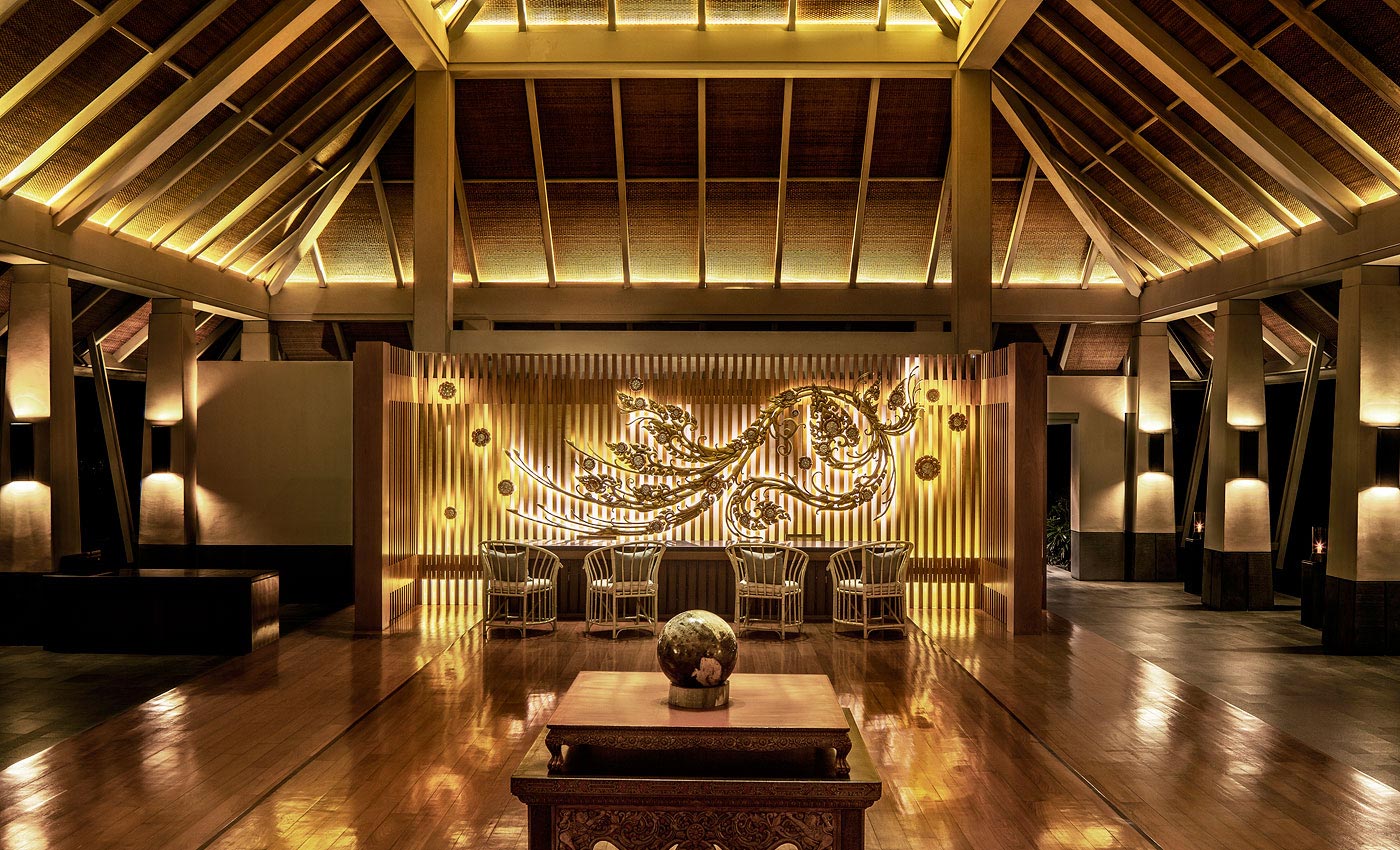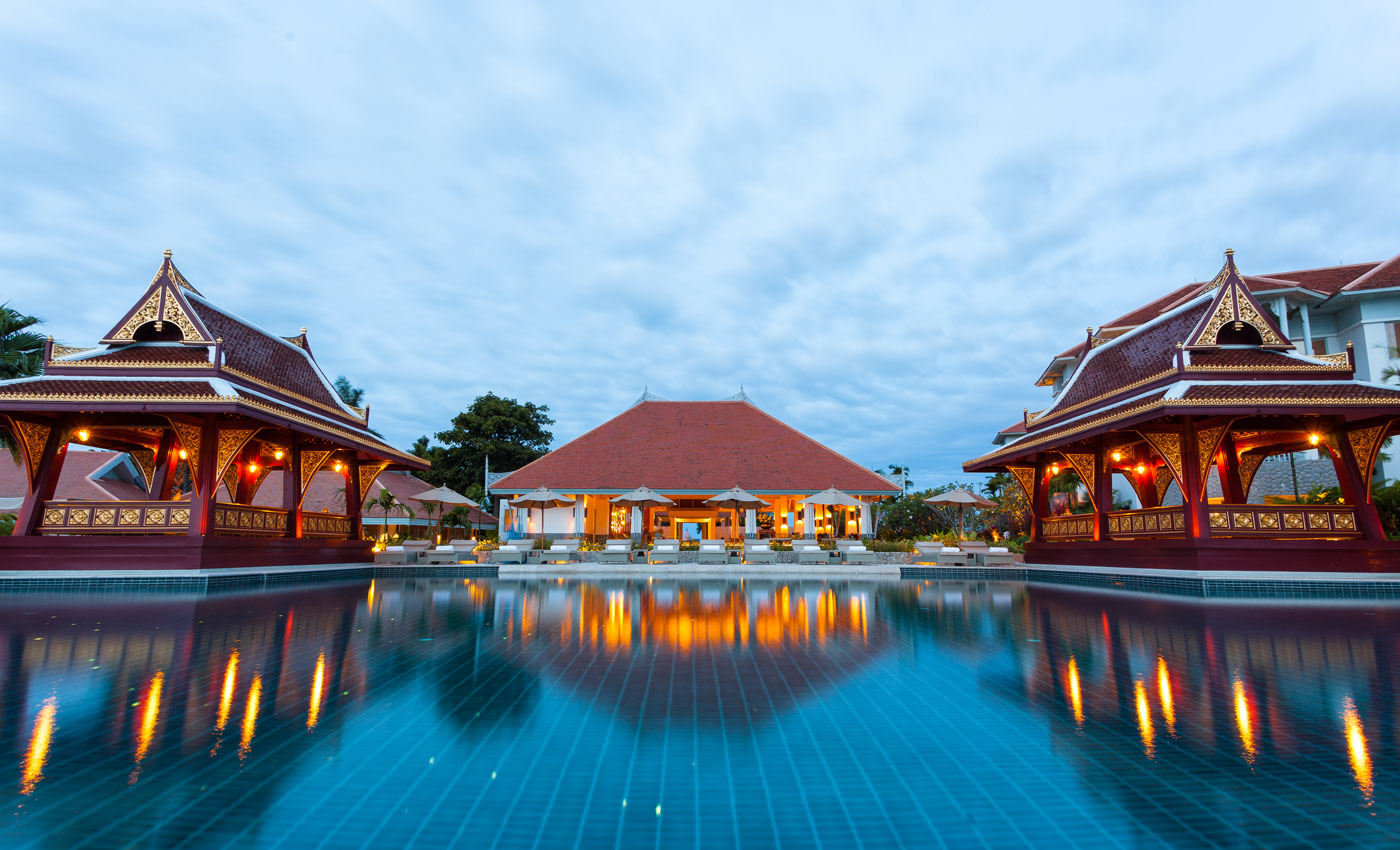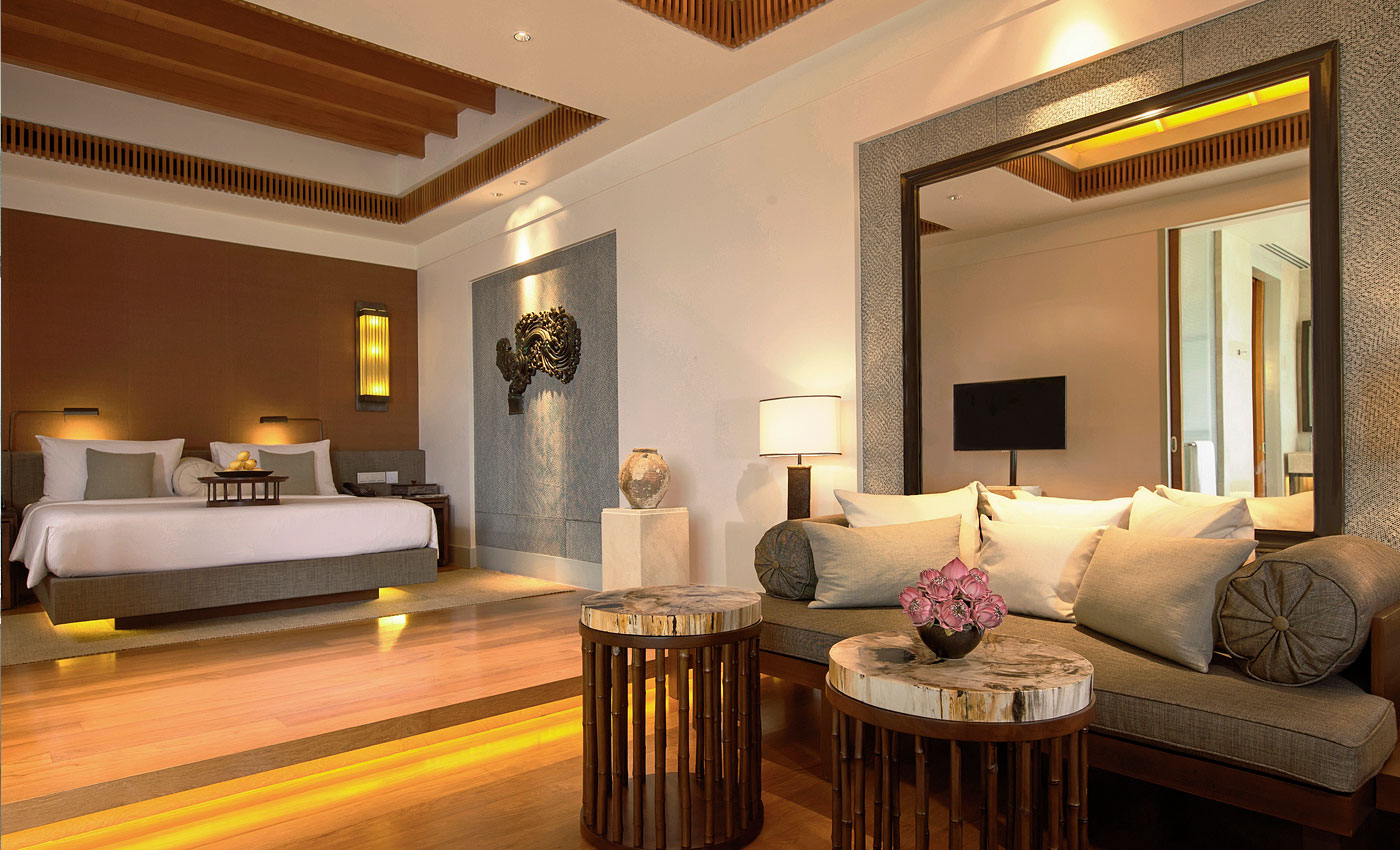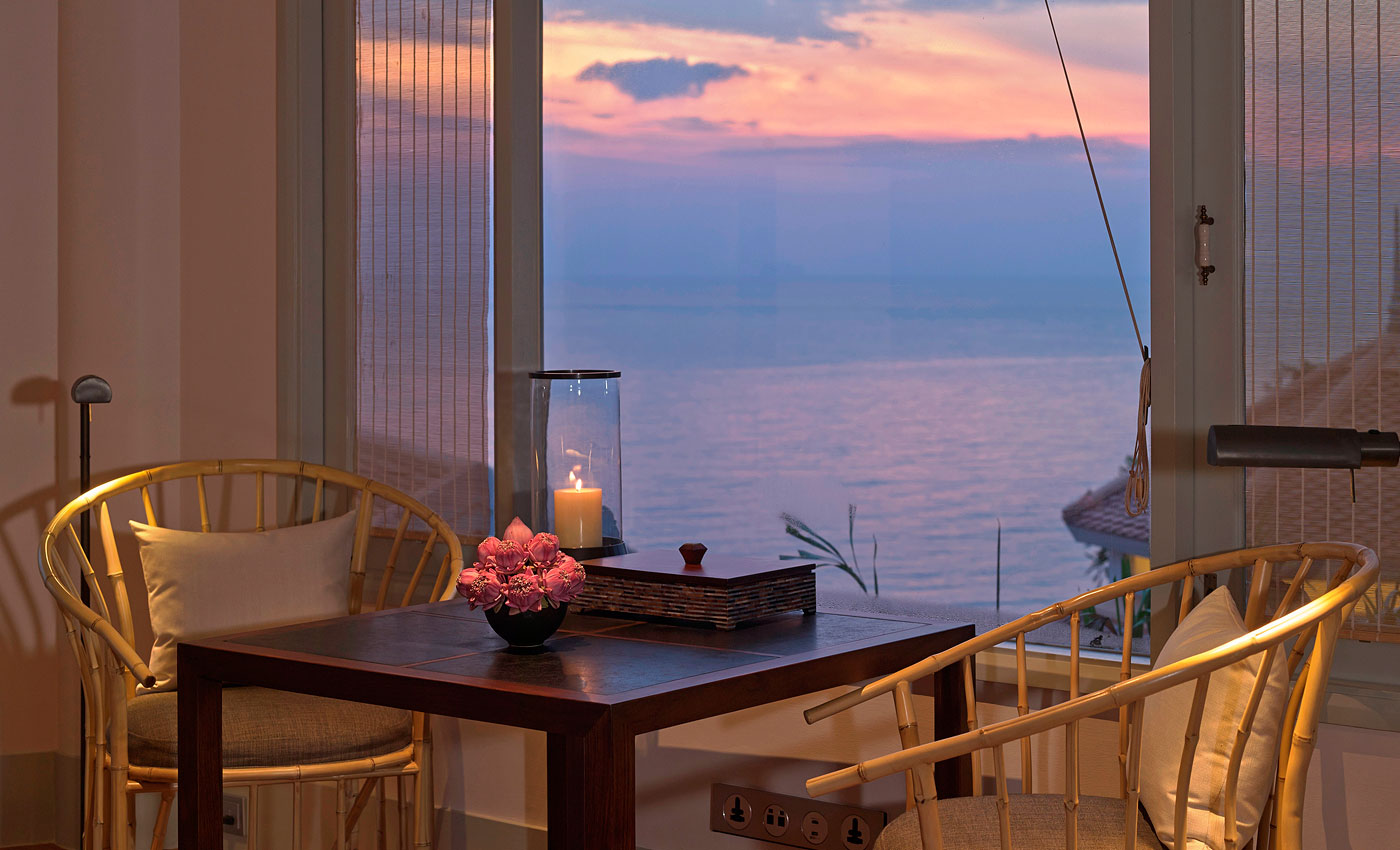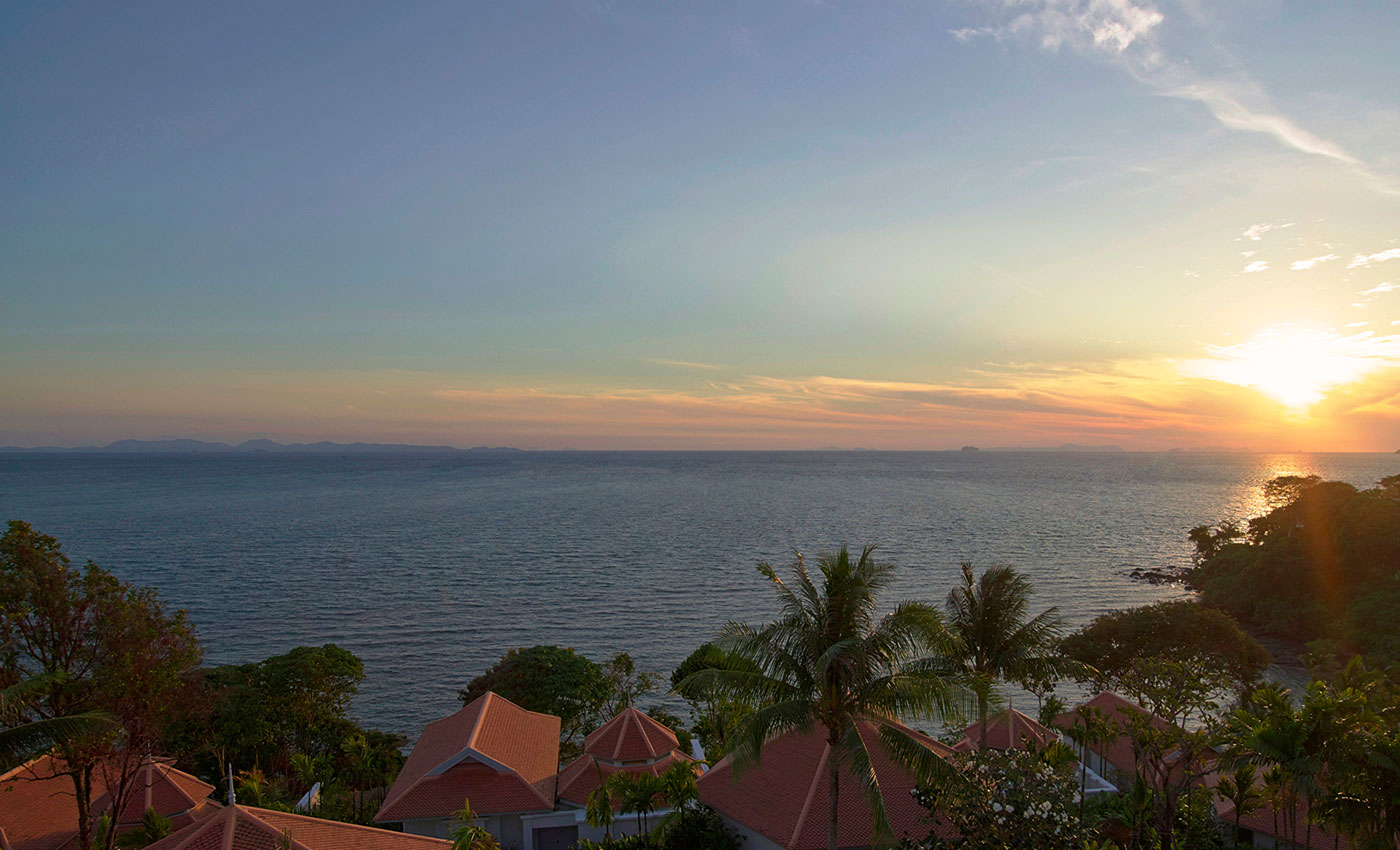 06_gallery.dataphoto.207-1
04_gallery.dataphoto.203-1
02_gallery.dataphoto.221-1
09_gallery.dataphoto.215-1
03_gallery.dataphoto.209-1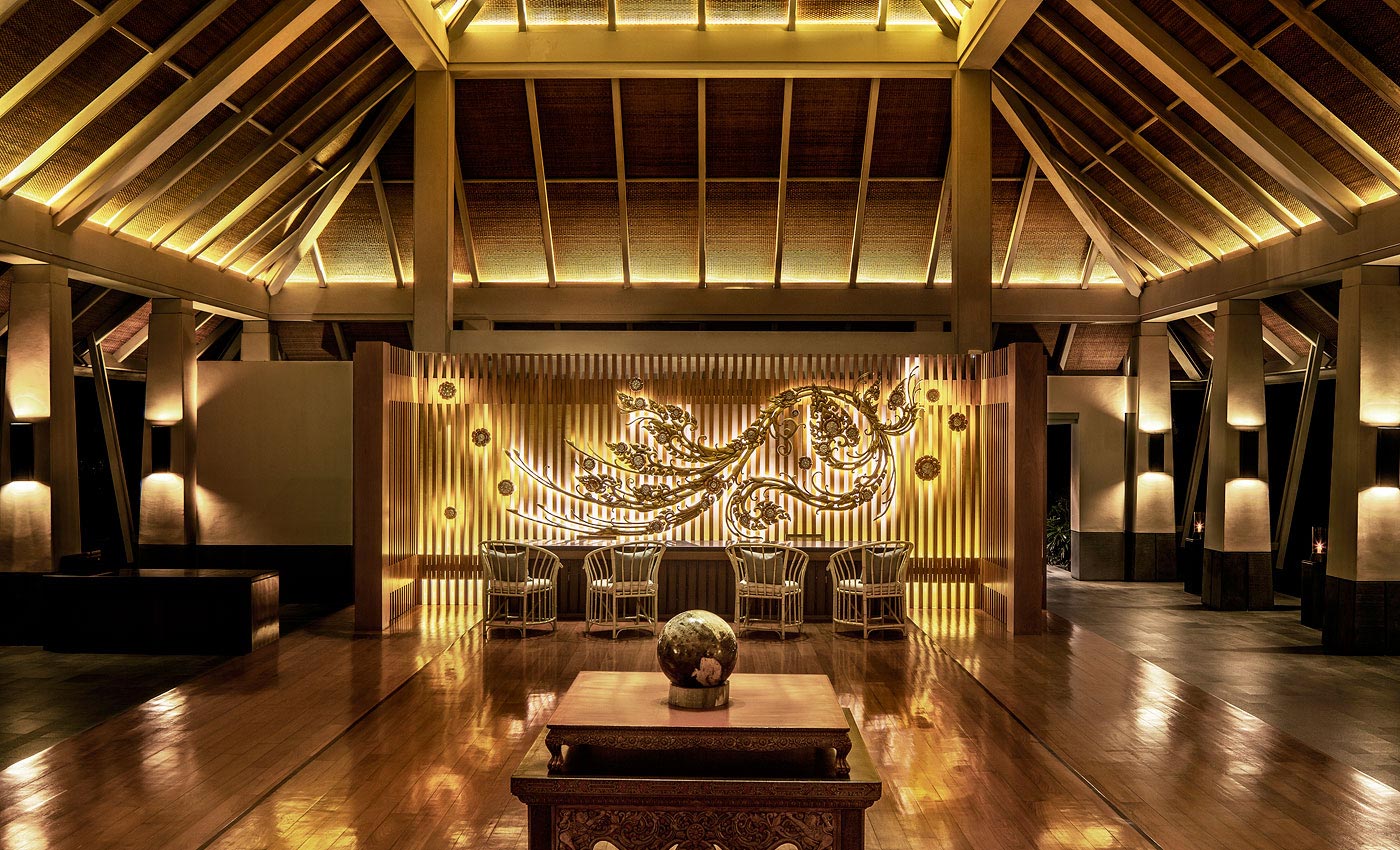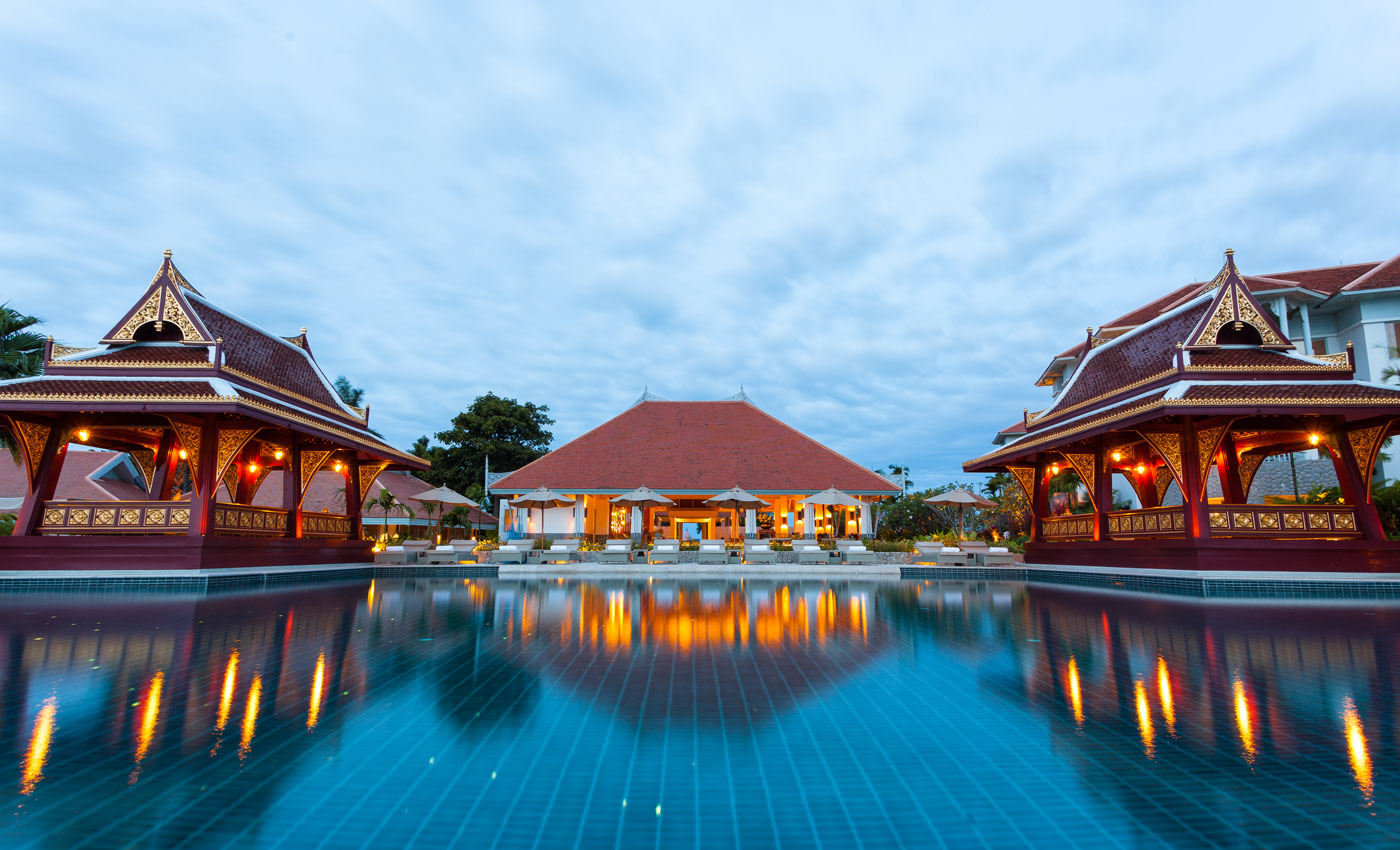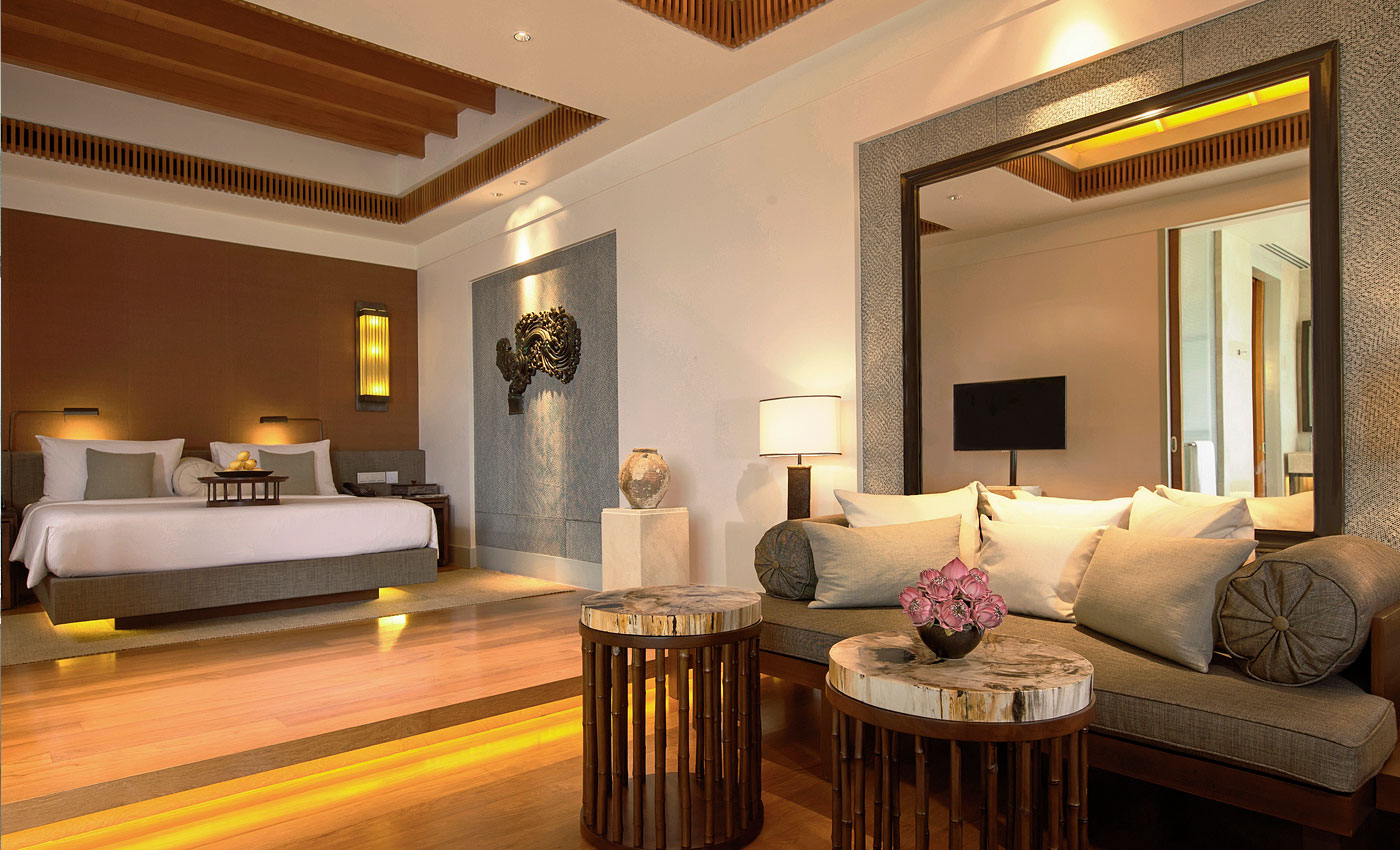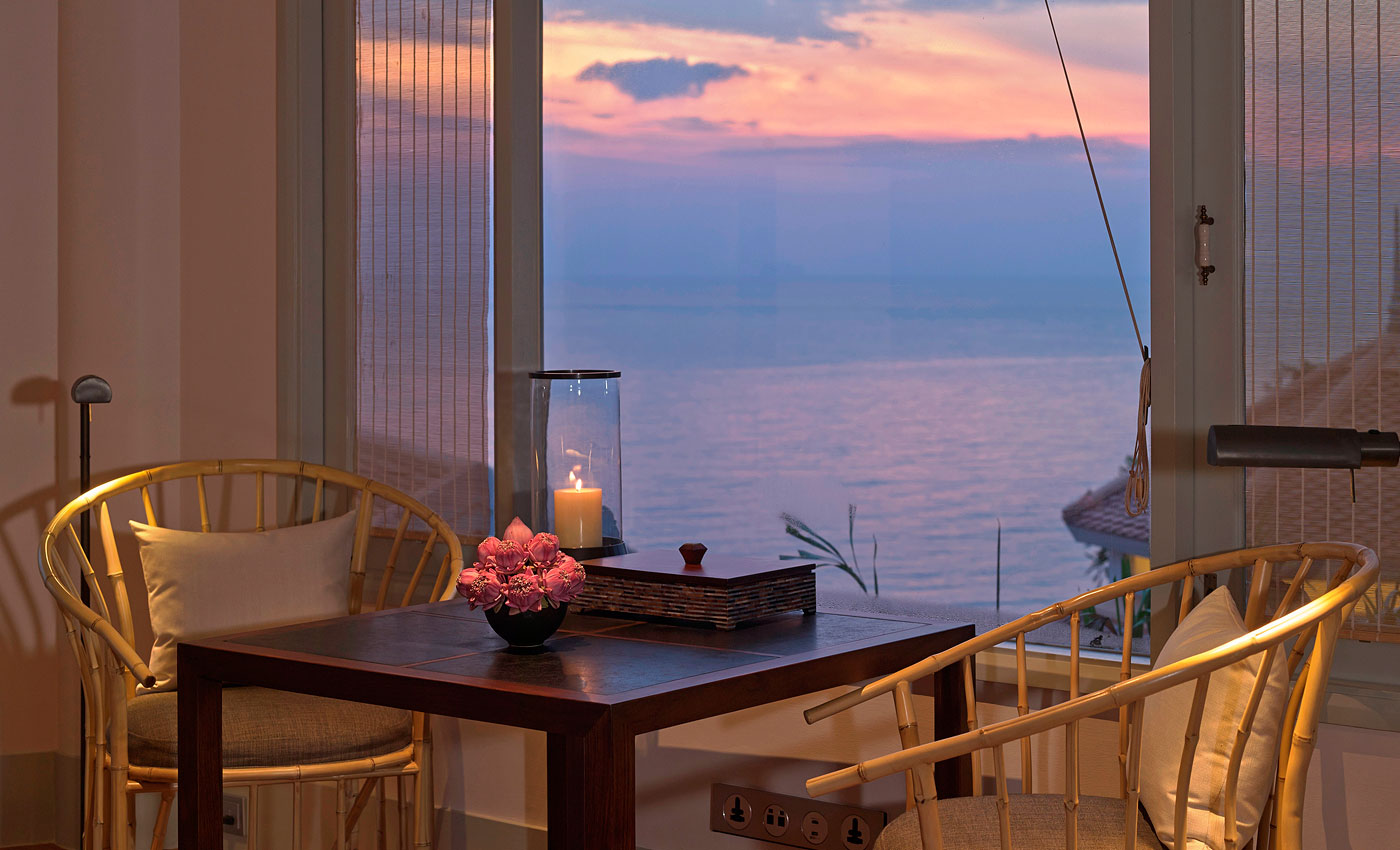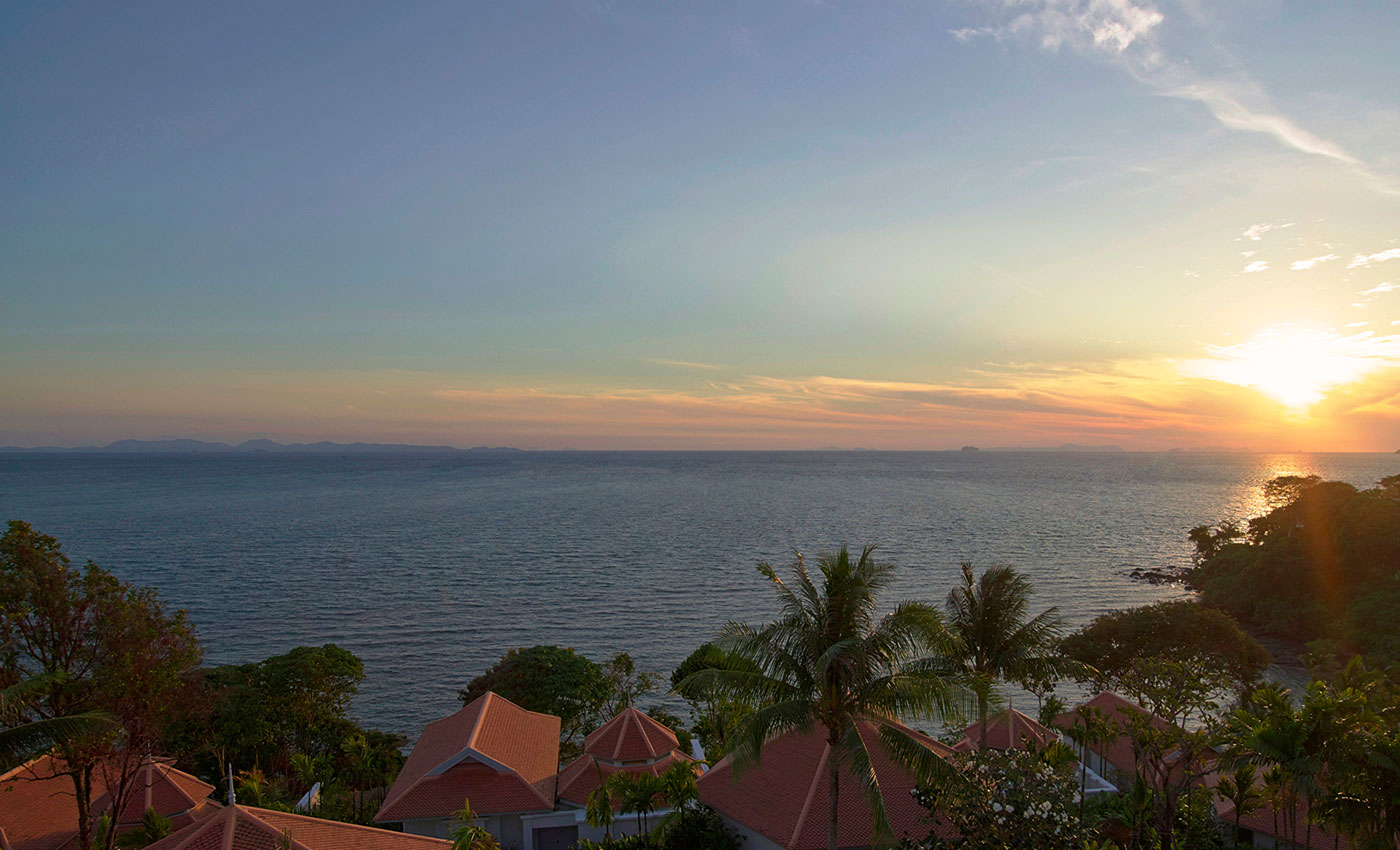 In terms of location, Amatara Wellness Resort lives between two worlds. With Phuket Town just 15 minutes away yet positioned on a quiet corner in Cape Panwa Phuket, Amatara is both tranquil while remaining within reach of the main town's high energy.
When it comes to yoga retreats, Amatara Wellness Resort is highly personalized. They cater to both beginners and advanced practitioners and offer a balance of asana practice, meditation, and philosophy. All yoga retreats at the resort include accommodation, roundtrip airport transfers, three healthy meals per day, a wellness consultation, a departure consultation, a physical analysis, a blood pressure check-up, and one Thai Hammam journey. Daily yoga is included as well, with private yoga sessions incorporated into stays of five nights or more. Holistic treatments are included as well, exact offering varying dependent upon your length of stay.
Rooms and villas are picture-perfect, each with its own private balcony and sea views. Some also have private pools. Accommodations at the resort were designed by Jaya Ibrahim, a world-renowned designer who has worked with Aman Resorts, Four Seasons, Capella, and Conrad.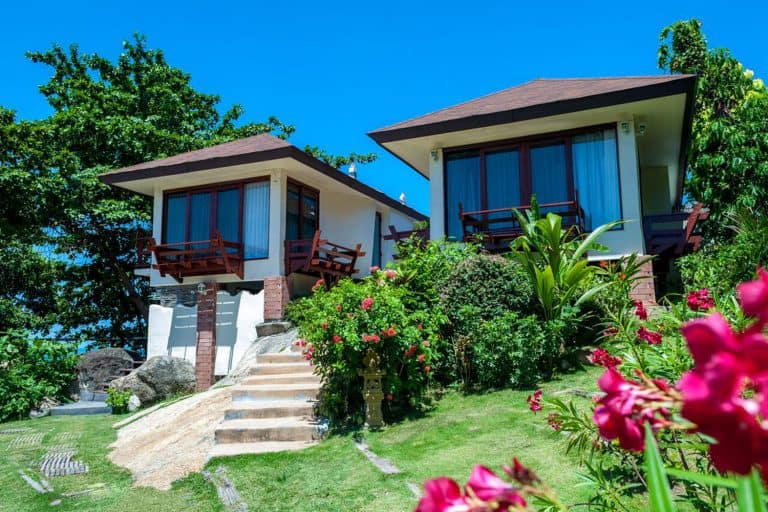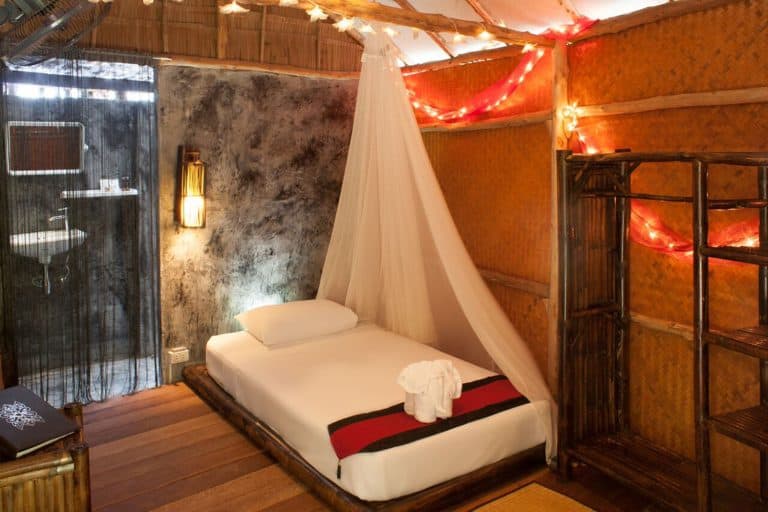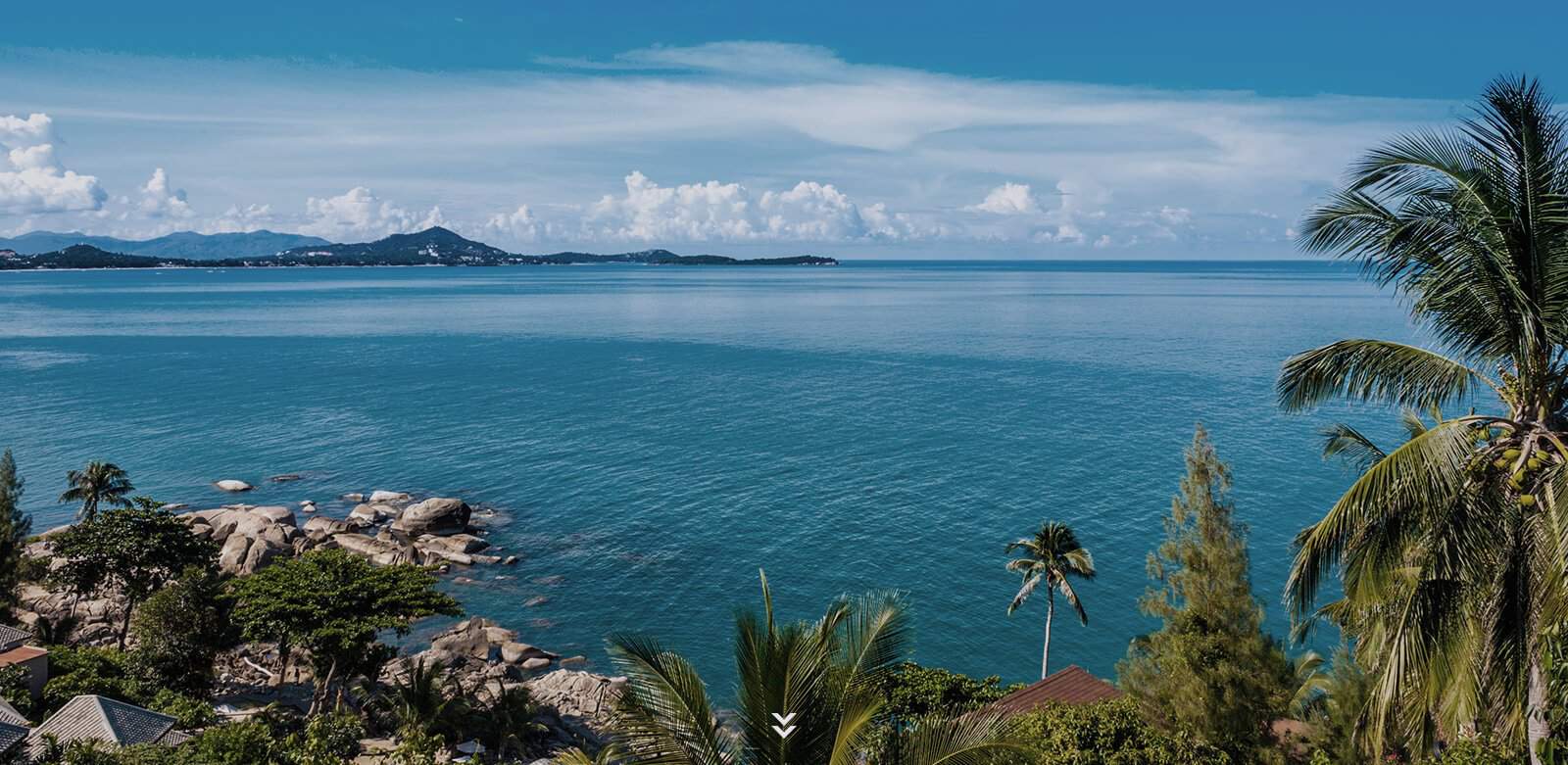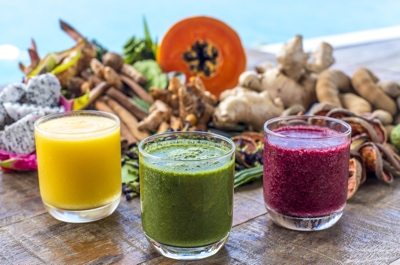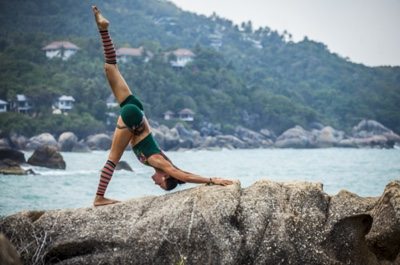 vikasa-ocean-rooms-7-768x512
vikasa-zen-bungalows-12-768x512
yoga_vacation_home_small_3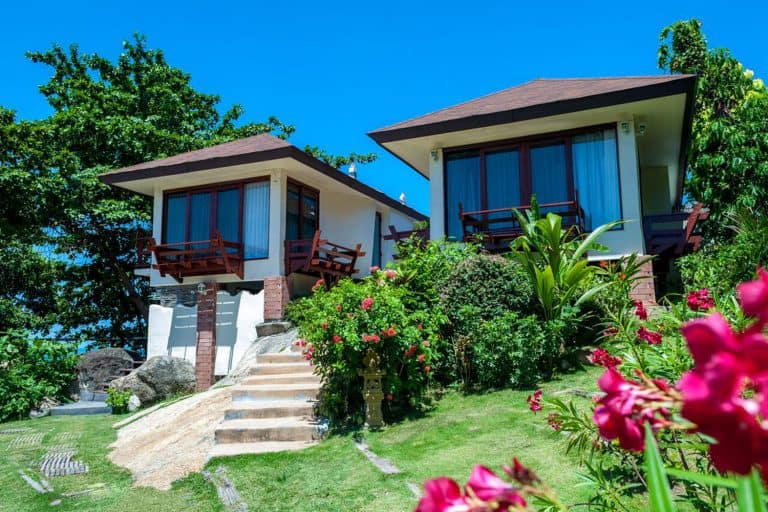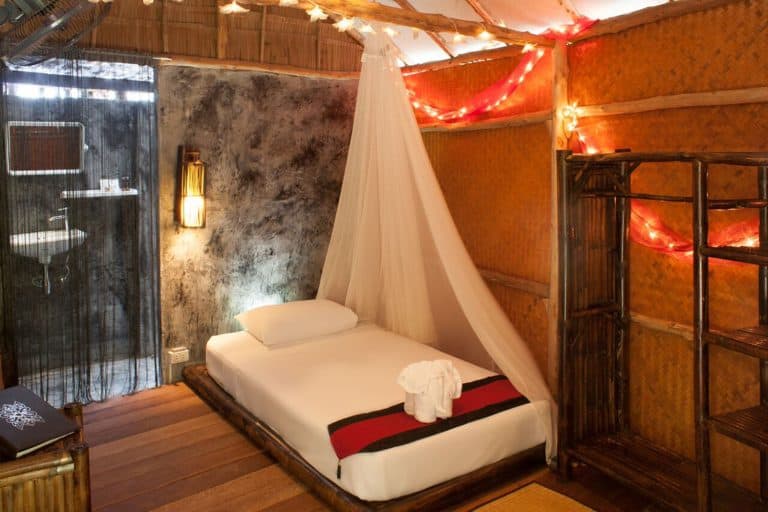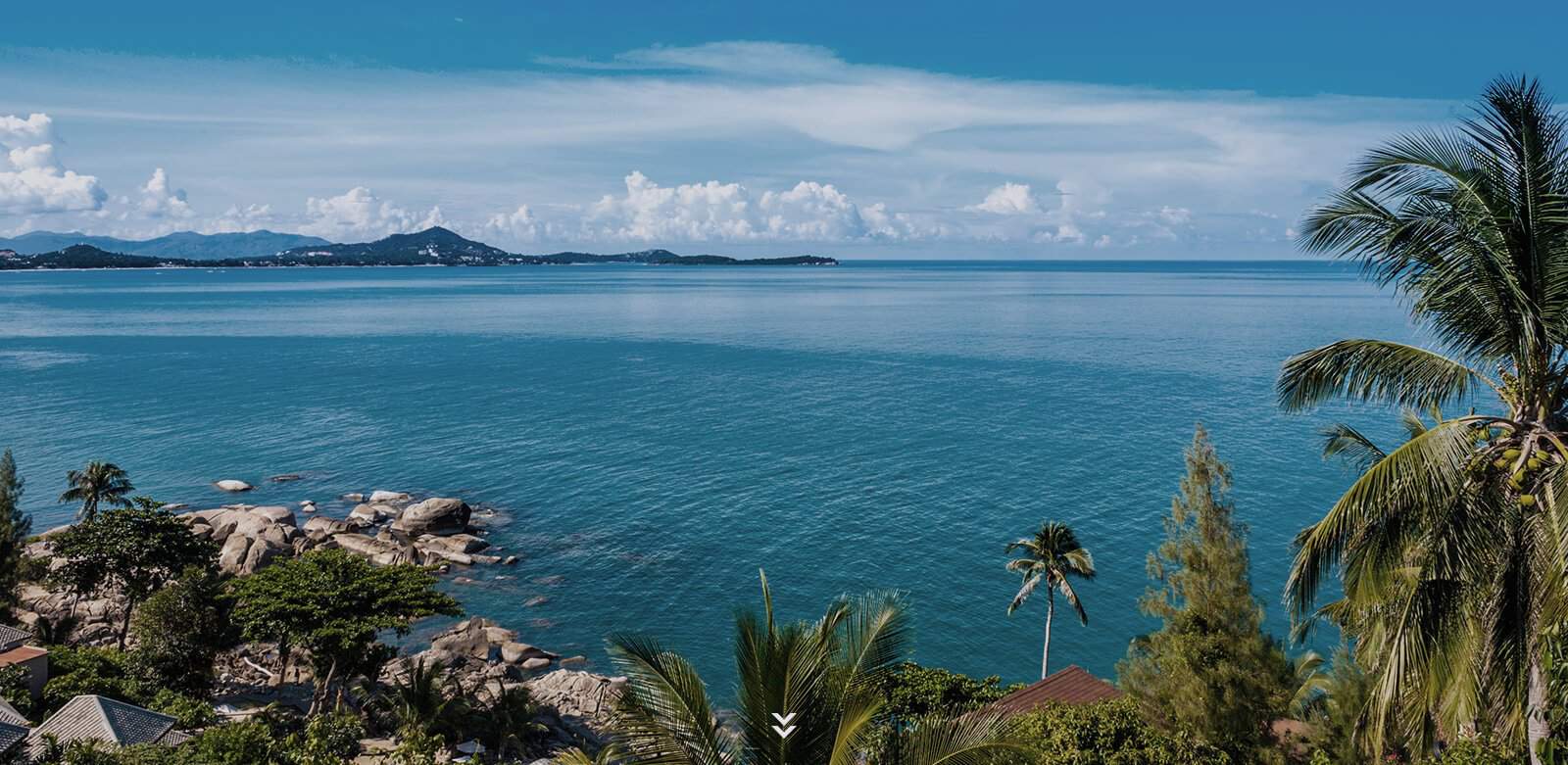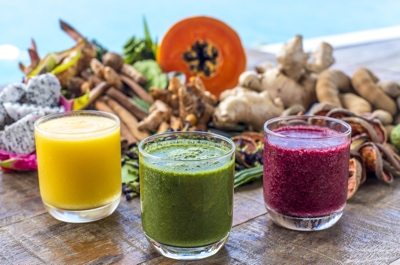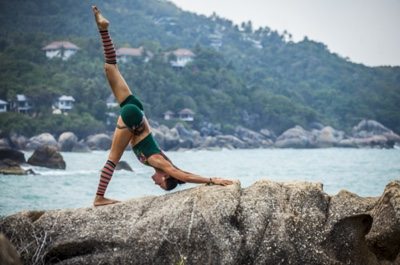 Vikasa Yoga overlooks the ocean, based on the eastern coast of the jaw-dropping Koh Samui. Known for its pristine beaches and tropical vibe, Koh Samui is a tranquil getaway for those looking for an oceanside escape from the everyday.
Accommodation at Vikasa Yoga is down-to-earth luxurious. It's modestly designed and decorated, but completely clean and comfortable. Zen bungalows welcome solo travelers; these are the resort's smallest huts. For a higher-end stay, guests can opt for ocean view rooms or more luxurious beach bungalows.
When you book a yoga vacation here, your stay includes accommodation, brunch and dinner, morning meditation, gym access, and unlimited yoga classes. You can also sign-up for themed retreats that run throughout the year.
Vikasa Yoga's Life Café offers incredible ocean views (much like the majority of spaces at this resort) and healthy, wholesome organic food. The menu is a joint effort of two top chefs – Boris Lauser from Berlin and Cyril Schivo from Paris. The two are well-renowned in their field, Lauser being the recipient of Europe's best raw food chef award and Schivo having been a full-time private chef for a president in Africa!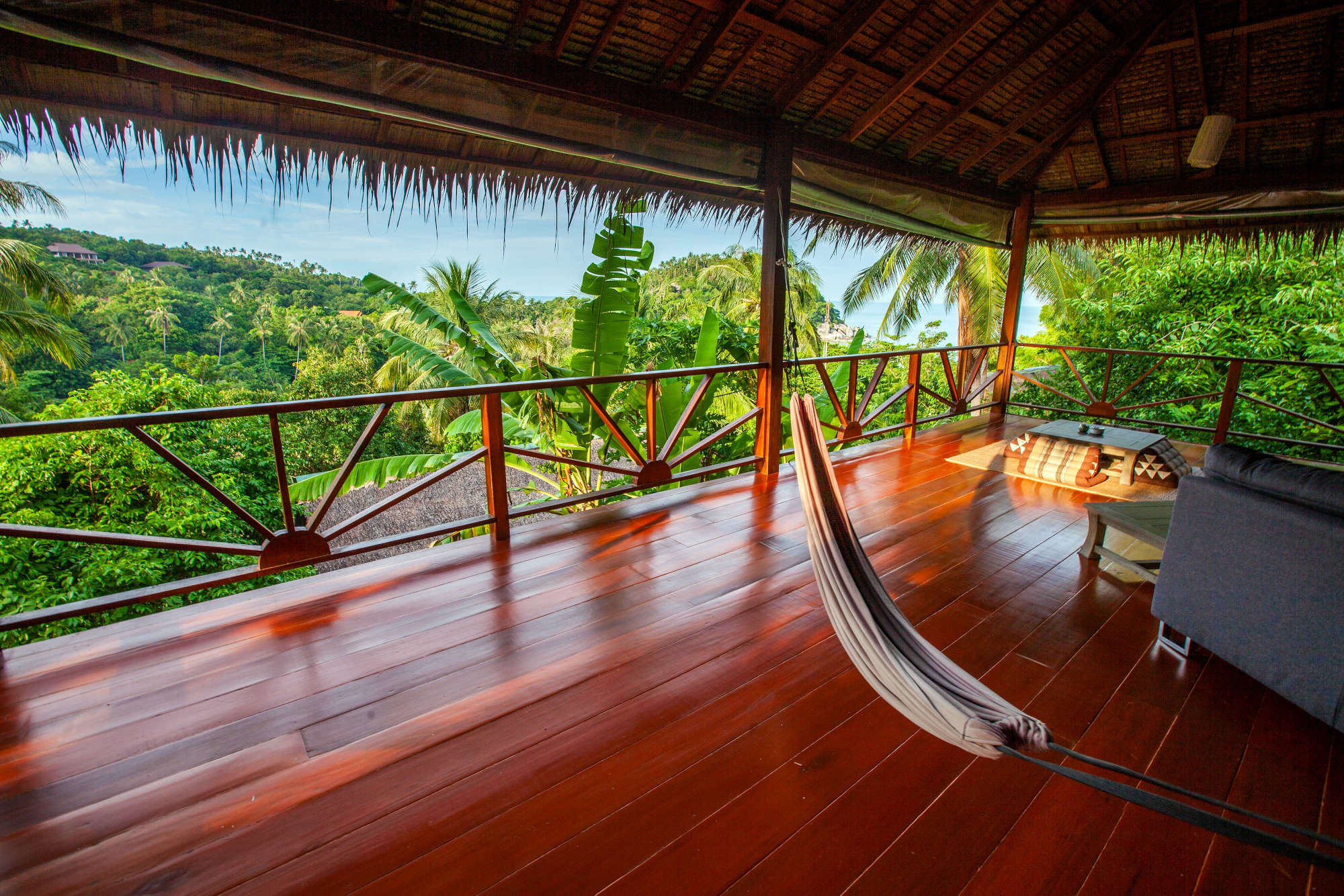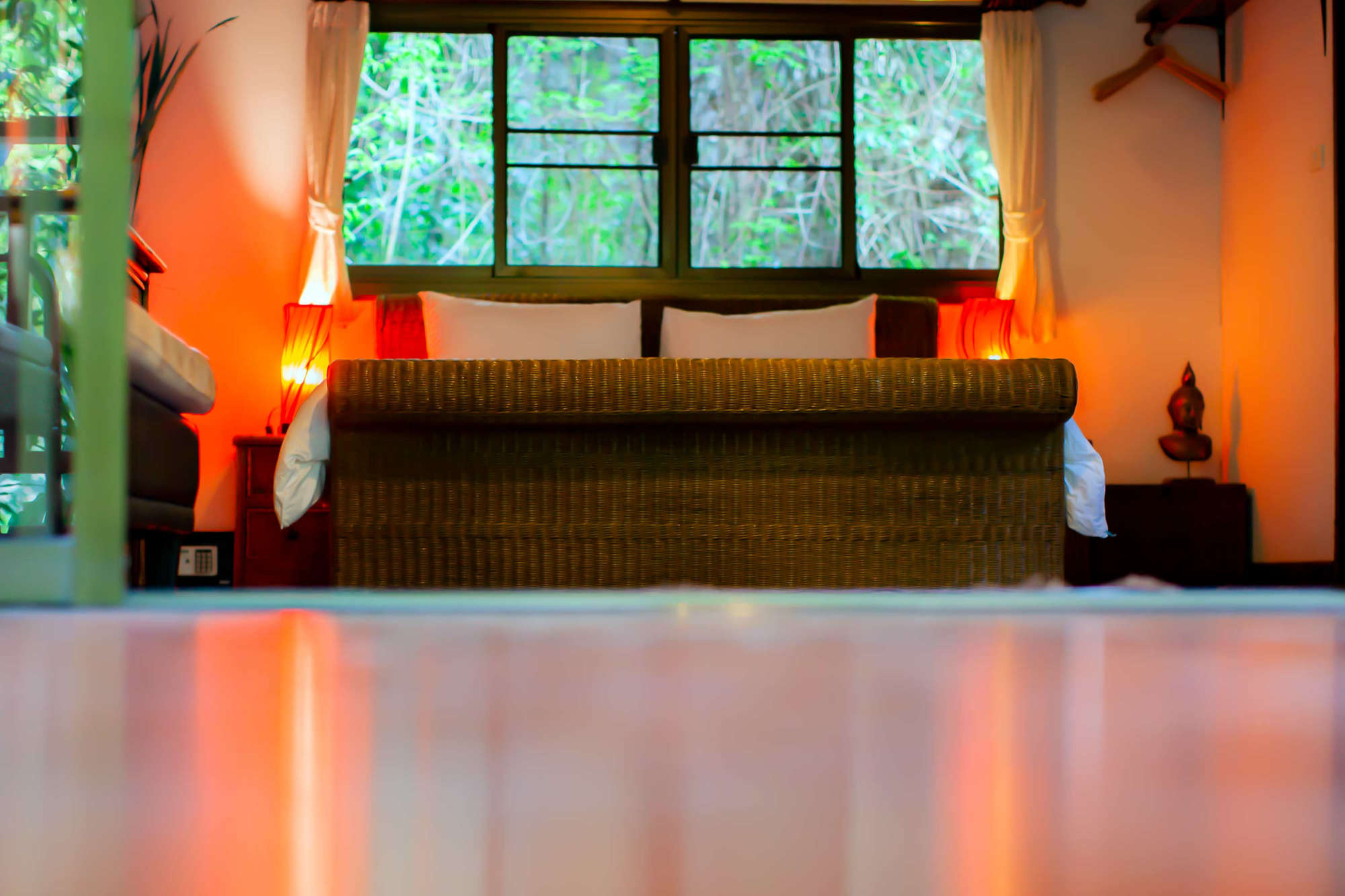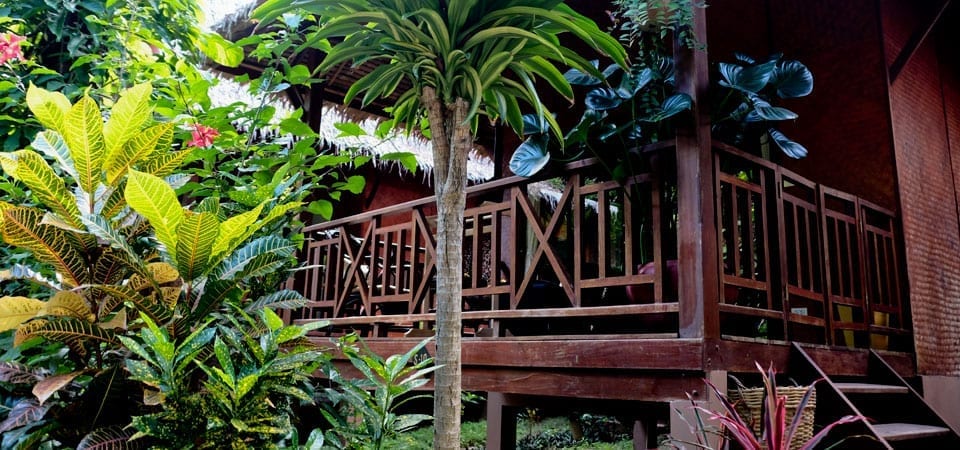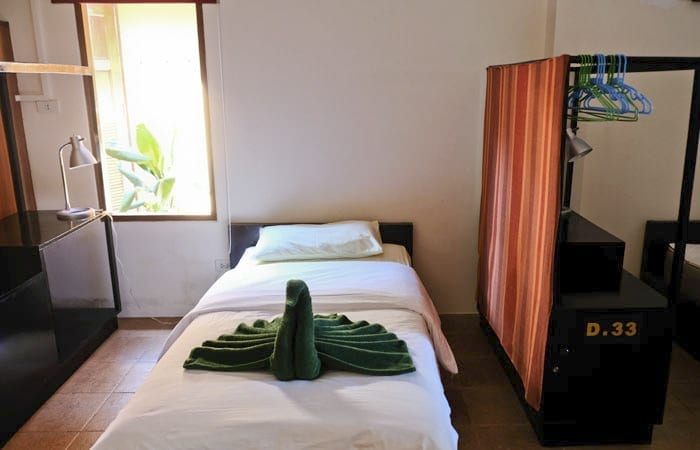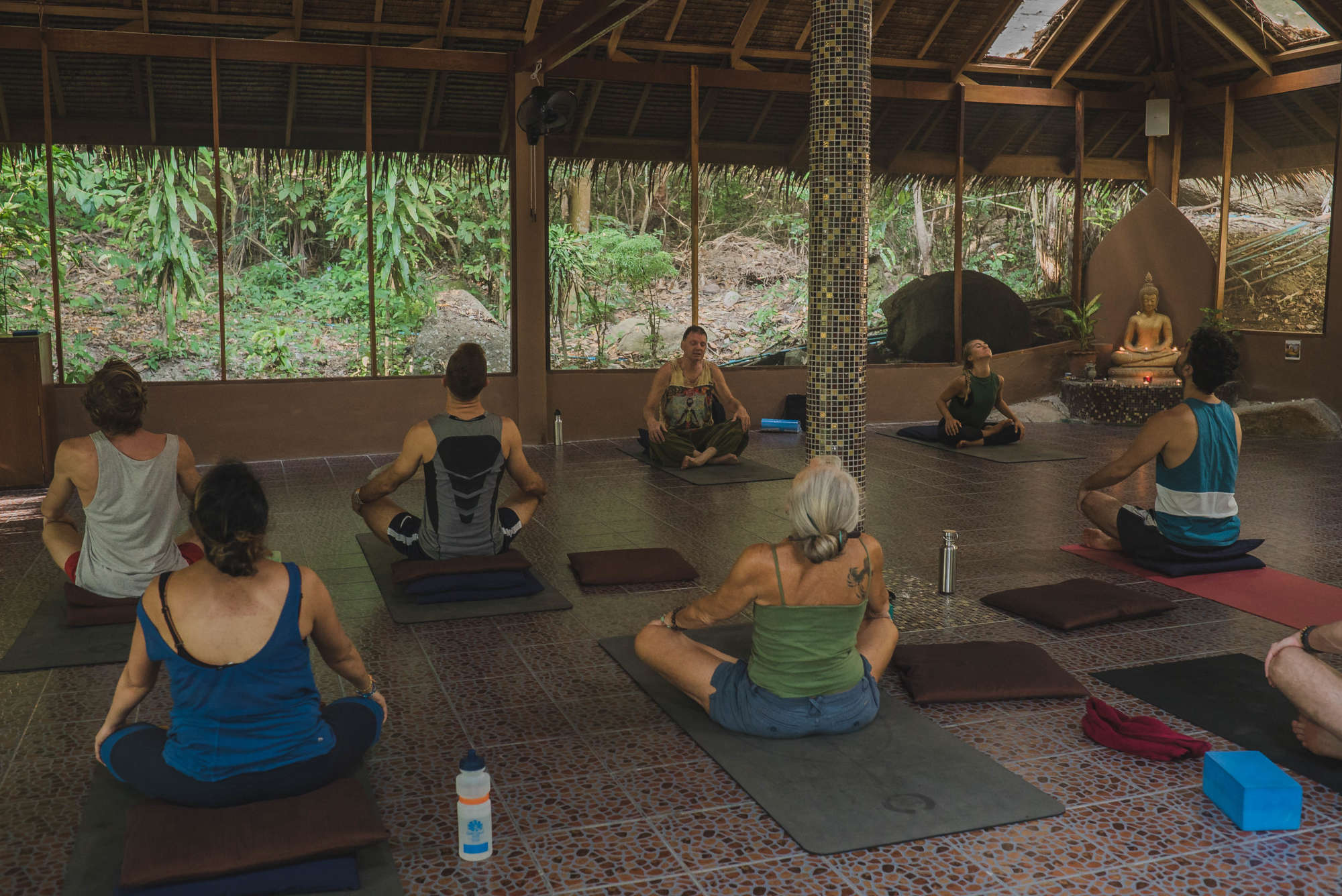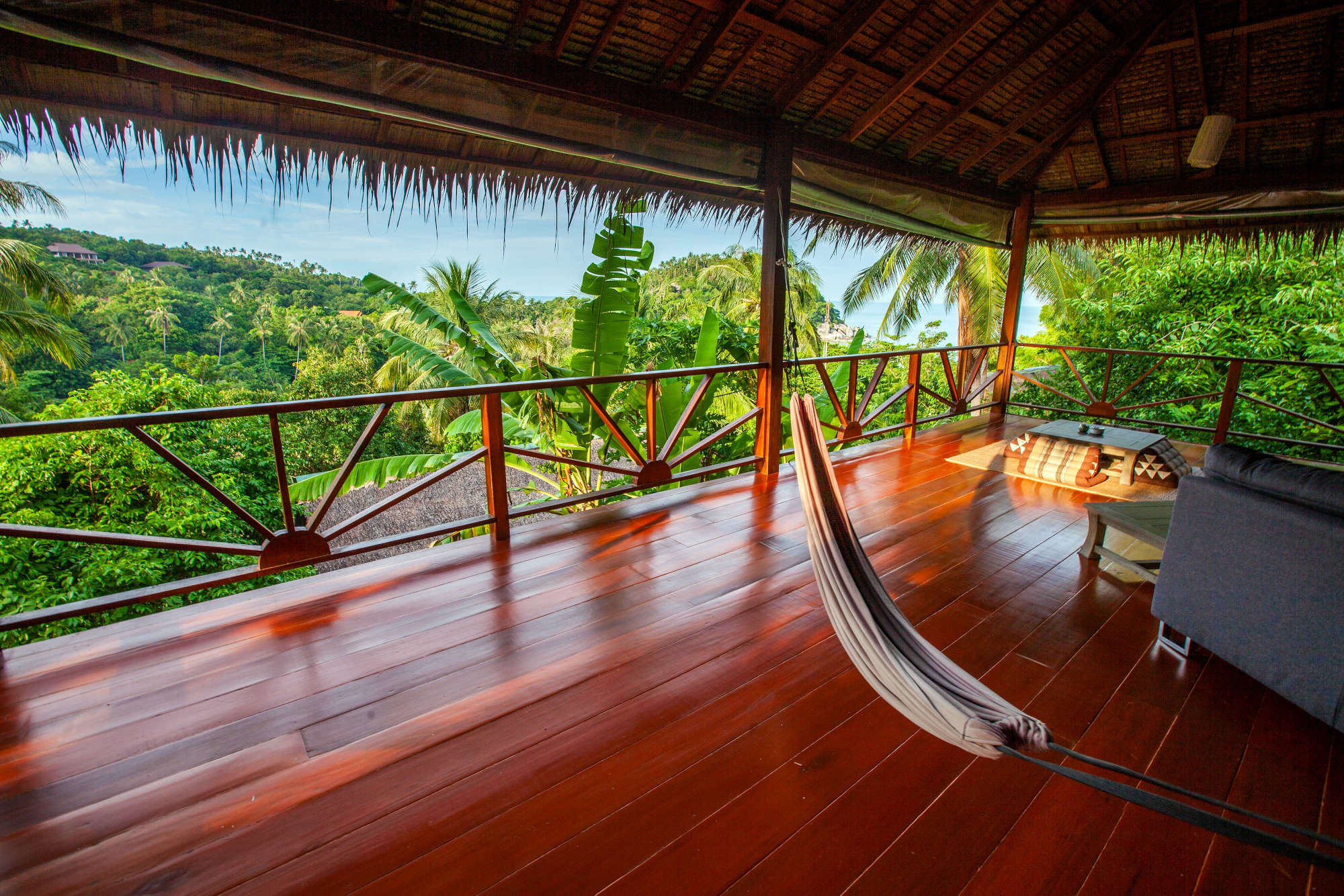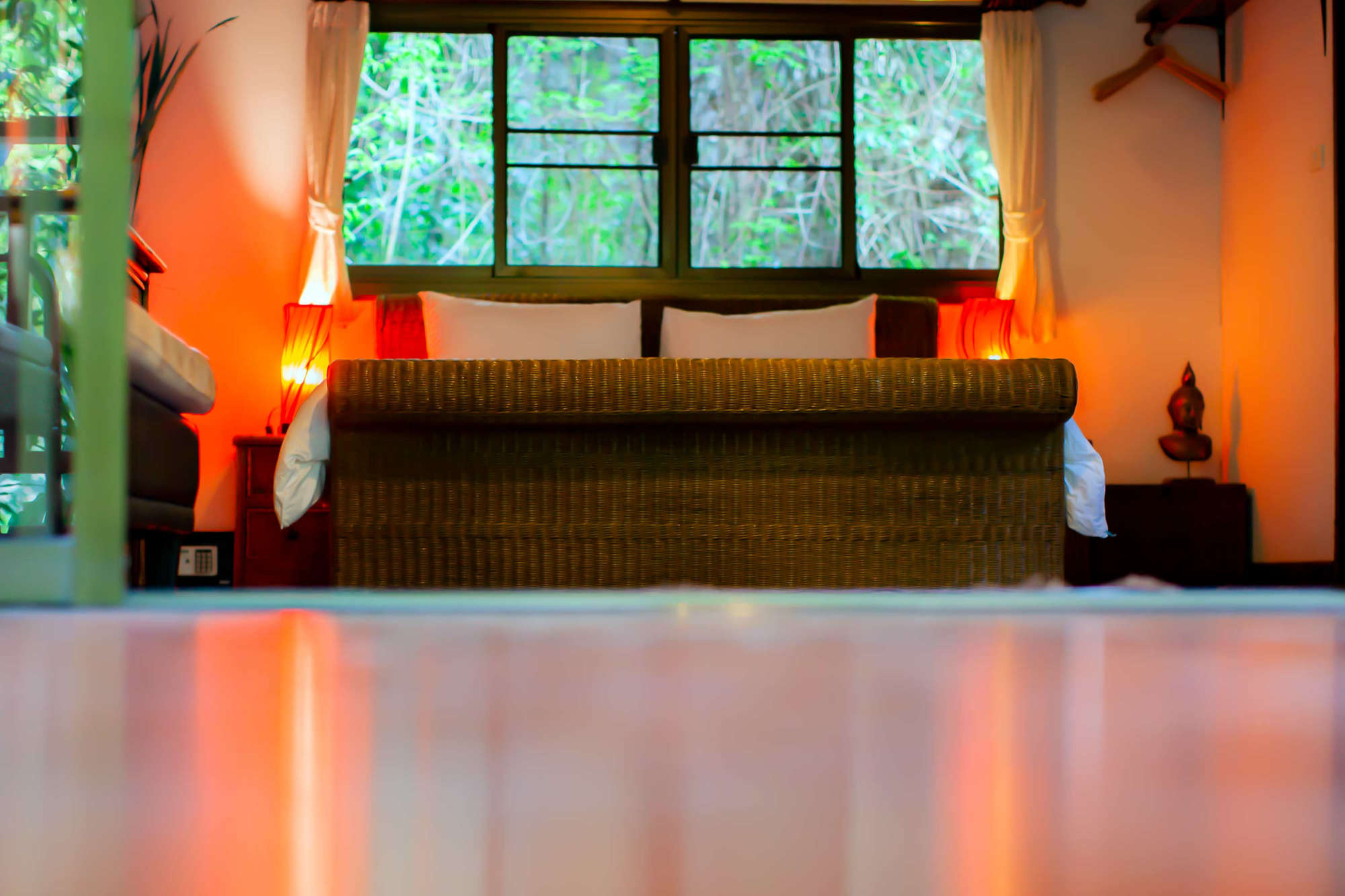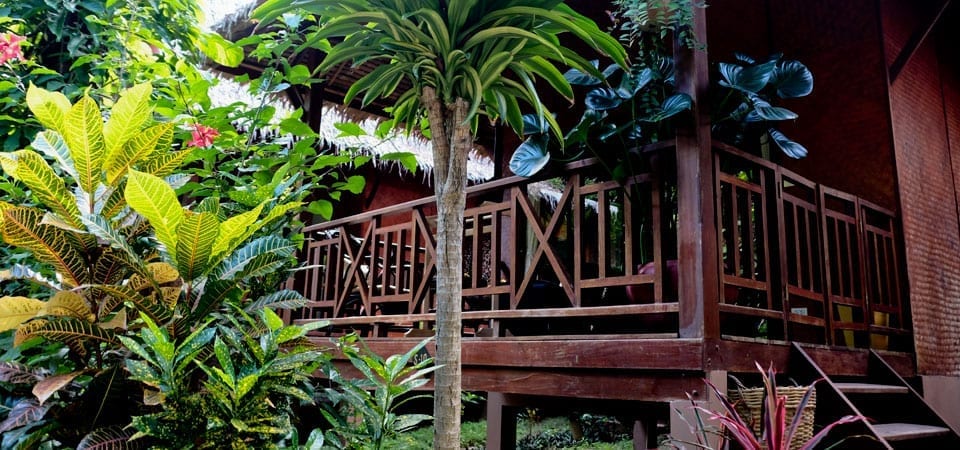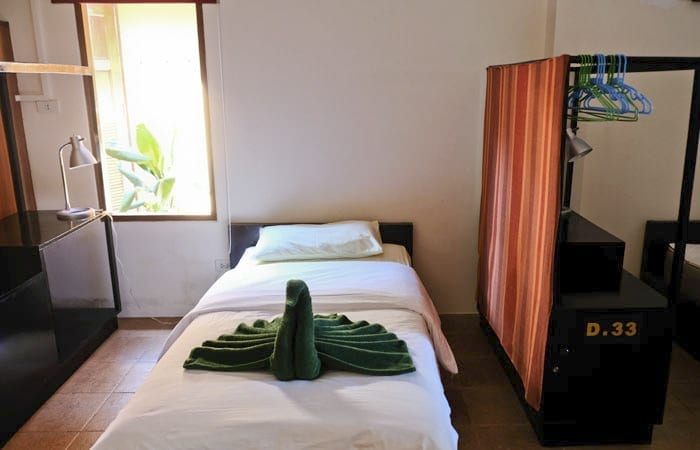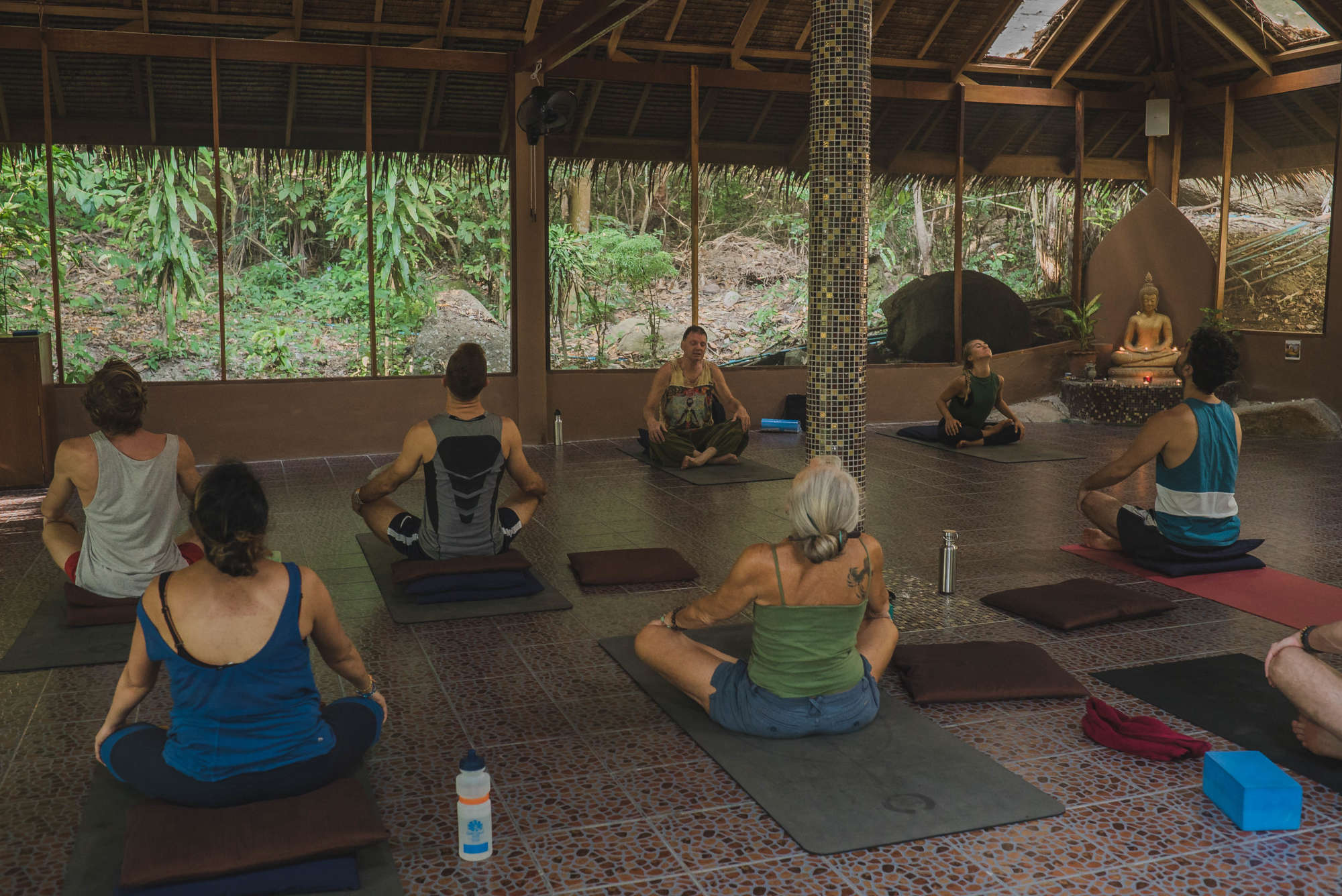 Koh Phangan is the home of The Sanctuary Thailand Spa Resort. Surrounded by coconut trees and overlooking the ocean from Haad Tien Beach, this resort is a tranquil choice for a yoga retreat in 2019. This spa resort carries an understated luxury, offering both dorm stays and private villas and houses. There is space for all here.
Yoga holidays can be booked for 3, 7, or 10 days. Inclusions of the 7-day program include accommodation for seven nights, a welcome meal, six yoga or Pilates classes, one Sanctuary therapy or healing treatment, a daily steam room treatment, and five massages (1 hour each). When you book, you have your choice of accommodation, which will change the price of your package accordingly.
To complement your retreat, you can also add various cleanses and detox packages. These packages are all-inclusive of whatever food and drink you'll require each day. If you opt to take meals as they come, both vegetarian and seafood dishes are offered at the beachfront restaurant.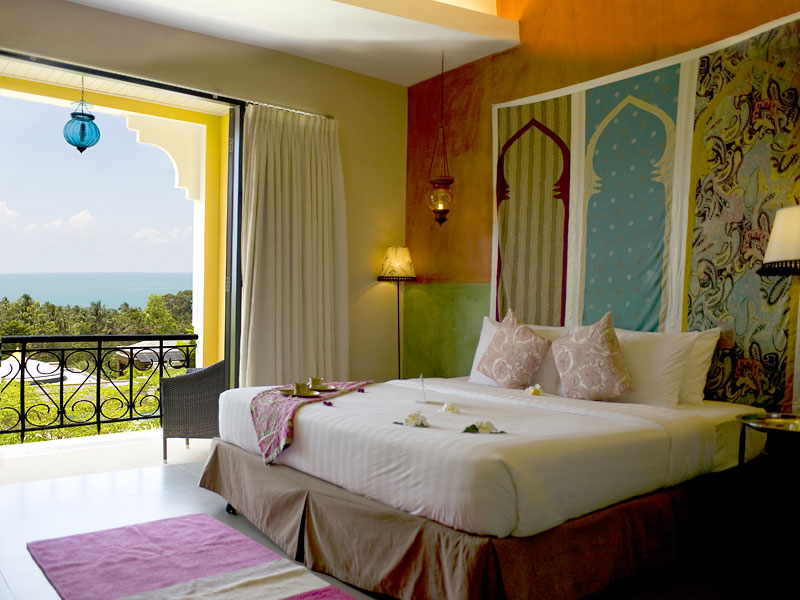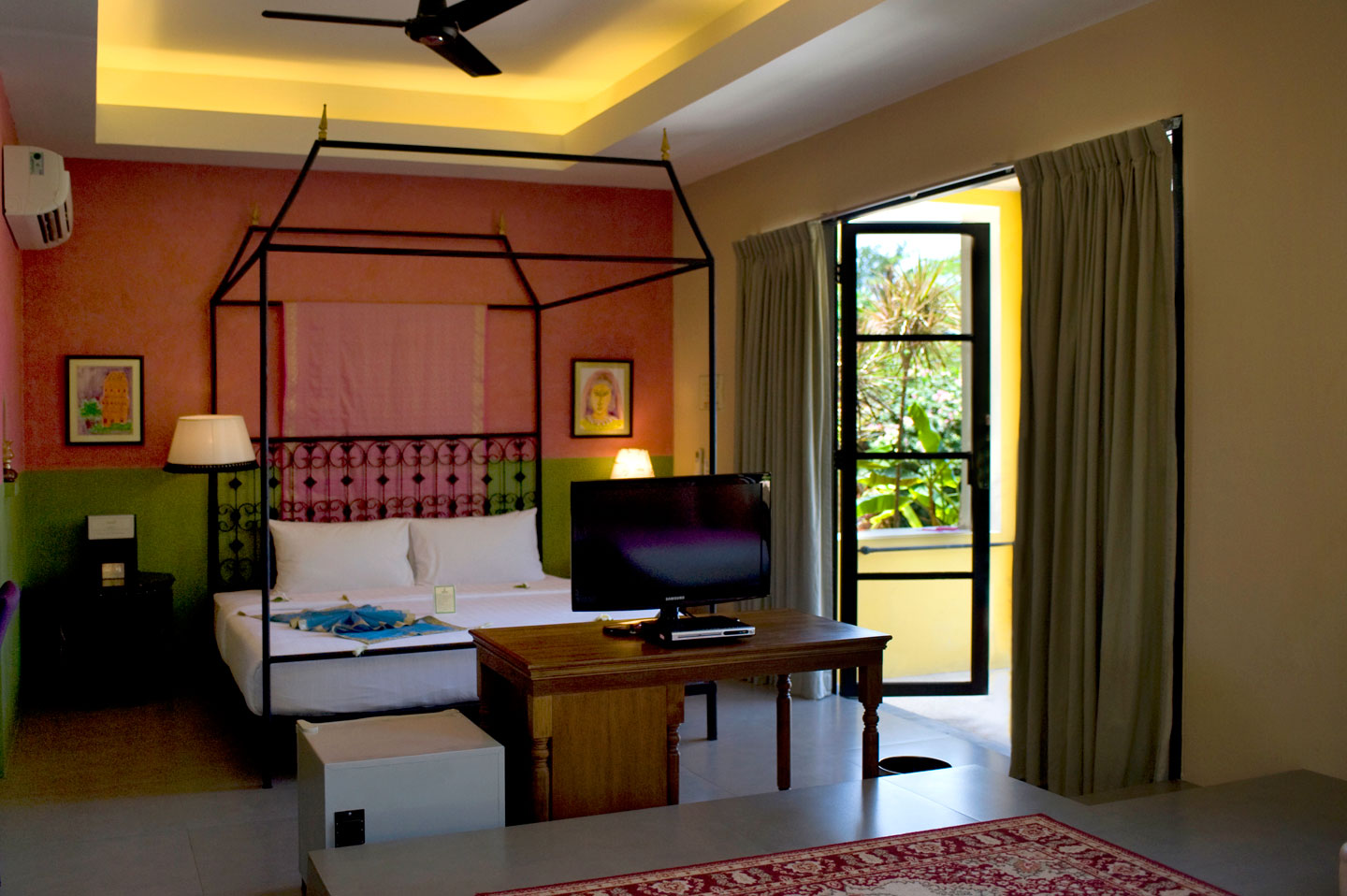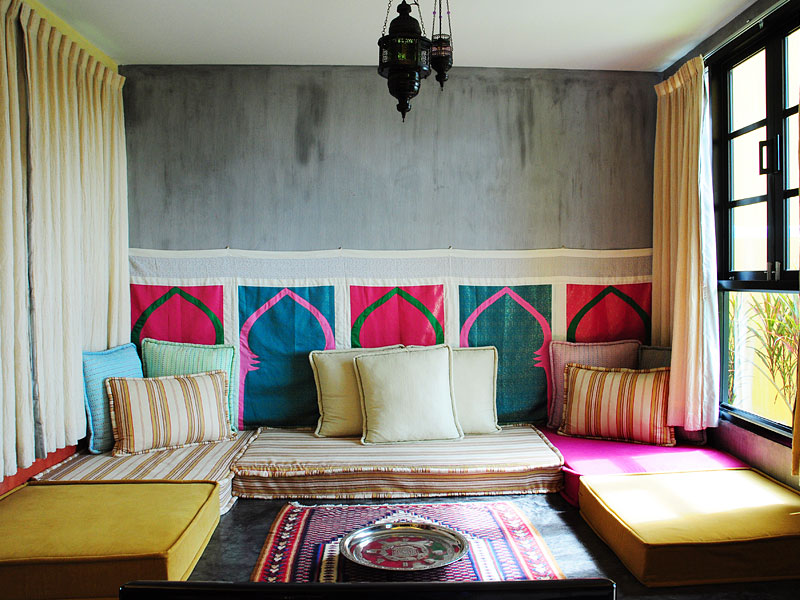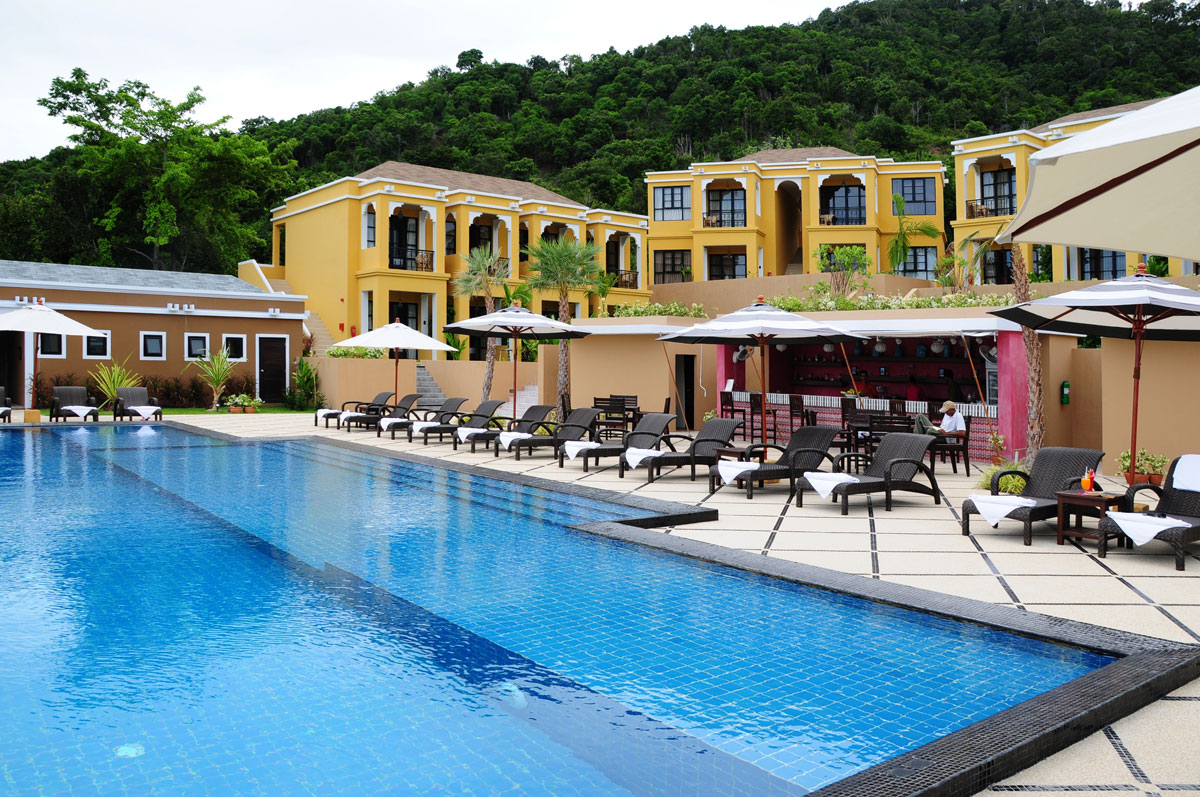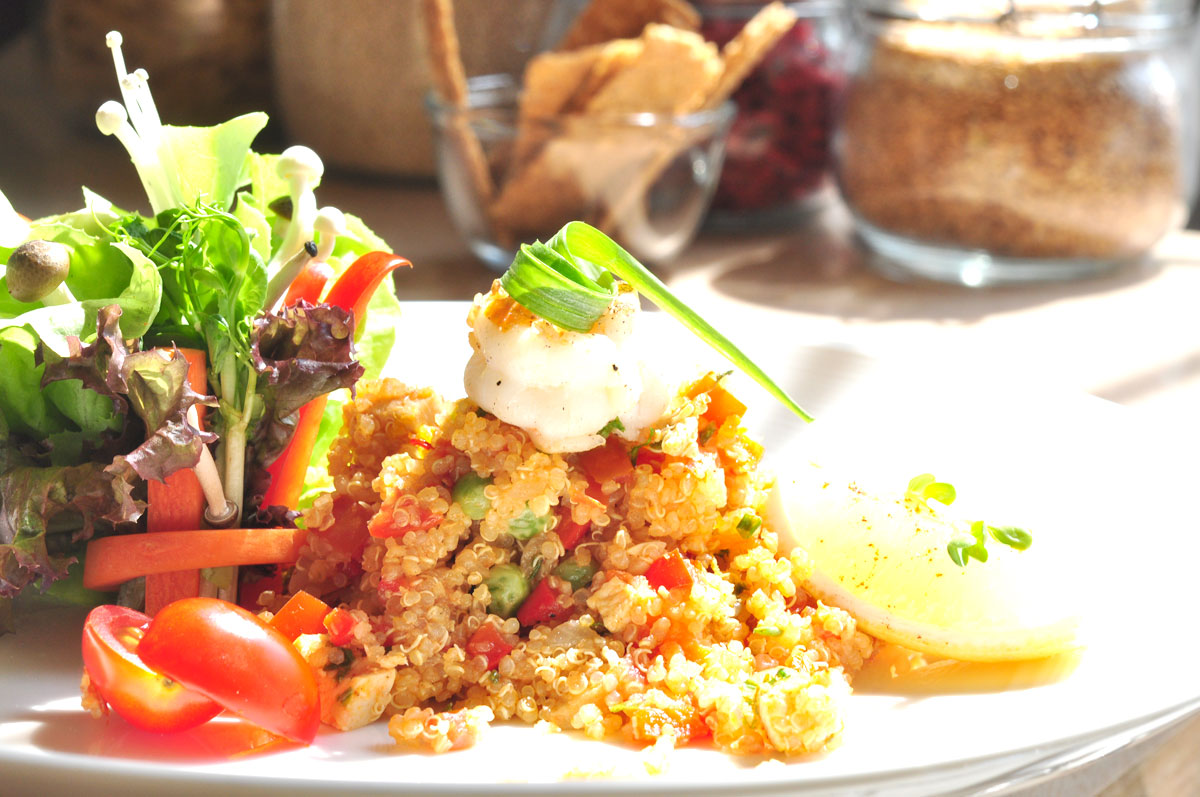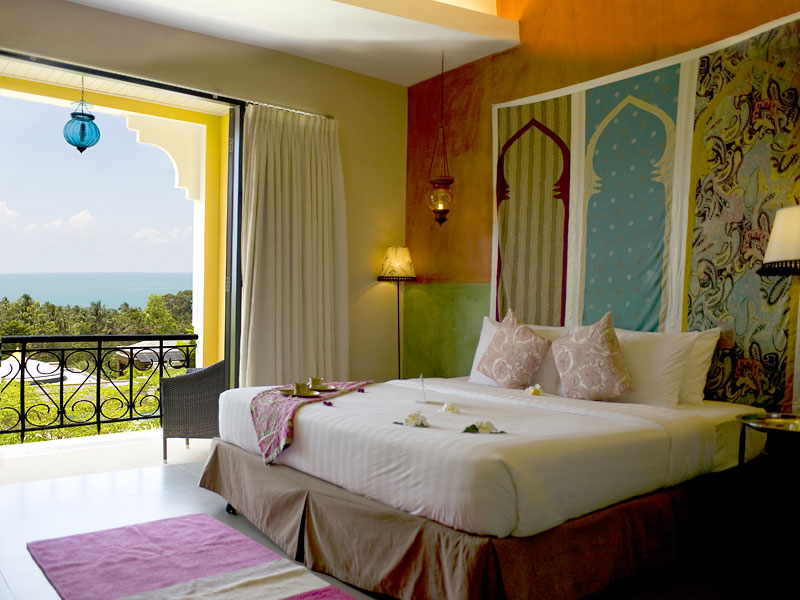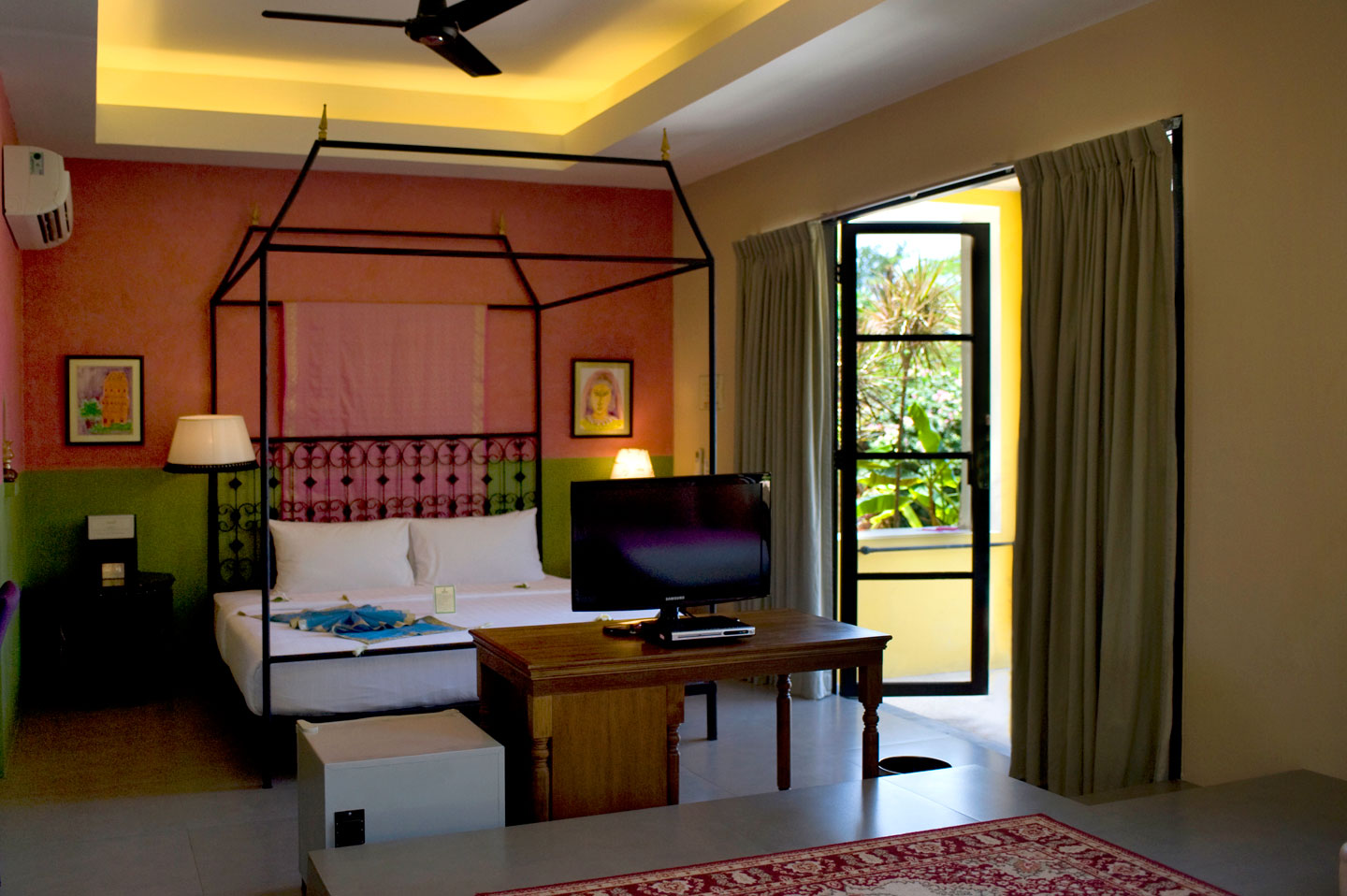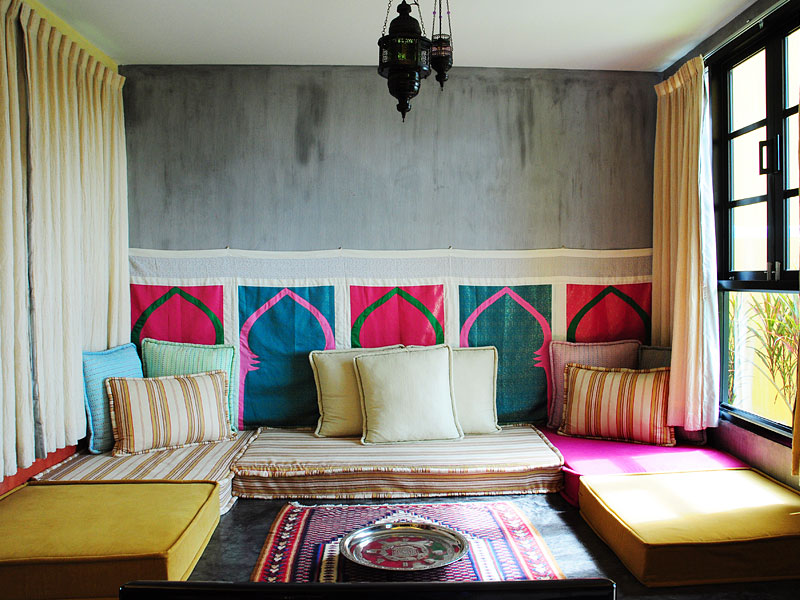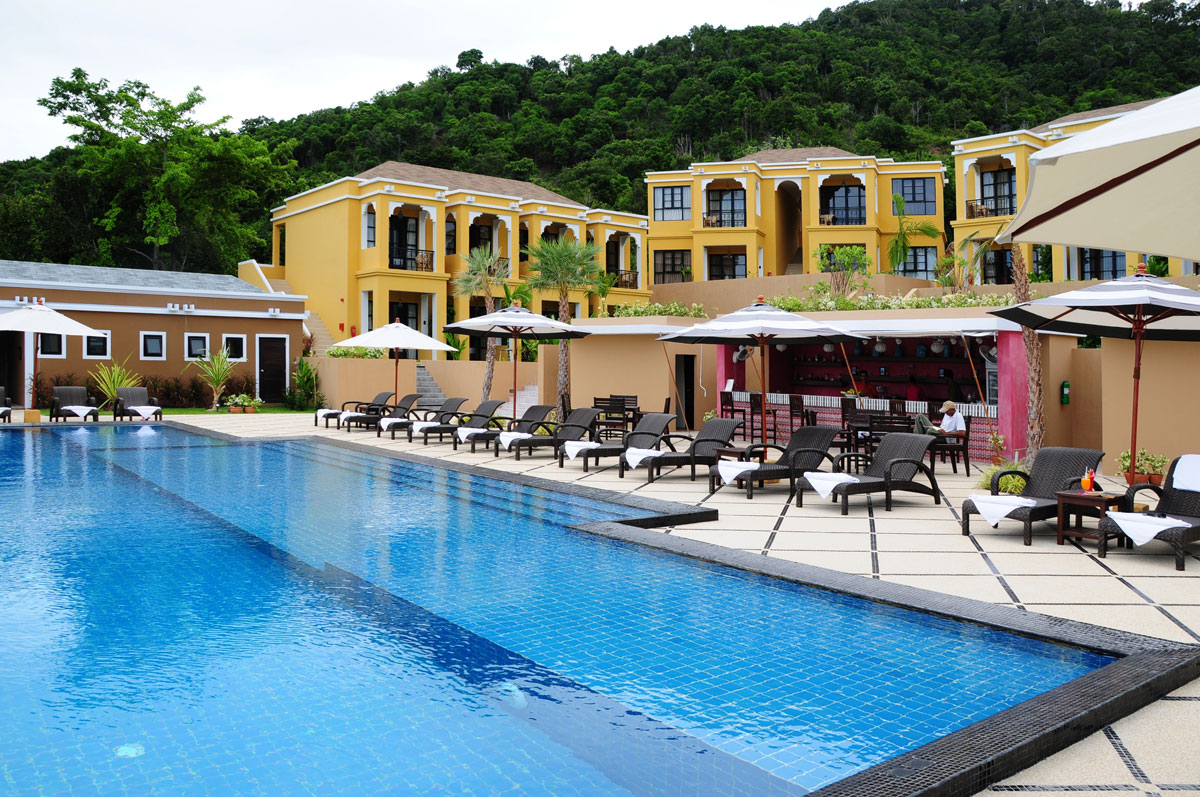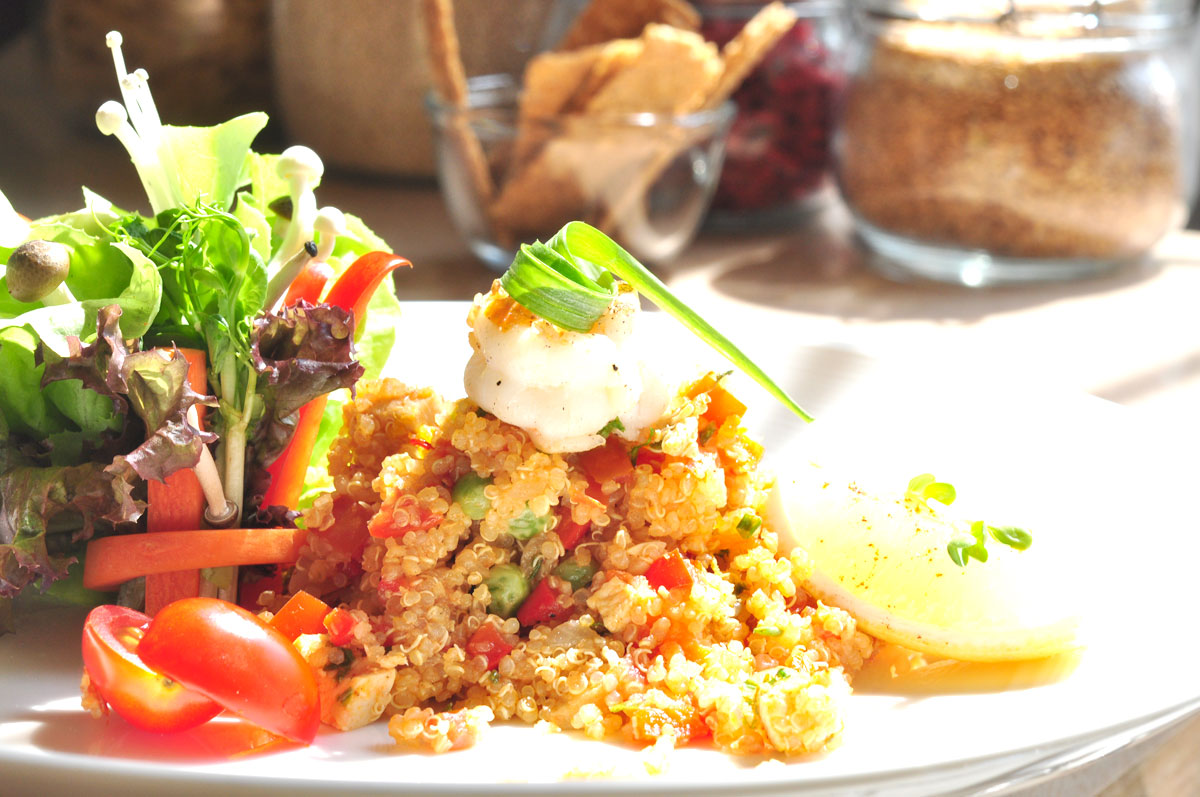 Absolute Sanctuary is situated in the northeastern region of Koh Samui. Though not directly on the water's edge, the resort is just a 5-minute drive from Chaweng and Cheong Mon beaches (shuttle to and from these beaches are included). This retreat center is a wellness fitness resort that offers a variety of programs for guests looking to enhance their sense of holistic wellbeing.
Yoga retreat packages come in the form of 5, 7, or 10-day programs. Regardless of your length of stay, each includes an introductory wellness consultation with bio-impedance analysis, unlimited yoga and group sessions, three healthy meals per day, one Thai massage or aromatherapy session per day, two juices or smoothies per day, one Pilates Reformer/Core Suspend class, and access to the pool, steam room, and fitness center. They also offer roundtrip airport transfers.
Accommodations range from cozy and comfortable rooms to more luxurious suites. The vibrant colors of each room are inspired by the architecture of Morocco, a unique twist on the traditional Thai style of accommodations. All rooms are air-conditioned. On top of amenities like slippers, a beach bag, and a minibar, each room has a yoga mat so you can continue your personal practice when you get back to your room after a long but restorative day of activity.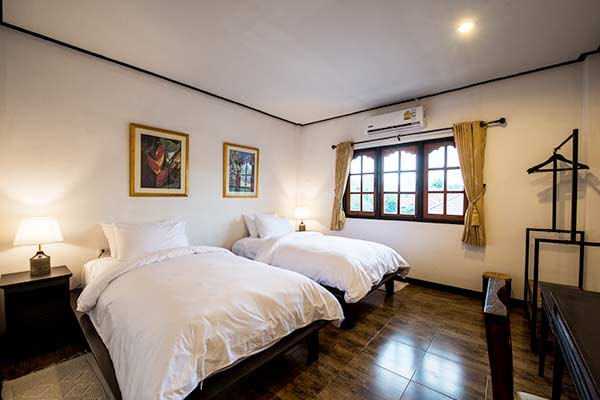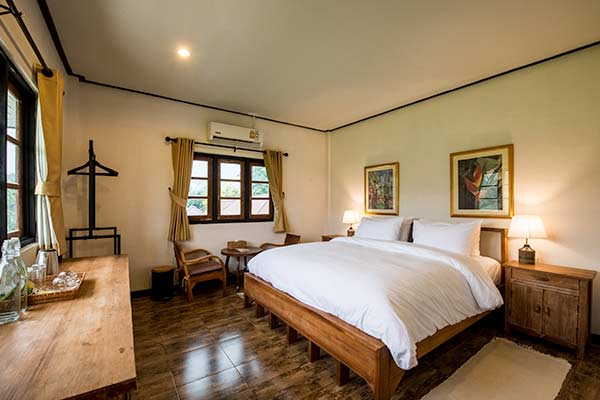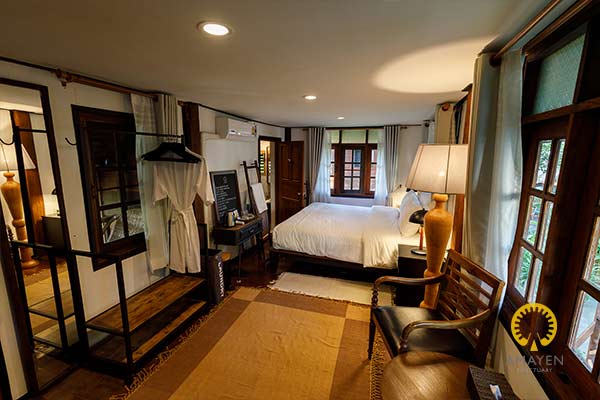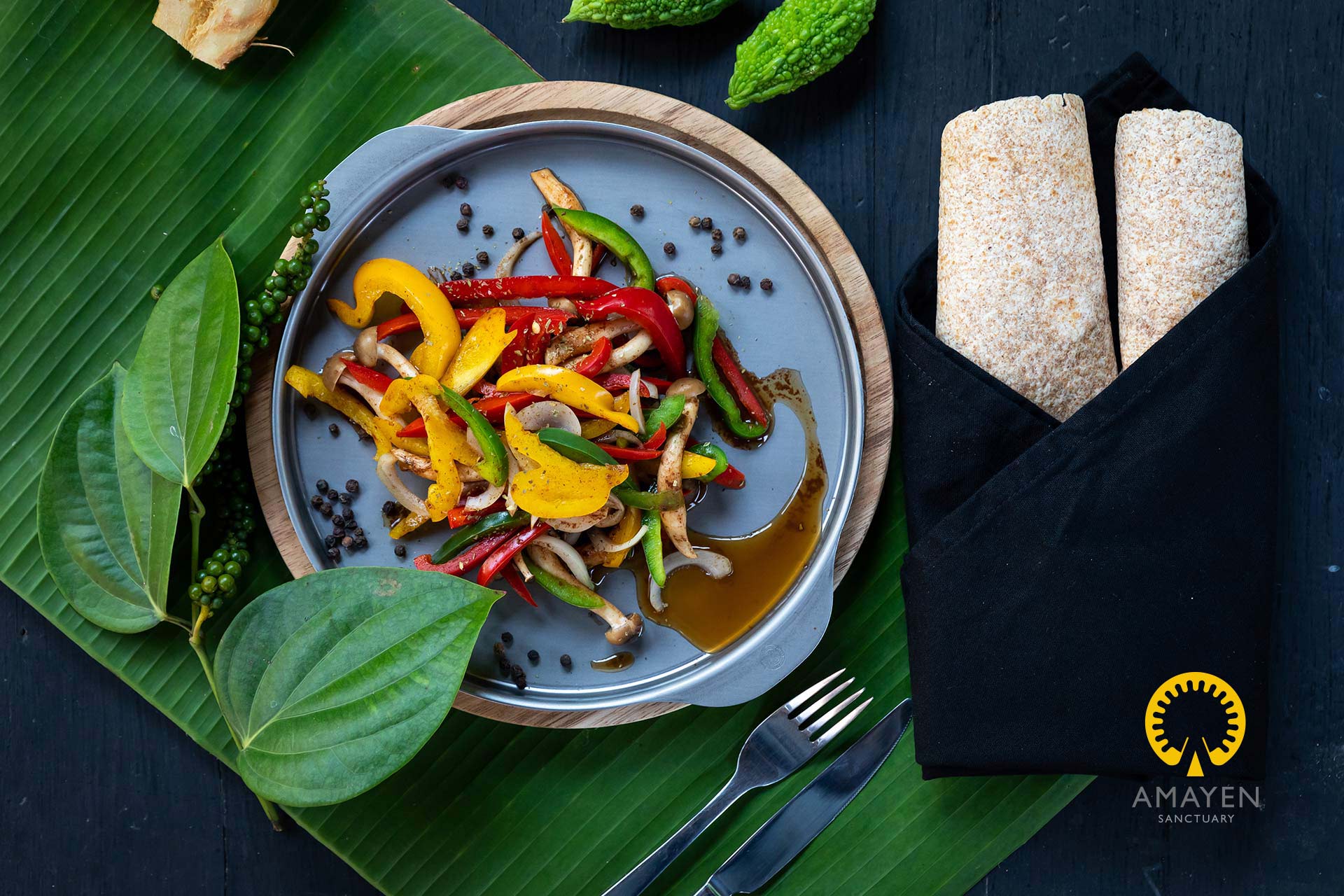 superior-twin-meditation-retreat
deluxe-meditation-retreat
lanna-yoga-retreat-chaing-mai-amayen
2-AMAYEN_Sanctuary-Vegan-Yoga-Retreat_Chiang-Mai-Thailand_1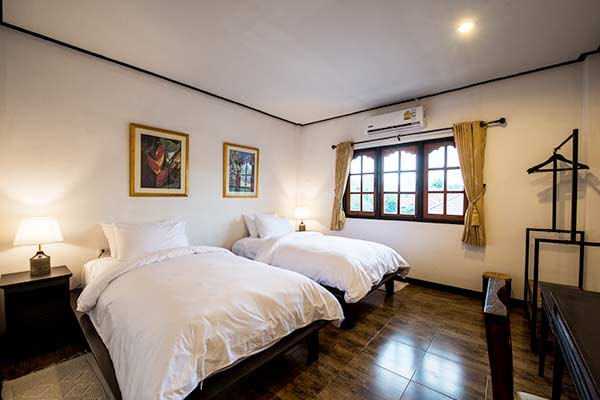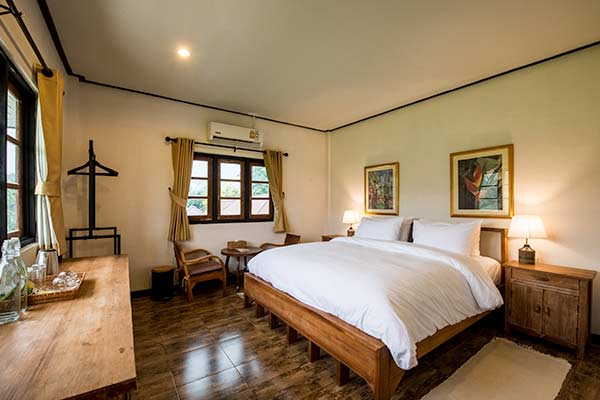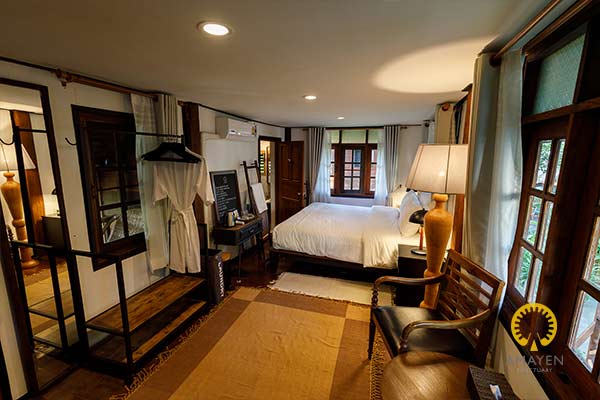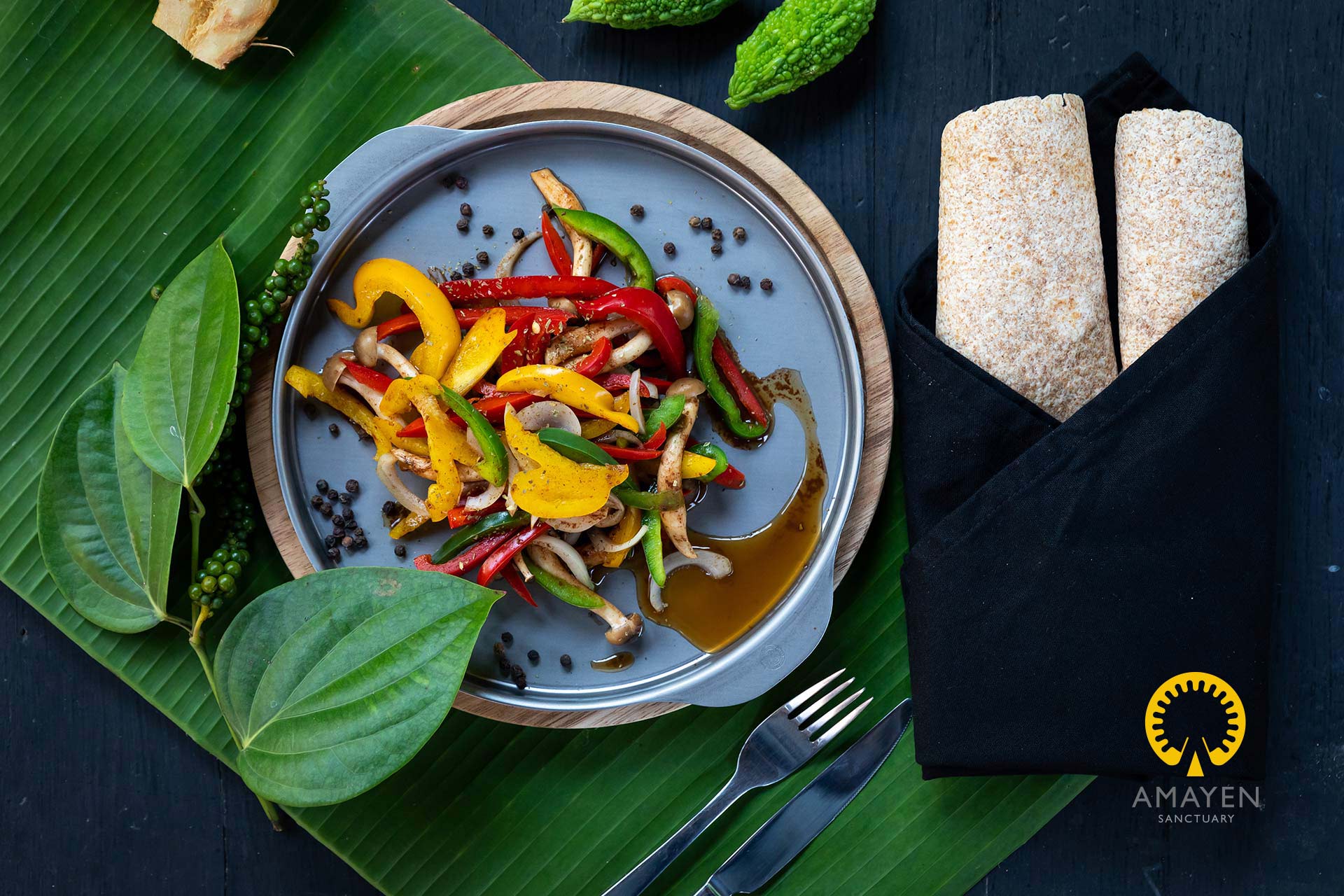 Amayen Sanctuary is located 45 minutes outside of Chiang Mai town, set within a tranquil environment of rice fields and surrounding northern mountains. The space is beautifully designed and accommodation is both natural and comfortable. All rooms are air-conditioned and have hot water.
The all-inclusive retreat packages are customizable by start date and include a variety of soothing treatments and teachings. The minimum night stay for a packaged retreat is three nights. This 'Discover' retreat includes three nights accommodation, three visits to mountain cafés or temples, six yoga classes, one full body massage, one foot massage, breathing and meditation sessions, and three daily meals. The price also includes two-way transportation between the resort and the airport or town.
For those looking for a longer stay, they offer a 28-day Transformational Metamorphosis Retreat, offering guests the chance to dive more deeply into their personal transformation. Regardless of how long you stay, all activities included are optional, so you can honor your own cycles and preferences by joining in as much or as little feels right for you.
The food at Amayen is wholesome, organic, and plant-based. It is entirely vegan, and in addition contains no oil, no refined sugar, and no flavor enhancers. They try to be as local as possible, the closest-to-home ingredients being the herbs from their own garden.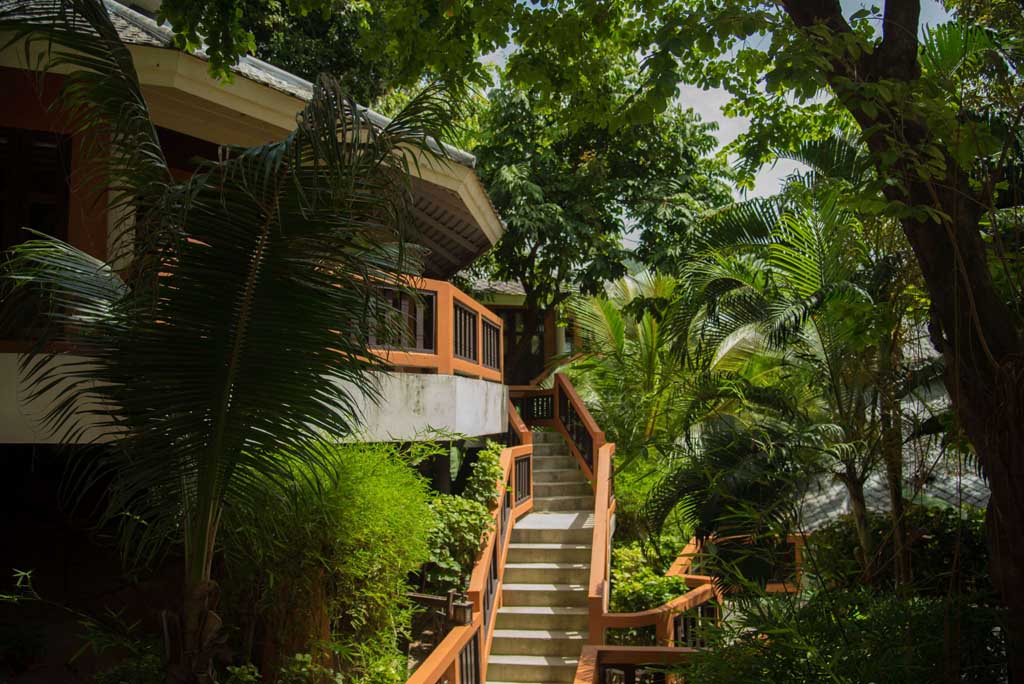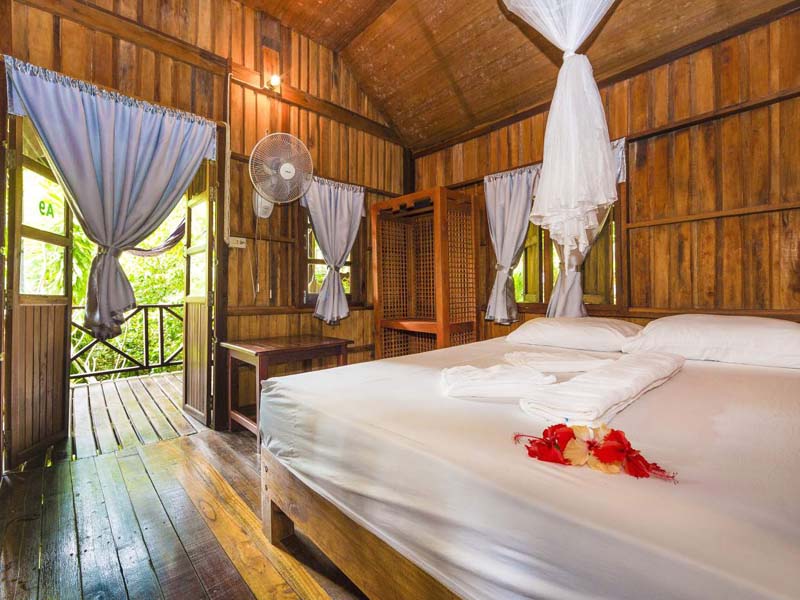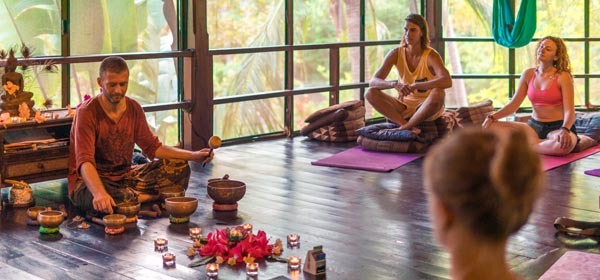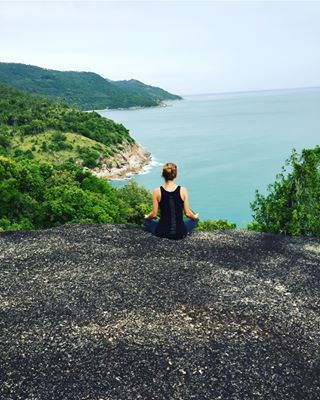 accommodations-pariya-top
bamboo-huts-inside-room-1
68737840_822856408111698_431804918477173911_n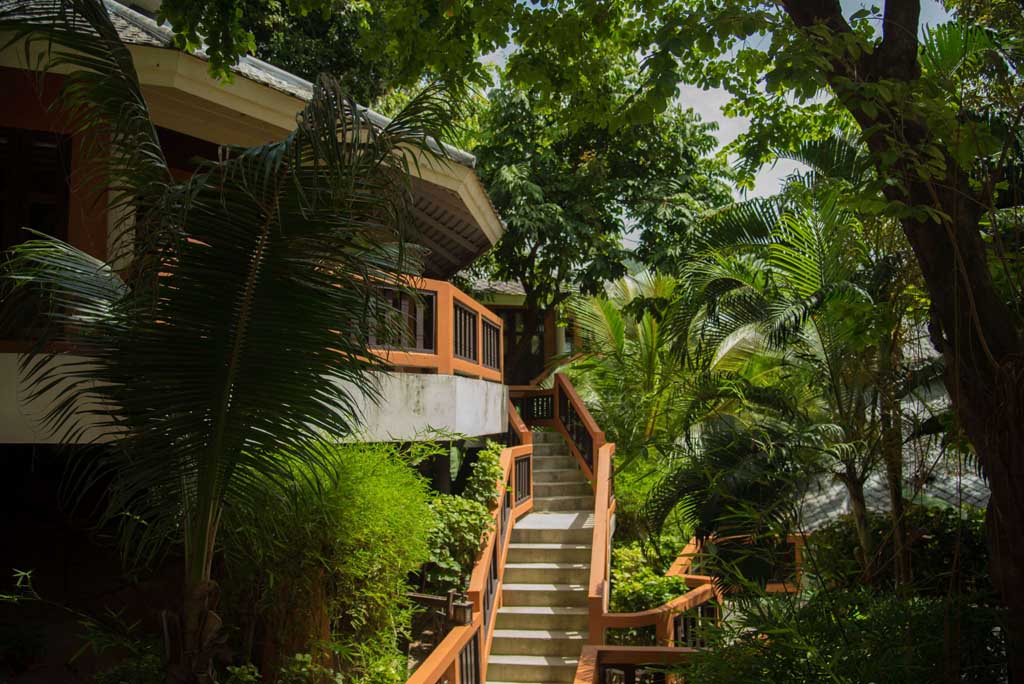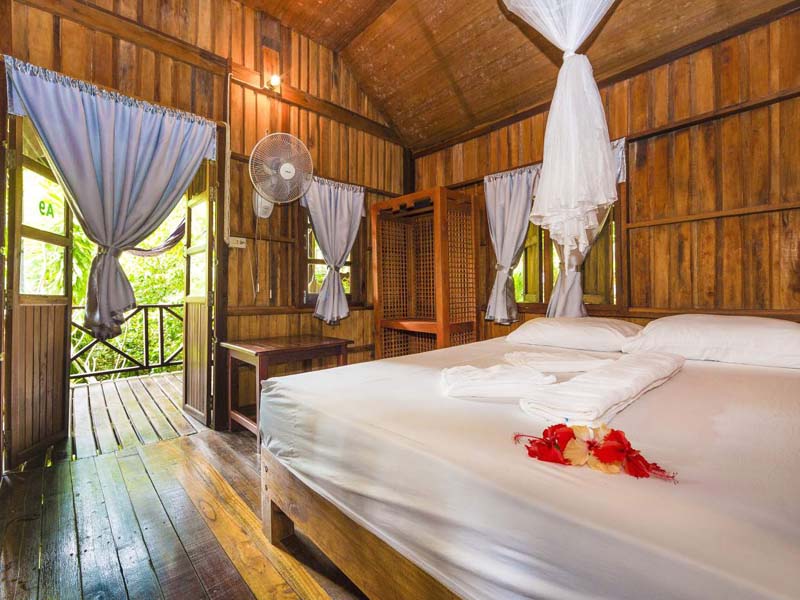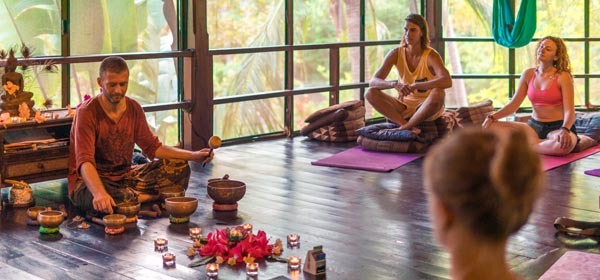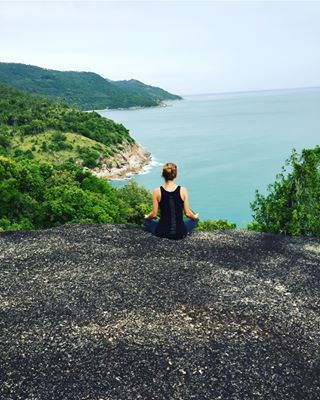 Another Koh Phangan sanctuary, Pure Flow Yoga is tucked between Haad Yuan and Haad Thien, just a short boat ride from the buzz of Haad Rin. A more modest take on paradise living, accommodations at this retreat center are simple and rustic thought completely comfortable and cozy. The minimalistic feel of the bamboo huts adds to the real reason you are here: to dive deep into yoga.
When booking, you can choose a packaged retreat, or you can take the 'build your own' approach. In either case, the options are limited to 7 or 14 days stay; however, the 'build your own' approach allows you to opt-out of accommodation (find somewhere to stay on your own) or to upgrade your accommodation by booking your room at the Pariya Resort. This 4-star resort is just a walk away from Pure Flow Yoga.
If you book the Pure Magic 7-day retreat, your reservation will include six nights of accommodation at Bamboo Huts, six breakfasts (or credit up to 200 baht/day), two daily yoga flow classes, two meditation or pranayama classes, two or three yoga workshops, one massage, one herbal steam room session, one sunrise nature walk, and a couple of extra little gifts.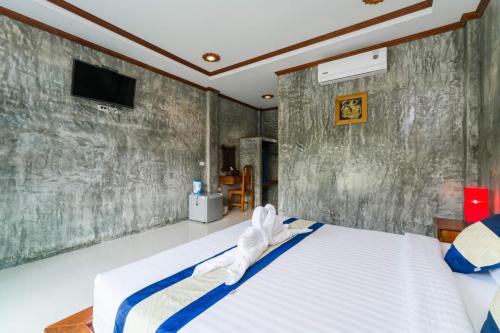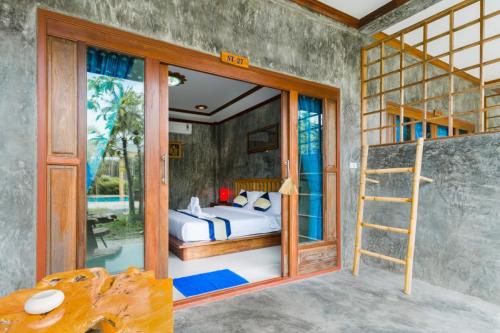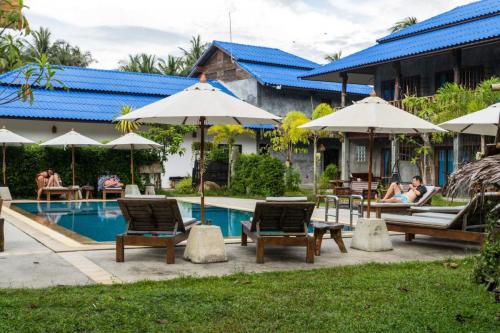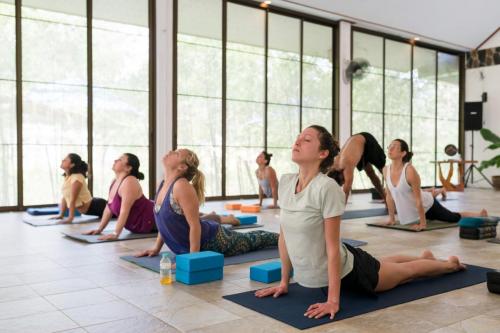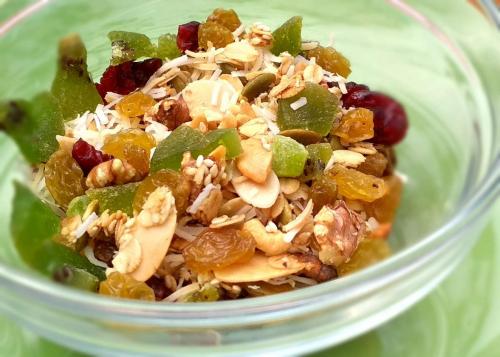 Wonderland_Koh_Phangan_Detox_and_Yoga_Thailand_7
Wonderland_Koh_Phangan_Detox_and_Yoga_Thailand_8
Wonderland_Koh_Phangan_Detox_and_Yoga_Thailand_31
Wonderland_Koh_Phangan_Detox_and_Yoga_Thailand_12
Wonderland_Koh_Phangan_Detox_and_Yoga_Thailand_40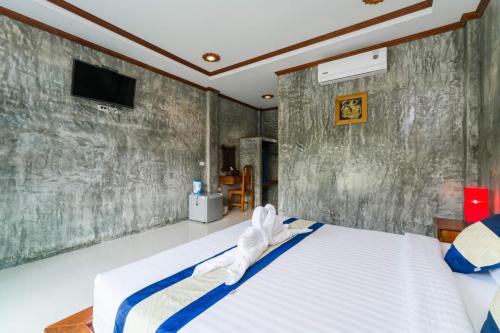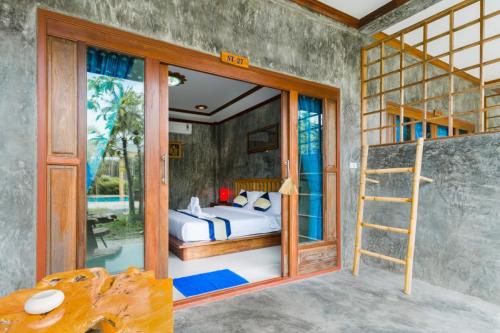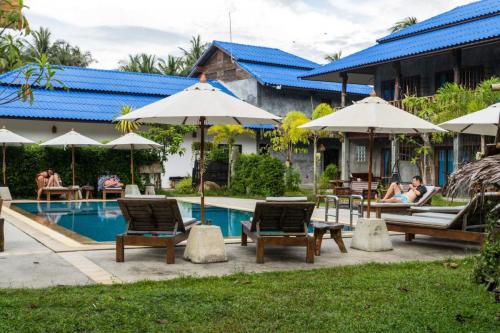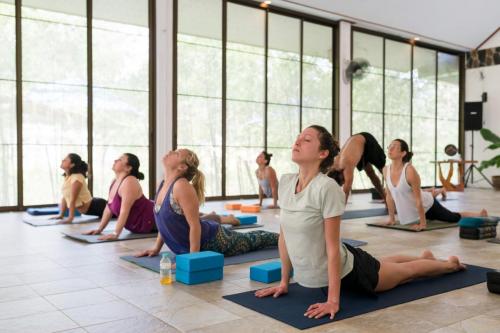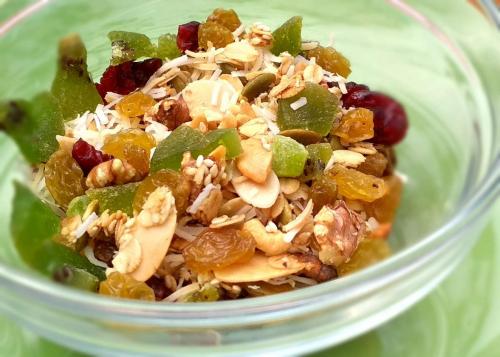 Wonderland Healing Center is a more down-to-earth wellness space that still offers complete comfort and enriching nourishment to its guests. Located in Koh Phangan, this wellness retreat is easily accessible and is surrounded by the opportunity to explore other activities the island has to offer.
Accommodation at Wonderland is of simple luxury. They offer both private villas and dorms, but you can rest assured that these are not your average dorm rooms. Beautifully designed and well-maintained, both private rooms and dorms have comfortable mattresses, air conditioning, en-suite bathroom, and coffee and tea making facilities.
The newly built shala faces the forest and is the home for a variety of practices, including Ashtanga, Hatha, Kundalini, Yin, Acro, and Jivamukti yoga. You can come as a visitor for the day, but for a luxury retreat, you can choose from a 4, 7, or 11-night package (you can also contact them if you need added flexibility in your dates). Packages include access to all activities (yoga classes included), three vegan meals a day, and at least one treatment. They also have a private swimming pool and herbal steam sauna for guests to enjoy.
With all of the options, how do you narrow it down? Sift through the luxury options for yoga retreats in Thailand by considering your must-haves. Are you craving a beachfront yoga practice at sunrise or a tranquil and serene getaway within the mountains? Whatever your preferred vibe, this Southeast Asian wonder has plenty of nourishing yoga retreats to consider. Each retreat, with its own special charm, has something incredible to offer.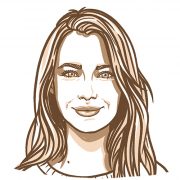 Andrea Wilson
Andrea has been hosting yoga retreats in various locations worldwide since 2003 and continues to encourage her students to live as the best version of themselves. Yogic living provides the framework for her informative writing, which is chock-full of beneficial tips and tricks.