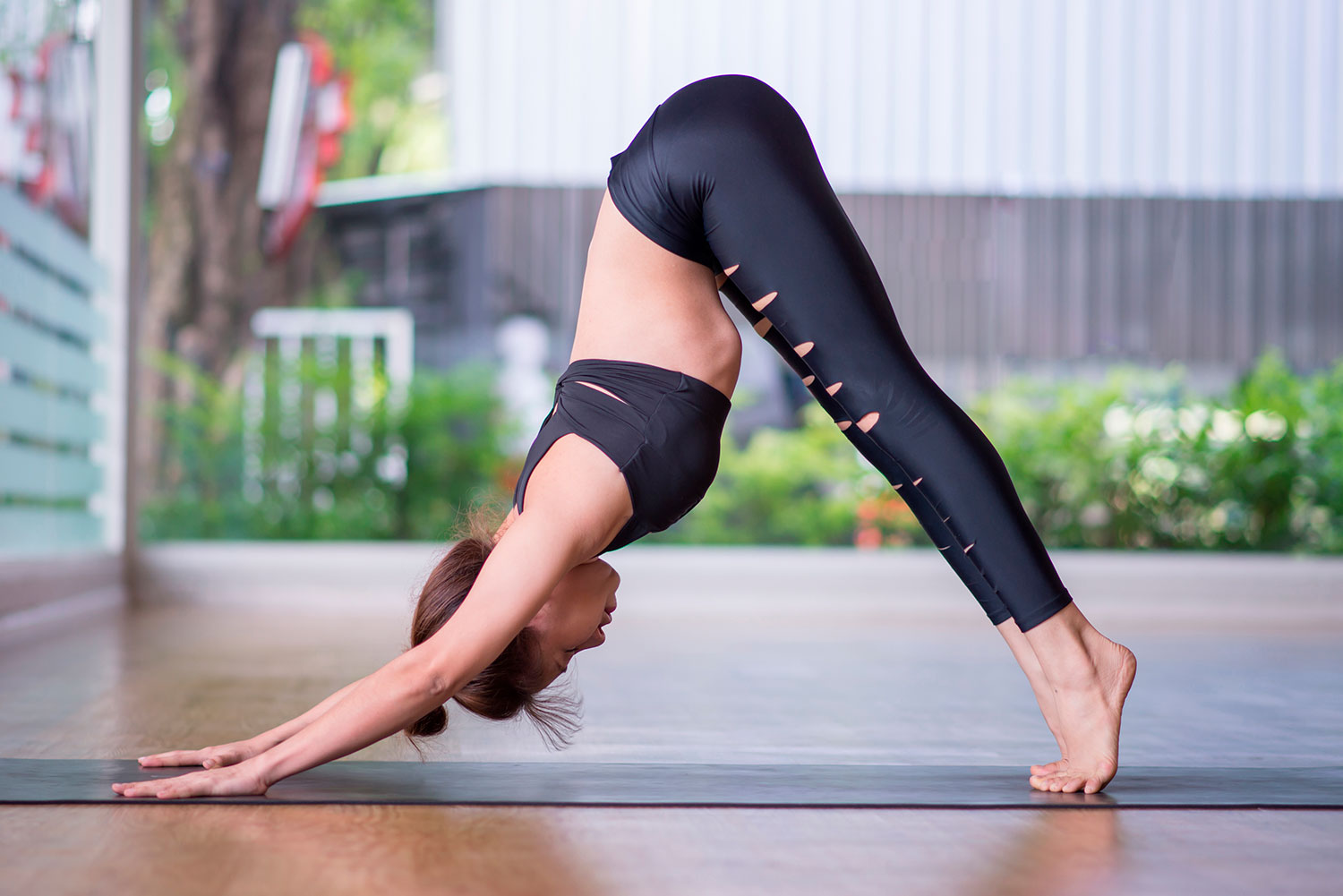 The little island of Bali, Indonesia, is a true yoga-lover's paradise.
Once upon a time, going on a yoga retreat in Asia meant sleeping in a dorm room, eating flavourless rice and lentils every day and doing nothing but meditation day in day out. That's all well and good for some people, but it's a bit extreme for most of us.
Likewise, the classic island vacation with its all-you-can-drink and all-you-can-sightsee mentality would often leave you more drained than when you left. Who wants to return from a vacation feeling like they need another week to recover?
These days, Bali is leading the way in conscious luxury getaways. Now, you can really have it all with beautiful, inclusive accommodations offering fresh, healthy food and a complete daily program of yoga, meditation and holistic therapies.
Plus, since Bali is home to some of the best surfing and diving in the entire world, there are tons of great ways to combine a perfect yoga vacation with daily surfing lessons, scuba diving, and snorkelling.
Throw in a sacred volcano, a fire dance and some of the most beautiful temple architecture in Asia and you've got yourself the trip of a lifetime!
You're sure to return home feeling refreshed, rejuvenated and inspired. Just the way a great vacation should be.
Here are our picks for the 10 best luxury yoga retreats in Bali for 2020: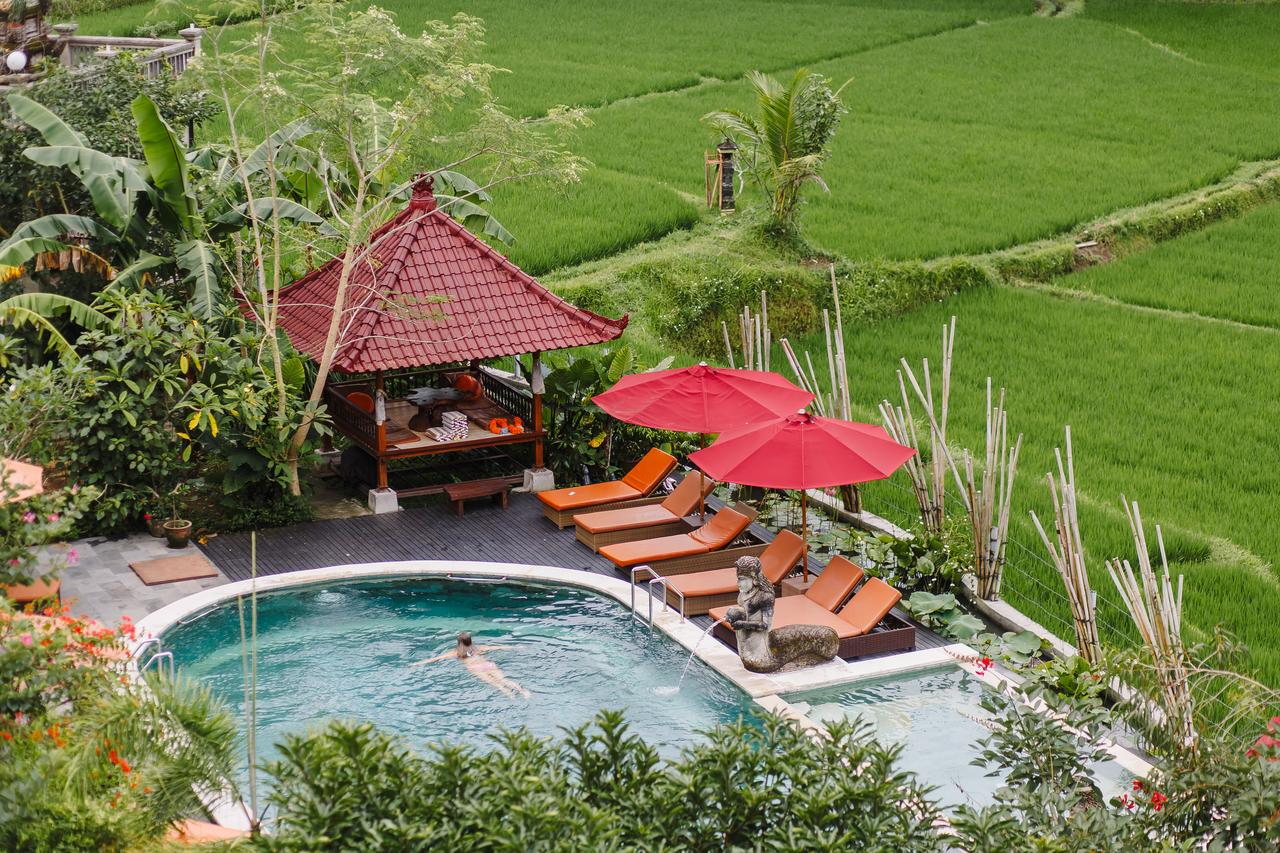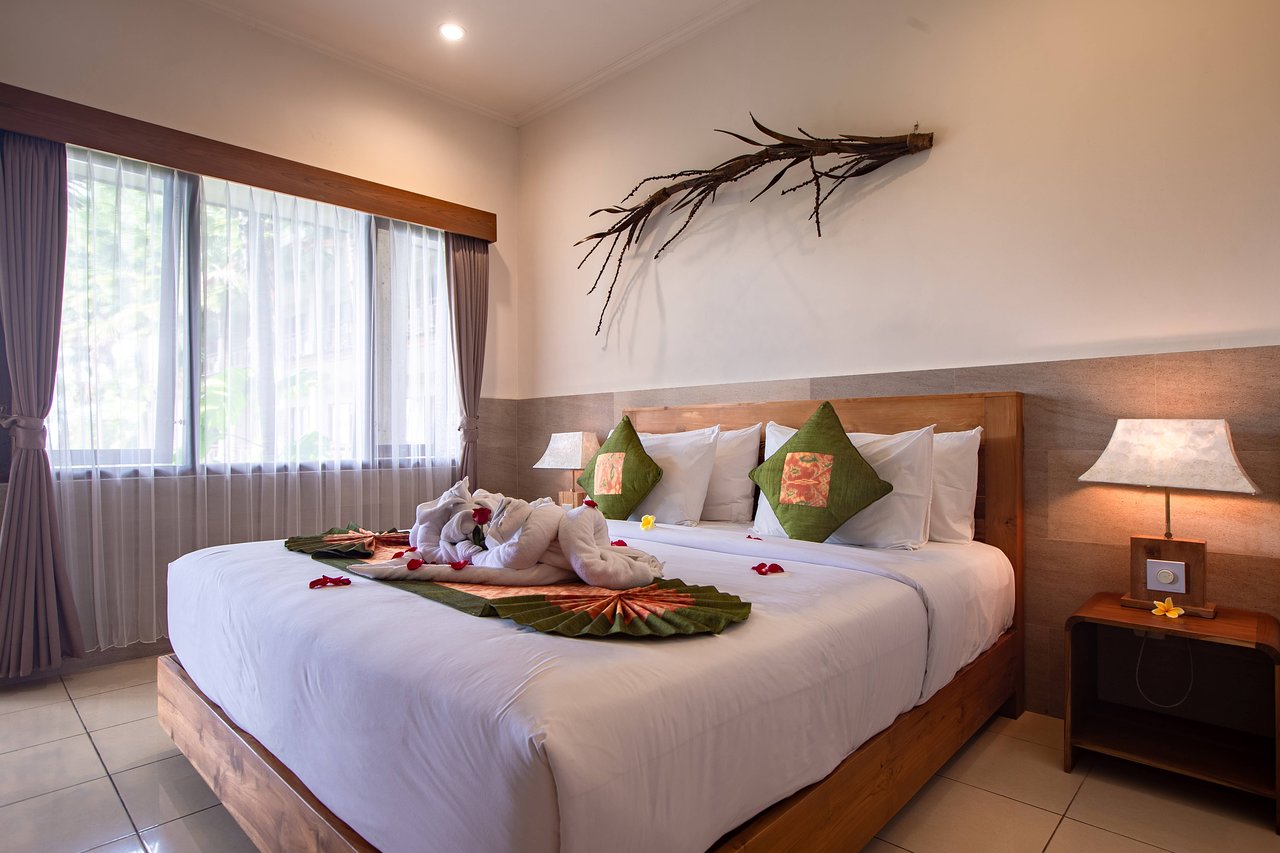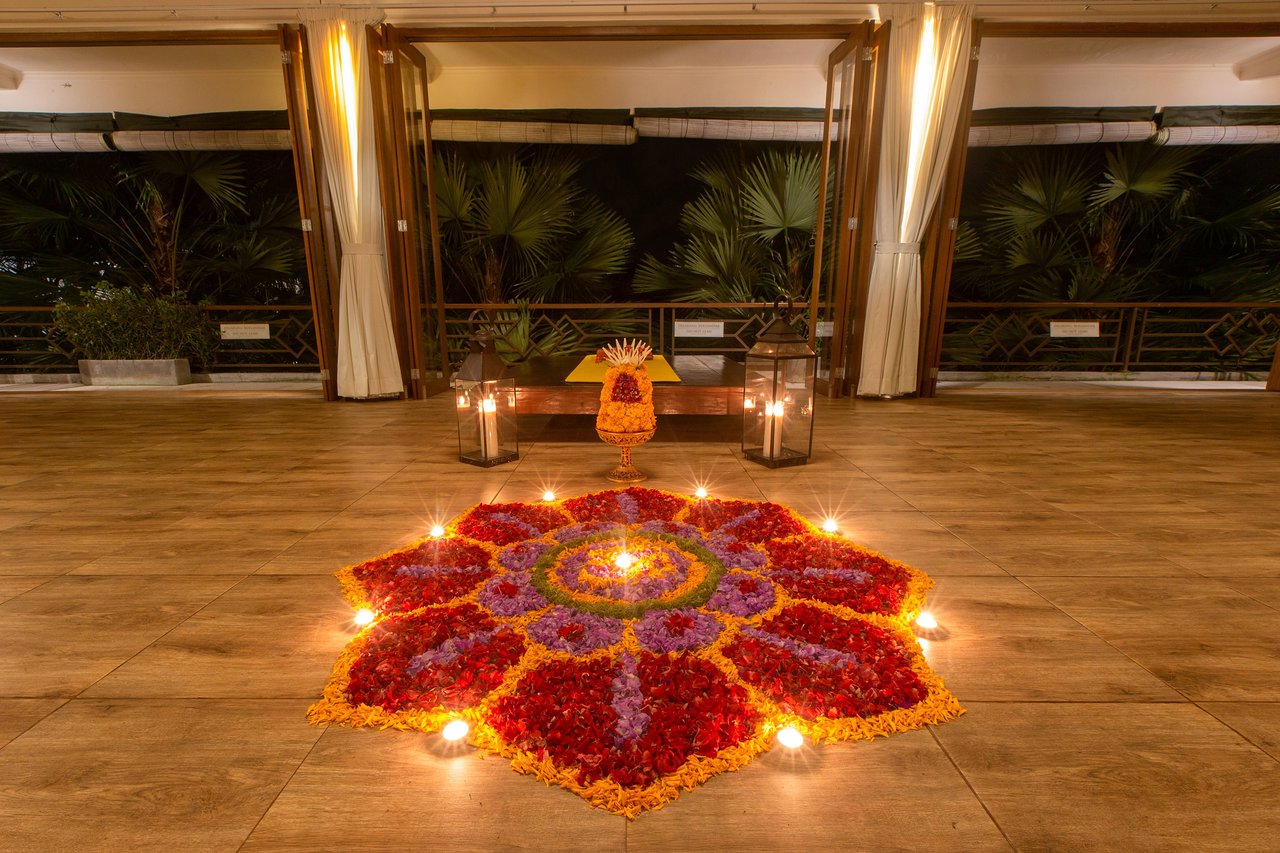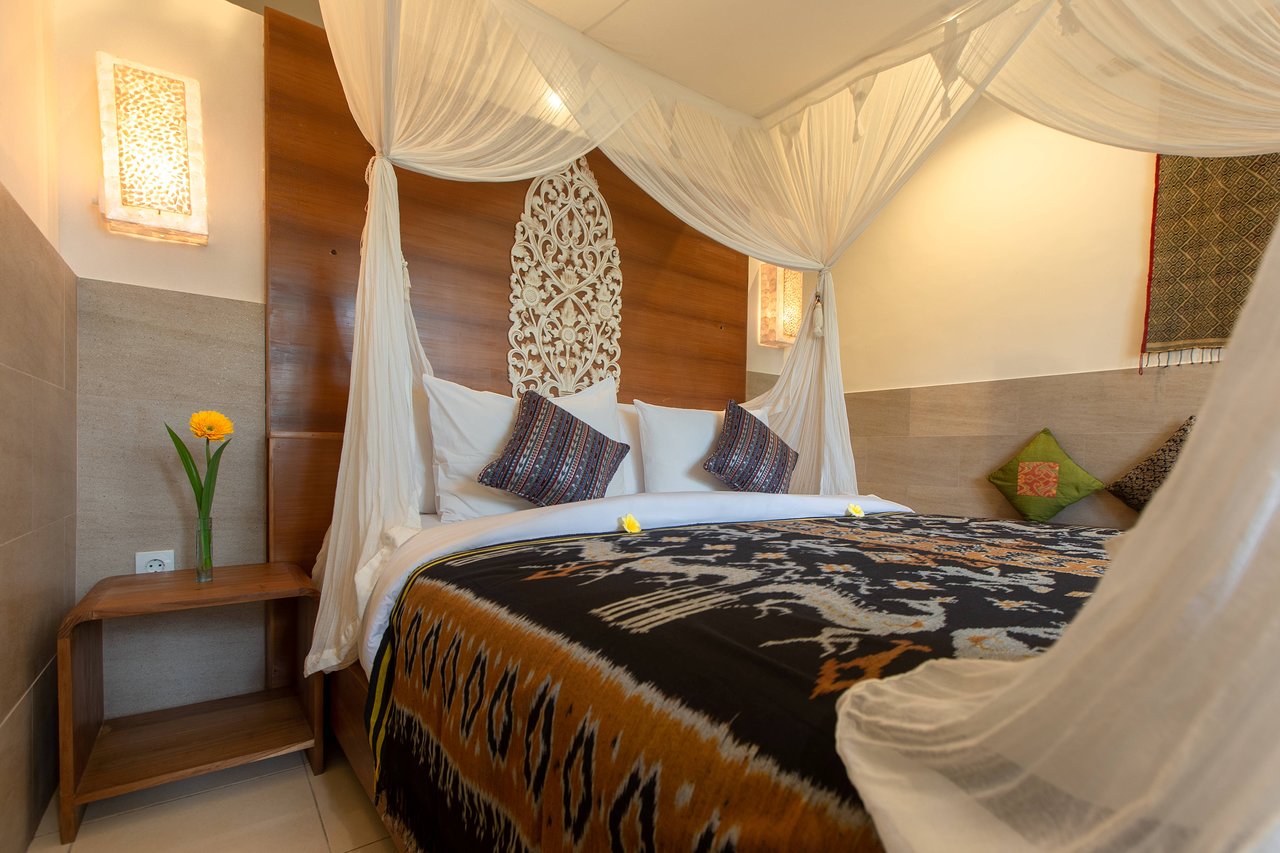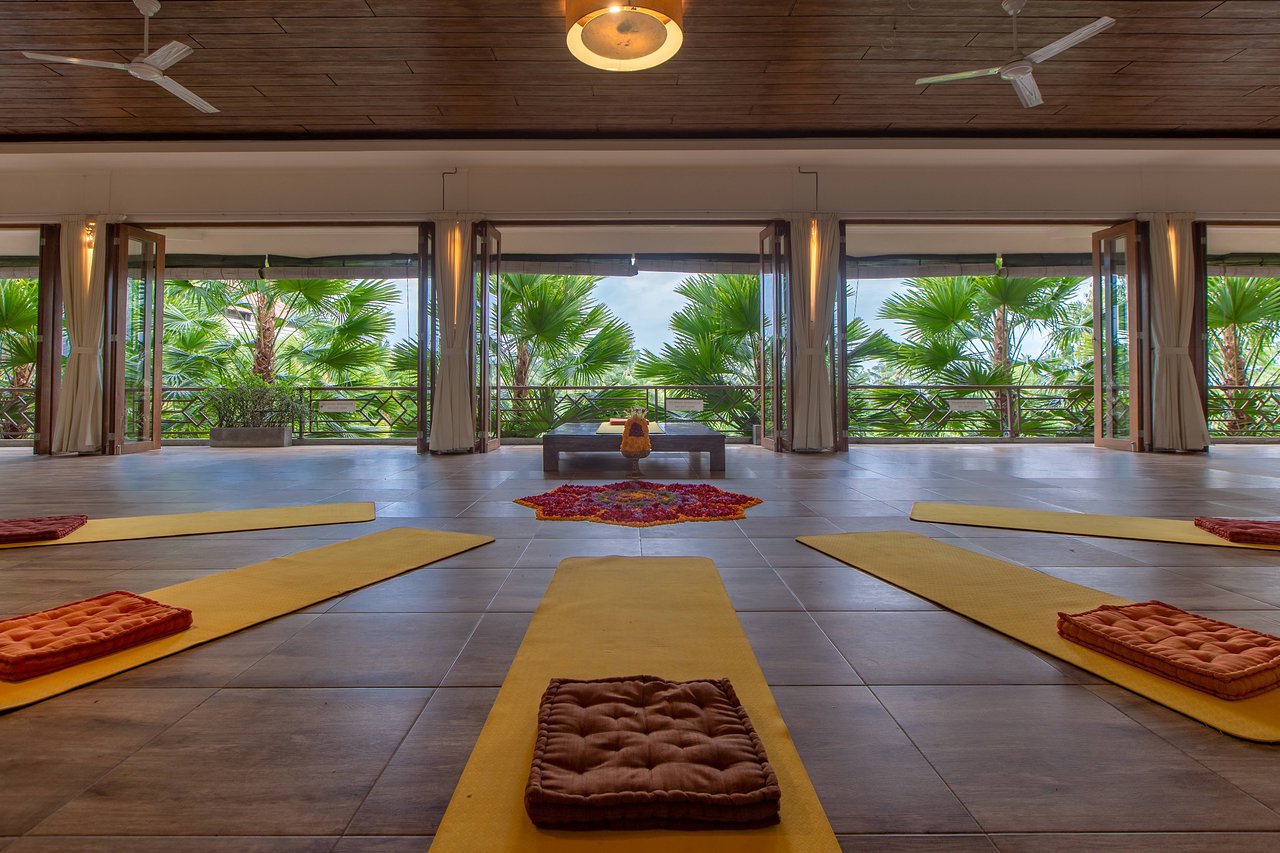 a-simple-room-with-complete
calm-vibes-and-good-energy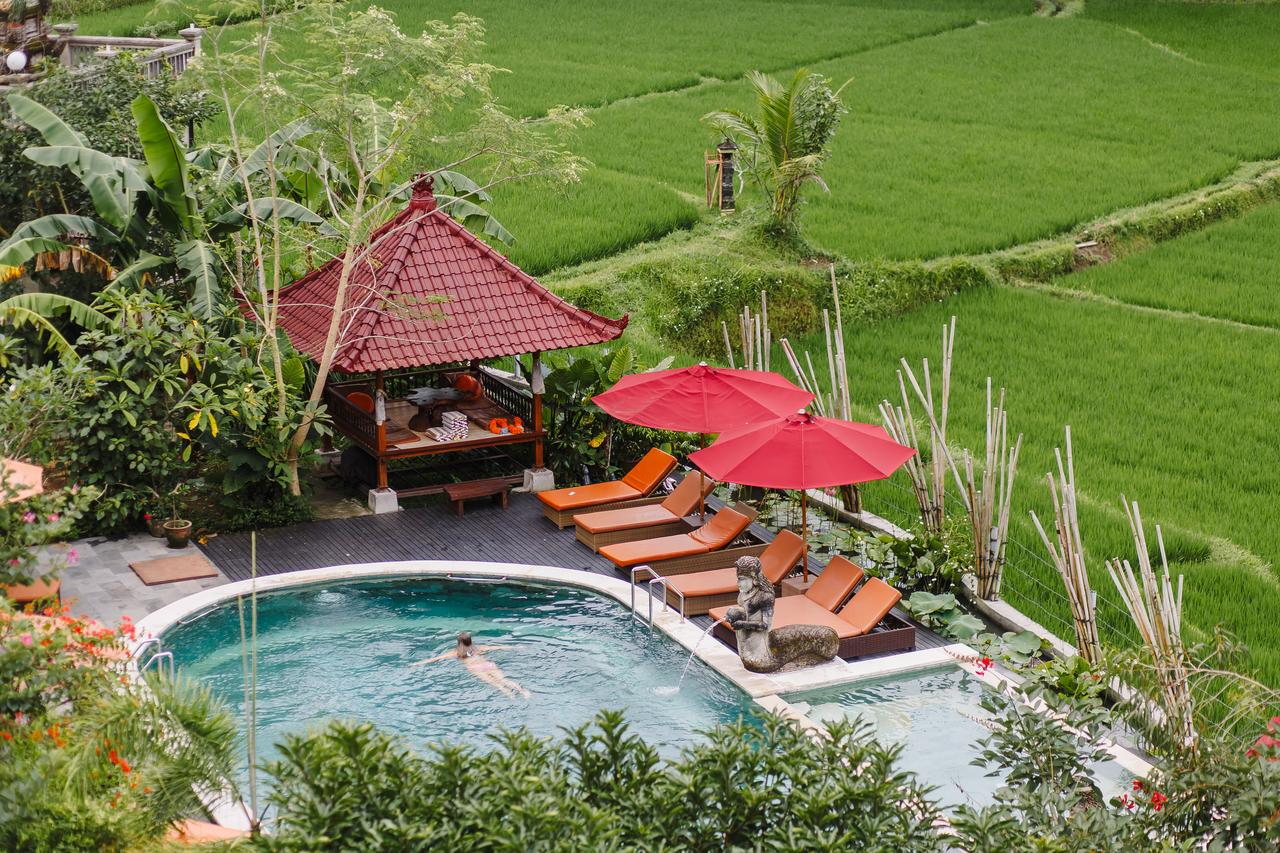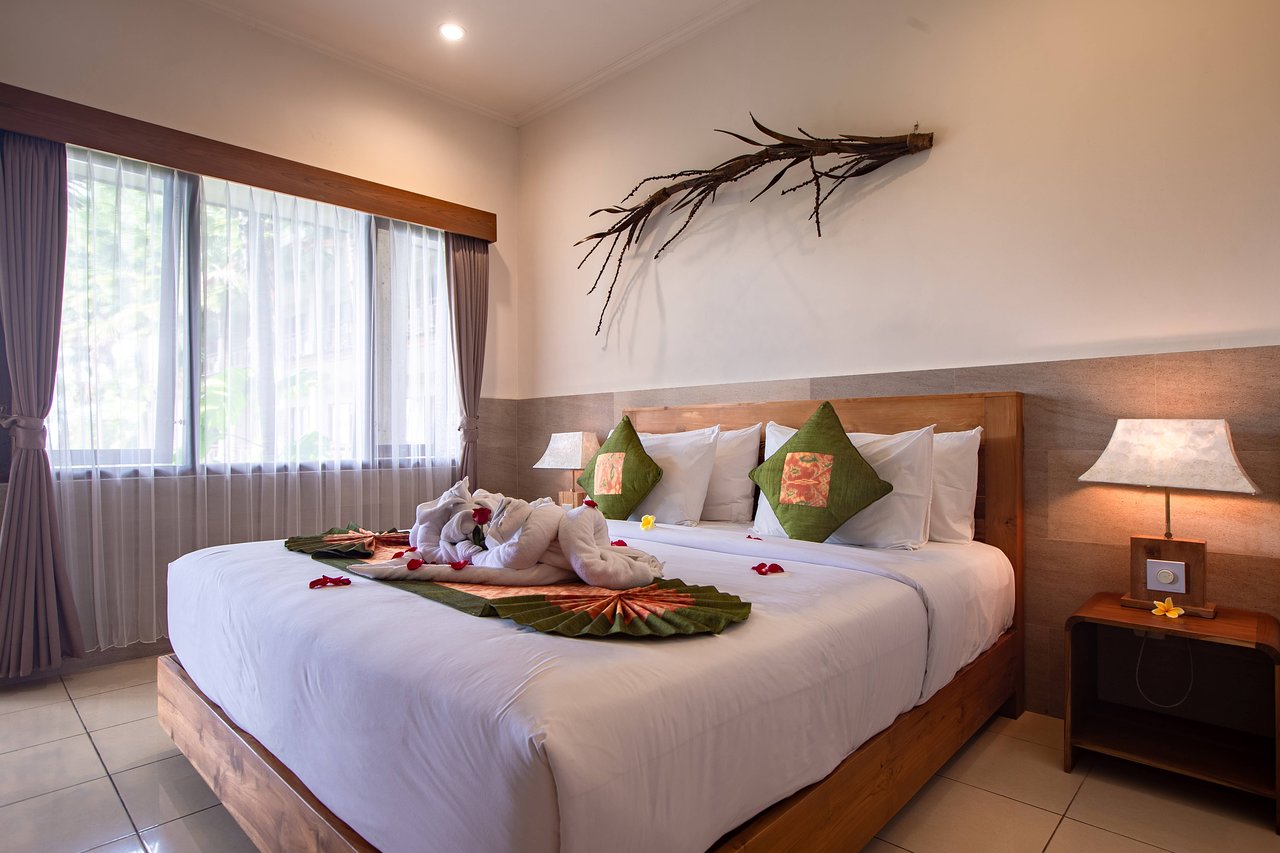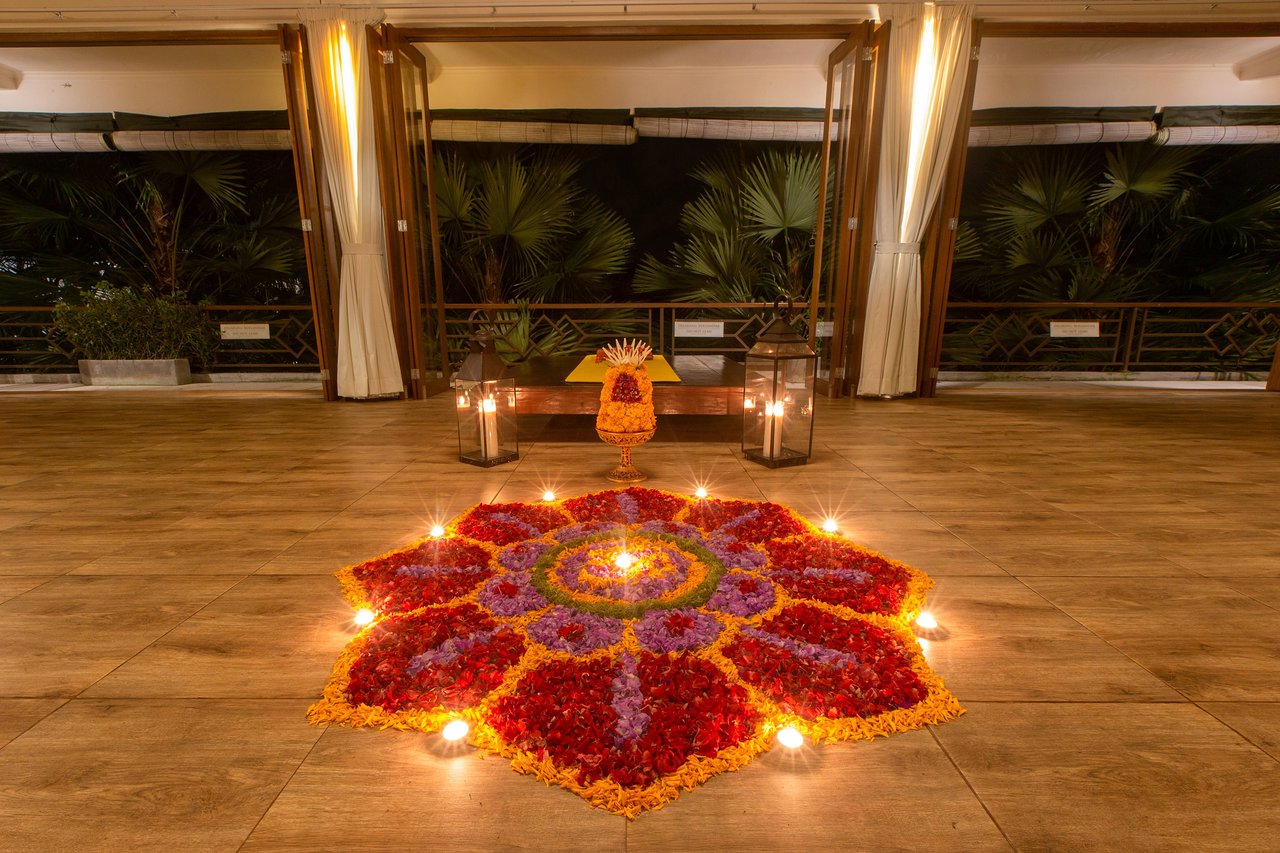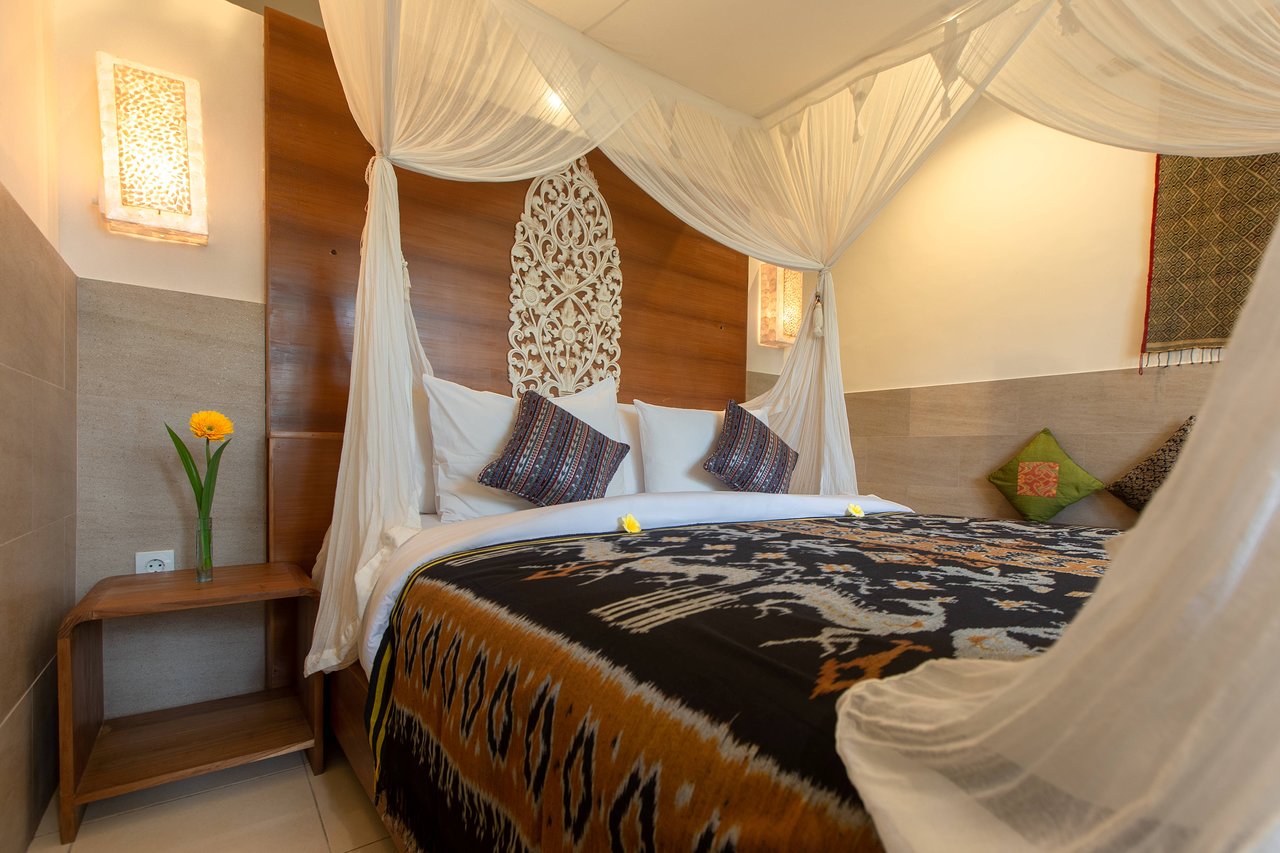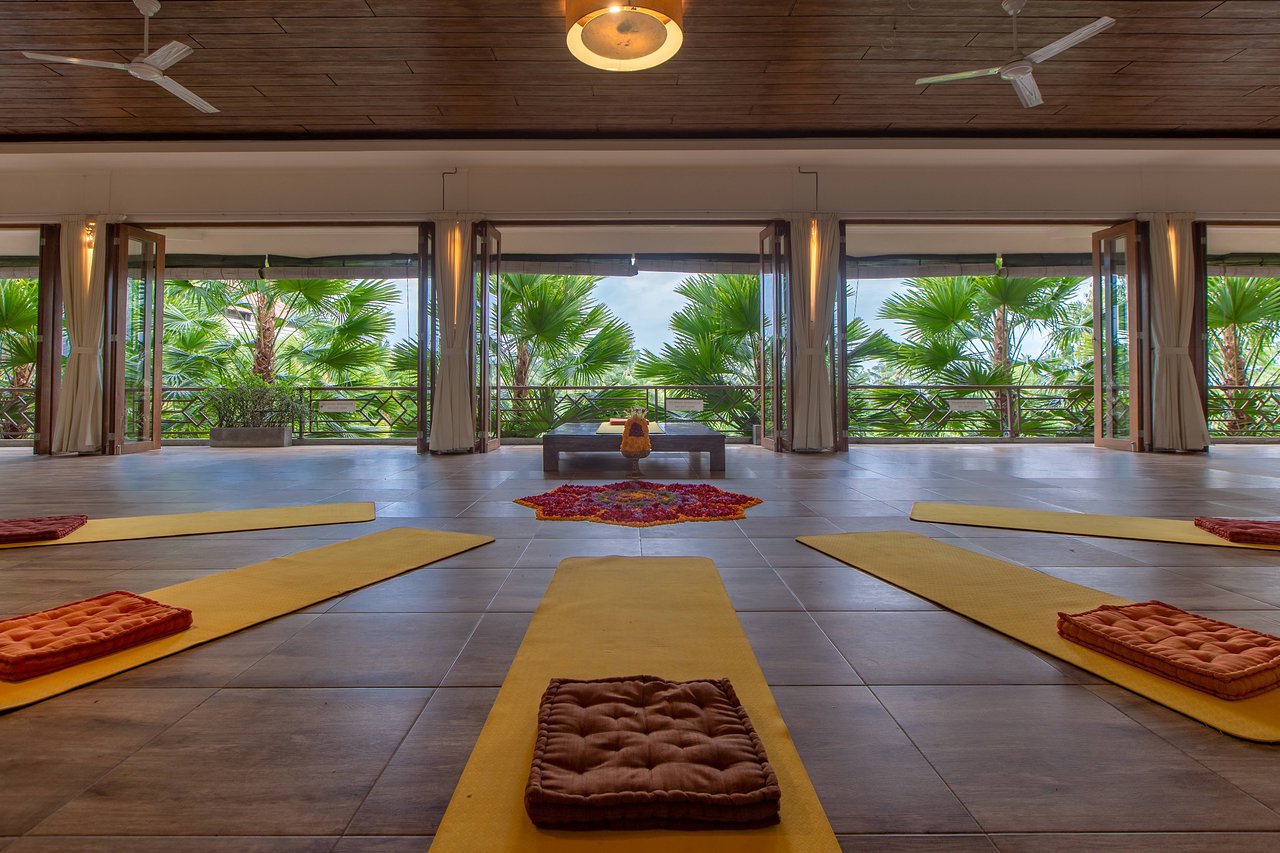 Om Ham is a spiritual retreat centre originally conceived of as a Hindu ashram by the local yoga guru Ketut Arsana. Over time it has emerged as a surprisingly luxurious place to work on yourself, despite having a monastic affect. It is located amidst the beautiful rice paddies just north of Ubud, the centre of the Bali yoga community.
The larger Ananda rooms provide spacious accommodation with air conditioning, a mini bar and concierge service. The facility includes a dining room which sources ingredients from their own garden and can tailor their cuisine to suit vegan or traditional sattvic (yogic) diets.
Program:
It is a popular venue for foreign yoga teacher trainings including a popular one by Australian yoga legend Simon Borg-Olivier, but it also offers personalized retreats that are perfect for a customized getaway to bring you closer to yourself without the work of planning a vacation. Personalized retreats can include daily yoga, spa sessions, sound healing meditations and guided walks through the local village of Junjungan.
What We Like:
Their rooftop lounge stocks rare teas from locations all over the world and is the perfect place to veg out with a good book or relax after a day of yoga. They also have a full-service spa on-site.
Cost:
Contact for more information
Jalan Tirta Tawar No.Road, Banjar Junjungan, Kec. Tegallalang, Kabupaten Gianyar, Bali 80571, Indonesia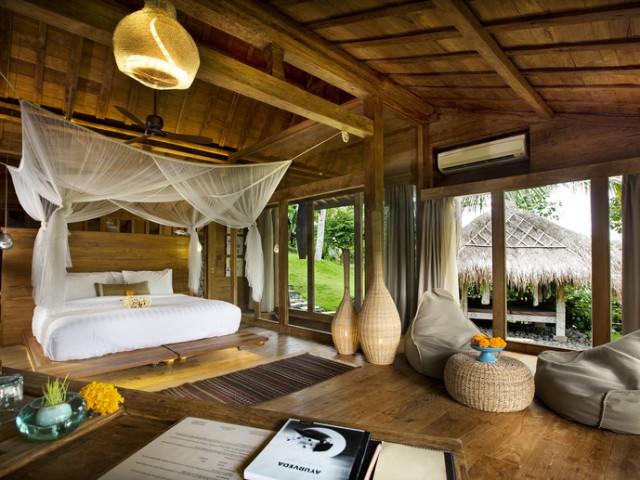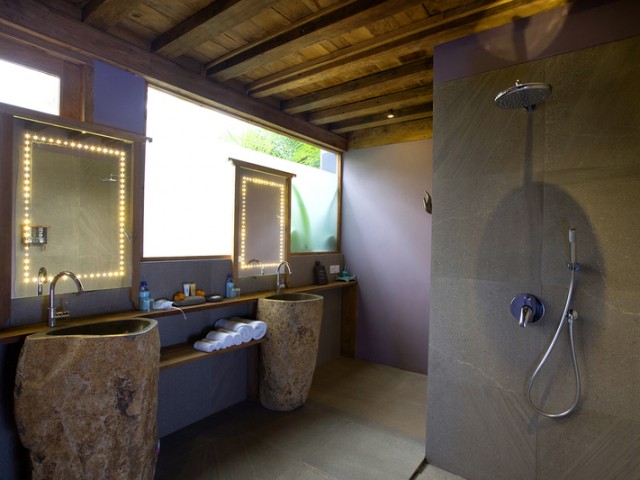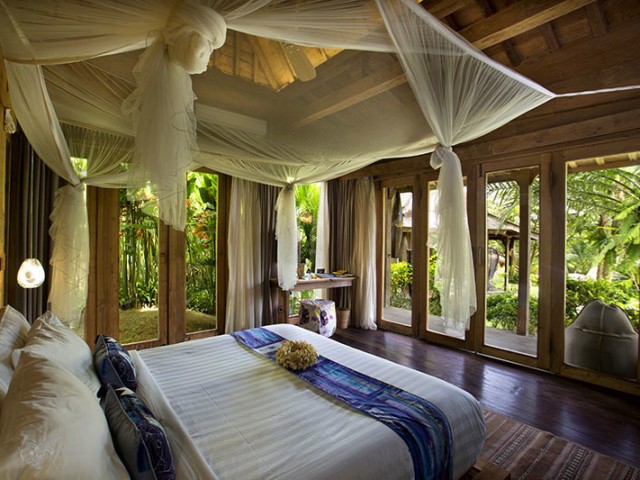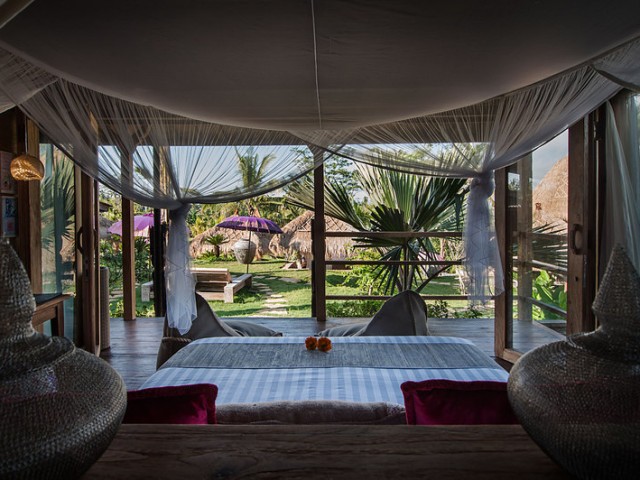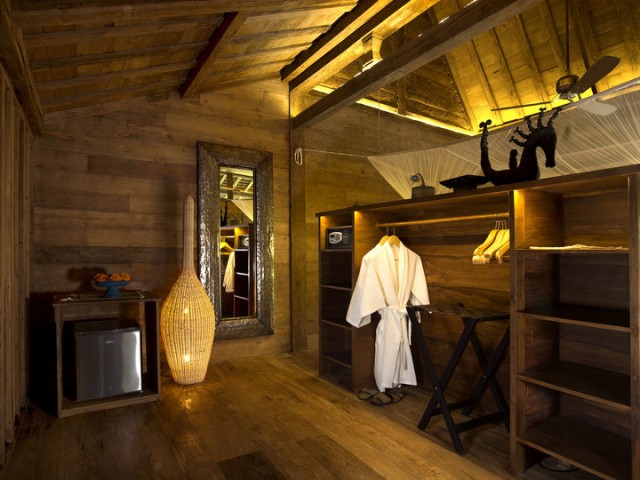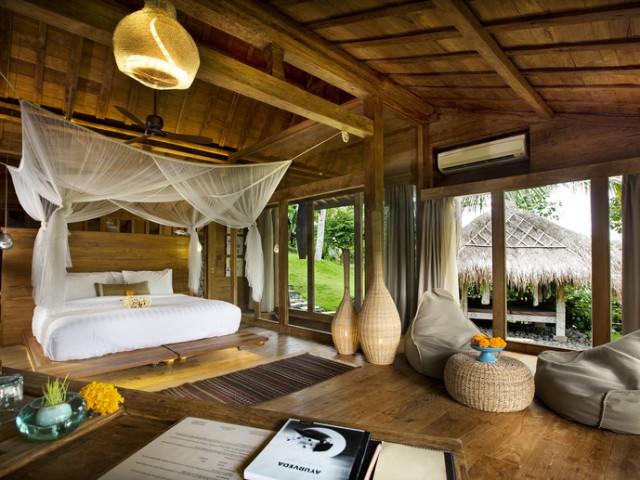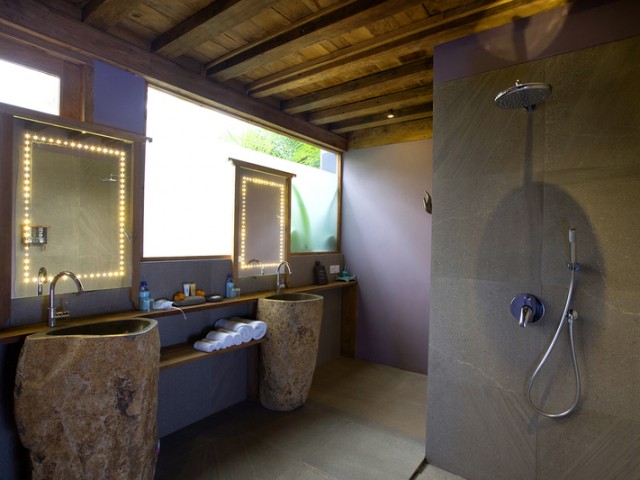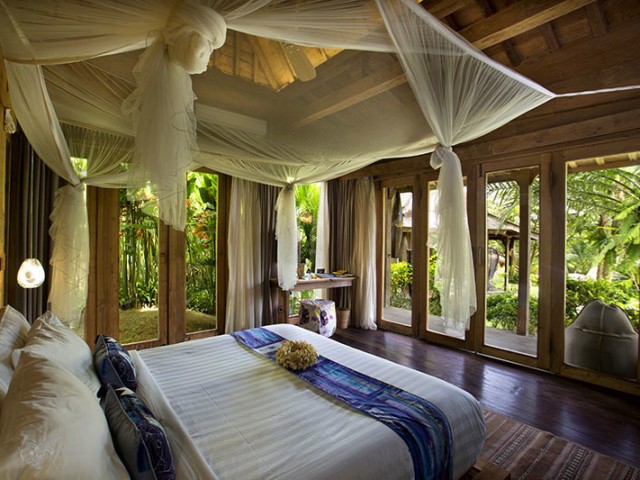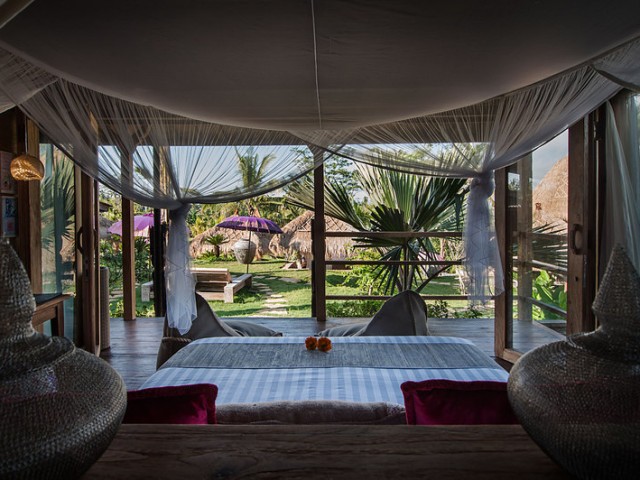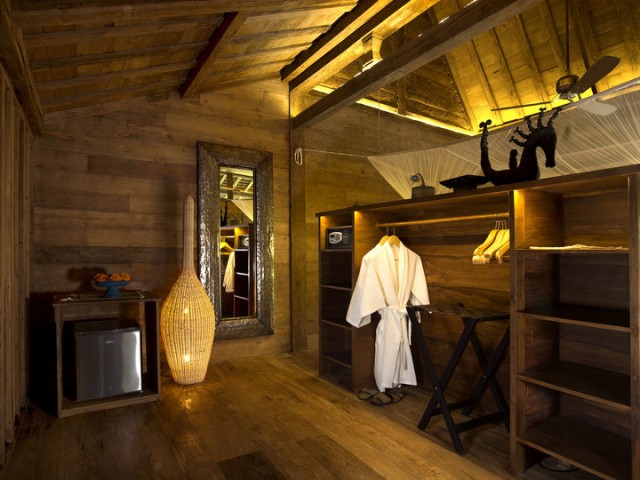 Blue Karma Secrets is a small chain of beautiful upscale hotels and villas that offer guests bespoke getaway experiences.
Their collection of luxury havens includes a serene retreat in Ubud, a romantic resort in Seminyak, an avant-garde fine dining restaurant called Blue Matcha, private villas in Umalas that include in-villa private chefs and even a traditional Indonesian Phinisi sailboat called The Oracle for the intimate cruise experience of a lifetime.
Program:
Their Ubud location offers personalized yoga retreats as well as private yoga sessions with experienced teachers. They lead retreats in a variety of yoga styles and incorporate outings to famous yoga studios around town and even a sound healing at the unforgettable Pyramids Of Chi.
What We Like:
Their impressive outdoor yoga shala is ethically crafted from local bamboo and allows you to experience the sounds of nature while you practice. Their Flying Bamboo Spa, located on-site, offers signature treatments including Balinese massage, reiki energy healing, and ayurvedic therapies.
Cost:
Contact for more information
Jalan Raya Suweta Lingkungan, Kelabang Moding No.Br, Tegallalang, Kec. Tegallalang, Kabupaten Gianyar, Bali 80571, Indonesia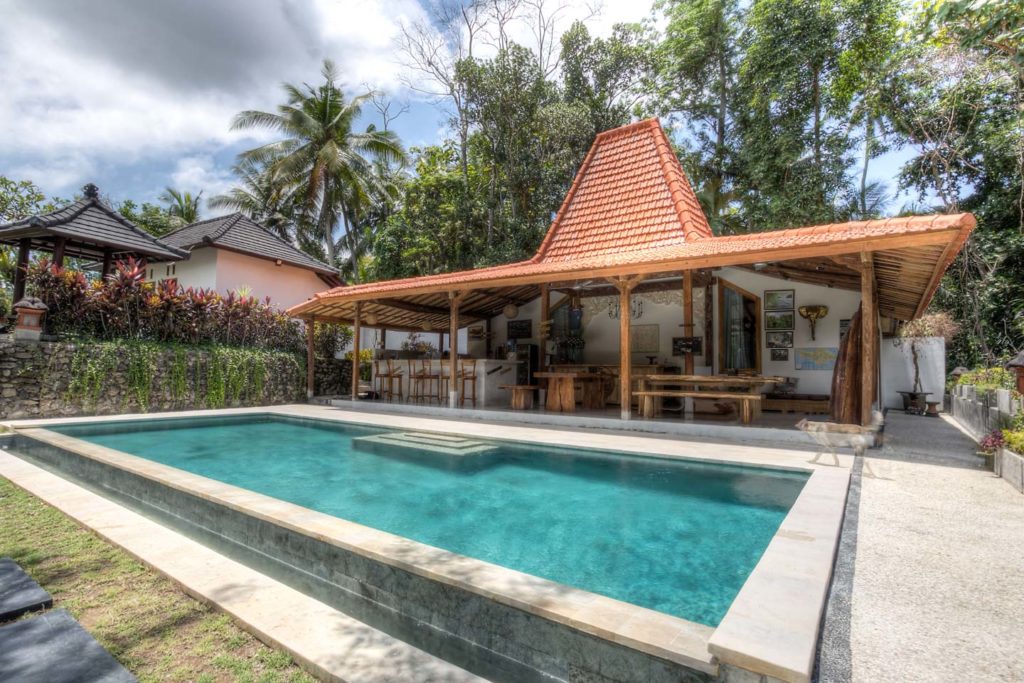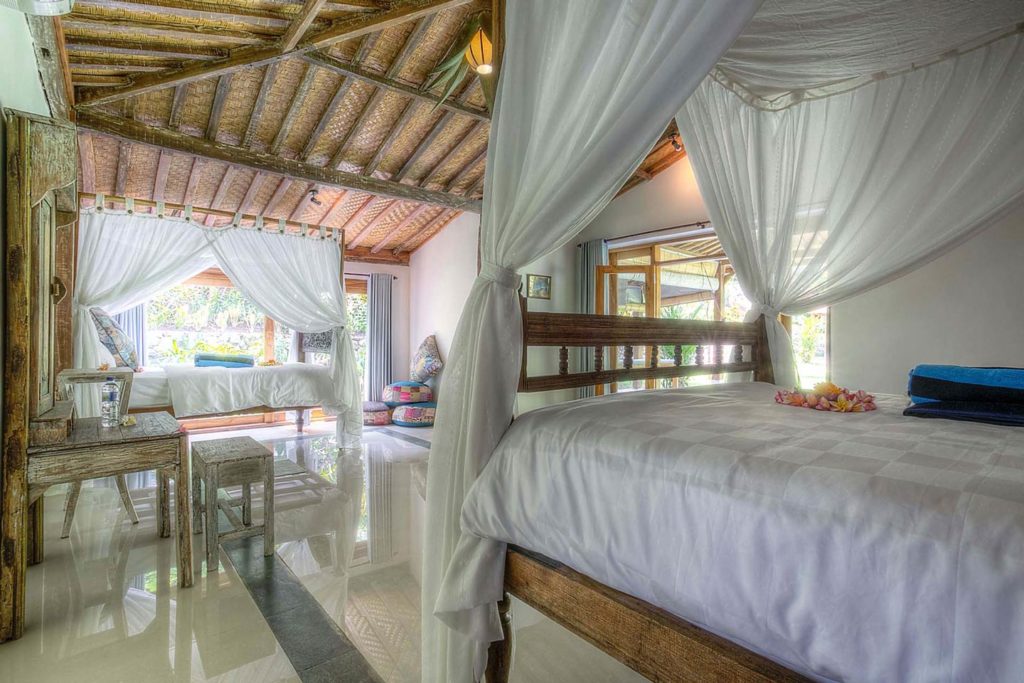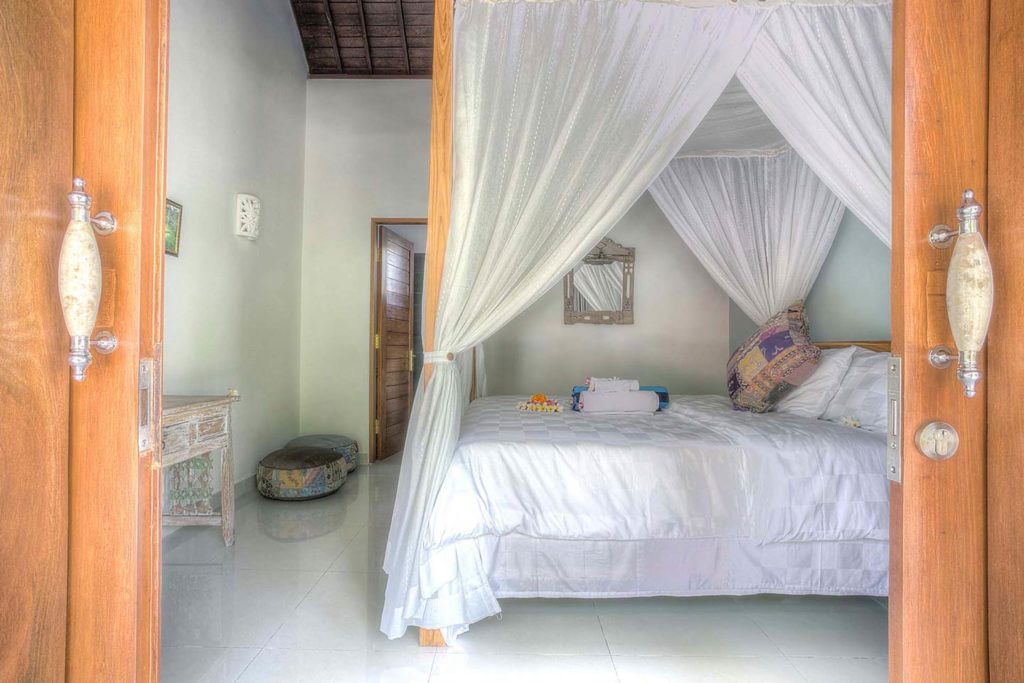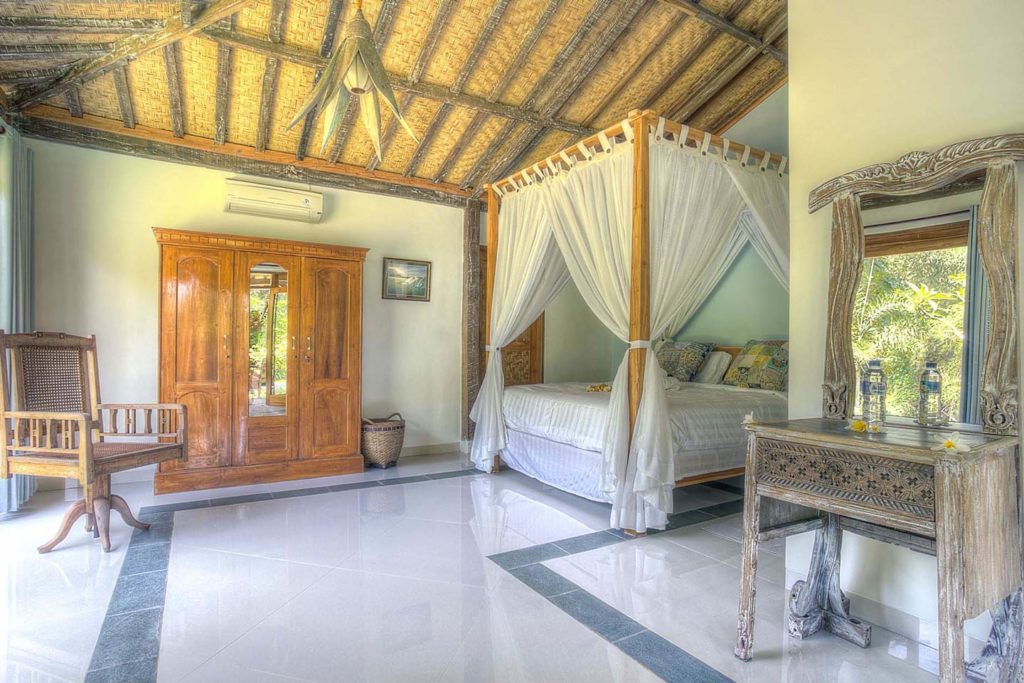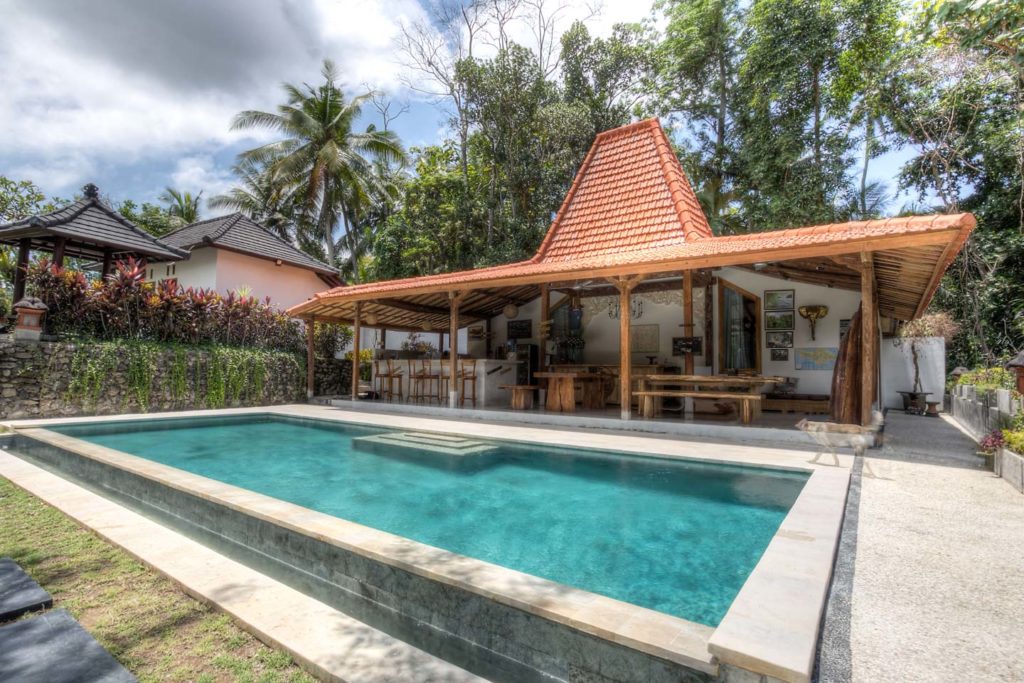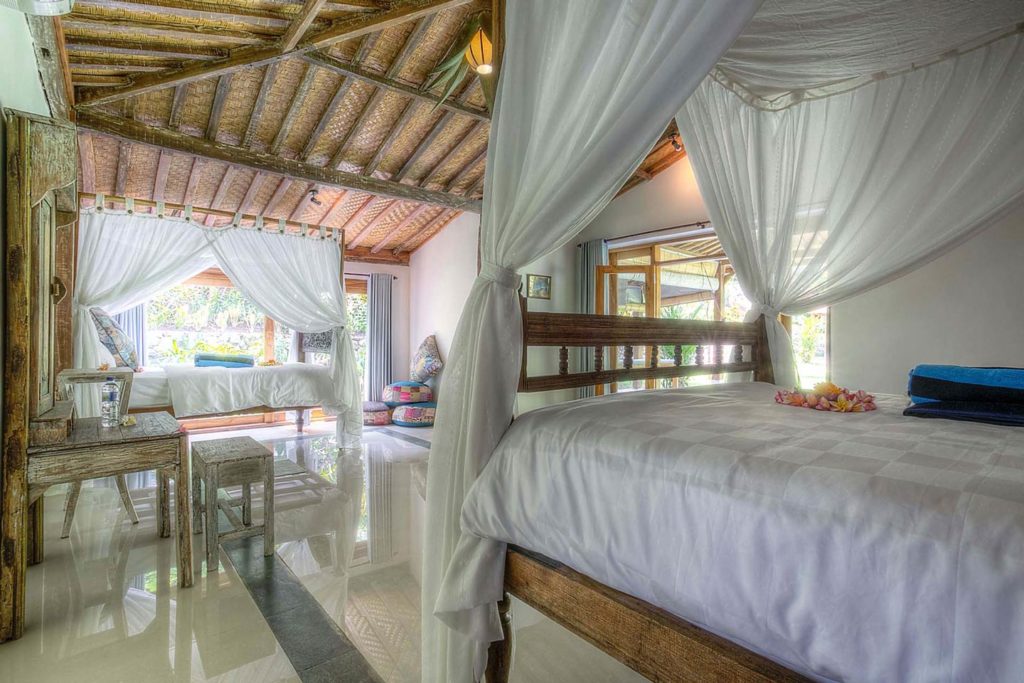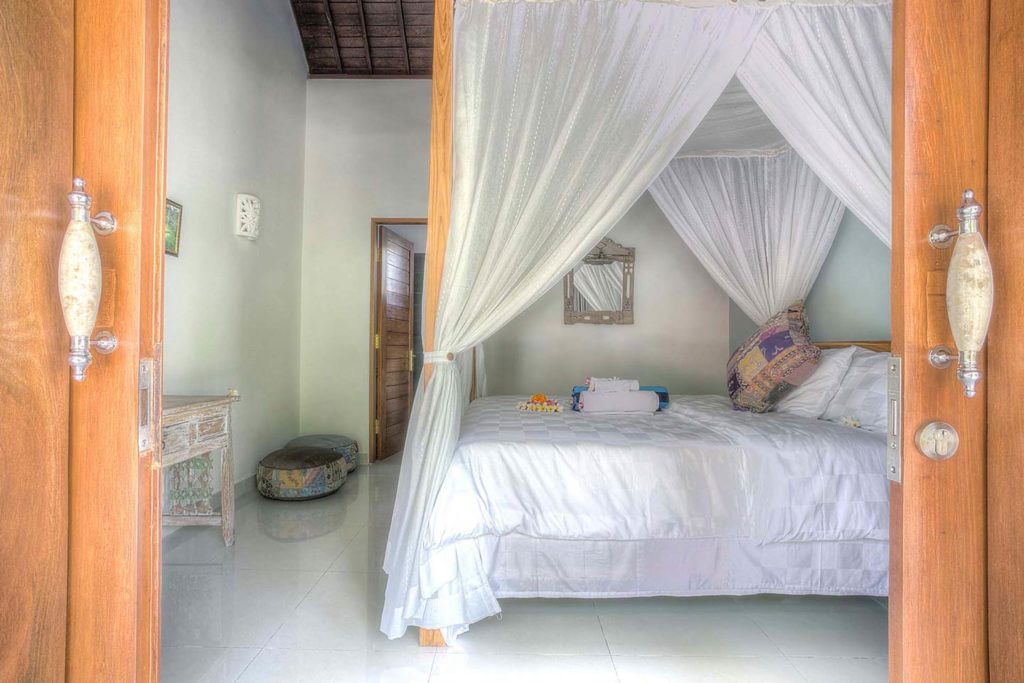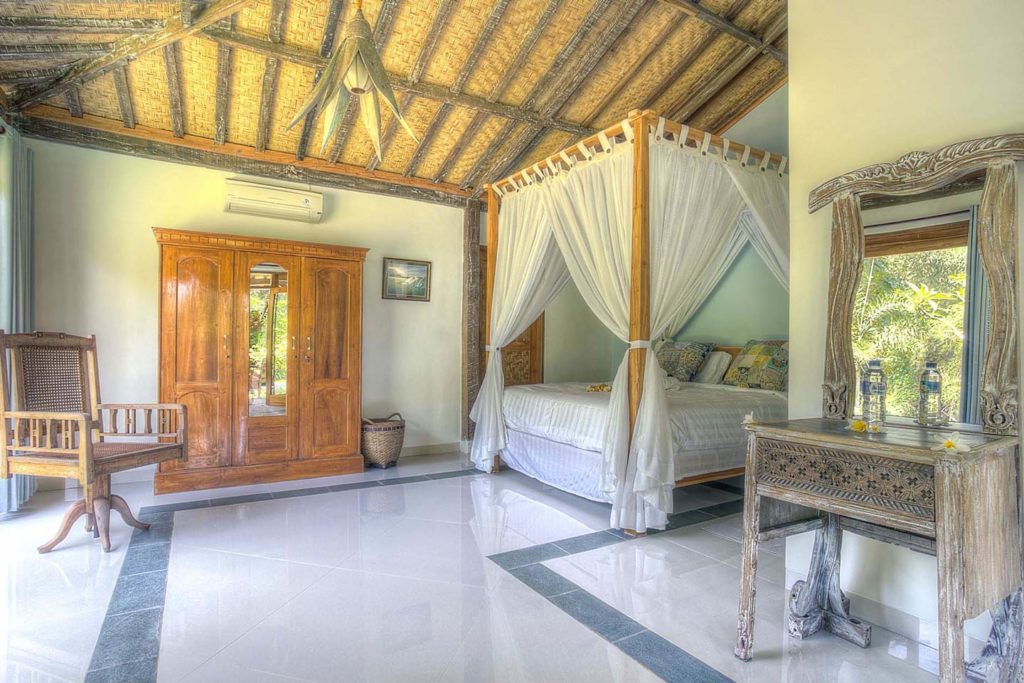 Canggu, a city on the west coast of Bali, is a paradise of sun and surf. The wide sandy beach is packed with wall to wall surf shacks with boards for rent and beers on ice.
These days however, more and more yoga retreats are popping up in the rice fields just back from the main beach. This affords the travelling yogi with a unique opportunity to combine their yoga retreat with a surfing holiday!
Most notable of these is the beautiful Pelan Pelan resort, located in Cemagi, just outside of the hustle and bustle of central Canggu.
Program:
Their "get-it-all" package features morning surf lessons, a homemade lunch and afternoon yoga or meditation with on of their teachers, all of them well-trained locals with decades of experience. Their rooms are spacious and well-appointed, arranged around a large outdoor swimming pool and a traditional Balinese garden.
What We Like:
Many of the more well-equipped surf resorts now simply offer surfing and yoga in combined retreat packages, so you can experience the best of Bali in just a single trip.
Cost:
Starting at 700 USD
Banjar Batan Tanjung, Cemagi, Mengwi, Badung., Canggu, Cemagi, Kec. Mengwi, Kabupaten Badung, Bali 80361, Indonesia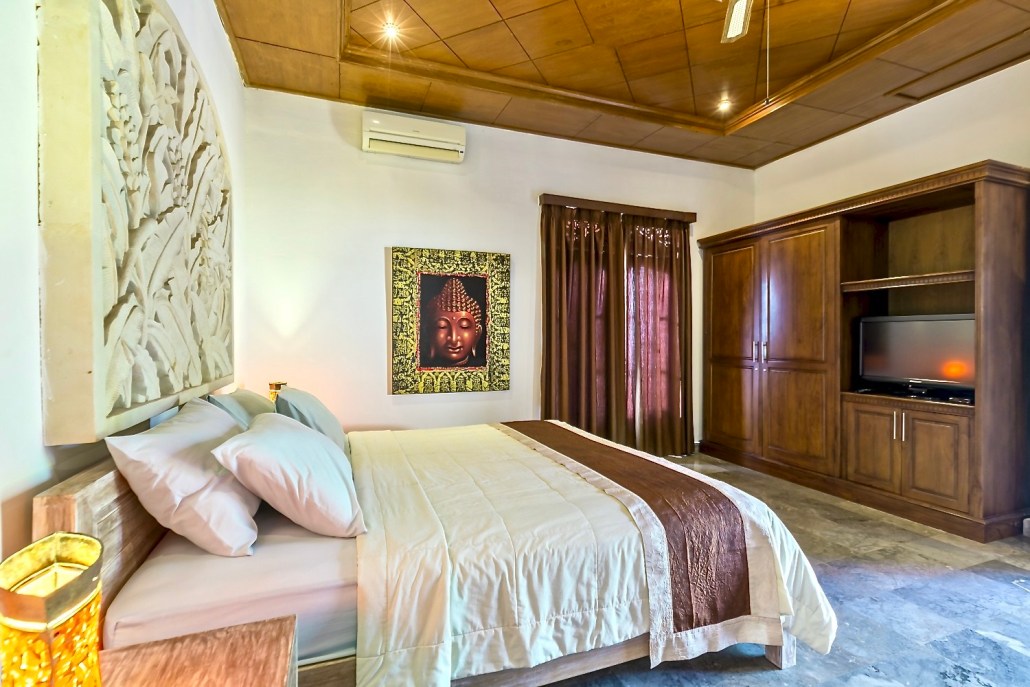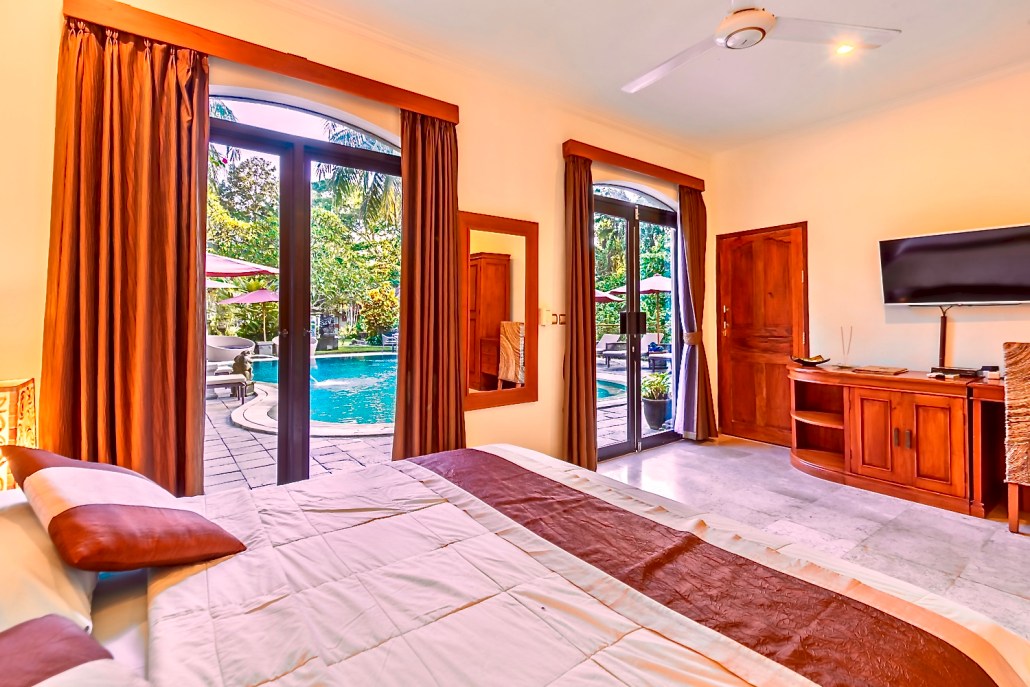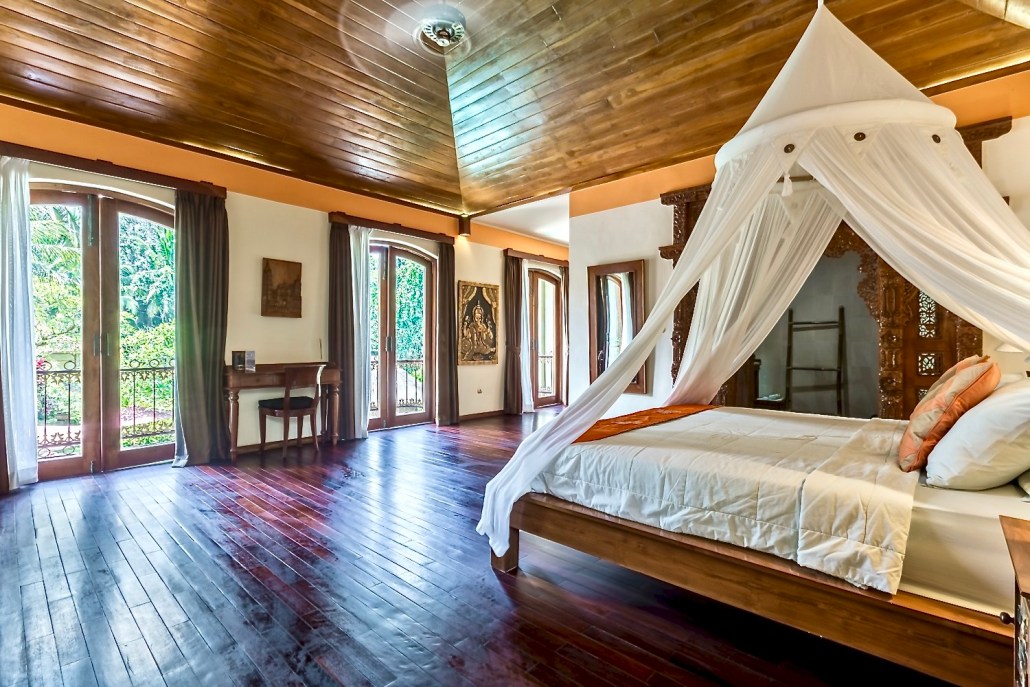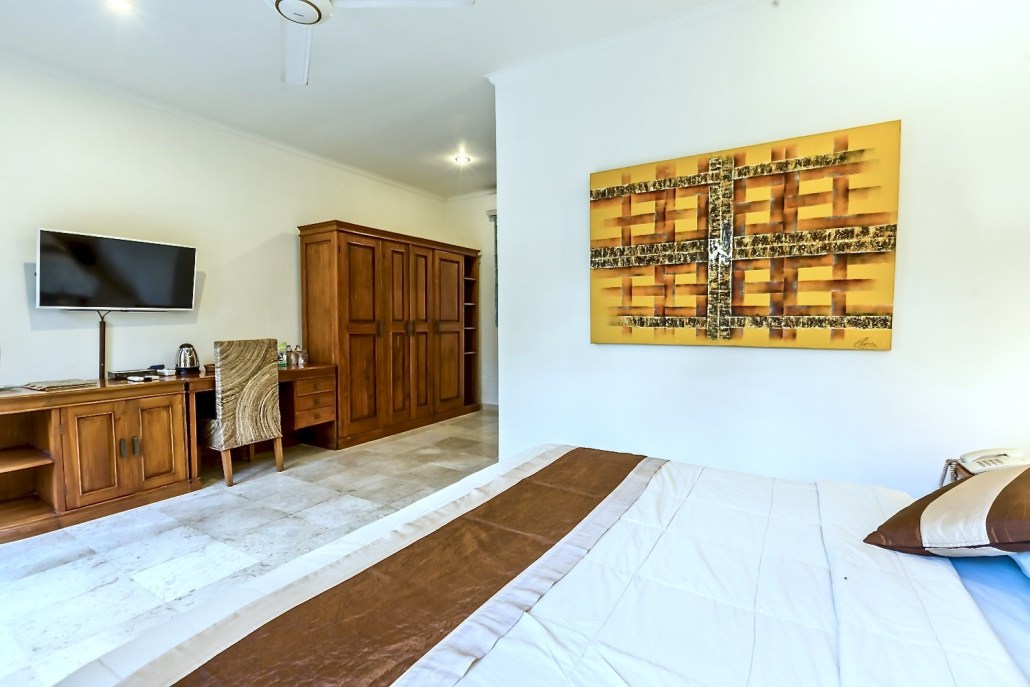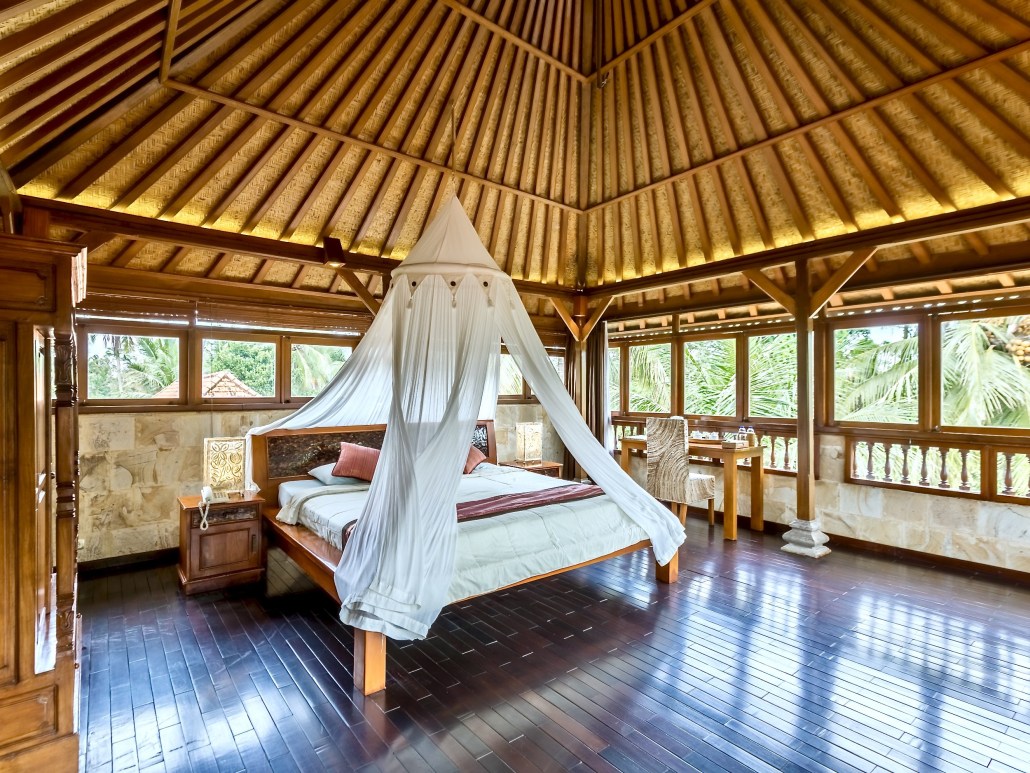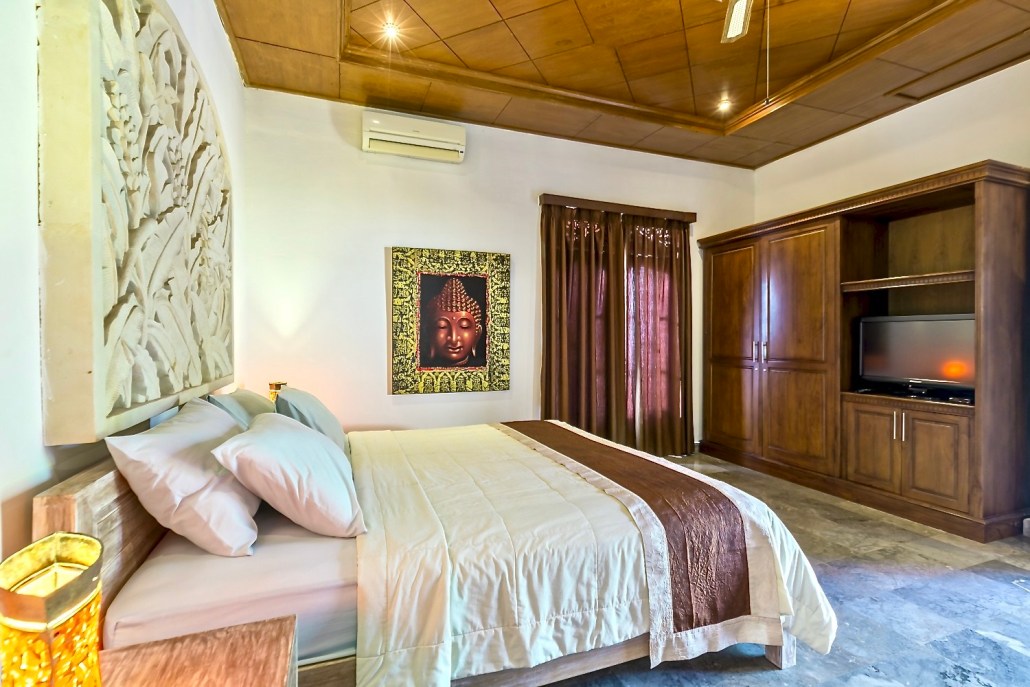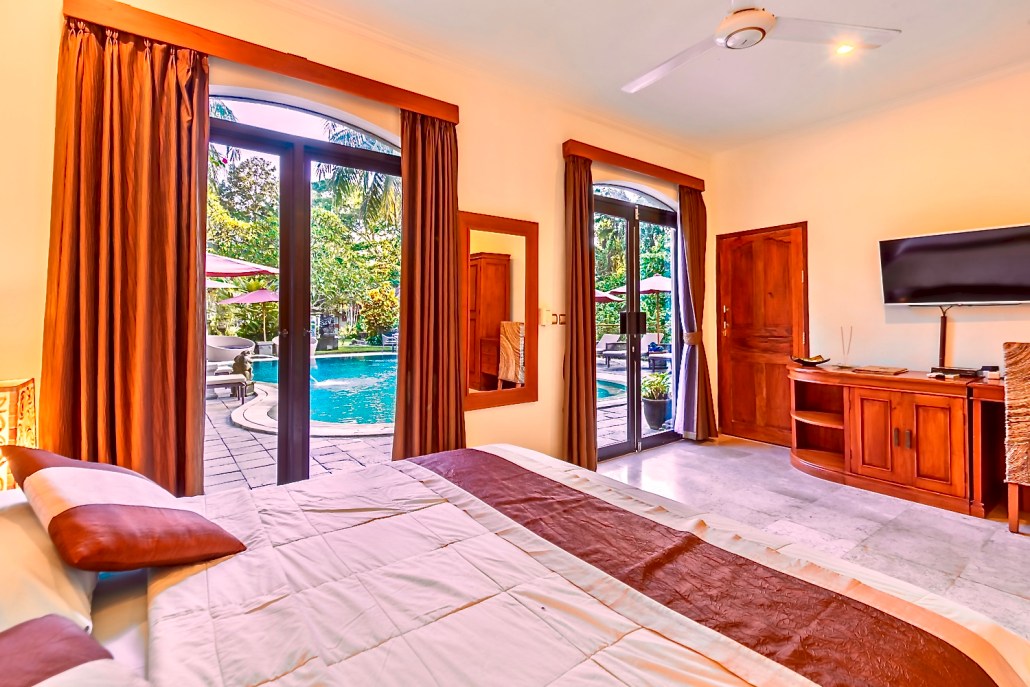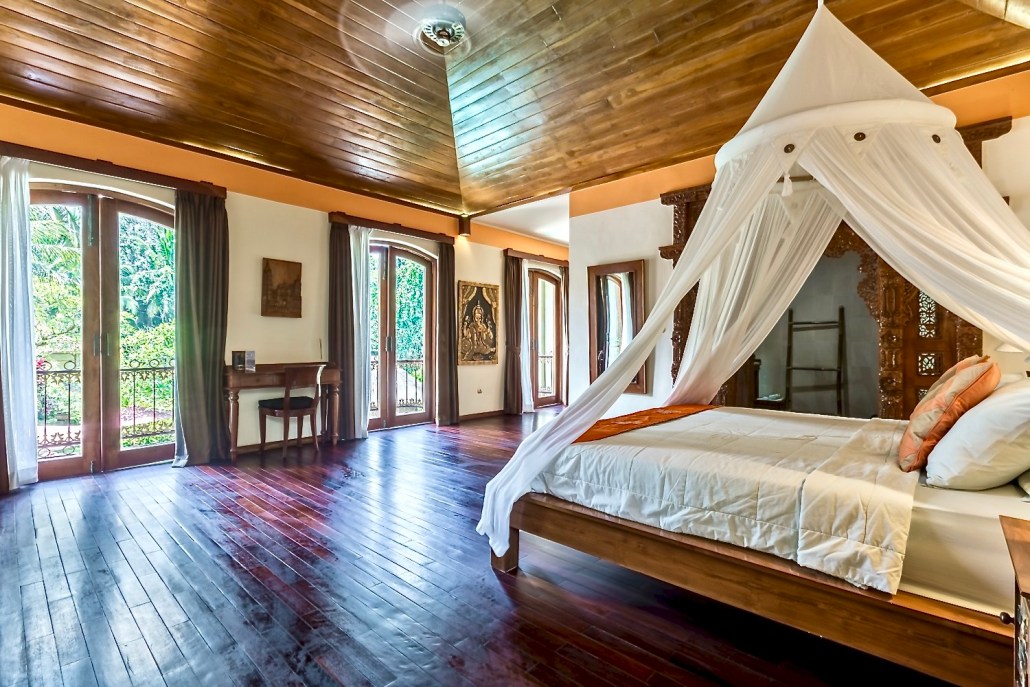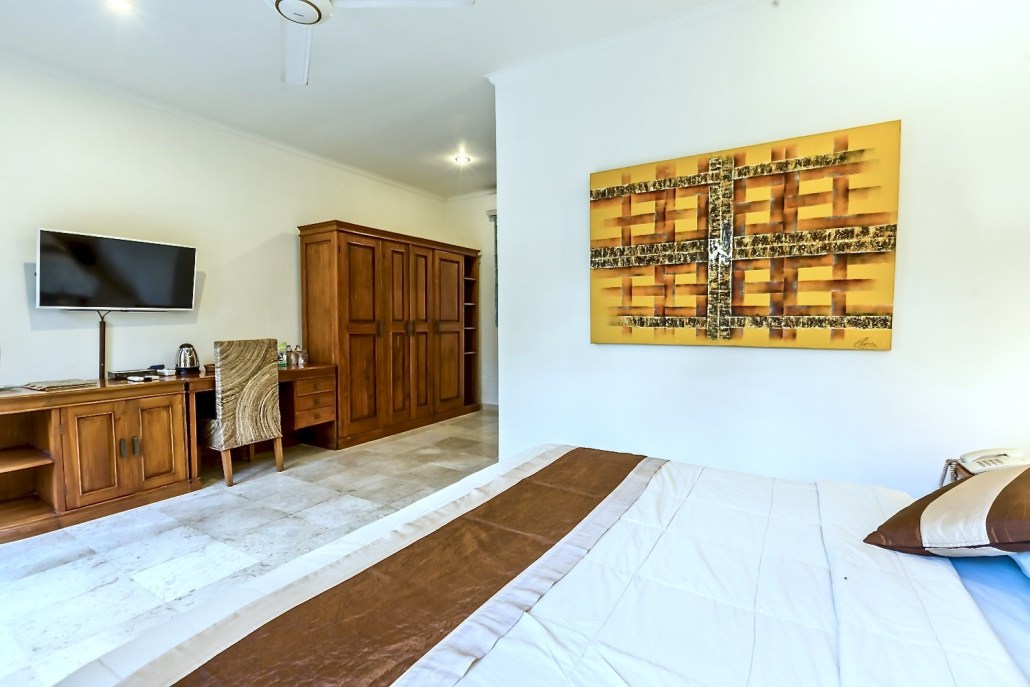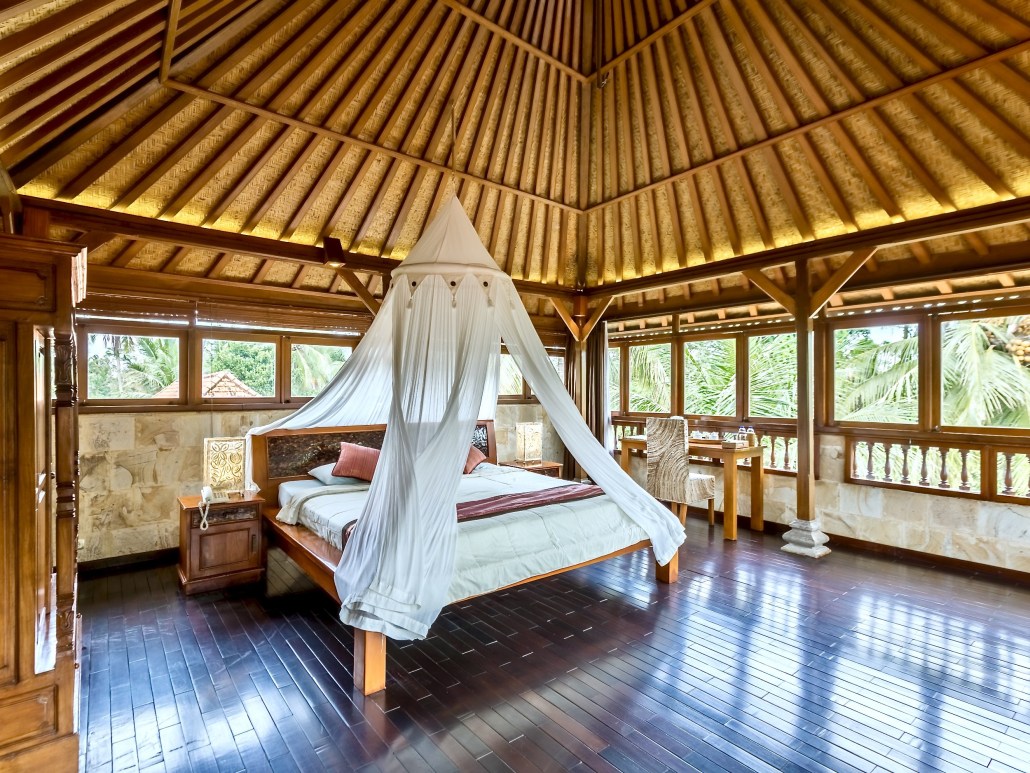 Hotel Villa Ubud is a boutique hotel located in the village of Pejeng, a short drive east of downtown Ubud. Each of their comfortable rooms are individually designed and decorated and their large suite rooms feature high ceilings, beautiful hardwood flooring and air conditioning for the warmer summer months.
Program:
Their 8 day yoga and adventure package also includes exciting side-trips and excursions like sunrise trekking up the amazing Mount Batur volcano, tours of the Bedugul and Tanah Lot temples and a half day cycling tour. River-rafting and cooking classes are also available upon request.
What We Like:
Their complex also features a restaurant, spa and a yoga studio with a perfect view of the rice fields. They offer yoga retreats that are personalized and suitable for absolute beginners.
Cost:
Contact for more information
Br. Padapdapan, Jl.Ke-cagaan, Pejeng, Pejeng, Tampaksiring, Pejeng, Tampaksiring, Ubud, Bali 80552, Indonesia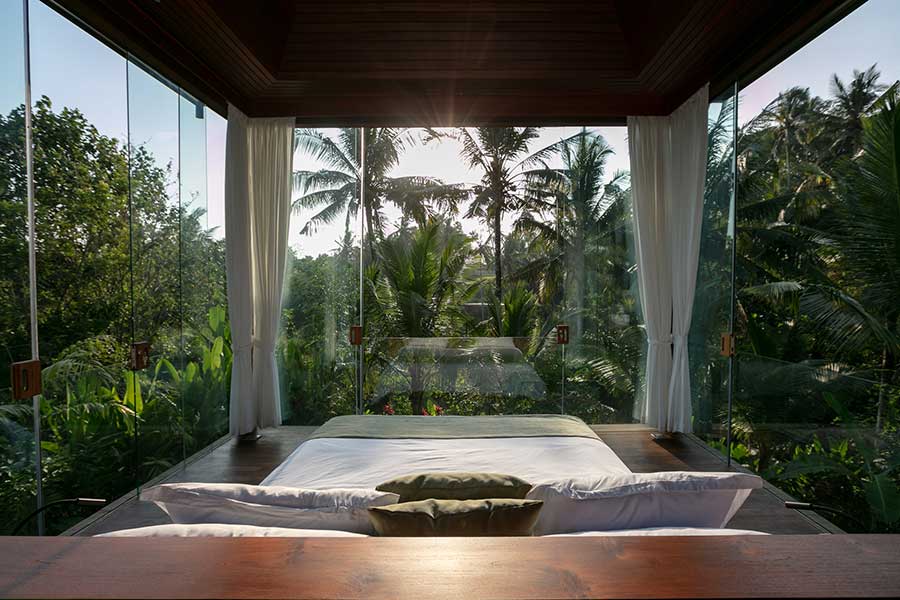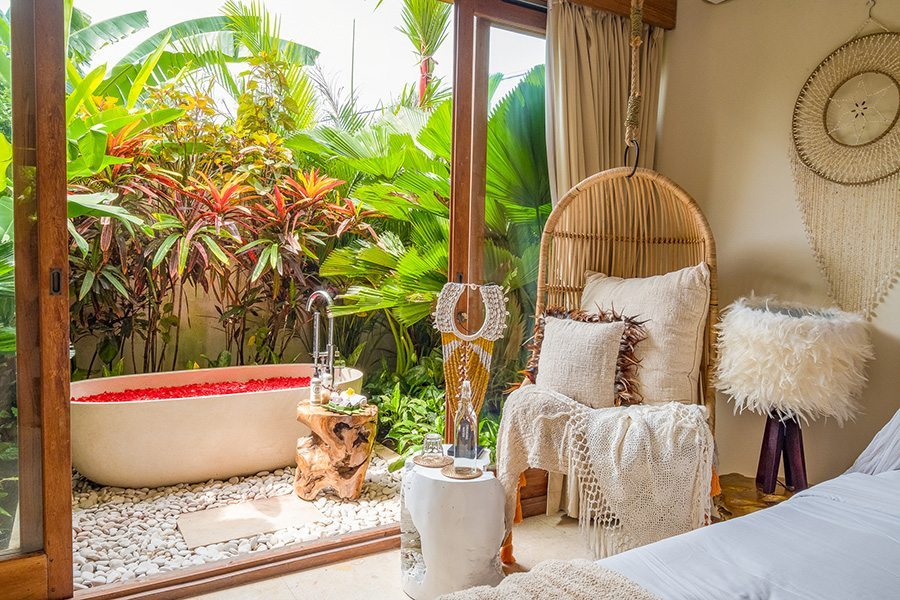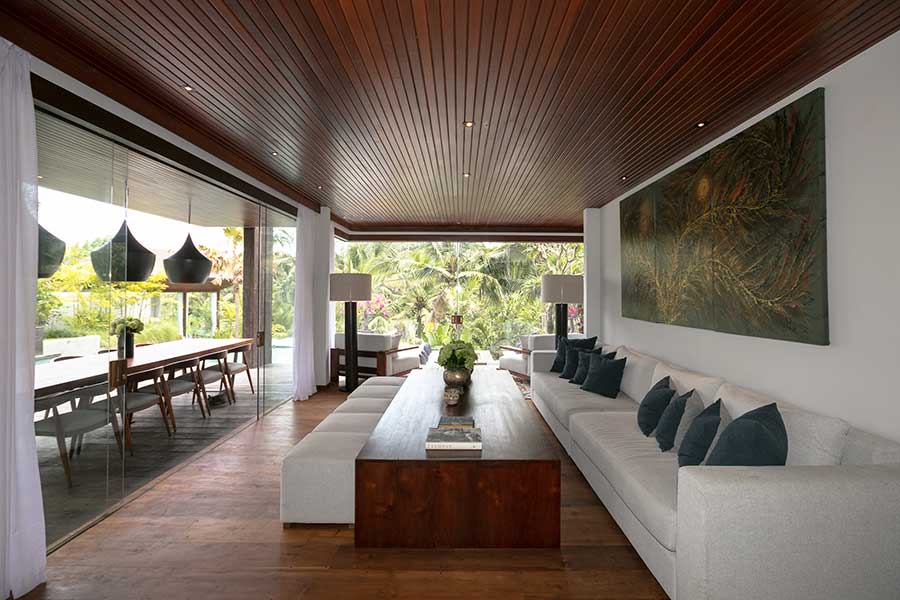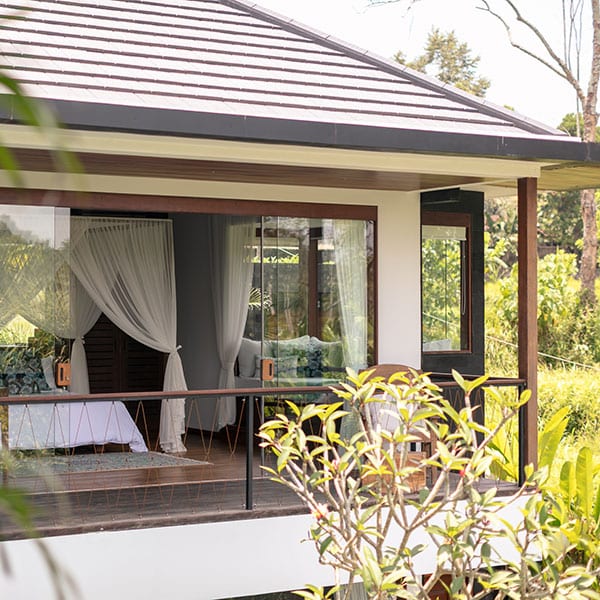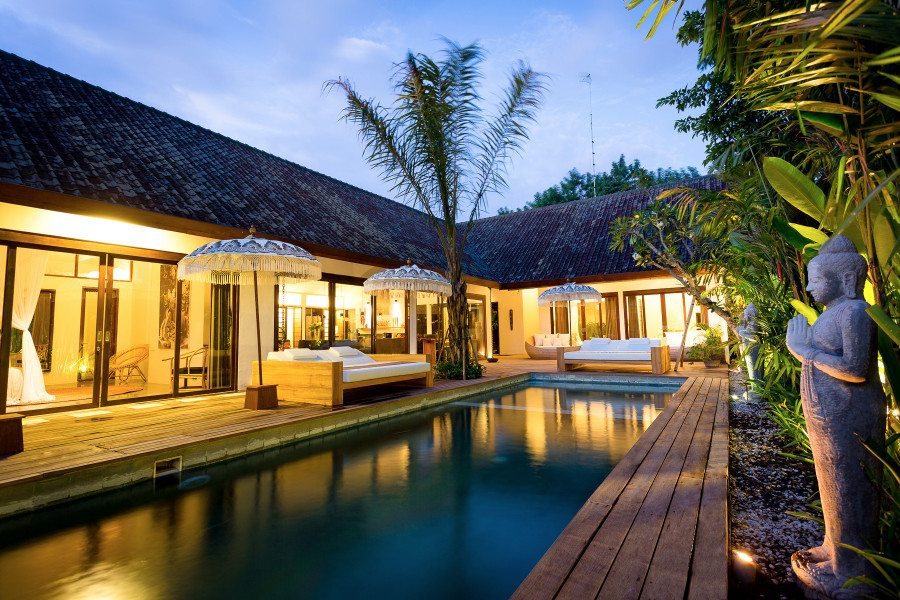 beautiful-garden-setting-glass-walls-bedroom-ubud-bali-resorts
Bliss-Canggu-LOW-Bedroom-4-8704
gorgeous-lounge-ubud-bali-accomodation
ubud-luxury-rainfrest-room-bali-retreat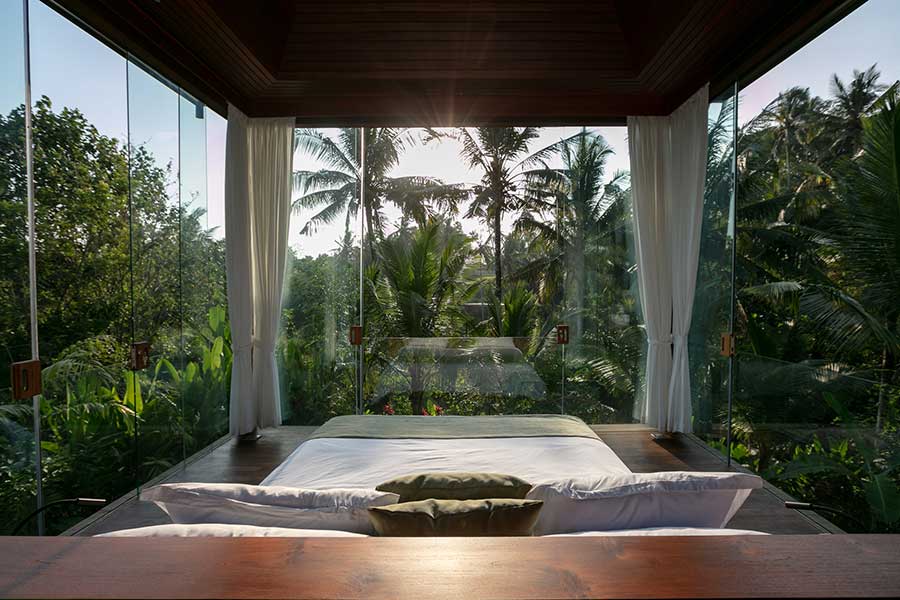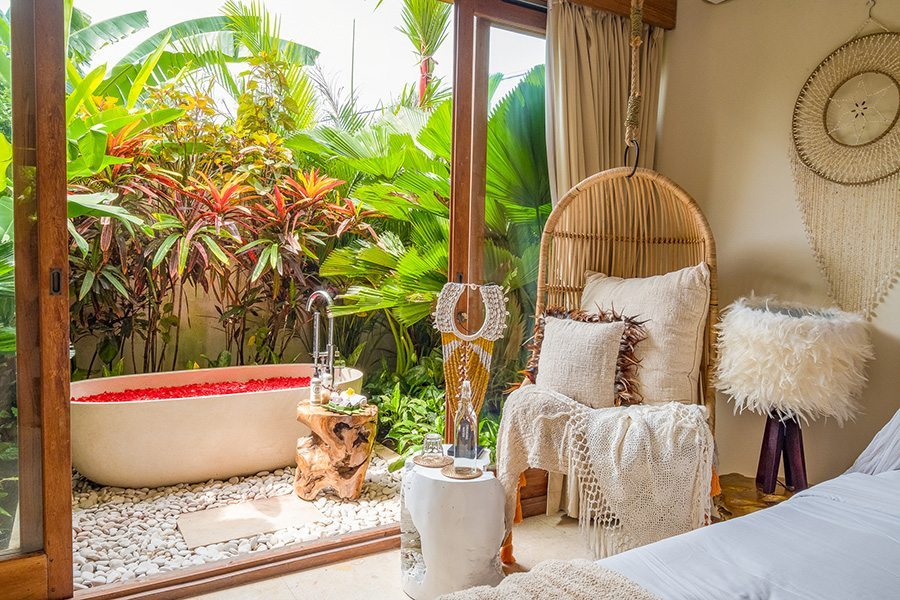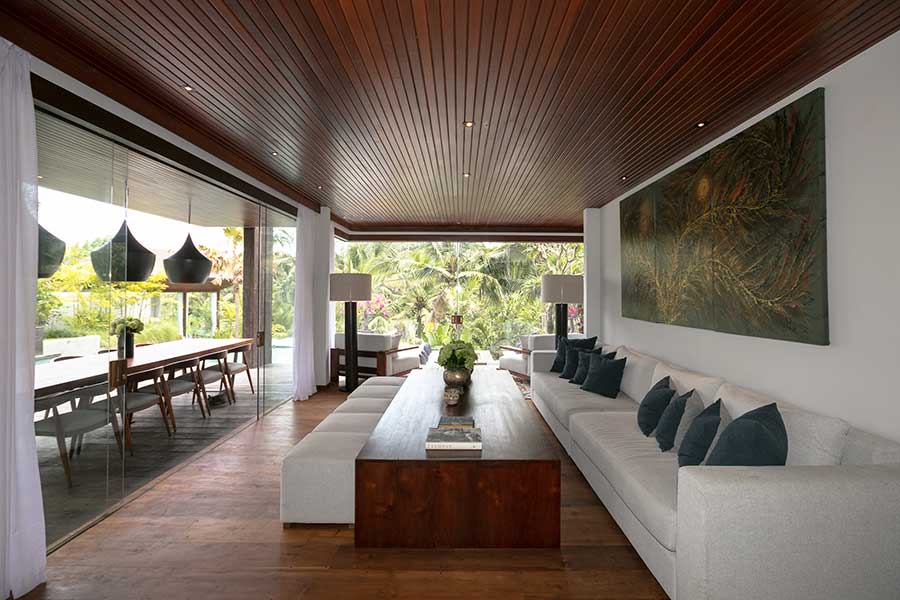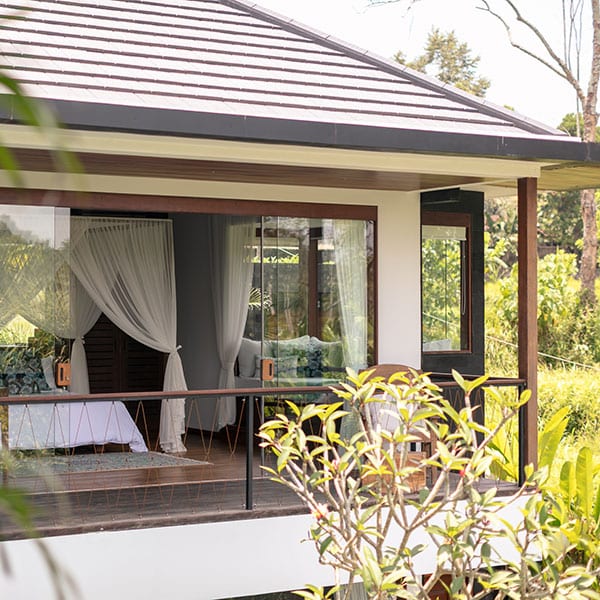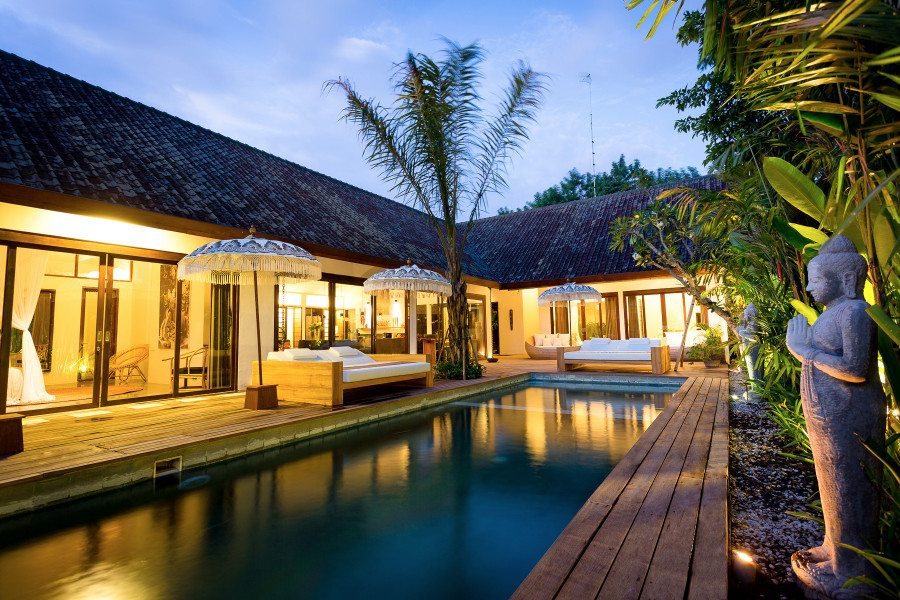 This retreat company is unique in that it builds luxury personalized retreat experiences exclusively for women. No couples, no kids. If you're a woman looking for a solo retreat away from the pressures of home life or a relaxing getaway with a few close friends you can escape in fine style with Bliss Sanctuary for Women.
They have 3 locations: one in Canggu, one in Seminyak, and one in Ubud. If what you're looking for is a spiritually-focused yoga retreat, the one in Ubud is probably the way to go.
Program:
With a giant pool over-looking the hillside, baths in every room and a big air-conditioned yoga room  with stunning views of the jungle, this is a health and wellness retreat par excellence. They offer numerous retreat packages including their "Eat Pray Love" package in which participants get to play out the experiences in the book that has drawn so many travellers to the magic of Bali.
What We Like:
The safety and privacy of solo female travellers is of primary importance to Bliss, and they provide a perfect environment for women to unwind. Check them out if you're looking for a break from the stresses of everyday life & wanting to connect with other like-minded ladies!
Cost:
Starting at 2,859 USD
Tibubeneng, North Kuta, Badung Regency, Bali, Indonesia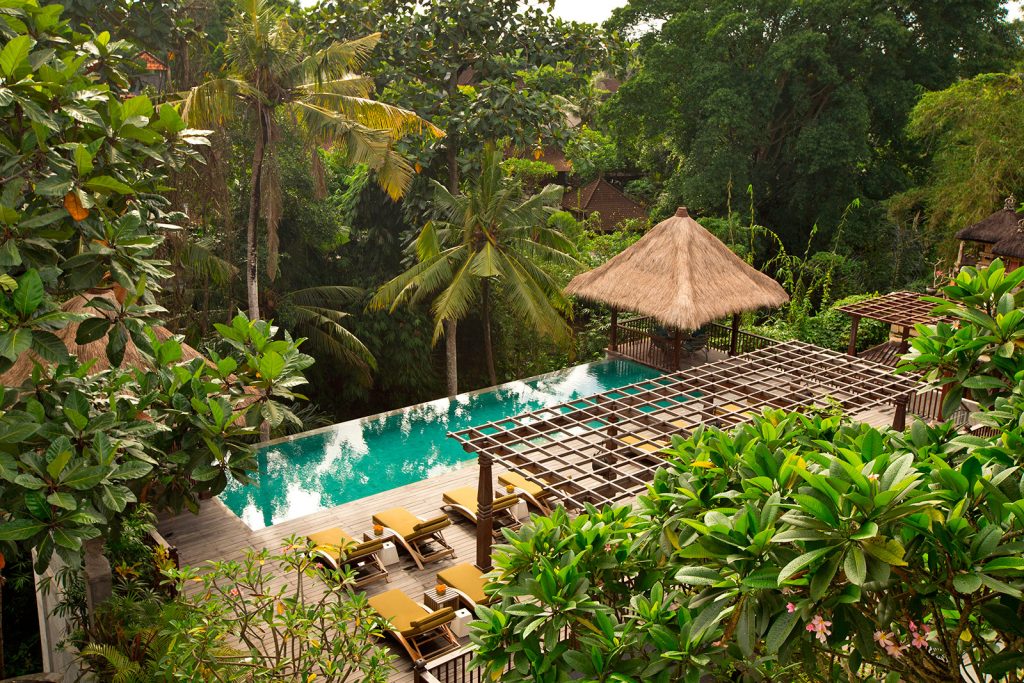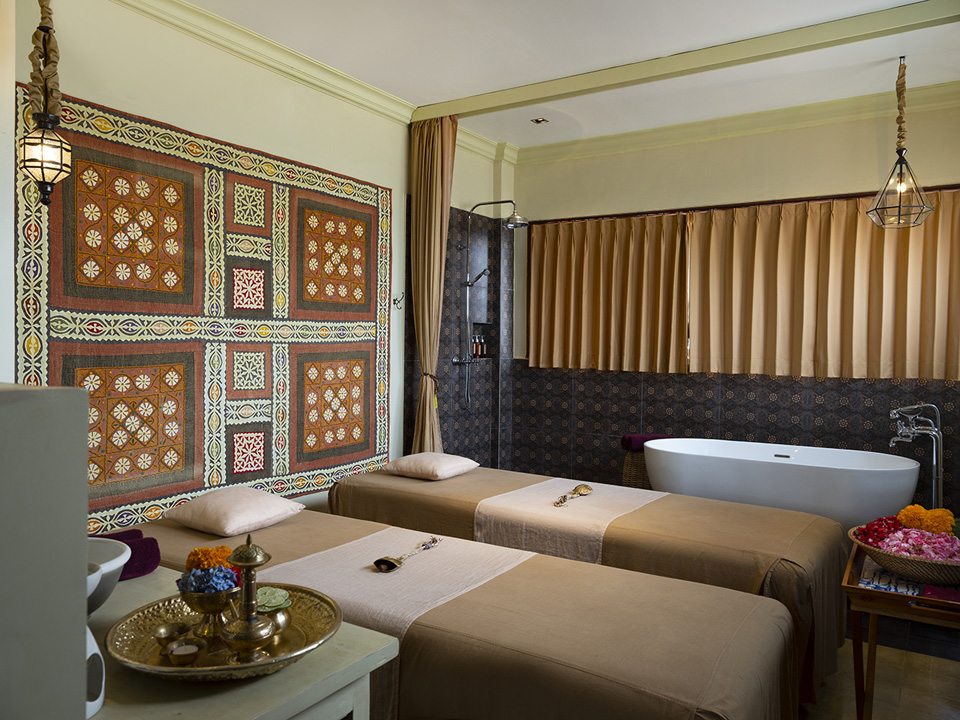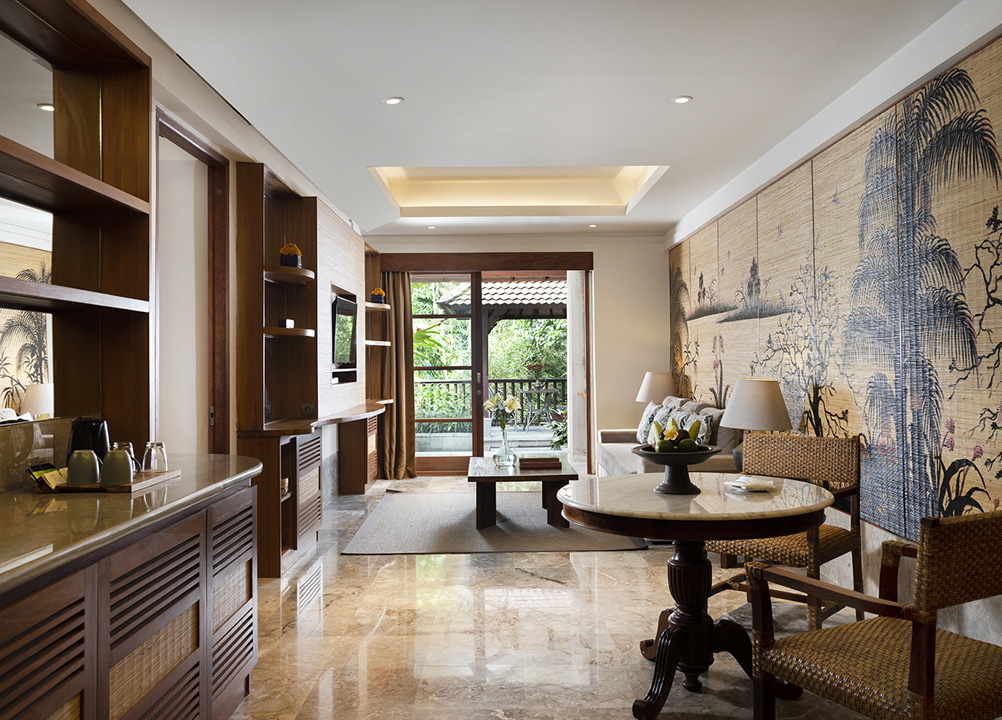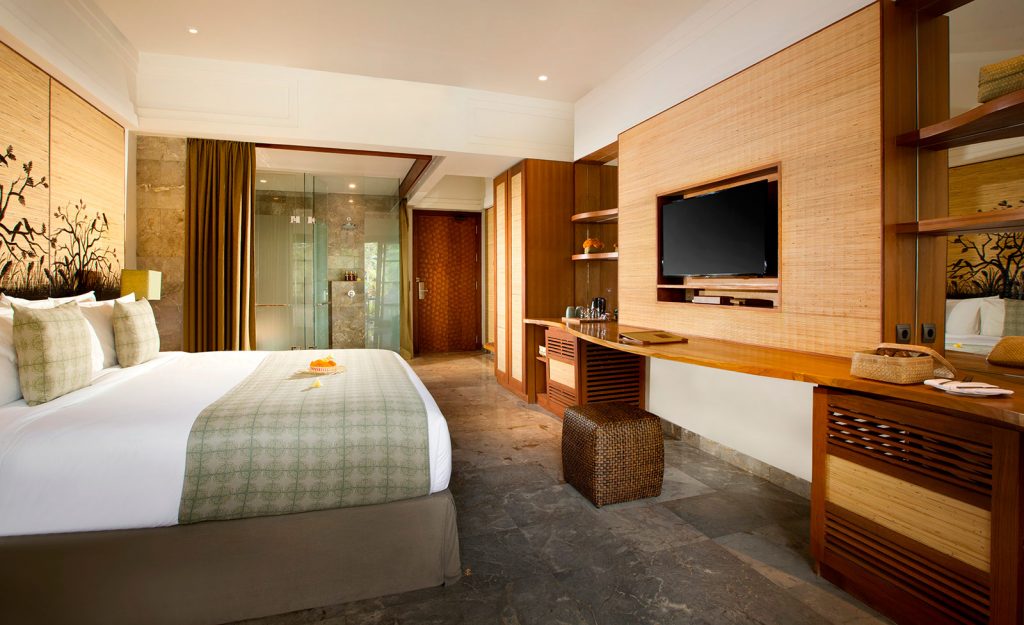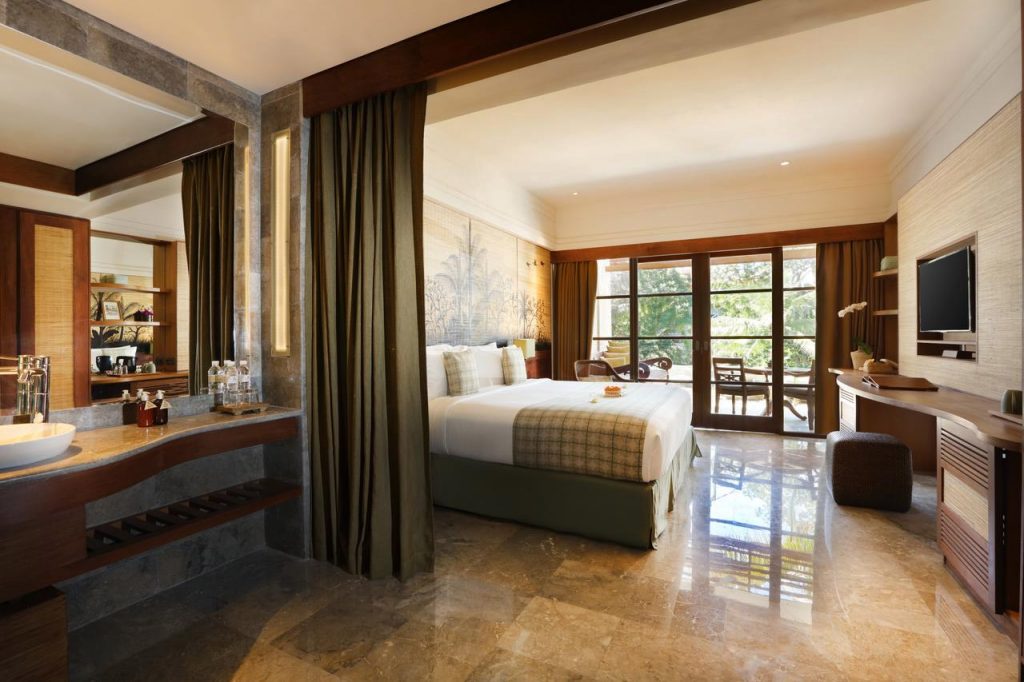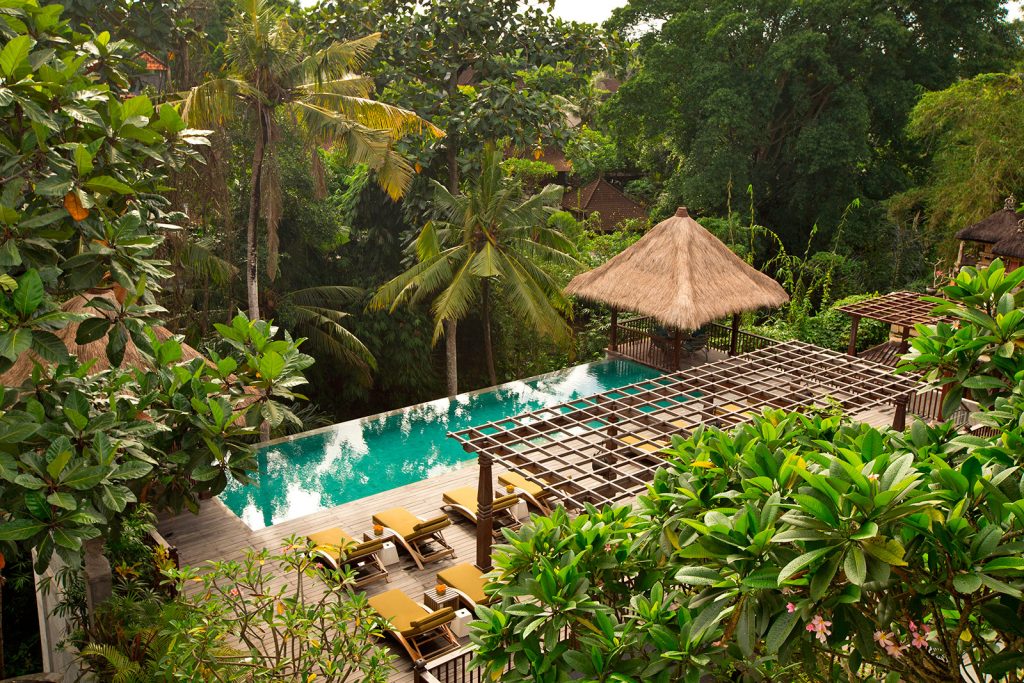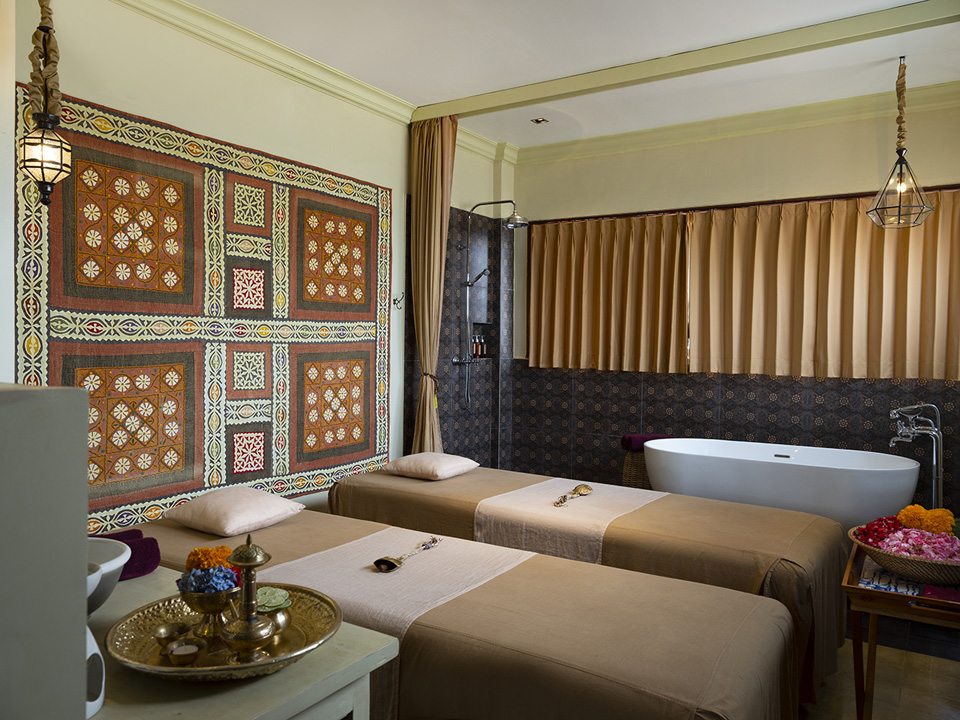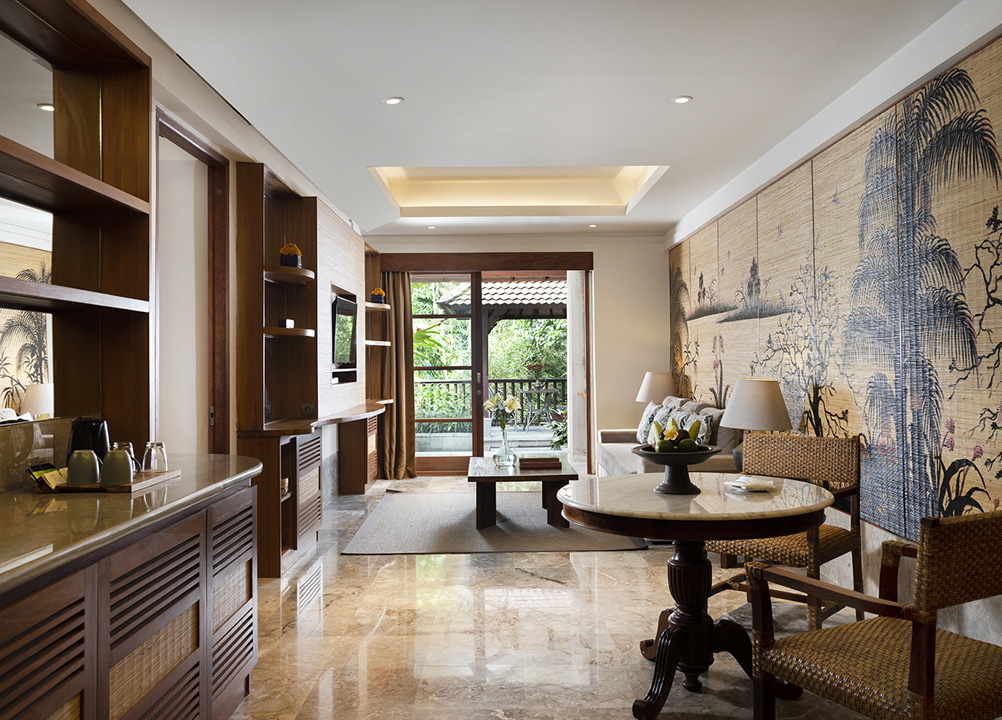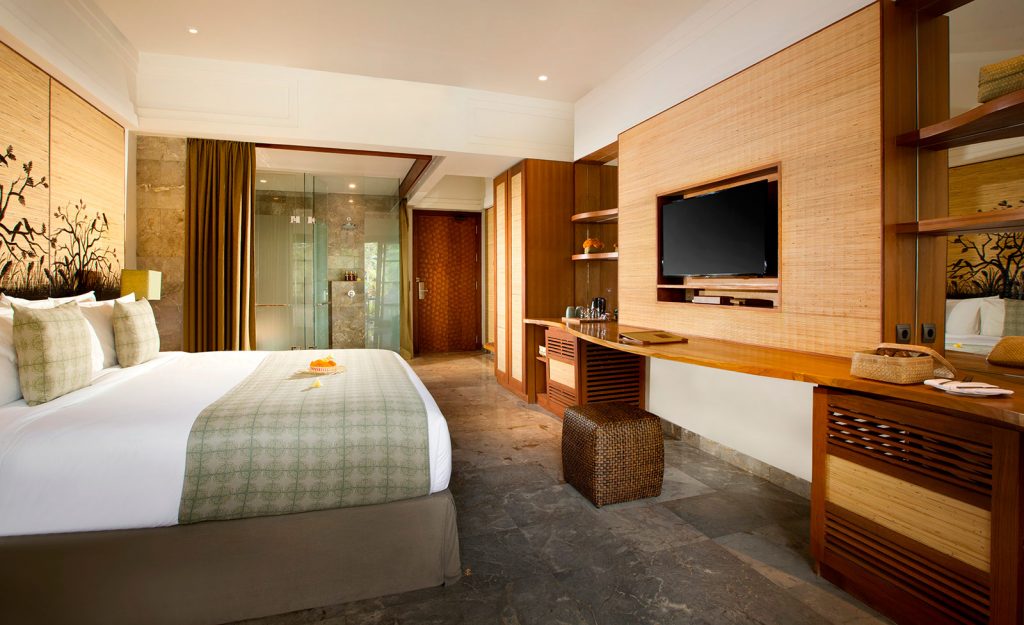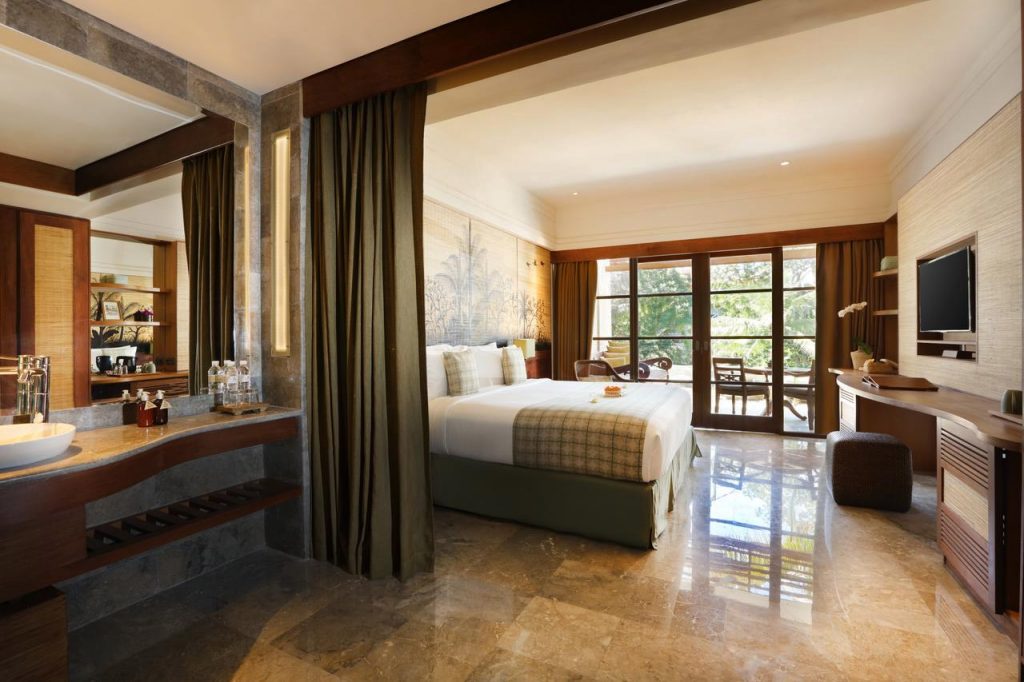 Adiwana is a beautiful resort that is located right in the heart of downtown Ubud. Their focus is on rejuvenation and they have an ayurvedic doctor and a yoga teacher on-site as well as a popular spa called Tejas located next door.
Adiwana Jembawan is steps away from Radiantly Alive and Yoga Barn, the 2 legendary yoga studios that have put Ubud on the map, and is surrounded by venues hosting kirtan, ecstatic dance and cacao ceremonies on a daily basis.
Program:
While doing your yoga retreat in the centre of a bustling town might not sound like an ideal spiritual getaway, bear in mind that Ubud is one of the most popular destinations for yoga and meditation in the entire world, and most of the events and teachers teach in the town itself. Plus, Adiwana's like an oasis from the hustle and bustle of the city.
What We Like:
They have a restaurant called the Herb Library that focuses on raw and "living" food with options for Omnivores as well. They focus on sustainable and responsible sourcing of local produce with a big menu of delicious salads, rice bowls and sandwiches.
Cost:
Starting at 133 USD
Jl. Jembawan 1, Ubud, Kecamatan Ubud, Kabupaten Gianyar, Bali 80571, Indonesia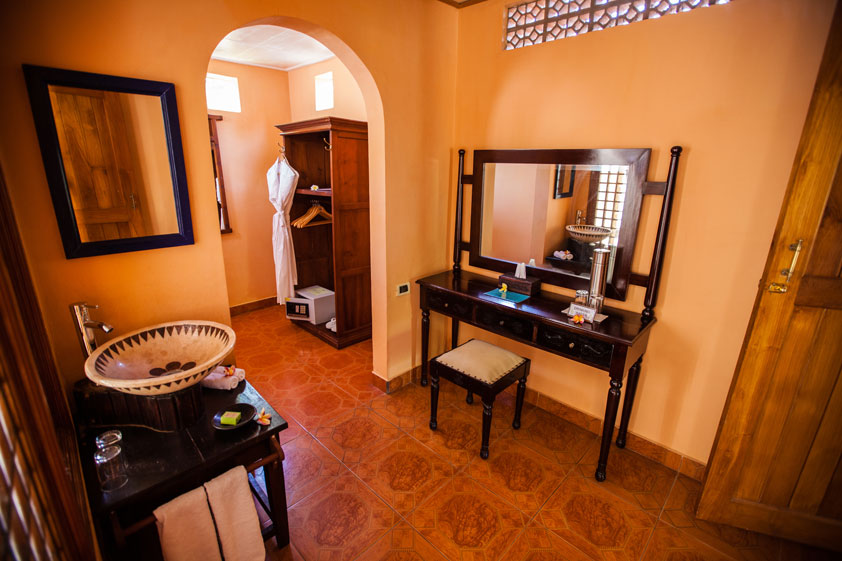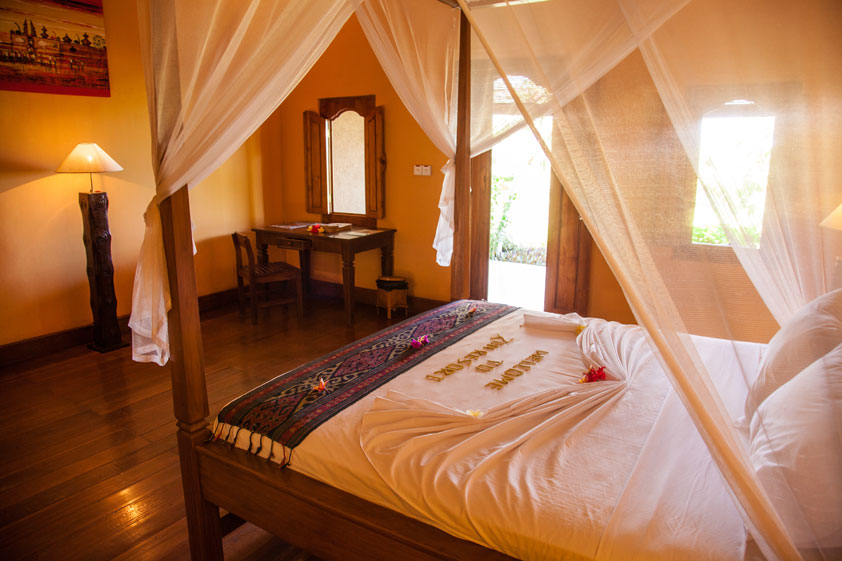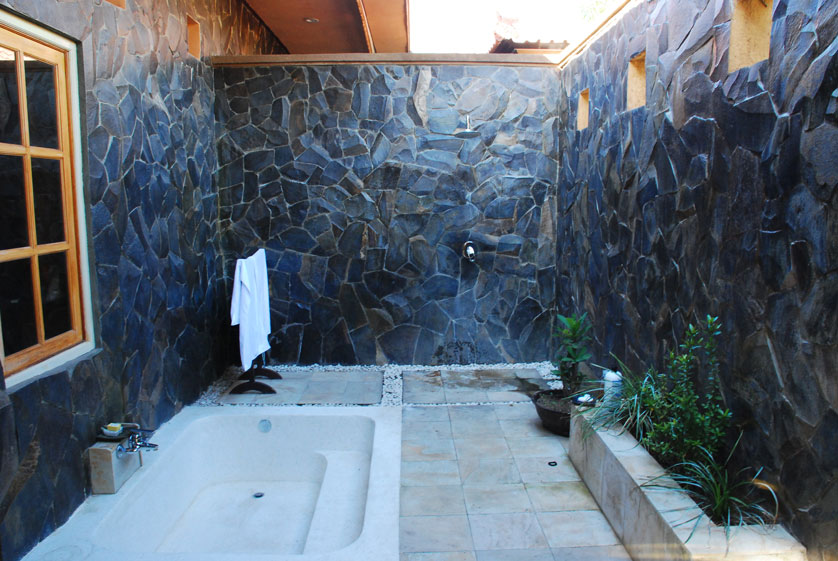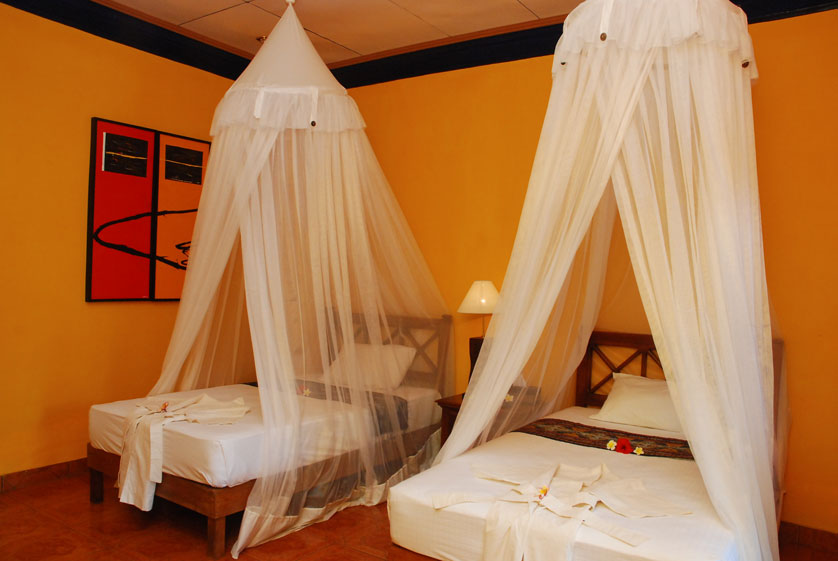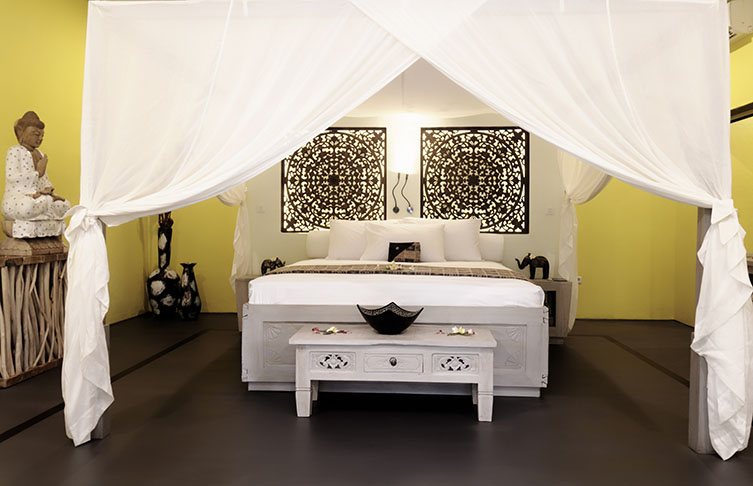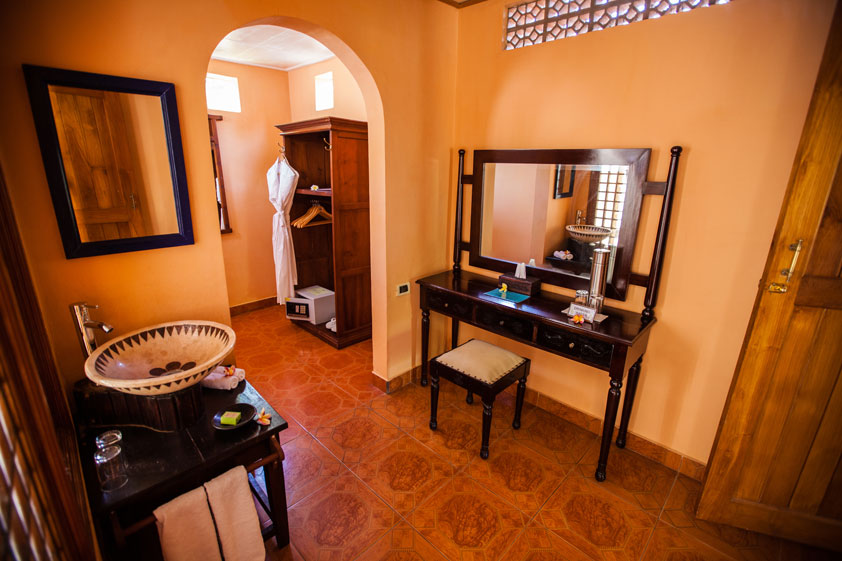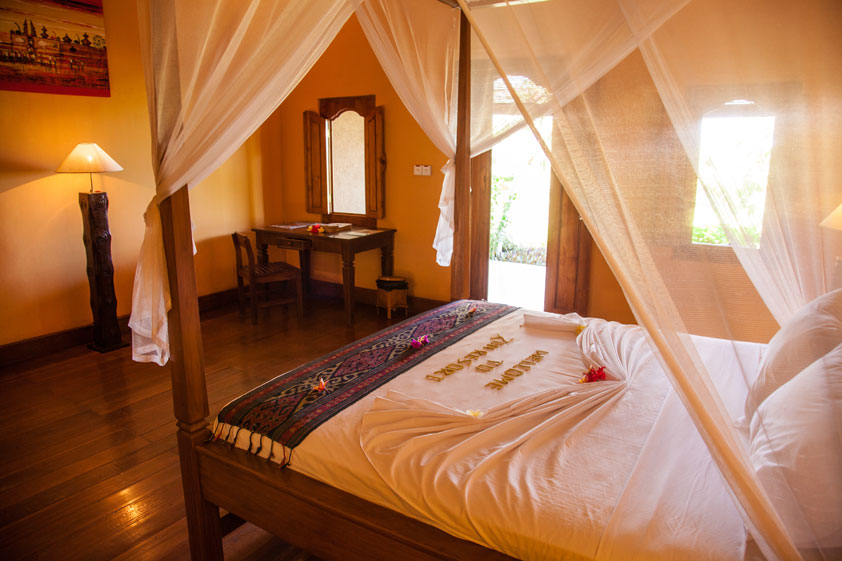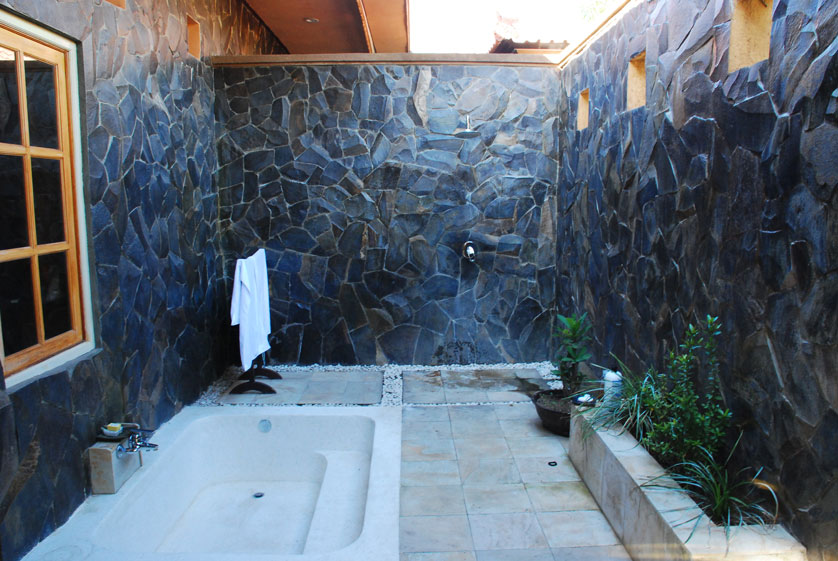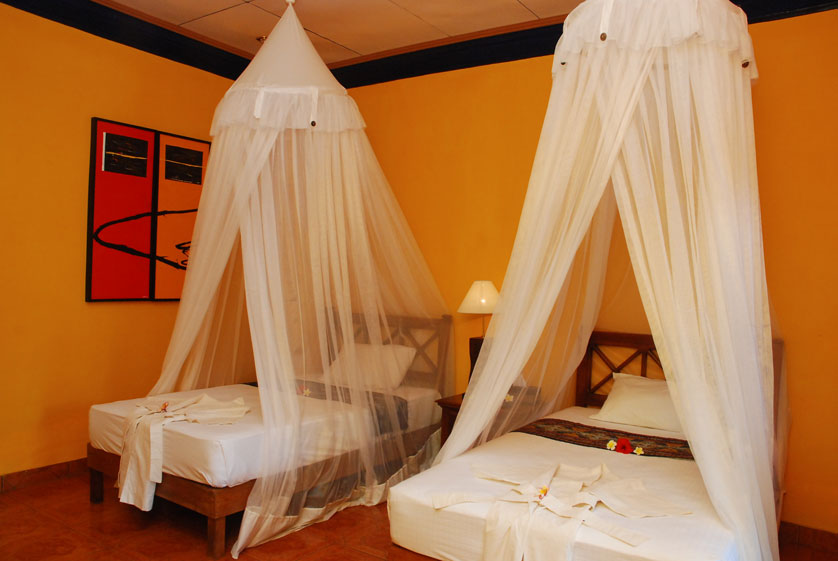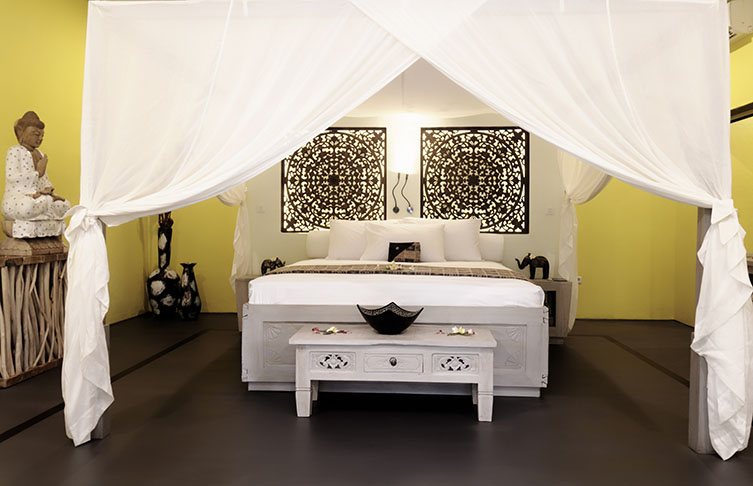 Bali is known to have some of the best scuba diving in the world. With giant ocean sunfish, mimic octopi and World War II shipwrecks that have turned into shelters for a wealth of marine wildlife, there are fascinating dive sites to explore.
Zen Resort is located on the sleepy north coast of Bali. It's a off the beaten path for the yoga and surfing tourists that cluster around the south of the island and it's a perfect jumping-off point for the many scuba diving locations off the north and east coasts.
Program:
They combine their scuba diving packages with daily sunrise and sunset yoga, meditation and pranayama classes and their deluxe villas offer a peace and quiet that can sometimes be hard to find in the more crowded tourist areas in the south.
What We Like:
If you're into yoga and diving but only have time for one vacation there is no need to pick one focus. Zen Dive is the perfect place to do both.
Cost:
Starting at 814 USD
Ds. Ume Anyar, Dencarik, Seririt, Buleleng Regency, Bali 80871, Indonesia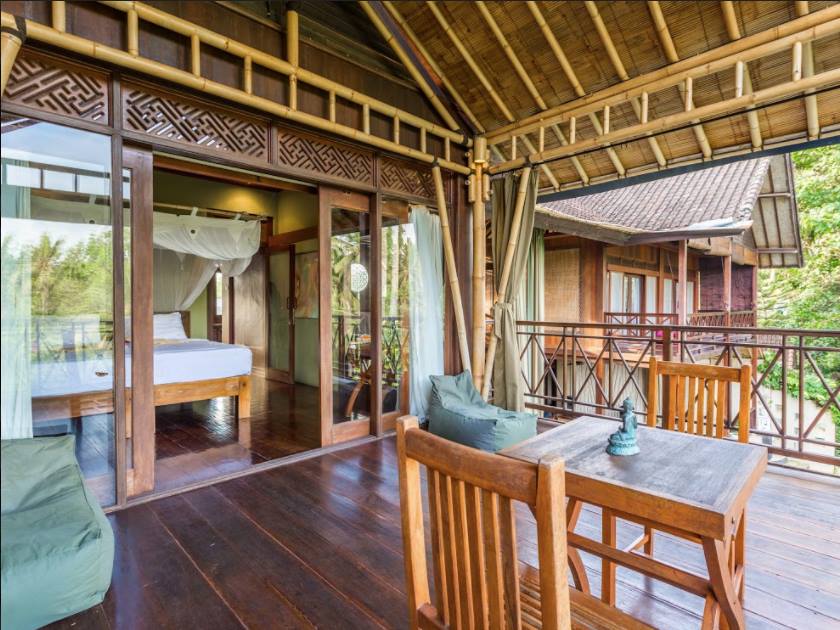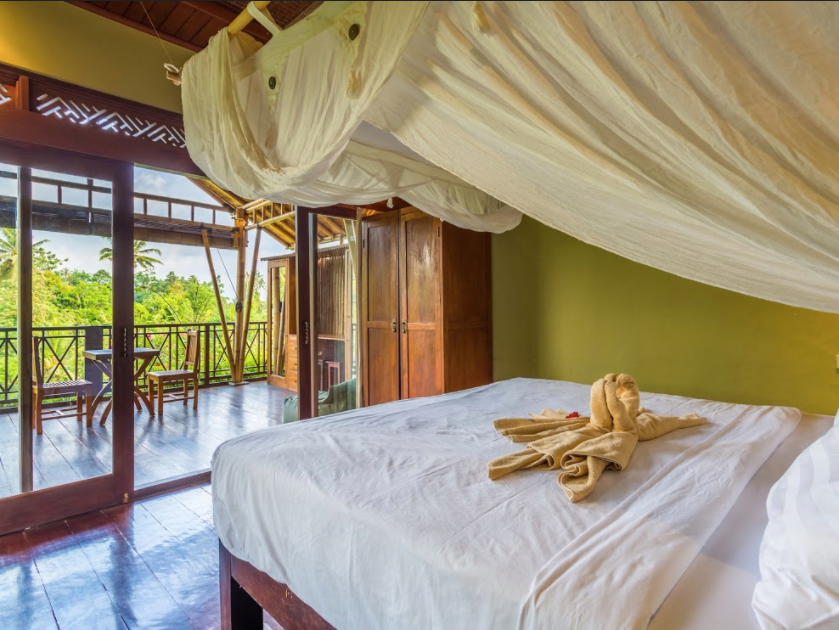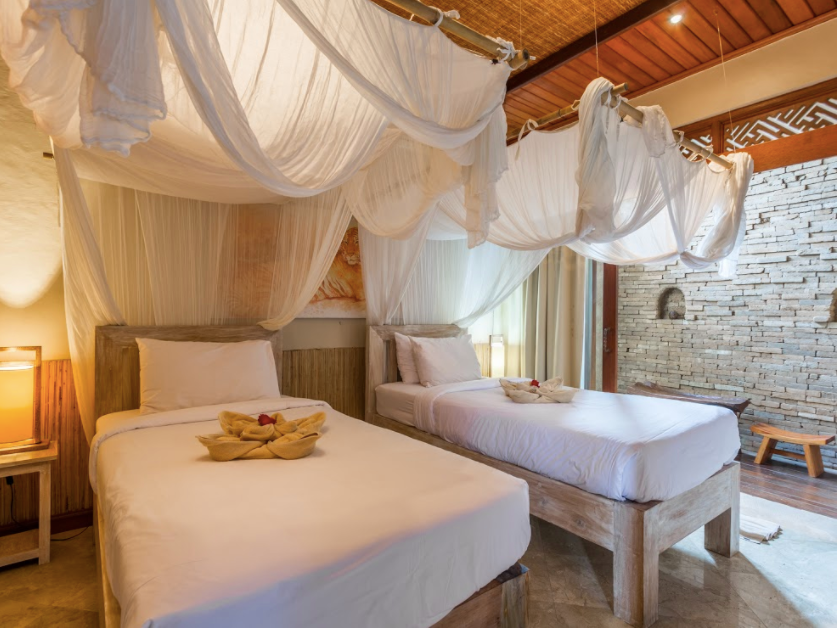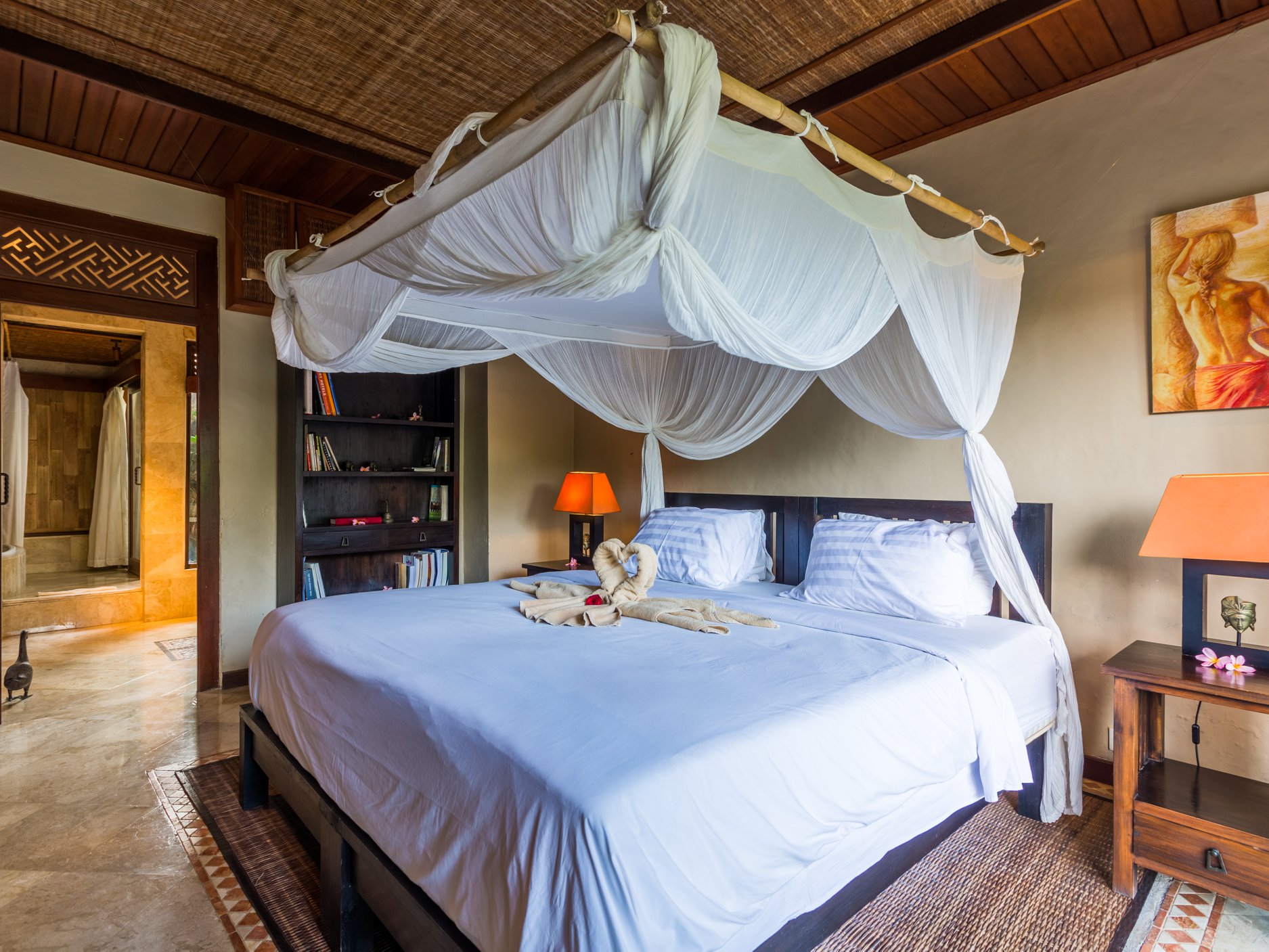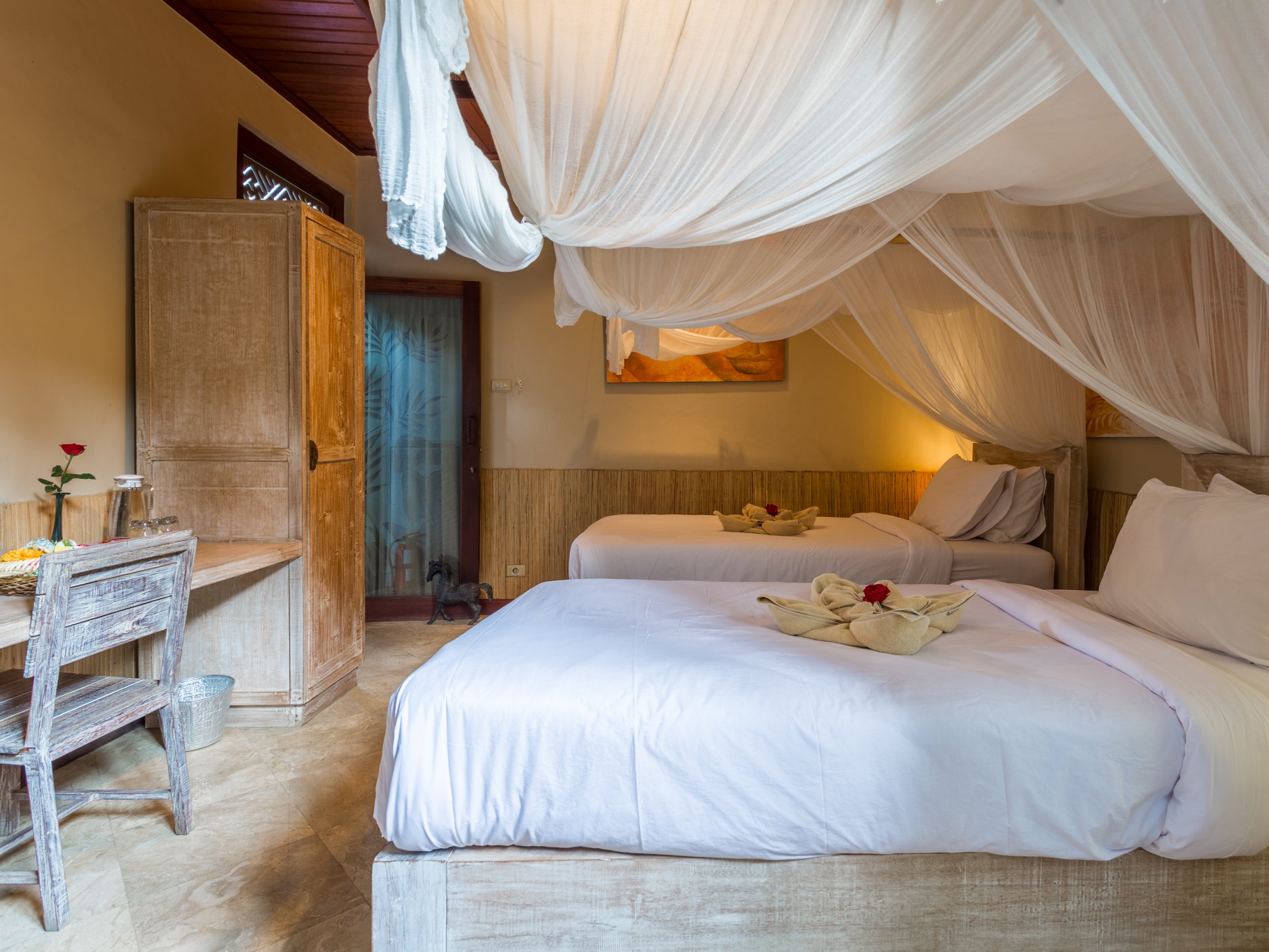 39453733_1810134362427557_7170774979611459584_n
39454005_1810134279094232_2001159154516885504_n
39500107_1810165312424462_1464127937157529600_n
61189268_2228170120623977_2836076891071315968_o
61940043_2228178887289767_4295279789230522368_o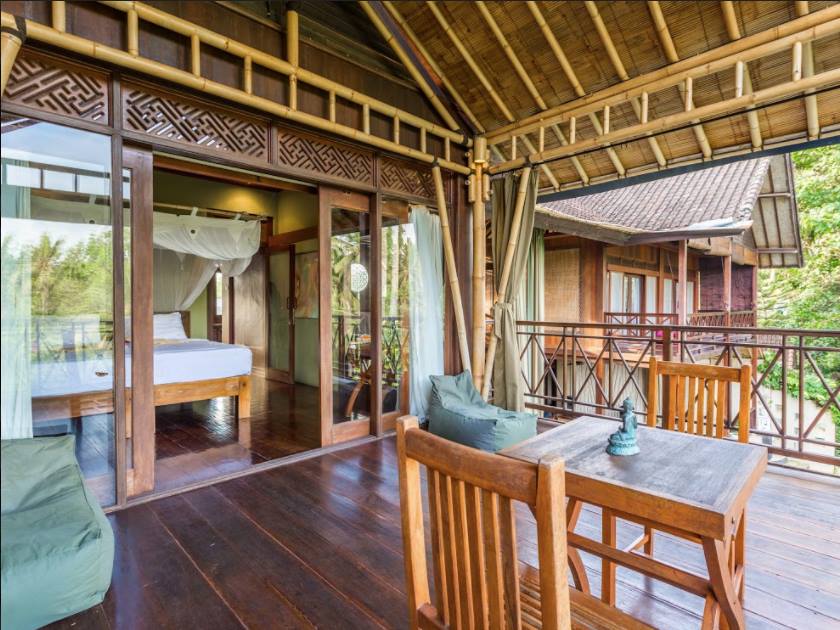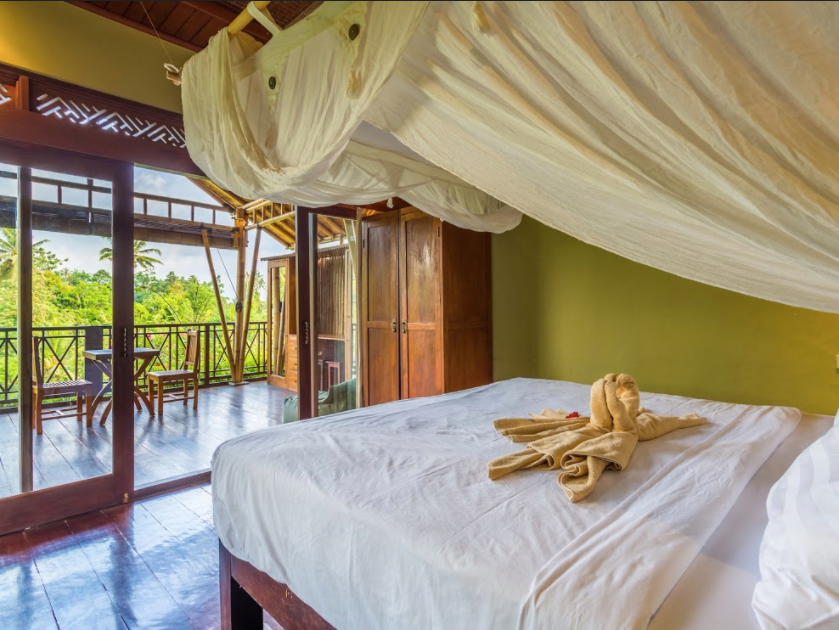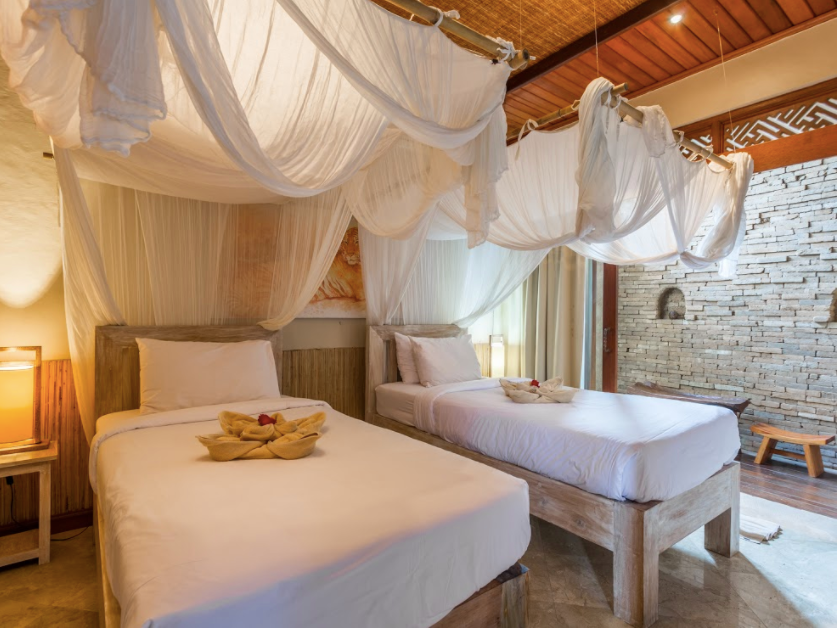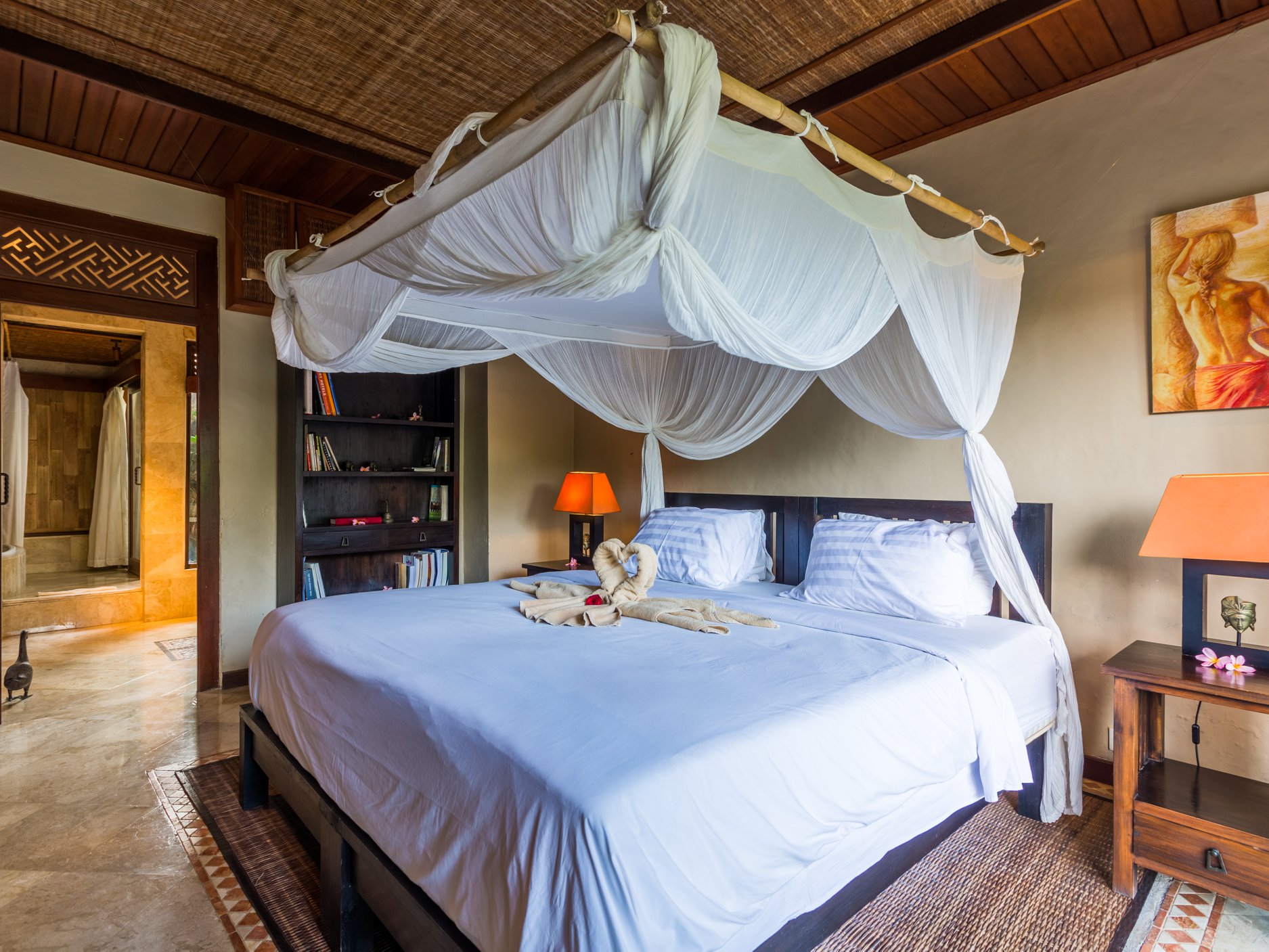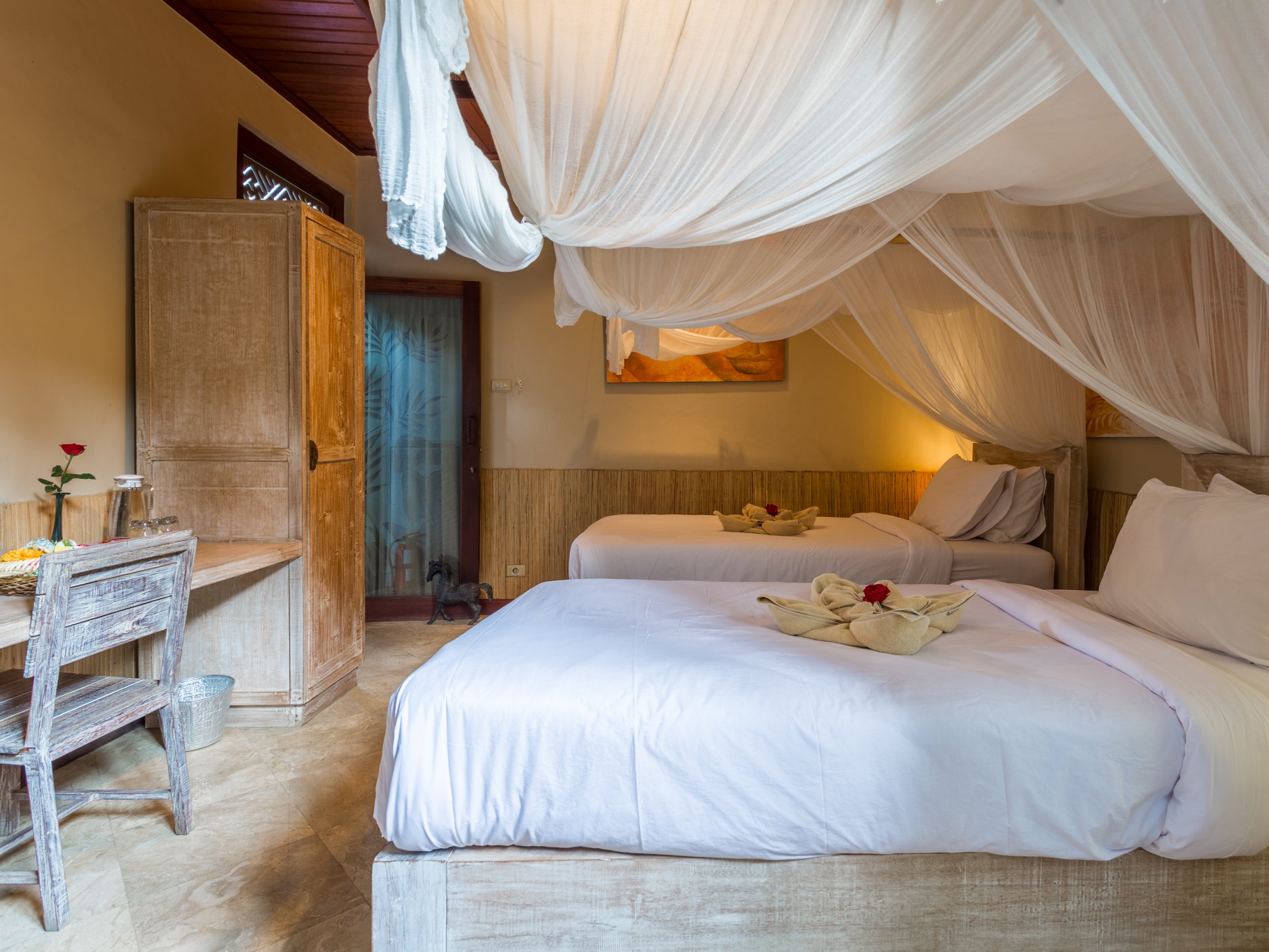 Gaia Retreat centre is very popular with global retreat leaders who bring groups here from around the world.
Established yoga influencers like Clayton Horton, Serge Bandura and Mark Robberds hold retreats and teacher trainings here regularly. Gaia also offers personalized detox, yoga and Transcendental Meditation retreats in a glorious facility located in North Ubud.
Program:
Check out their extensive list of upcoming retreats that feature everything from Ashtanga and Kundalini Yoga to Tantra and Breathwork. You're sure to find something that interests you, but make sure to book well in advance as many of these retreats are planned over a year in advance and fill up fast.
What We Like:
They have a beautiful chlorine-free swimming pool, a hot tub jacuzzi and an infrared sauna. They offer lots of activities for their guests and retreat participants including traditional Kecak fire dances and trips to local temples, waterfalls and meditation caves.
Cost:
Starting at 780 USD
Br, Jl. Sri Wedari No.5, Tegallalang, Kecamatan Ubud, Kabupaten Gianyar, Bali 80571, Indonesia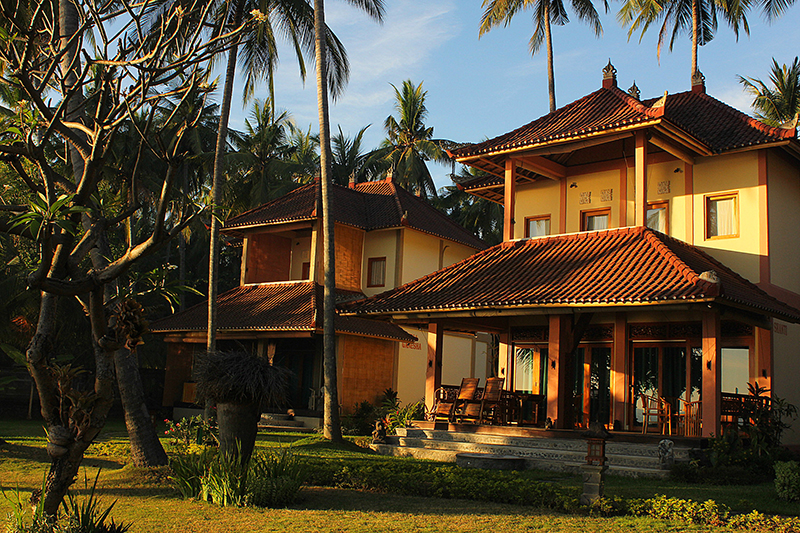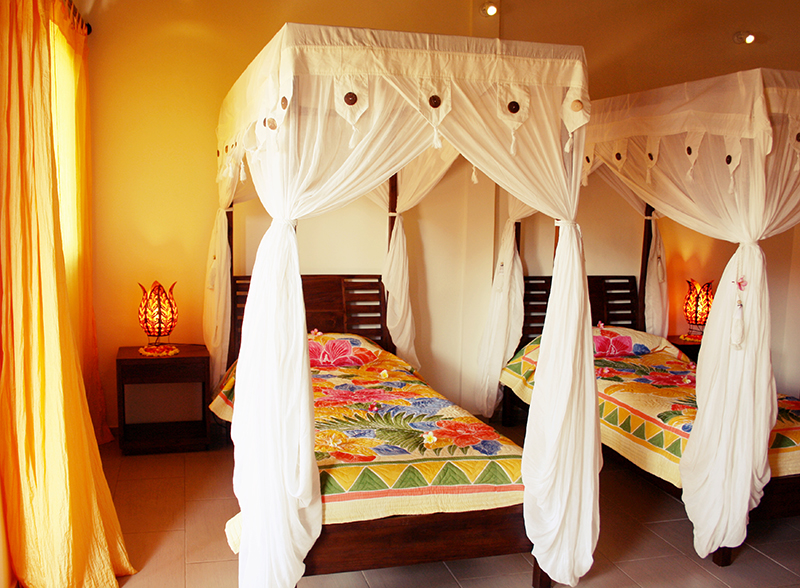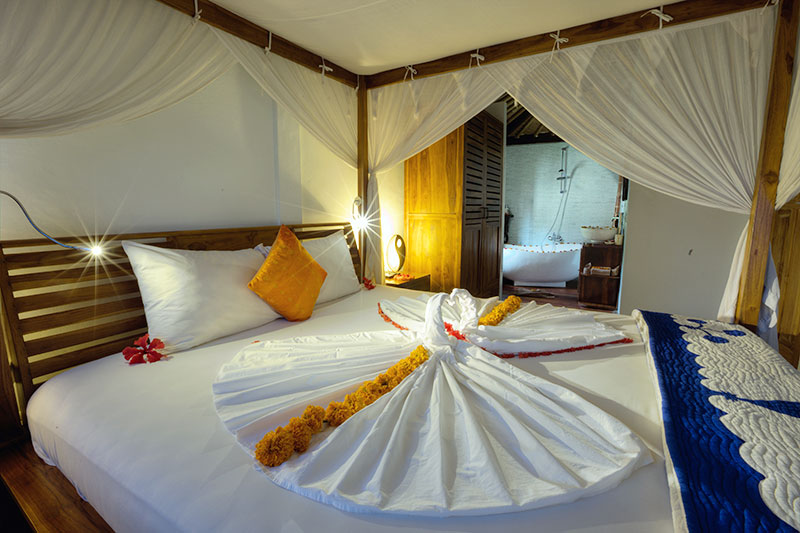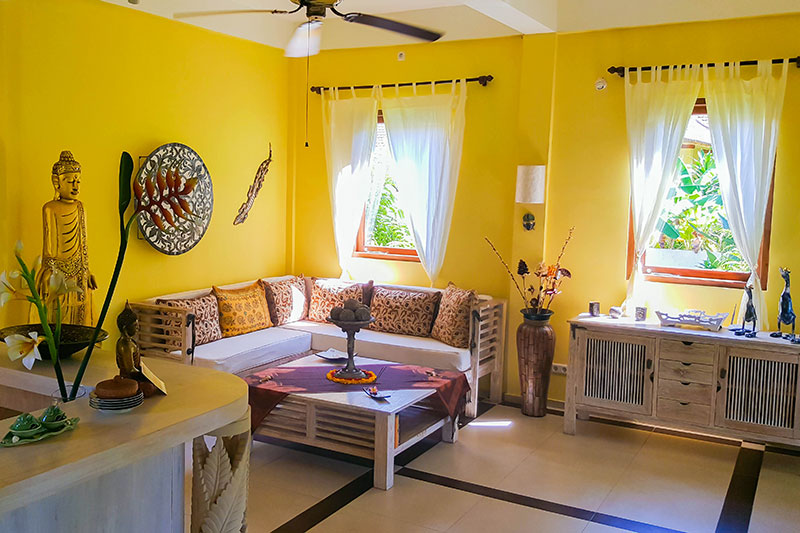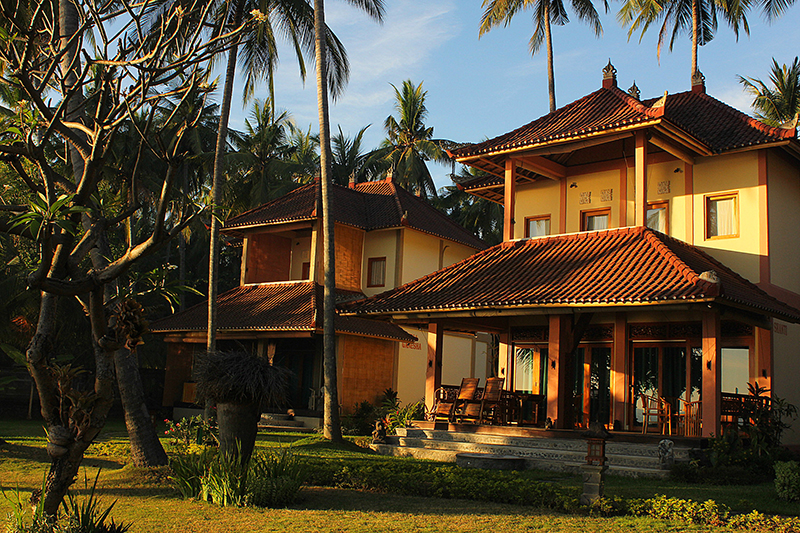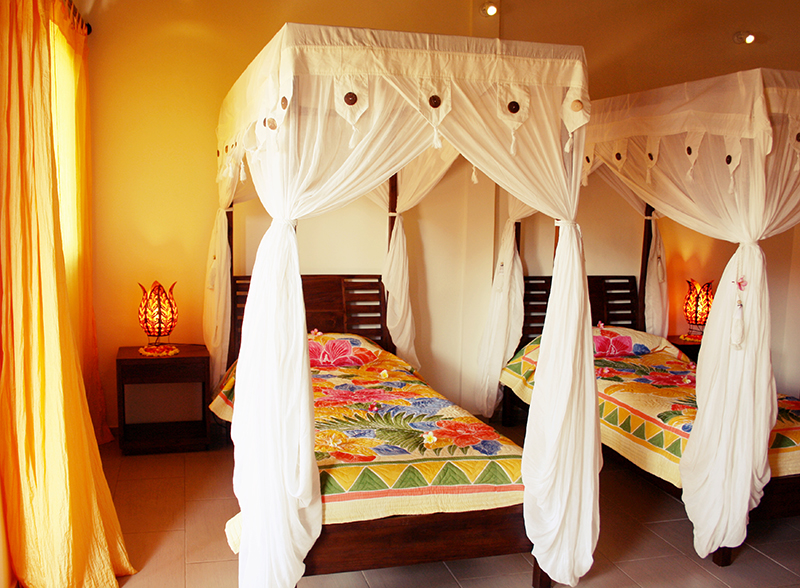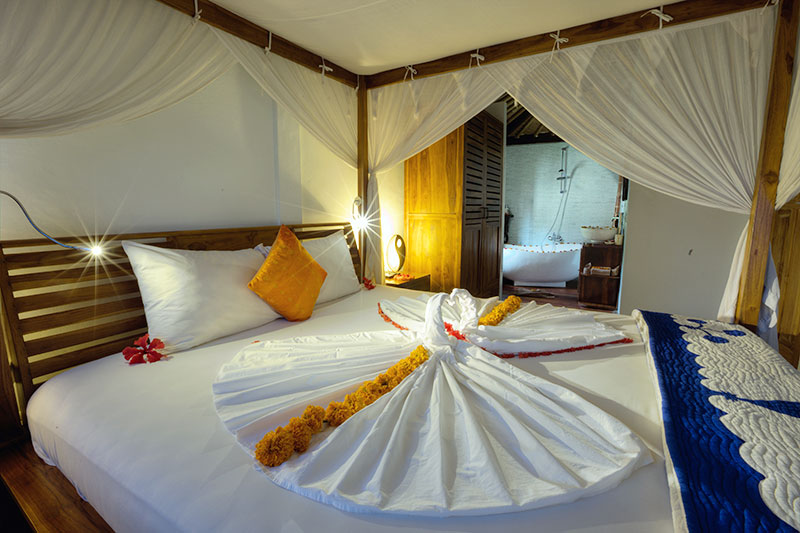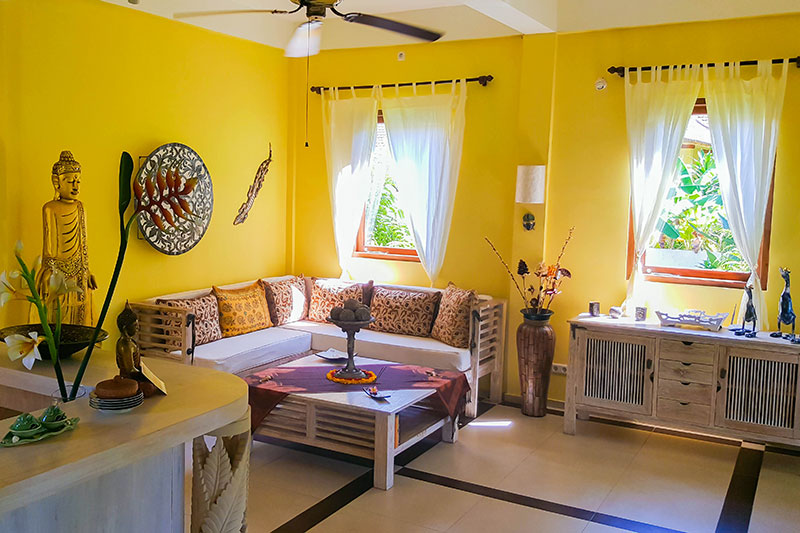 Tejakula is a lovely seaside village in North Bali with spectacular ocean views and a quiet, peaceful atmosphere. Holiway Garden Resort is located here just off the main road and features a collection of elegant 2-story villas with attached kitchenettes.
It's a little bit out of the way, almost 3 hours from the airport in Kuta, but if you're looking to get away from the crowds and relax in an area that is still imbued with authentic local culture, this might be just the place. The environment is family friendly, perfect for quality time with the kids.
Program:
Holiway offers yoga and meditation retreats that include a generous spa package with 4 different treatments. They also occasionally host shamanism workshops that teach you ways to explore your consciousness using drumming, chanting and breathwork.
What We Like:
The resort is very popular with German tourists but the warm Balinese hospitality shines through in any language.
Cost:
Jl. Segara Benben, Sambirenteng, Tejakula, Kabupaten Buleleng, Bali 81173, Indonesia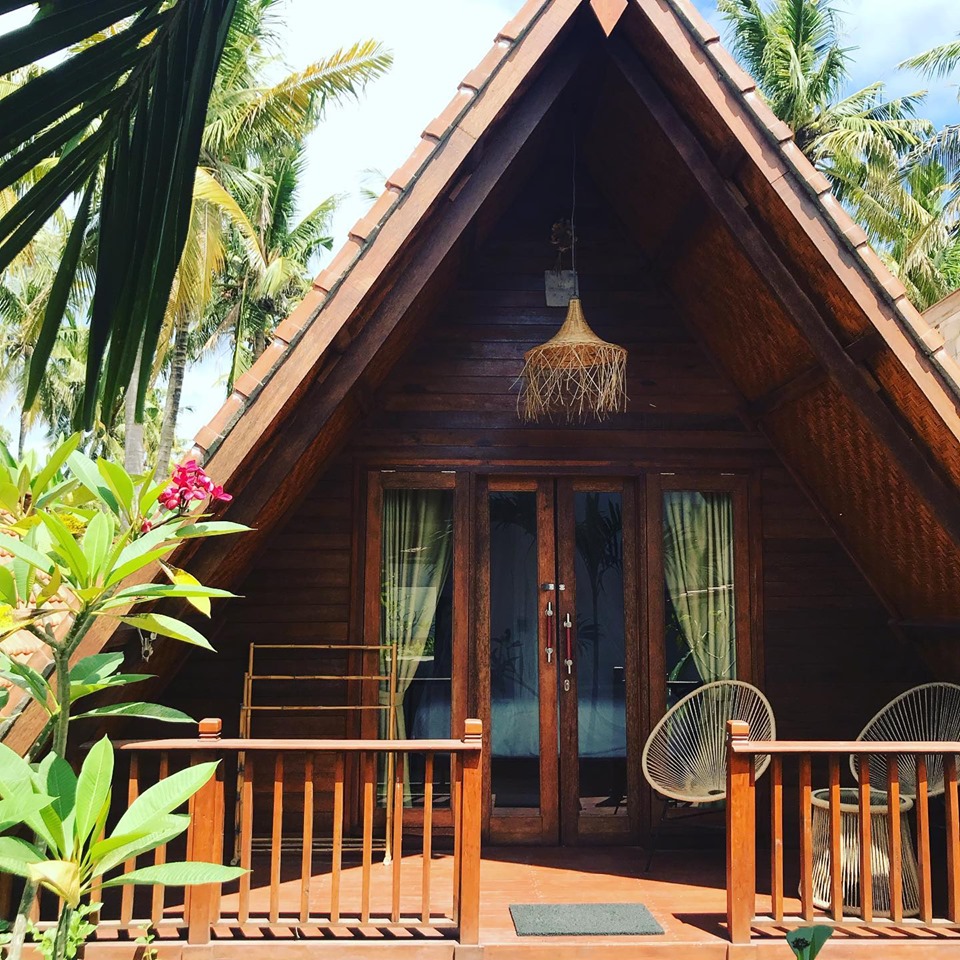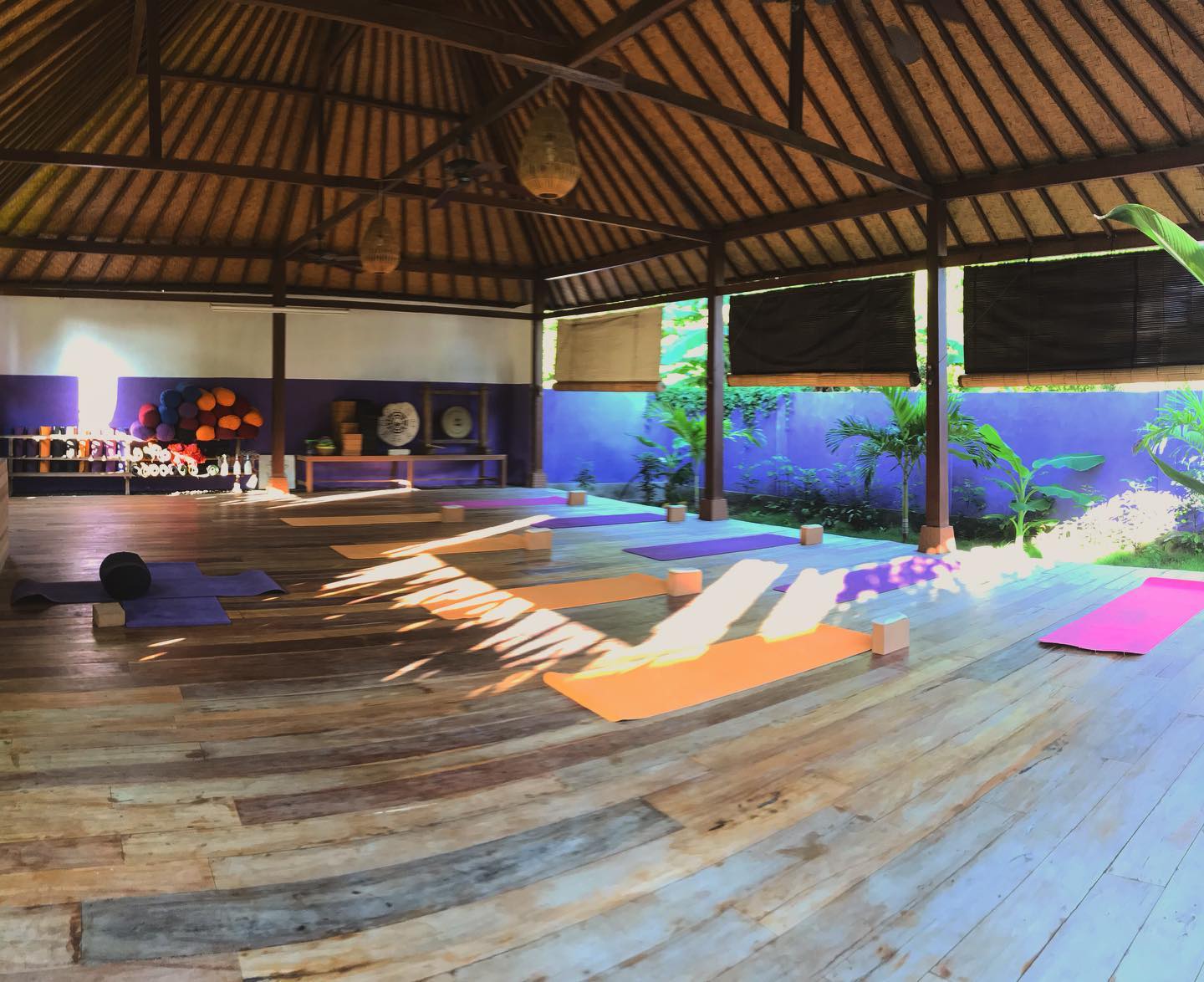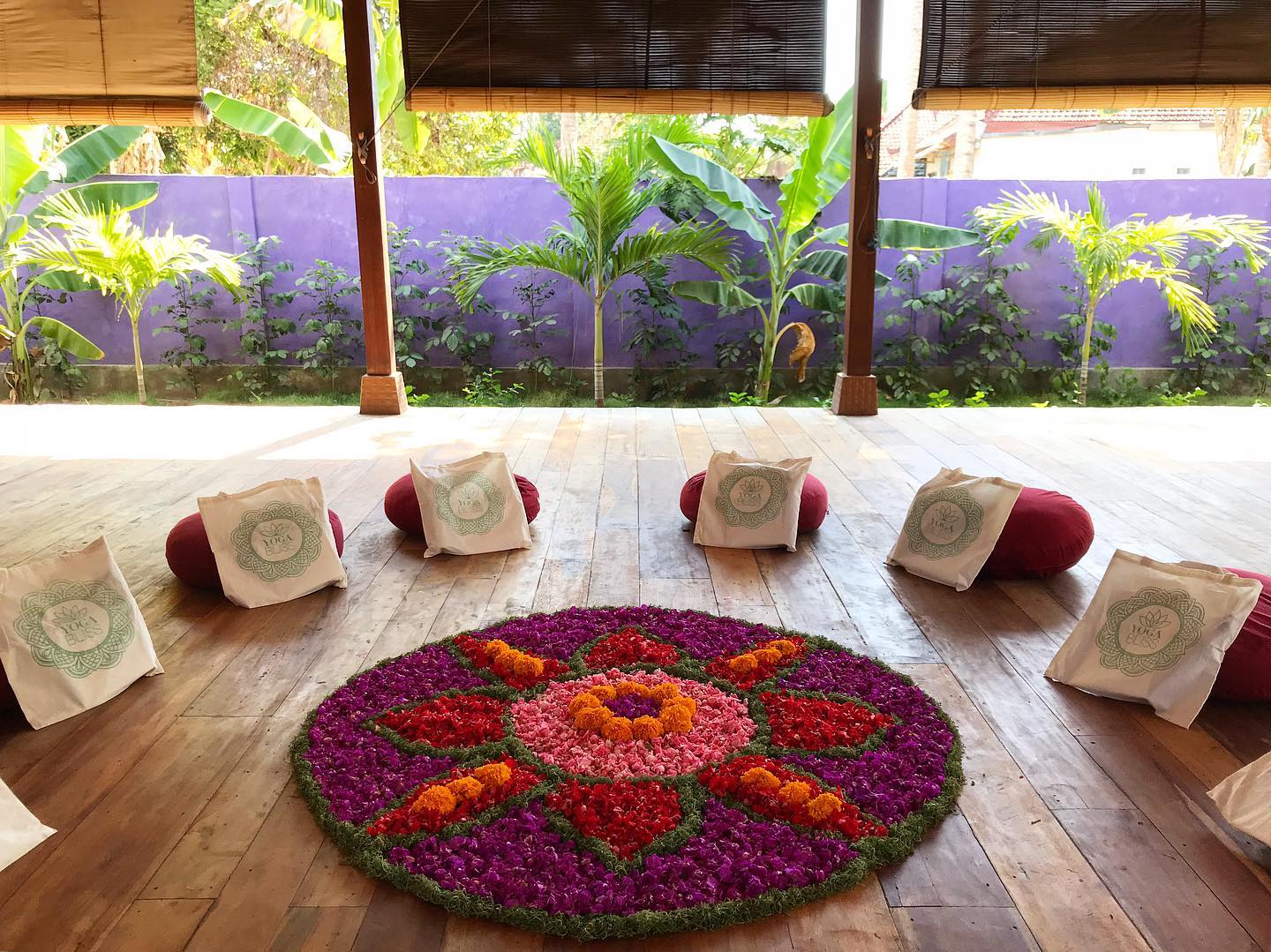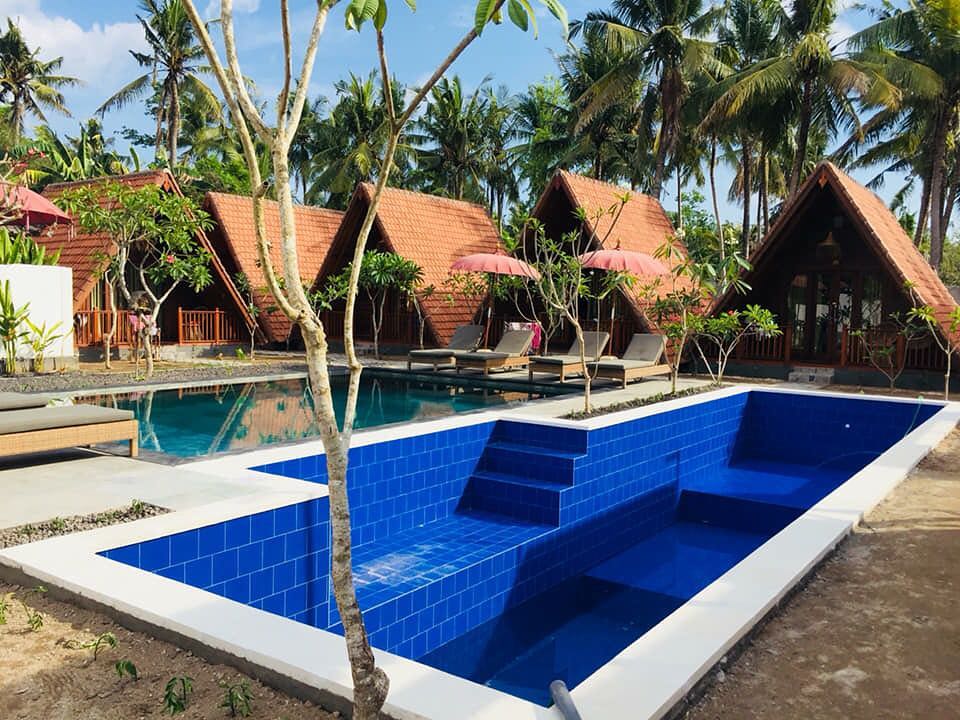 60130907_1289804254502335_8219833188474683392_n
60450426_1295359883946772_2884996852040597504_o
69709170_1377051955777564_8472262619917451264_o
47479530_1184707151678713_2379418075326840832_n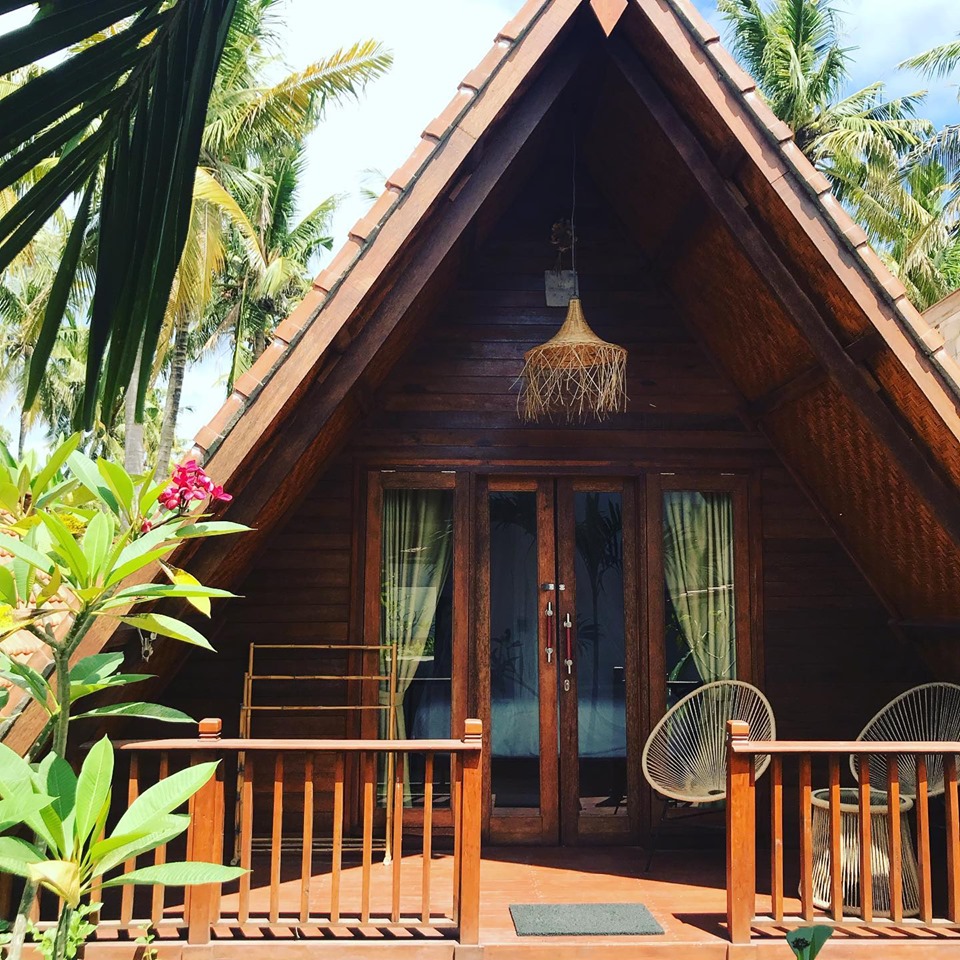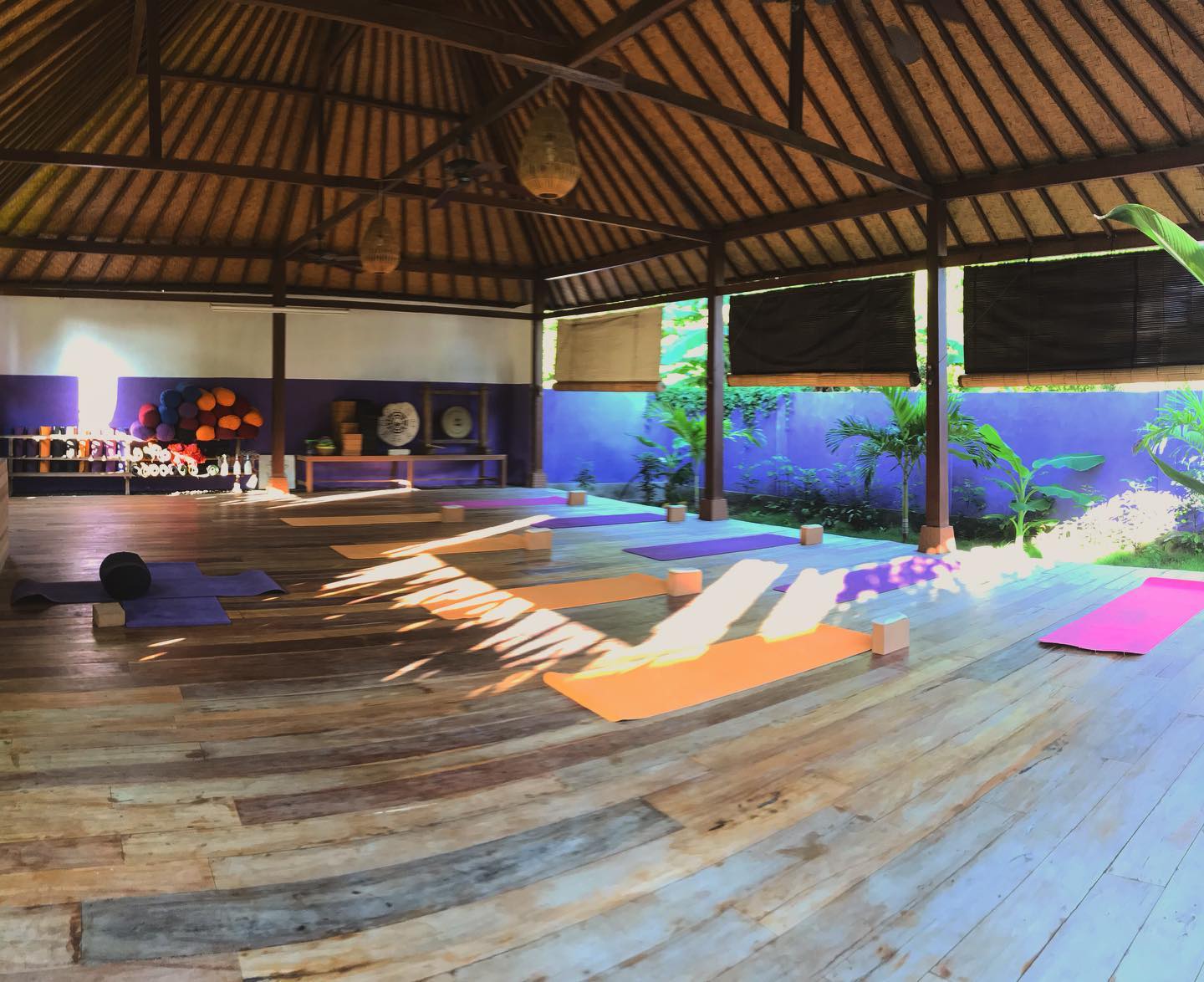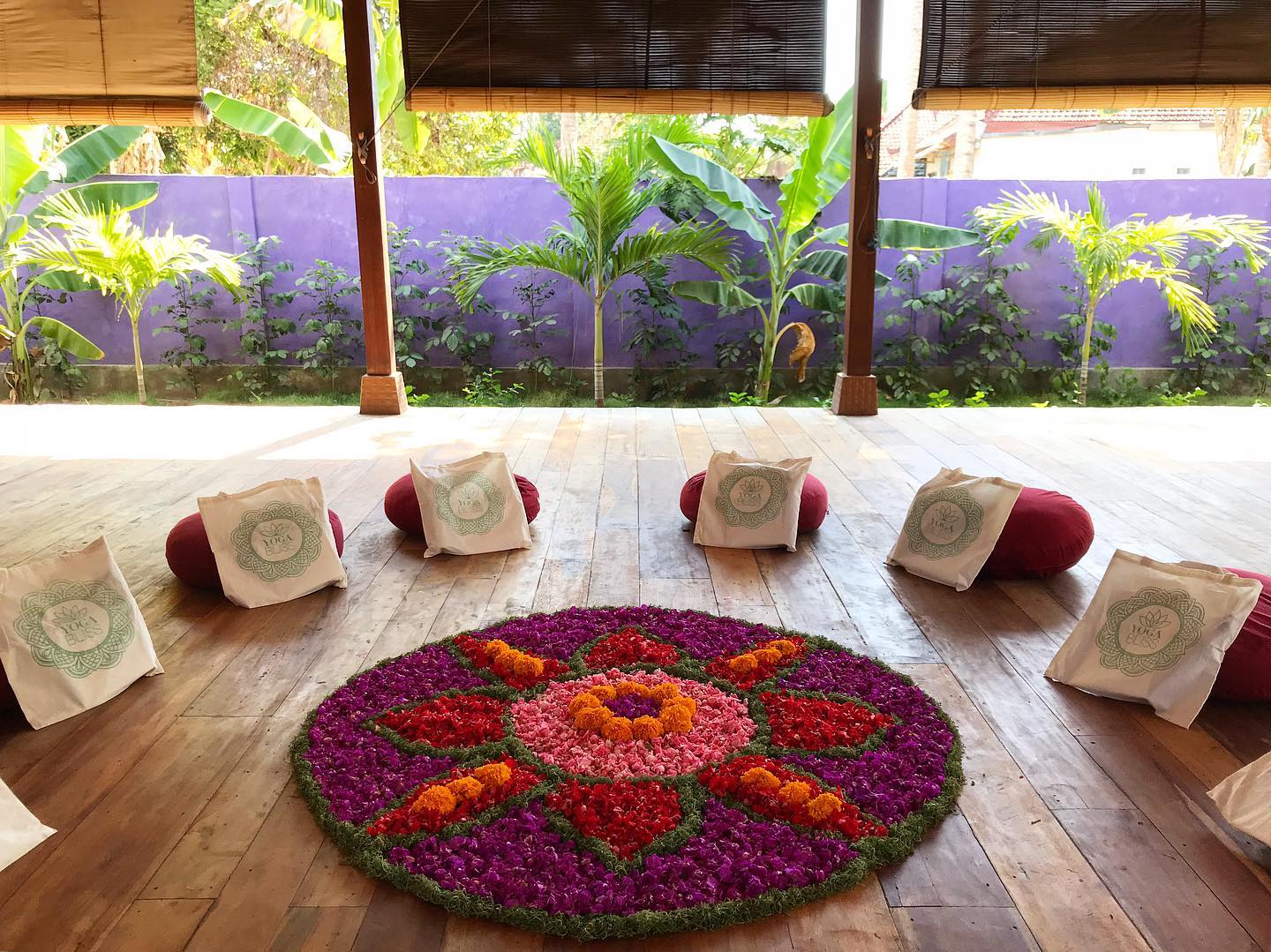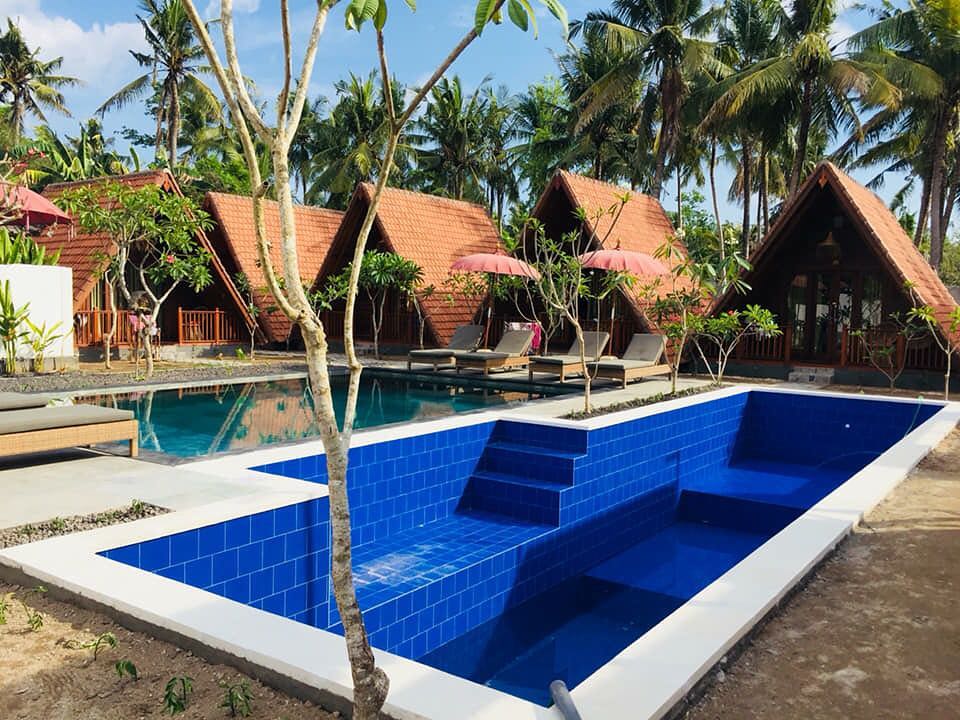 Though not technically a part of Bali proper, Nusa Lembongan has become a popular side-trip from the crowded beach towns of the southern peninsula and a destination in its own right.
Bali has great surfing, diving and yoga. However, it's rare to find them all in one place, the great diving tends to be clustered along the east coast and the surfing along the west, so you usually have to pick one or the other.
Program:
Yoga Bliss is a local yoga studio that runs daily classes as well as offering luxury accommodations for surf and yoga retreats. They re-invest 6% of their profits into local community initiatives and are heavily involved in measures to protect the local ecosystem, including running a zero-waste refill station on the premises.
What We Like:
Lembongan is the rare exception, it is well known for both surfing and diving as well as a host of other water sports, and like the rest of Bali, yoga is becoming a standard offering at every resort with facilities to support it.
Cost:
Starting at 1,108 USD
Nusa Lembongan, Lembongan, Jungutbatu, Nusapenida, Kabupaten Klungkung, Bali 80144, Indonesia
There are few places in the world that can combine tropical luxury with world-class yoga instruction the way Bali can.
These days there's an upscale getaway for every yoga niche and hundreds of international retreats happening every year. Choose Bali for your next vacation and you won't be disappointed!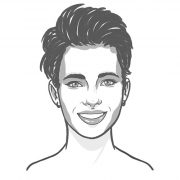 Amanda Carter
Yoga, meditation, and spirituality are at the top of the list for writer and former nutritionist Amanda Carter. This devoted practitioner enjoys writing about health and wellness just as much as she enjoys living it.