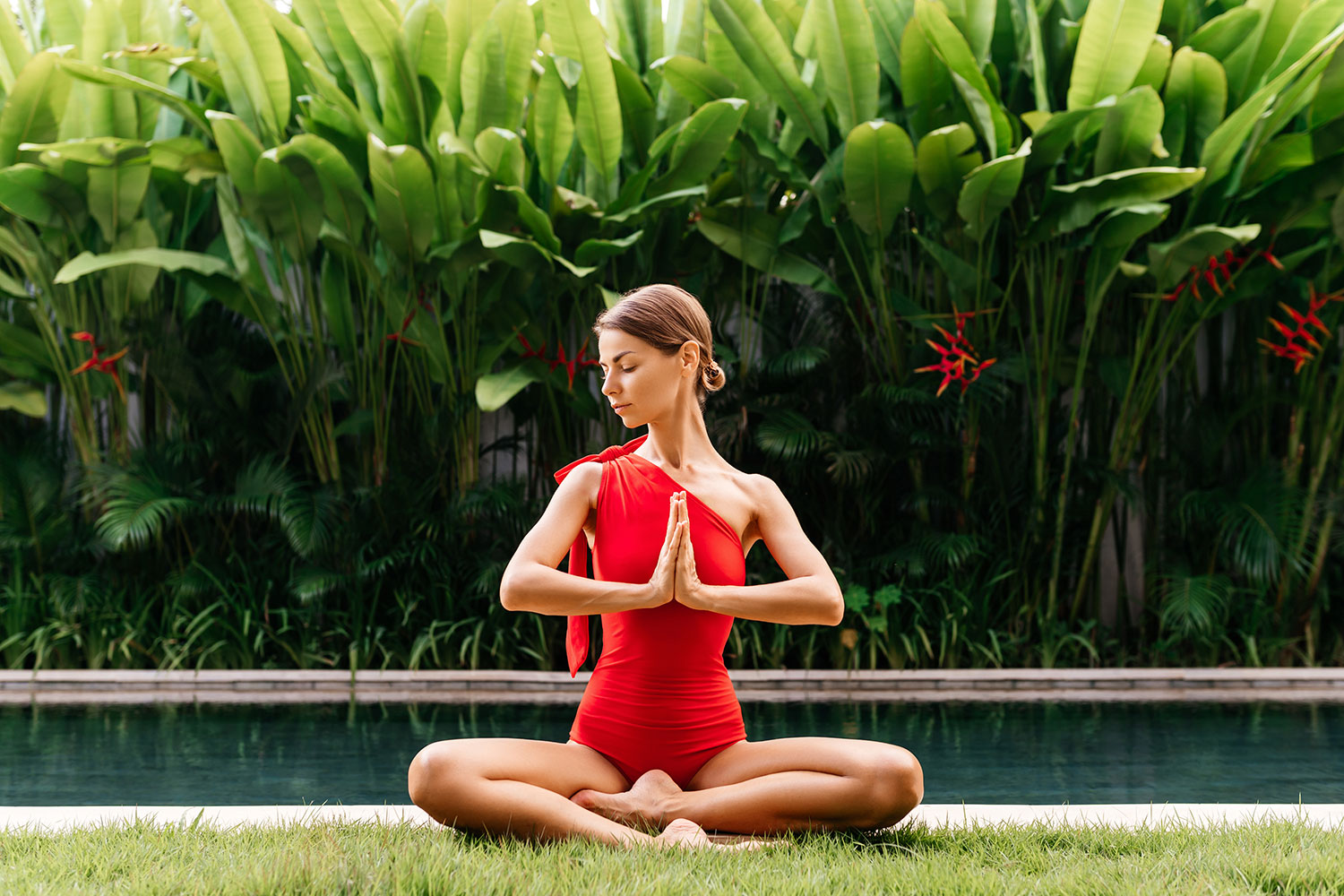 Koh Samui, an island off the coast of Thailand, is what may come to mind when you hear the phrase 'tropical paradise.' Featuring sandy beaches, tall palm trees, year-round warm weather, topical jungles and interior mountains, it is the ideal setting for yoga retreats. Although there are many yoga retreats offered on this gorgeous Thai island, not all of them offer the luxury experience of high quality service, stunning locations, or on site restaurants and spa options. The following ten yoga retreats are those that rise above the rest on Koh Samui island.
Top Luxury Yoga Retreats in Koh Samui, Thailand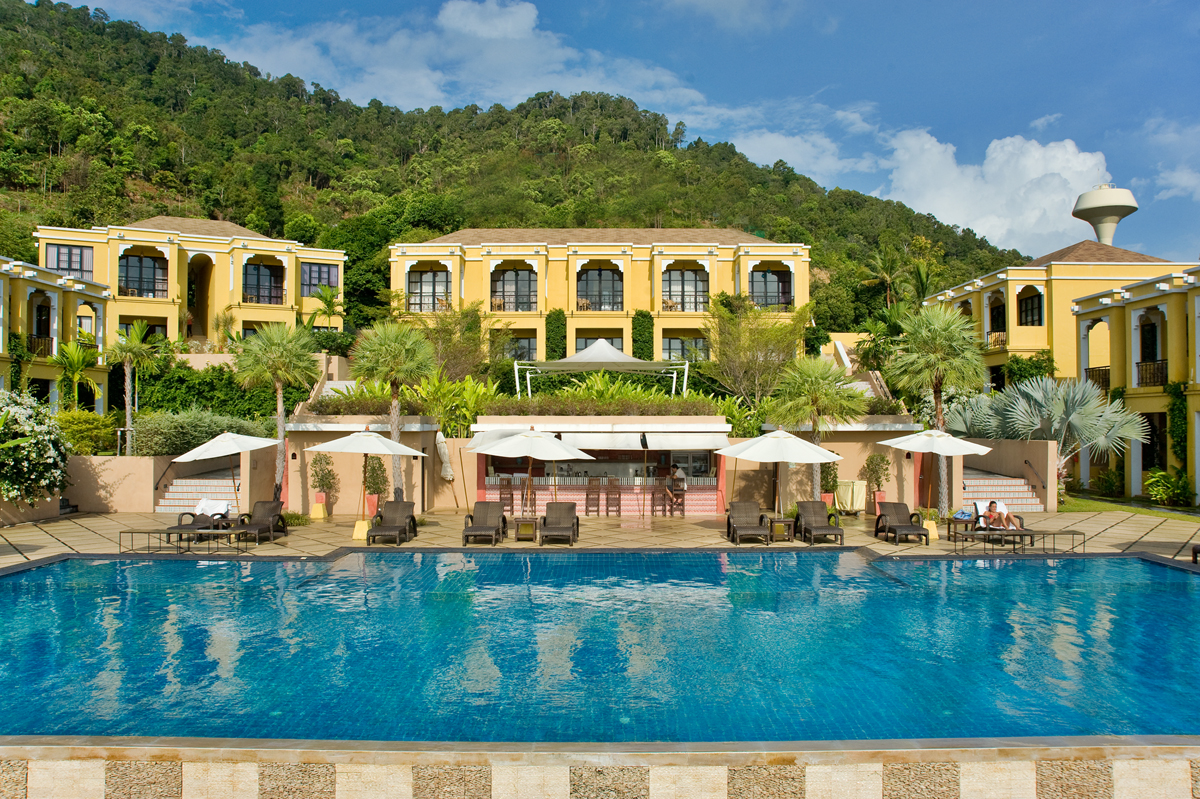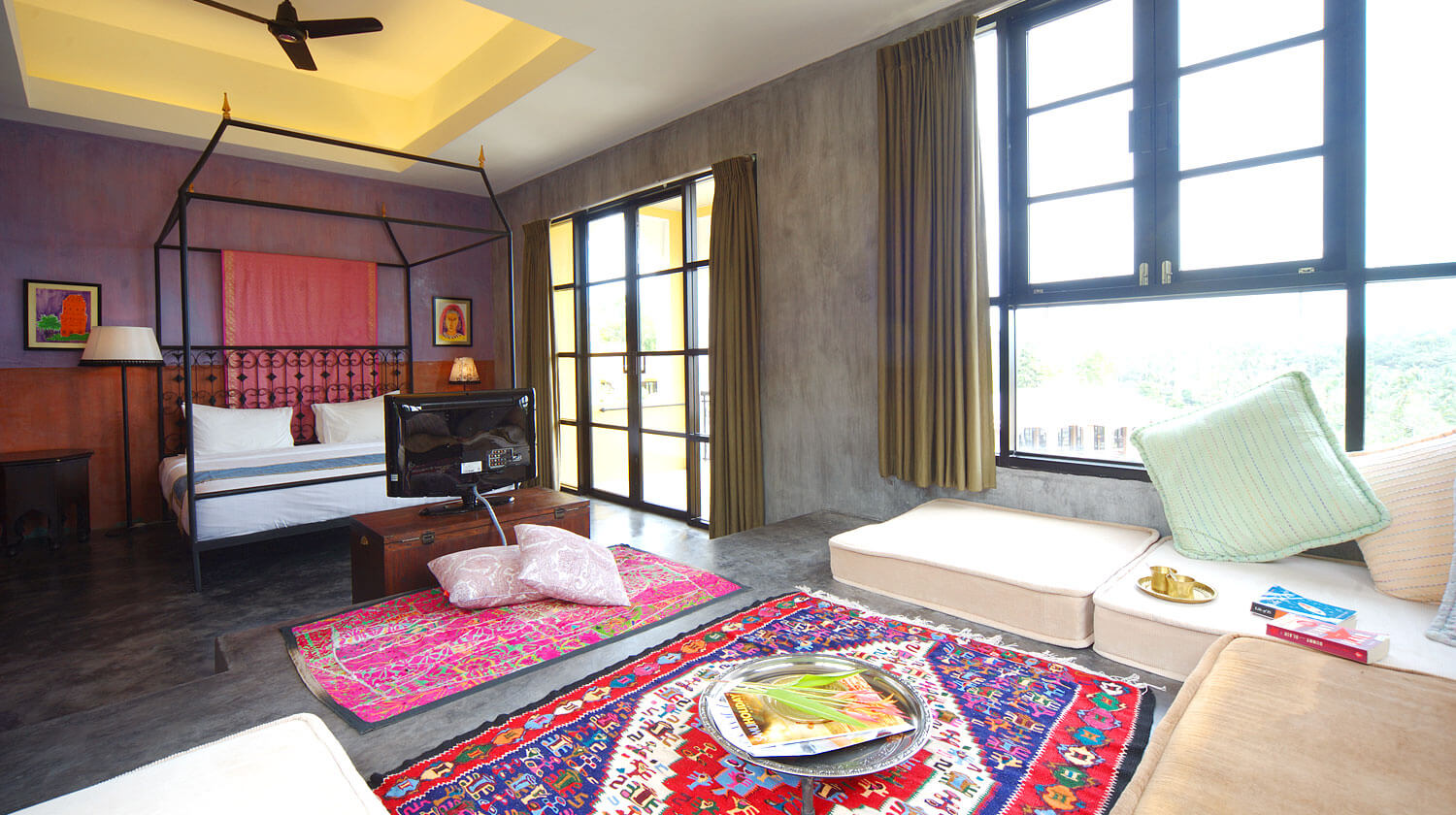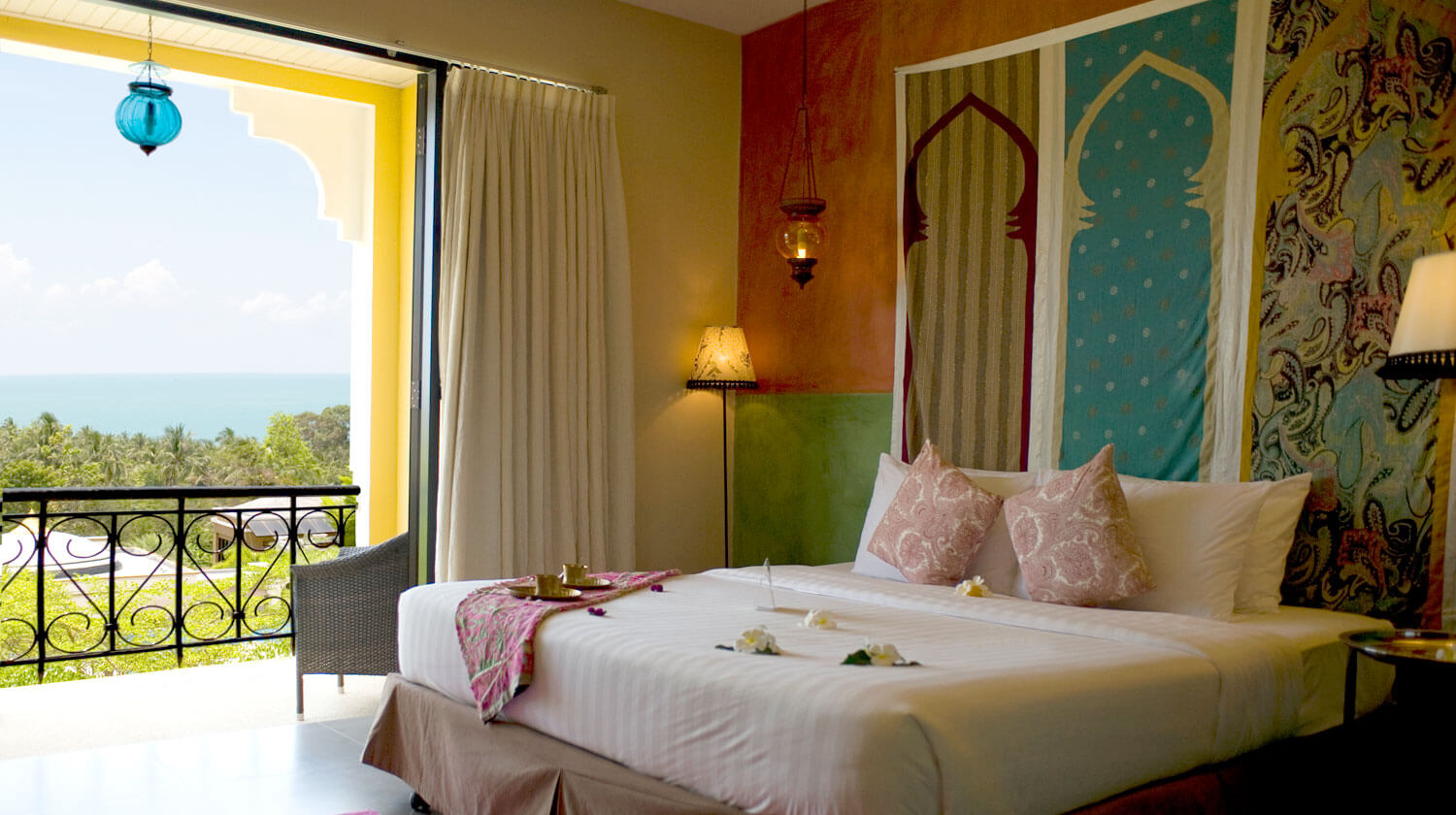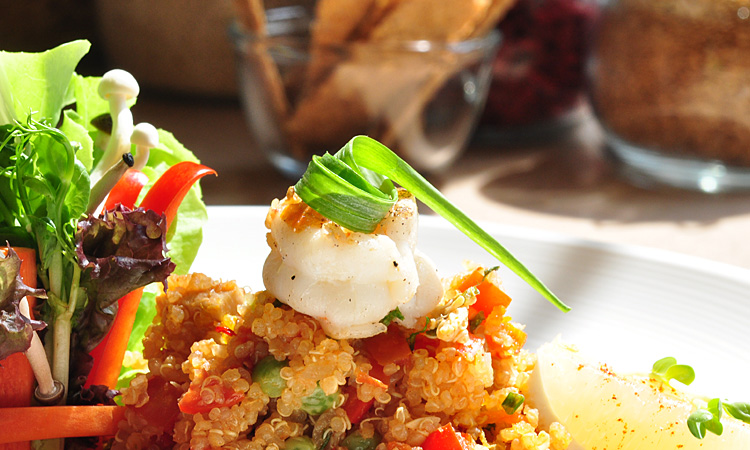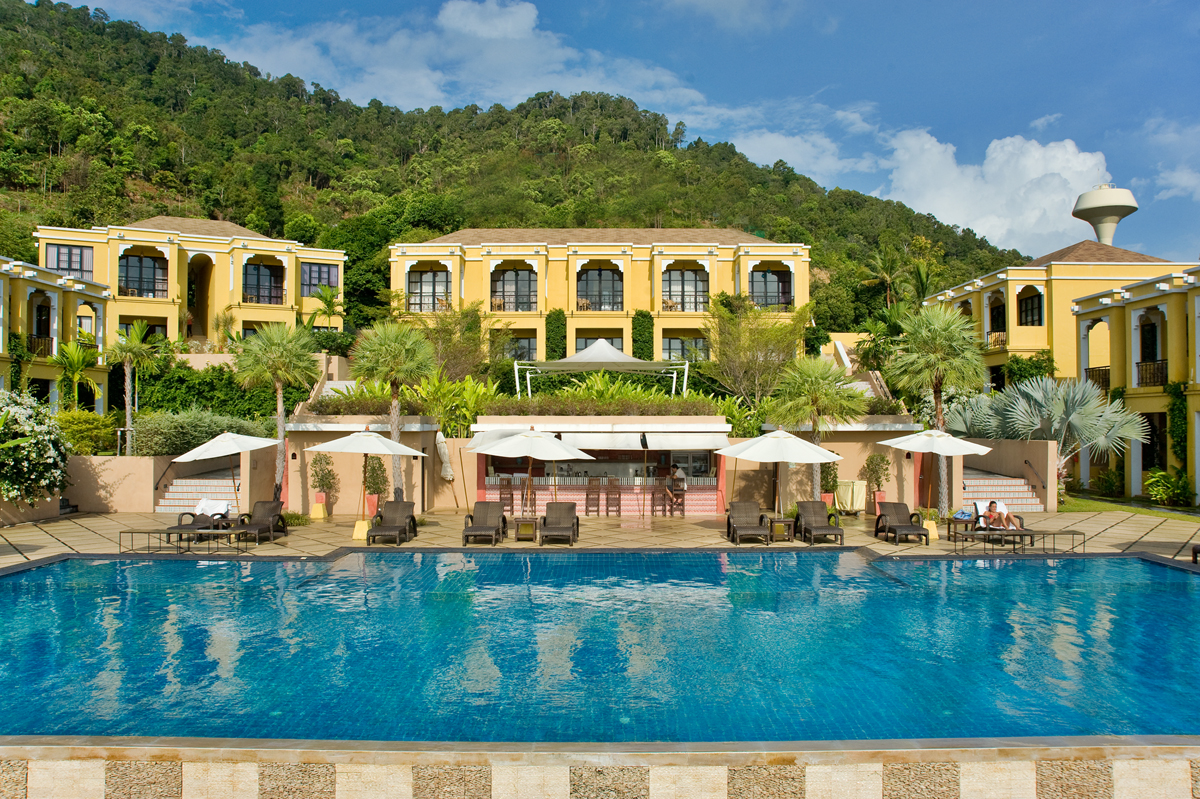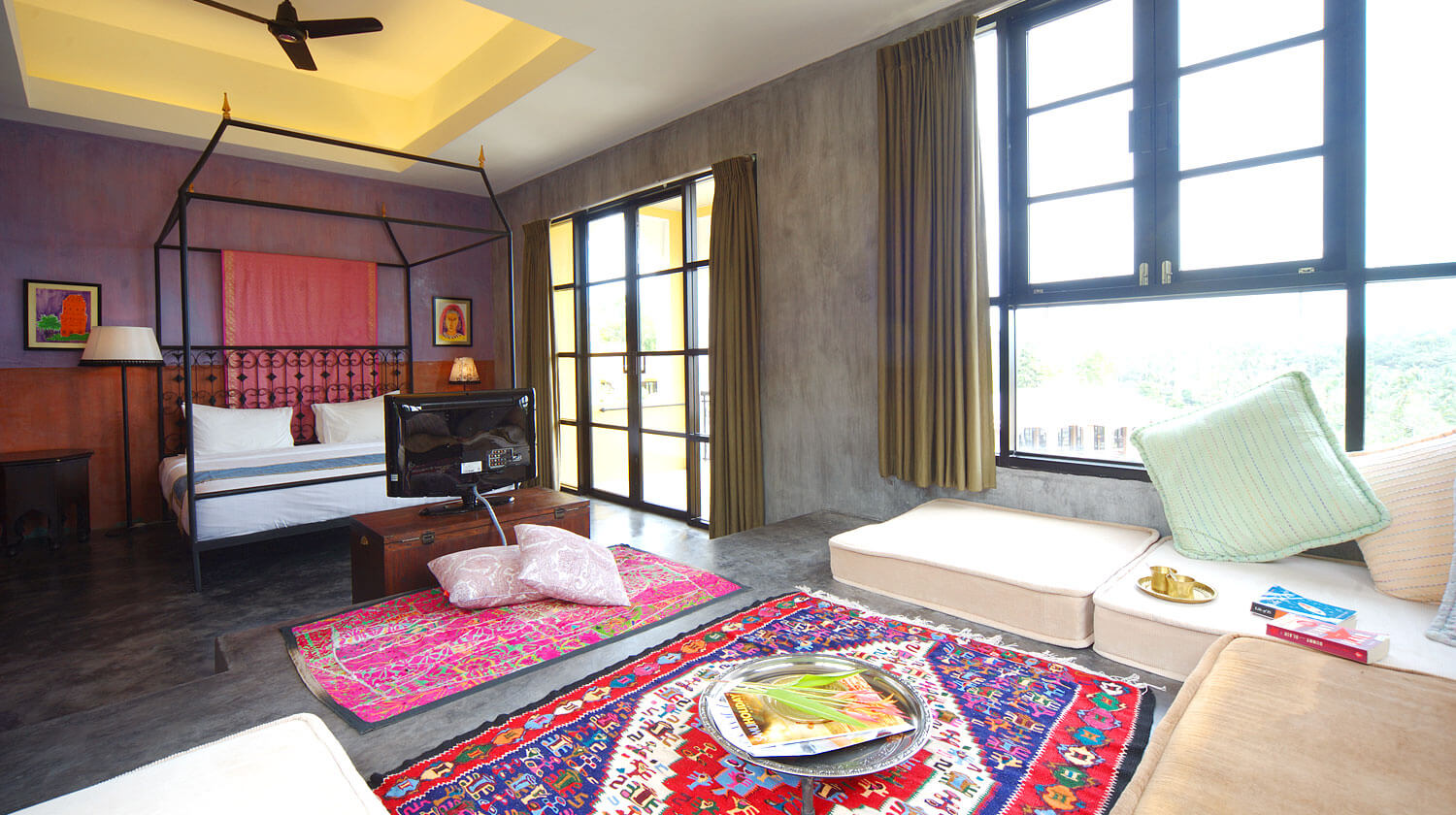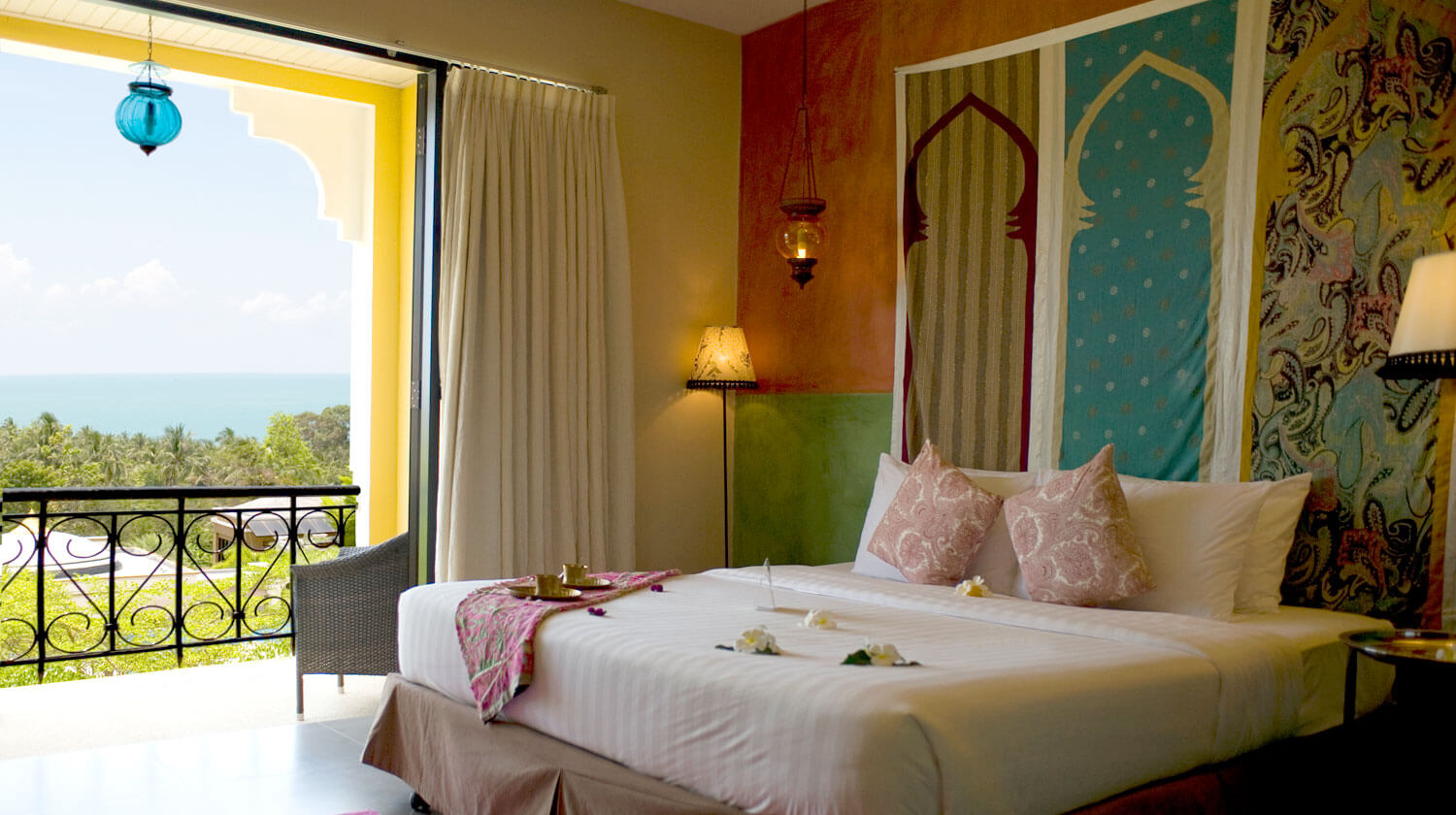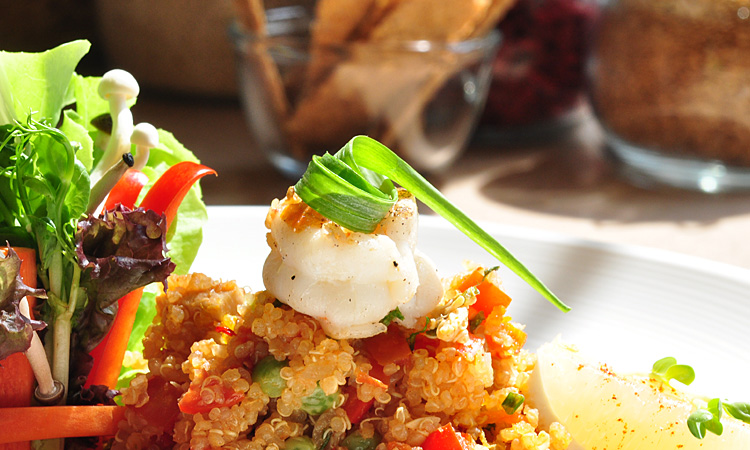 The Absolute Sanctuary Retreat in Koh Samui is well named, for that is exactly what guests will find at this top-rated retreat center. At Absolute Sanctuary, guests are treated to so much more than a hotel experience. Every aspect of Absolute Sanctuary is informed by its devotion to yoga, physical fitness, and holistic health. Details like in-room yoga mats, roundtrip airport transfer, and included private wellness consultation mean that guests can effortlessly engage in the health promotion on offer at Absolute Sanctuary. The on site Love Kitchen restaurant focuses on organic and healthy dishes, and is completely free of all additives and refined sugars, without sacrificing taste or quality. Previous yoga retreat leaders have included Paul Grilley, Amy Ippoliti, and Desiree Rumbaugh.
Program: Guests can choose to stay in one of the luxurious suites at Absolute Sanctuary, and take part in daily yoga and fitness classes. Alternatively, the center's schedule is packed with popular group retreats, led by world class yoga teachers.
What We Like: With 15 years in the business of fitness retreats, as well as being managed by AUMA Hospitality, a top wellness hospitality brand in Asia, your experience at Absolute Sanctuary is guaranteed to be well organized and revitalizing.
Cost: Starting at 1,800 USD
5 Tambon Bo Put, Amphoe Ko Samui, Chang Wat Surat Thani 84320, Thailand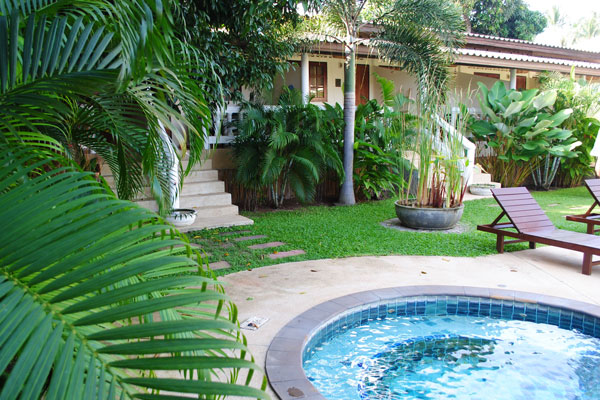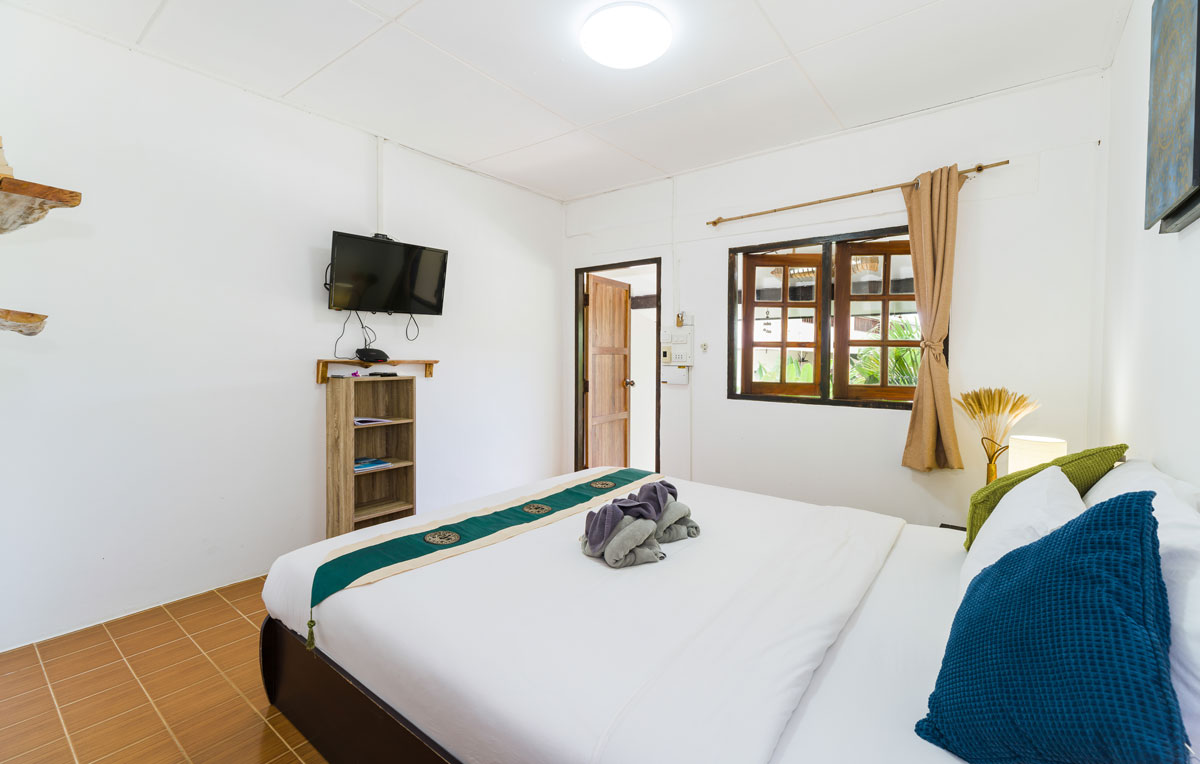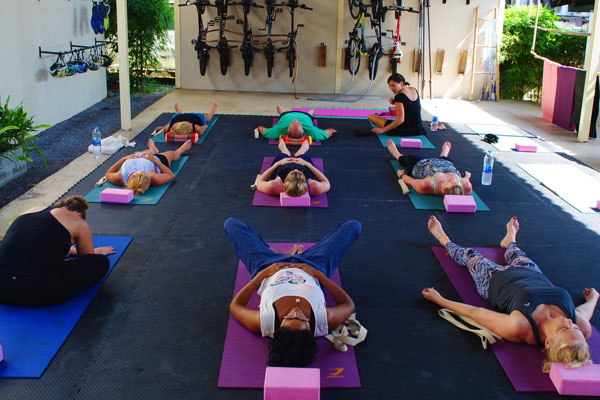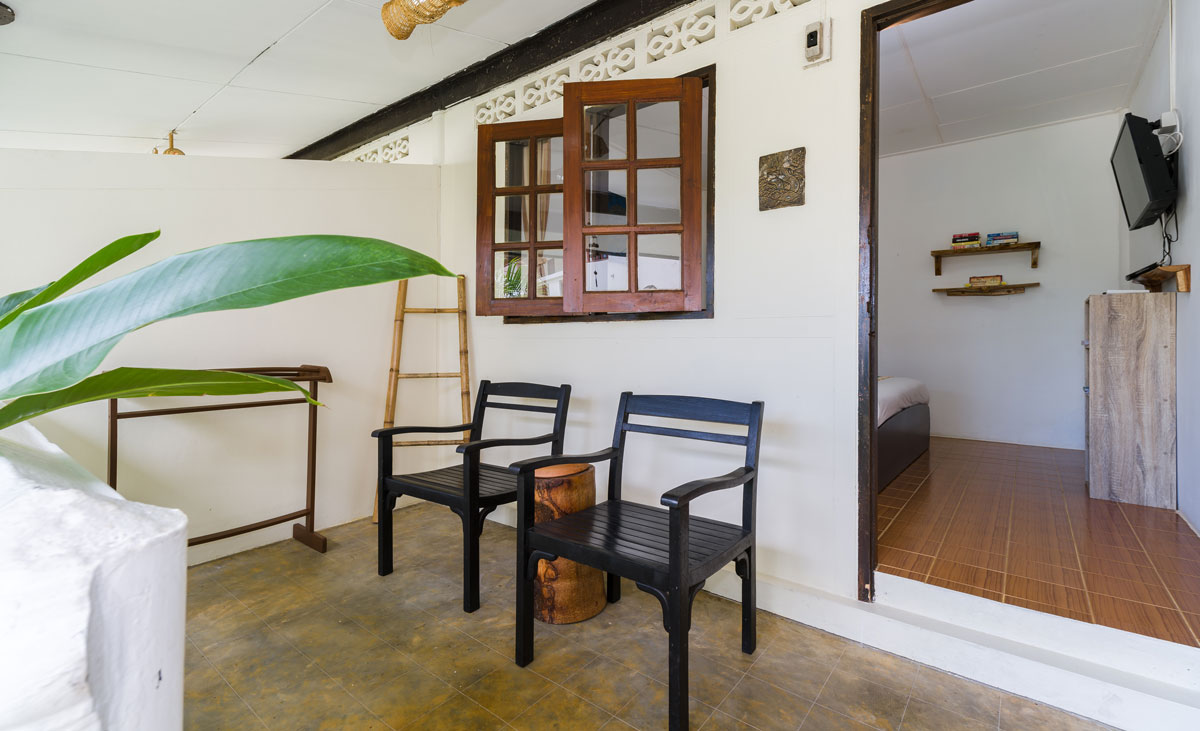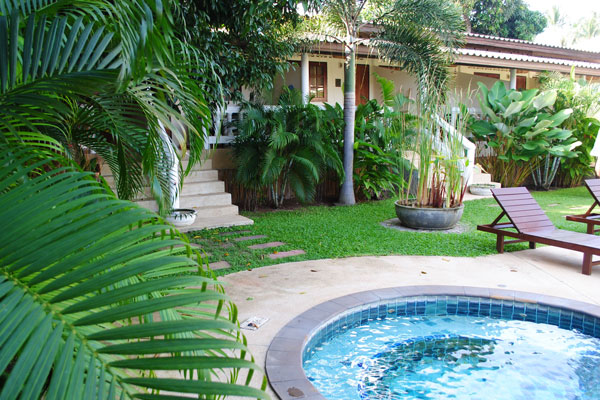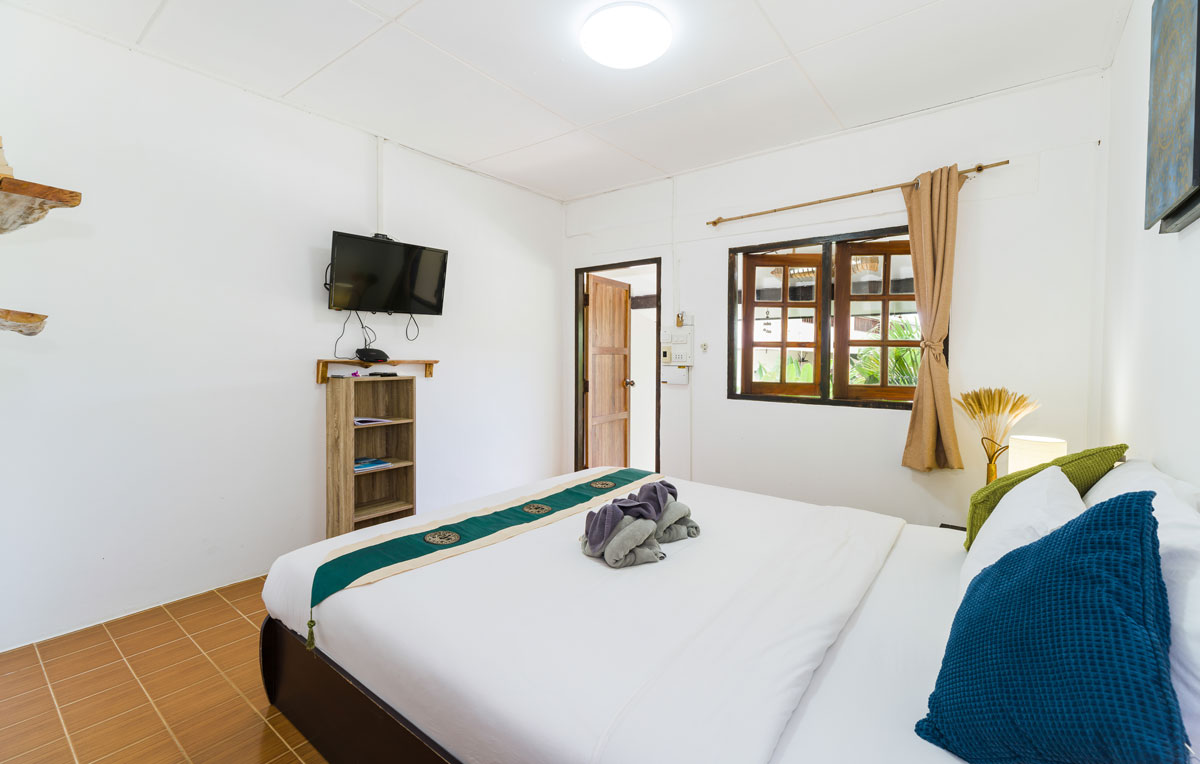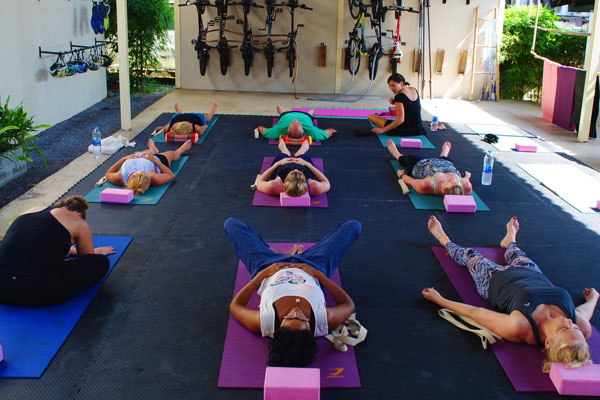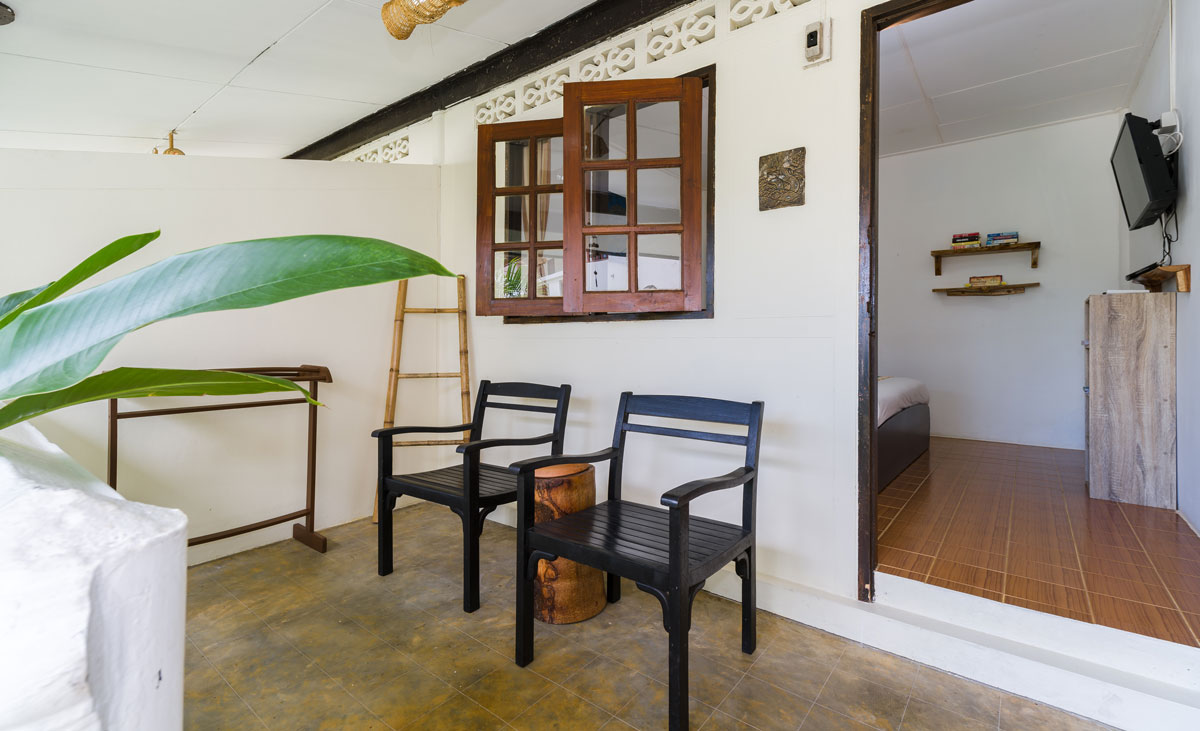 Visit Natural Detox Resort is a unique yoga retreat option on Koh Samui, located in a secluded oasis near Lamai Beach. Here, the focus is on detoxification. The menu is equally important as the physical activity at Visit Natural Detox Resort. Chefs prepare meals and juices with superfoods to help detoxify. There are two different lengths of retreat: eight days and fifteen days. Guests can book into their preferred length of retreat, and enjoy the beachside luxuries of Visit Natural Detox Resort for their chosen time period. The resort itself is luxurious, with inclusions such as a pool and spa center, yet still simple and cozy. The result is an intimate experience where guests can get to know their yoga instructors and fellow retreat goers well over their time at the resort.
Program: Every retreat program, yoga class, meal, and spa treatment is designed with the goal of helping the body's natural detoxification processes. The resort uses aholistic approach, offering many different activities and treatments, including yoga classes, saunas, ear candling, foot baths, ice baths, and more.
What We Like: Guests leave Visit Natural Detox Resort feeling regenerating, clear, and ready to return to daily life with renewed vigor.
Cost: Starting at 1,200 USD
129/1 Ko Samui District, Surat Thani 84310, Thailand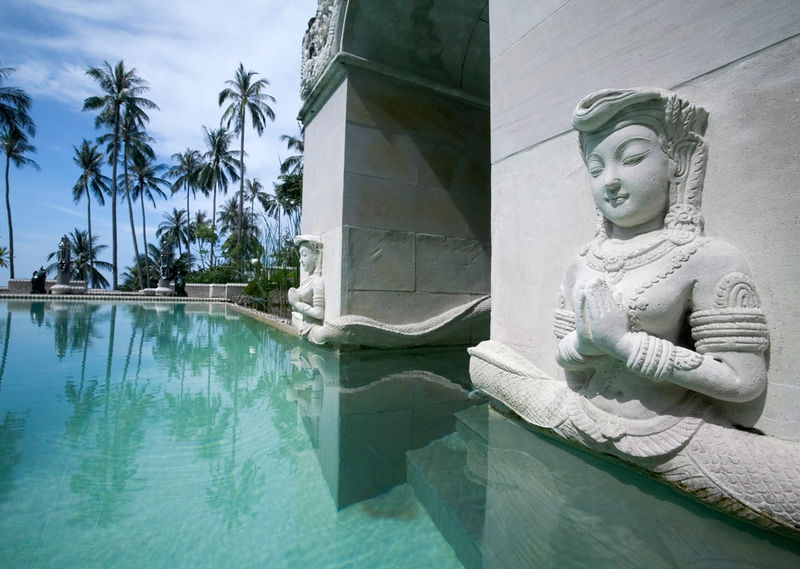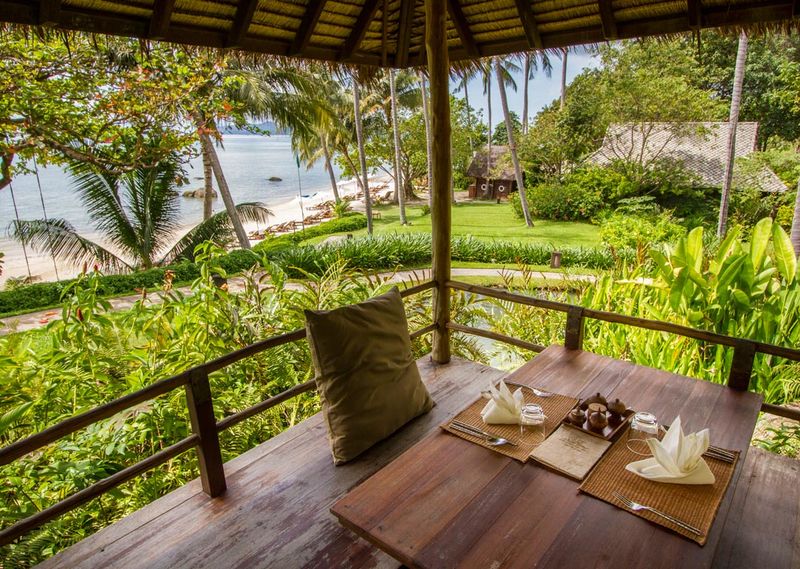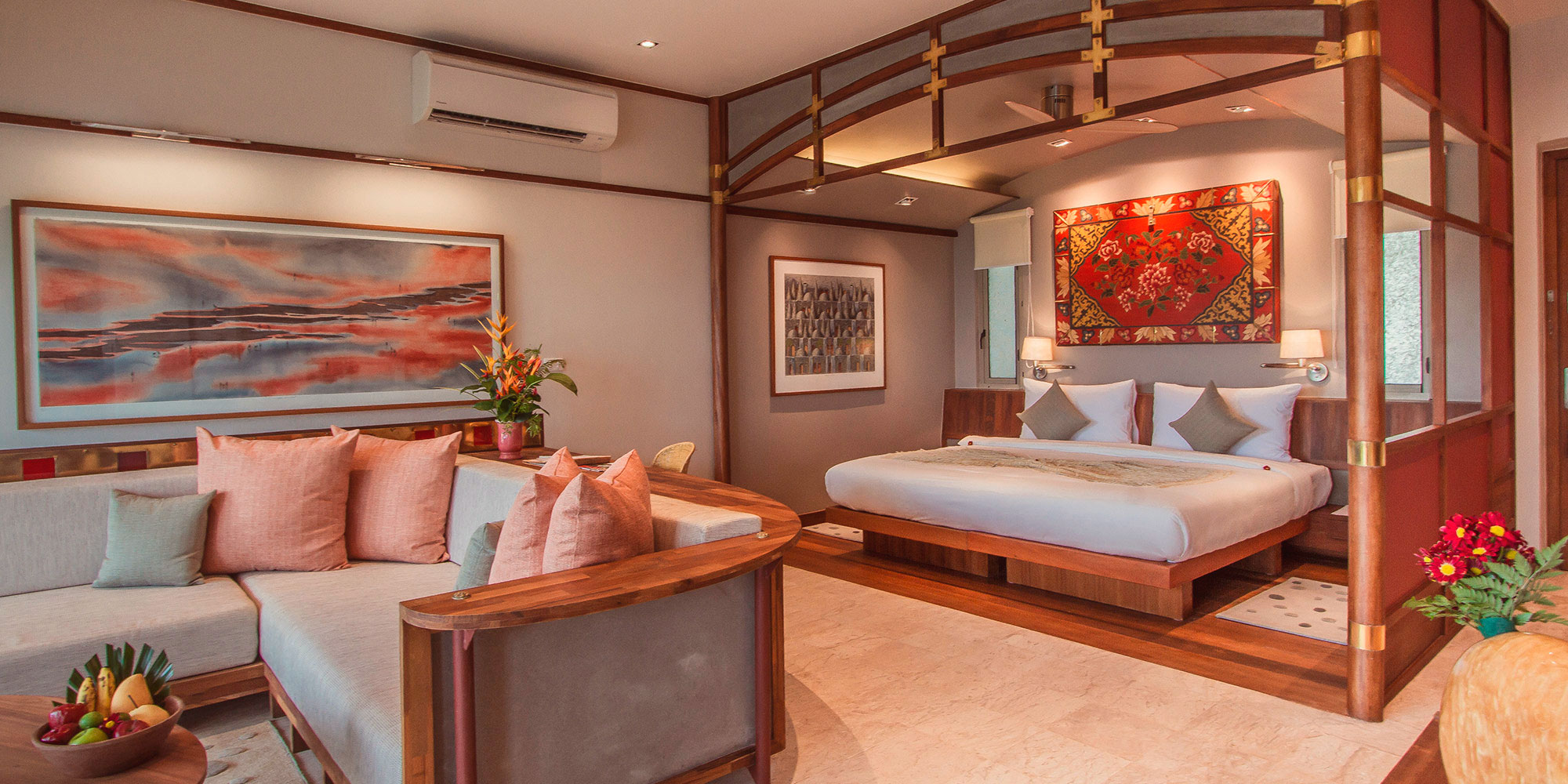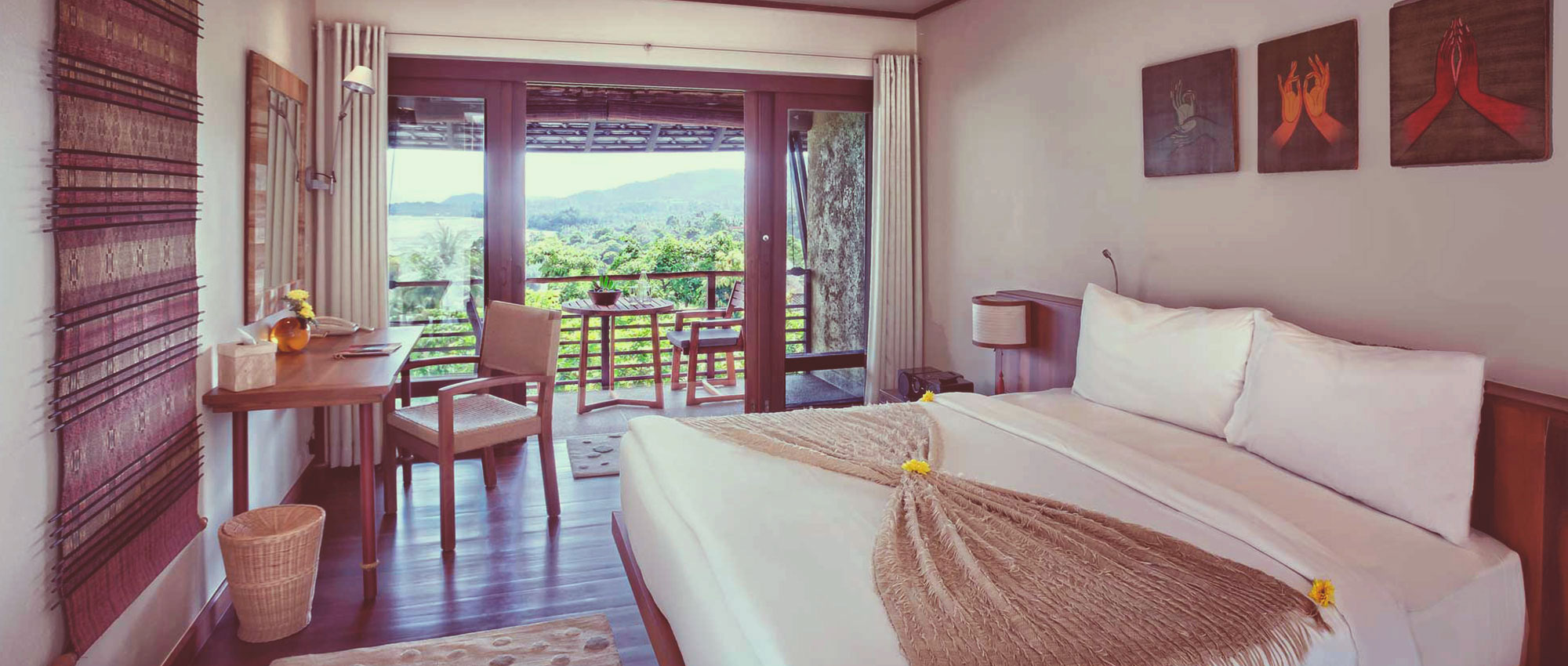 csm_luxury-spa-beach-resort-thailand_97f4fcf47d
csm_best-wellness-resort-thailand_7a0e1bd1f0
garden-pool-superior-suite01
Hillside-Sea-View-Room_thailand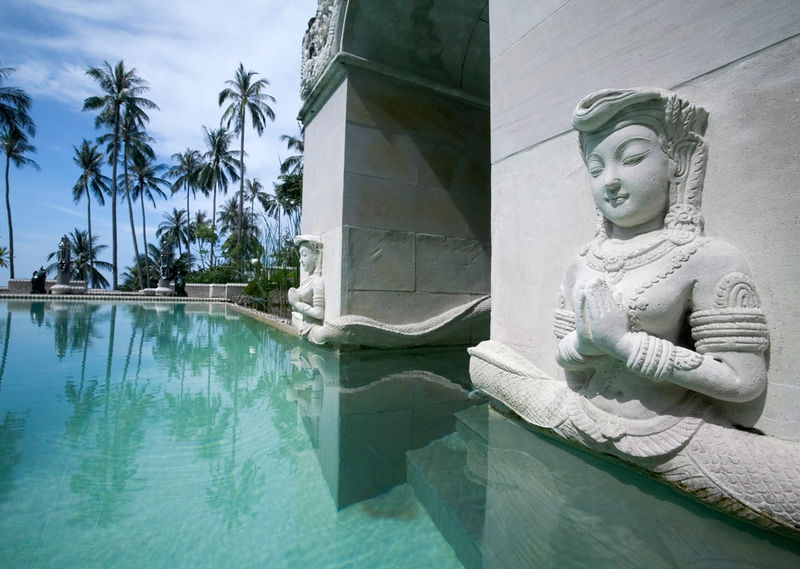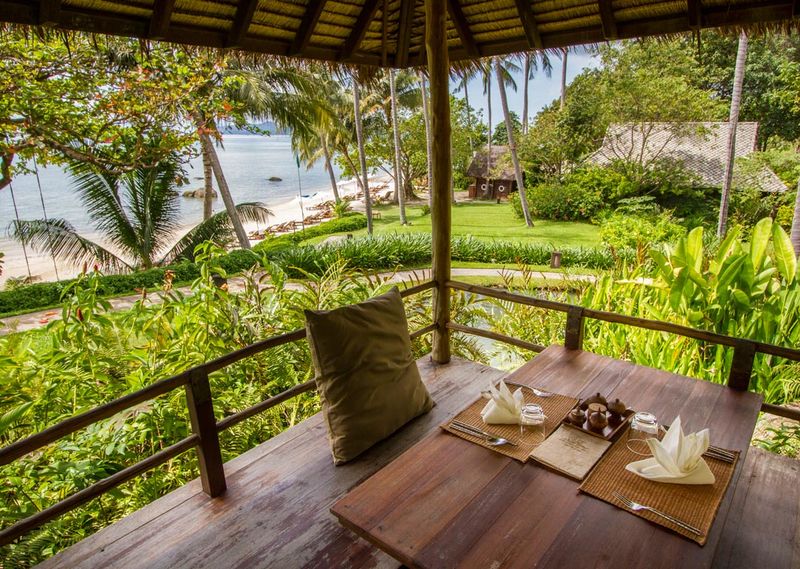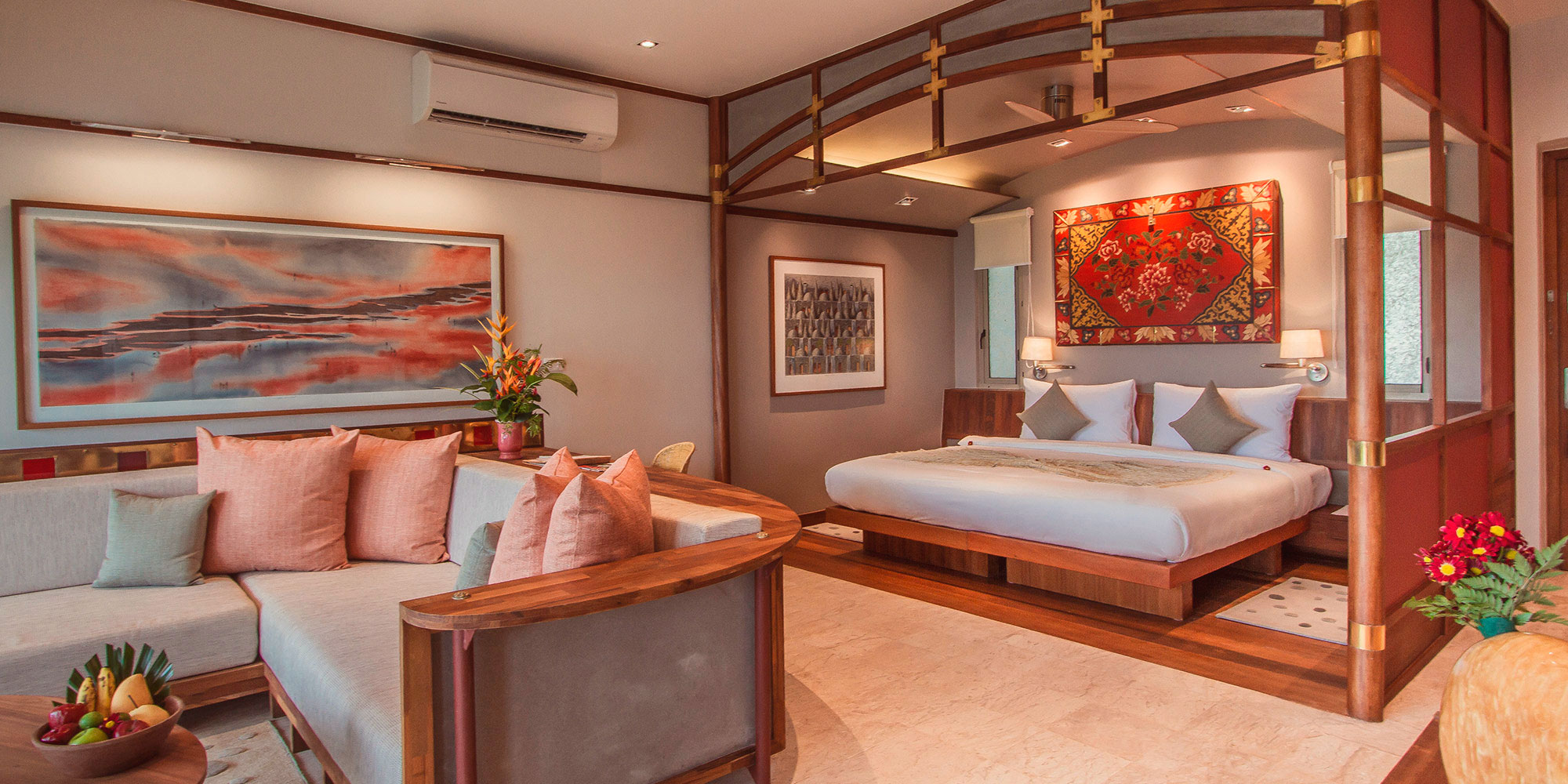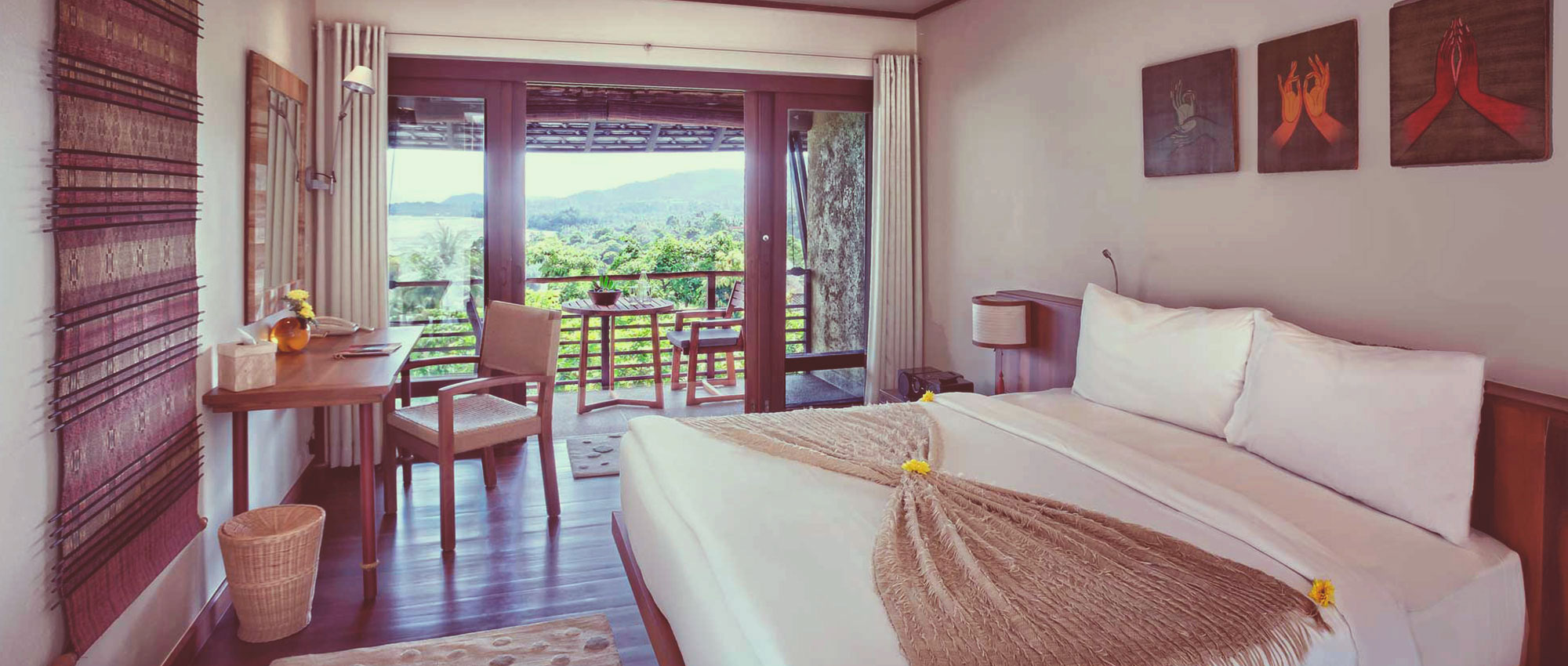 Kamalaya is an award winning yoga retreat center and wellness sanctuary on Koh Samui island. For over a decade, they have offered a variety of holistic health experiences, ranging from yoga to detoxifying cuisine and more. At Kamalaya, a unique blend of Eastern and Western health philosophies are used, and the center itself is effortlessly designed around its natural jungle surroundings. The ultimate goal is for guests to find a sense of peace and openness, as they progress toward their true life's potential. Each yoga retreat at Kamalaya brings the yogi closer to their true potential.
Program: Multiple options are available for yoga retreats. Guests may book in to Kamalaya and design their own person retreat, through the daily on site yoga classes and spa treatments. A variety of organized group retreats with renowned yoga teachers are also offered. Each of these group retreats uses a specific focus, varying from sleep enhancement to detoxification to healing from emotional burnout.
What We Like: There are a wide variety of accommodation offerings at Kamalaya, including secluded hillside villas, sea view bedroom suites, and even suites with personal access to the beach or individual private pools.
Cost: 2,000 – 10,000 USD
102/9 Laem-Set Rd, Ko Samui District, Surat Thani 84140, Thailand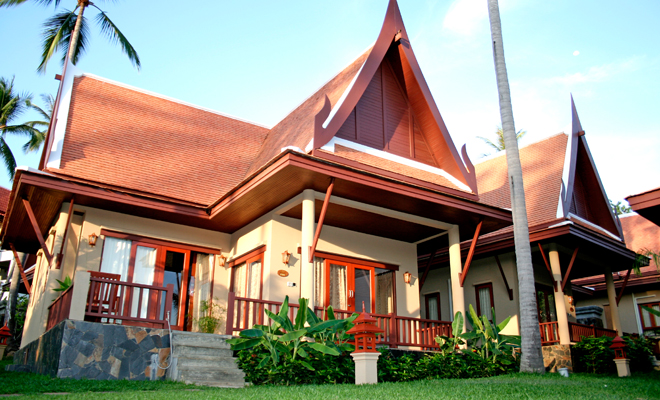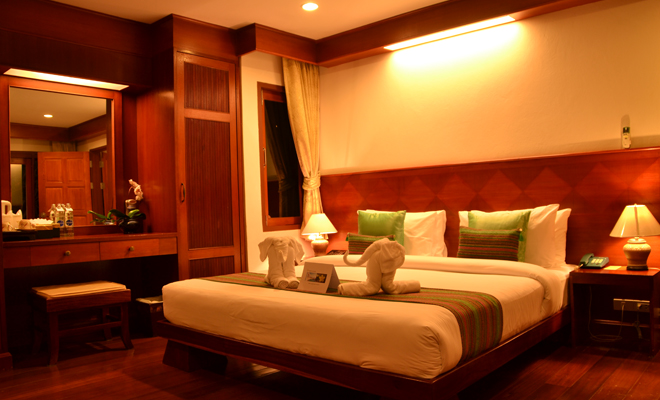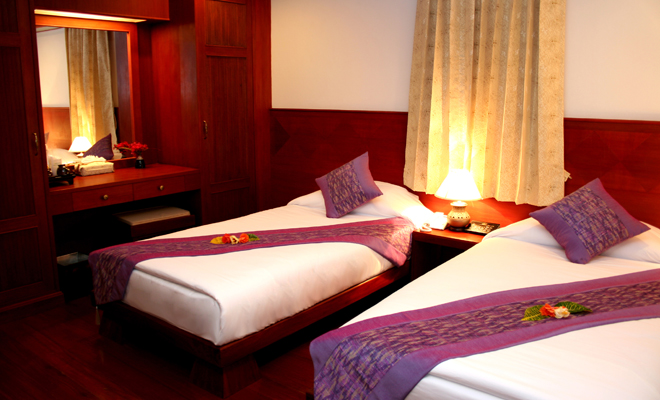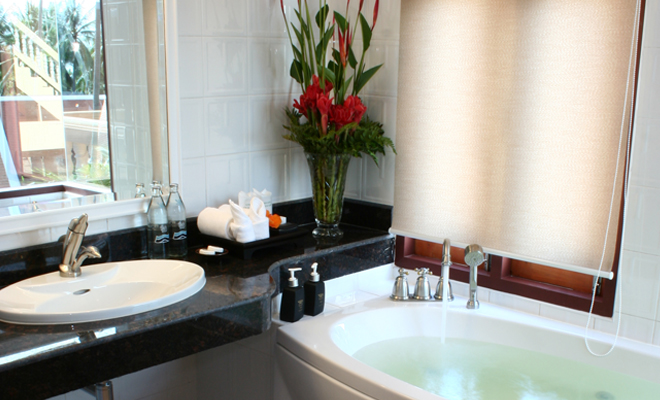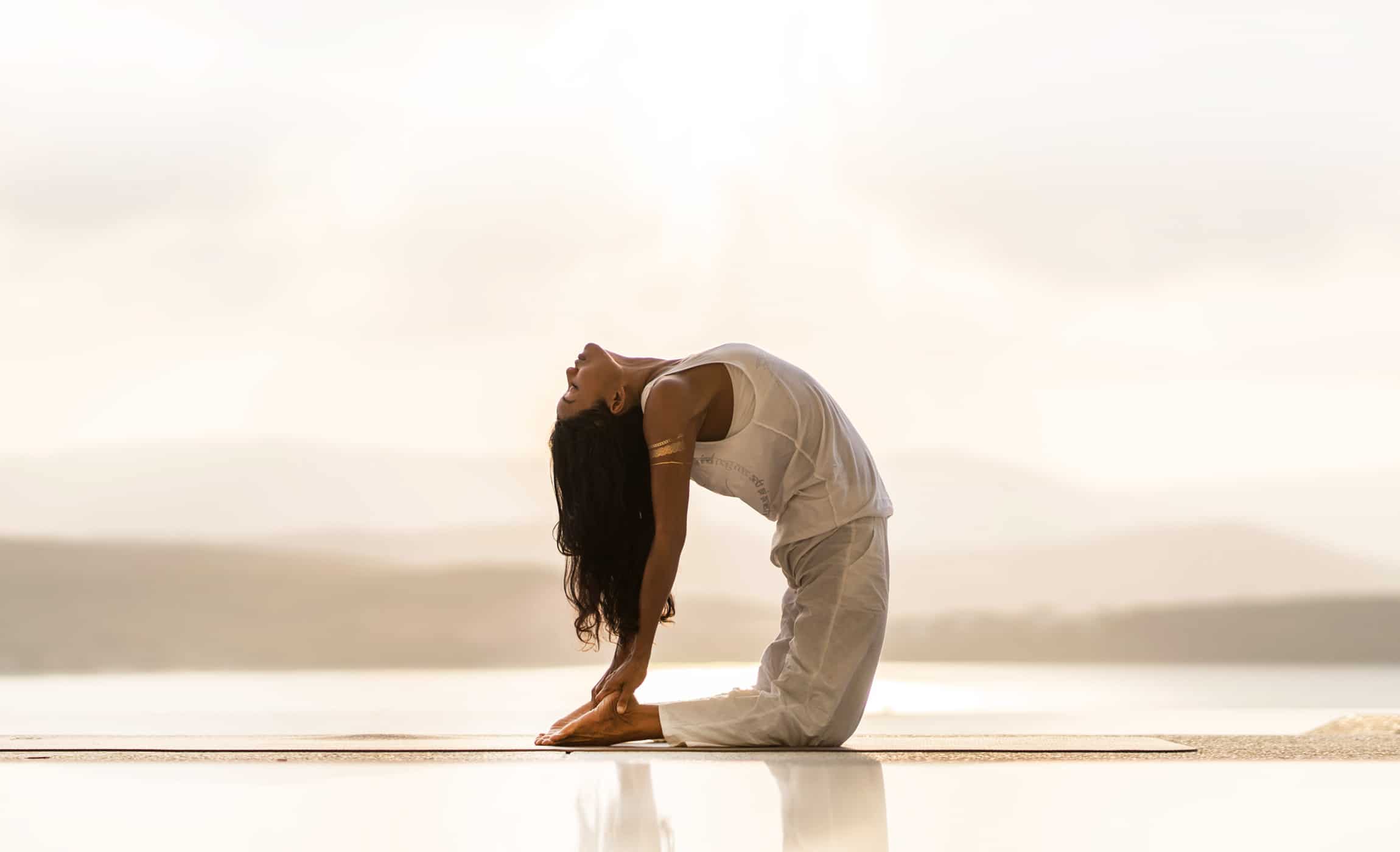 20140621124128_Banburee_Accom_660_400_Deluxe-Villa-1
20140621123932_Banburee_Accom_660_400_Family-Villa-1
20140621123932_Banburee_Accom_660_400_Family-Villa-6
20140621124224_Banburee_Accom_660_400_Deluxe-Suite-1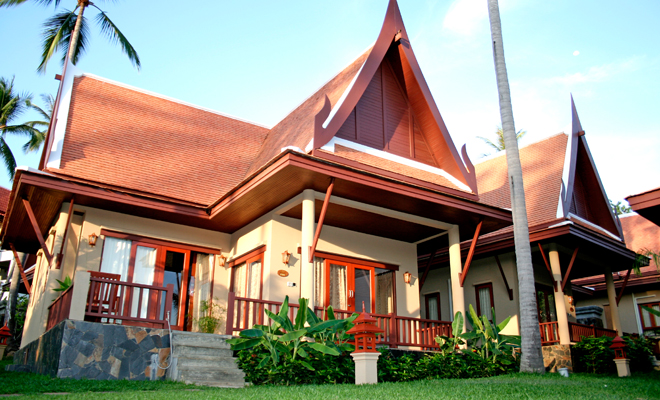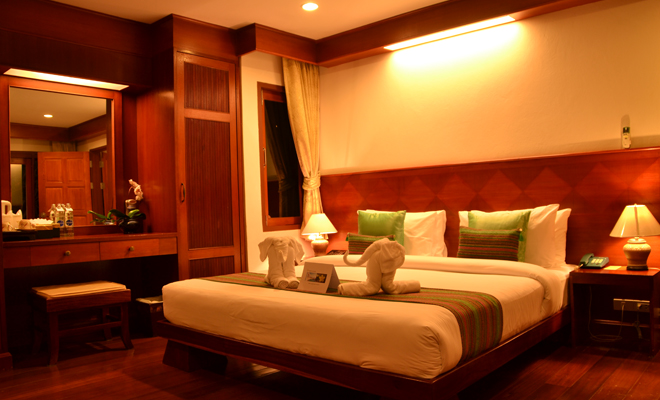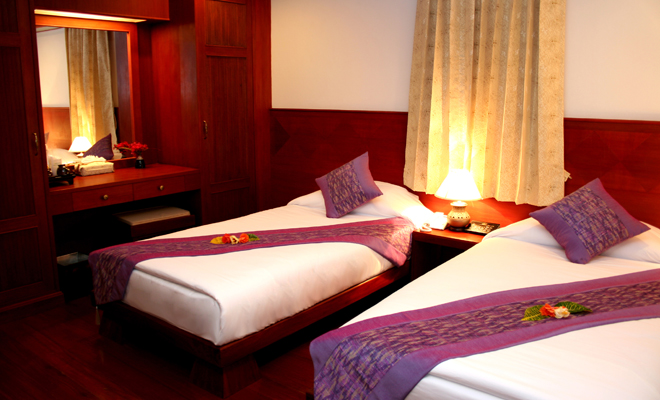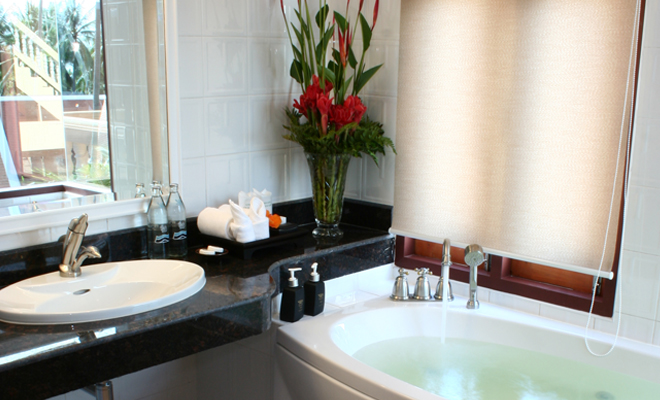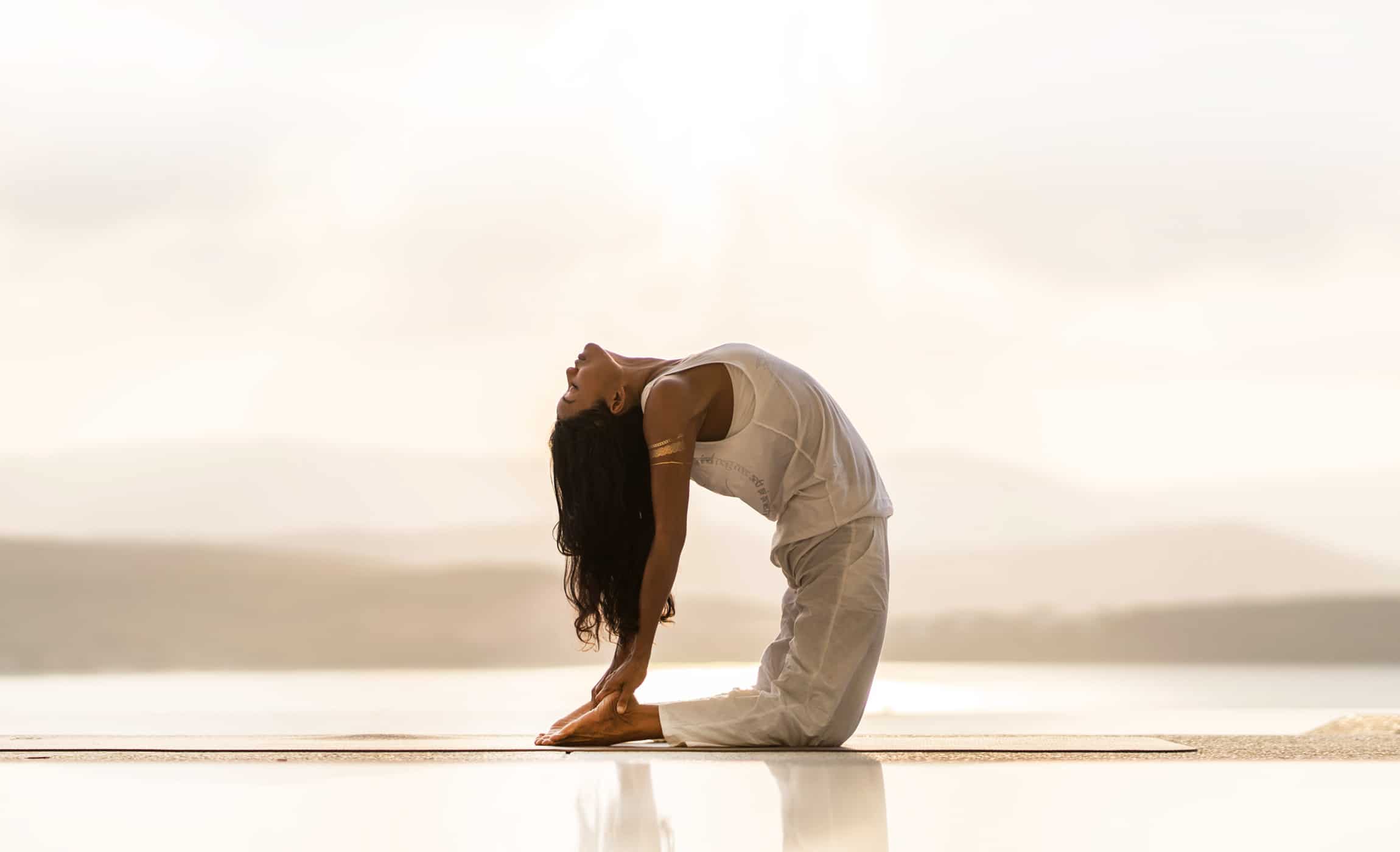 For a truly luxury experience, check out Banburee Resort, located just a few steps from the beach on the southern coast of this beautiful Thai island. At Banburee, the staff go above and beyond to offer an experience that is calming, elegant, relaxing, and still promotes a healthy and active lifestyle. Guests enjoy accommodation in rooms with balconies overlooking the ocean. Alternatively, private villas appropriate for couples or families are also available. The Queen Restaurant is the on-site restaurant, where guests are treated to freshly prepared, healthy food, drawing on the philosophy of food as medicine. Wellness experts and nutritionists have advised the menu creation, which flawlessly mixes traditional Thai dishes with the goal of detoxification. There is also a kids yoga class offered on Saturdays, a wonderful options for families who choose to stay at Banburee Resort.
Program: Guests are of course also treated to daily fitness offerings, ranging from aqua aerobics classes, to yoga classes. Yoga is offered five days a week, three times a day, with various specific goals such as spinal healing and body toning.
What We Like: The resort features a spa with extensive options, as well as a multi-level outdoor pool with an intricate design.
Cost: 1,775 – 4,800 USD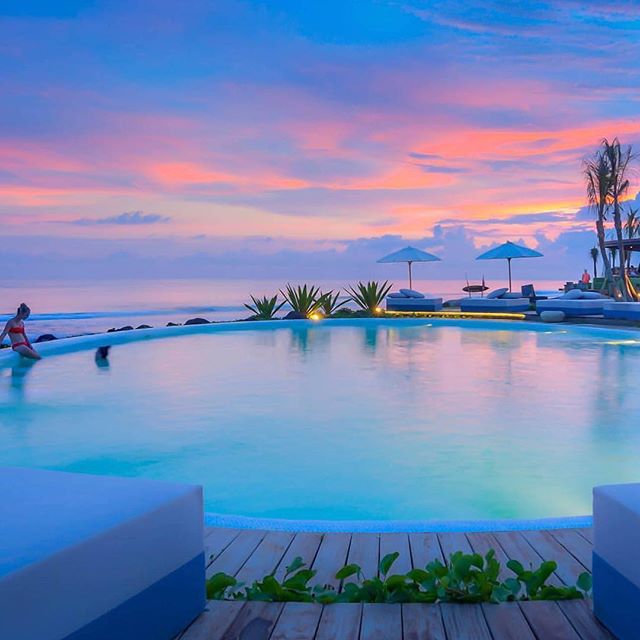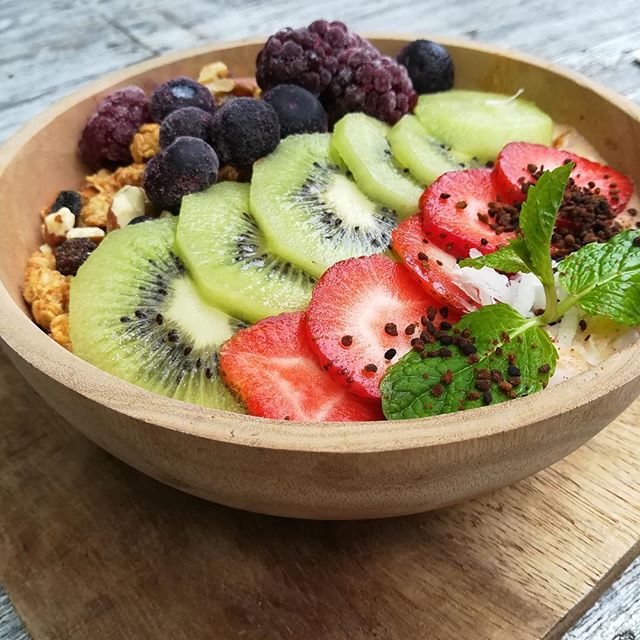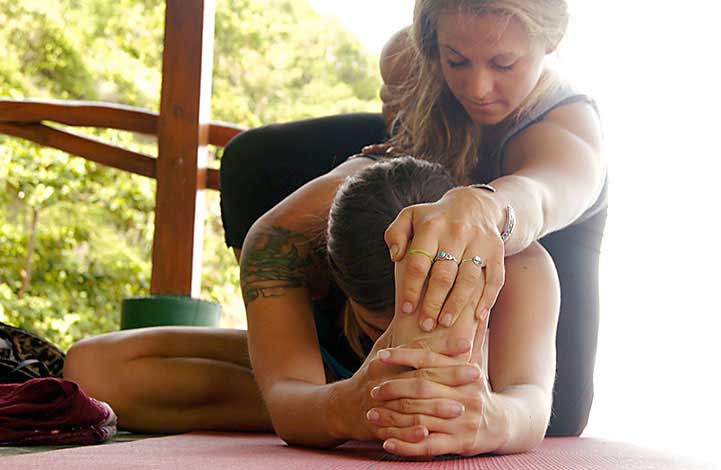 42578629_308303443339684_8849772680691599159_n
44797735_1992596347494626_3838729777794890862_n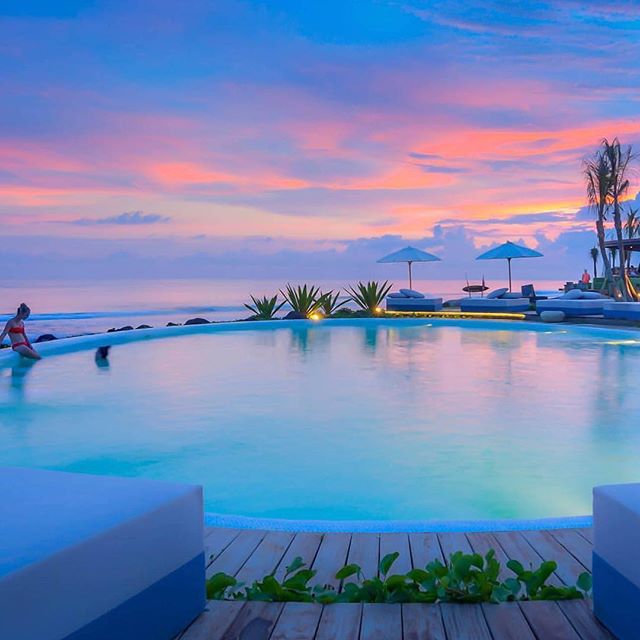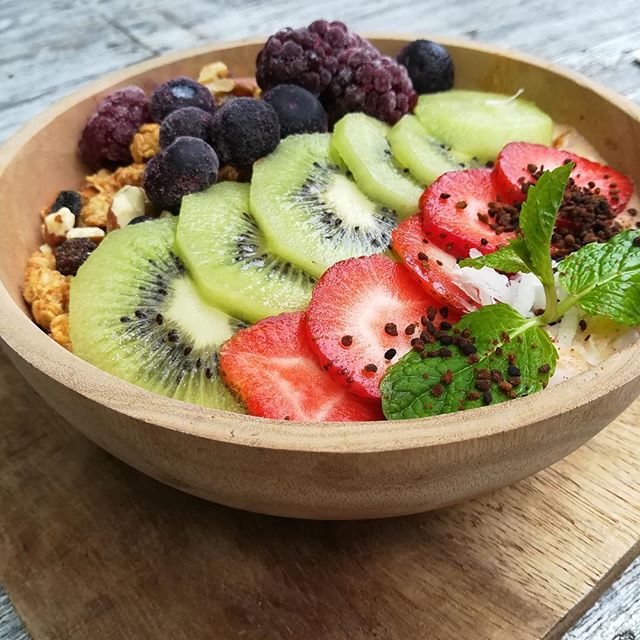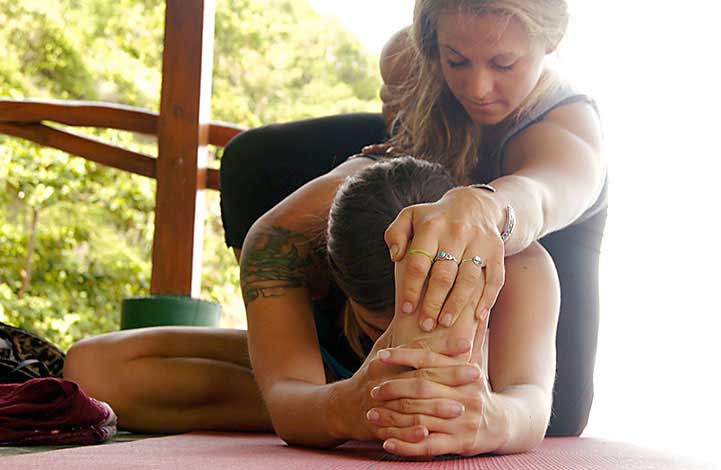 Experience one of Thailand's leading health and wellness retreats at Zen Retreat Samui. This retreat center features multiple private villas, an outdoor pool, and an immaculately designed Thai garden. The retreat center is located near the south coast of Koh Samui, with breathtaking views over the sea.
Program: There are a variety of yoga retreat options available at Zen Retreat Samui, ranging from three night stays to up to a fortnight. Each retreat has a special theme. Past retreats have included a Zen Beauty escape, a Zen Fit Burn retreat, a Yoga Eat Healthy retreat, and many more.
What We Like: Amenties include a fitness suite, an outdoor yoga shala, a Jacuzzi, a private guest spa center, and easy access to the beach.
Cost: Contact Zen Retreat for cost
62/4 Moo 4, Phangka Beach ,Talingnum Samui, Surat Thani 84140, Thailand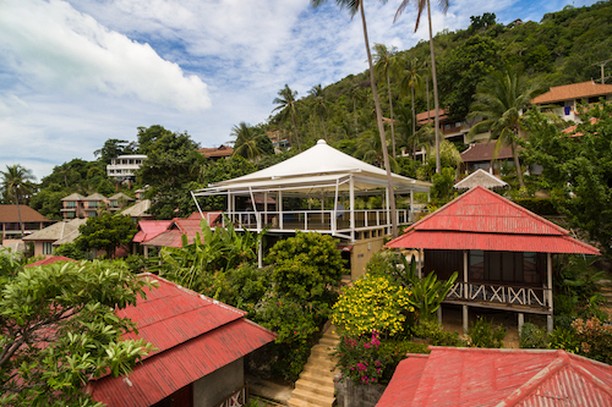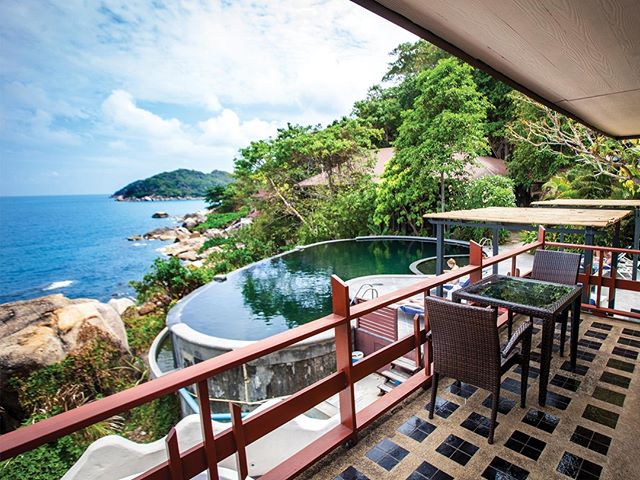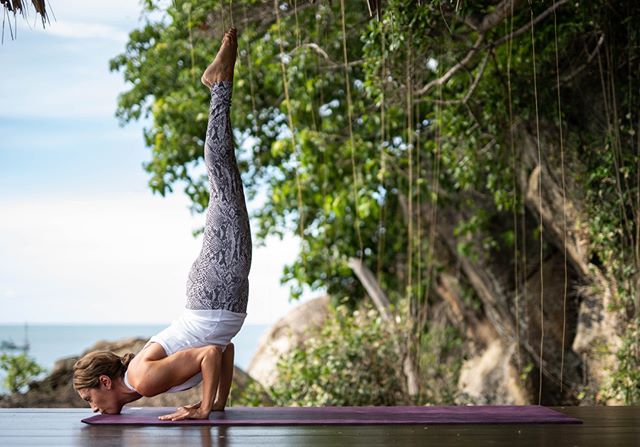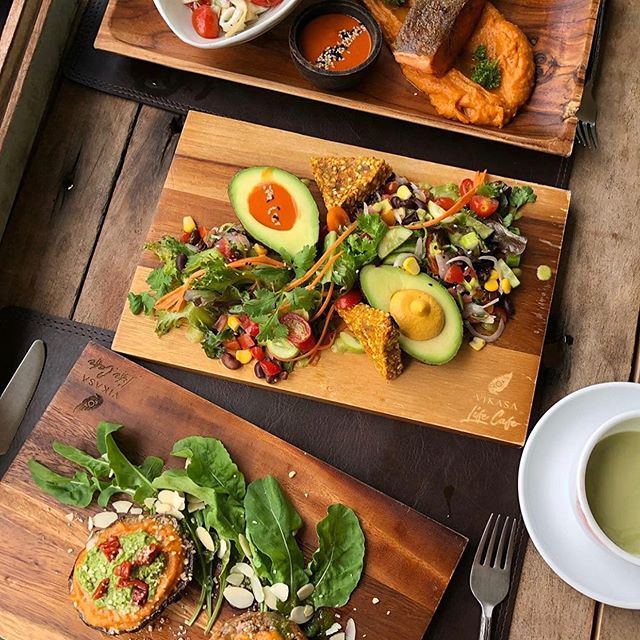 66500181_166539864504275_3531721012250872714_n
66810517_880213072355158_6004533248728178988_n
69045070_530631784349011_8676025578785517203_n
70336147_1121573628043358_2536954576428214187_n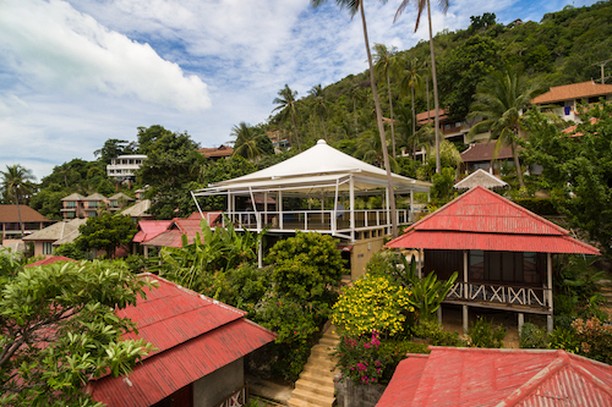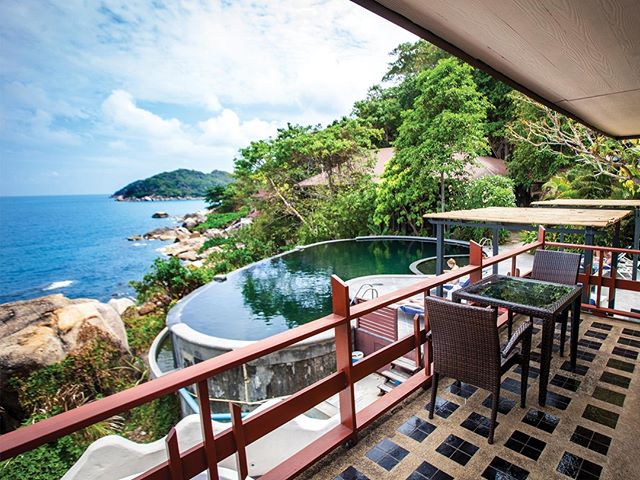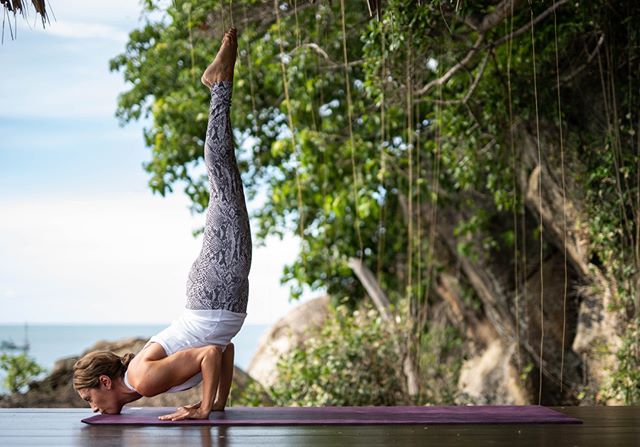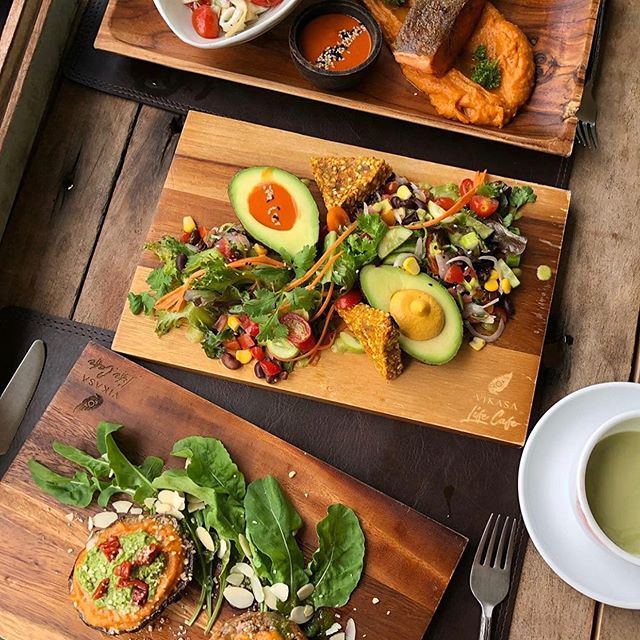 Vikasa Yoga Retreat on Koh Samui is one of the most well known, well respected, and well attended yoga retreats on the island. It is much more than simply a 'yoga hotel' – rather it offers a truly immersive experience and the opportunity for guests to advance their practice in profound ways. The center itself offers minimalist yet luxurious accommodation, set back in the tropical jungle of the island. Guests will feel at one with the swaying palms, surrounded by the scent of frangipani and the sound of waves on the nearby beach. This intertwining with the natural environment is extended to the yoga offerings, as well. Classes are often offered on the beach, poolside, or in one of the multiple outdoor yoga shalas.
Program: Guests can choose to attend Vikasa as an individual retreat, complete with private classes in yoga and meditation. Alternatively, there is the option to join an organized group retreat hosted at the center. Whichever option that is chosen, the experience will be truly captivating and lead to progression in both the physical and spiritual practice of yoga.
What We Like: The ethos of the entire center is inspired by the idea of evolution, shifting, progression, and spiritual change. This is why the name vikasa was chosen, for it translates to 'evolve' in Sanskrit.
Cost: 3,000 – 7,500 USD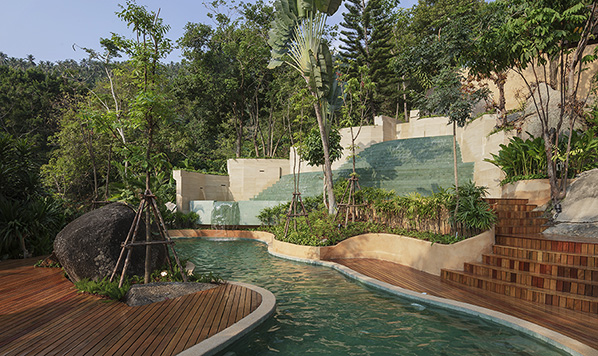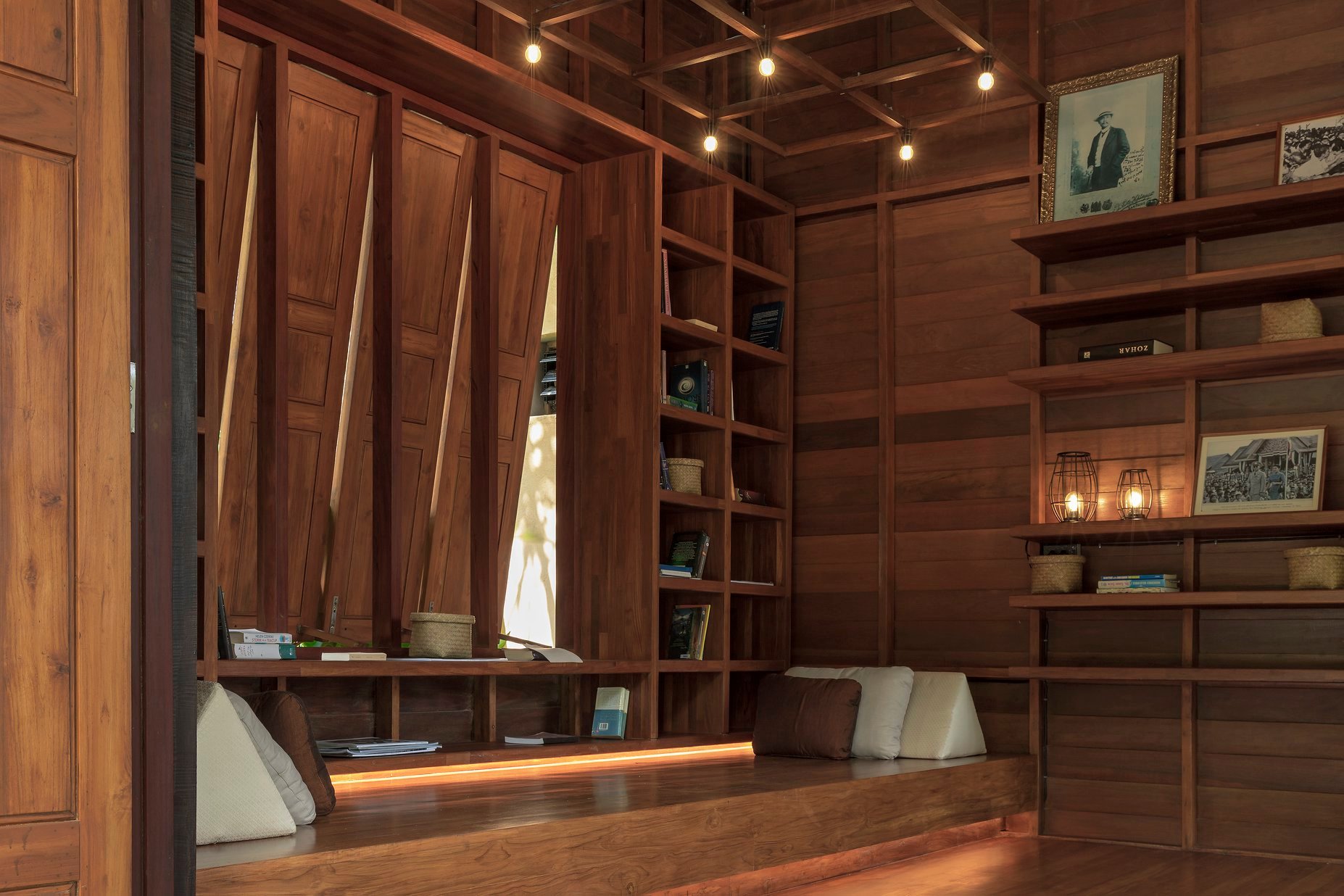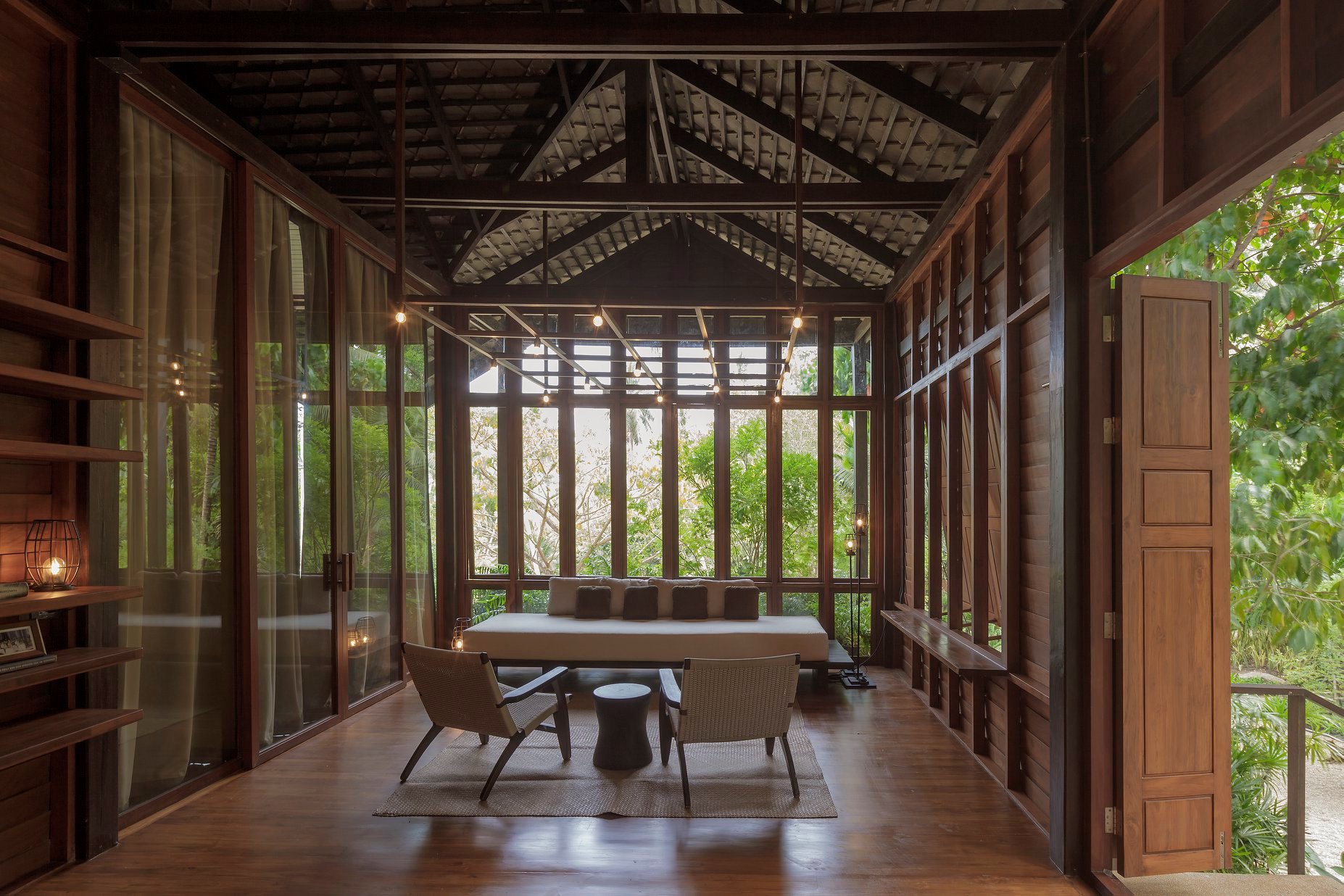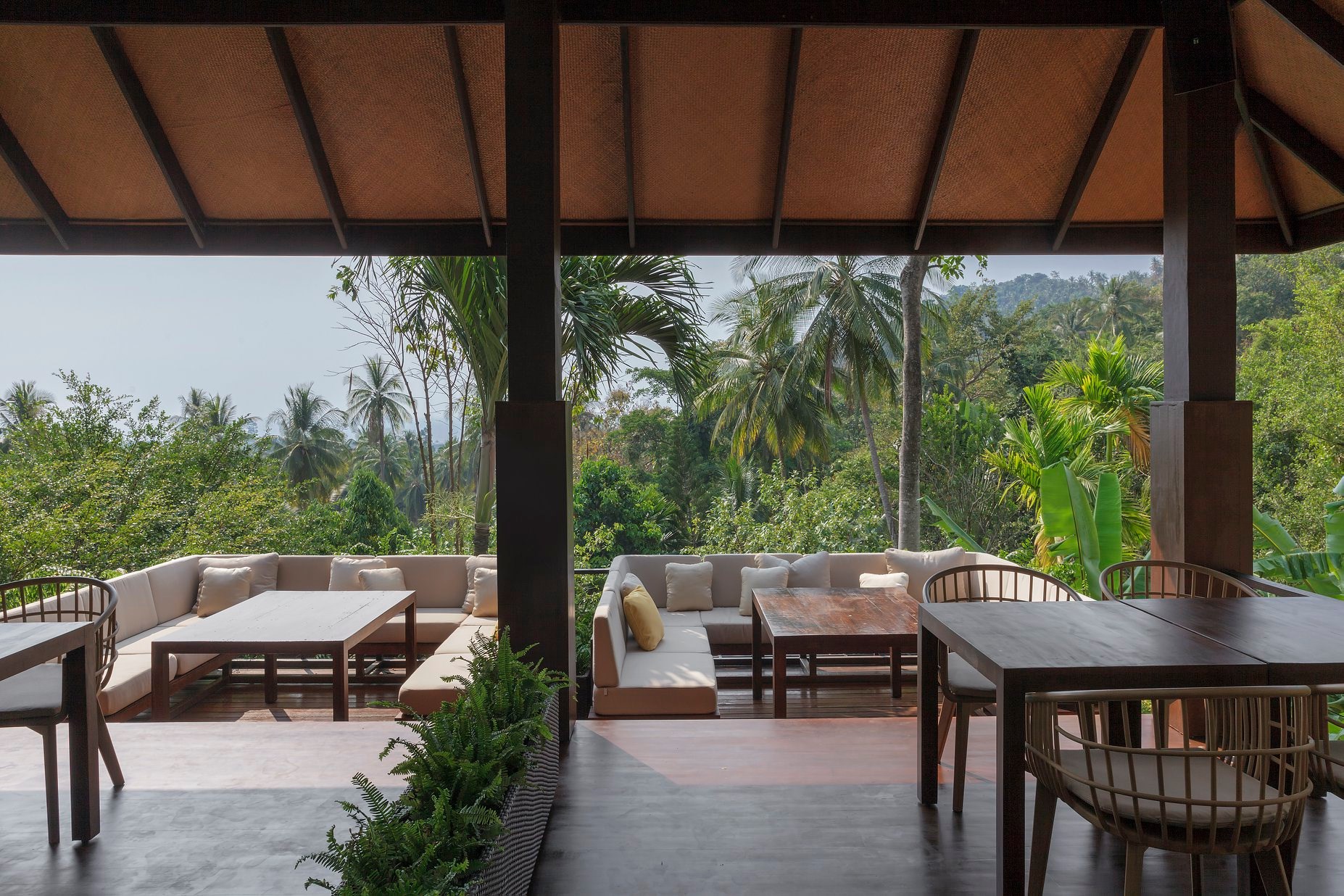 65308395_746173962464974_8384270104505876480_o
65201891_746174009131636_1550657844406124544_o
65275627_746174039131633_6045133445116461056_o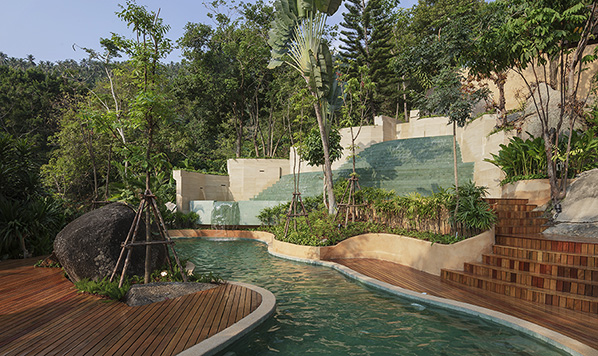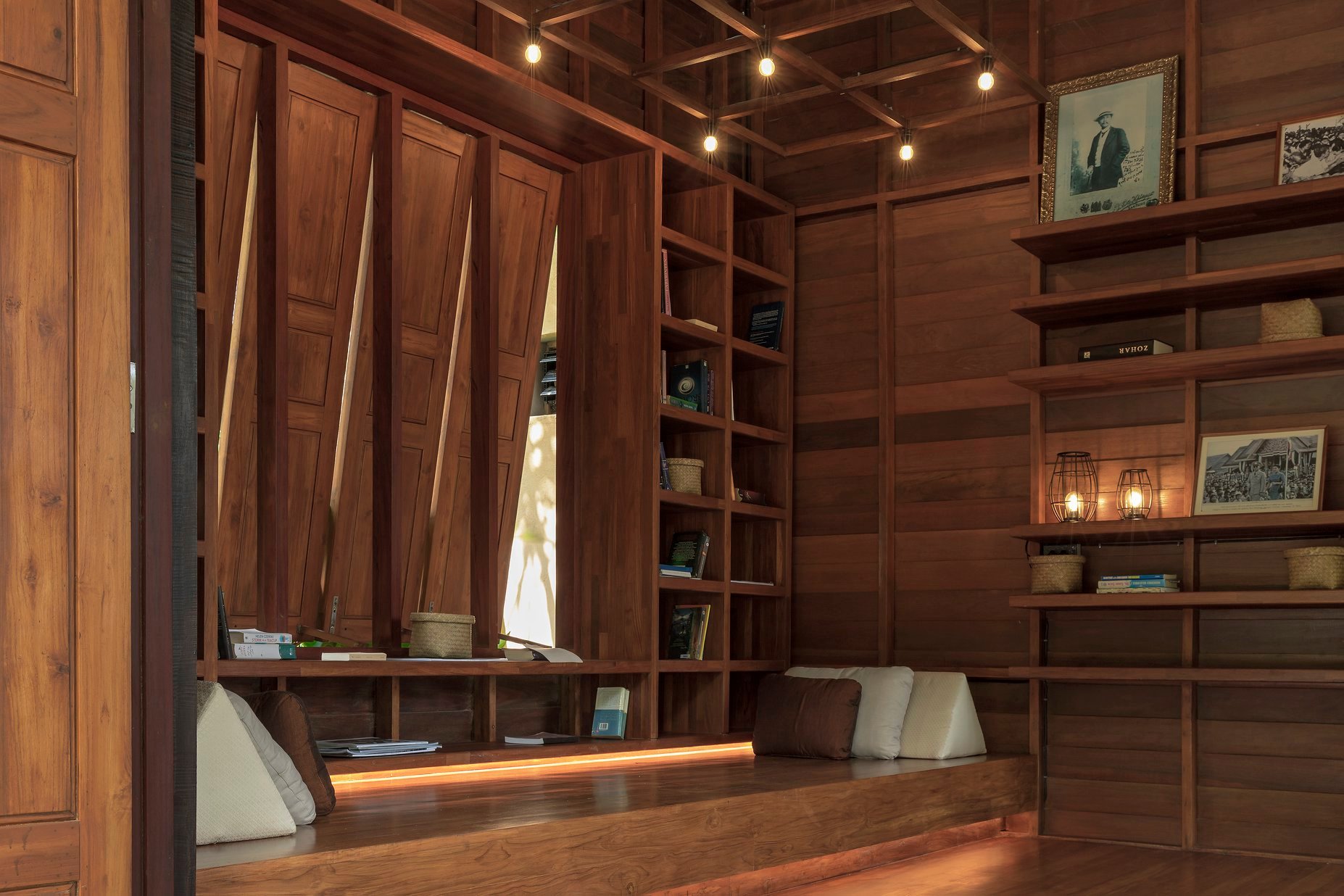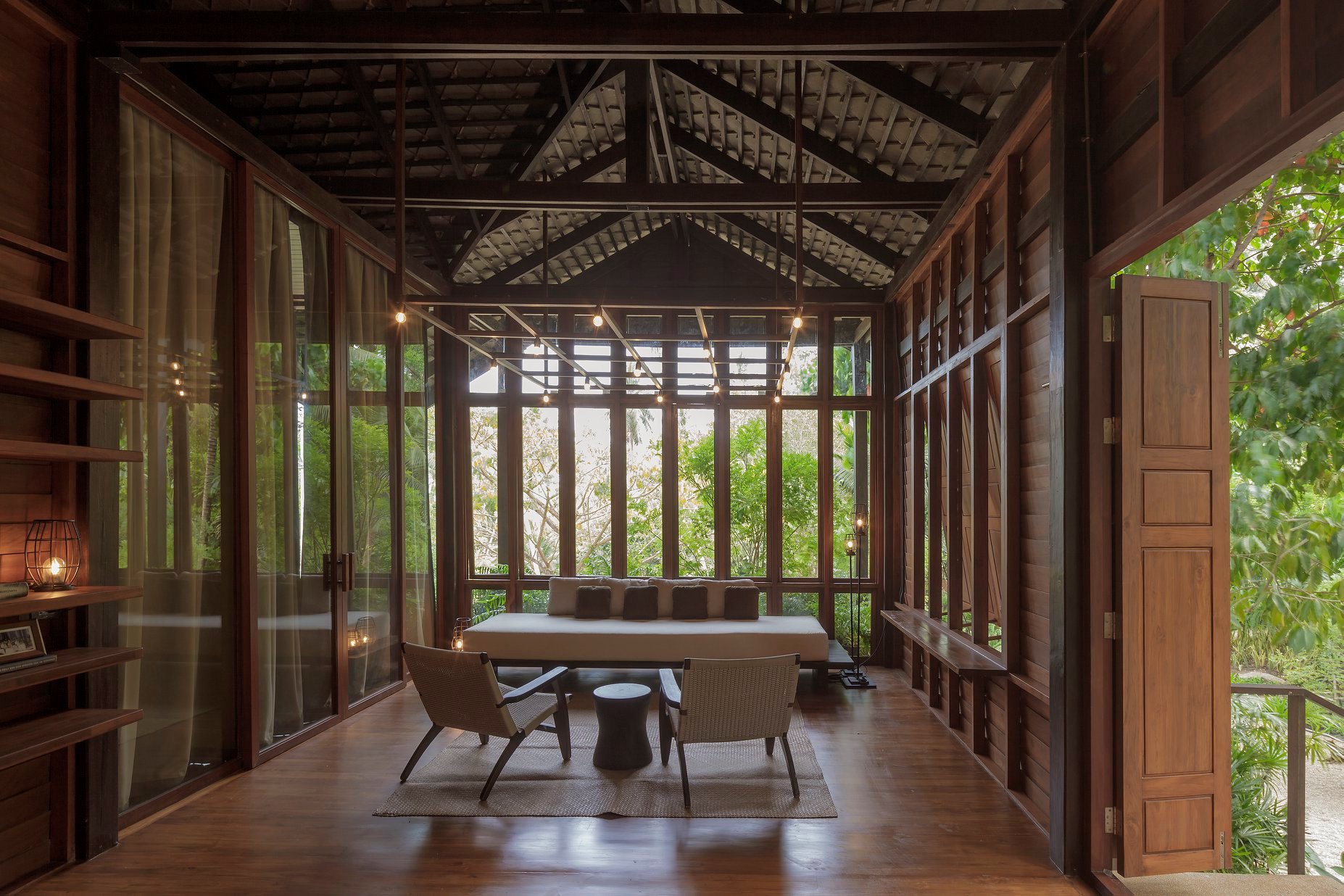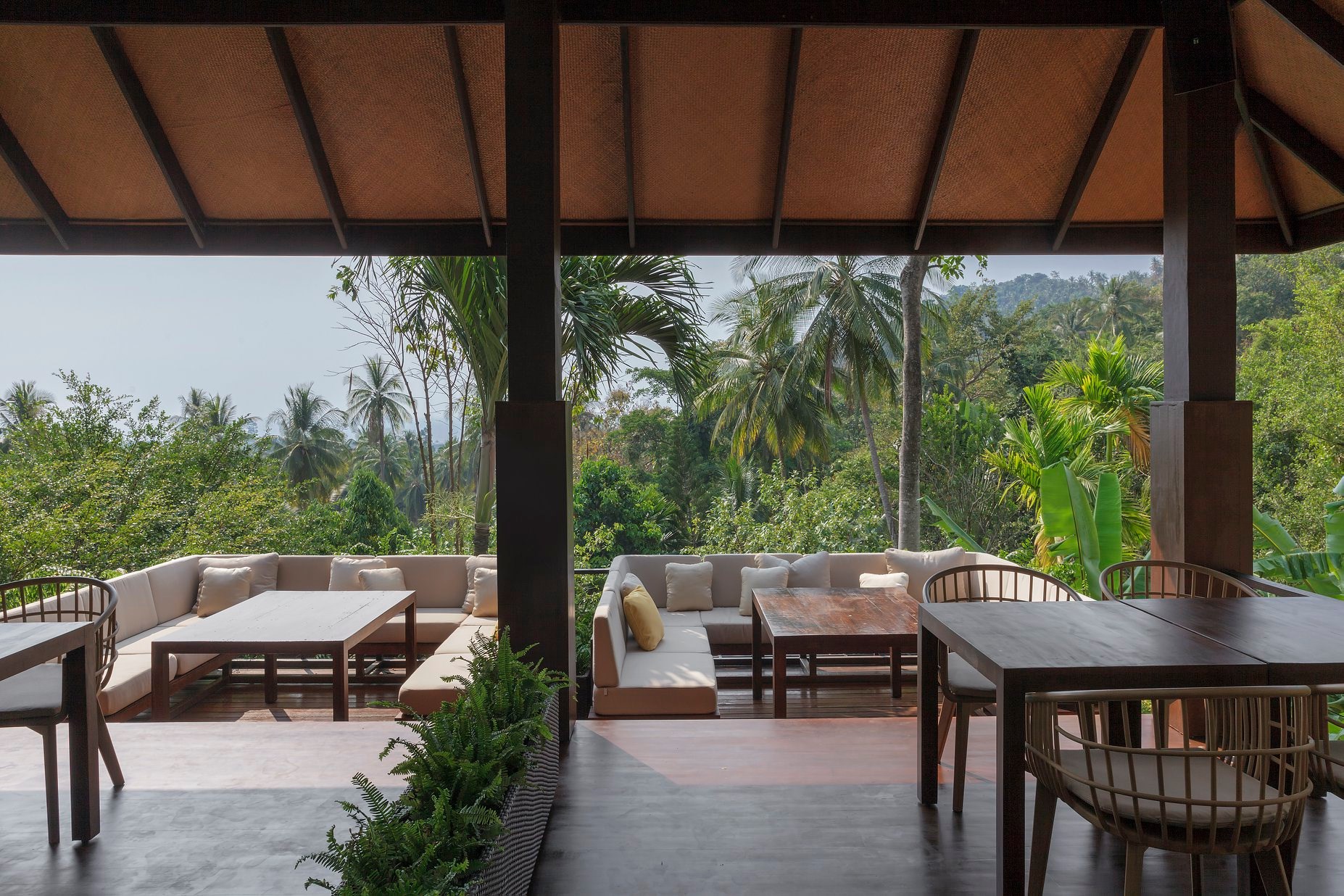 The Spa Resorts is a Koh Samui resort with two locations: beach side in Tumbol Maret, and in the village of Tumbol Maret. Each setting has luxurious accommodation, featuring open spaces and tall windows so guests can take advantage of natural light and their gorgeous surroundings. The Spa Resorts has offered health spa treatments and yoga retreats on Koh Samui since 1992, making it the first establishment on the island to do so.
Program: Although it is the oldest resort of its kind on Koh Samui, The Spa Resorts has certainly grown and changed with the times. In addition to daily yoga classes available to guests, a variety of amenities, treatments, and consultations are offered. These include massage shalas, colema centers, detox juice bars, outdoor pools, and even a natural waterfall that only enhances the relaxing ambience of the outdoor area.
What We Like: When you stay at the Spa Resorts, you are experiencing the origin of health travel culture in Thailand.
Cost: Contact The Spa Resorts for cost.
Amphoe Ko Samui, Chang Wat Surat Thani 84140, Thailand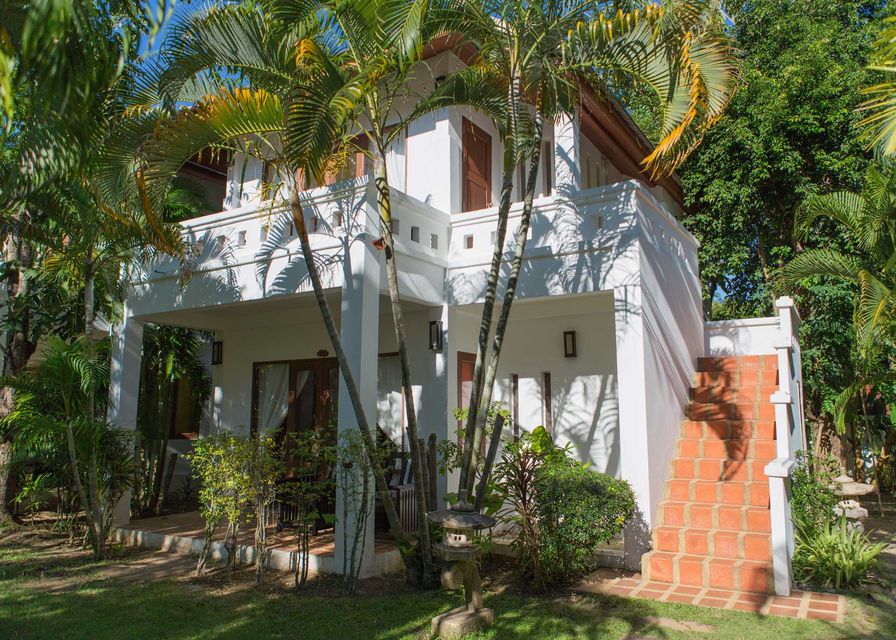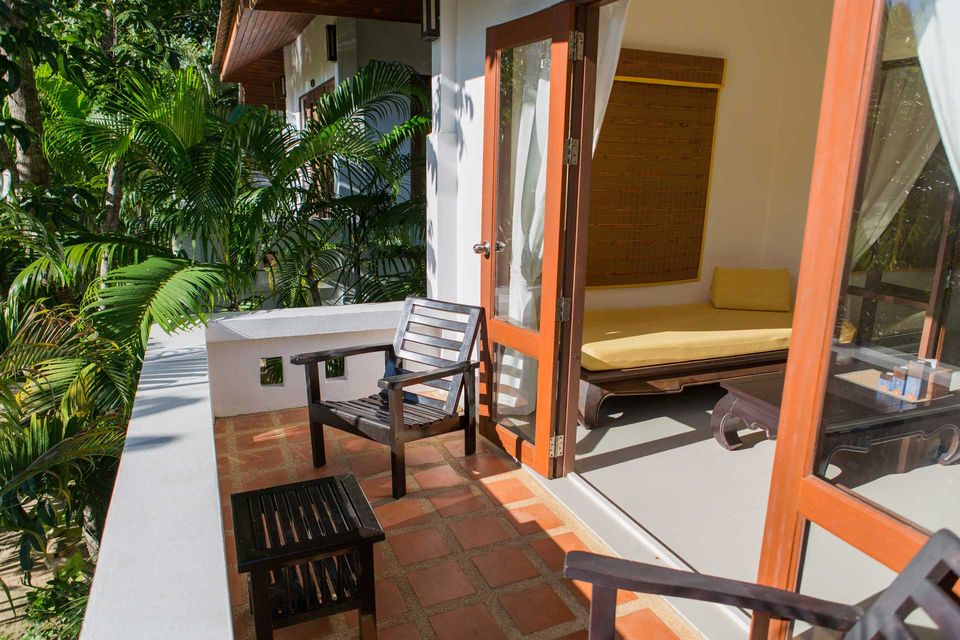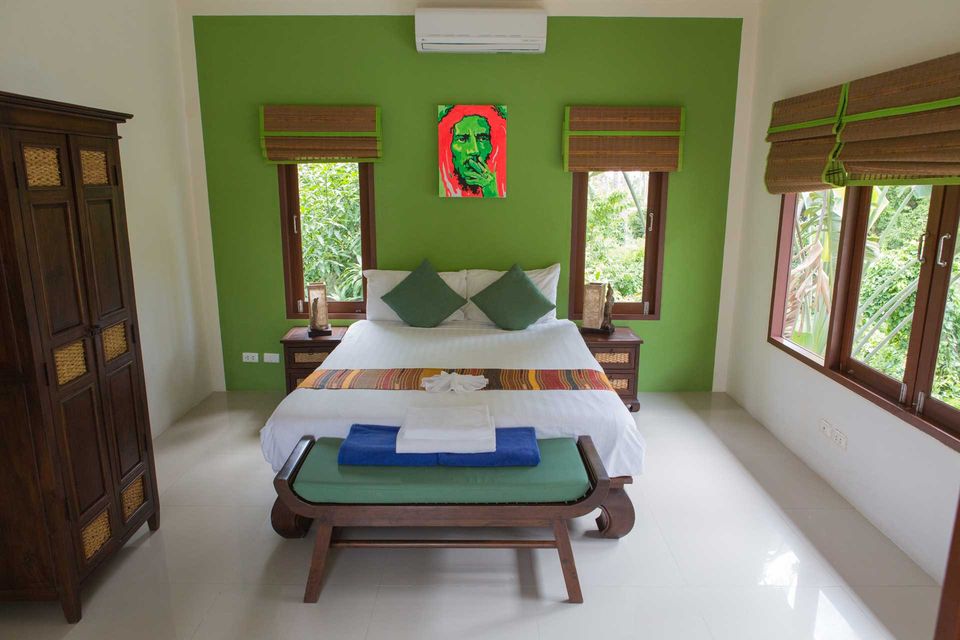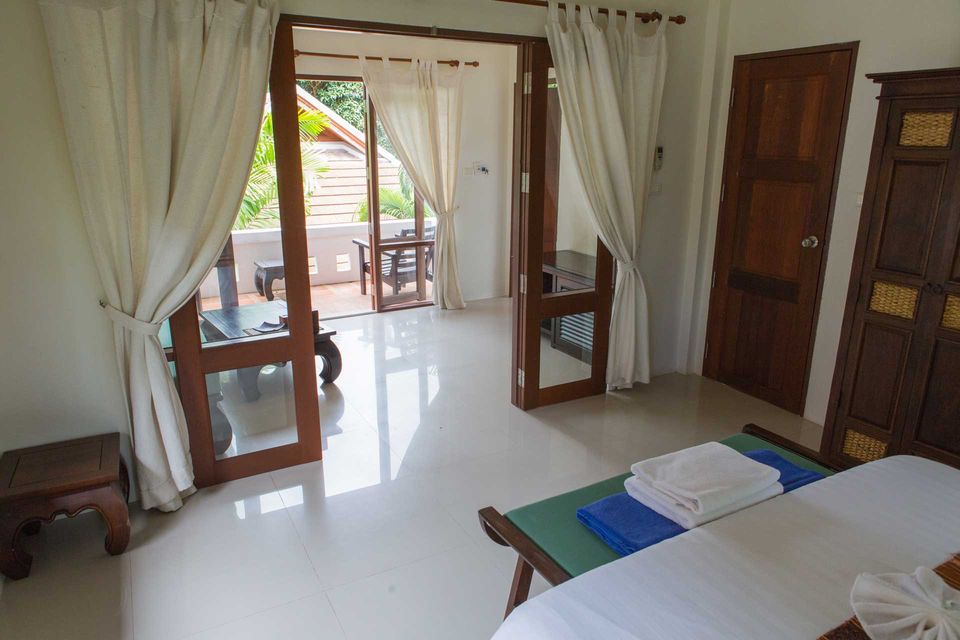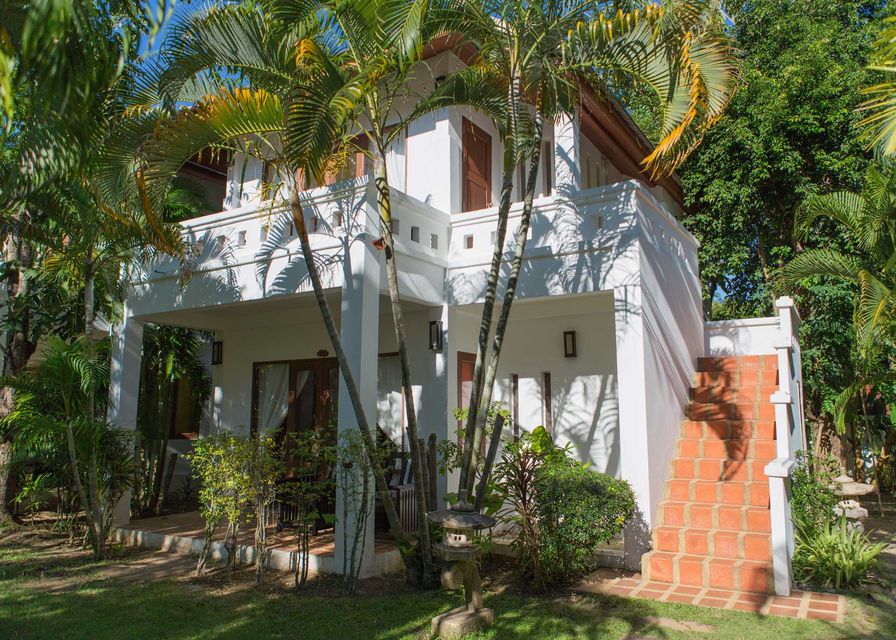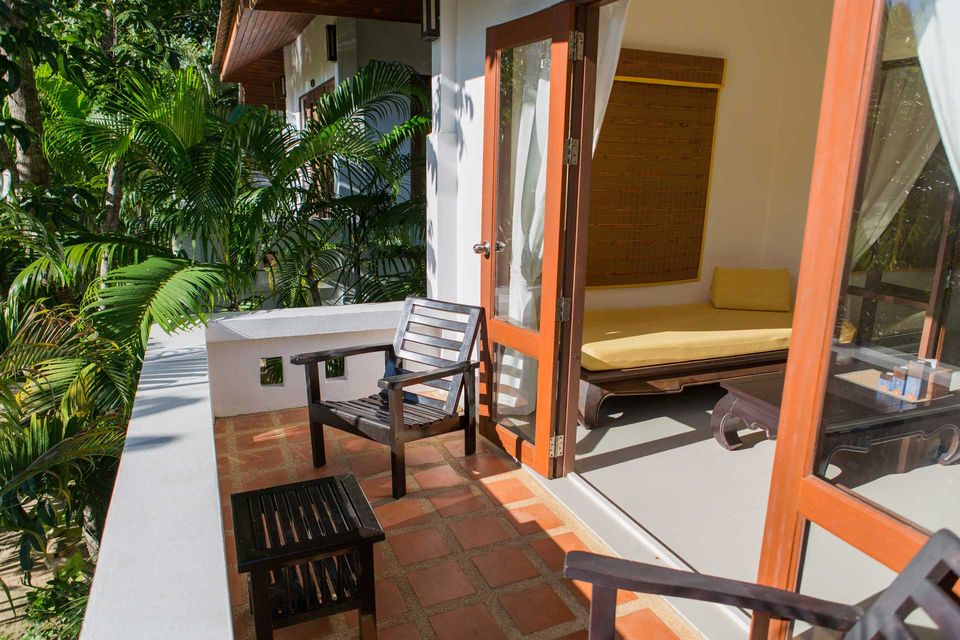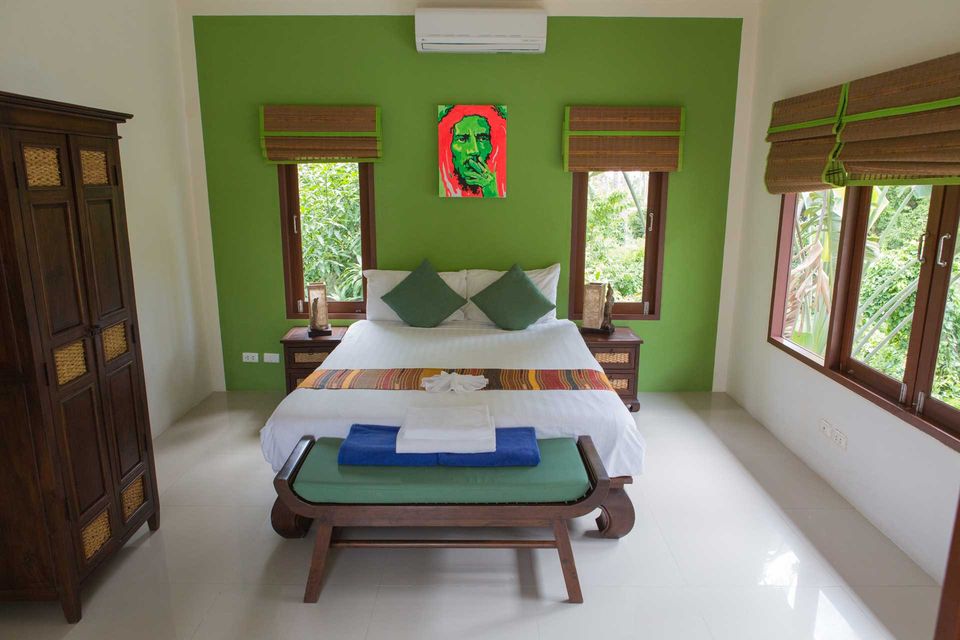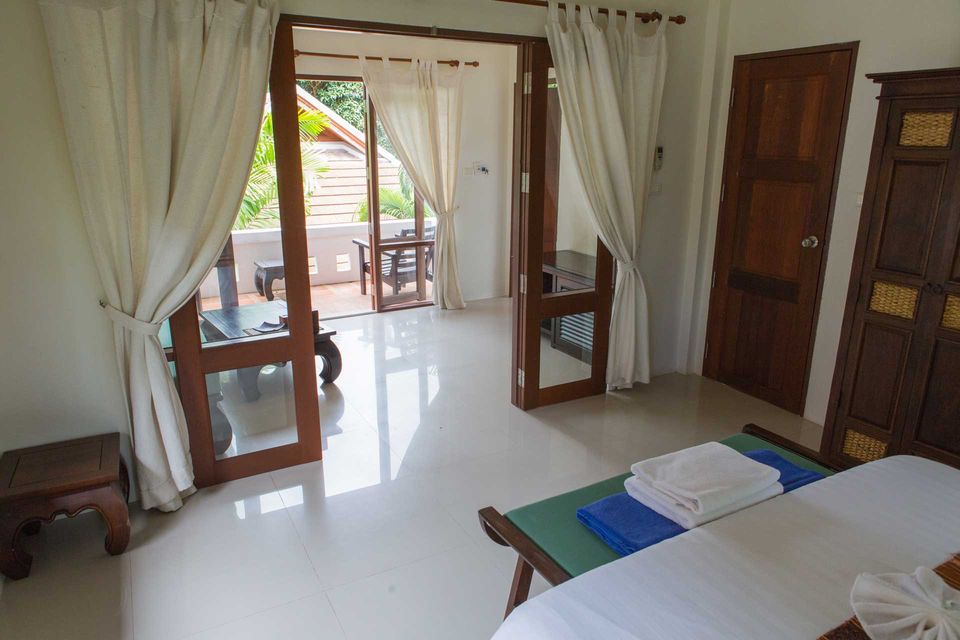 For those traveling as a family unit to the island of Koh Samui, it can be difficult to find a yoga retreat or resort that meets the needs of every family member. This is why Easy Time Family Resort is both a unique and exception option on the island. At Easy Time Family Resort, individuals and families are both welcomed and accommodated for to the same standard.
Program: Guests can book into the resort at any time of the year, and partake in the on site yoga classes on offer each morning. Yoga is also taught in the outdoor yoga pagodas, overlooking the tropical jungle and garden. Accommodation is offered in the form of fifteen luxury villas, each of which feels completely private within the well designed Thai garden on the property.
What We Like: There is a special children's play room and program, where children are attended to and entertained in a separate air conditioned room. This gives the adults of the families time to partake in the extensive yoga, spa, and relaxation options at Easy Time Family Resort, all whilst having the peace of mind that their children and nearby.
Cost: Starting at 65 USD
132/1 Moo 4 Tambon Namuang Amphur, Samui, 84140, Thailand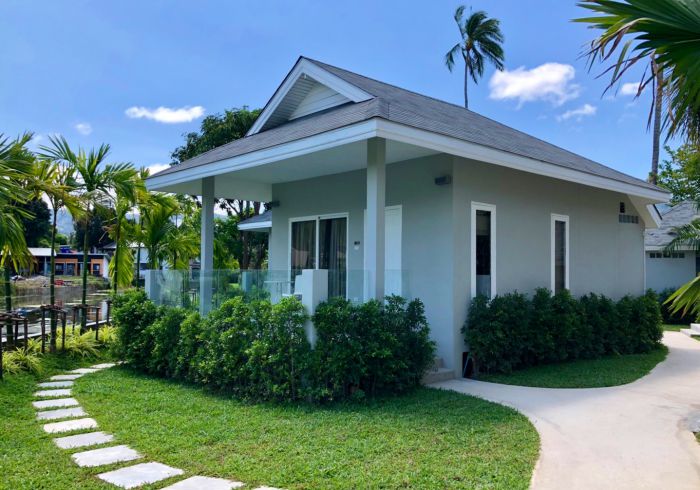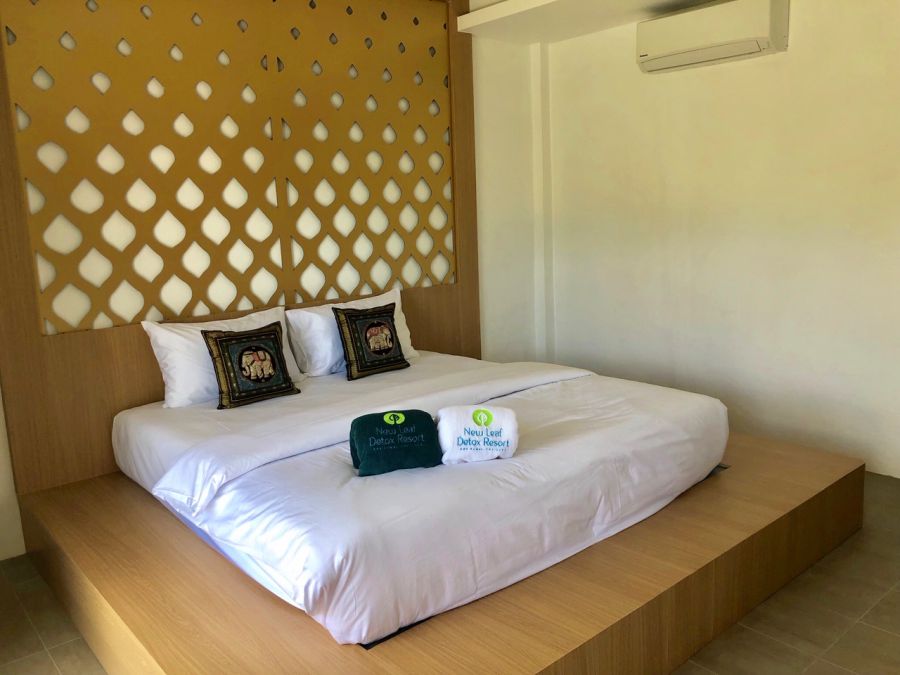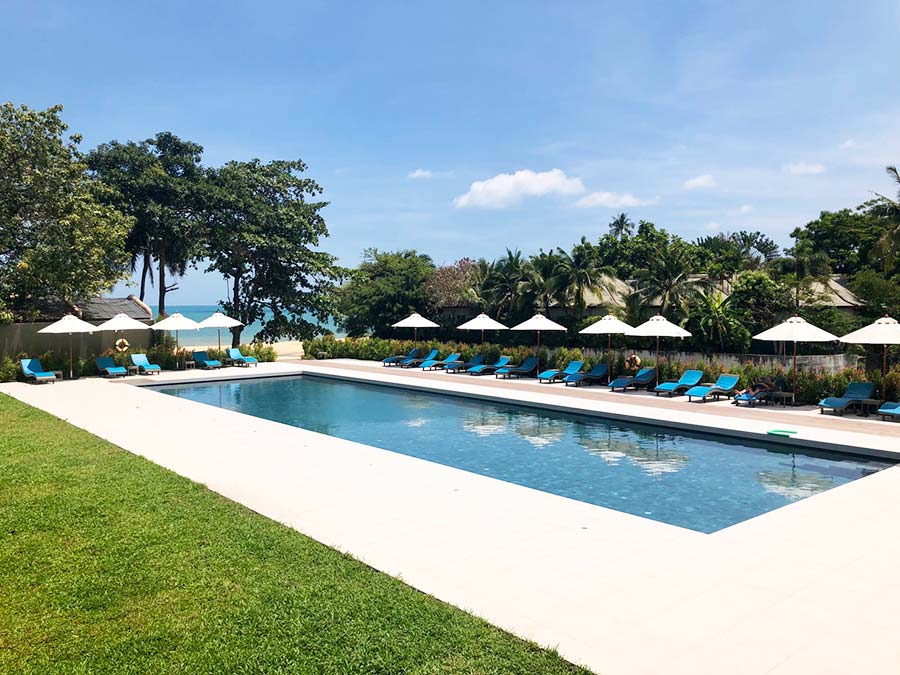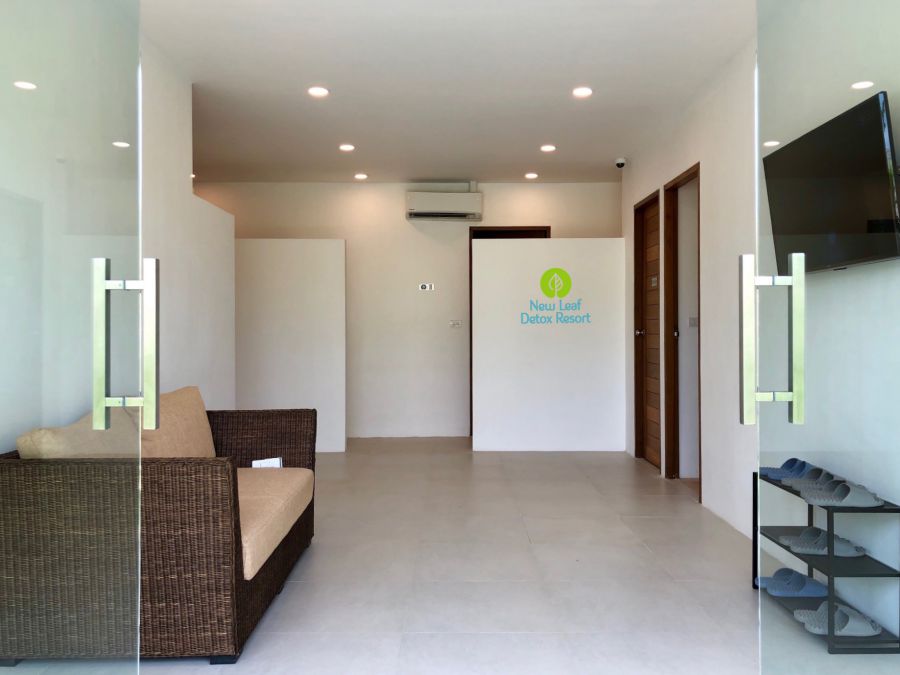 deluxe-bungalow-new-leaf-detox-01
deluxe-bungalow-01-new-leaf-detox
new-leaf-detox-pool-beach-01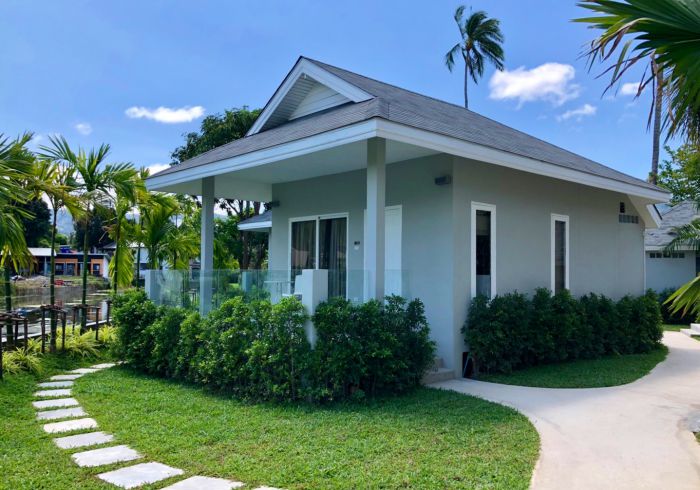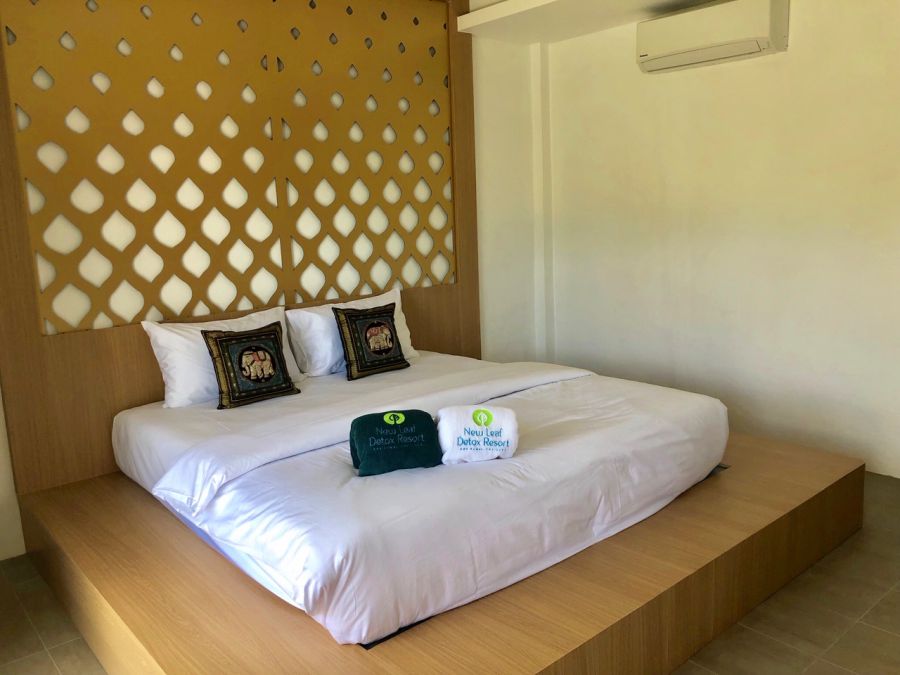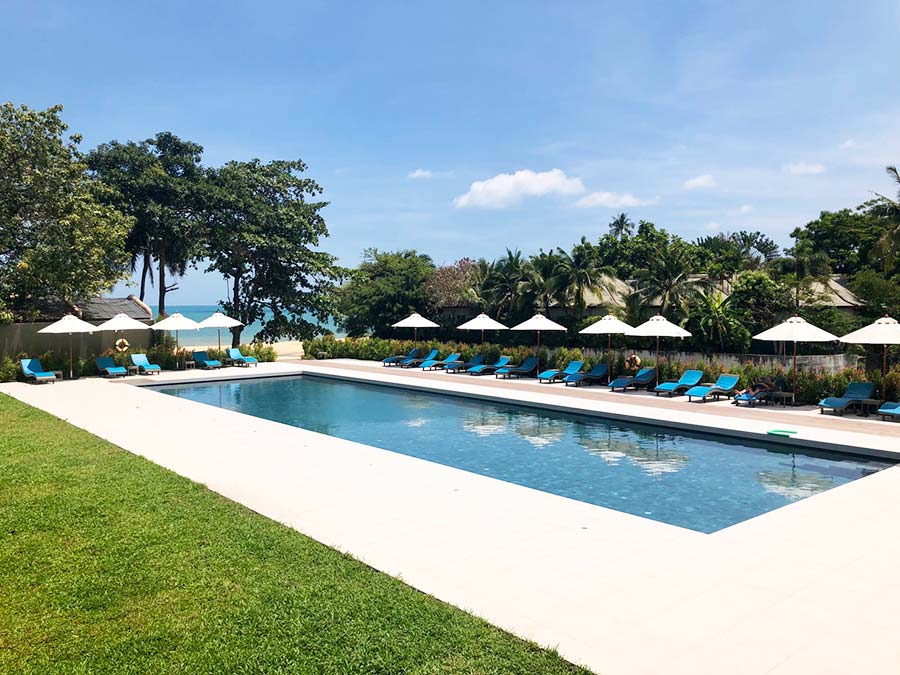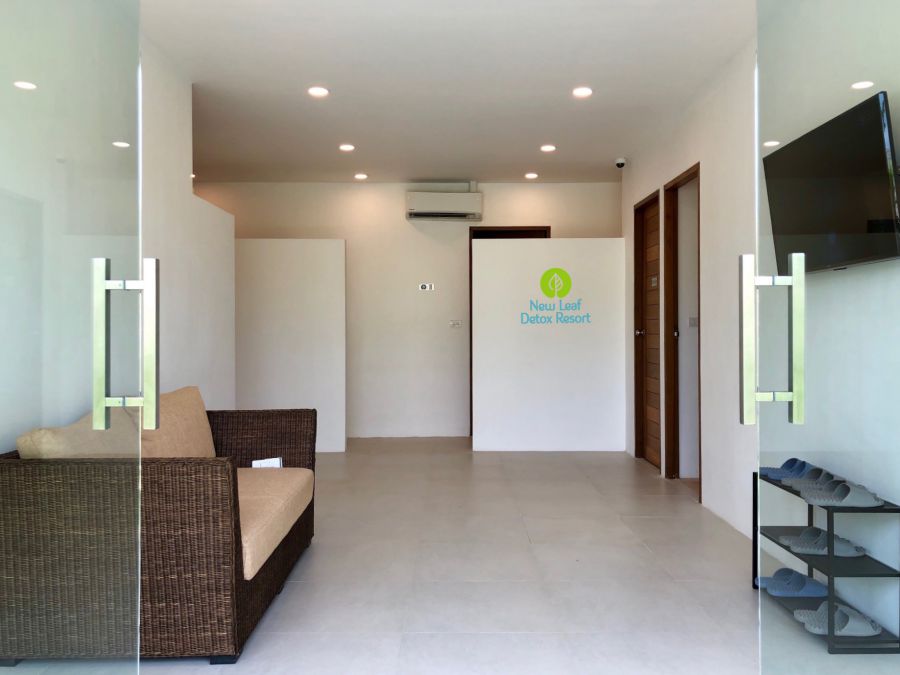 For those looking to turn over a new leaf with their lifestyle choices and fitness, there is no better option on Koh Samui than New Leaf Detox Resort. The gorgeous tropical surroundings of Koh Samui also help promote relaxation and peace on this difficult journey. New Leaf Detox Resort is located in a nearly three acre coconut grove nearby Maenam Beach.
Program: This resort includes luxury offerings, with the specific focus on weight loss and physical fitness. In fact, it is the only resort in all of Thailand that is 100% dedicated to weight loss retreats. Making the lifestyle changes to promote weight loss can be both physically and emotionally taxing, and New Leaf Detox Resort takes this into consideration with its holistic program that supports guests in all areas of wellbeing. An approach emphasizing longevity and lasting changes, rather than quick fixes or fad diets, is used.
What We Like: Guests are treated to private, air conditioned bungalows, and retreat inclusions such as herbal steam rooms, far-infrared saunas, traditional Thai massages, twice daily yoga and fitness classes, detox juices, liver flushes, colonic hydrotherapy, parasite cleanses, and much more.
Cost: Starting at 583 USD
Mae Nam, Ko Samui District, Surat Thani 84330, Thailand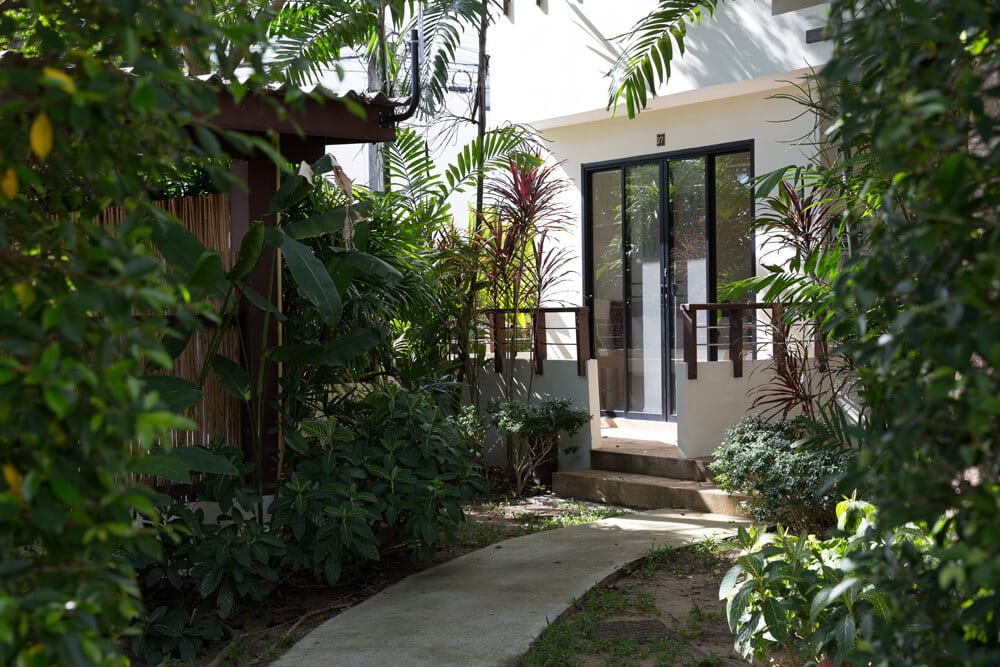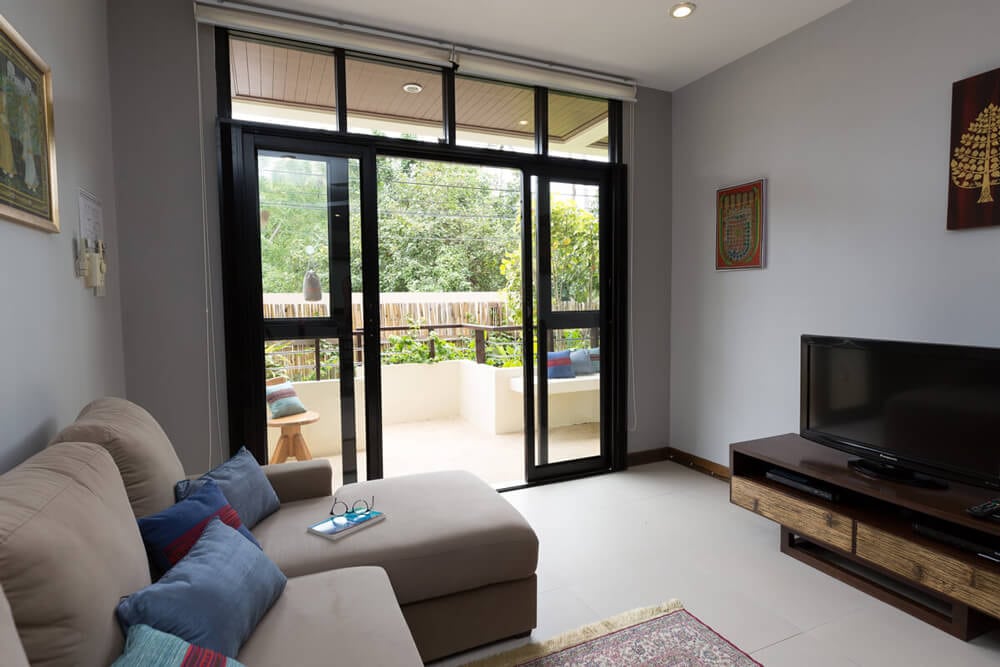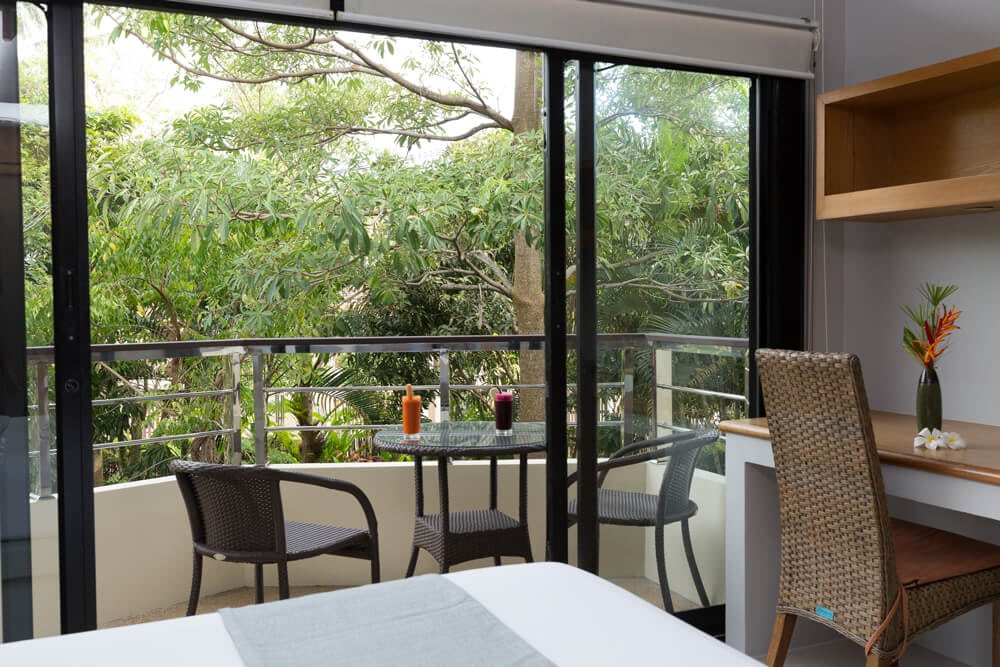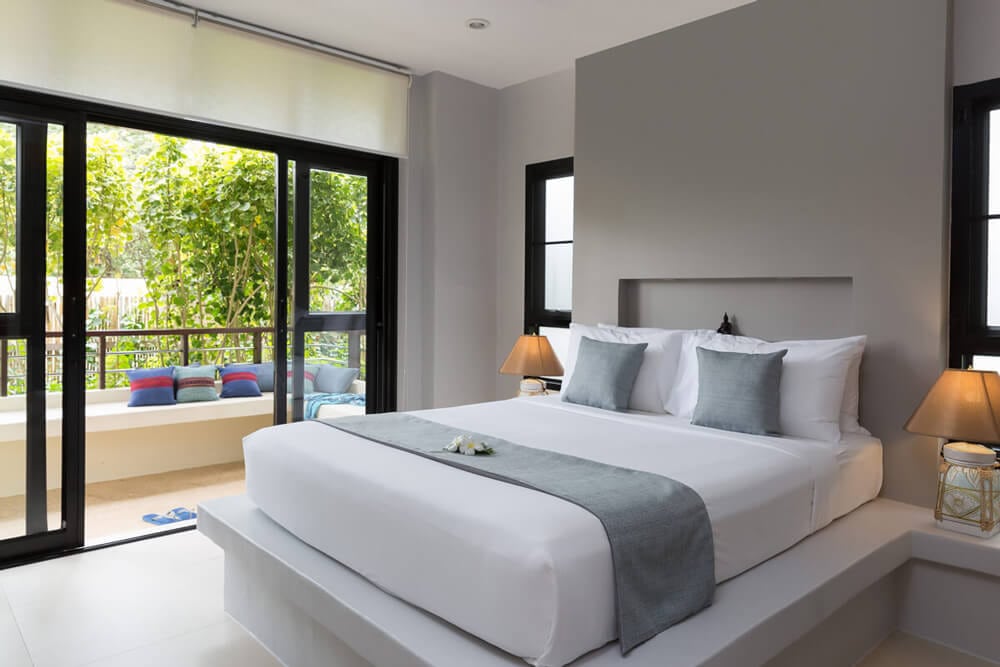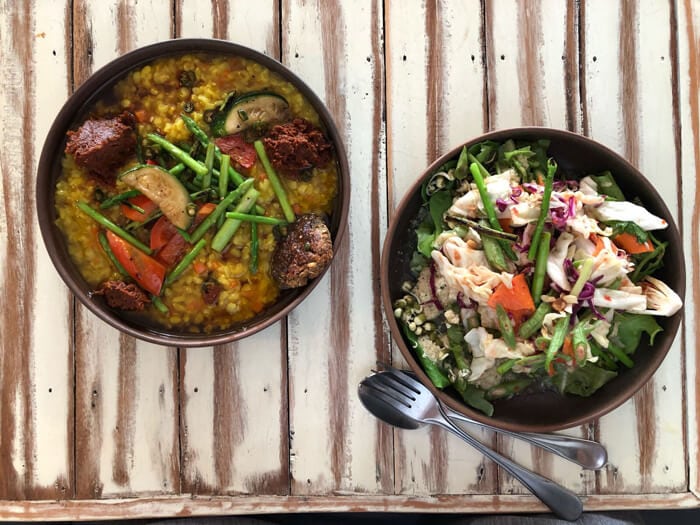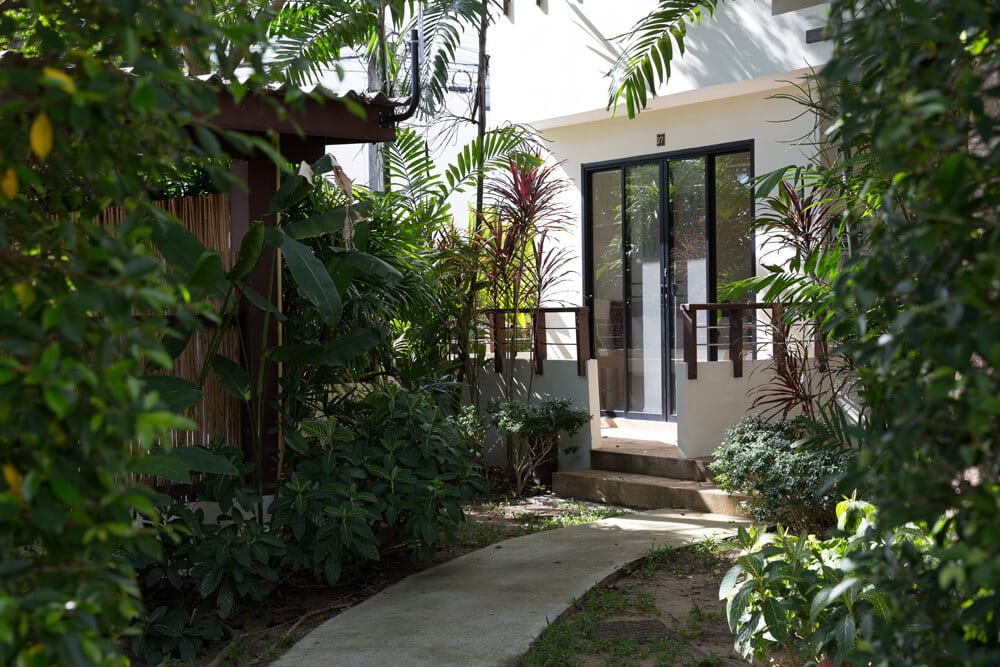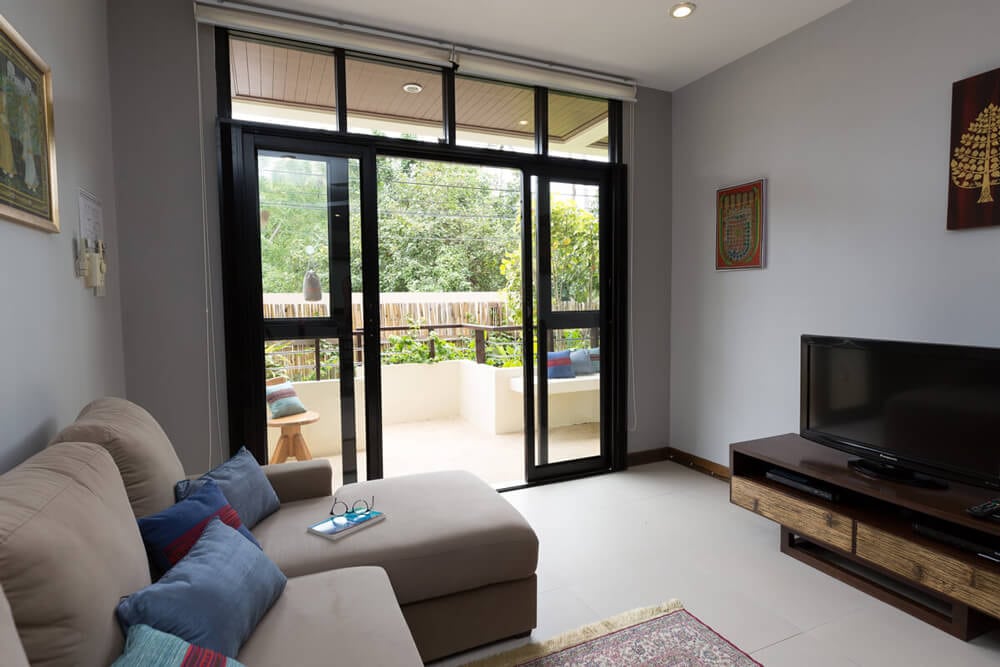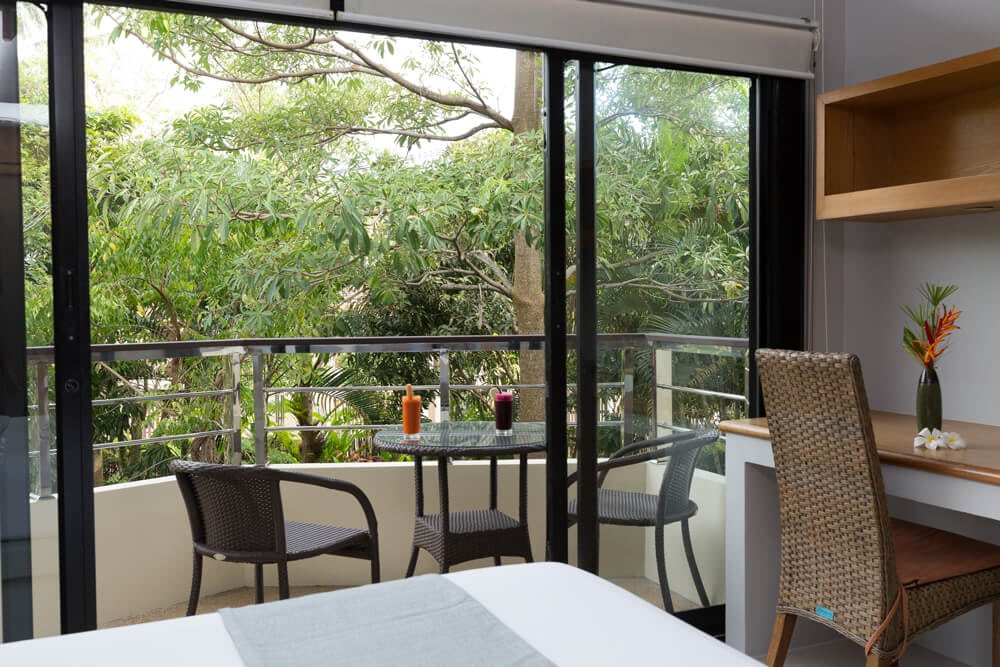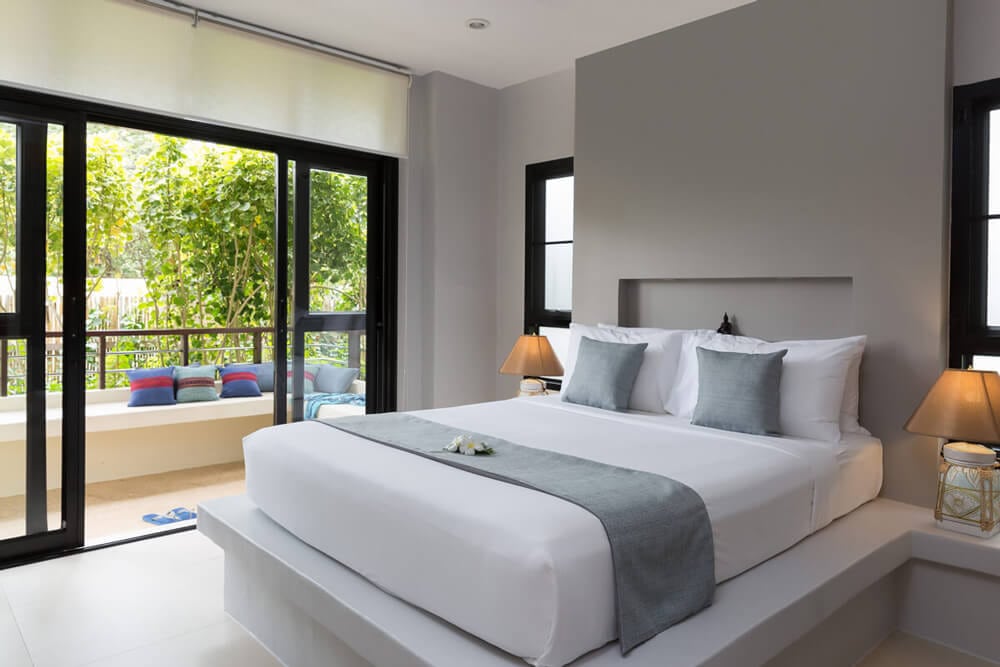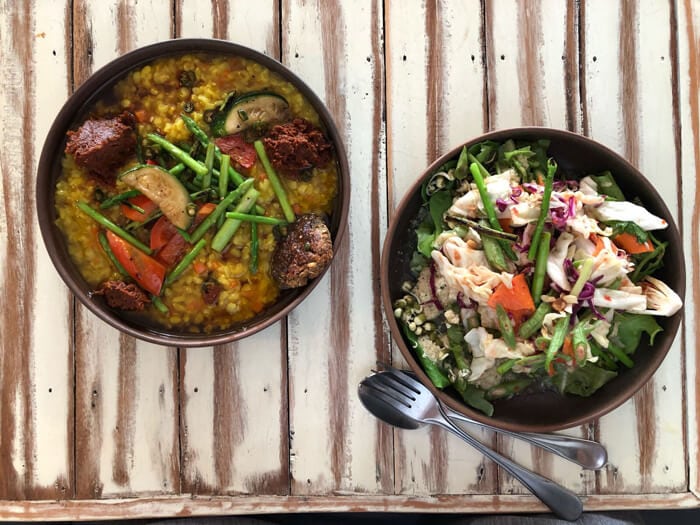 If you are looking for an organized group yoga retreat that doesn't skimp on the luxury, perus the offerings at Samahita. This organization has been operating luxury yoga retreats on Koh Samui since 2003. Every year, a wide variety of retreats are offered, taught by visiting global yoga teachers. There is a retreat option for everyone at Samahita. In 2019, guest yoga teachers include Richard Freeman, Mary Taylor, Paul Dallaghan, Annie Chang, and many more.  The facilities are lavish, yet deftly designed to match the natural surroundings.
Program: The signature retreat is a combination of both yoga and cycling. Yoga is taught daily in the outdoor shala or on the nearby beach. There is also an on site cycling studio with a full front glass window, so guests can enjoy the sea view as they sweat. Many other styles of retreats are offered, though, each uniquely designed by the guest teacher.
What We Like: Guests can enjoy the outdoor meditation garden, saltwater pools, juice and coffee bar, four yoga shalas, fitness loft, herbal steam room, and more.
Cost: Starting at 4,554 USD
55/20-24 Namuang, Na Mueang, Koh Samui, Surat Thani 84140, Thailand
Conclusion
There are many different styles of luxury yoga retreats on Koh Samui – from those geared toward families, to adults-only yoga hotels, to organized group retreats. Whatever you are looking for, there is an option on this island that does not lack in luxury amenities.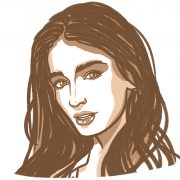 Rose Henderson
Rose graduated with a degree in Anthropology, which takes her understanding of basic human needs to a whole new level. Her intelligence and passion for healthy living is reflected in her written work.