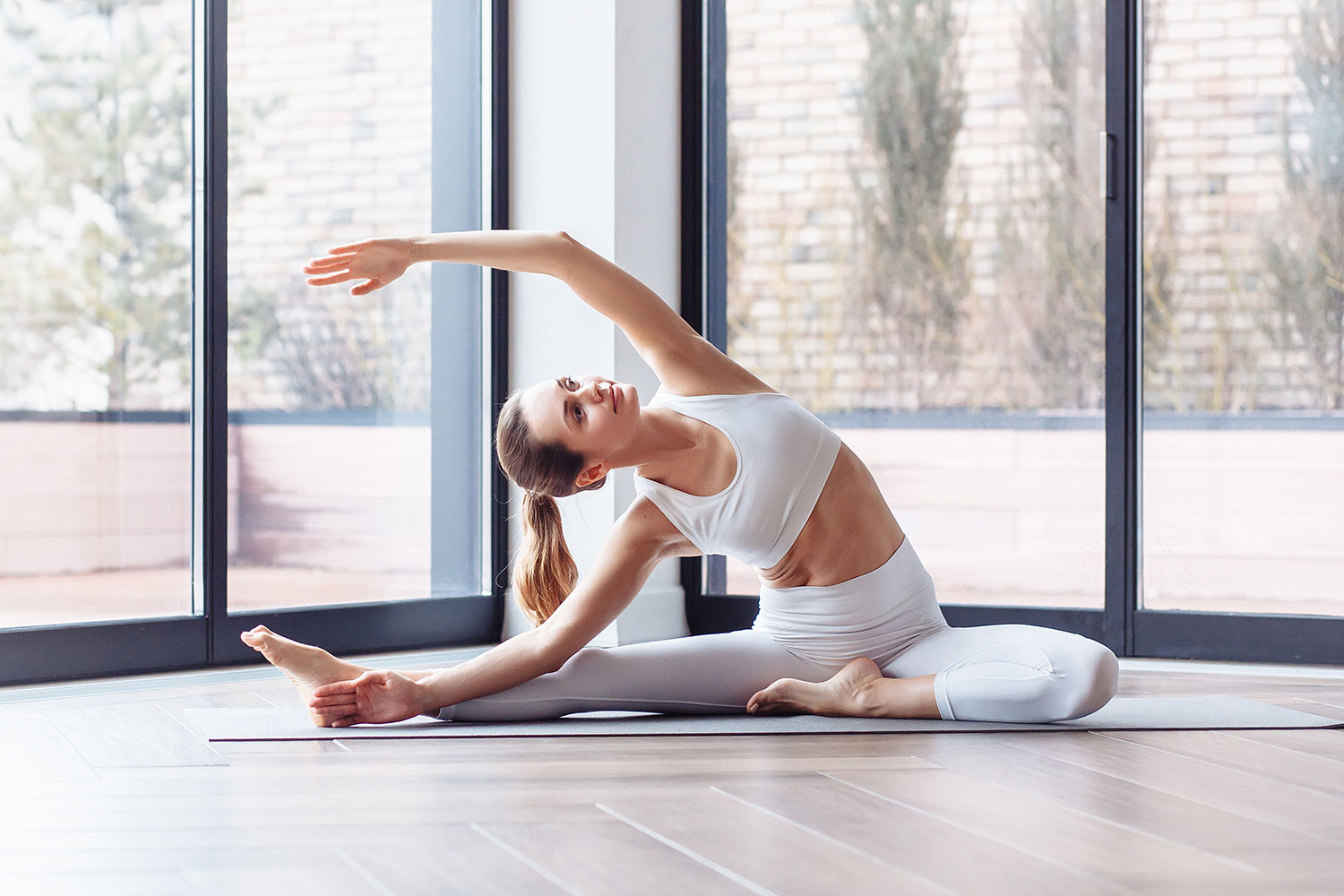 Starting a yoga practice is exhilarating—and a bit intimidating. With the wealth of poses to learn about, as well as abundance of studios and teachers available, it can be hard to know where to start. If you want to delve into a yoga routine but don't know what steps to take, follow these guidelines to work towards developing your yoga practice.
Find a Studio that Feels Like Home
If you are looking to start taking classes at a studio, it's important that you find one that feels welcoming and fits your needs. When doing your research, read reviews to see what other yoga students say about the studio. Take note of any pros the studio has, as well as any cons. As a beginner, make sure they have frequent introductory or level 1 classes so that you can be properly introduced to the practice of yoga.
Many yoga studios offer an introductory special, such as a free class or unlimited yoga for a month at a discounted price. Take advantage of these specials and try out a variety of studios and classes. It can be tricky to get a feel of the studio just from online research alone, so take some time to explore the options available to you. After spending time in a few studios, you'll hopefully be able to pick out a clear favorite that works for your needs.
Look for Online Classes
If you'd be more comfortable privately getting familiar with yoga poses before stepping into a studio, there's an abundance of online classes available. You can easily find free yoga classes on YouTube, or look for subscription based platforms that have both live and recorded sessions. Online classes are perfect for the beginner, as you can take things at your own pace as you learn the ins and outs of a yoga flow. Even if you do decide to go straight to the studio, it is great to explore your online options. These classes allow for flexibility in your schedule when you can't make it to the studio, and also help you connect with teachers around the world who may introduce you to new styles or concepts.
It's important to keep in mind that, while online classes are a great resource, you should still take in-person classes with a trained teacher. A teacher will be able to assess your practice and ensure that you are properly aligned in the poses, in order to avoid any injury and make sure you are fully benefiting from the postures. Once you've familiarized yourself with the basics of yoga and feel more confident in your skills, follow step one to find a studio in your area that fits your needs.
Start a Personal at Home Practice
Developing an at-home practice is crucial for any yogi. It allows you to take the poses you are learning in your classes and explore whatever movement is calling to you. It also teaches you to listen to your body and honor what it needs in that moment. Some days you may be called to work deep into your hips, while others you may want to develop power in your legs. Some practices may simply be about unwinding after a long day. The more you develop your at-home practice, the more in-tune you will be with your body's needs. You'll also learn your strengths and physical limitations, and be able to focus on certain elements of your yoga practice that you want to improve.
An at-home practice is also crucial because it allows you to build your confidence in your physical practice and take it wherever you go. It isn't always possible to make the time to go to the studio. Whether you are travelling or just crunched for time, a personal practice ensures that you can get a flow in wherever you are, even if it is just a quick 15 minute session.
Start with the Basic Poses
As a new yogi, it's tempting to immediately start kicking up into handstands or trying to do an intense backbend. While these are great to start working towards, it is essential that you first start creating a solid foundation.
Start to familiarize yourself with basic, foundational yoga poses. These postures will come up in the majority of classes you take, and are central in linking together poses to create a flow. It will also help you create your own personal sequences to practice at home, which you'll be able to build upon as you learn new poses. Some foundational yoga poses that you can start with are Downward Facing Dog (Adho Mukha Svanasana), Upward Facing Dog (Urdhva Mukha Svanasana), and Child's Pose (Balasana).
Also be sure to familiarize yourself with the Sanskrit names of poses (which are called asanas). Often, teachers will cue using solely the Sanskrit word for a pose. Being familiar with this vocabulary will help you focus in on your flow during a class, rather than having to look around the room to figure out what pose they are cueing. You'll naturally become familiar with these words as you take more classes, but you can help speed up your learning process by putting the effort in outside of class as well!
Try Out Different Styles
There is a huge variety of yoga styles out there. It is important to explore the different options available, as it is likely that some styles simply may not fit with what you want to get out of a yoga practice. Some of the most common styles that you will find include:
Hatha: In Hatha yoga, you hold a position for an extended period of time, allowing you to deeply stretch the body and familiarize yourself with the pose. It is slower, and is particularly focused on stillness and relaxing the mind and body.
Vinyasa: Vinyasa yoga is more focused on movement and flow. Using a breath to movement rhythm, you fluidly move from one posture to the next. While the difficulty of a class can vary, it is a particularly good option if you are looking to build strength and stamina.
Iyengar: An Iyengar yoga class will be focused on alignment above all else. Using props, a teacher will guide into a pose, which you will hold for at least a few breaths. It can be challenging for both the body and mind, but allows you to get a deeper understanding of proper alignment.
If any of these styles seem fitting for you, see what is available in the studios in your area or online, and try out a few different classes.
Beyond just trying out different styles, test out different teachers as well. The fashion in which yoga teachers approach their classes varies greatly. Some may choose to accompany the class with upbeat, popular music, while others may choose silence or soothing background nature noises. Some may assist with physical adjustments, while others may rely solely on verbal cues. Some may focus on building strength and power, while others might focus on taking it easy. The way a yoga teacher instructs has a major impact on what you get out of the class, and you will find that some fit your needs and preferences more than others. Explore the options that your studio has, and see which teachers are good fits for you.
Learn to Breathe
The physical poses are likely the first thing that come to mind when you think of yoga, but it is just as important to focus on the breath. A common breathing method you may come across in classes is ujjayi breath. This "breath of victory" is performed by breathing in and out of the nose and creating an oceanic sound at the back of your throat. It helps you focus your mind and energize your body.
Specific breathing techniques may differ from style to style (and your teacher will instruct you on what is most appropriate), but across all yoga classes, it is important to remember to keep your breath flowing and deep. This is especially important when holding a difficult posture. Our tendency is to make our breath shallow when in these more challenging poses, but be mindful of your breath and ensure it isn't being compromised. This will help you build up your stamina and hold the pose for longer.
Don't Forget the Props
Props may seem intimidating for the new yogi, but they can actually be incredibly valuable. Props can help you access poses that you otherwise wouldn't be able to fully perform. Blocks bring the ground closer to you when you can't fully reach, such as when you are in Standing Forward Fold (Uttanasana) or Triangle Pose (Trikonasana).
Conversely, they can help you get deeper into poses, such as when you can reach further than your toes in Seated Forward Fold (Paschimottanasana), or help you in restorative poses. Straps are great to bring your hands to your feet in challenging poses like Extended Hand to Big Toe Pose (Utthita Hasta Padangustasana). Always have two blocks near your mat to reach for if you need them, and consider grabbing a strap just in case. If your studio provides blankets, grab one to help cushion your knees in certain poses if they are sensitive, or to bring your hips up higher when in meditation.
Don't Skip Savasana
Savasana is typically performed at the end of the class, allowing you to completely relax your body and let go after practicing physically demanding poses. To perform the pose, you lay down on your back, let your hands go at your sides and feet splay apart, and restore your mind and body.
While savasana looks simple, it actually can be a very challenging posture. Part of savasana involves letting go of control of your mind and being in the present moment. For many of us, particularly at the end of class, we are thinking of what is waiting for us next outside of the studio, making it challenging to truly remain in the moment. It may be tempting to leave the room before savasana or not include it in your home practice, but being strict about including it in your routine will strengthen your practice and allow you to fully get a well rounded yoga routine.
Be Kind to Your Body
When starting your yoga journey, it is easy to become enthusiastic and want to advance your physical practice quickly. You may want to jam pack your week trying different styles, teachers, and studios to truly explore the potential of your yoga practice. While the enthusiasm is wonderful, it is also essential that you listen to your body. You might love an intense Vinyasa flow that you take one day, but it might be best to go for a gentler class the next to give your body a break. Have fun exploring classes, but be sure to take care of your body and not overwork it. Your body has incredible capabilities, but you can only progress towards challenging poses if you are mindful of taking care of your body as you work it.
On the same note, don't feel like you have to do a pose just because everyone else in the class is. If the teacher cues for a pose that isn't suitable for you that day, or you try it and find it is too strenuous, it is perfectly acceptable to move into Child's Pose (Balasana). You know your body better than any teacher or student in the studio, and it is your responsibility to take care of it and honor what it needs in that moment.
Be Patient
Developing a strong yoga practice takes time and dedication. It's easy to get impatient and want to be able to do any pose immediately. Pushing your boundaries can help you move into new poses, but it is vital to know when you are pushing too far. Be patient with your practice, and know that you are exactly where you are supposed to be in your journey. Focus on building up your strength, and be present in the moment, even if you aren't as advanced as you'd like to be.
As you begin your yoga journey, remember to have fun and be open to new styles and experiences. A yoga practice looks different from studio to studio and teacher to teacher, so enjoy the process of discovering new aspects of yoga and seeing where you fit into it. This could be the start of a lifelong journey, so be present and enjoy where it takes you!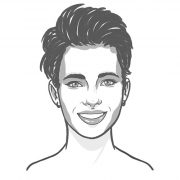 Amanda Carter
Yoga, meditation, and spirituality are at the top of the list for writer and former nutritionist Amanda Carter. This devoted practitioner enjoys writing about health and wellness just as much as she enjoys living it.