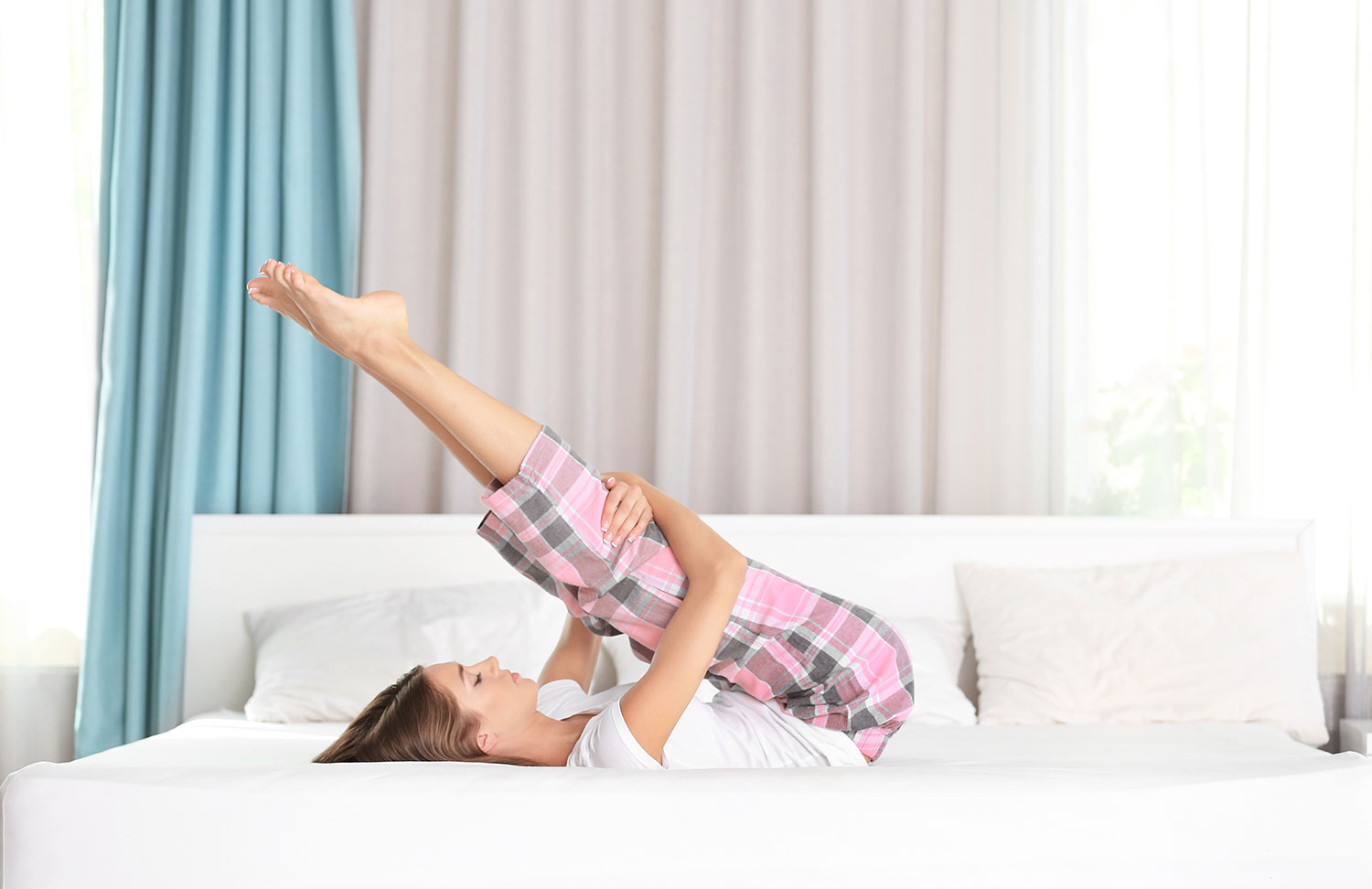 Whether you identify as an early riser or a night owl, morning yoga can bring out the bright-eyed and bushy-tailed side in everyone. Yoga sets a positive tone for the day ahead while giving your energy and metabolism a kickstart. Don't worry if you wake up feeling groggy; you can exert as much or as little effort as you want. All you have to do is roll out your mat and make your practice a priority. Once you develop a habit of getting up earlier to exercise, your body will become accustomed to this change, and you'll start to wake up feeling more energized. So before you head to the coffee pot, consider heading to your mat and taking a moment to check in. If you're still on the fence about starting an early morning yoga practice, here are eight benefits that may change your mind, or at the very least make you think twice about sleeping in so late.
Natural Energy Boost
So, what if I told you that a morning practice could reduce your need for caffeine? Good news, it's true! Yoga possesses the unique ability to provide the body with exactly what it needs; it can be soothing and delightfully therapeutic, or it can be challenging and exhilarating. Repetitive sun salutations, backbends, and twists are natural energizers without all the post-coffee shakes. Yogic breathwork that links to our movements is stimulating for the body and mind. Together, these actions further awaken our being on both a physical and mental level, providing a deepened sense of focus that carries throughout the day. From a scientific standpoint, moving the body requires cellular motion and replenishment via oxygenation. You'll feel this microscopic rejuvenation long after the coffee's worn off, so say sayonara to that pricey double mocha latte.
Kickstart Your Metabolism
Anyone who appreciates food can also appreciate a little metabolism boost first thing in the morning, so I think that includes most people. Twists are particularly beneficial for wringing out the abdominal organs and facilitating detoxification, but any posture that stokes our inner fire will do the trick. If you're feeling bloated from last night's dinner, this could be your ticket to digestive bliss. This internal massage allows for greater circulation and efficiency when it comes to absorbing nutrients from foods. That means all those green smoothies won't be in vain and every bit of goodness goes directly to nourishing our entire being.
Better Sleep
The idea of setting your alarm earlier may seem daunting, but once you make morning yoga a habit, your body will crave that early awakening. It can be tempting to stay up later for that extra episode when you don't have a reason to get up, but yoga can provide excellent incentive to hit the hay early. As you begin to adjust to this new sleep cycle, you'll notice that it's easier to fall and stay asleep, and you'll wake up feeling refreshed and ready to tackle whatever comes your way. Certain postures even stimulate the natural release of melatonin in the body, a hormone that regulates sleep patterns. While it's no secret that adequate sleep is essential to our overall wellbeing, an early morning practice is just the kick most people need to get that extra bit of rest.
Set The Right Tone For Your Day
By jumping into a new day with physical exercise, you're transmitting a message to the rest of your body that self-care is important. This line of thinking will follow you throughout the day, prompting healthy and empowering choices to flourish. The desire for wholesome foods, relationships, and activities will overpower the urge to fall back on unhealthy habits. It can be highly beneficial to set an intention before yoga and breathe it into existence throughout your practice. This intention can shape the rest of your day and deliver the motivation needed to achieve your goals. Beginning your day with yoga signifies that you're entering the day by fostering breath awareness and self-care. You could have a hundred things on your to-do list, but by setting the tone with nourishing postures and breathwork, you're more likely to handle any situation with a calm, focused mindset.
Time To Check In
Morning is a precious time where the veil between our 'being' realm of sleep and 'doing' realm of daily life is most thin. This time calls for an introspective look at our beings and allows for an inner dialogue to thrive. It's beneficial to ourselves and others that we tend to the world within before turning our energy to the world outside. It's easy to overlook what's happening inside, but acknowledging the state of our being will benefit not only ourselves but also those around by increasing our mindfulness. Rise for a new day by cultivating positivity within yourself, and in turn, your surroundings will be more positive as well.
Build A Routine
Building a solid routine tends to be most effective when performed in the morning hours. The excuses are limited, the world is quiet, and there's no space for unexpected obstacles to hijack your mat time. A sense of accomplishment and fulfillment follows disciplined morning exercise and inspires the next day's practice. In addition, planning your yoga at the same time each morning simplifies the intent of your practice while enhancing confidence for the rest of the day. Habitual early morning yoga can help create a healthy, sustainable daily routine that profoundly impacts your quality of life. That alone should be reason enough to incorporate a few sun salutations before breakfast.
Increased Mindfulness
In this bustling world, it's not uncommon for us to be actively doing one thing while our mind is somewhere far away, even during yoga. Many of us experience our thoughts running rampant amidst a busy schedule from time to time. This level of distraction leads to the creation of problems that don't exist outside our mind, resulting in increased stress and anxiety levels. When we learn to navigate through these thoughts effectively and find the quiet space below them, we've achieved a mindful state of being. This effort involves giving our full attention to the present moment and delivering mindfulness to our every action, something that yoga teaches through breath awareness. Everyone can benefit from bringing attention away from the chatter of the mind and into the present moment. The chances are that when you think you're too busy to incorporate time for yourself into a daily routine, then you need it more than you realize. Yoga promotes mindfulness by connecting us to our thoughts, emotions, and physical sensations as they relate to the surrounding world. This perception helps us realize conscious decision making from a clear perspective. Rising early for a mindful yoga practice translates to the rest of our day and inspires our efforts to live from a place of clarity and compassion.
Get Toned Up
In addition to all the mental benefits a consistent yoga practice brings, you'll notice a substantial shift in your appearance as well. Your arms will feel toned from all the chaturangas, your legs will get stronger from repetitive warrior poses, and your core will tighten as your sense of balance improves. Better yet, achieving a toned physique through yoga doesn't always mean a sweaty hour on the mat. Even when you're indulging in a more restorative practice; your body's still learning new tools for efficient digestion and enhanced metabolism. Oh, and perhaps the most significant physical change will be the bright smile lingering across your face.
Reduced Stress
Rushing straight from bed to the rest of our day is a stressful situation that many of us know all too well. Jolting the nervous system in this way doesn't do us any good in the long run, so maybe reconsider hitting the snooze button next time. Better than a few extra minutes of sleep is taking time to quietly check in with the body and connect to the breath. By taking care of ourselves in this way, we'll feel more relaxed and less likely to be affected by potential stressors moving forward. This means you don't have to worry about presenting that huge project to your boss or about the hot date you've got lined up for Friday night; you're fully equipped with unshakable confidence and a stress-free state of mind.
Fewer Aches And Pains
Yoga asks tightness to soften by stretching and releasing stored tension in the body. It prepares us for movement, or lack thereof, throughout the day by countering the strain imposed by sitting or standing for extended periods of time. If you wake up feeling creaky in the morning, this could be just what you need to shake off the cobwebs and get moving. As if that weren't enough, yoga promotes flexibility in the spine which translates as better posture and less discomfort. It brings a whole new meaning to walking tall that you'll definitely appreciate and those around you will notice.
There are no prerequisites to a morning yoga practice; you simply need to find the motivation to commit and make it a priority. This routine can change your life and inspire healthy decisions every day by bringing awareness to the actions that positively influence wellbeing. Taking the extra time each morning for yoga will empower you to tap into a centered, more peaceful existence in the present moment.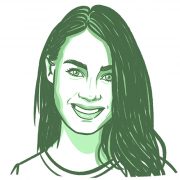 Patricia Brooks
After spending nearly two decades as a relationship therapist, Patricia journeyed down the path of writing as a vehicle for sharing her wisdom. Her work reflects a sincere interest in readers' wellbeing and is abundant with helpful advice and fascinating insight.