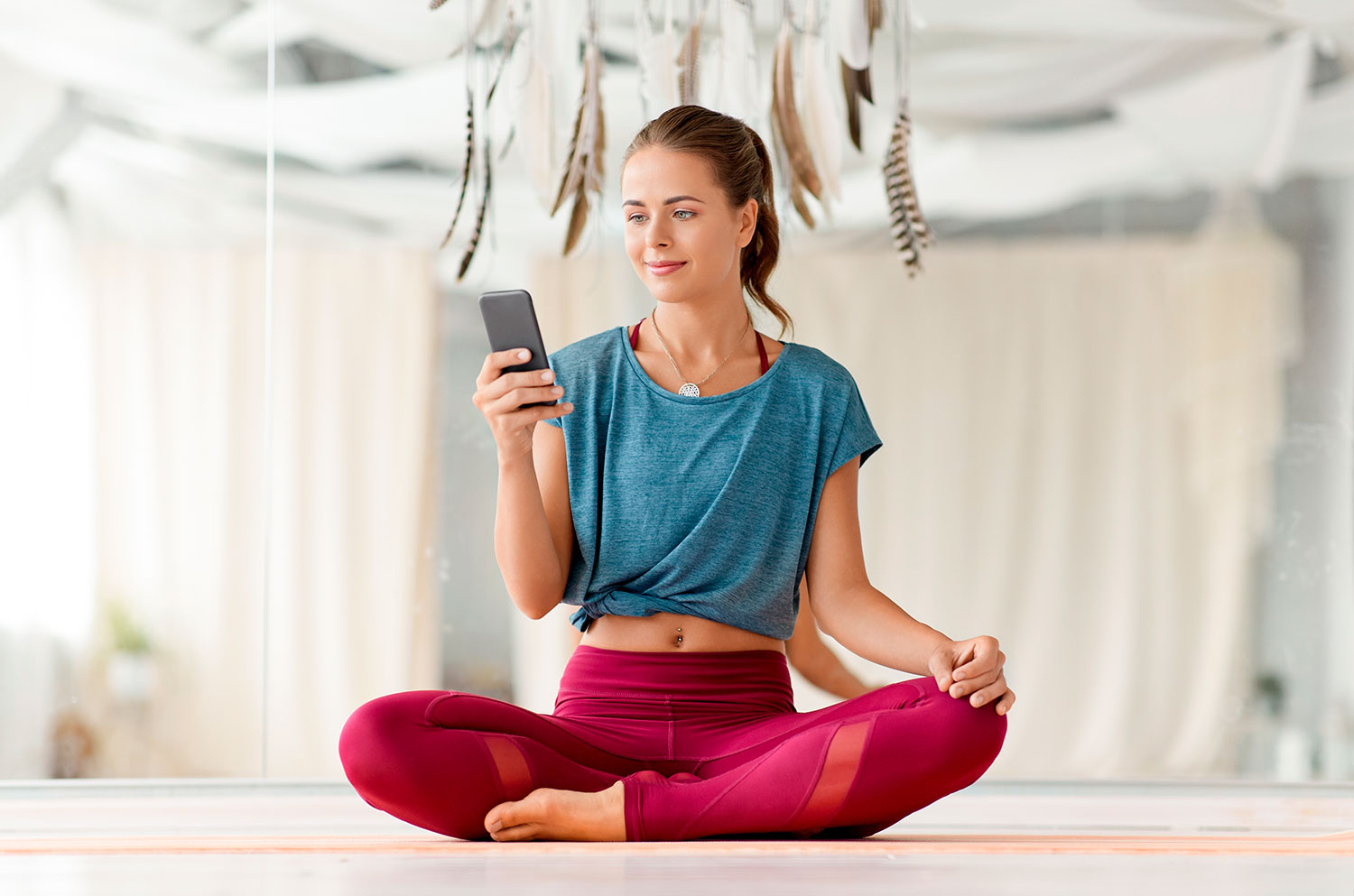 Although yoga is an age-old practice, we do live in the modern era. Our yoga studios are expertly heated, our pants have been designed with the perfect mount of stretch in all the right places, and now we have the ability to grow as a yogi just by using our smartphones. These days, there are hundreds of apps on the market that you can incorporate into your practice to help you grow and learn. Perhaps it's not exactly the idea that the gurus of the past had in mind, but there is a lot to be gained from these modern-day tools. Some of them even help you become a more mindful person in general.
Our modern lives beg for modern conveniences. With the help of these apps, its no longer a difficult task to fit in a session in your hotel room, the airport, or even at the office. However, with so many options, it can be hard to know where to start. Let's dive into some of the best apps out there to help you become a better yogi!
Available for iOs; free
MindBody has become one of the major scheduling apps for the wellness industry, and for good reason. It allows students to easily locate classes nearby and compare schedules, locations, class type, and more. You can schedule your classes right from the app and organize your routine. This is perfect for anyone who needs a little help with organizing their busy schedule and making time for yoga. Perhaps you are new to an area and want to check out the local studios? Mindbody makes finding your next class easier than savasana!
Available for iOs; $4.99
Office Yoga Pro is the perfect app for the professional yogi. This app provides a helpful encyclopedia of poses that are adapted for use in an office setting – at your desk, in your chair, whatever you can make work in your office setting. If you have trouble making it to class due to your busy schedule, OfficeYoga keeps your practice on track and provides a little relaxation and stretch for your workday. The aim of Office Yoga Pro is to help relieve office-related stress and prevent many of the health issues that come from long hours at the office.
Available for iOs; $0.99
The perfect travel companion. Airplane Yoga helps you keep on track with your yoga practice even while traveling. It offers helpful tips for staying stress-free and mindful during your travels, at the airport, and even in the air. This app is perfect for anyone who needs a little help keeping up with their yoga when they're adventuring, and is especially good for the nervous traveler or flier.
Available for iOs; $4.99
The breath is such an important part of any yoga practice, yet few of us really spend the time to master these techniques – and it can make for huge improvements in your advancement as a student of yoga. Universal Breathing – Pranayama makes learning and practicing breath work amazingly easy and fun. There are animated videos to help you grasp concepts and also ways to track your progress. This is a great app for anyone looking to deepen their practice and develop their pranayama. For the dedicated yogi, check out their app bundle which includes yoga series for several different health issues.
Available for iOs; $4.99
YogAmazing is the perfect way to access yoga sessions at your convenience. If you are someone who struggles to find the time for a full hour long class or don't have access to a yoga studio in your area (or the schedule to make it in!) this app is a great alternative for you. Choose from the large library of 25-minute videos and you have a complete yoga class right at your hands. Mix and match sessions to fit your needs for the day. This app is a great choice for those who are often on the go or prefer a home practice.
Available on iPad; $5.99
This app is for those yogis who want to delve deeper into the ancient writings and chanting of yoga. Patanjali's Yoga Sutra provides us with the original writings of the Yoga Sutras – both in the original Sanskrit and English. This is a unique look into these ancient writings and even comes with commentary and explanations by renowned TKV Desikachar and chanting by his daughter, Mekhala Desikachar. Each sutra is described in both the classical and simplified versions. This app is ideal for anyone interested in understanding the classical approach to yoga and delving into the ancient writings and nuances of the Yoga Sutra.
Available for iOs; $1.99
This app is developed by the New York Times Bestselling author, Angela Liddon. Angela provides healthy, plant-based and vegetarian recipes, all complete with stunning food photography to make your mouth water. This is an amazing app to inspire your healthy meal planning and post-yoga snacks. Eating clean is a huge benefit to your whole body, but it will improve your focus, strength, and stability both on and off the mat.
iVedaAvailable for iOs; $4.99
In addition to creating some healthy recipes, you may want to enhance your yoga practice by trying out some Ayurvedic remedies. Ayurveda is the ancient medial system of India that is still in practice today. It focuses on holistic and natural treatments and fits perfectly within the system of yoga. Use iVeda to search simple remedies, diet recommendations, or even lifestyle advice.
Available for iOs; $0.99
As yogis, we love to have an attitude of gratitude. We often speak about it in class, on our mats, or dedicate our practices to something we are grateful for. This is a habit that is extremely beneficial to take off the mat as well. Gratitude Journal has made it incredibly easy to track the things you are grateful for in an easy, daily journal. You can even take photos or pin quotes to your journal. Set reminders and practice gratitude daily. You'll be surprised how much you have to be thankful for!
Available for iOs; free – $1.99
Deepak Chopra has long been recognized as one of the most influential teachers and mentors on natural health and wellbeing. His expertise in meditation can now be found in a series of apps that you can take with you anywhere. Check out his 21-day Meditation Experience, Daily Ayurvedic Tips, or Living in Love to complement your yoga practice and lifestyle
Available for iOs; $0.99
We all need a good night's sleep to do and feel our best. Sleep Cycle helps us do just that by tracking our sleep habits and sleep-wake cycles. You can check how well you are resting each night and take note of anything that may be creating more troubled sleep patterns. Sleep Cycle also includes a intelligent snooze button that helps to wake you up at the best time to avoid that groggy feeling that comes from waking up in the middle of a sleep phase. This app is recommended for anyone! But could be particularly helpful if you have trouble sleeping or would like to start a morning yoga habit.
Available for iOs; $2.99
Yoga Studio is just what it says – a portable, pocket-sized yoga studio ready for you at any time. The app provides tons of classes from the beginner to the advance yogi. The classes are smooth and easy to follow. Have trouble making time for yoga? Yoga Studio can even schedule time to zen out right into your calendar so you won't miss a session.
Available for iOs; free, subscriptions available
If you are looking for a way to really get on track with a meditation habit, look no further than Calm. Calm has guided meditations, sleep stories, nature sounds, breathing timers, and daily reminders to keep you going. Take one of their 7-day challenges, do a walking meditation, or track your daily meditation minutes. Meditation can be a life-changing habit and one that benefits your yoga practice immensely.
Available for iOs; $9.99
Have you ever wanted to understand more about what is happening in your body during the different asanas? 3D Yoga Anatomy is one of the best resources to get a deeper understanding of each yoga pose and how our bodies move. This app provides easy to understand, detailed illustrations and thorough explanations of each pose and the most effective way to master them. This app is great for any student who wants to really understand the asanas better, the science-minded yogi, or anyone on track to becoming a yoga teacher.
Develop Your Practice With Technology
There is no shortage of yoga apps these days to help us be out best selves. These 14 apps are just a beginning to the wealth of information out there, available right at our fingertips. Try a few out and see what suits you and your lifestyle the best.
Whether you are a seasoned yogi or brand new student to the practice, there is an app out there to help you develop. Busy schedules, frequent travel, or lack of time are no longer problems for the modern yogi. These apps and more can help you practice anywhere, schedule home practice, find local classes that fit your schedule. Others will help you to create healthy habits like meditation, meal prep, and restful sleep that will not only benefit your yoga practice, but will carry over and improve your entire life. With all of these helpful aids available in our pockets daily, there's no reason not to take advantage of these game-changing tools.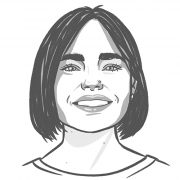 Jacqueline Roberts
Paving the way for yogic living in Nebraska, Jacqueline Roberts is adored by her students as a constant source of support and inspiration. A knack for writing allows her to share what she has learned with the world.