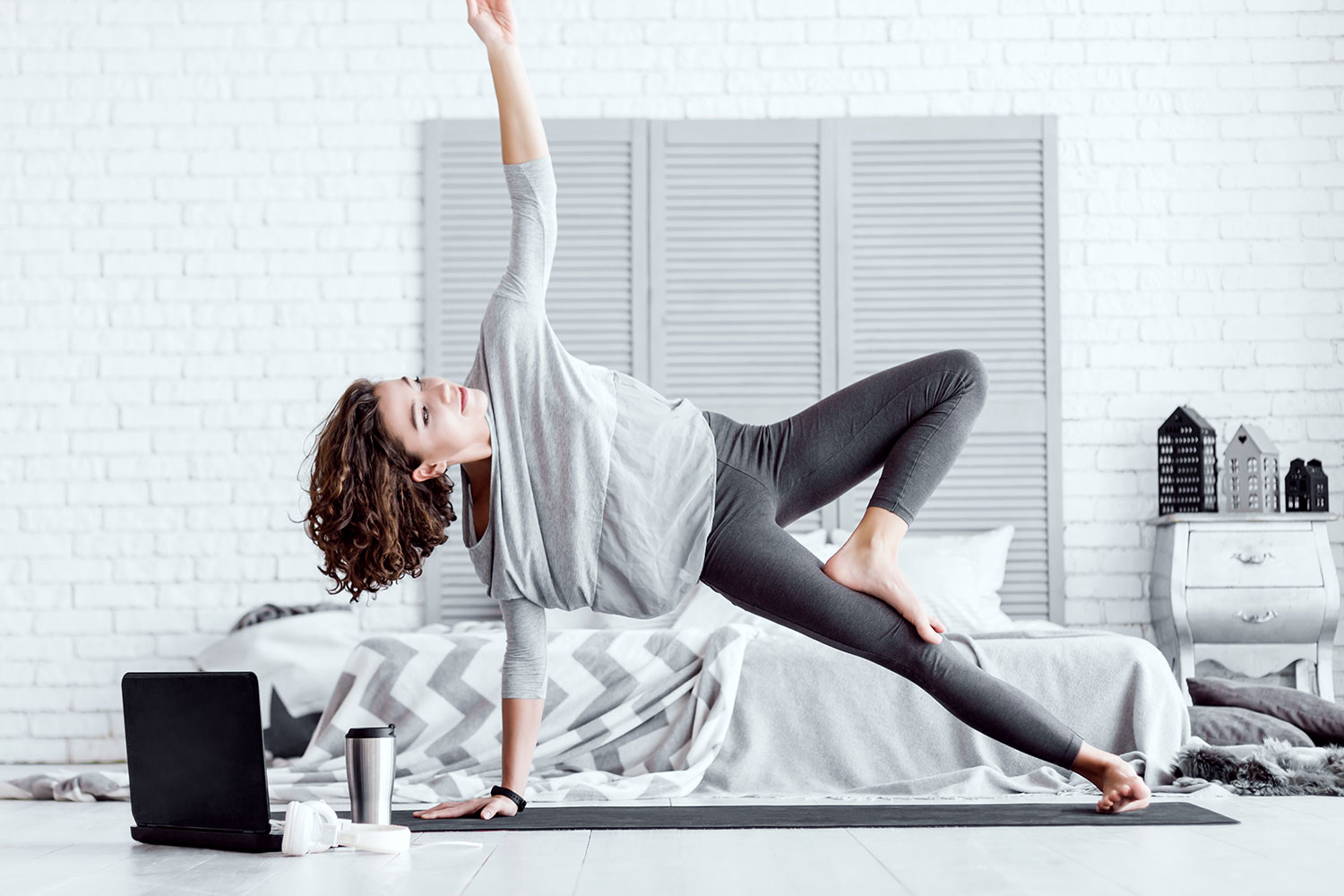 Have you ever wondered why exactly you feel so good after doing yoga? The effects of yoga on your brain are actually pretty complex. There have been hundreds of studies done showing what happens to your brain chemistry when you're under stress and what happens when you alleviate that stress with yoga. In fact, Yogis have been touting these benefits for centuries, but Western medicine is now stepping up to the plate and providing real scientific evidence to back up the claims.
And while everyone knows yoga is relaxing, the benefits actually go way beyond stress relief – people who practice yoga are able to activate different parts of their nervous system, develop different types of tissue in their brain, and set off a chain reaction of chemicals that uplift your mood.
This Is Your Brain On Stress
The term "stress" is used pretty casually in modern society. No one blinks an eye if you talk about being stressed out by your commute or the demands of work and family life. However, the impact of stress on your body is a serious issue. Thankfully, yoga, breathwork, and meditation are scientifically proven to address chronic stress.
Believe it or not, the stress hormone cortisol can actually kill your brain cells! According to an article by Be Brain Fit, cortisol triggers a surplus of the neurotransmitter glutamate. Glutamate, which is an unattached oxygen molecule, creates free radicals which can punch holes in brain cells causing them to die. Also, many people have heard that free radicals are what is responsible for causing and spreading cancer in your body. Additionally, when you're stressed out you weaken the electrical signals in your brain that help you process emotions and remember things (like where you parked and when that deadline is!)
Practicing Yoga Decreases Cortisol
One massive benefit to practicing yoga is that it dramatically decreases the hormone cortisol in your brain. Cortisol only appears in the body when you're stressed out, and it lights up the part of the brain known as the amygdala. This is the part of your brain that controls fear. It also shrinks the pre-frontal cortex, which manages self-control and discipline. So when you're stressed out, you're more likely to make poor decisions that are rooted in fear.
But, when you practice yoga, cortisol levels instantly drop and your stress levels will lower in turn. Stress and mental illness often go hand in hand, and in 2005 German researchers conducted a study where they discovered participants with diagnosed mental illnesses "felt less stress and less fatigue after three months of regular yoga classes." However, don't think you have to commit to doing a full three months before you see any differences. In that same study, the researchers tested the participants saliva after just one yoga class and found they already had decreased levels of the stress hormone in their system.
Feel-Good Chemicals Increase
The good news is that in addition to lowering cortisol, yoga also gives all of those yummy feel-good chemicals in your brain a massive boost. Yoga is actually considered an effective natural treatment for anxiety because of how much it raises your brain's GABA levels. GABA is short for a neurotransmitter called gamma-aminobutryic acid, otherwise known as you're brain's preferred way of triggering relaxation. Anxiety comes about when the neurons in your brain are rapidly firing but GABA can help you calm down naturally.
And while it's true that any type of exercise can help you de-stress and release anxiety, a 2010 study by the Journal of Alternative and Complementary Medicine found that doing yoga actually releases more GABA than walking. In the same study, they also found that yoga is scientifically more calming than reading or other modes of relaxation. The key could be the different elements that are usually incorporated into a yoga session – including breathwork, meditation, and mindful movement.
Doing Yoga Makes Your Brain Grow
One of the most fascinating studies that's been done on a yogi's brain was conducted by the National Center for Complementary and Alternative Medicine by researchers Chantal Villemure and Catherine Bushnell. The researchers used MRI scans to map participant's brains before and after they did yoga. The routine done by the participants was what's typical in a Western yoga class. They did 70% of the class focused on physical asana, 20% in meditation, and 10% in breathwork.
They discovered that the participants' brains actually grew in size with more hours of practice per week. The growth happened in areas like the hippocampus and somatosensory cortex. The hippocampus is the part of your brain responsible for controlling stress and anxiety and the somatosensory cortex is responsible for a mental map of your body.
Other parts of your brain that develop more from practicing yoga are the superior parietal cortex, visual cortex, precuneus cortex, and posterior cingulate cortex. These parts of the brain control your concentration, focus, and sense of self. That means it's a wonderful activity to do if you're self-conscious about your body or have a lot of brain fog. And it might be a good fact to bring up if you're trying to convince your boss to subsidize your yoga classes!
Gray Matter Density Changes
Most people go their entire lives without thinking about the different parts of their brain's anatomy. However, recent studies about the effects of yoga on your brain have shed a ton of light on ways you can improve your brain function. One very interesting fact was brought up at Massachusetts General Hospital when Harvard researchers observed the effects of mindful meditation.
If you've ever practiced mindful meditation, you're probably not surprised that the practice actually changed the density of participants brains. The tissue growth was focused in a part of the central nervous system known as gray matter. This part of the brain controls all of your perceptions, such as sight, hearing, and memory. The research conducted proved that you can feel the effects of those changes within eight weeks of mindful meditation practice. Amazingly, many mindful meditation courses can be found online for free! It's thought that those who partake in the meditation practice are measurable more self-aware and compassionate.
More Cortical Folding In Your Brain
In this article for Bustle, author Gina M. Florio describes cortisol folding as a phenomenon that happens in the cerebral cortex area of your brain when you do yoga. The process, otherwise known as gyrification, increases your ability to process information. In short, cortical folding helps you stay alert and make better decisions. It may even offset age-related thinning of your brain cells, and help you develop your dreams into tangible psychological revelations.
You Get Smarter As Memory Improves
It might sounds a little crass, but people who do yoga are actually smarter! Doing yoga is proven to increase your brain function – according to this article by Real Simple, "a short, 20-minute Hatha yoga session might improve focus and information retention." Researchers at the University of Illinois proved this after comparing two focus groups – one that did yoga and another that did aerobic exercise. Those that did yoga were able to focus their mental resources better and process the information they were learning at a faster rate. Yet again, it's suspected that this is due to the action of syncing your body's breath and movement and following the exercise with a bout of meditation.
Your Parasympathetic Nervous System Is Activated
If all of this research isn't impressive enough, consider the seemingly basic fact that doing yoga actually switches your brain from being in fight-or-flight mode to a real relaxed state. This counter state is sometimes referred to as the "rest-and-digest" mode. Stress, trauma, panic, fear, anxiety, and any other feeling that makes you feel like you're in danger activate the fight-or-flight state (otherwise known as the sympathetic nervous system). When you practice yoga, the body releases it's grip on that way of being and switches into a more relaxed state (the parasympathetic nervous system). When you're in the rest-and-digest state, your brain is the first part of your body to relax.
Then, a whole chain of events takes off in your body. According to this article, yoga flushes blood to your endocrine glands, digestive system, lymphatic system, and on top of all that your heart rate lowers and your blood pressure drops. Additionally, those that practice yoga regularly are able to control this process on and off the mat with more ease. According to this study mentioned by NBC News and Elite Daily, the effects of practicing yoga contribute to a sense of being calm yet alert, which means your daily practice can help you relax yet stay awake! So whether you're suffering from a real mental illness that impacts the chemical structure of your brain, or want to release from the stresses of everyday life, yoga has been scientifically proven to help change your brain.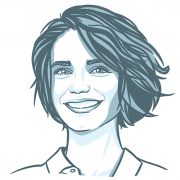 Rebecca James
Having been a teacher's assistant at over 50 yoga teacher trainings worldwide, Rebecca Rebecca has a firm grasp on the fine art of yoga and meditation. In her work, she carefully reflects on a vast expanse of knowledge to help others find peace in both body and mind.