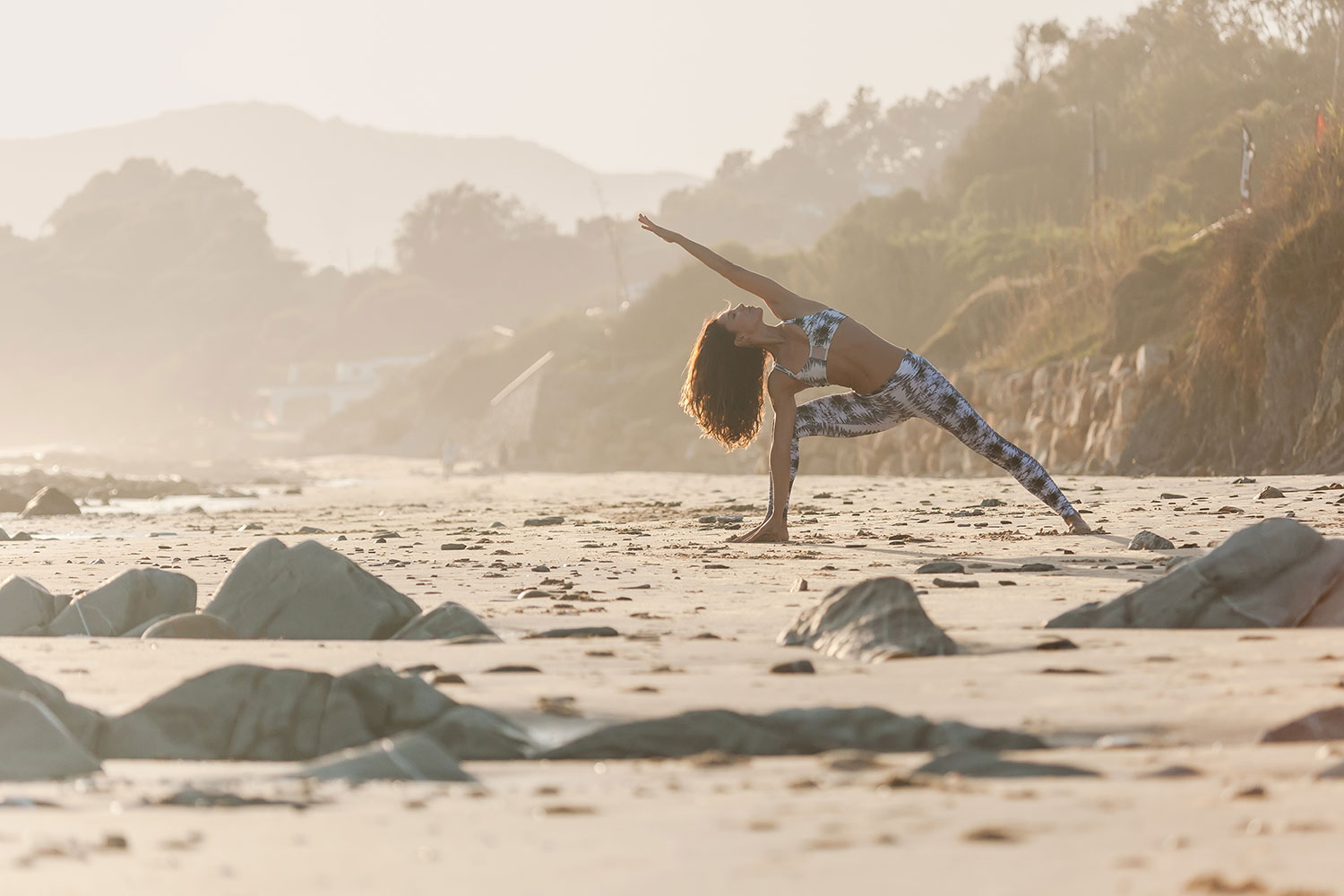 Yoga helps the body become stronger, leaner and thinner. Poses can help to speed up the metabolism and circulate blood through muscle groups. This helps to reduce weight. Daily practice has the best results for noticeable weight loss. Yoga helps to burn calories, increase heart rate and balance the body systems. On a mind-body level, yoga can help to lose pounds by increasing mindfulness and self control. This means that you might become more careful about what you eat.
By toning and building muscle, yoga helps to increase the daily amount of calories burned. Fitter, toned muscles require more calories and this helps to reduce overall weight.  Studies show that adults who do  yoga will lose 5 or more pounds, and prevent gaining more weight.  It eases symptoms of stress which can cause poor dietary choices. Yoga helps with weight loss in many different ways, giving you a reason to want to wear tight fitting yoga clothes all of the time. Yoga, when combined with a dietary program, is proven to help with losing weight. Obese women were shown to have lower body fat counts when practicing yoga. Both slow and fast yoga styles can yield significant calorie burning results.
Suyra Namaskar — Sun Salutation Pose
If you do 12 sets of Surya Namaskar in 12 to 14 minutes, that translates into more than 200 yoga poses. Waking up early and exercising helps set the tone for the day and can help you to lose weight. The sun salutation series is a full body workout. It targets the heart, arms, back, chest– you name it! It also helps to balance the body's digestive system and the organs involved in it, to bring overall health and well being to the body. Surya Namaskar is estimated to burn more than 400 calories when performed correctly. This makes it the go-to yoga series for people who want to be thinner.
Natarajasana — Dancer Pose
Dancer pose is also known as King Pose or Natarajasana. This pose helps improve balance and the strength of the core. It works the organs that are associated with digestion to help promote better metabolism. This pose is one of the easier poses to do, and it looks beautiful when performed correctly. Perform it on both sides for the ultimate benefit for weight loss. Try to hold the pose for up to a minute on both sides. You can also attempt variations depending on your flexibility. Remember to try and keep the bottom leg completely straight and your shoulders in a straight line when performing this pose.
Utthita Parsvakonasana — Extended Side Angle Pose
Utthita Parsvakonasana helps stretch the sides, arms and core. You can observe losing inches of fat (if you have it) from your torso and your arms. The thighs, hips and legs are stretched and can be helped to return to normal volume with this yoga pose.  Another benefit is that it boosts stamina and enhances energy. Perform this pose for up to a minute on both sides. Possible variations are to loop the arms around. You can also use a strap if it helps.  This pose helps open the center of the body and activate the energy channels for overall weight loss results.
Halasana — Plow Pose
Halasana is known to boost mood and stabilize the nervous system. BKS Iyengar says that regular practice of Halasana results in vigor, strength, joy. The major action of bringing the head over the legs helps to compress stomach fat. It tones the muscles and encourages the metabolism to increase. Doing this pose works the lower abdomen, glutes and core muscles. Your legs will be worked out as well and it will develop strength and balance
Sarvangasana — Shoulder Stand Pose
This pose is known as Sarvangasana, which translates to "entire body parts pose" BKS Iyengar described this pose as the mother of all poses. It's recommended to be performed every day to see health benefits from the fingers to the toes.  Shoulder stand is an intermediate pose that needs to be performed correctly. This pose helps to build strength in your arms and core. It burns about 2.73 calories a minute. It treats different health conditions and promotes happiness and harmony in the body. It treats insomnia, promotes digestion and gives vigor and strength to the body.
Ardha Chandrasana — Half Moon Pose
Half moon pose requires strength and balance. It strengthens and tones the sides of the torso, arms and legs. Half moon pose should be held for up to a minute on each side. It helps to build endurance, and it lengthens the body. It creates a stretch throughout the length of the body. Performing half moon pose also can help to aid digestion. It's also a great pose to practice for stress relief. Depending on your ability level, bend your legs or keep them straight. It's useful in teaching us the journey to better health is more important than immediate results.
Paripurna Navasana — Boat Pose
Boat pose is also known as Naukasana. It is an intermediate pose that works the core muscles. It specifically targets the fat in the belly, and by regularly practicing this pose you'll see the inches melt away. It requires strength in the abs and the back. For a beginner variation on boat pose, you can slightly bend the legs. The more advanced posture requires that you straighten the legs. Try to hold boat pose for up to a minute if you can. It is said to improve the functioning of the liver and kidneys as well which can detoxify the body and lead to weight loss.
Anjaneyasana — Crescent Pose
This position is also known as low lunge pose or crescent lunge pose. It is a deep stretch for the chest, arms and groin. The glutes are activated in this pose. Crescent pose has other health benefits like stretching the legs and helping with removing tension in the lower part of the body. It is energizing for the spine and can help you to develop humility and compassion. Crescent pose tones the liver and kidneys which are important in the body's detoxifidog process. It also is helpful in treating coughs and sore throat.
Vrksasana — Tree Pose/Willow Pose
Tree pose is one of the first balancing poses that yoga practicers learn. If you learn to balance in your body then the weigh can be balanced throughout your body. It provides strength and toning to the calves, legs, glutes and torso.  Once you have mastered this, try Willow Pose. This more advanced posture is difficult to pull of at first, and it is fun to perform once you learn it. Try to hold the pose for one minute on each side. It helps to slim the body and eliminate fat from the sides of the abdomen.
Uttanasana — Standing Forward Fold Pose
This pose is great for stretching and helping to improve circulation in the body. It is also known as uttanasana. Standing forward bend helps to stretch the spine and eliminate accumulated tension. This pose can help to eliminate accumulated fat around the waist and stomach. It helps to create a flexible body. Uttanasana stretches the muscles of the back and spine, where excess weight can accumulate. It helps to boost the metabolism as well.
Vasisthasana — Side Plank Pose
Side plank is an intermediate pose that requires strength and balance. It is also called Vasisthasana . Practicing side plank can help you to lose weight, especially in your obliques, sides, and stomach. Hold the side plank for a minute on each side.  It targets many muscles in the arms and the sides. This position can help to encourage endurance. It also will support better posture. Try to hold side plank for up to a minute on both sides. Start off with 30 seconds if this is too difficult. Extend your arm in the air, and balance on one hand and one foot to perform the posture correctly.
Utkatasana — Chair Pose
Chair pose is called  Utkatasana . It lengthens the arms and helps to give strength to the thighs and legs. This pose can boost blood circulation and helps to encourage a healthy metabolism. This pose strengthens the legs and the ankles. You bring your center of gravity down and can help with balance. Chair pose helps to stretch the shoulders and to open the chest. You can build heat in the body which can have fat melting results.
Trikonasana — Triangle Pose
This is the go to standing pose in many yoga practices. It is also known as trikonasana. This position helps to build strength, stamina and endurance in life. Try to hold it for up to two minutes on each side. Physically, it strengthens the core and the arms. You might open up your lungs and experience better breathing. It's known to help shed fat from the stomach, hips, and legs. You can use a block if reaching the floor is difficult.
Urdhvamukha Shvanasana — Upward Facing Dog Pose
Upward dog helps to build muscle tone and to promote metabolism. The Sanskrit name for it is Urdhva Mukha Svanasana. It strengthens the spine, abdomen, hip flexors and arms,.You can use a blanket to help to support the legs. It helps to relieve fatigue and can help lift the mood. Upward dog strengthens the back and provides a stretch in the entire torso.
Virabhadrasana I — Warrior I
The Sanskrit name for Warrior 1 is Virabhadrasana. It strengthens the back, arms and leg muscles. Warrior 1 builds endurance, and used with the other warrior poses can help to build strength and stamina. You'll also experience better flexibility and balance after practicing this pose.
Yoga asanas have been used for centuries for better health and weight loss. There are many poses that can build muscle, increase metabolism and help to burn fat. After about 90 days of practice you'll see that you lose weight.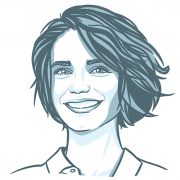 Rebecca James
Having been a teacher's assistant at over 50 yoga teacher trainings worldwide, Rebecca Rebecca has a firm grasp on the fine art of yoga and meditation. In her work, she carefully reflects on a vast expanse of knowledge to help others find peace in both body and mind.