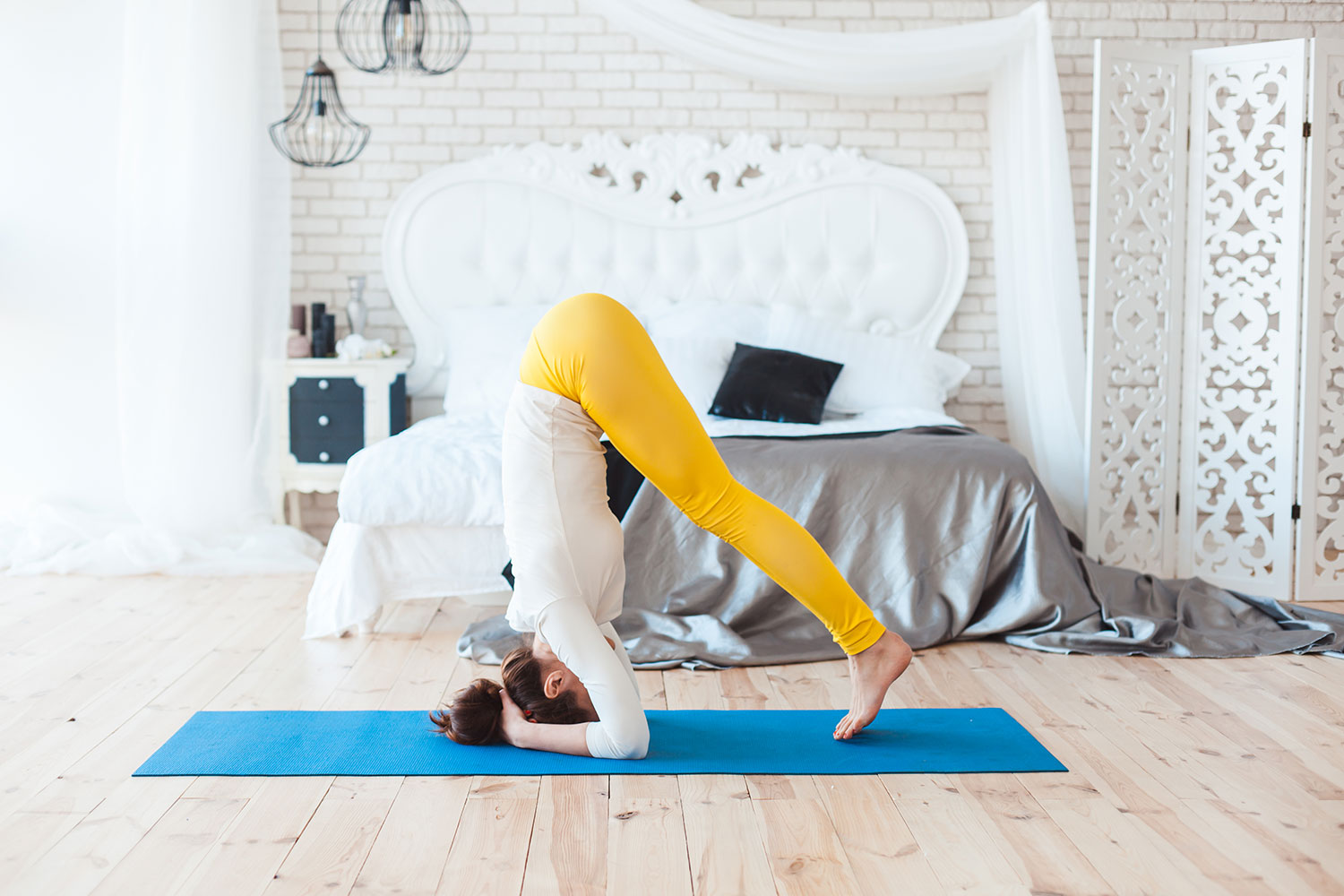 Starting a home yoga practice is the first step on a journey to deepening your connection to both yoga and yourself. Once you take your practice into your own home you will truly be able to hone in on your own personal practice, without the distractions of being in a public environment. There are many reasons to practice yoga at home, but for many people it can be difficult to know where to begin. How long should you practice? How do you know what poses to practice? How do you focus? How do you commit? How often should you practice? There are countless questions you may have when you are first starting a home yoga practice.
What Makes a Home Yoga Practice
When you are first starting out, it can sometimes be confusing to know what people are referring to when they talk about 'home yoga practices.' What does this mean? In reality, a home yoga practice will look very different from person to person. The way your home yoga practice looks depends on factors such as what style you enjoy, your physical capabilities and preferences, what limb of yoga you are focusing on, how long you have been practicing, how busy you are, and countless other personal factors. In essence, though, a home yoga practice refers to any kind of yoga that is practiced at home – not in a studio or gym with other people. It is often a solitary practice, although some people may enjoy listening to DVDs or audio classes, or inviting a friend over. Even for the same person, a home yoga practice may look different day to day and year to year. Ultimately, your home yoga practice will grow and evolve with you.
Benefits of a Home Yoga Practice
Some people wonder why they should develop a home yoga practice when they can get the expertise of a yoga teacher in a public class.  Going to public yoga classes and having a home yoga practice are not mutually exclusive. However, there are certainly benefits to a home yoga practice that you won't necessarily find from a public class.
Benefits of a home yoga practice include regularity, convenience, freedom, creativity, and more. It is necessary to deepen your yoga knowledge when you practice at home –you must learn certain poses, breath counts, and more. This will lead to increased confidence in your practice, as you rely on yourself rather than a teacher. In time, this confidence will transfer off the mat. The ability to practice at home also leads to a more regular practice –you can practice when and where you want, rather than relying on going to public classes. This means you can continue your practice during travel or busier times of life. Also, there is more spontaneity and creativity involved in a home yoga practice. You can choose the sequence of poses that feel right for your body in the moment, rather than being told what to do. Over time, this will bring you closer in tune to your own body's needs. There are also practical benefits to a home yoga practice, namely that it is more financially sustainable. It is free to practice on your own, and you may save money you'd otherwise spend on expensive public yoga classes.
Challenges of a Home Yoga Practice
Despite the aforementioned benefits of a home yoga practice, there are certainly challenges that must be faced before reaping these benefits. Without the motivation of a scheduled class or teacher telling you what sequence to practice, you may find it hard to get on the mat. Even if you do occasionally get on the mat at home, it can be challenging to maintain a regular practice. Oftentimes, people are motivated by the expectations of others, such as their yoga teachers or friends they go to yoga classes with. When you are relying on yourself, and you are the only one who is getting let down by not getting on the mat, it can be difficult to find motivation. In these instances, you must acknowledge the root of your lack of motivation, and decide that you are worthy of getting on the mat. Another barrier when it comes to starting a home yoga practice is a lack of knowledge. It is helpful to have a basic knowledge of yoga poses (asanas) and philosophy before you begin a home yoga practice. Otherwise, the whole experience can be very overwhelming.
10 Tips for Starting a Home Yoga Practice
The following tips will help you if you are struggling with starting a home yoga practice. From knowing where to begin, to knowing how to maintain a home yoga practice, it can be a daunting experience. However, when practiced regularly, a home yoga practice can also be one of the most valuable tools for getting to know yourself and deepening your connection to yoga.
Your Practice Can be Short
So many people are afraid of starting a home yoga practice because it seems like a monumental commitment. The truth is, though, a home yoga practice doesn't need to consist of an hour or hour and a half long sequence of poses, the way a public yoga class does. In fact, the flexibility and lack of time commitment is one of the beauties of a home yoga practice.
Start where you are: Don't limit your experience with the idea that you need to meet some external goal. Let the internal and external training and churning and transformation happen authentically and in their own time. Shiva Rea
Instead of aiming for an hour long practice straight away, instead let yourself start with a five minute practice in the morning or before bed. From here, build your way up to ten or fifteen minutes. Some days you might feel up to that hour long practice, and other days you might not. It's okay either way. What matters is that you are kind to yourself.
Set Up a Routine
Set up a routine that supports your home yoga practice and your ability to maintain it. For example, if you make a commitment to practice yoga in the evening every day for 30 days, it will be a lot easier to continue this practice than if you just say "Oh, I'll practice when I have time." Without that commitment to routine, you may keep putting your practice off. Another way to build the habit of a home yoga practice is to pair it with another routine. Chances are, you have a morning routine that involves getting out of bed, getting dressed, brushing your teeth, etc. Add your yoga practice to this existing routine. For example, commit yourself to getting on your mat for five minutes immediately after brushing your teeth in the morning. You will probably not forget to brush your teeth, which will help remind you to get on your mat.
Create a Sanctuary
Build yourself a sanctuary for your yoga practice that you want to return to. If you feel stressed by your surroundings, chances are you will want to avoid them and will find it difficult to stop for an extended yoga practice. Instead, choose a corner of your home that is tidy and sparse. Maybe light some candles, use sage, or place an aromatherapy diffuser nearby. Some people also like to build shrines, for example with small meaningful statues or mala beads. Create your own personal sanctuary that will make you want to come back to your mat again and again.
Learn the Sun Salutations
Have you ever gotten on your mat for a home yoga practice, and had all the yoga poses you know fly out of your head? Often times when we go to public yoga classes, we are functioning on autopilot. You may be living in the moment, following the yoga teacher's commands, but not necessarily absorbing and remembering the poses post-class. This can obviously be problematic if you are trying to start a home yoga practice.
In my dream world, students would know that there are techniques they need to understand before they approach a more challenging or fluid practice. Seane Corne
The simplest and most essential sequences to know are the sun salutations. Sit down and memorize this sequence –you can even write out the sequence and have it on a piece of paper in front of you while you practice. Once you learn this sequence by heart, you can build many other yoga sequences off of it. You will always have a way to begin your practice and poses to fall back on
Utilize Online Resources
Give examples of online resources to support yoga practice such as articles, blogs, YouTube, video courses, and more.
If you are stuck on choosing a sequence to practice at home, want to try something different, or don't yet feel prepared to lead your own private practice, don't worry. You can still have a home yoga practice by utilizing the wide variety of online resources and tools. You can use articles or blogs to inspire a sequence or intention. You can also use YouTube videos, DVDs, online courses, or podcasts if you want the feeling of a teacher 'in the room' with you. There are so many tools out there to explore when it comes to using online resources in your home yoga practice.
Savor This Time
Being able to practice yoga at home is a gift. Let yourself truly savor this time. Soak up your practice and cultivate gratefulness for the opportunity to move your body and deepen your spiritual connection to the world around you. Eventually, this will help you associate positive emotions with your home yoga practice, helping motivate you to regularly practice.
Prepare
Preparing for your home yoga practice the night before will make it that much easier to follow through on your commitment. Simple preparation acts such as leaving your mat out in your sanctuary space, setting out yoga clothes the night before, and blocking out time in your schedule can make a big difference. The more you've prepared in advance, the easier it will be to get on your mat instead of making excuses when the time comes.
Let Go of Perfectionism
Your home yoga practice doesn't have to look like the public class you go to with a professional yoga teacher. It doesn't have to look like the yoga videos on social media. In fact, it shouldn't. Your home yoga practice is a gift because it is a time to be messy, alone, playful, and truly get to know yourself. Once you let go of the ego's desire for perfectionism, you will find it much easier to get on your mat for your home yoga practice.
Commit to Yourself
A home yoga practice is a commitment to yourself. By practicing yoga at home, you are making a statement that your Self and your wellbeing are worth it. So, when you don't show up on your mat when you told yourself you would, you are sending the opposite message. Compare this to making a commitment to meet a friend at a public yoga class. Chances are, you wouldn't let your friend down by not showing up to the class with them. Why should you treat your commitments to yourself any differently? Treat yourself with the value and respect you deserve, and honor your commitment to yourself in maintaining your home yoga practice.
Play with Props
You can infuse some fun and play in your home yoga practice with props. Often times, studios offer a range of props, but you may not get the chance to use them unless your yoga teacher specifically designs a class around them. By using props at home, you can experiment and find what works for you. Go out of your comfort zone and use props that you normally wouldn't. Examples of props to use are straps for forward bends, blankets for restorative poses, wedges under your wrists, and more. Yoga wheels, in particular, have become very popular for at home practice in deepening back bends. You may find yourself more motivated to show up on your mat when you have the opportunity to explore with props.
Conclusion
With these 10 tips, you may find it easier to start a home yoga practice. Even so, it is a challenging experience to practice yoga at home. You will experience ups and downs, maybe struggling with motivation, knowledge base, or spiritual guidance. Just because something is challenging, though, doesn't mean it isn't worth it. You may find that it is these challenges more than anything that help you deepen your yoga practice. Finally, remember that you can and should still continue to attend public classes for both inspiration and guidance from professional teachers.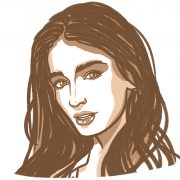 Rose Henderson
Rose graduated with a degree in Anthropology, which takes her understanding of basic human needs to a whole new level. Her intelligence and passion for healthy living is reflected in her written work.