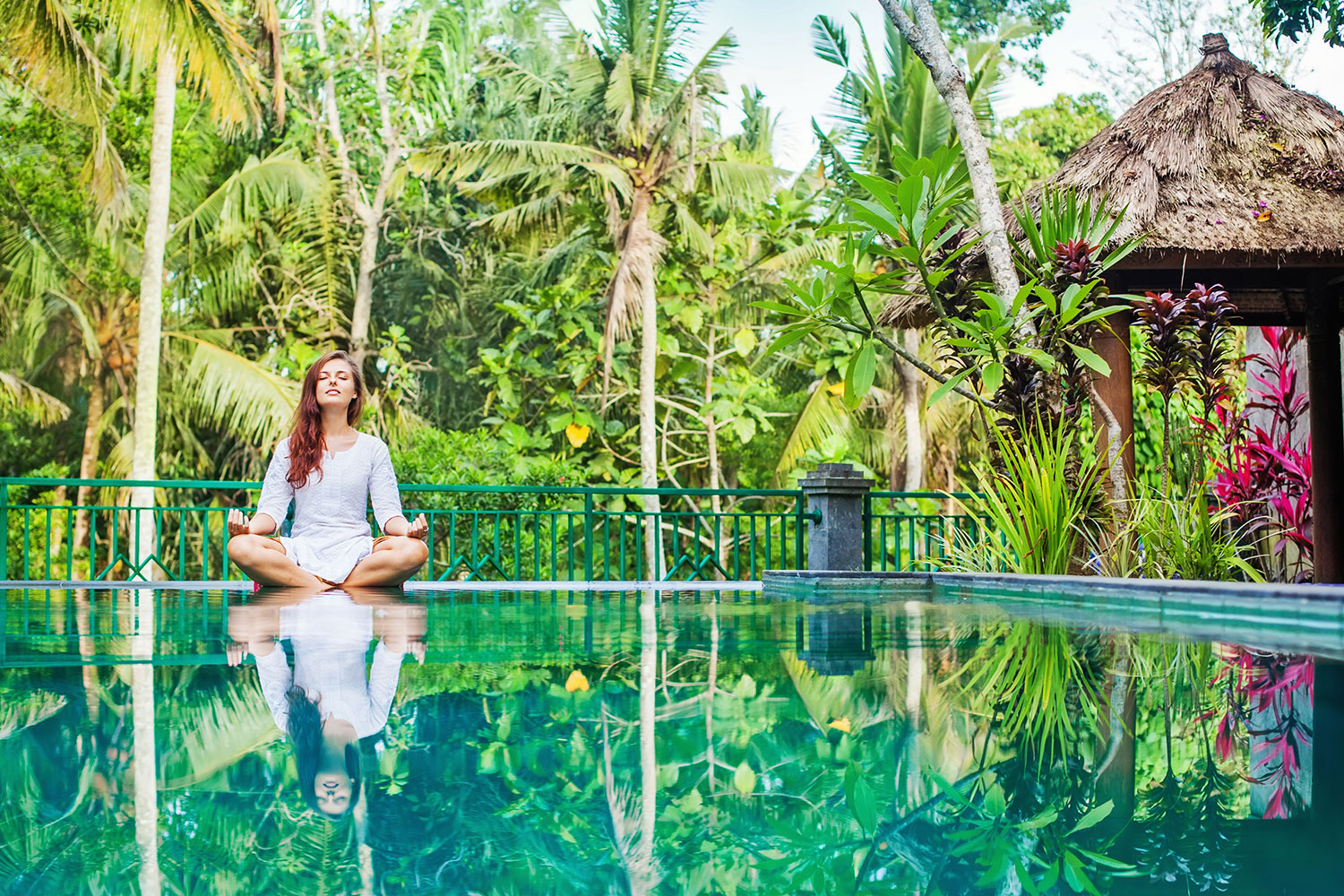 0If you are looking for a truly transformative yoga retreat experience, Bali is the place to go. As one of the top yoga retreat destinations, the island offers a wide variety of incredible programs that can fit the needs and unique preferences of every yogi.
Bali is surrounded by lush greenery, beautiful wildlife, expansive rice fields, and, of course, the tranquil ocean. This stunning natural landscape has people calling the island "magical", and has helped establish it as a go-to destination for soul-searching travelers.
However, the beautiful tropical setting isn't the only reason that yogis from all over the world flock to Bali. Hinduism is prominent in the area, and Bali has a deep-rooted history and appreciation of yoga. As such, in more recent years, Bali has become a hub for retreats in wellness, health, and spirituality. The town of Ubud is particularly known for its yoga-centric lifestyle, but you'll find schools and retreat centers around the island.
While Bali is filled with a host of incredible yoga retreat centers, these are some of the best that you can find on the island to deepen your practice, explore yoga, and transform your life.
When to Go: April to September, which is the dry season.
When Not to Go: October to March, particularly if you want to catch some sun and go swimming in the ocean.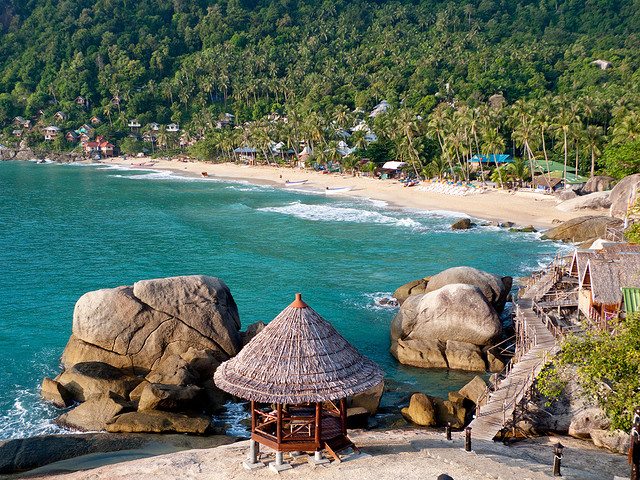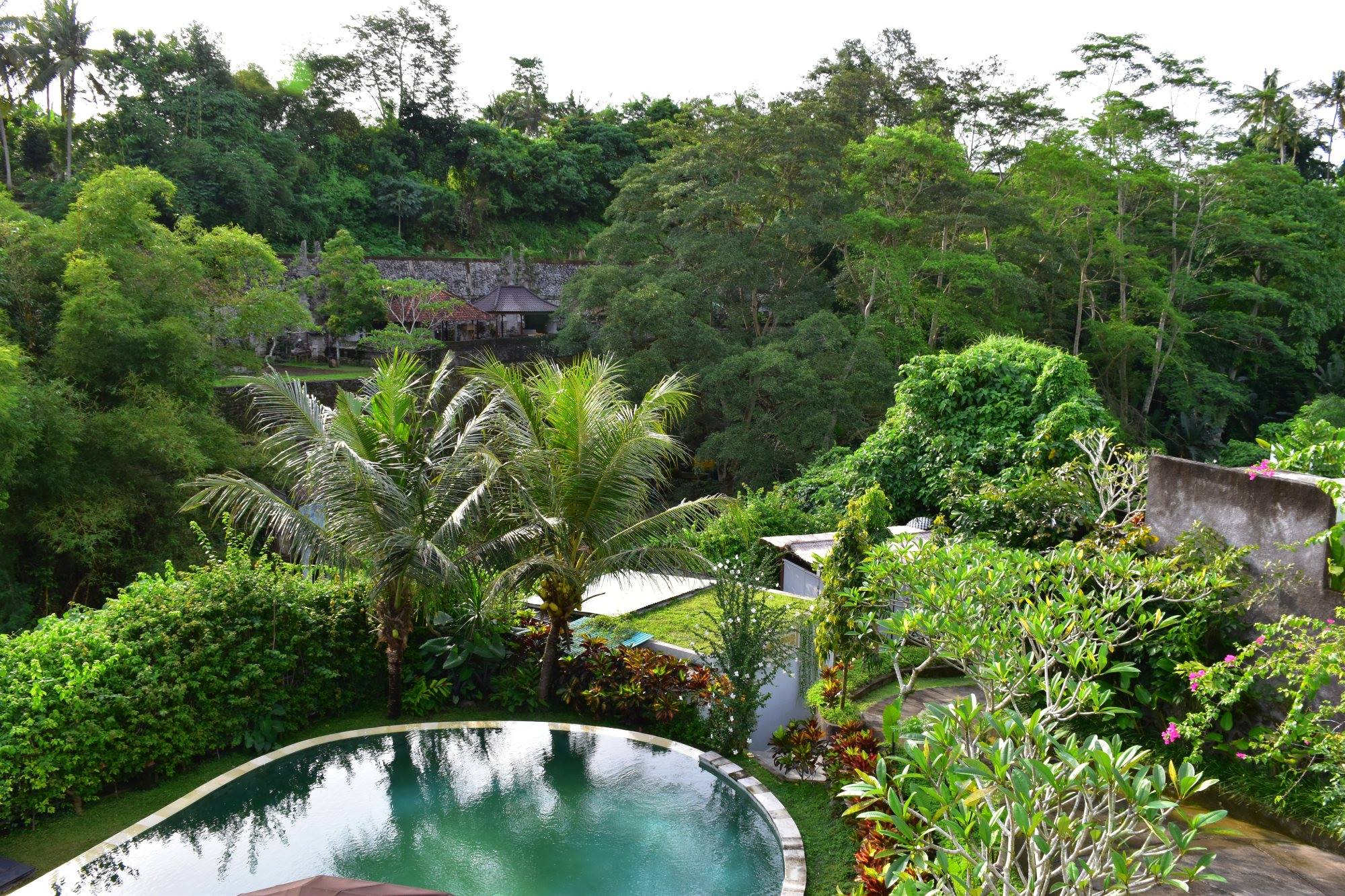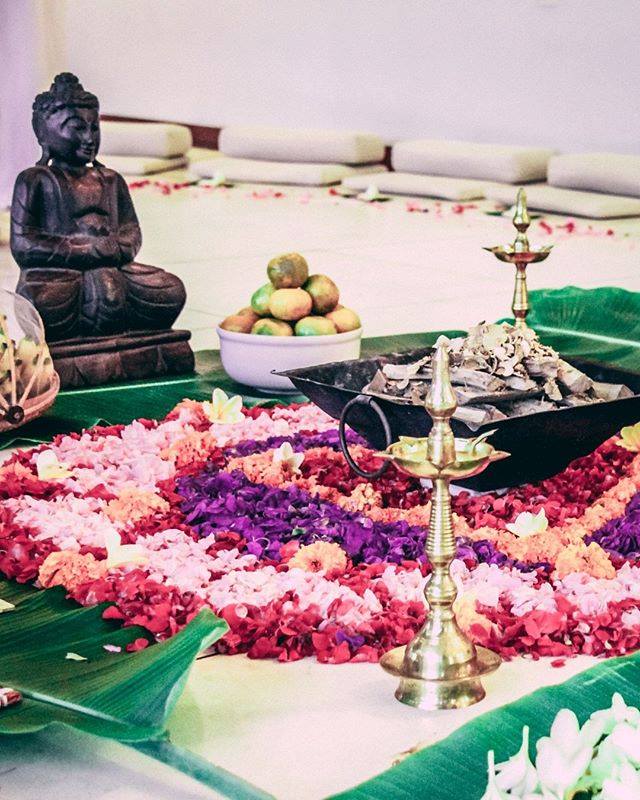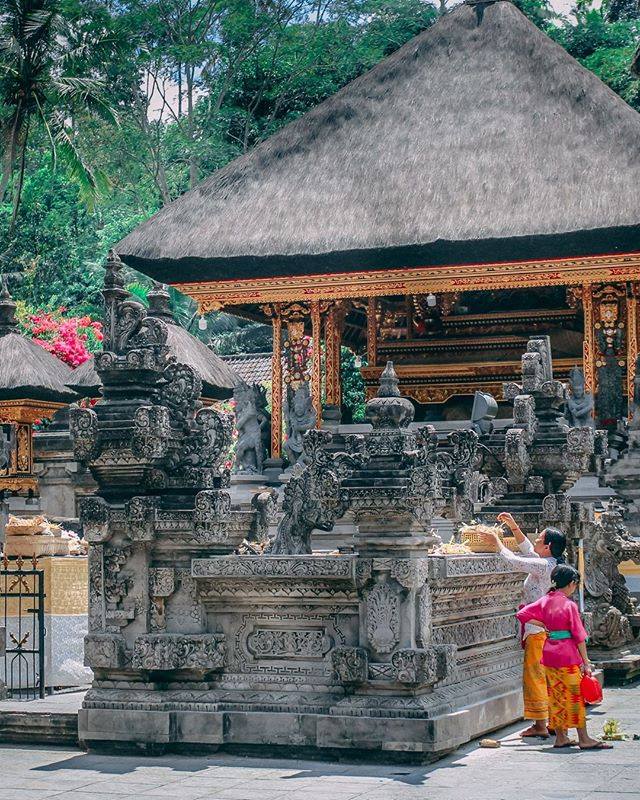 1455971_734833623261907_1549324478173237089_n
16422604_1226206994124565_2962459004434112498_o
48024984_1941933689218555_3605595710365368320_n
48963751_1967907716621152_8015755807360548864_n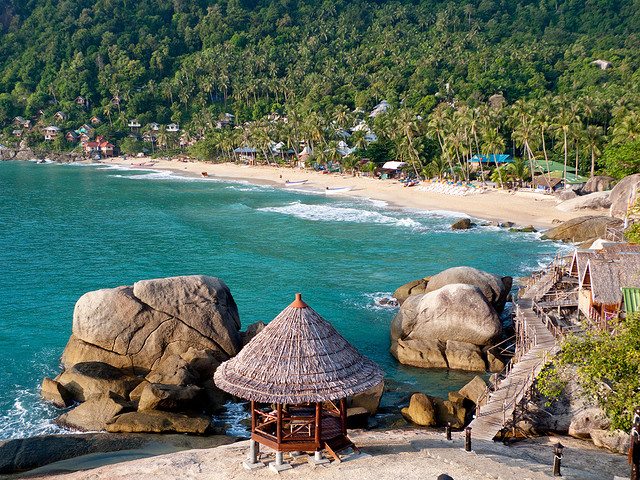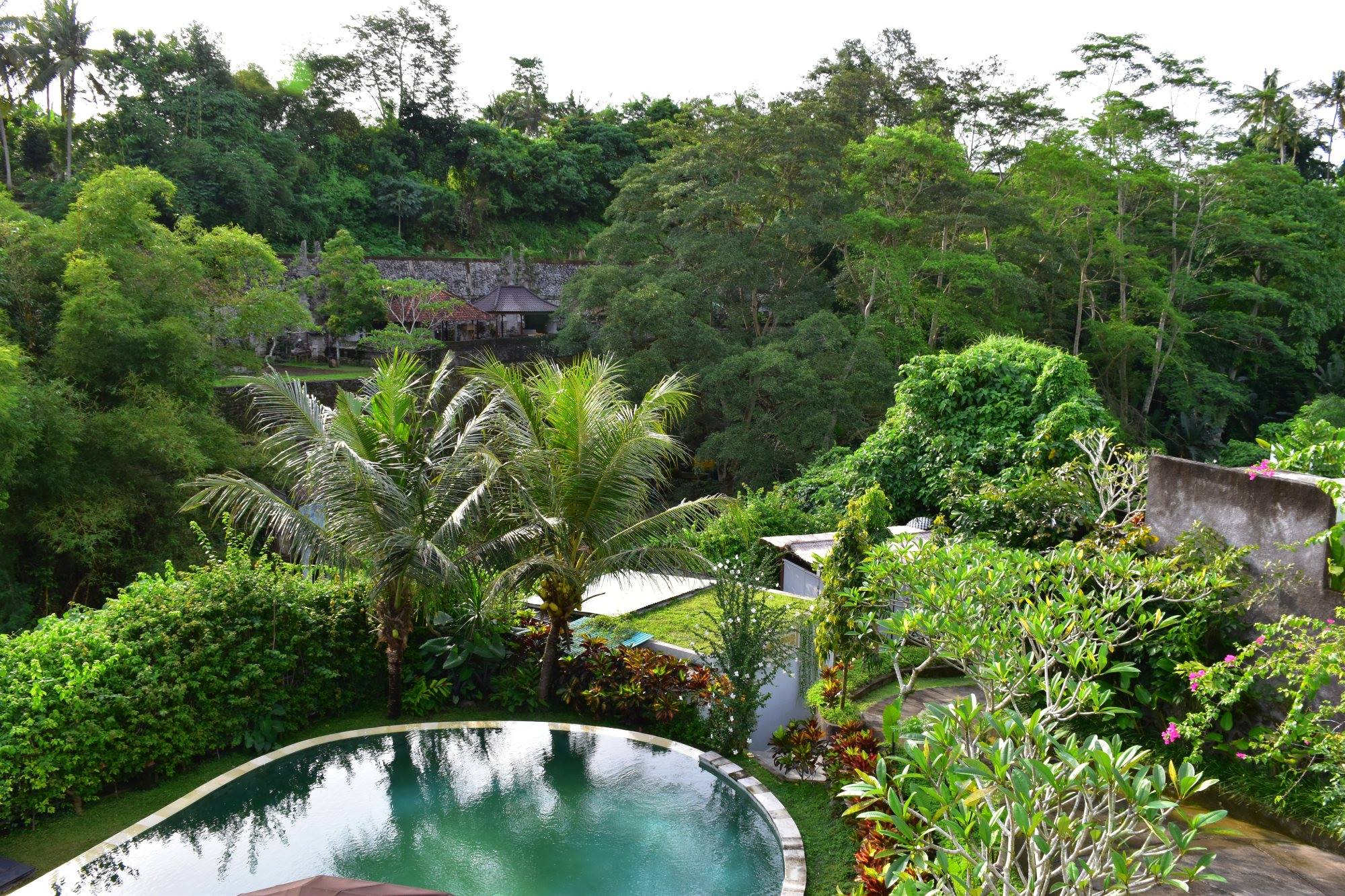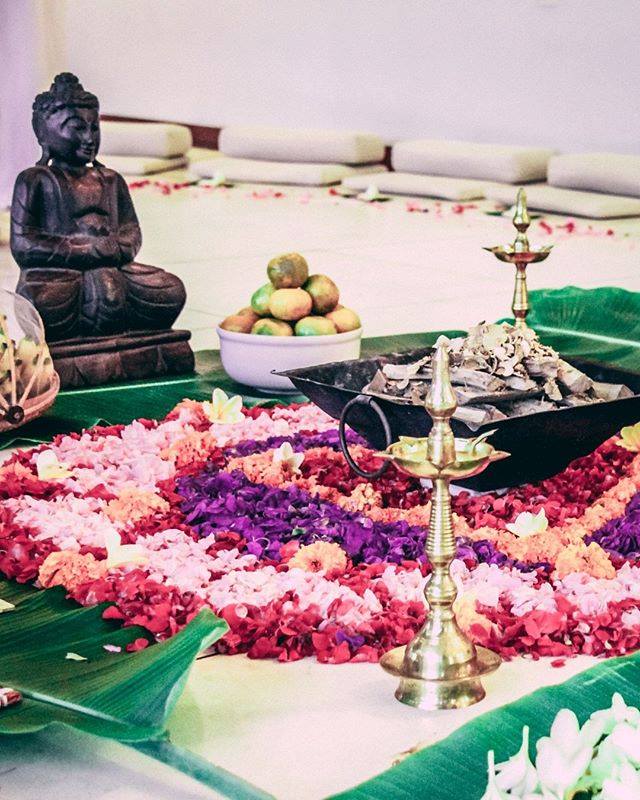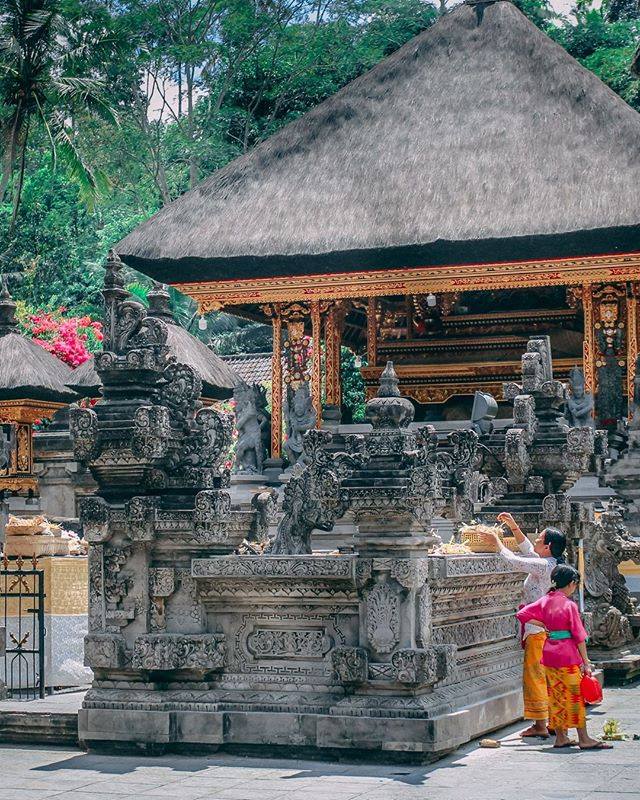 Blooming Lotus Yoga is a yoga retreat center located in Ubud that connects like-minded people looking to explore the many facets of yoga. It offers 4 and 7 day yoga retreats, as well as meditation retreats. The intimate and affordable yoga retreats are suitable for yogis of any level, and wise teachers serve to bridge the gap between the teachings of classical yoga and the modern world, making the practice accessible for all.
Program: The yoga retreats, which host 16-20 people, include daily Vinyasa yoga classes to integrate the physical body with the energy body. This includes a sunrise sequence to energize, and a sunset sequence to slow down at the end of the day. They also include workshops, covering everything from ayurveda, yoga nidra, chakras, yogic philosophy, meditation, and more. The program also includes daily meditation classes, shuttles into Ubud, a cultural event, and two vegan meals each day.
What We Like: Blooming Lotus Yoga prides itself in primarily functioning as a yoga school. The teachers value empowering you to deepen your practice and build the skills to practice on your own. Blooming Lotus also gives back to the community by donating a portion of revenue to charities serving impoverished communities locally and in rural India.
Cost: The Yoga Escape Retreat (4 days) costs between $397 to $597, and the Yoga Bliss Retreat (7 days) costs between $797 to $1197. Yogis have a choice between a shared suite, shared deluxe, and private villa for housing.
Br. Mawang Kaja, Desa Lodtunduh, Lodtunduh, Ubud, Bali 80571, Indonesia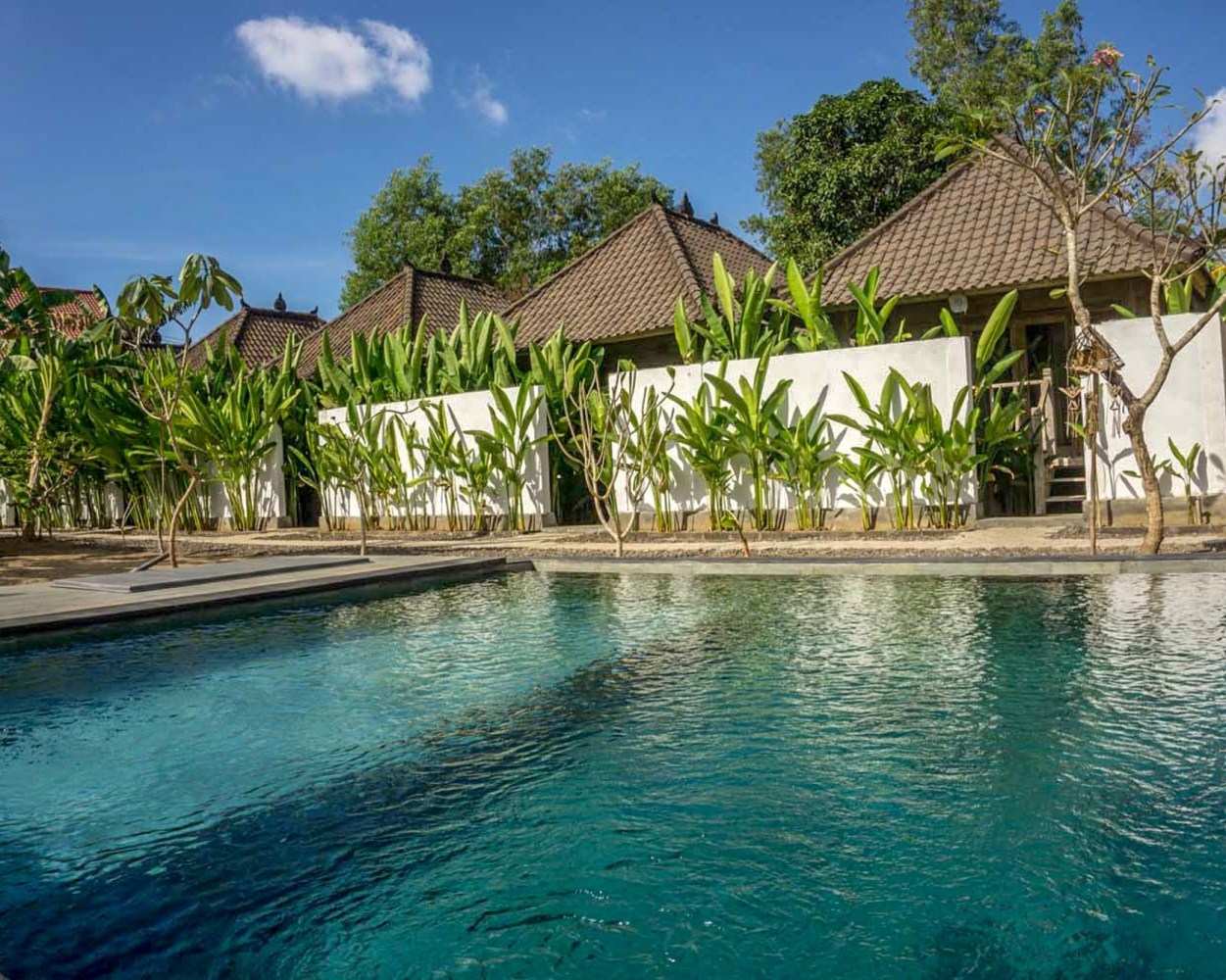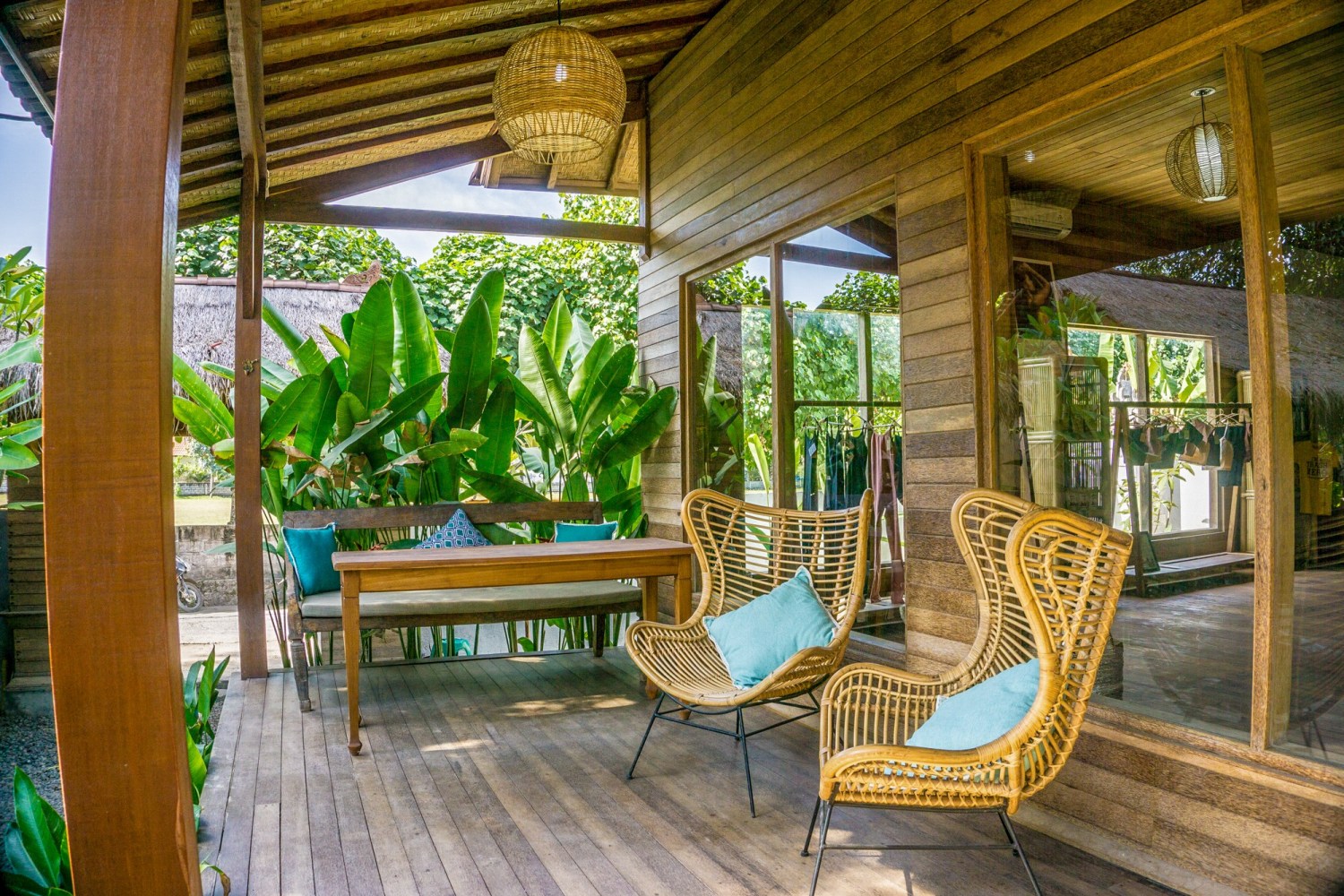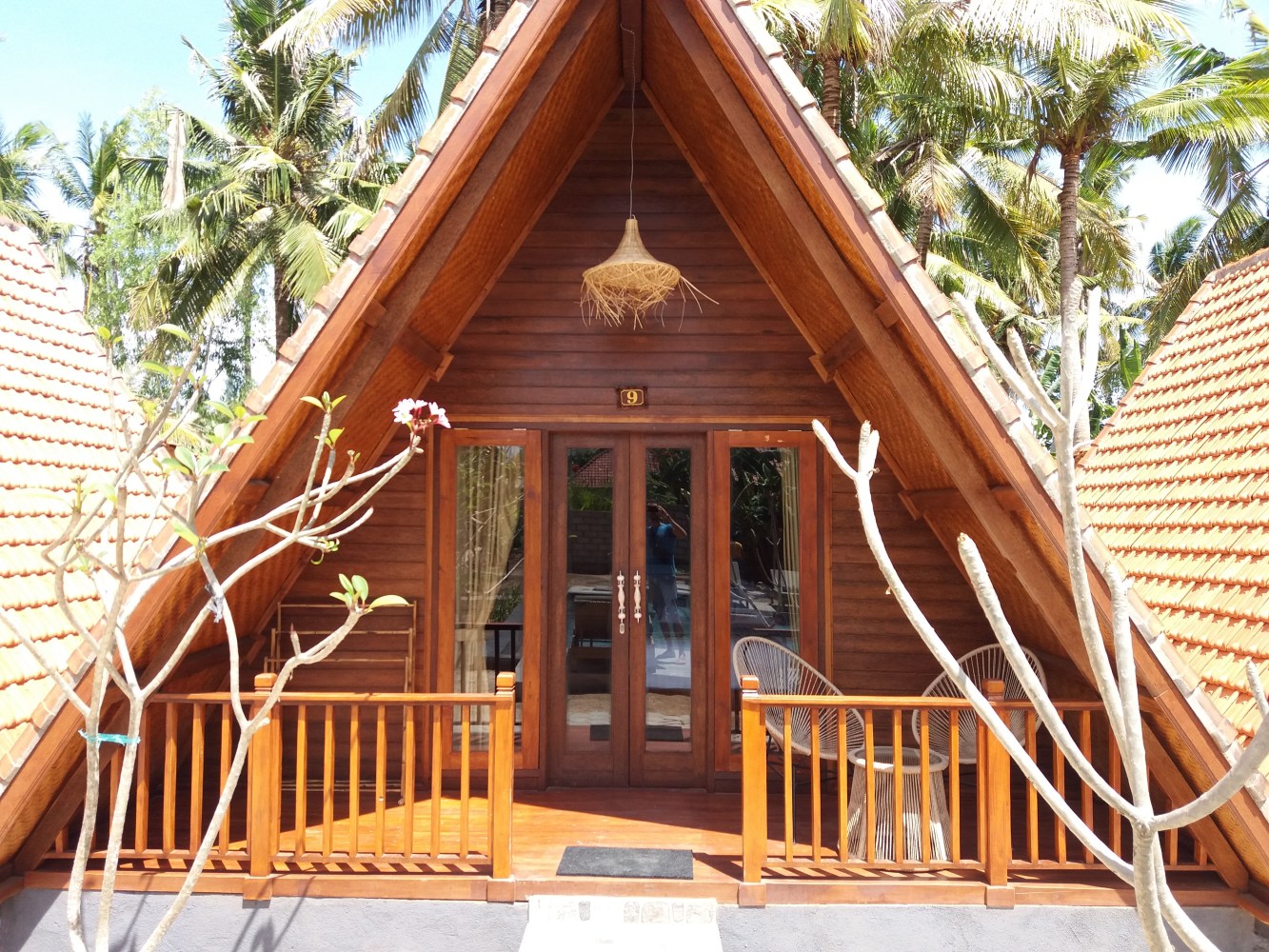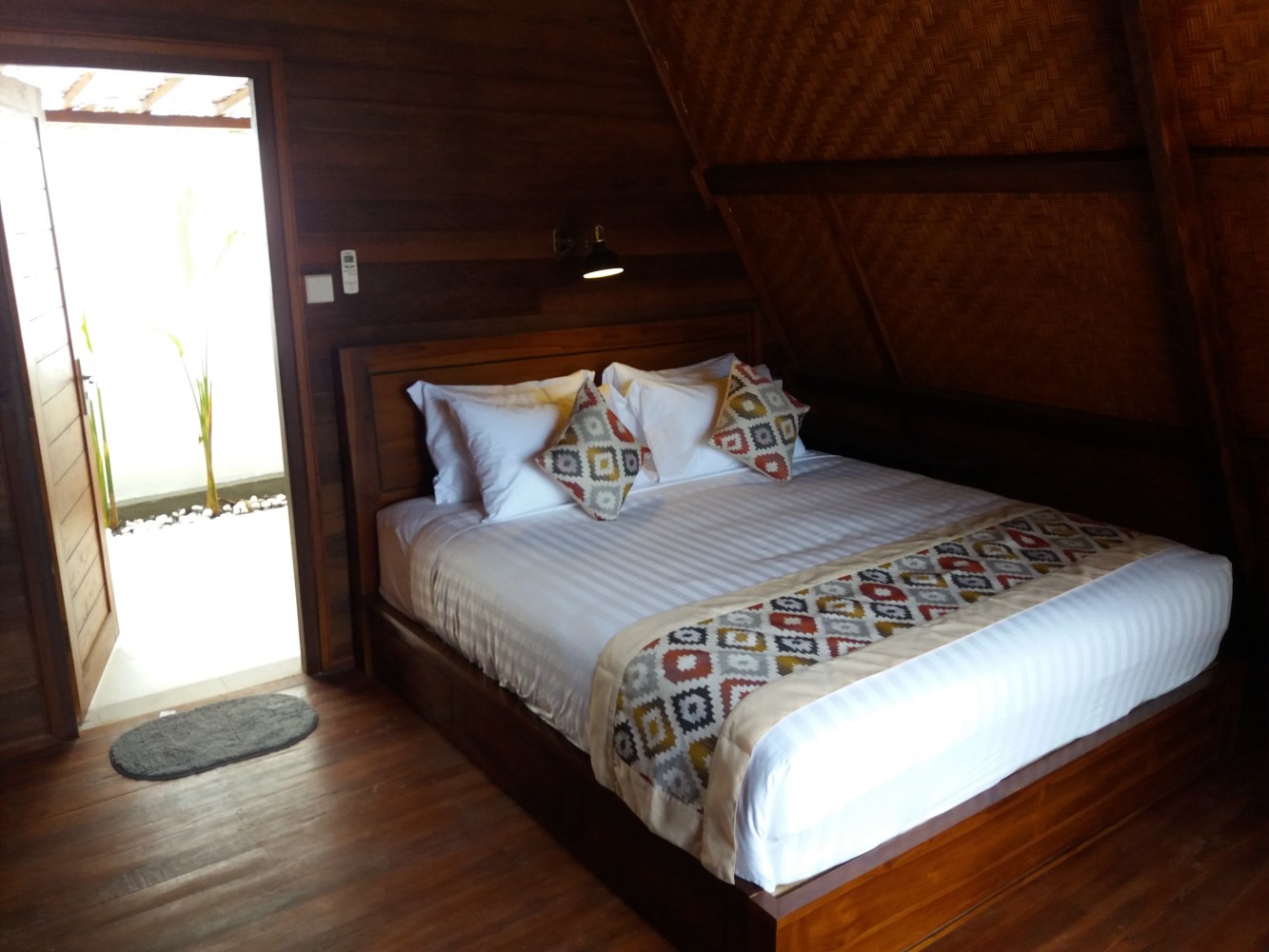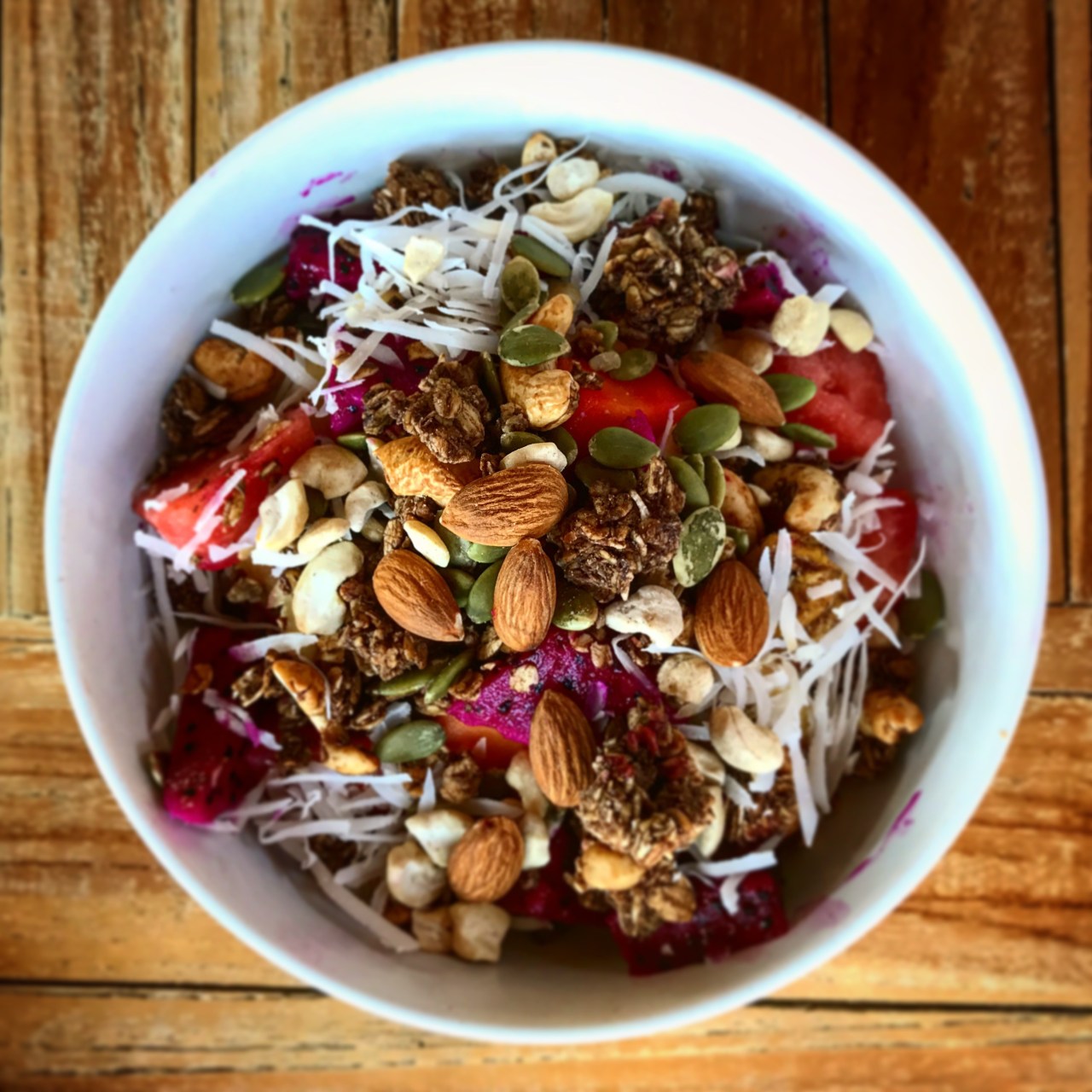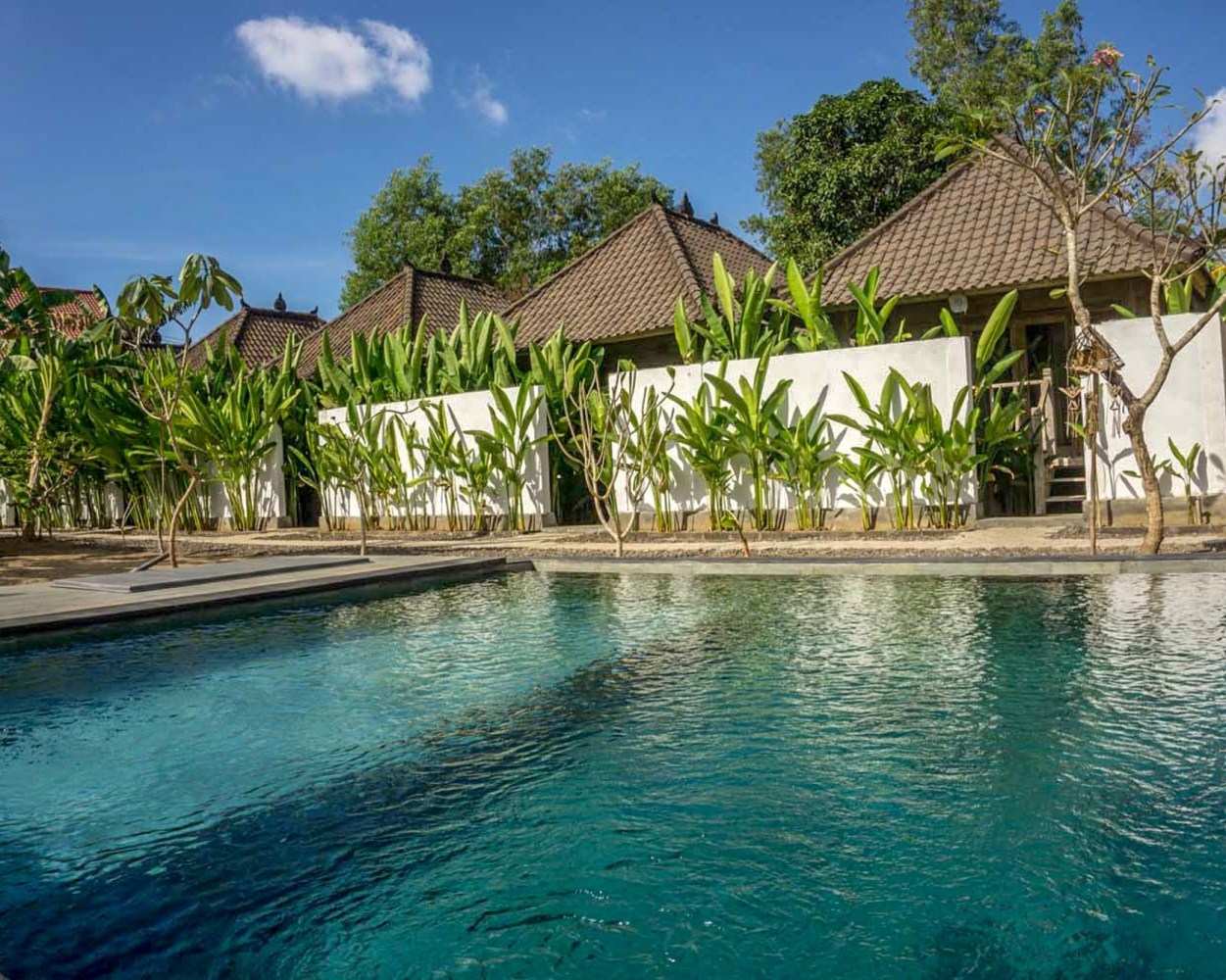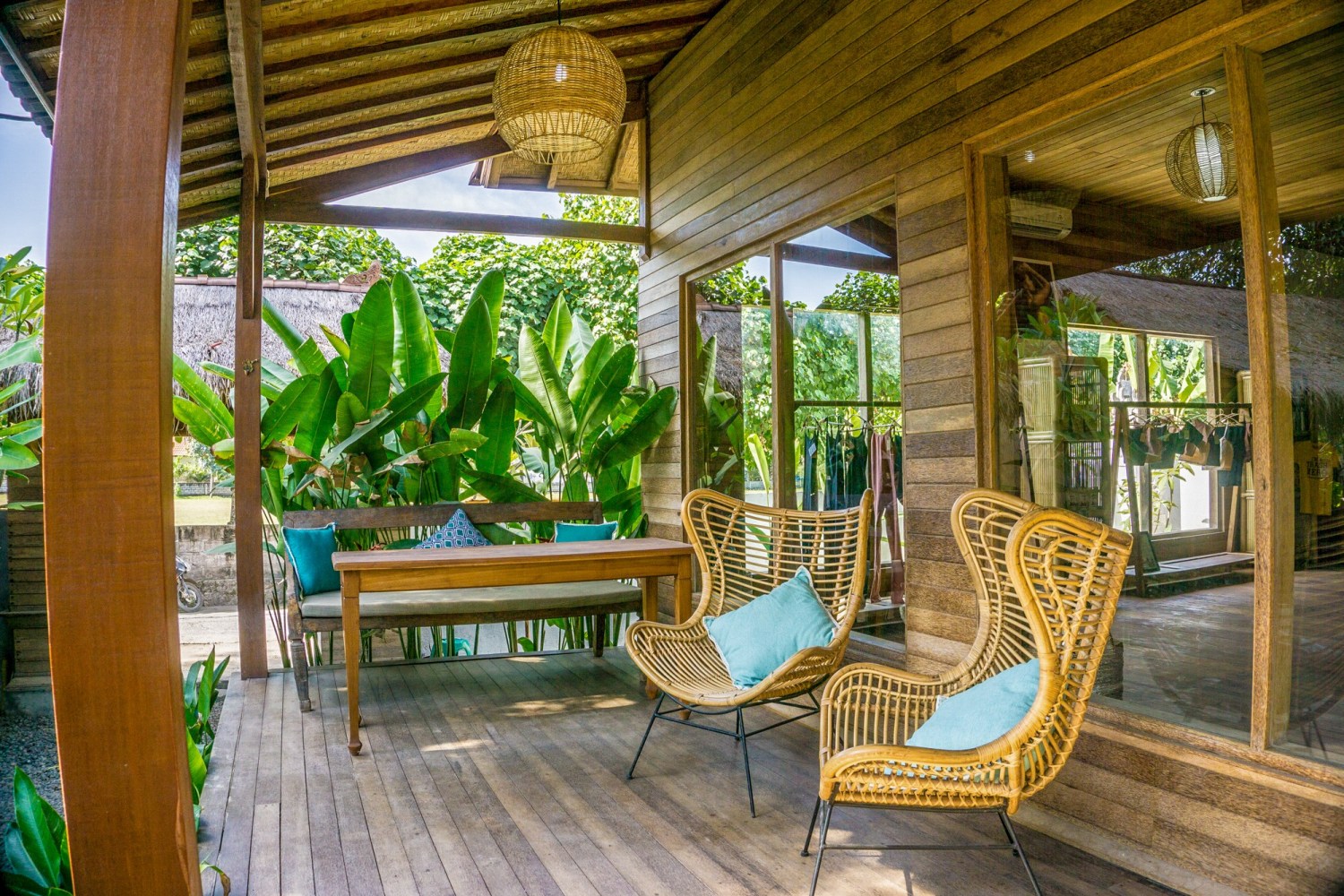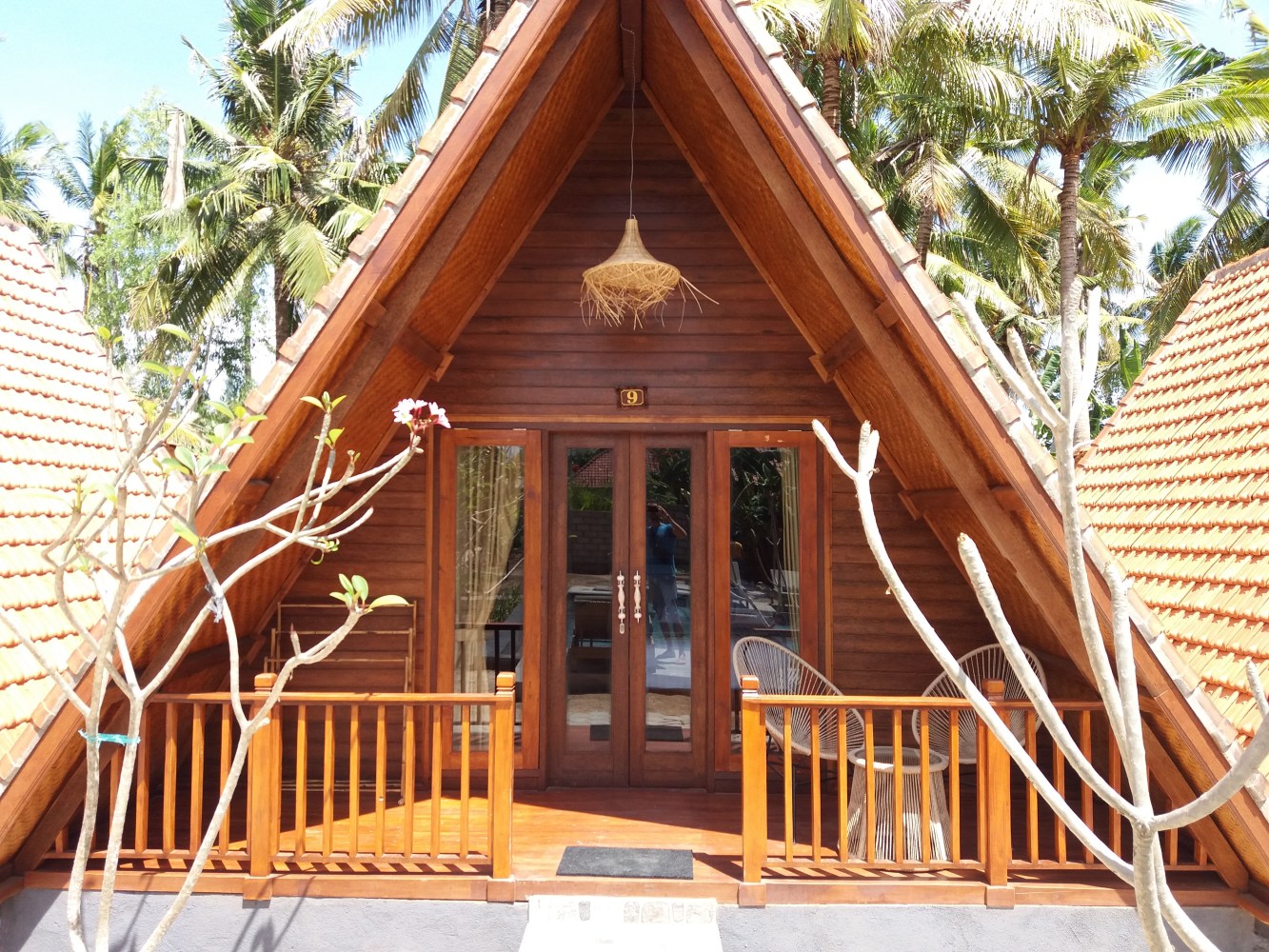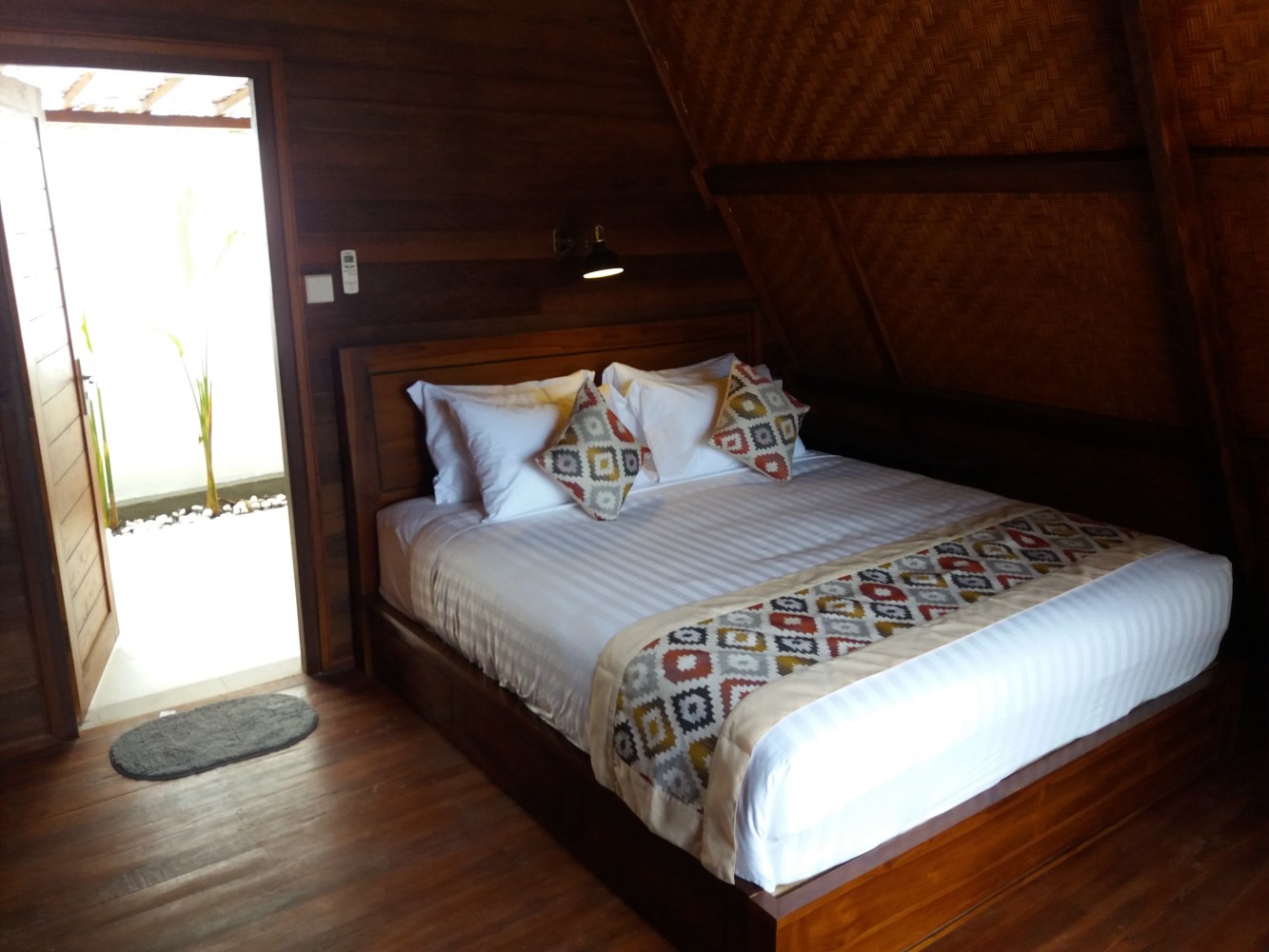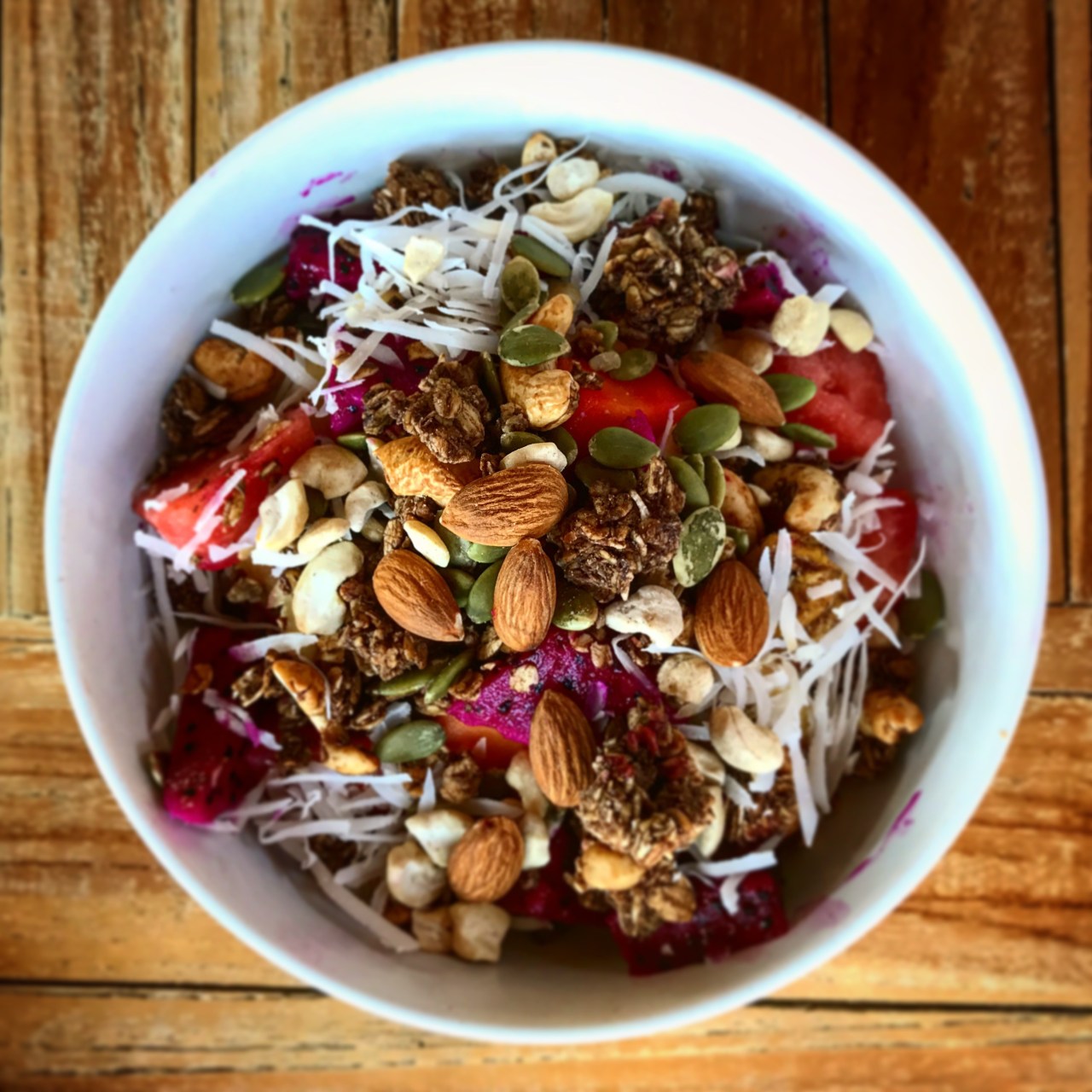 Yoga Bliss was founded in 2016, through the collaboration of international and local teachers who wanted to create a welcoming space where people could reconnect to themselves and deepen their spiritual practice. The yoga studio and retreat center is located on the peaceful Lembongan Island, just steps away from the beach. Yoga Bliss utilizes its proximity to water by offering combination yoga and surf retreats. If you aren't much of a surfer, don't worry—they have retreats solely focused on yoga as well.
Program: The 4 day yoga retreat package includes unlimited yoga classes, breakfast with vegetarian and vegan options, access to the swimming pool, one Balinese massage, and optional surf lessons, snorkeling, and sound healing treatments. The 7 and 10 day surf and yoga retreats include the above, as well as two to three surf lessons.
What We Like: The yoga retreat center takes advantage of the nearby beach by offering unique ocean experiences in all packages. Yoga Bliss also reinvests 6% of the income into projects supporting the local community and protection of the environment.
Cost: The 4 day yoga retreat costs between $288 to $312 per person, depending on the chosen accommodation. The 7 day yoga and surf retreat costs between $581 to $629, and the 10 day retreat costs between $831 to $904.
Nusa Lembongan, Lembongan, Jungutbatu, Nusapenida, Kabupaten Klungkung, Bali 80144, Indonesia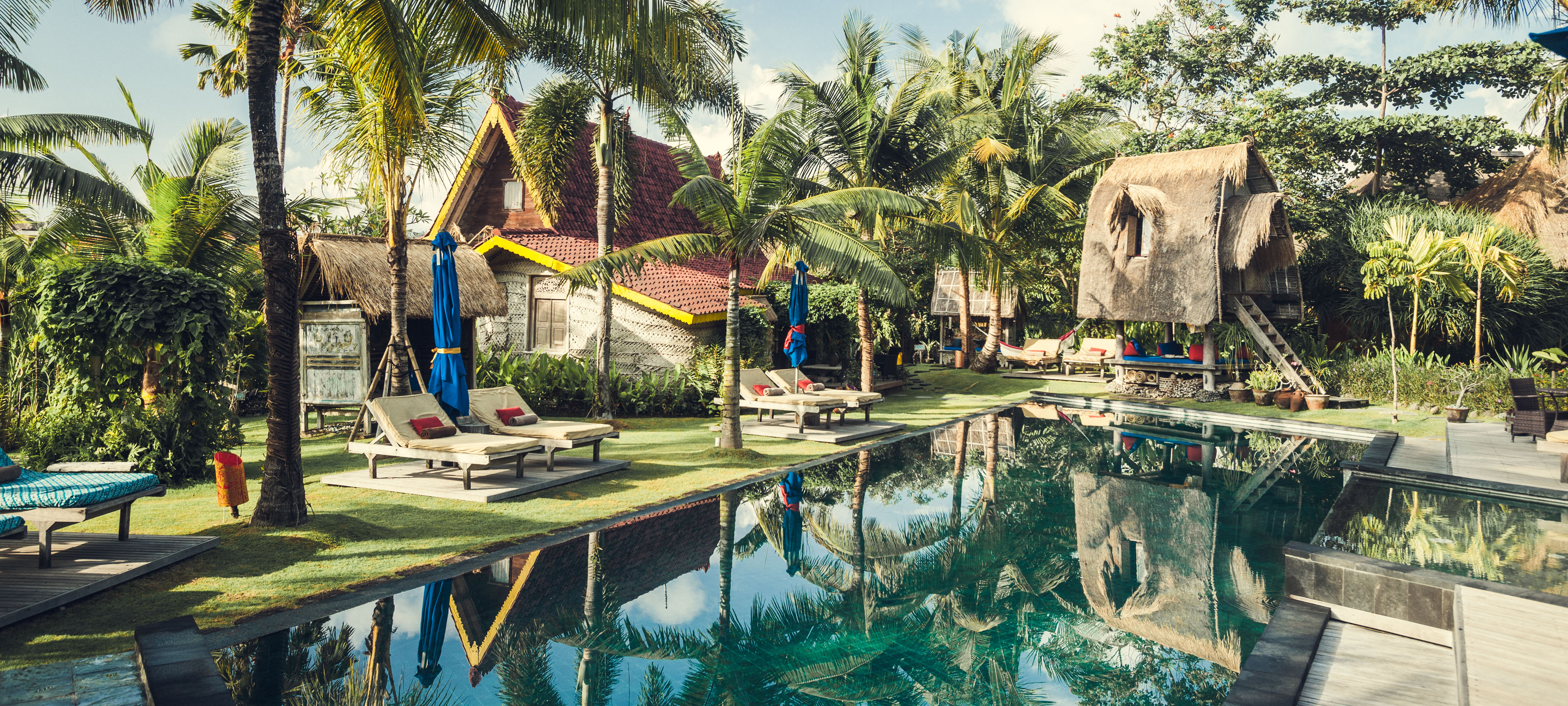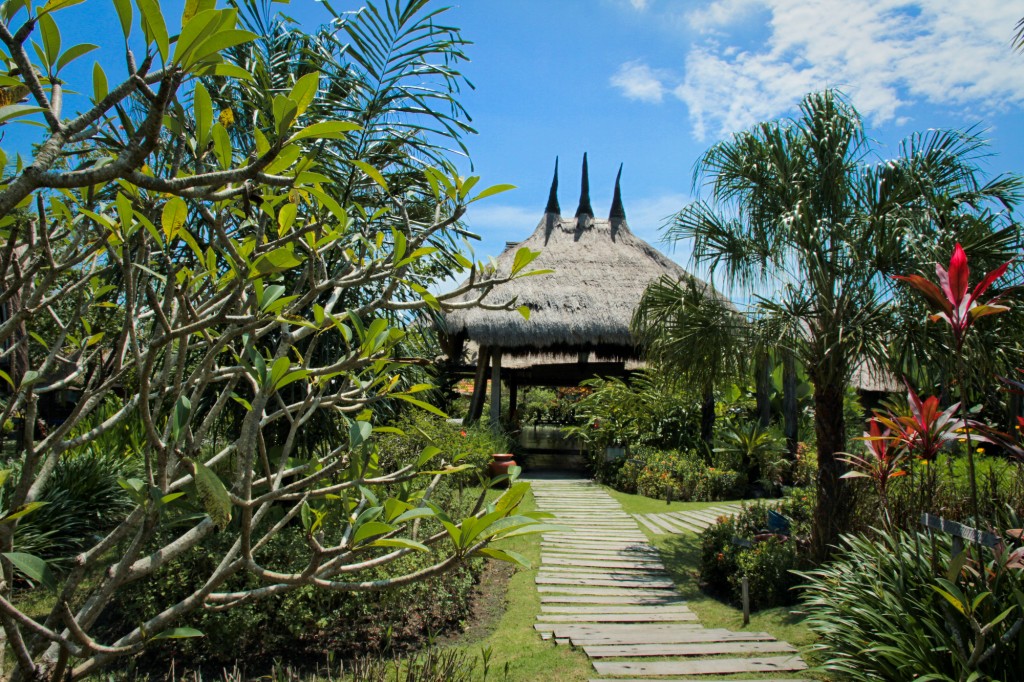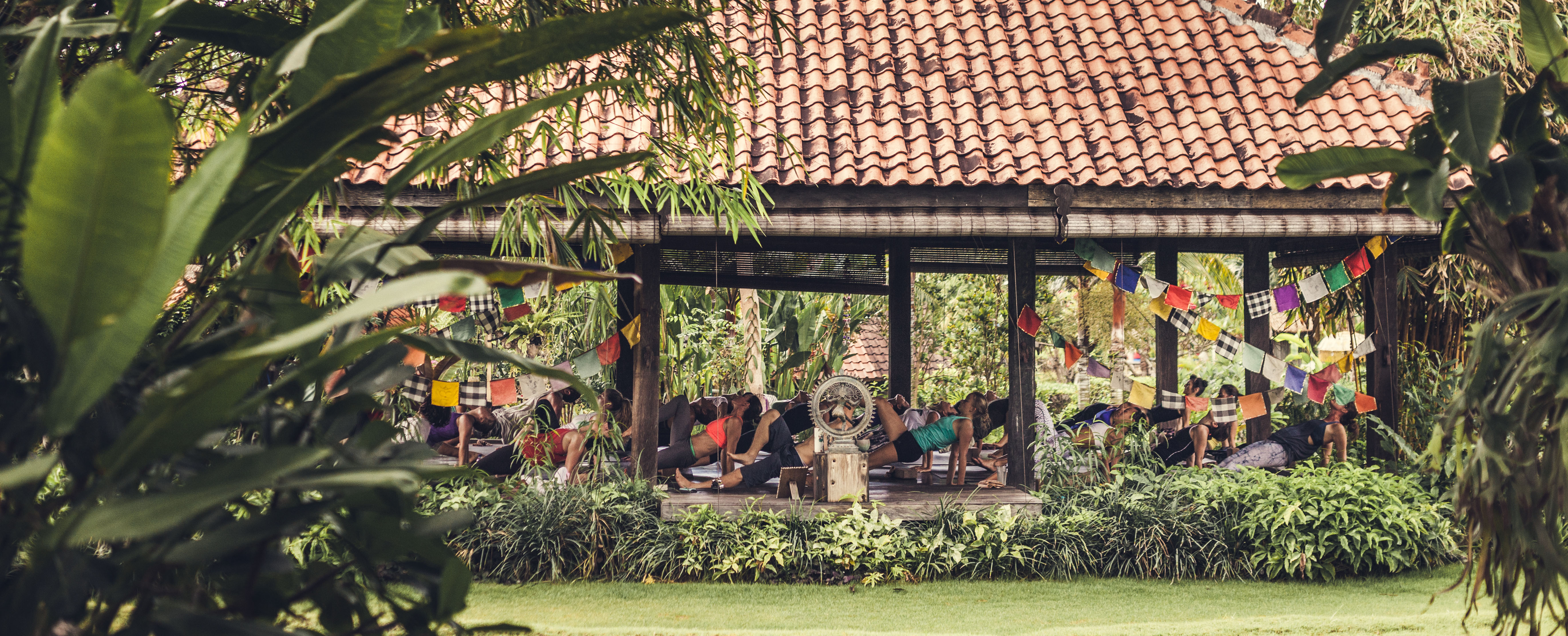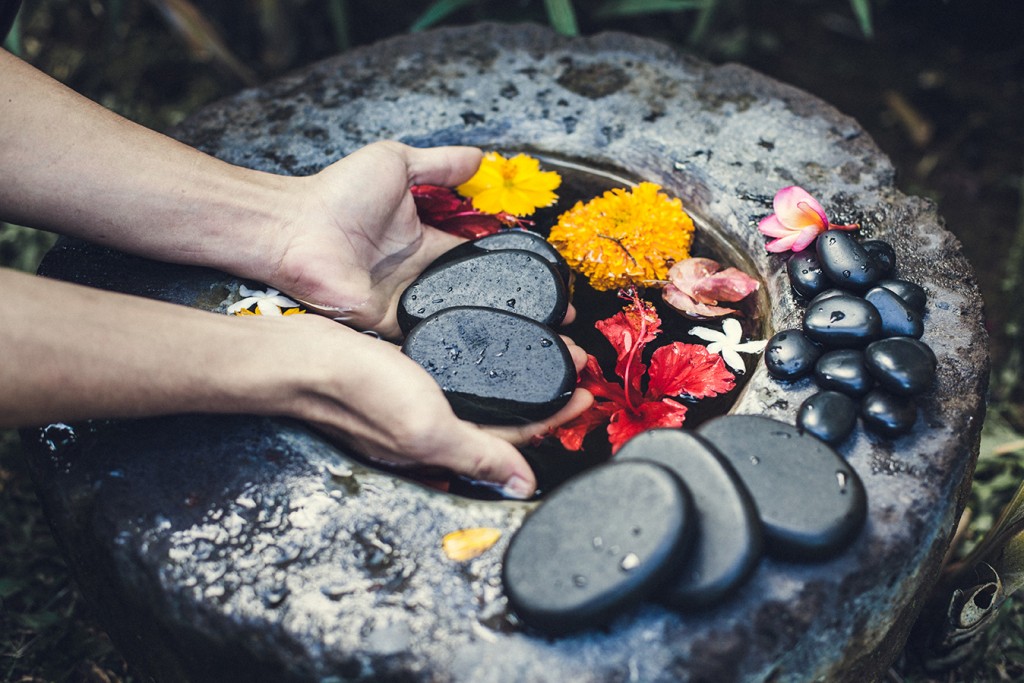 Home-anecovillageresortinbali2-1024x682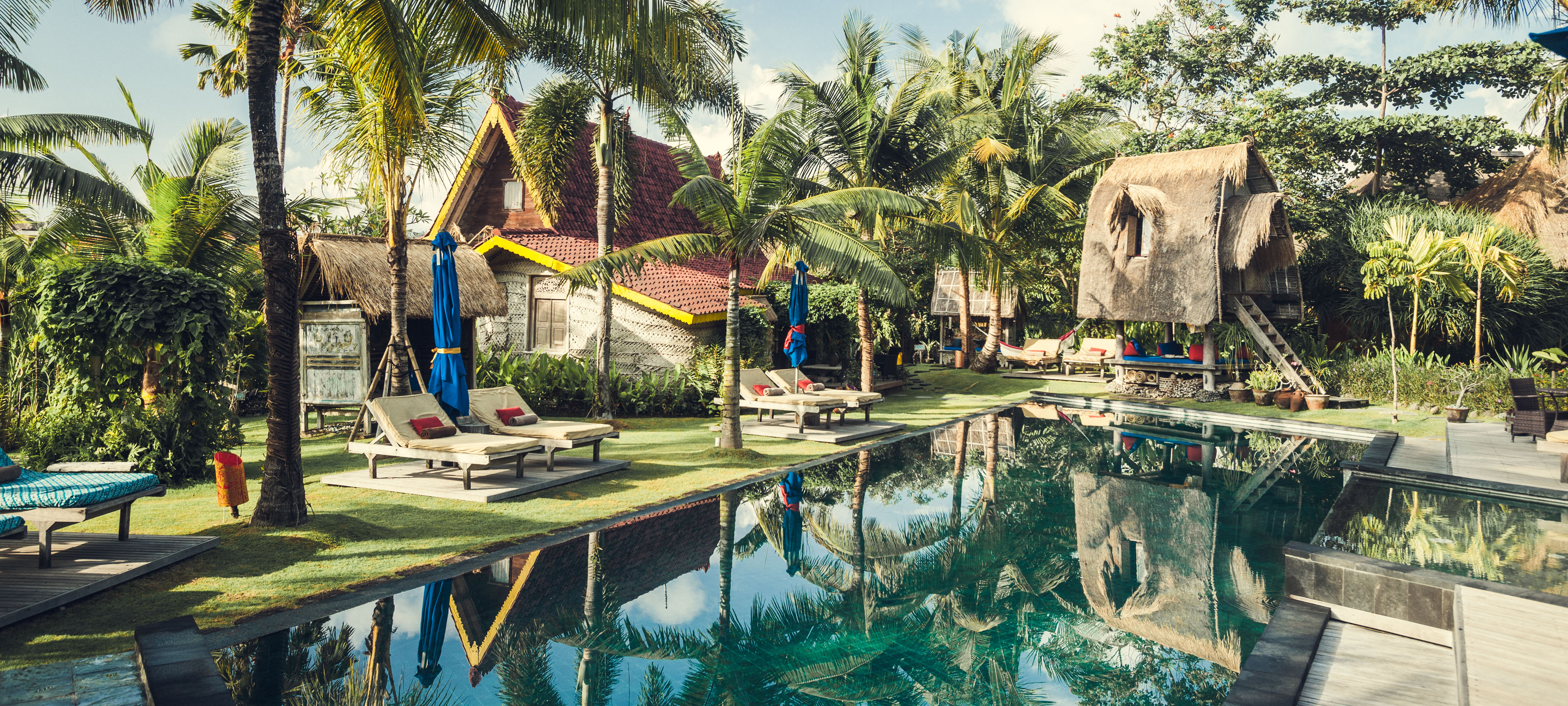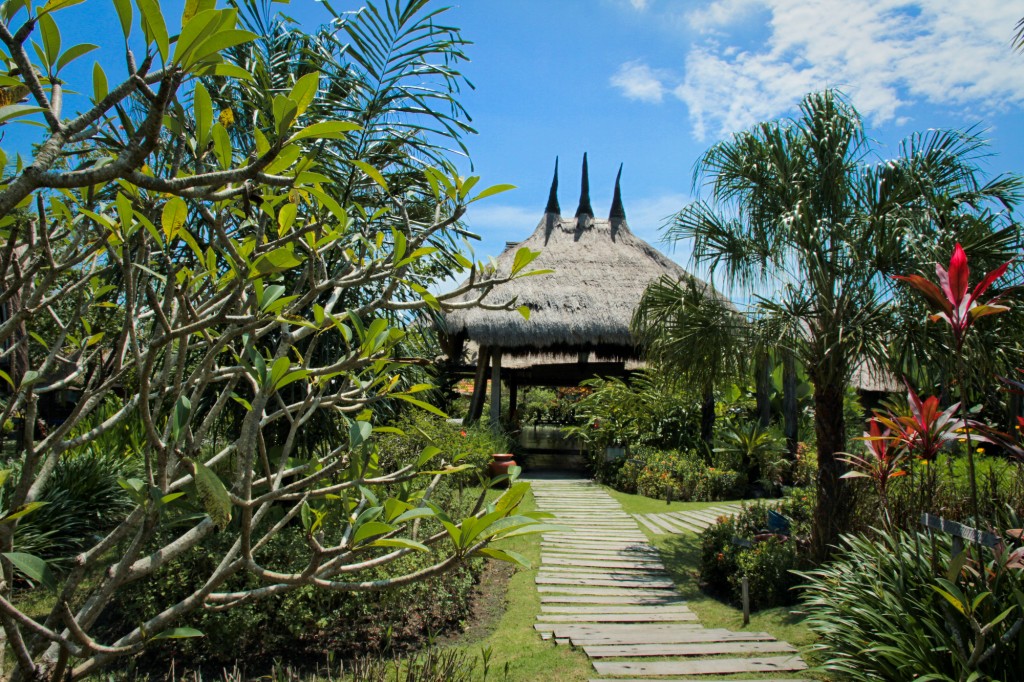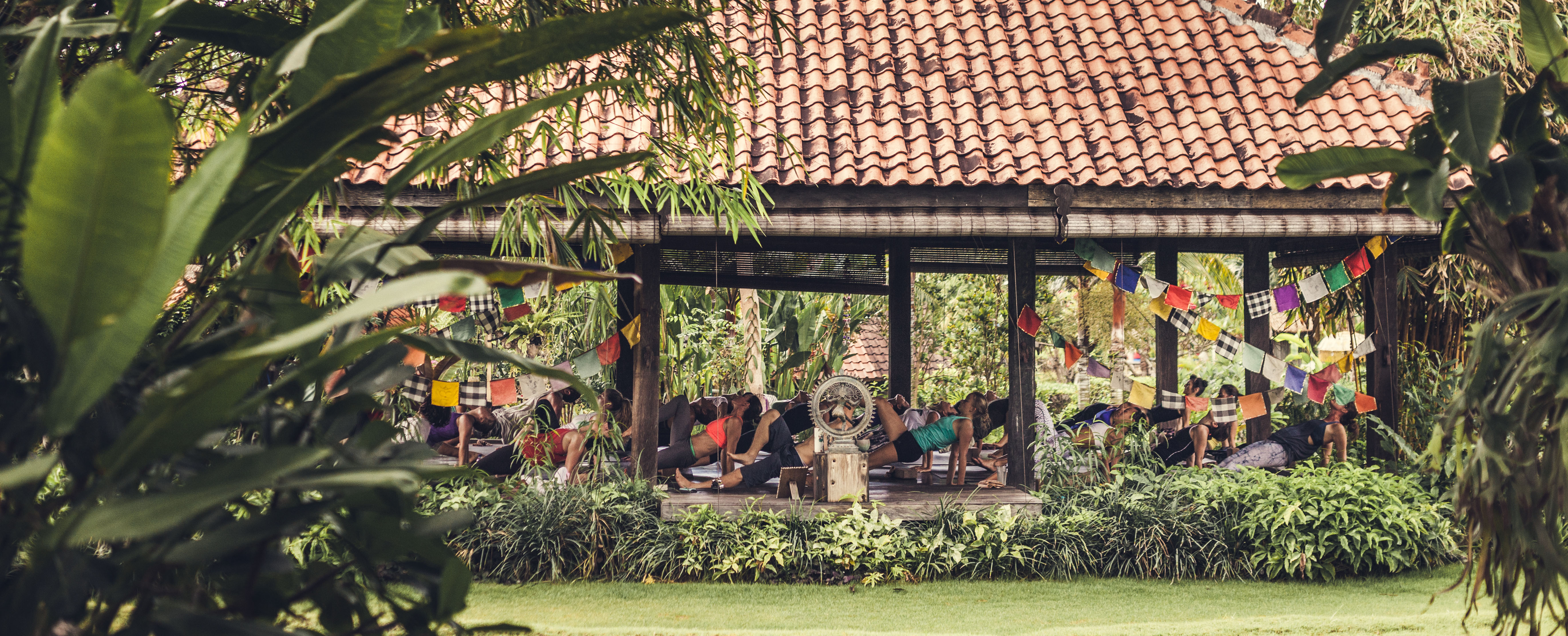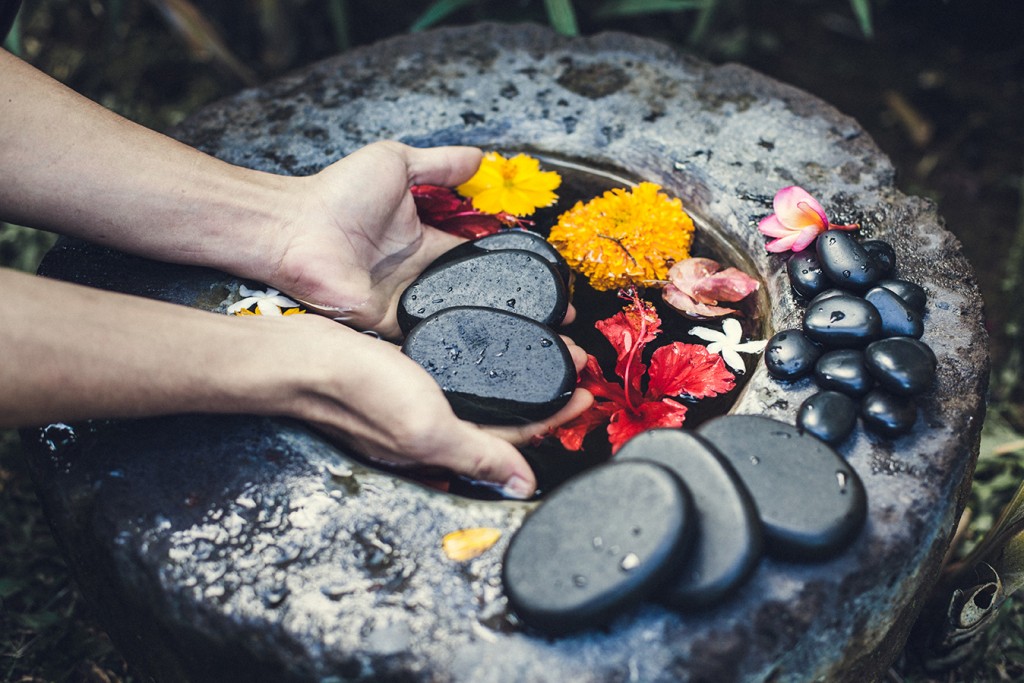 Desa Seni is a unique village resort located in Canggu, offering stunning accommodations in restored and refurbished antique wooden homes. The Desa Seni School of Yoga is accredited by The Yoga Alliance, and consists of a team of experienced international teachers highly skilled in a variety of styles who lead retreats, drop in classes, and teacher training programs.
Program: Desa Seni offers a variety of all-inclusive personal yoga and meditation retreat packages. They range from 3 to 7 nights, with the option to add-on extra nights. Retreat packages include private yoga sessions, private transformation meditation sessions, a Desa Seni signature massage, daily breakfast, and access to the daily yoga classes and happenings at the studio.
What We Like: Desa Seni puts an emphasis on creating a retreat experience that best suits your goals and skill level. They also have a wide range of styles, from Hatha to Vinyasa to Yin to Ashtanga—perfect for the yogi who loves to explore their practice.
Cost: The Deepen Your Yoga Retreat costs $1750 for 5 nights, and $2400 for 7 nights. The Restorative Yoga Retreat costs $1900 for 5 nights, and $2530 for 7 nights. The 3, 5, or 7 night Meditation Retreat costs between $1050 to $2400.
Jl. Subak Sari No.13, Canggu, Kec. Kuta Utara, Kabupaten Badung, Bali 80361, Indonesia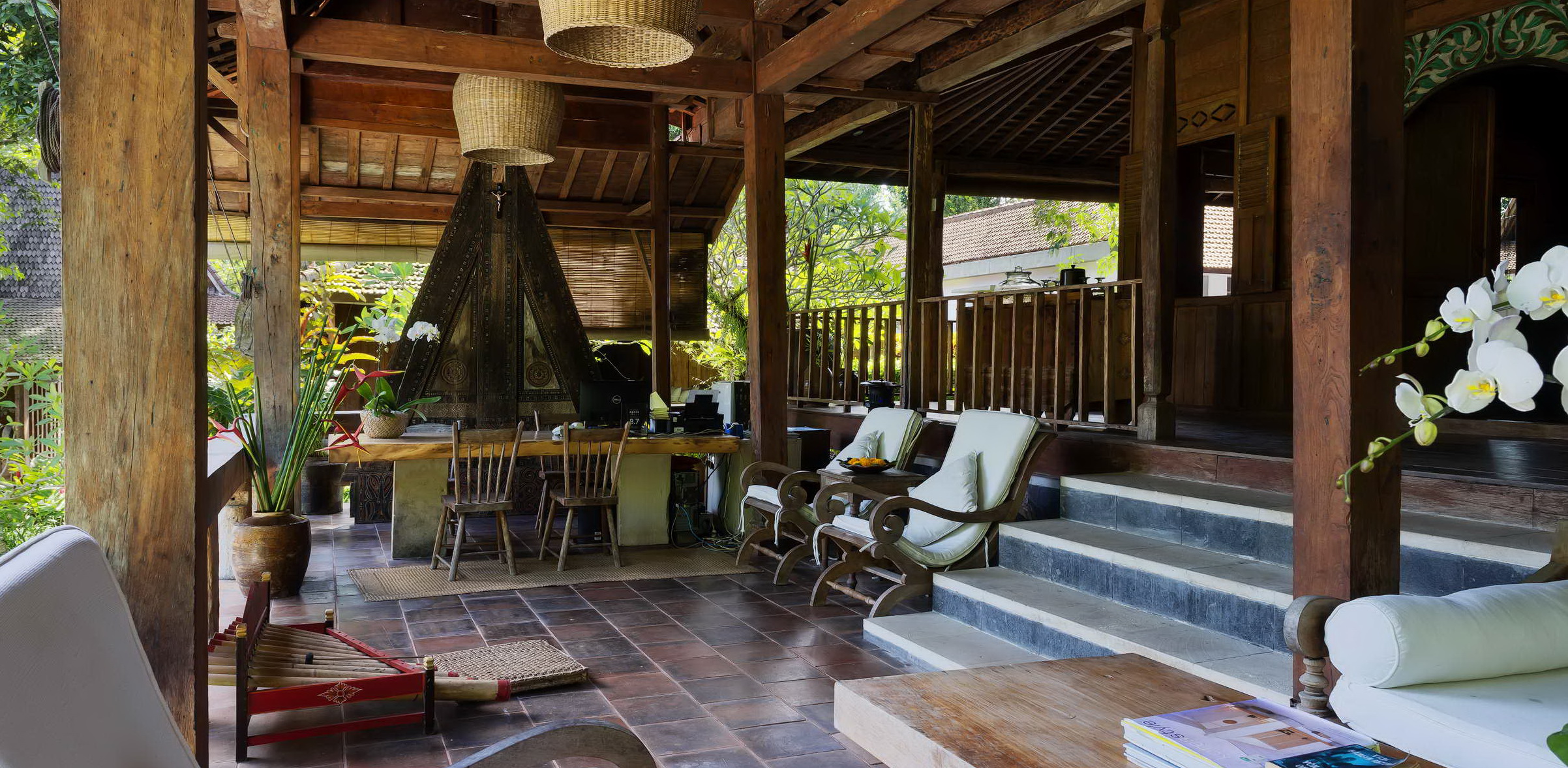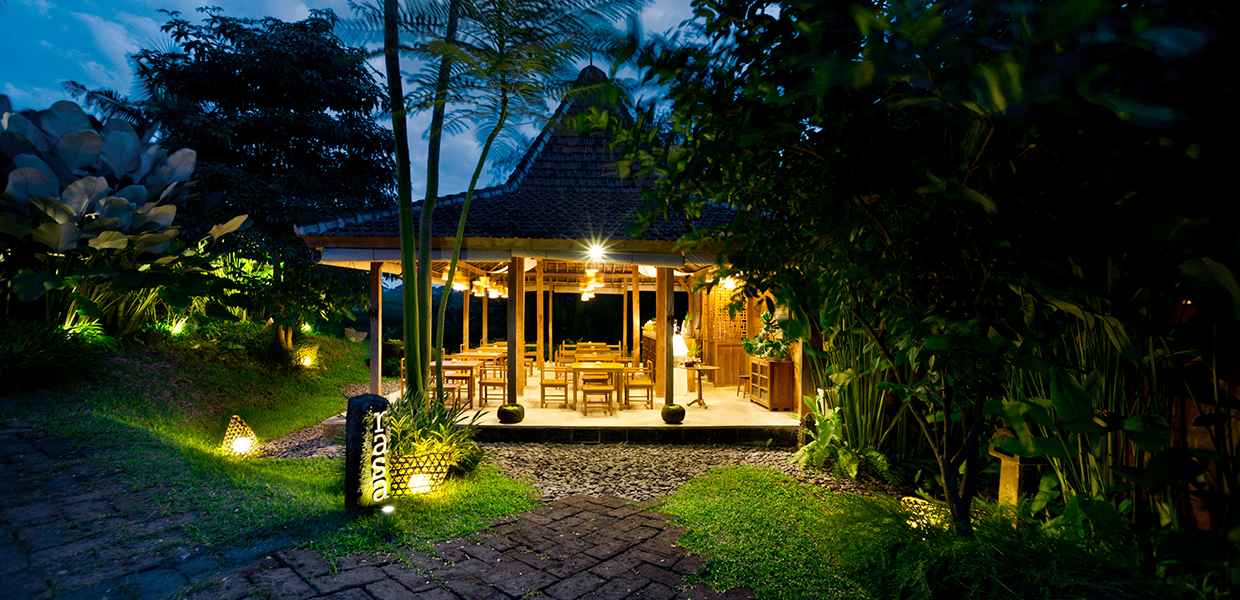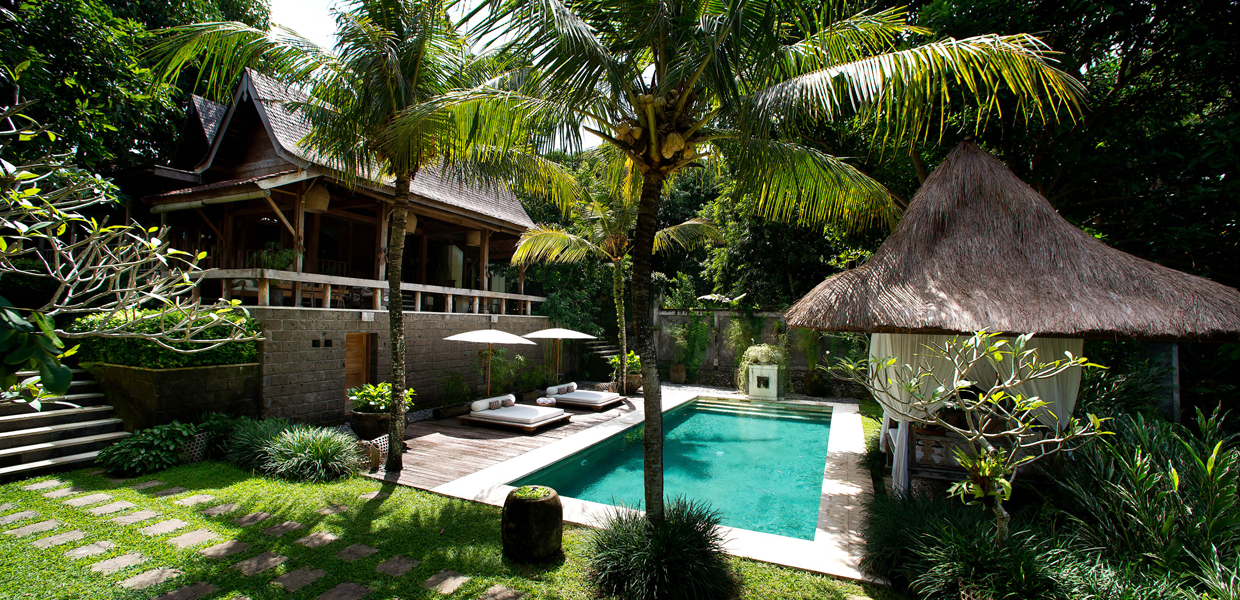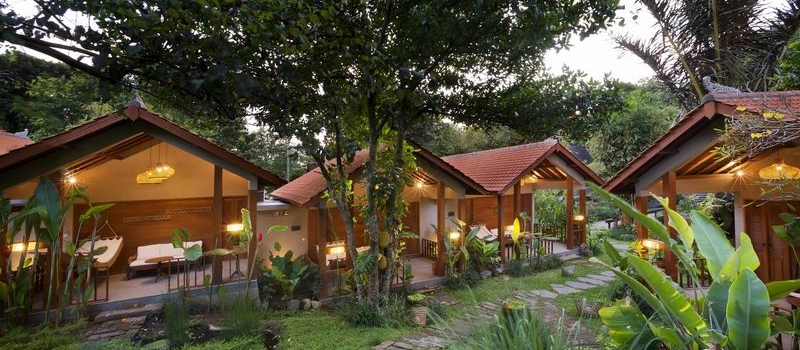 resize-of-dsc_4379-as-smart-object-1-nxn8ko1i0merog30vv0i8q7j66afbt85c81a8ouw18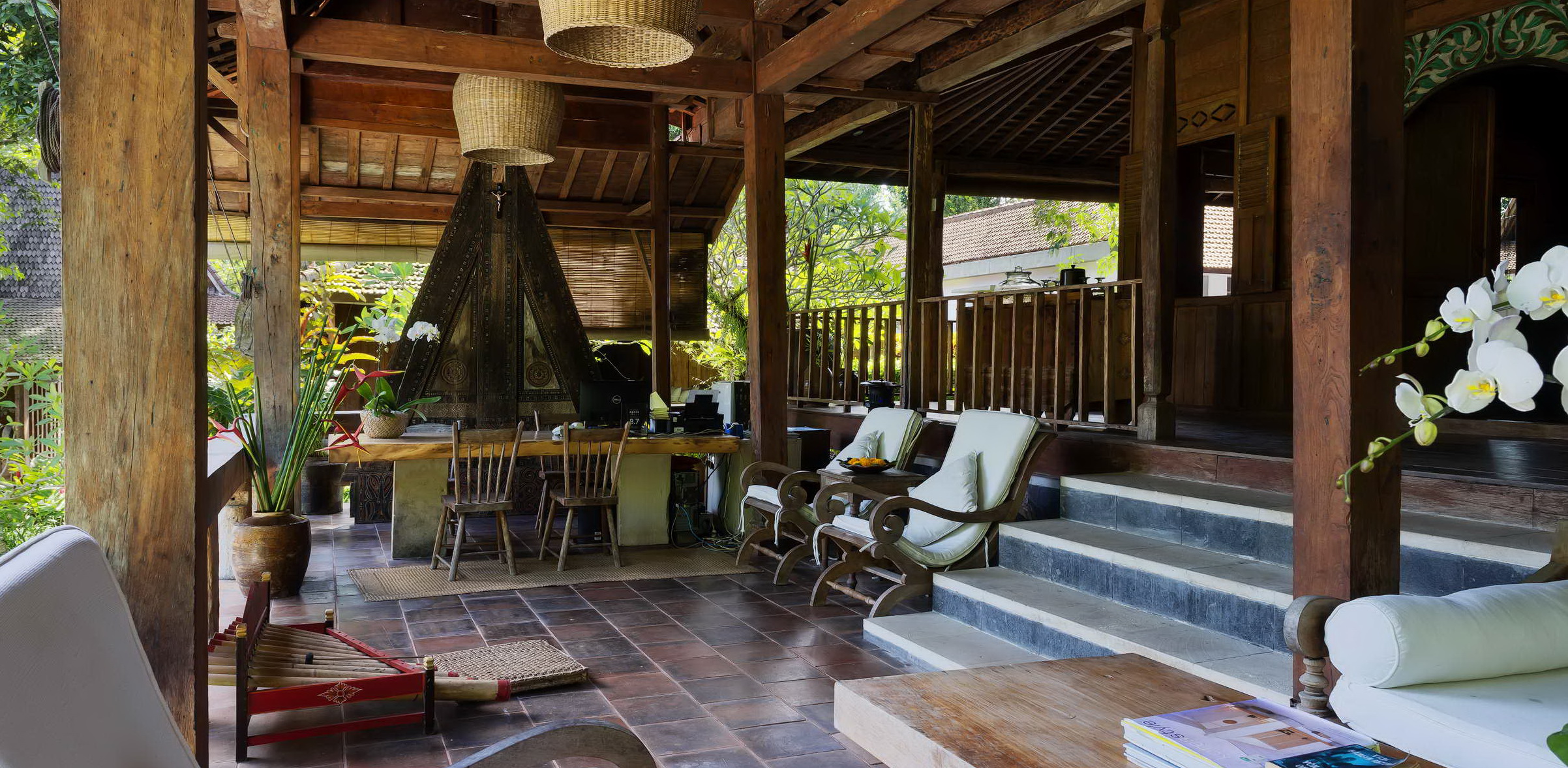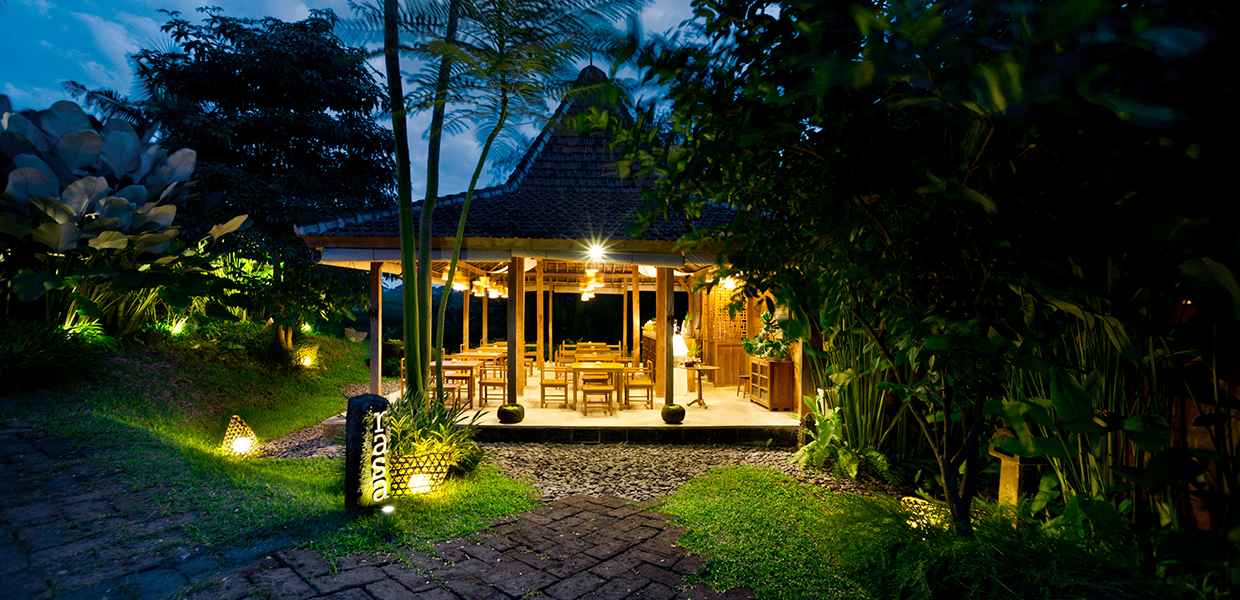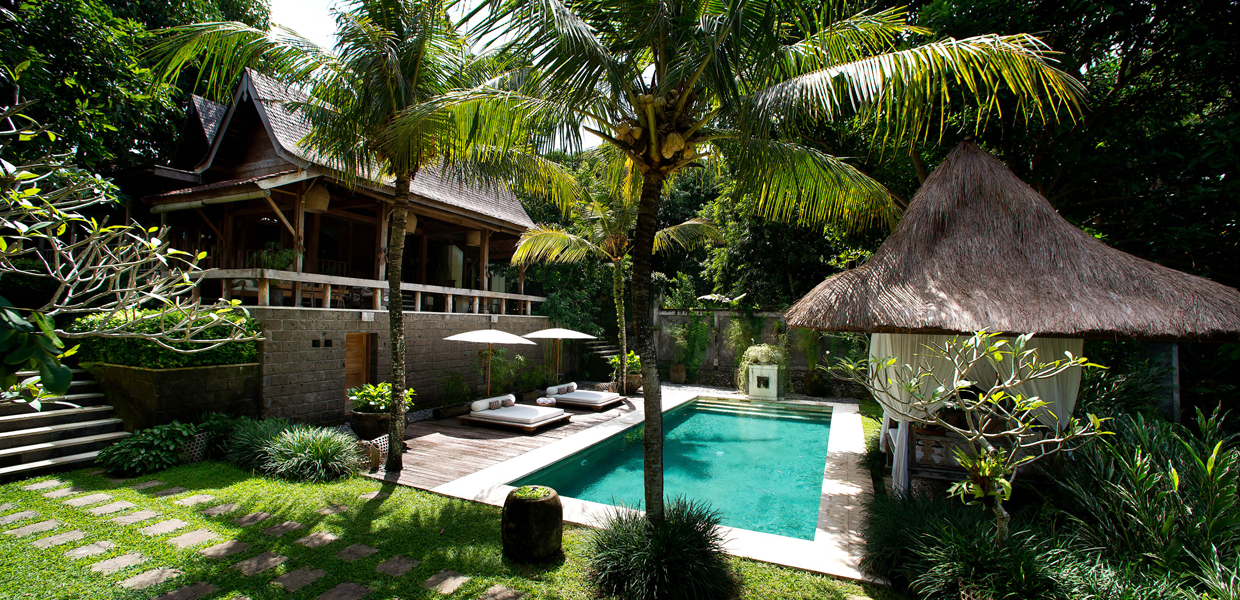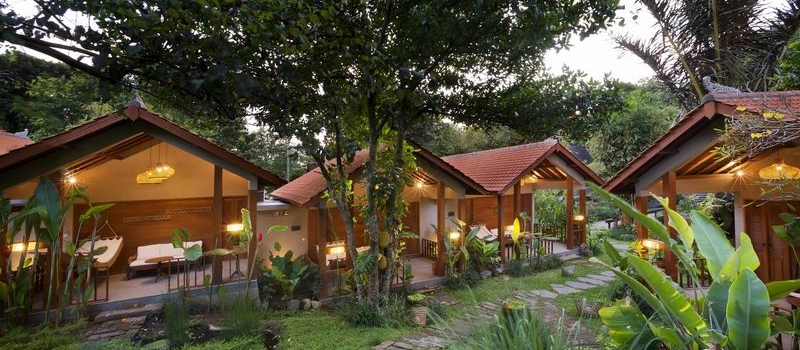 Kalapa is a gorgeous jungle resort in the relaxing coastal village of Canggu. The property is surrounded by tropical landscapes, a river, and expansive rice fields. It features houses made primarily of teak wood, two large pools, a luxurious spa, and a variety of yoga classes. Kalapa has complimentary shuttle services, allowing you to explore the town and beaches in between your classes.
Program: Kalapa offers 3, 5, and 7 night retreats. Each retreat includes private yoga sessions, private meditation sessions, traditional Balinese massages, healthy meals, transportation within the Canggu Beach area, and more. The 7 night retreat also includes a healthy kitchen class.
What We Like: The private yoga and meditation sessions allow travelers to deeply tune into their practice and work on the goals. The spa treatment and easy access to the surrounding town and beaches also makes the retreat perfect for those looking for a varied experience.
Cost: Price depends on the accommodations chosen. A 3 night retreat costs between $520 to $659, a 5 night retreat costs between $729 to $937, and a 7 night retreat costs between $937 to $1215.
Jalan Raya Uma Buluh No.14 Canggu, Tibubeneng, Kec. Kuta Utara, Kabupaten Badung, Bali 80361, Indonesia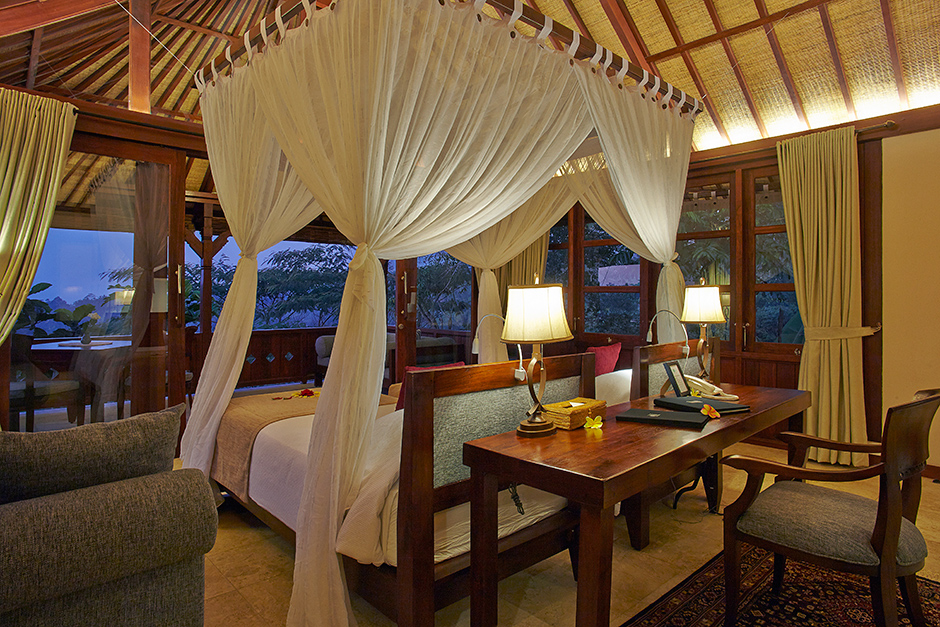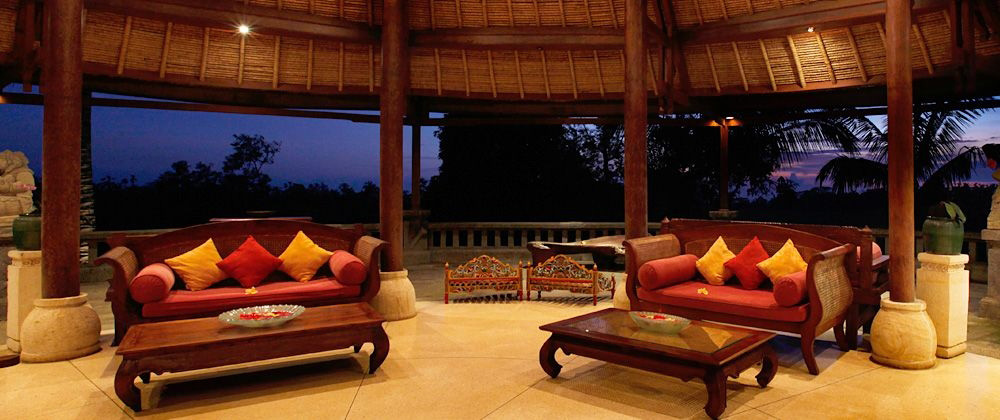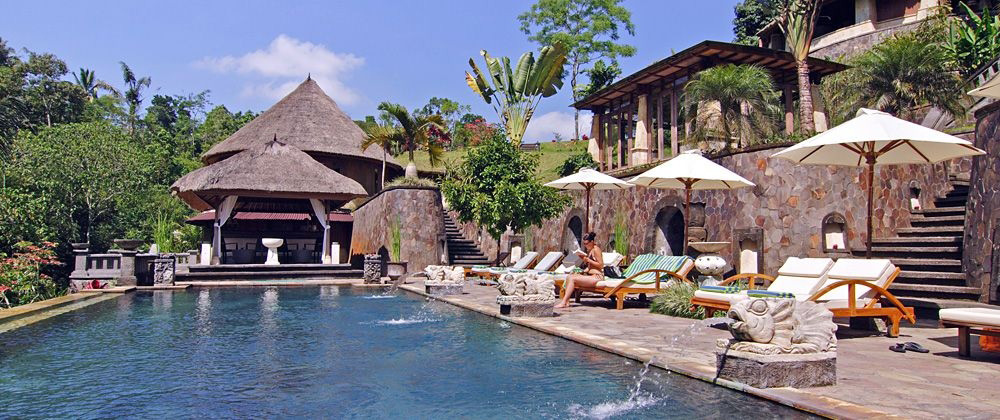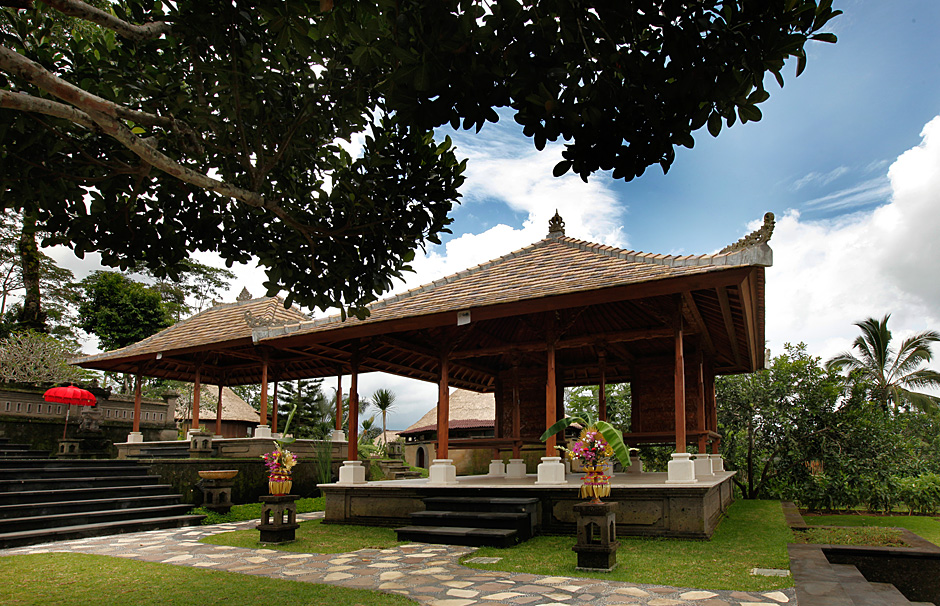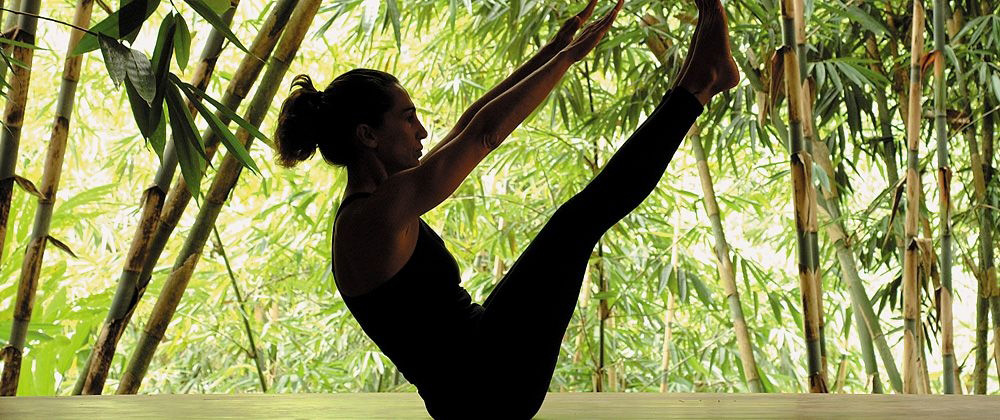 bagus_jati_pool_villa_interior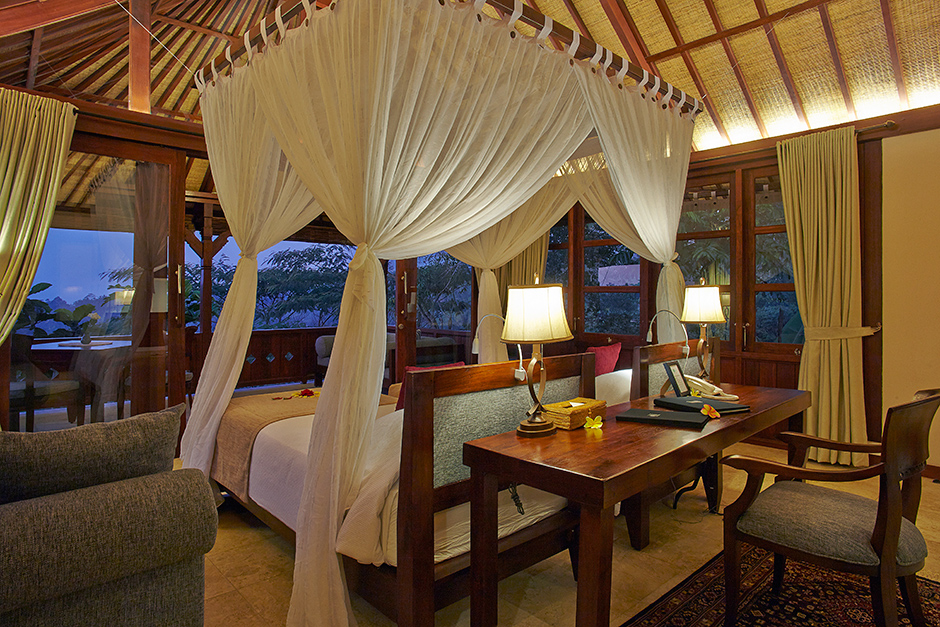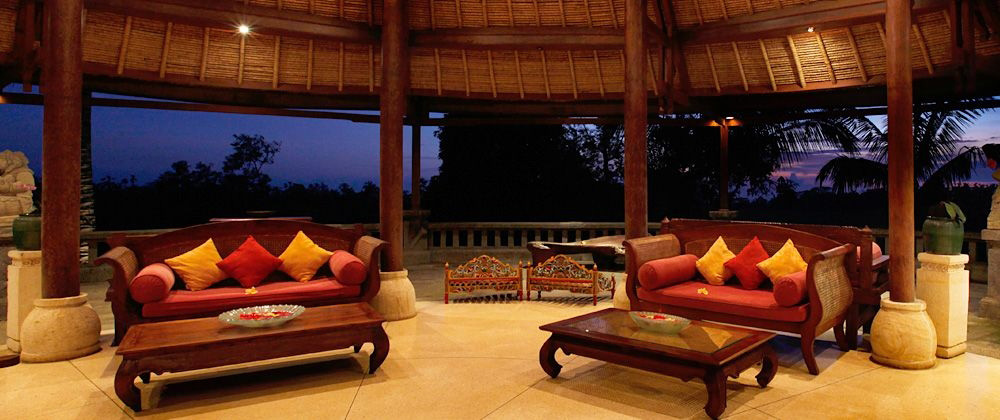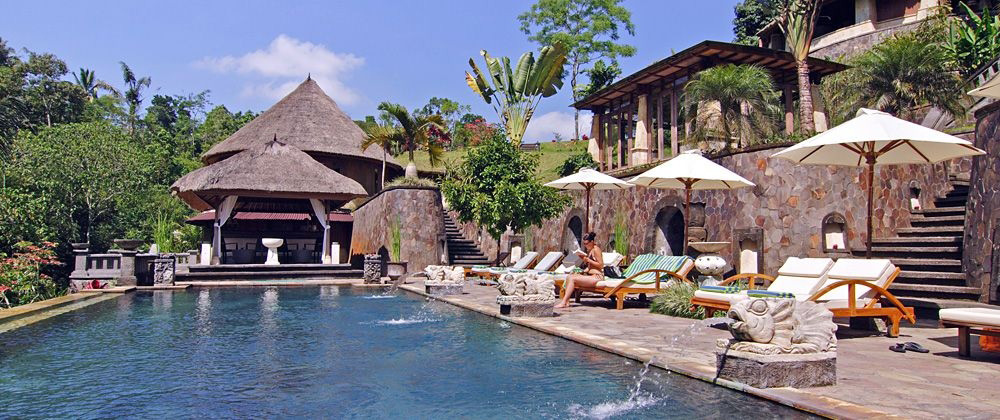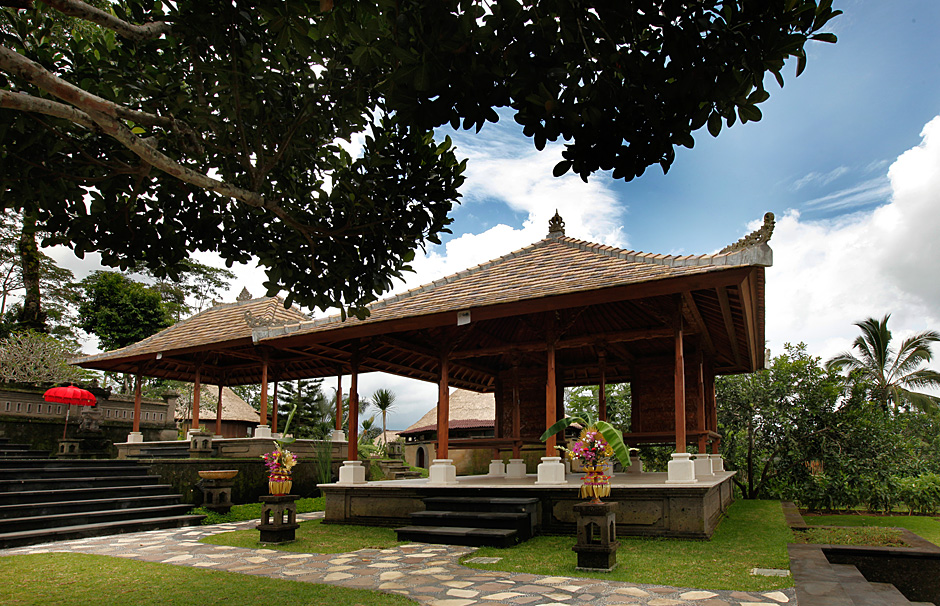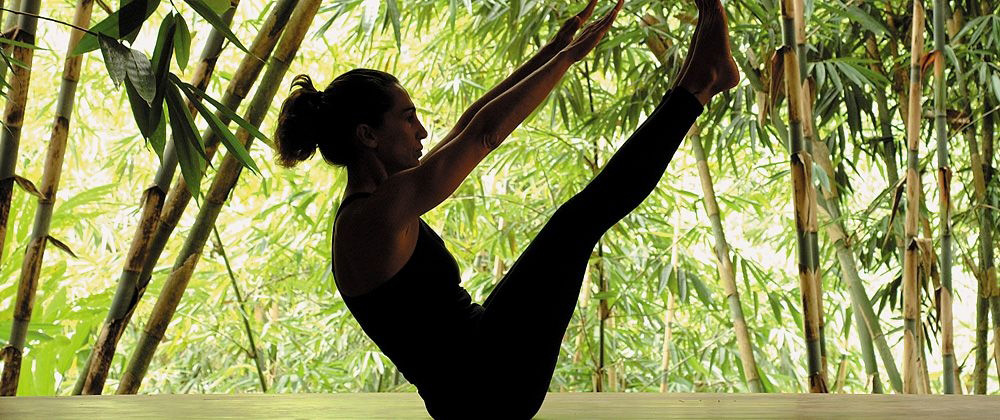 The Bagus Jati Health and Wellbeing Retreat is set in the gorgeous mountains of Ubud, complete with tropical greenery, wildlife, and views of the Ayung river valley. The tranquil setting creates the perfect backdrop for the variety of yoga, health, and wellness packages offered at the retreat center. The property features two circular yoga pavilions which look out to the bamboo forest, as well as a swimming pool, fitness center, and organic farm.
Program: There are a variety of retreat packages to choose from, but the most yoga-centric is the Yoga and Ayurveda Package. This can last between 3 to 5 nights, and includes private yoga lesson(s), daily morning yoga classes and afternoon yoga and meditation classes, a variety of Ayurvedic treatments, and daily breakfast and dinner.
What We Like: The emphasis on Ayurveda in the Yoga and Ayurveda package creates a unique and well-rounded yogic retreat experience. There are also a variety of other packages that also include yoga, such as the Detox Package or the New Start Package. You'll easily find an option that best fits your goals.
Cost: For the Yoga and Ayurveda Package, 3 nights cost between $805 to $1315, 4 nights between $1050 to $1730, and 5 nights between $1260 to $2110.
Sebatu, Banjar Jati, Taro, Tegallalang, Kabupaten Gianyar, Bali 80561, Indonesia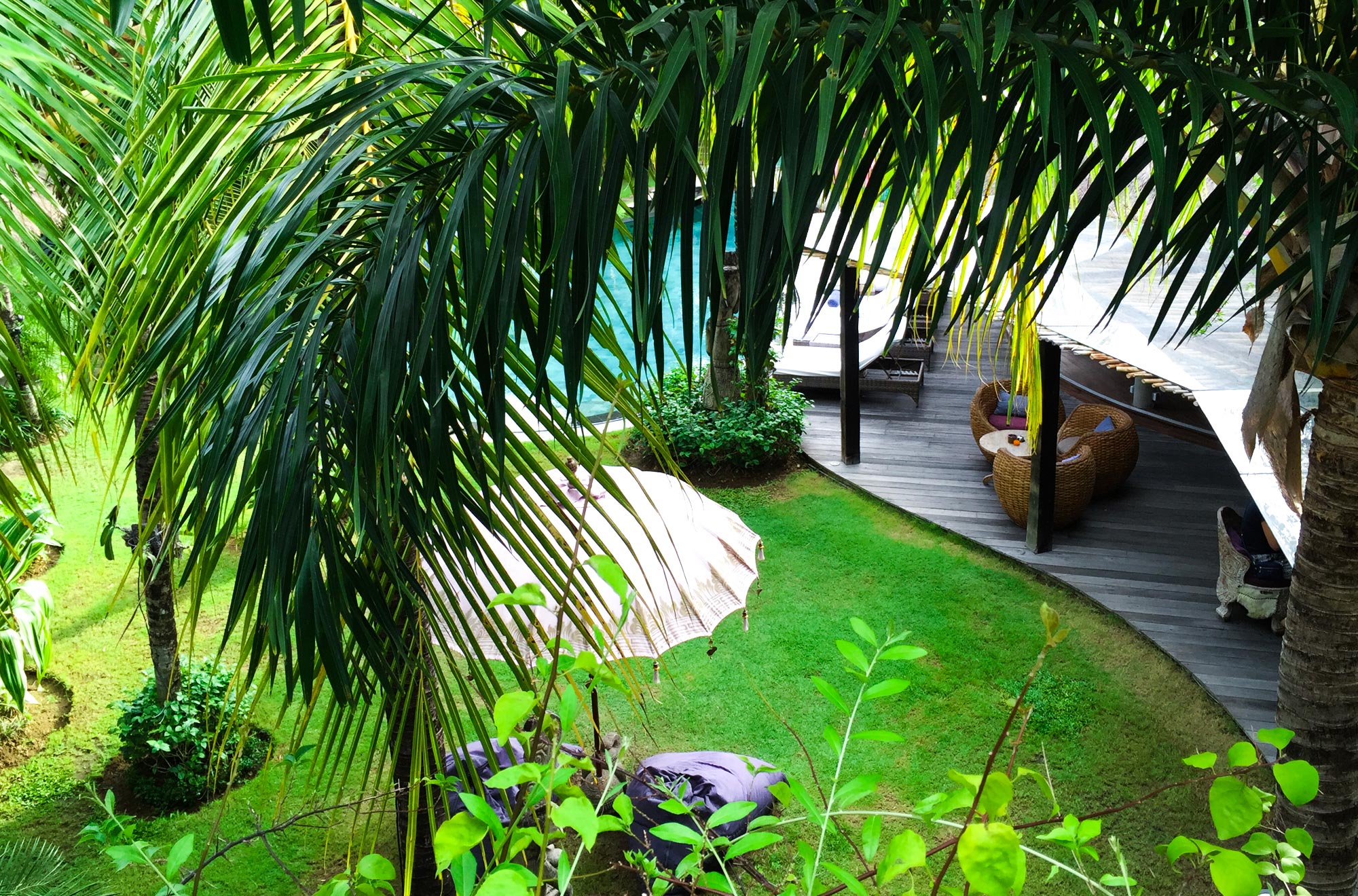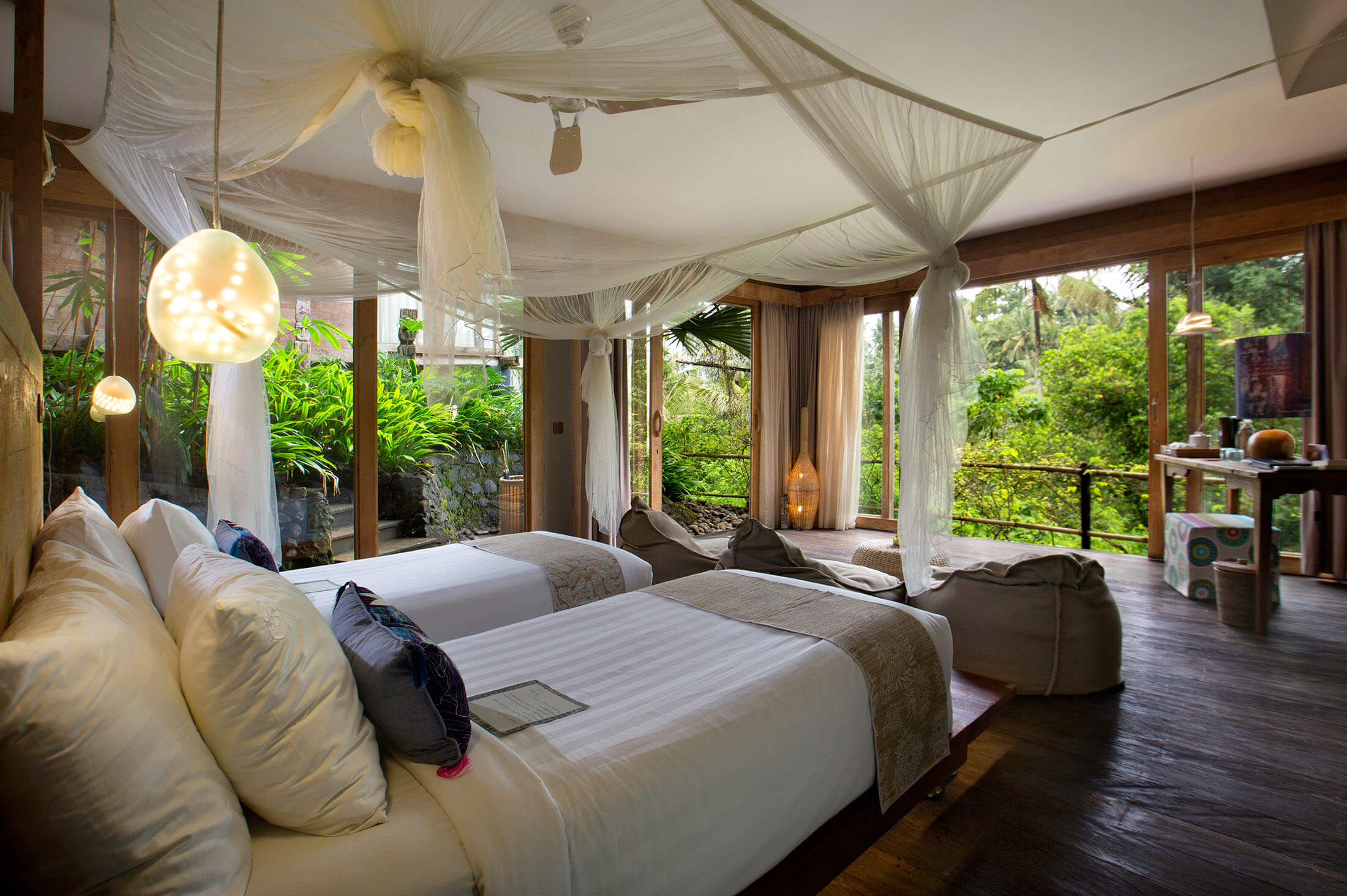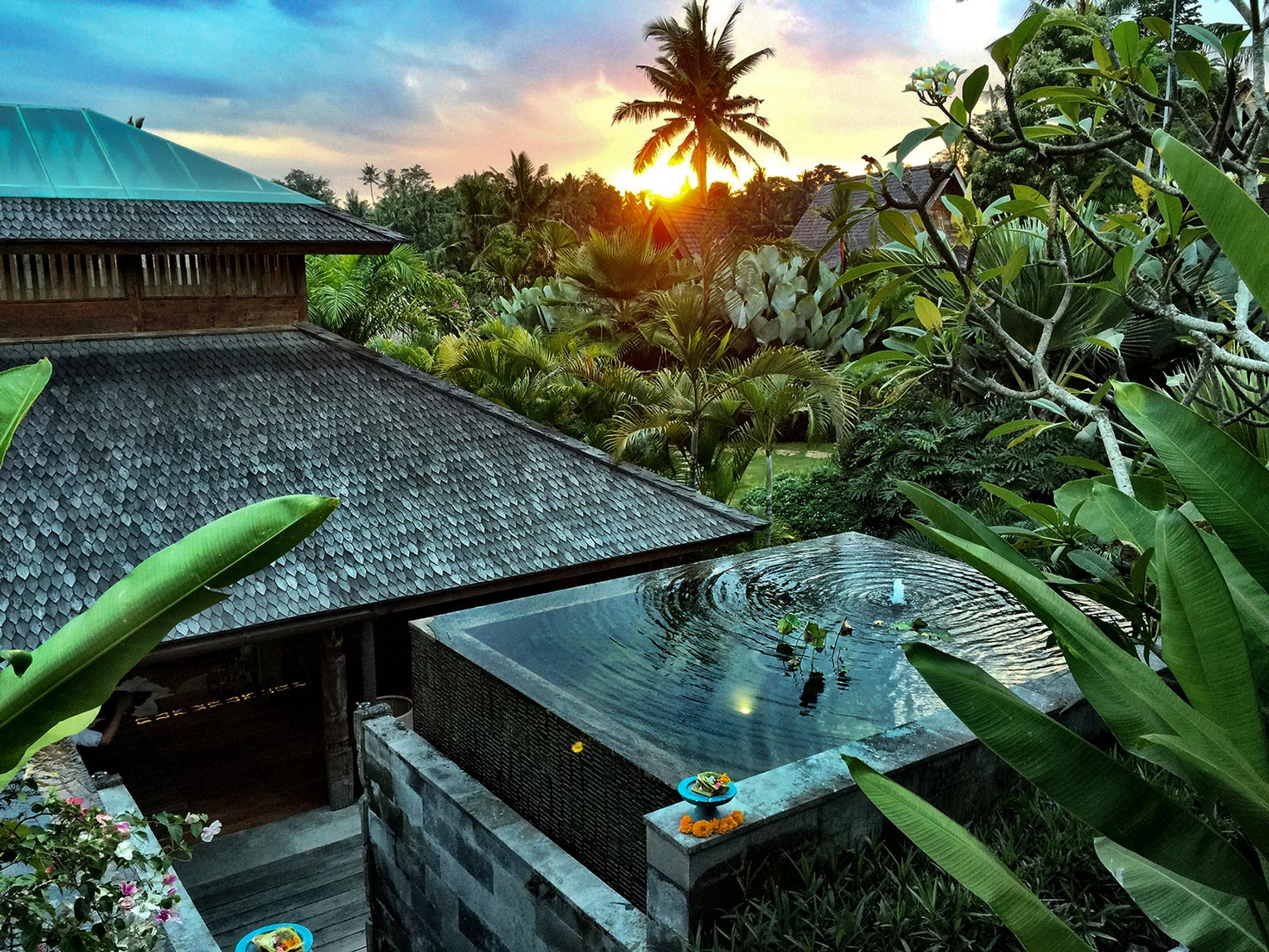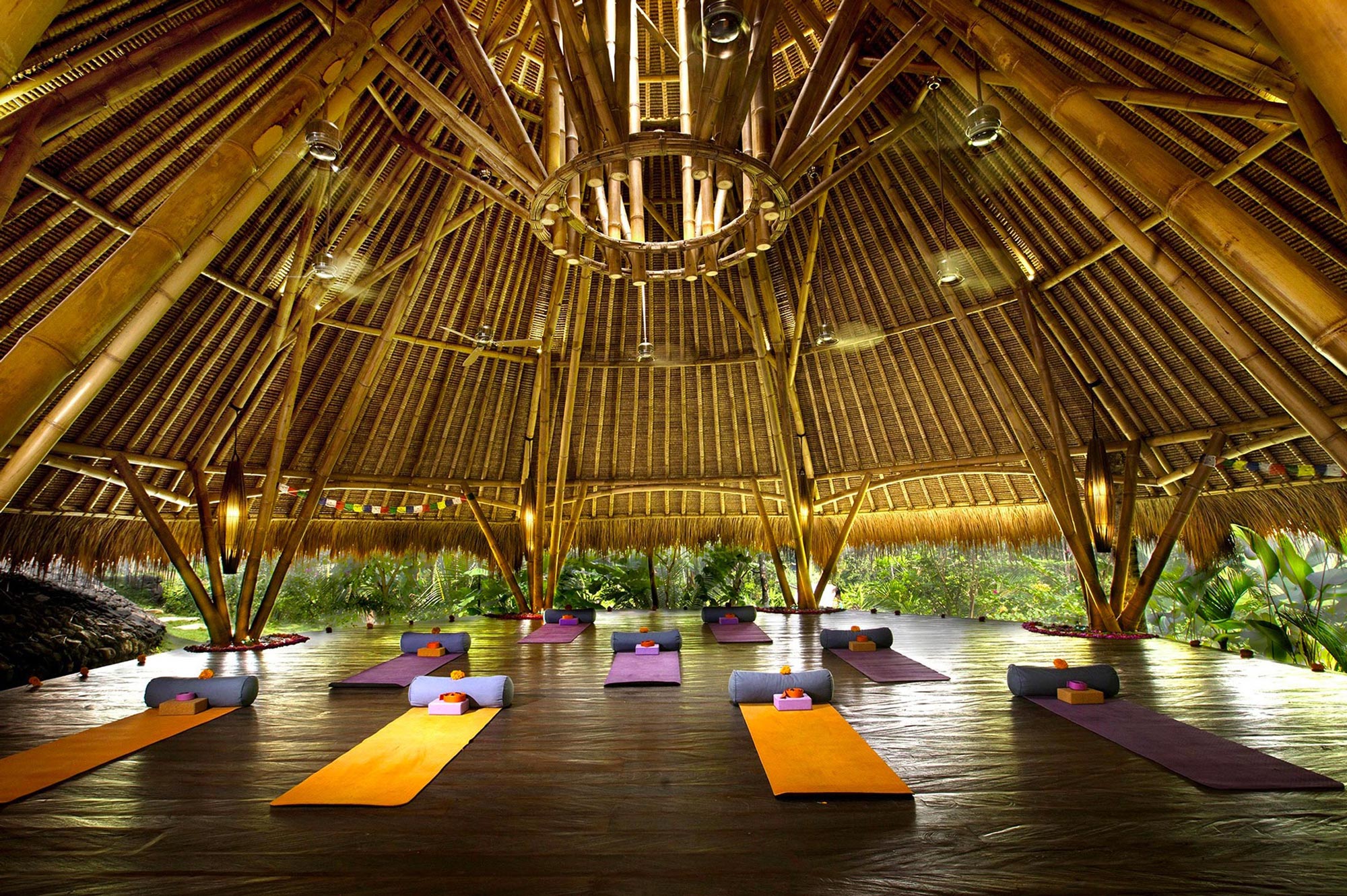 Header-Superior-Room-Bulan
Blue-Karma-Nestling-Escape-Ubud-1
Ubud-yoga-shala-event-and-meeting-space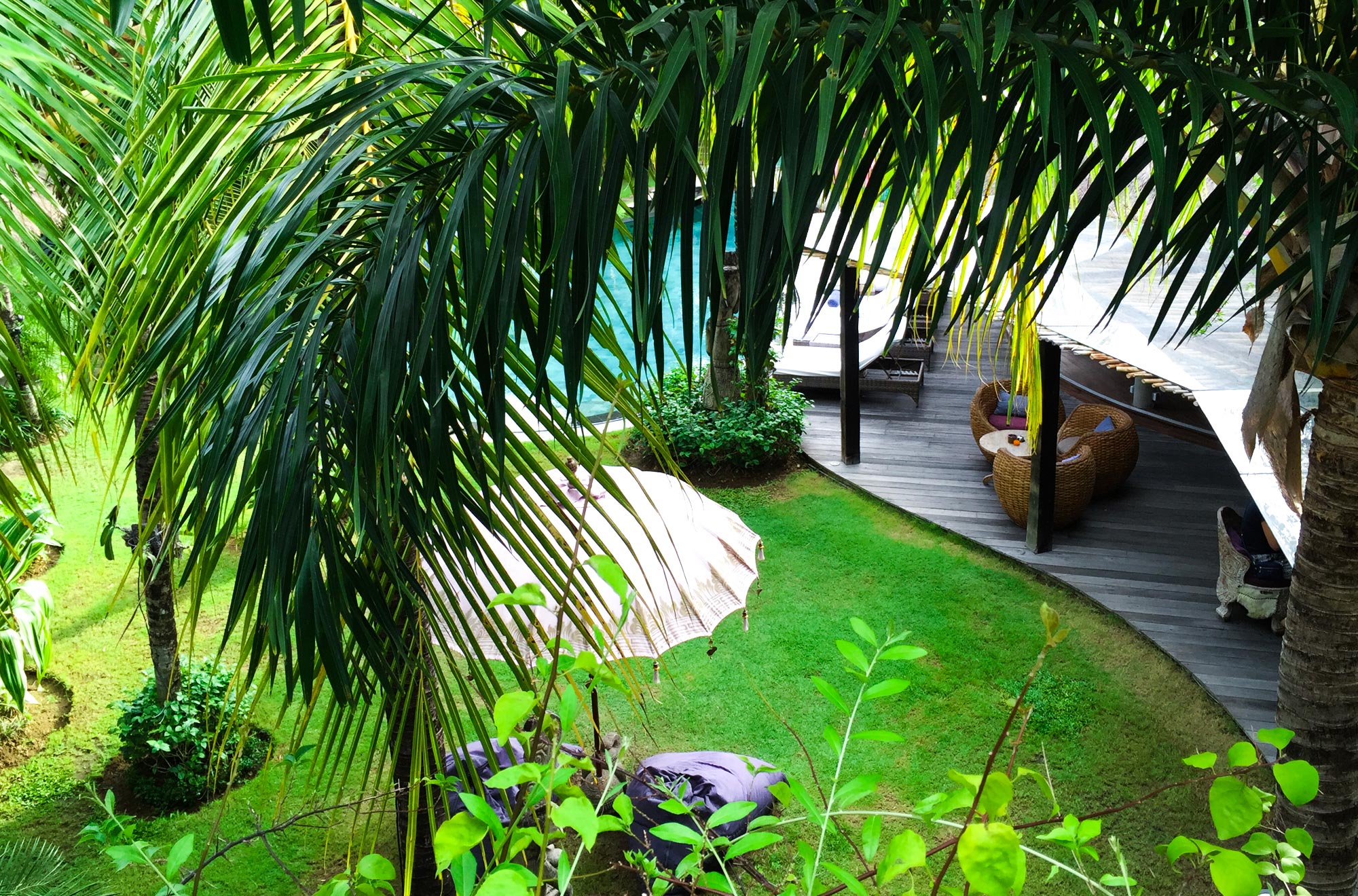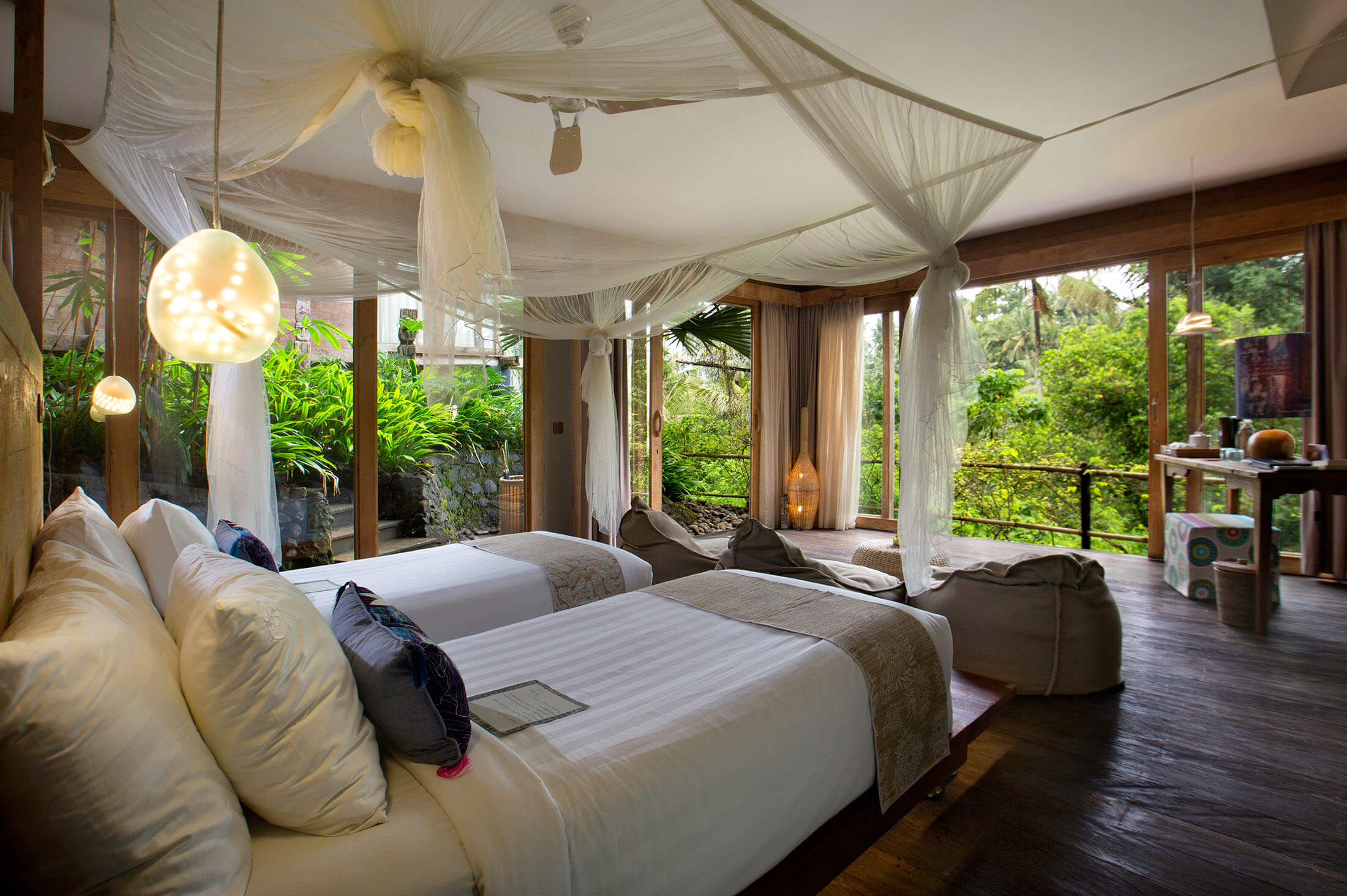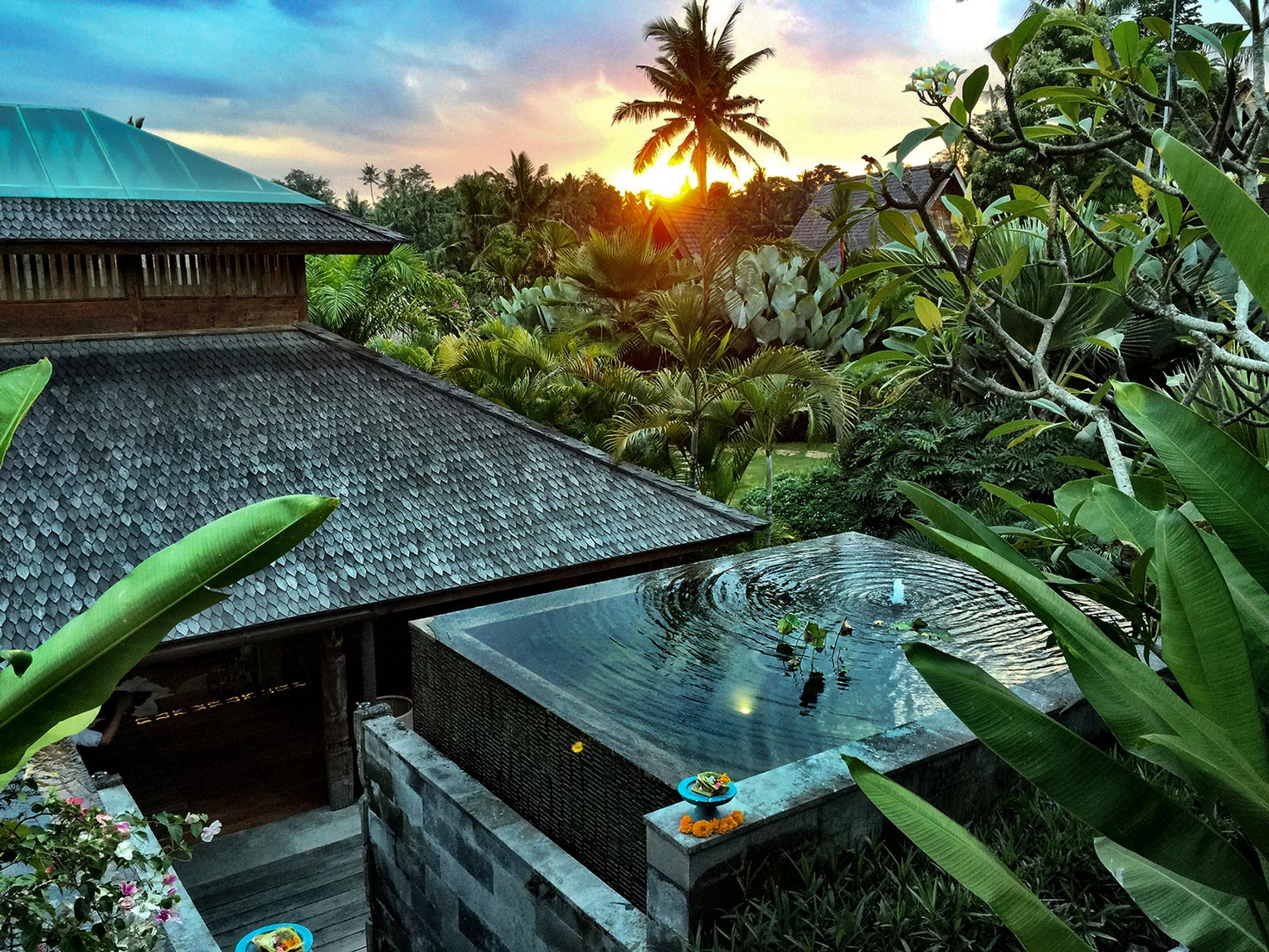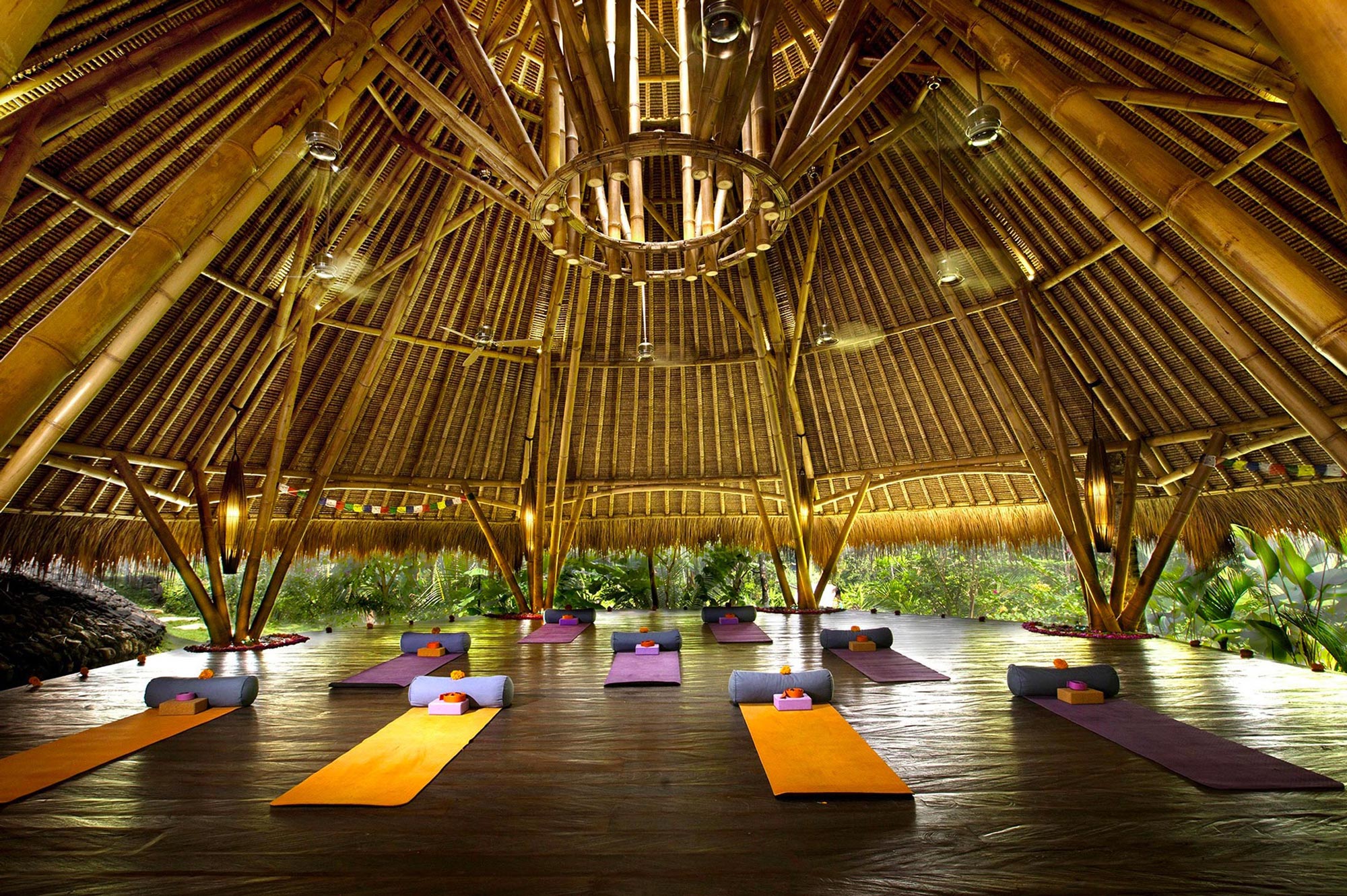 Blue Karma is nestled within the hillside, with views of the jungle and rice paddies. The resort features joglo style suites which have been crafted with Javanese wood, and offers an infinity pool and luxurious spa. The main highlight of the property is the ethically crafted yoga shala, where daily yoga classes are hosted, as well as community dances and activities.
Program: Blue Karma offers a variety of programs, including the Yogis Inner Journey Retreat, Yin Yang Yoga Retreat, Vinyasa Flow Yoga Retreat, Hatha Yoga Retreat, and Detox and Yoga Retreat. The Yogis Inner Journey runs for 3 nights, while the other mentioned options run for 7 nights. Some of the features you can find in these retreat packages include daily yoga and meditation classes, yoga philosophy workshops, a sound healing, spa treatments, and vegetarian/vegan meal options.
What We Like: Blue Karma has one of the largest lists of retreat packages, covering multiple styles of yoga, meditation, detoxing, and sound healing. The extensive retreat options mean that yogis of all levels and preferences can find an option that works best for their needs.
Cost: The Yogis Inner Journey (3 nights) costs between $789 to $1170. The 7 night retreats vary based on chosen program, but start at $2209.
Jalan Raya Suweta Lingkungan, Ubud 80571, Indonesia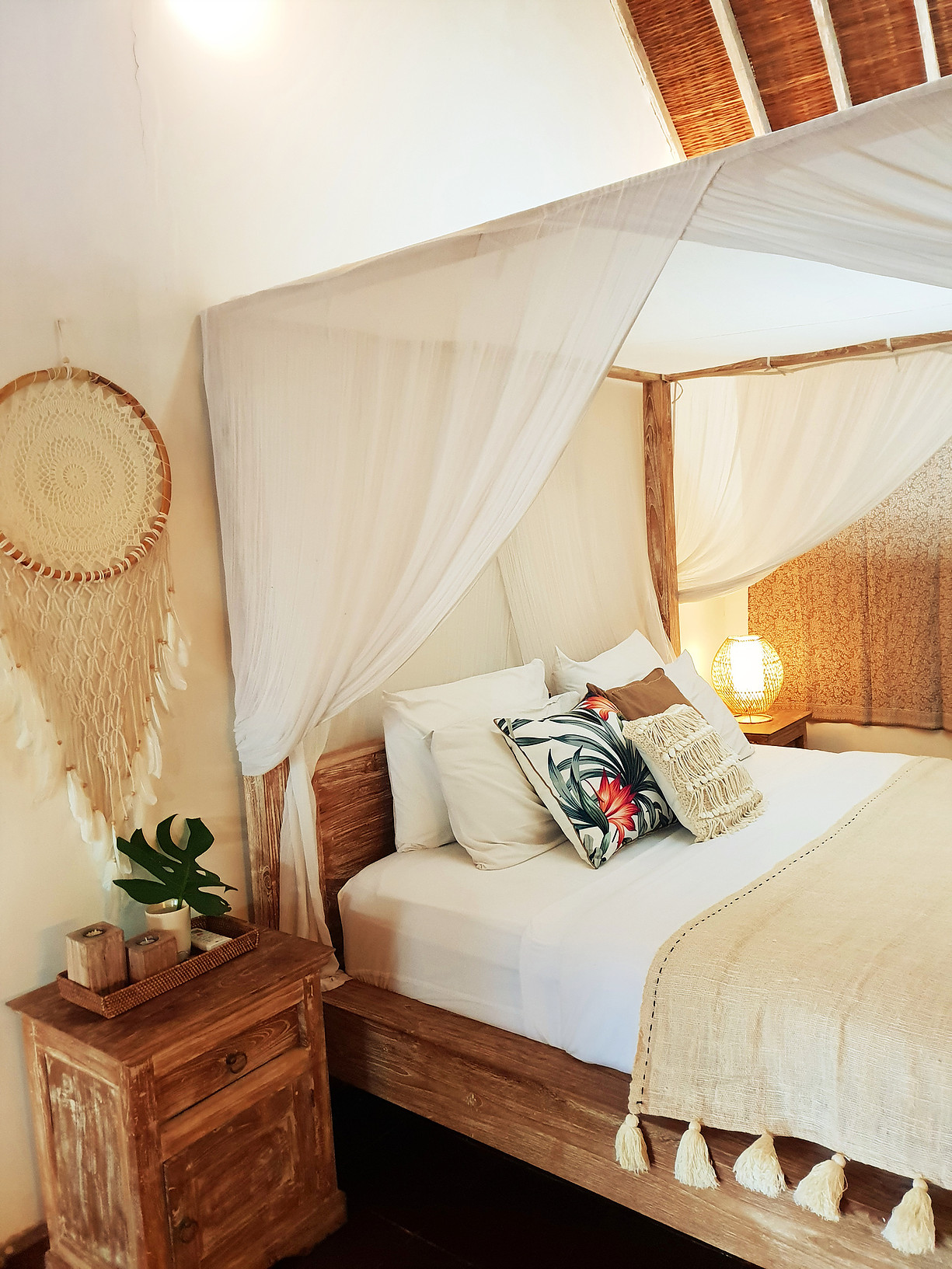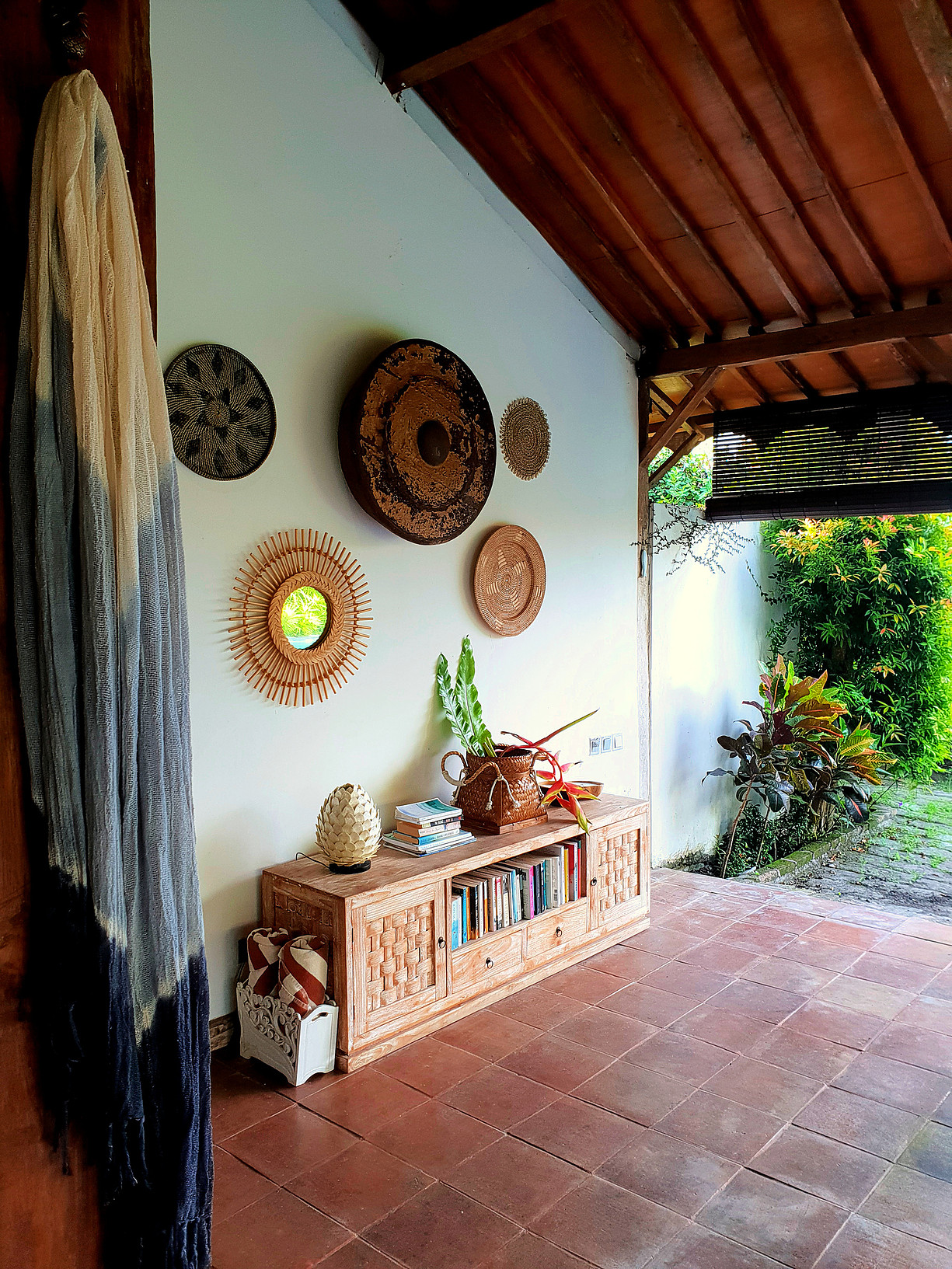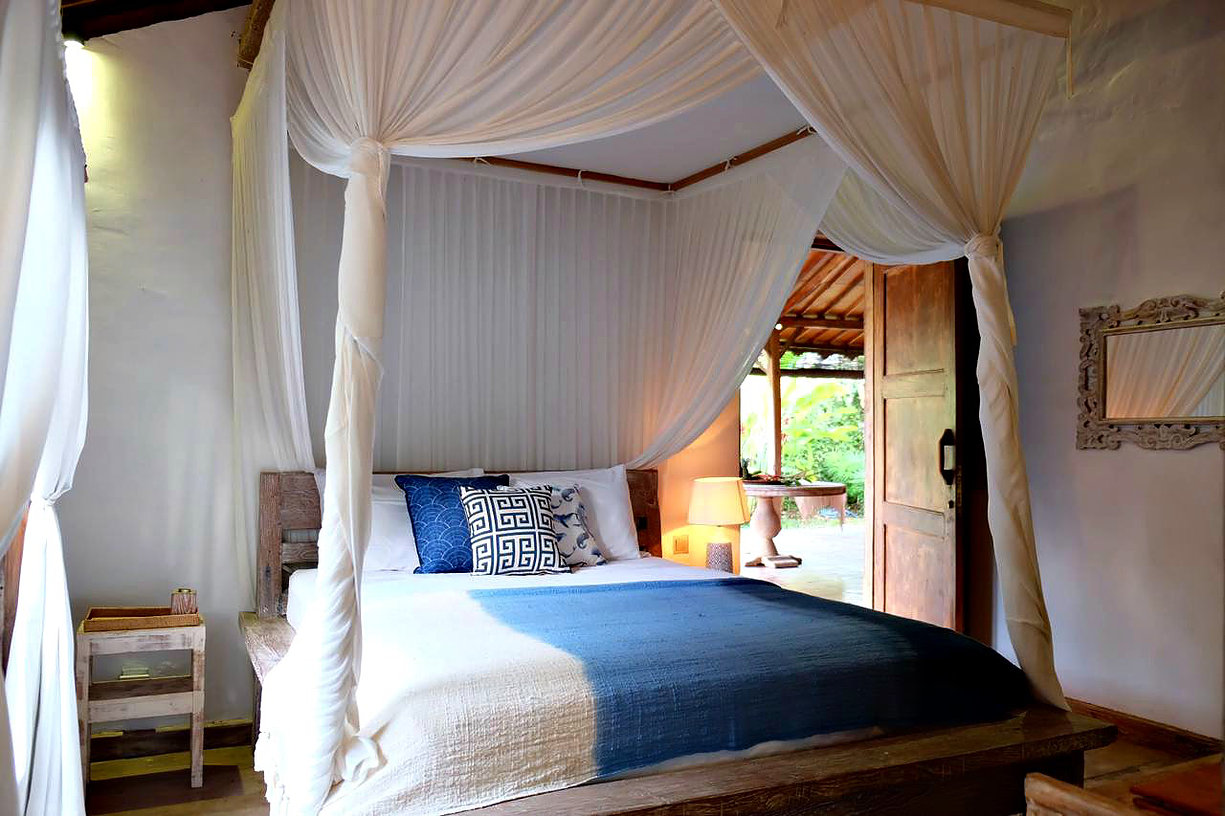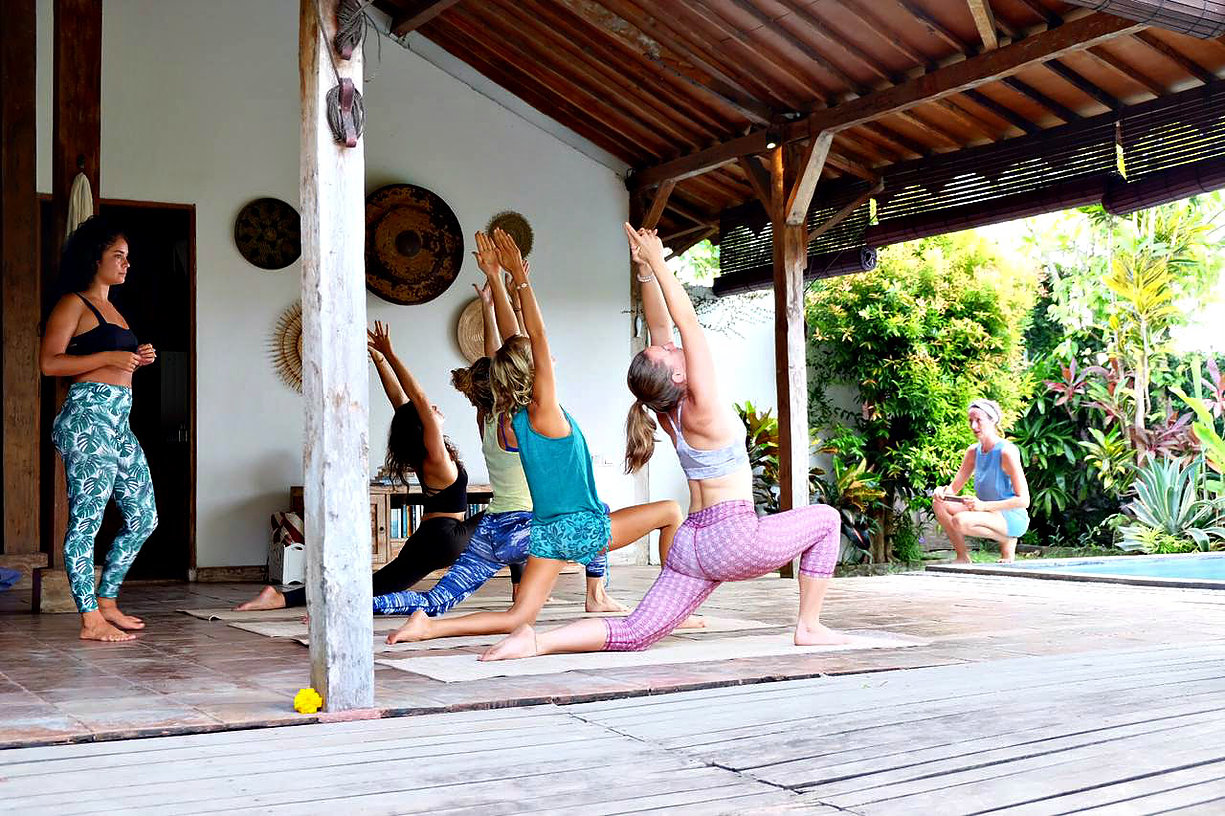 1d901f_eef20429bcf745c2bd531148ac35a5a7_mv2_d_3024_4032_s_4_2
1d901f_c68e12b201fe404ba45993d91511b8f7_mv2
1d901f_7ae1d32d8170458a88bf68fbb7c97aa1_mv2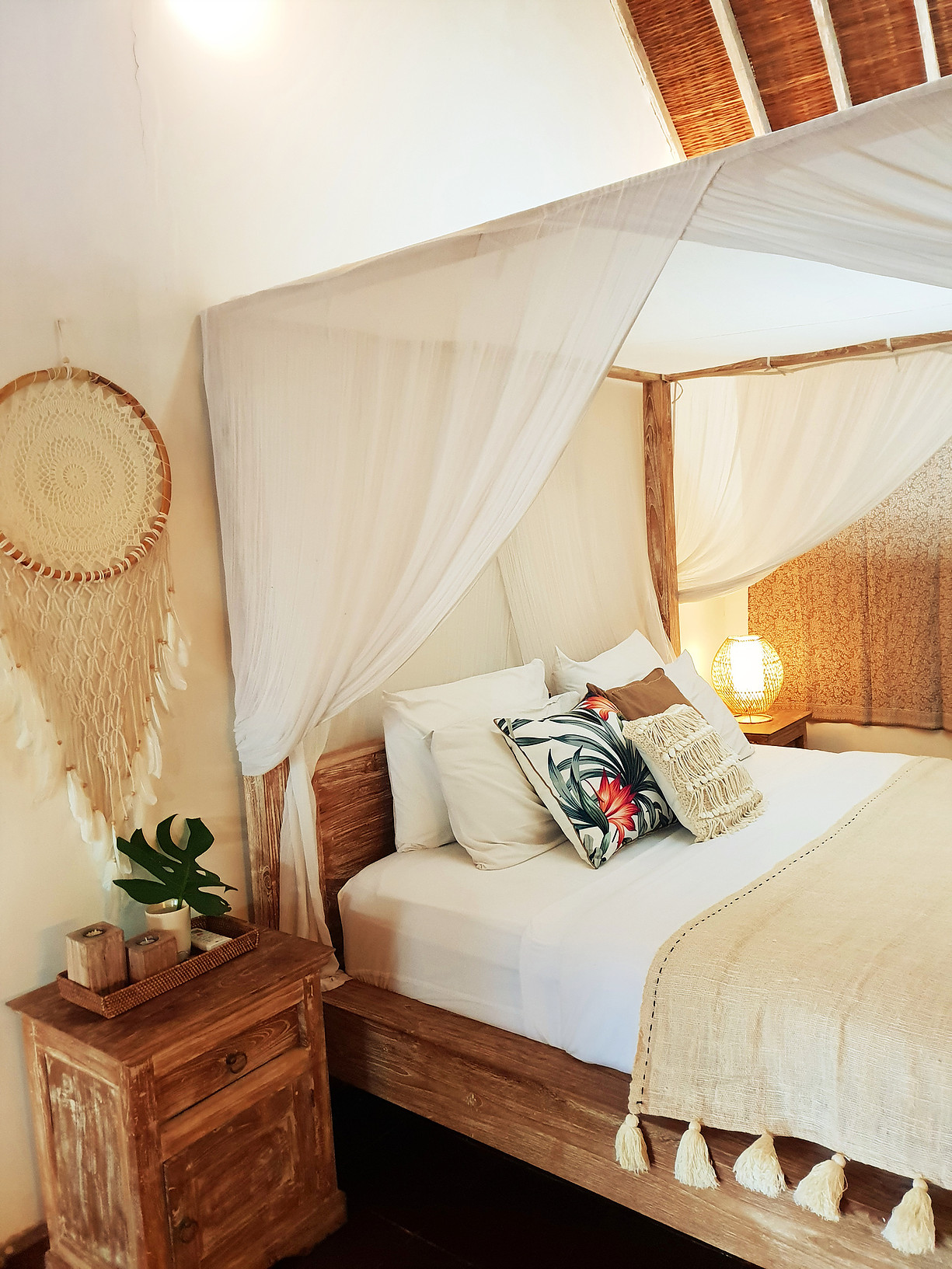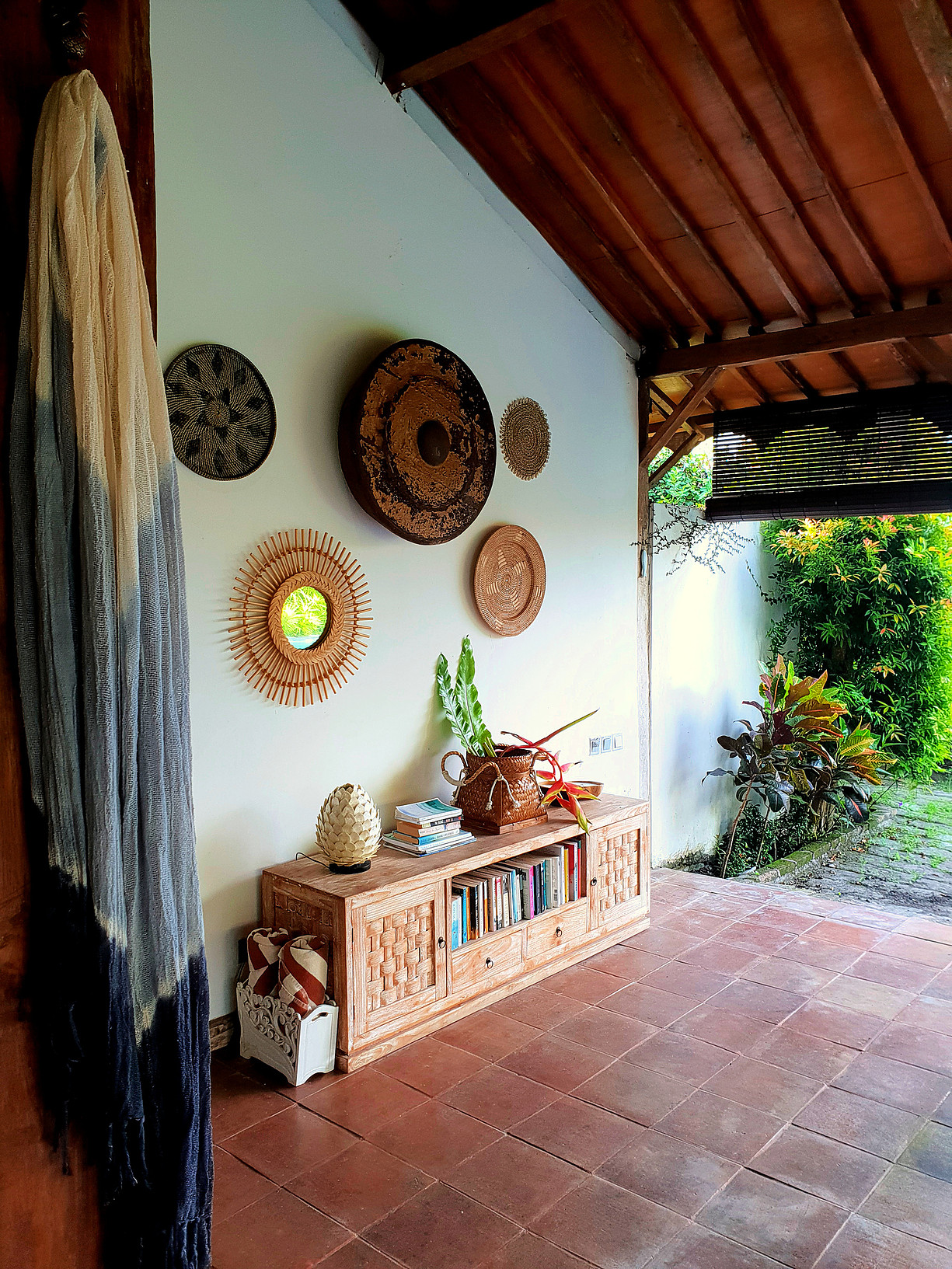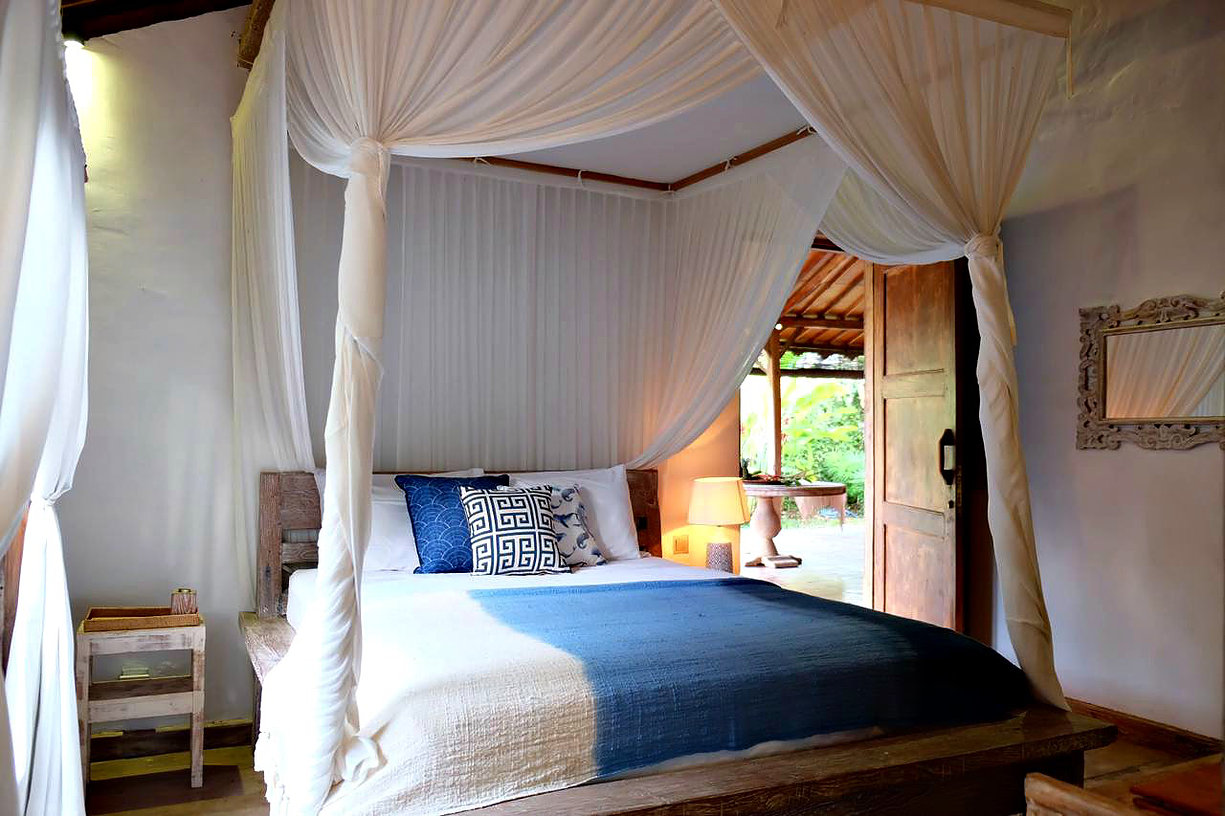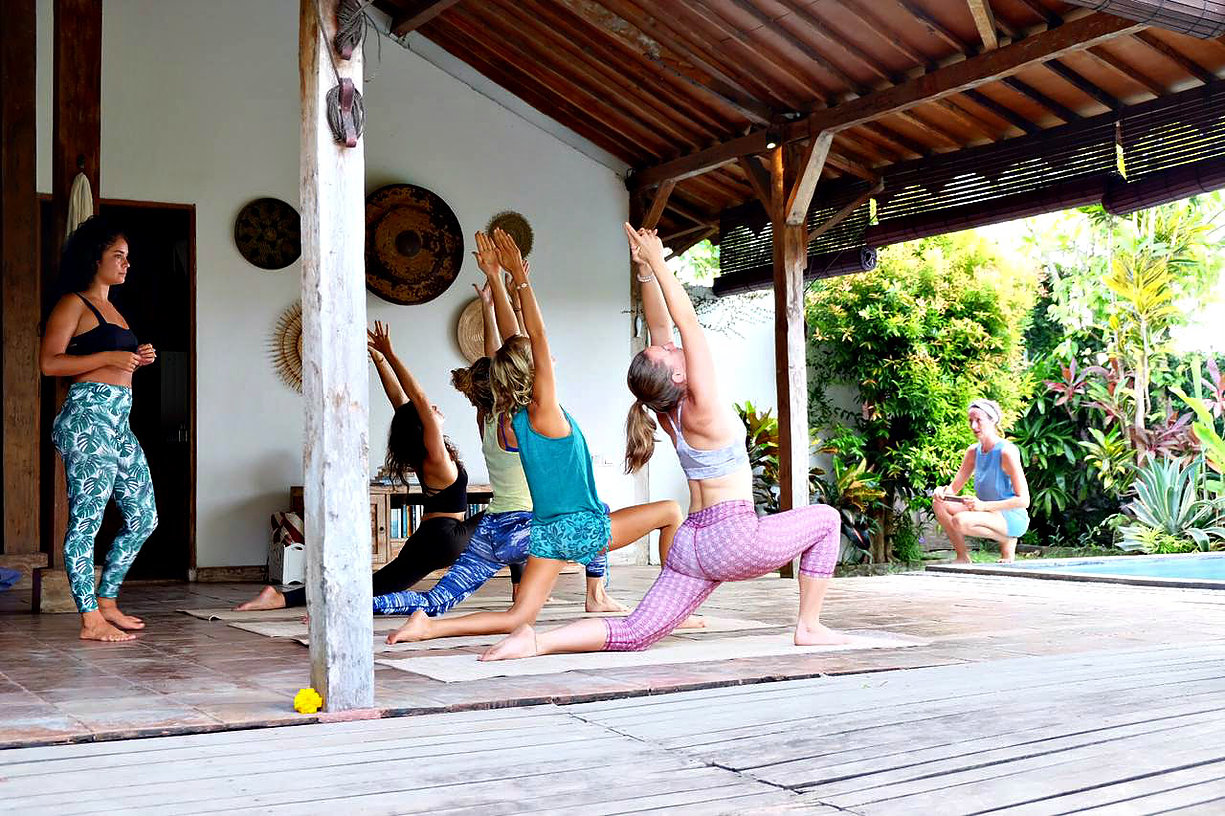 At The Pineapple House, based in Canggu, the team merges the philosophies and lifestyles of surfing and yoga. They believe in simplicity and wholesome living. There are only five rooms in the boho chic retreat center, and the small size means that they are able to give personal attention to each traveler. The property also features two pools, plenty of areas to lounge around, and a poolside gazebo.
Program: There are 3 programs to choose from: Surf & Yoga, Yoga & Wellness, and Simply Yoga. Packages range from anywhere from 2 to 11 nights. Programs can include group yoga classes, private yoga classes, an in-house massage and other luxurious spa treatments, guided surf sessions, and daily breakfast.
What We Like: Besides the unique combination of surfing and yoga, The Pineapple House encourages you to recharge at your own pace. The open schedule means you can do whatever activity you want, when you want, and just go with the flow.
Cost: The Surf & Yoga Package starts at $425 for 2 nights. The Yoga & Wellness Package starts at $549 for 2 nights. The Simply Yoga Package starts at $425 for 2 nights.
Jl. Subak Sari, Canggu 80361, Indonesia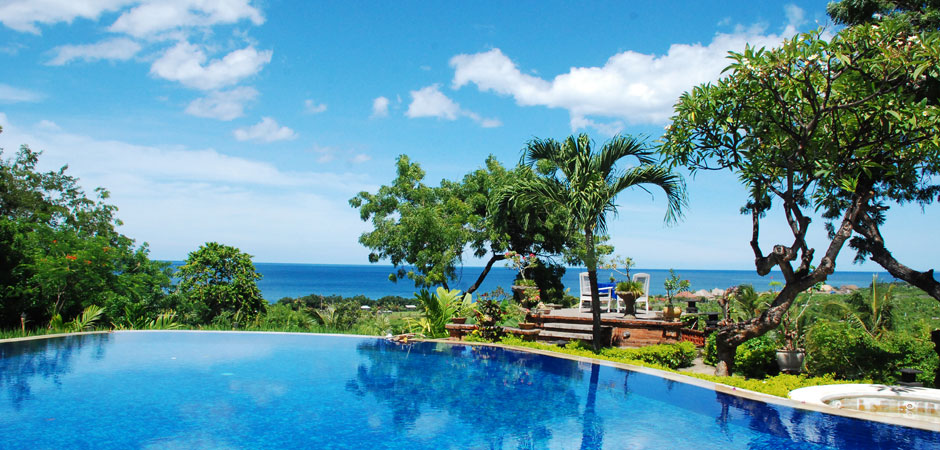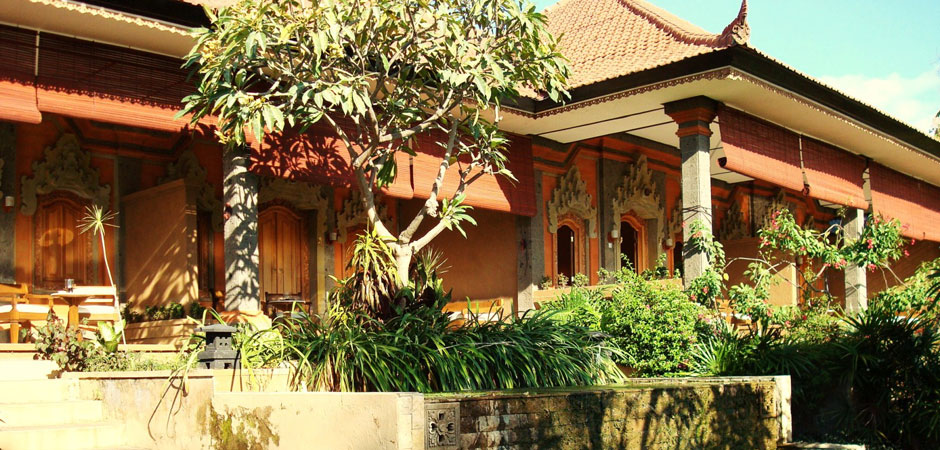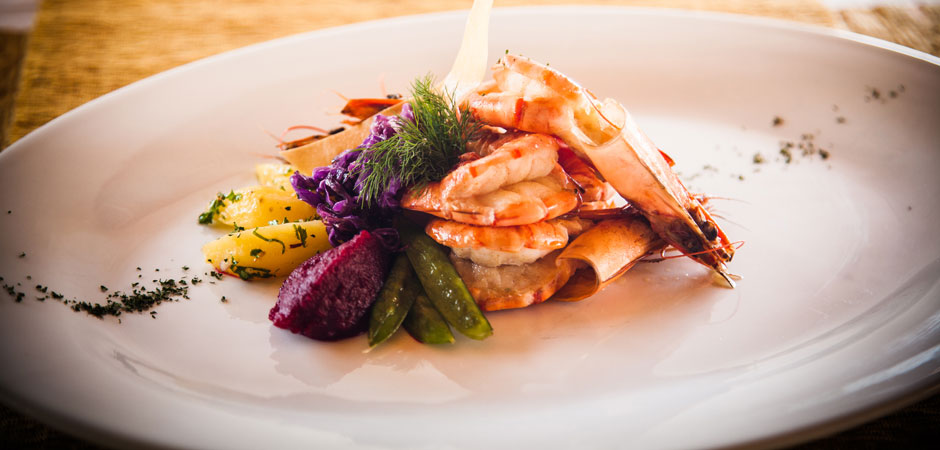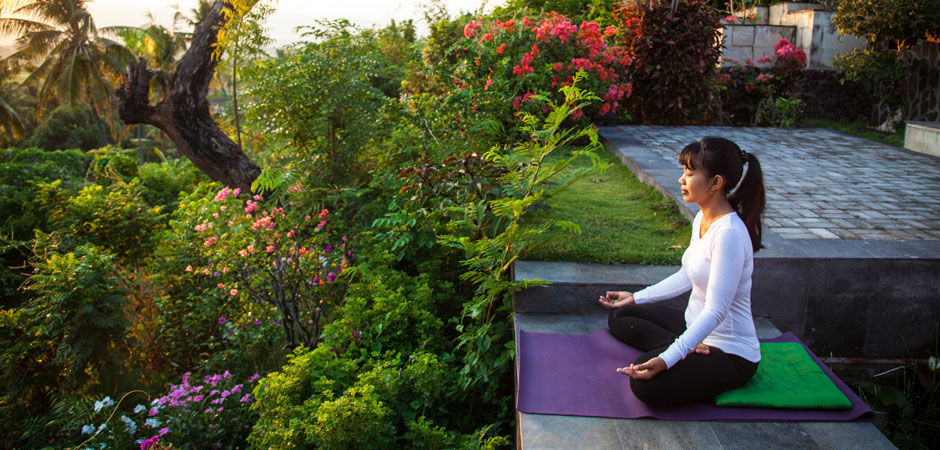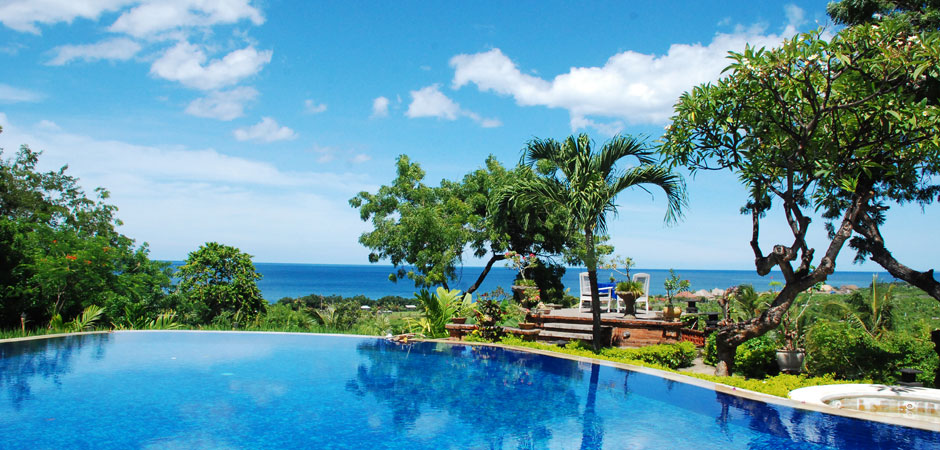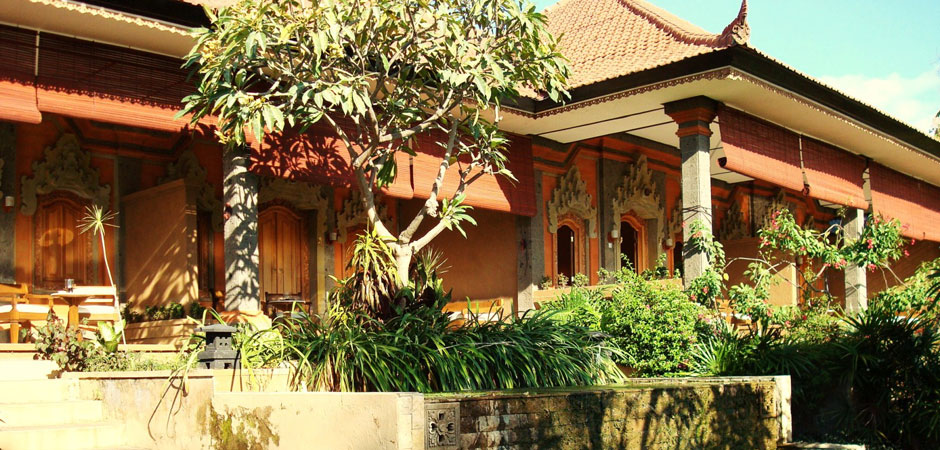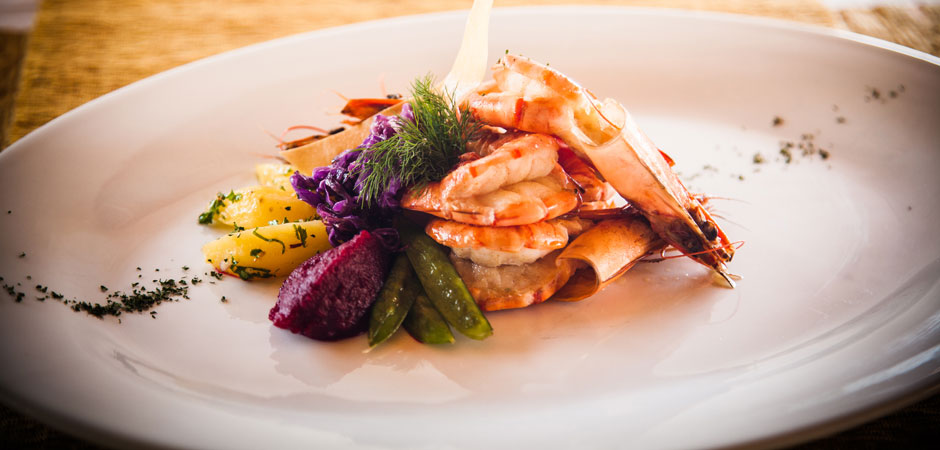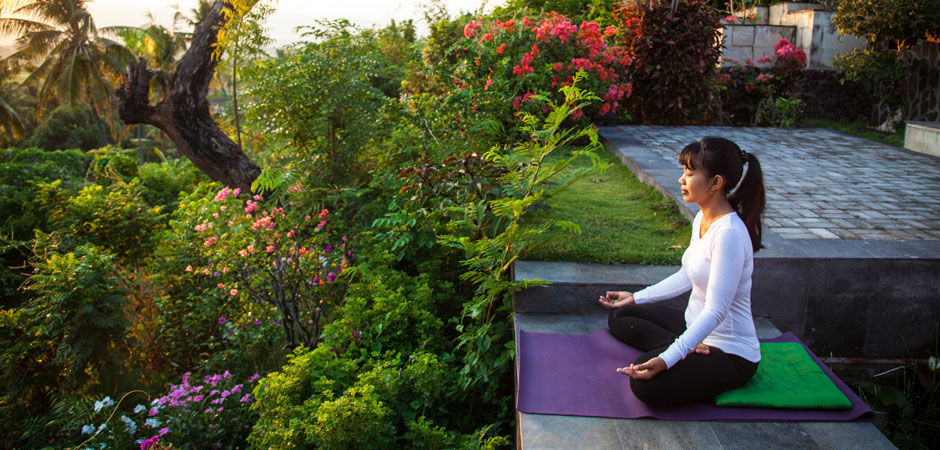 Zen Resort Bali, located in Singaraja, takes a holistic approach to enhance your physical, psychological, and spiritual wellness. The resort sits above the ocean, and is surrounded by tropical greenery, rice terraces, vineyards, and gardens. Zen Resort implements traditional yogic practices in the retreats, using asana practice, meditation, pranayama, and ayurvedic treatments.
Program: Zen Resort offers programs that last anywhere from 4 to 22 days. The primary yoga package is the Wellness package. This program features sunrise meditation, sunrise yoga, sunset yoga, cultural excursions, all three meals, and a host of ayurvedic treatments. Each guest receives a wellness consultation with the resident ayurvedic and naturopathy expert.  They also offer a Stress Release program and a Slimming program. If you are looking for a truly unique experience, they have combination yoga and scuba or free-diving packages as well.
What We Like: The traditional approach makes the Zen Resort retreat experience a true yoga retreat. With an emphasis on meditation, pranayama, the asana practice, and ayurvedic philosophy, you are guaranteed to deepen your practice.
Cost: The Wellness package starts at $1110 for 4 days, and goes up to $6637 for 22 days.
Jl. Umeanyar, Desa Ume Anyar, Seririt, Buleleng, Umeanyar, Singaraja, Kabupaten Buleleng, Bali 81153, Indonesia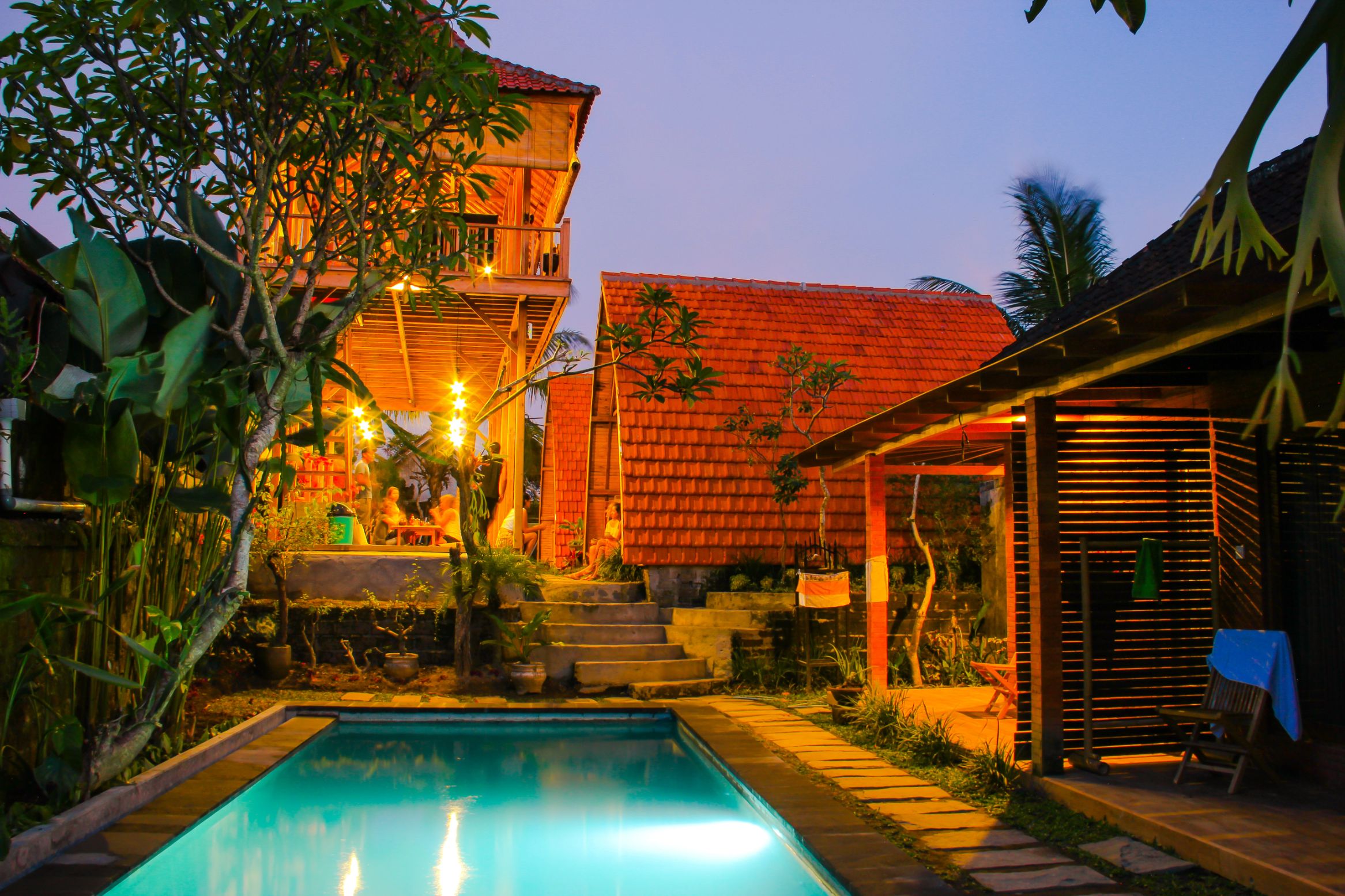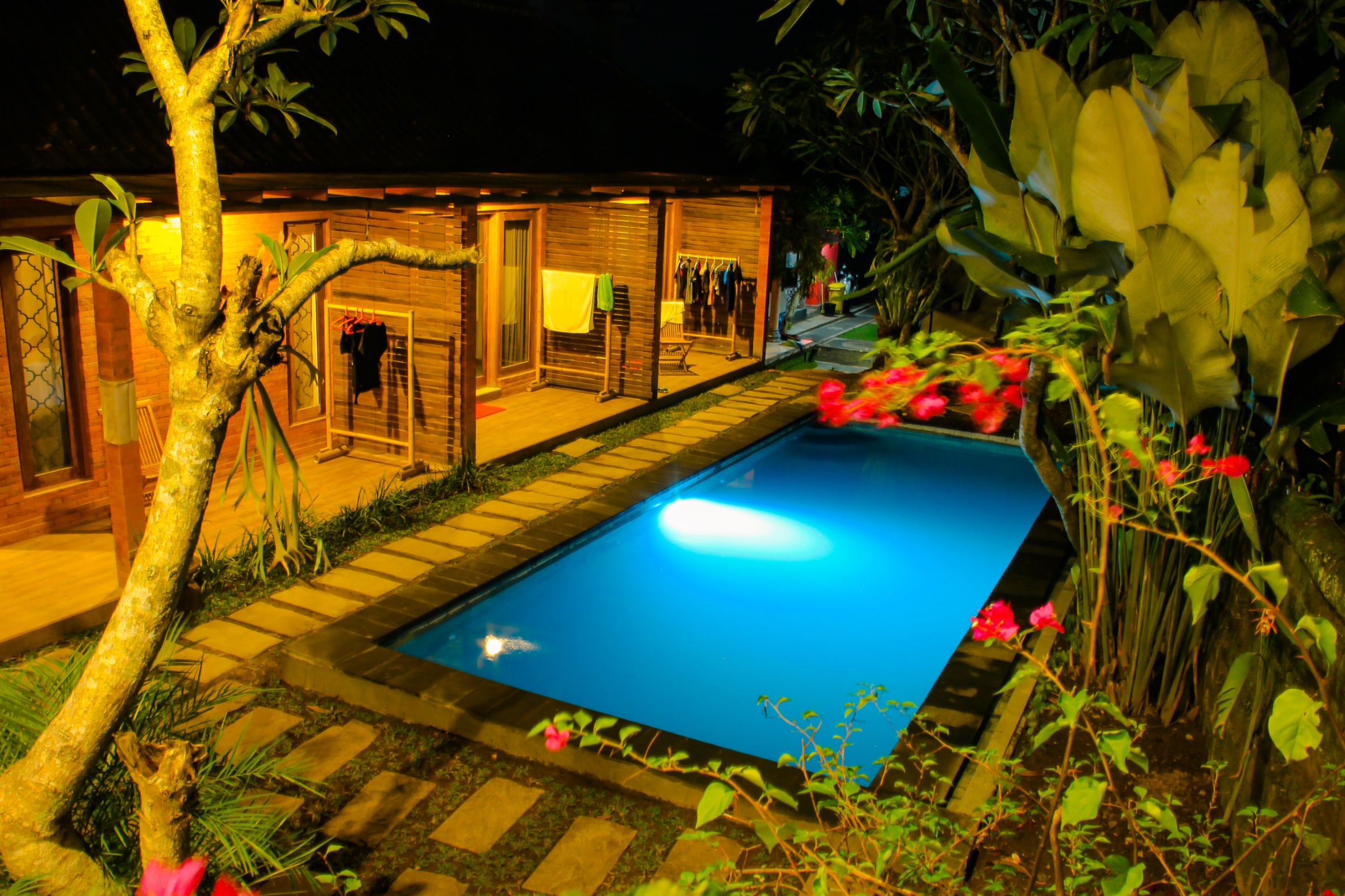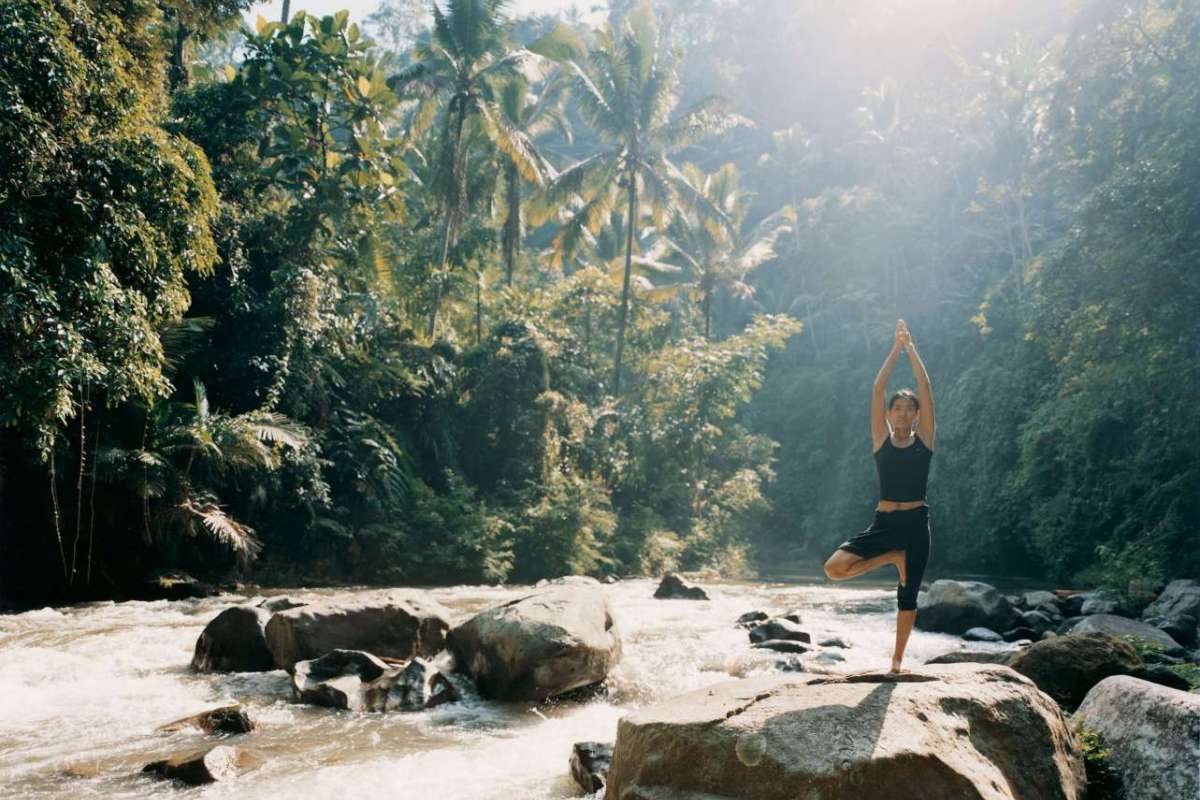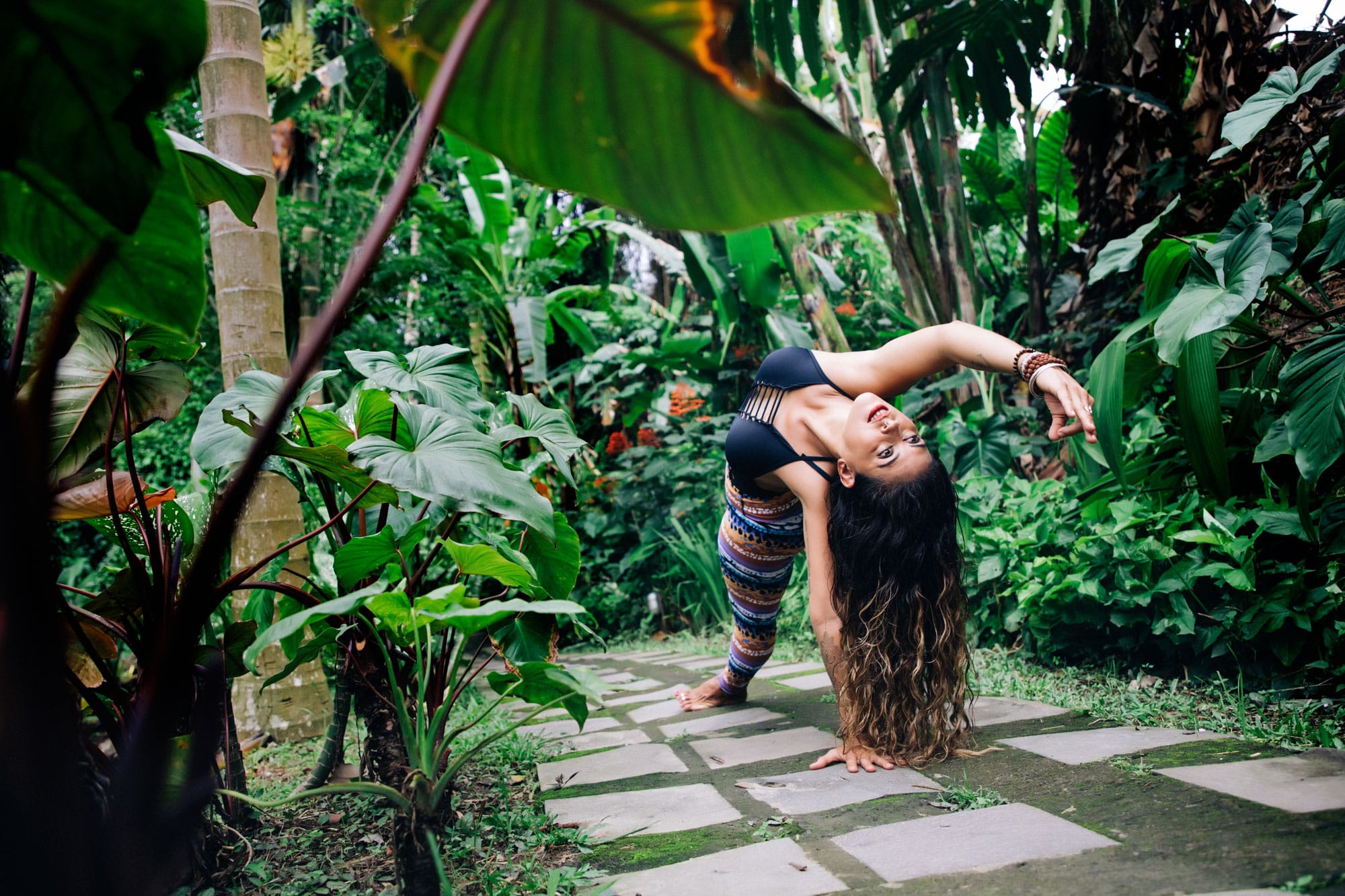 st_20170101_nsbali6qcx_2837899
yoga-photography-ulrike-reinhold-bali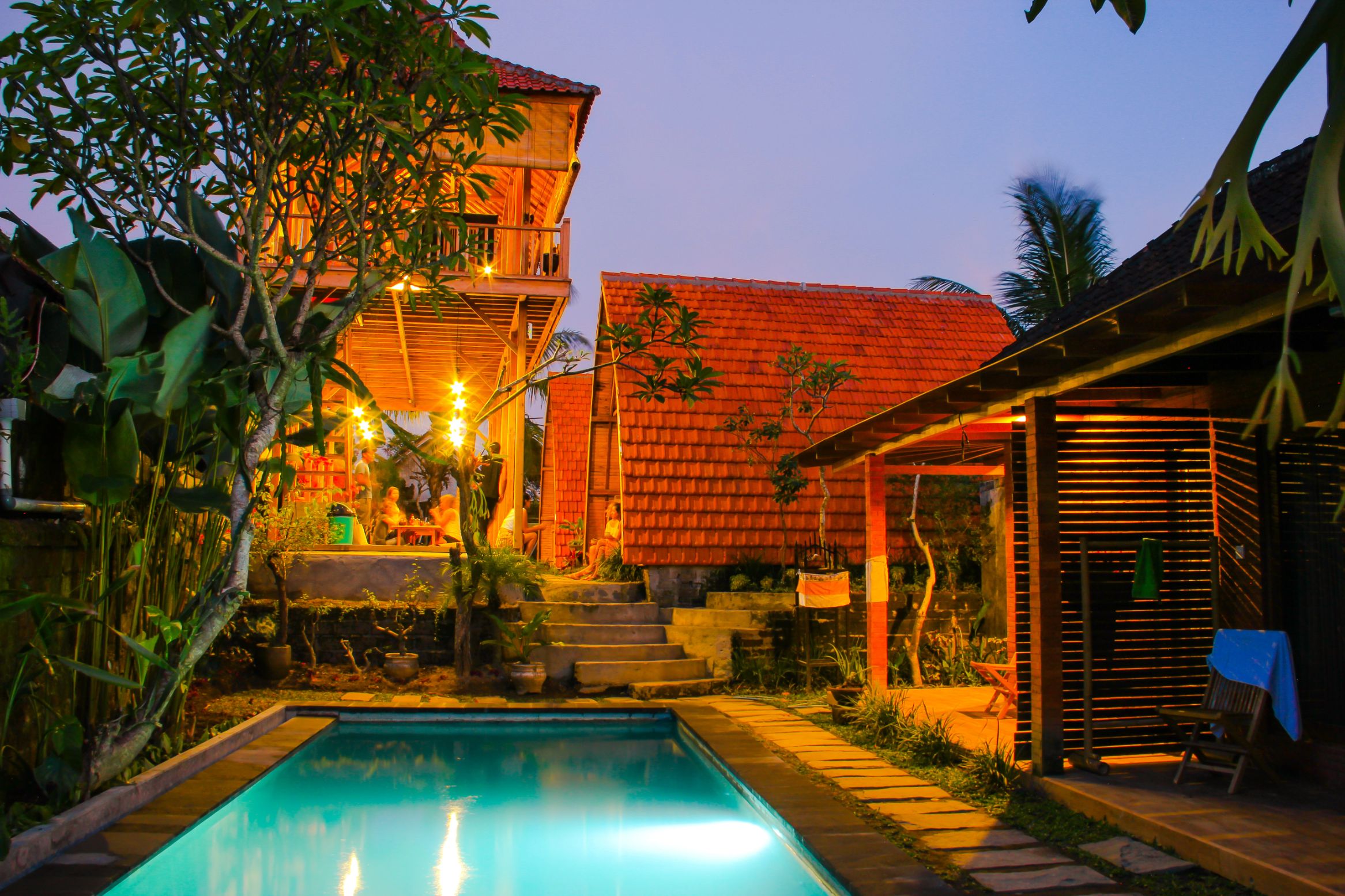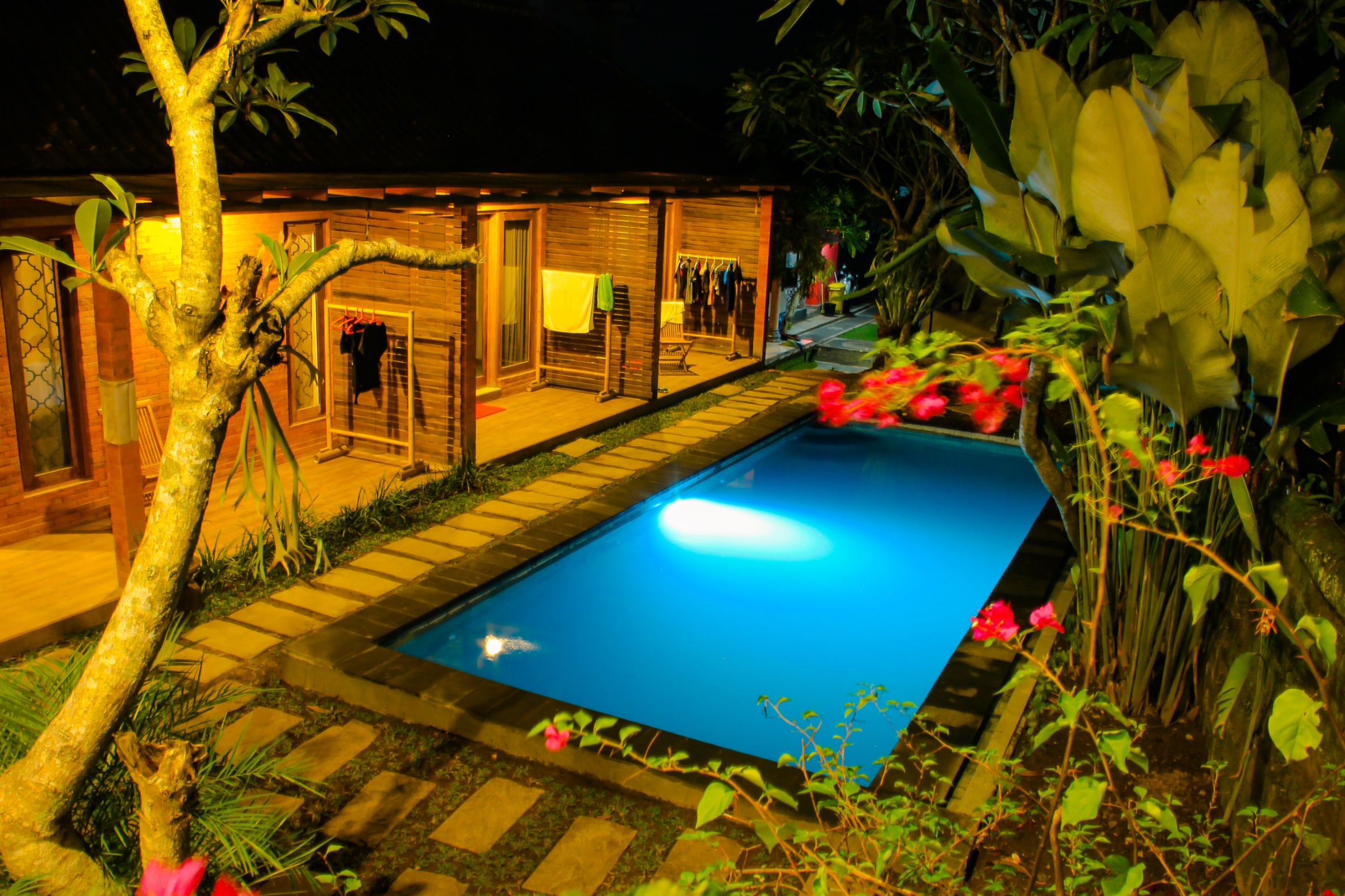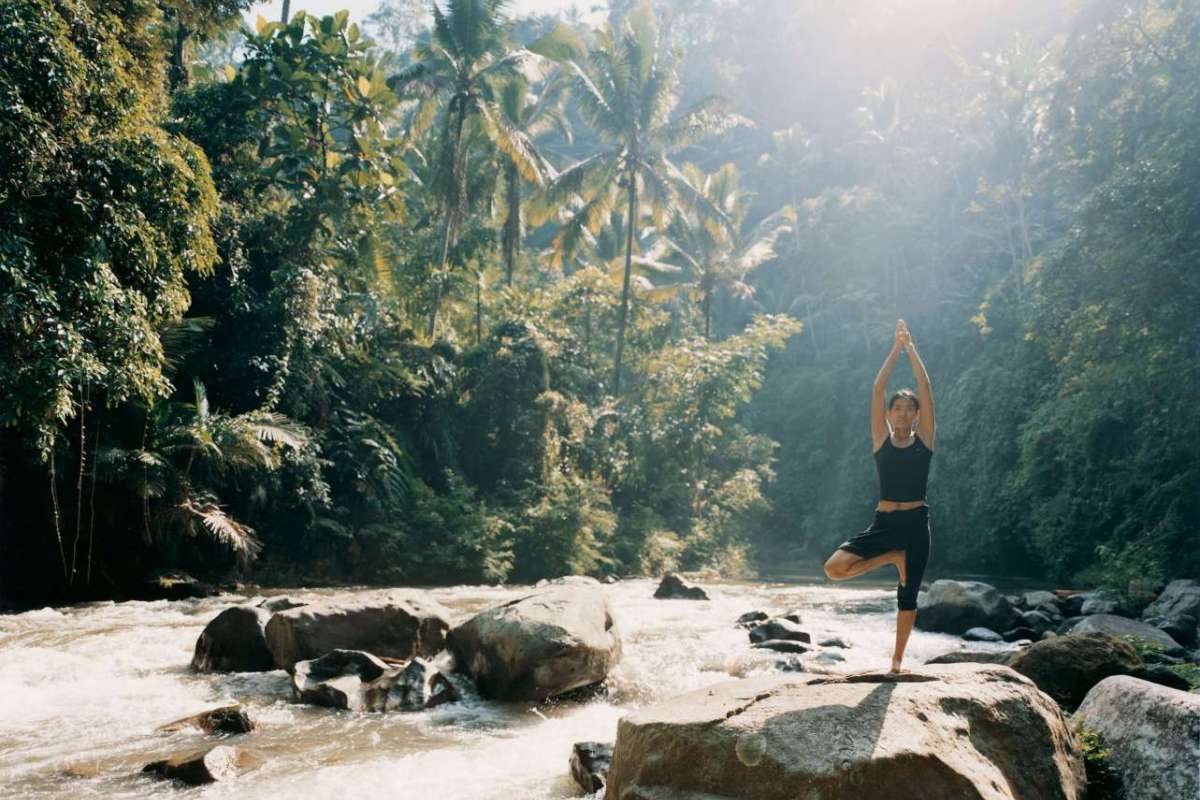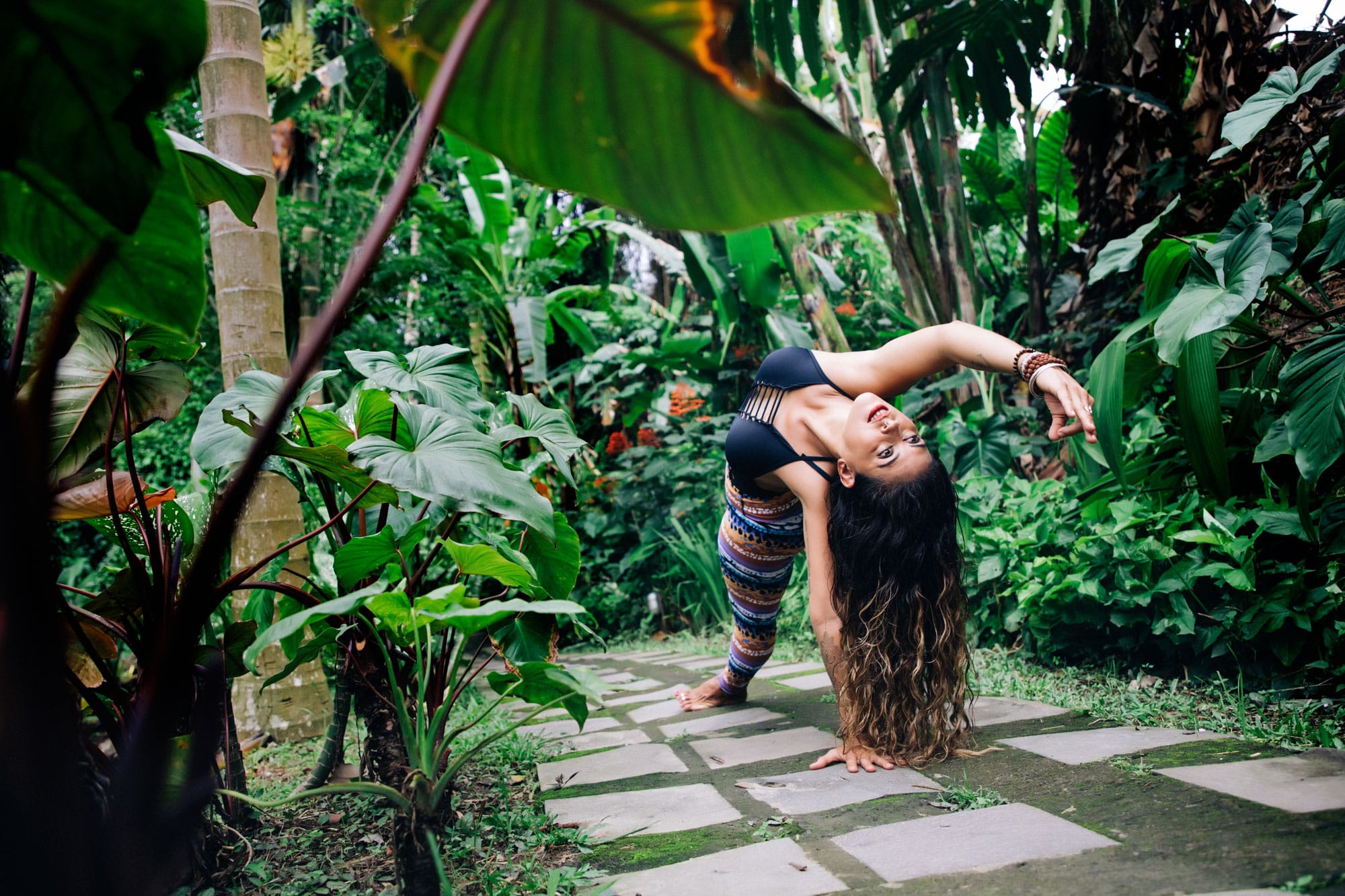 Bali Yoga School, located in Ubud, is a top teacher training and luxury wellness retreat center in the area. The school blends a multitude of styles and ayurvedic practices, drawing inspiration from Bikram, Iyengar, Ashtanga, Dharma, and Forrest Yoga. Experienced yoga teachers from around the world help students and travelers explore their practice and achieve their goals.
Program: Bali Yoga School offers Yoga & Ayurveda retreat packages, ranging from 3 to 11 days. These retreats include daily ayurvedic treatments, daily excursions into the surrounding area, a daily morning yoga class, morning meditations, and two vegetarian meals each day.
What We Like: The school is rooted in a variety of different styles, and has an emphasis on ayurvedic practices. This well-rounded retreat will help you dive deeply into your personal yoga practice.
Cost: The Yoga & Ayurveda program starts at $500 for 3 days, and goes up to $1300 for 11 days.
Jl. Raya Andong, Petulu, Kec. Ubud, Kabupaten Gianyar, Bali 80571, Indonesia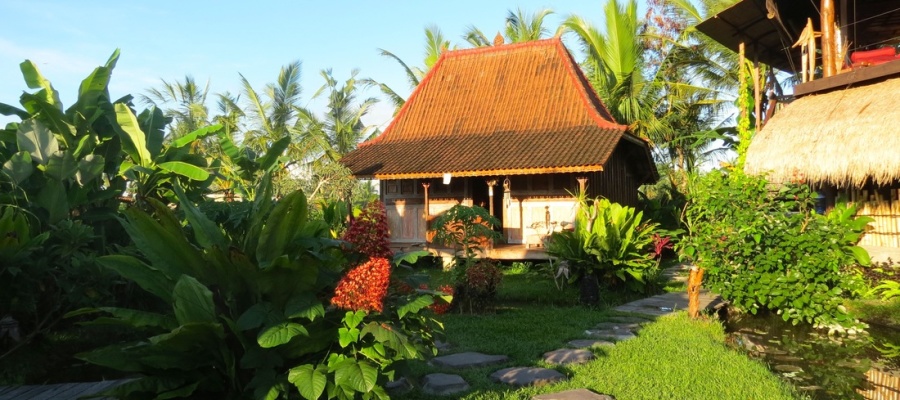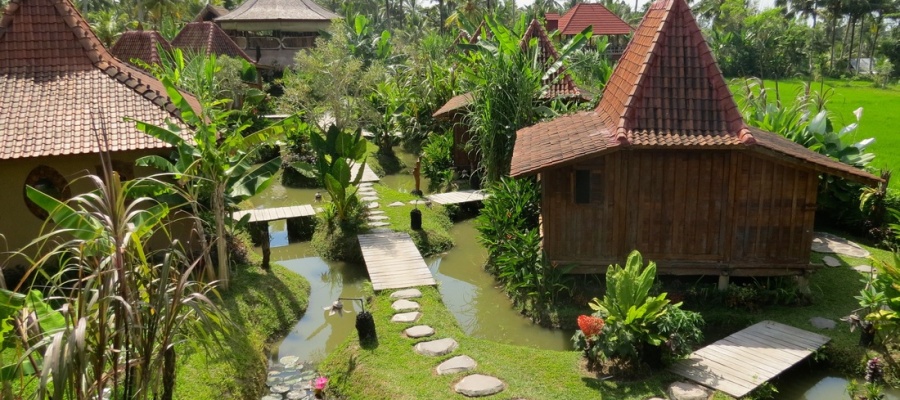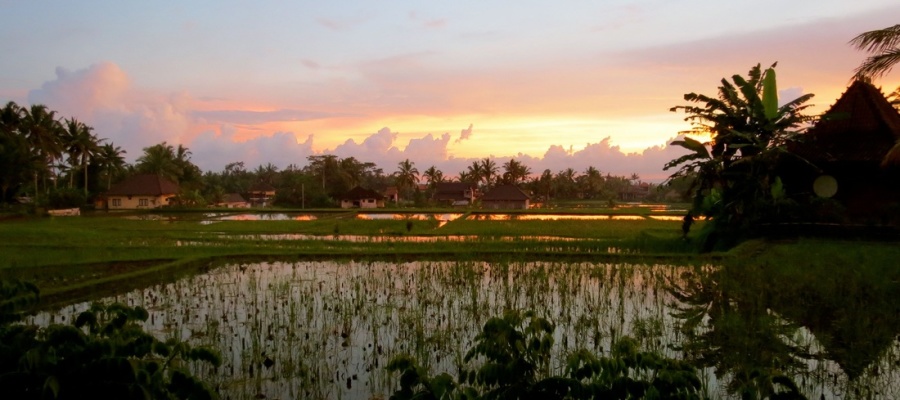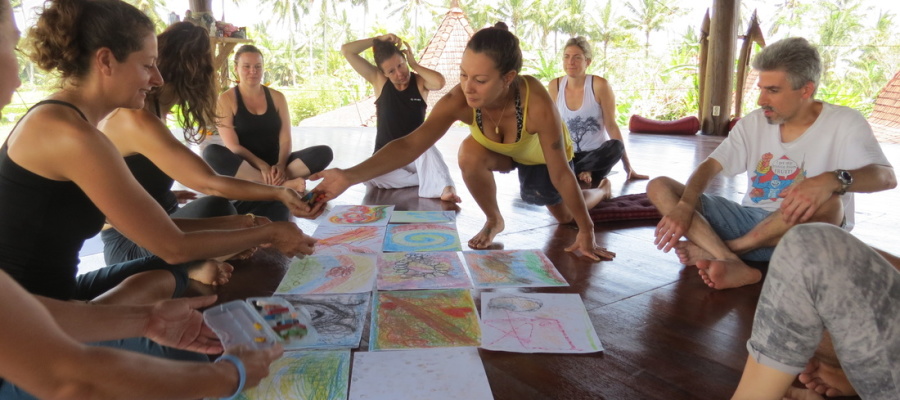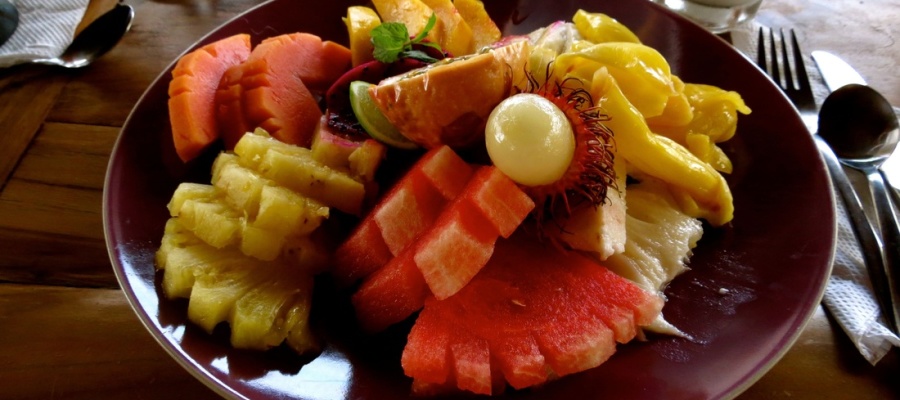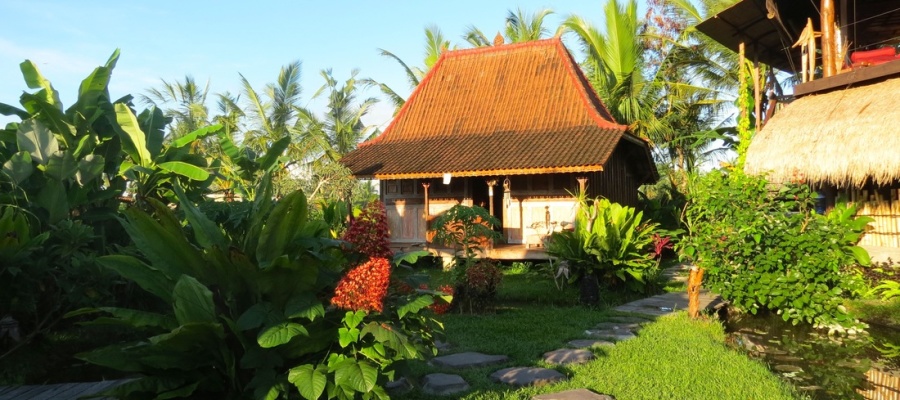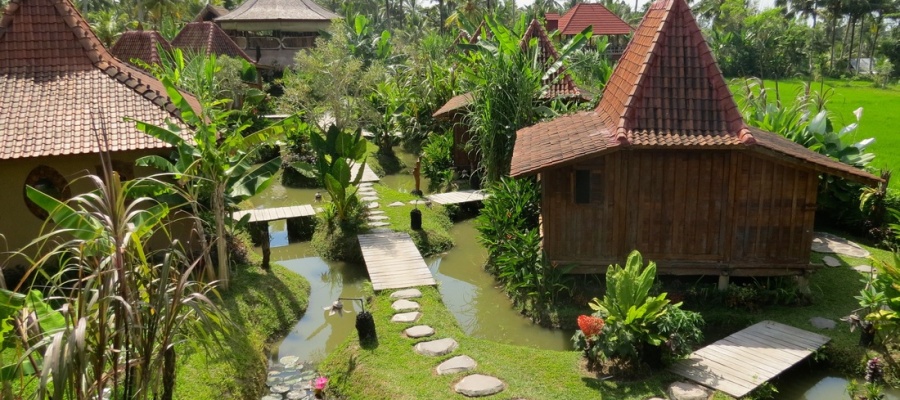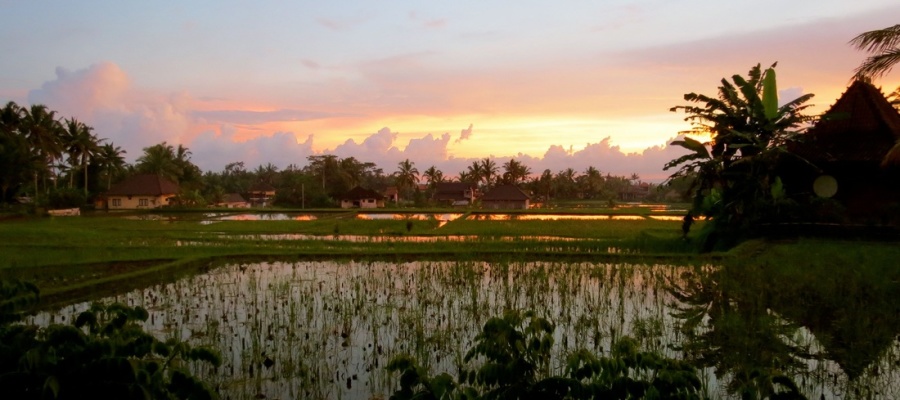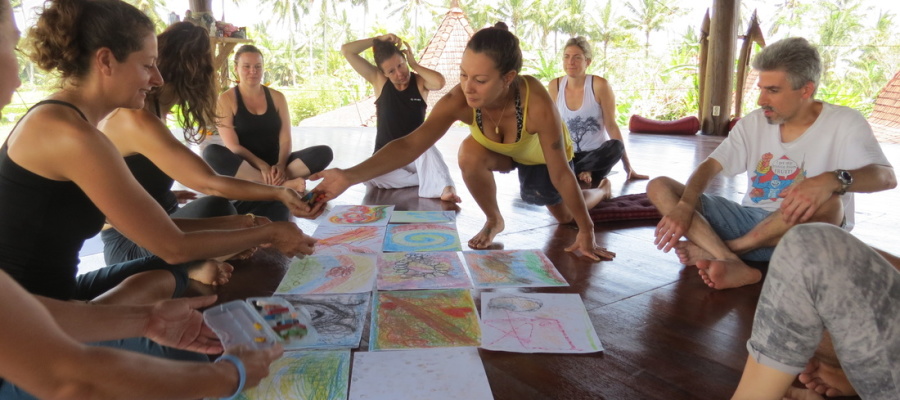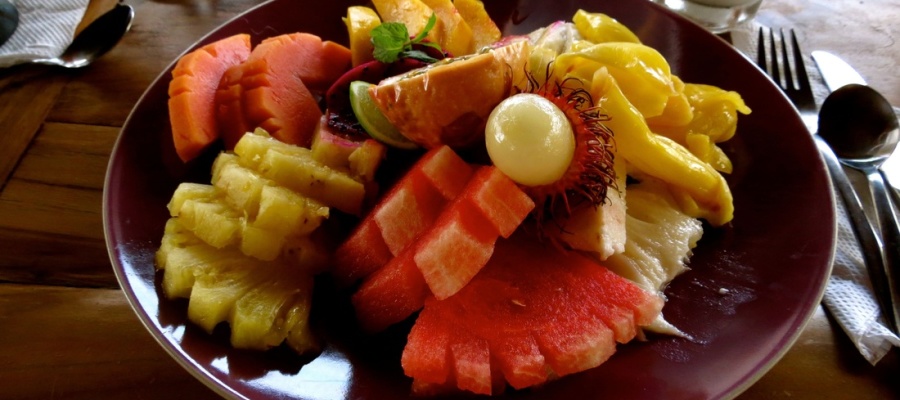 The team at Art of Life Retreats, based in Ubud, creates a well-rounded experience by combining yoga with healthy eating. Retreats are hosted at a boutique hotel called Azadi, which sits amongst beautiful rice fields. Art of Life Retreats is focused on detoxing and transforming through healthy living from the inside out by offering programs that are filled with yoga, meditation, raw food, lectures, and workshops.
Program: Art of Life Retreats offers a variety of retreats with different focuses, including a 5 day Qigong and Yoga Retreat for men and a personalized 7 day Yoga and Raw Food program. Depending on the program you choose, retreats may include raw food preparation classes, cultural outings, spinal movement workshops, dynamic and static meditation classes, and, of course, daily yoga classes.
What We Like: The retreat diverges from other yoga retreat centers in the area by blending different health and wellness practices and focuses. In addition to yoga and raw food, the treat center puts an emphasis on energy healing through the Chinese practices of Qigong and Tai Chi.
Cost: A 7 day retreat costs between $1425 to $1950, depending on the accommodation you choose. Travelers may also inquire about shorter or longer packages, or budget options. The 5 day men's Qigong and Yoga program costs between $975 and $1275, depending on the accommodation.
Ubud, Gianyar, Kabupaten Gianyar, Bali 80571, Indonesia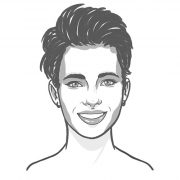 Amanda Carter
Yoga, meditation, and spirituality are at the top of the list for writer and former nutritionist Amanda Carter. This devoted practitioner enjoys writing about health and wellness just as much as she enjoys living it.