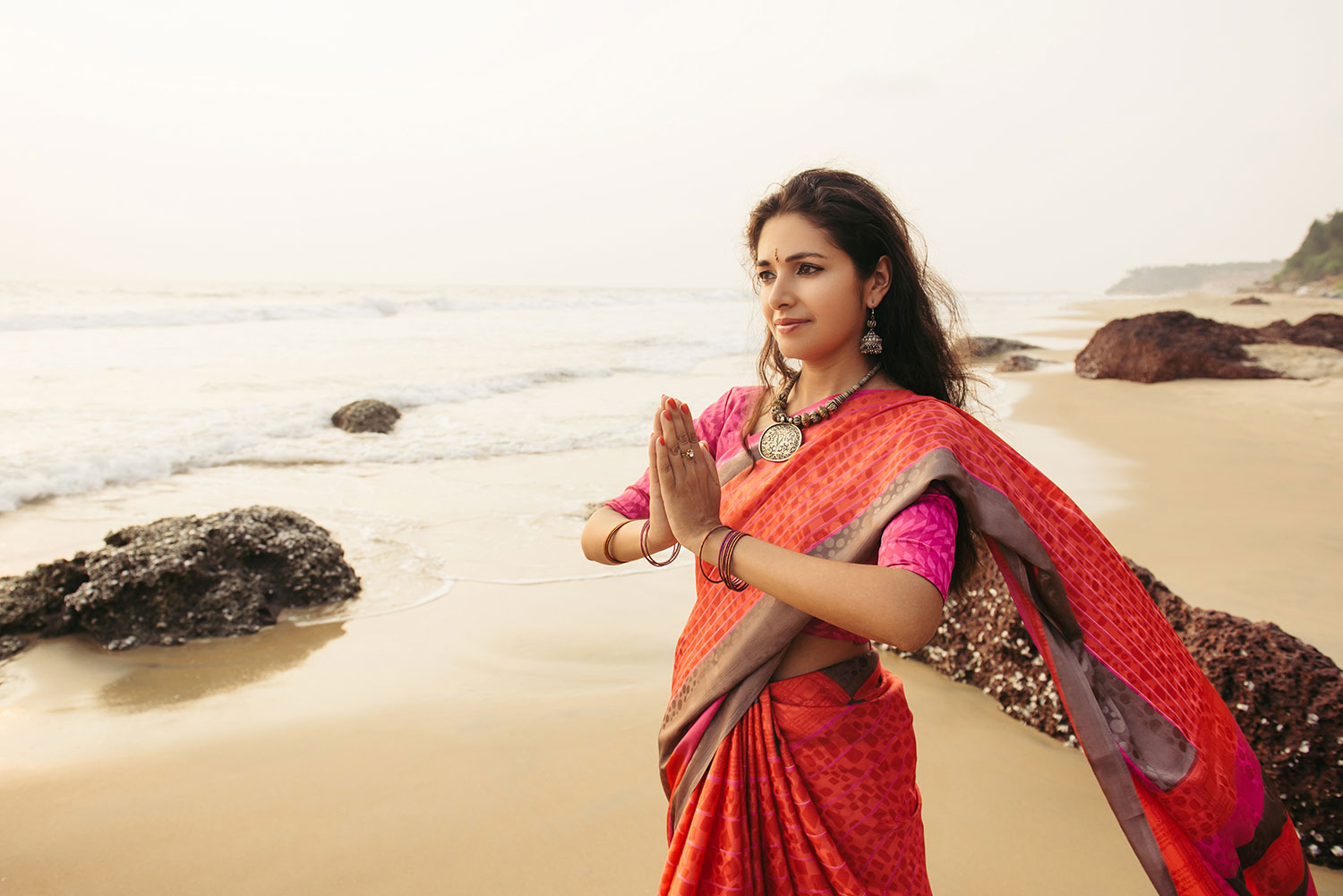 Namaste is a word of Sanskrit origin that has made its way across oceans and continents into the English language. But what does Namaste mean and why do many yoga practitioners seem to love saying it so much?
Like many Sanskrit words, Namaste can have many nuances which affect its translation and context. But understanding why Namaste is so important can be beneficial to a yoga practice not only on the mat but in everyday life as well.
Namaste Definition and Namaskar Mudra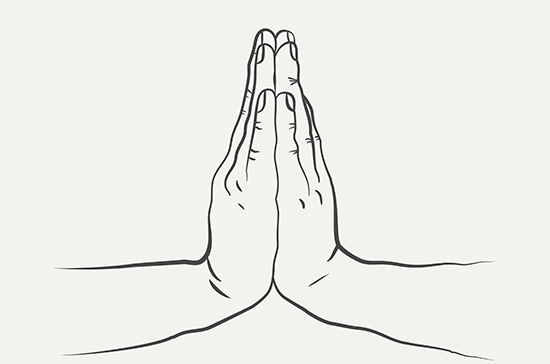 Namaste, when directly translated from Sanskrit, literally means, "I bow to you."
The word namah is a verb which means to bow; and the suffix -te is a second person dative pronoun. "Te" and "tvam" in Sanskrit are informal and familiar forms of "you" which are never normally used among two adults who do not know each other. So this detail gives a deeper meaning to the word showing that you are giving reverence to the divine child in others.
The hasta mudra, or hand gesture, for Namaste (also called Namaskar Mudra or Anjali Mudra), is practiced by bringing both palms together in front of the heart space and bowing the forehead slightly towards the fingertips. This may be practiced either while sitting or in a standing position, such as at the end of each round of the Surya Namaskar (Sun Salutation) vinyasa sequence.
Some schools believe that nothing should be held inside your hands when doing this mudra and no physical contact should be made. This is to avoid negative energies being transferred from whatever object is in your hands or within your body into the person being greeted.
Moreover, some yoga schools also believe that the person you are greeting with Namaste receives higher vibrations from the sound of the word and the intention behind the gesture and bow.
In archeological digs from the Indus Valley Civilization, figures of men and women in the Namaskar Mudra have been depicted and were dated to be between 3000 BC and 2000 BC old.
One of the very first times the word namaste and the mudra entered the collective mindset of the Western world, was when India gained independence from British colonial rule in the 1940s. Mahatma Gandhi, whose non-violent protest movement was instrumental in this victory, was reported by the world  press to address the crowd celebrating the newfound freedom from colonization, with namaste.
Many Indians of Hindu backgrounds, Buddhists, Jains, and other spiritual practices will use the Namaskar Mudra as a greeting and sign of reverence and respect.
Namaste in Other Cultures
The Namaskar Mudra is not only practiced in yoga or by those who follow the Hindu faith. Other spiritual and religious practices also have a similar hand gesture to show reverence and respect to the holy.
Christians will bring their hands together in prayer and Buddhists will also greet others by putting their palms together in front of their chest and bowing towards each other. Japan has a similar hand gesture to namaste and say "Gassho" when shaking hands. Even some African cultures have a hand-clapping version of the Namaste greeting.
Why do Yoga Teachers say Namaste
Many yoga teachers, whether they are Indian or not, may start, or more likely end a yoga class by saying Namaste with the accompanying hand mudra. It is a nod to the vedic origins of yoga and a reminder that a complete yoga practice does not only occur during an asana class on the mat, but must be applied in everyday life too.
A common, deeper meaning of Namaste is, "The light in me honours the light in you."
Yoga is about union — the literal translation from Sanskrit is "to yoke" or "to unite" — not only with an individual's body, mind, soul, and consciousness, but also with the divine connection between each and every being in the world.
Although no physical contact is made during namaste, the utterance of the word sends out vibrations that many yoga practitioners believe enhance this divine connection. Also, the placement of the thumbs on the heart chakra allows the energy from the divine soul to flow out and through the fingertips towards the person or people being greeted and back into the third eye chakra which is bowed towards the fingertips while the physical eyes remain closed.
Used as a greeting, namaste is a way to make a connection to everyone in the room as equals.
Is it Cultural Appropriation to say Namaste?
Some controversy has been making rounds in recent years about the cultural appropriation of yoga, and in particular, the use of the word, Namaste, by non-Indian yoga teachers.
Some complain that the use of the word and hasta mudra has been taken out of context and even turned into a joke, as with shirts or other yoga-inspired paraphernalia that say, " Namaste in bed" or "Namaste *itches."
Others though, say they appreciate how non-Indians and non-Hindus have adopted Namaste and turned it into something other cultures can also appreciate and reflect on in their own way. It may not be the same Namaste practiced in India, some writers shared, but it is still a way to honor the original intention of it nonetheless.
Chetna Prakash, a writer who grew up in Mumbai, shared her view in The Big Smoke that like how her favorite French restaurant in India was not a "real" French restaurant that was even scoffed upon with disdain by a French guest she brought there, she sees yoga teachers using the word Namaste as people who loved the meaning, gesture, and intention of it, but to contextualize it for their lives and culture, it had to evolve and adapt into something different.
It is up to each individual to decide the appropriateness of saying Namaste, or any other Sanskrit name for the yoga poses. Most would agree that, as long as the practice is shared wholeheartedly and with respect and proper honouring of the cultural values of its country of origin, then sharing Namaste, and the meaning of it, is welcome in any yoga class.
Namaste in Everyday Life
Saying namaste and greeting others with the Namaskar Mudra, is actually so common in India and among the Indian diaspora, that some children often have to do it hundreds of times a day to show respect for their elders. Deepak Singh, a writer who grew up in India shared in an NPR piece that namaste was a sign that they were good children.
As non-Indian yoga practitioners, we may also practice Namaste in our everyday lives by remembering to always see ourselves reflected back at us in every person we meet. This way, we may be reminded of our interconnectedness and to always find good in others — and in doing so, see goodness within ourselves at the same time.
It is not a prerequisite to have a deep spiritual practice to appreciate the significance of namaste. Even though bowing to others is a form of prostration, when practiced with the vibrations and intentions of the meaning of namaste, it is more of an homage to the pure innocence and divine we can recognize in others and in ourselves.
How to Apply the Meaning of Namaste in Your Life
We do not have to literally bow to each and every person we meet in order to apply the value of namaste in all our encounters. When we remember what namaste means in all our interactions, we will remember to see light, divinity, holiness, and interconnectedness in other people and use it as a reminder that all those same beautiful, loving qualities also exist inside of us.
The practice of namaste is also an invitation to look deeper inside yourself – to reflect on the depper needs and desires of your own heart, mind, and spirit.
Applying namaste in your everyday life is an invitation to live in gratitude and unity with all beings. Studies have shown that expressing thanks and gratitude literally rewires the brain to be more positive, peaceful, and in a state of gratefulness that lasts for weeks and even months after for long-term positive benefits.
Conclusion
As a word, Namaste has been adopted into the English language along with other Sanskrit words like karma, chakra, and om. In the west, it has been pronounced as "na-ma-stay" but in most places in India (which have not adapted to the touristy pronunciation) it is pronounced more like "nuh-muh-ste."
It is a single word if just three syllables that has been written about for thousands of years in classical texts on yoga like the the vedas and has the potential for profound meaning and meditation for your life when you choose to apply and practice it off the yoga mat. The meaning of namaste may have evolved as it gets adopted in other countries and cultures, but the essence of it has remained — to recognize, see, honor, and bow down in gratitude to the innocence and divine light and soul that connects us all.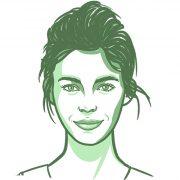 Susan Williams
Susan views the world through a lens of spirituality, health, and compassion. Her positive outlook on life shines through her writing, which is heavily focused on yogic living, meditation, and conscious eating.