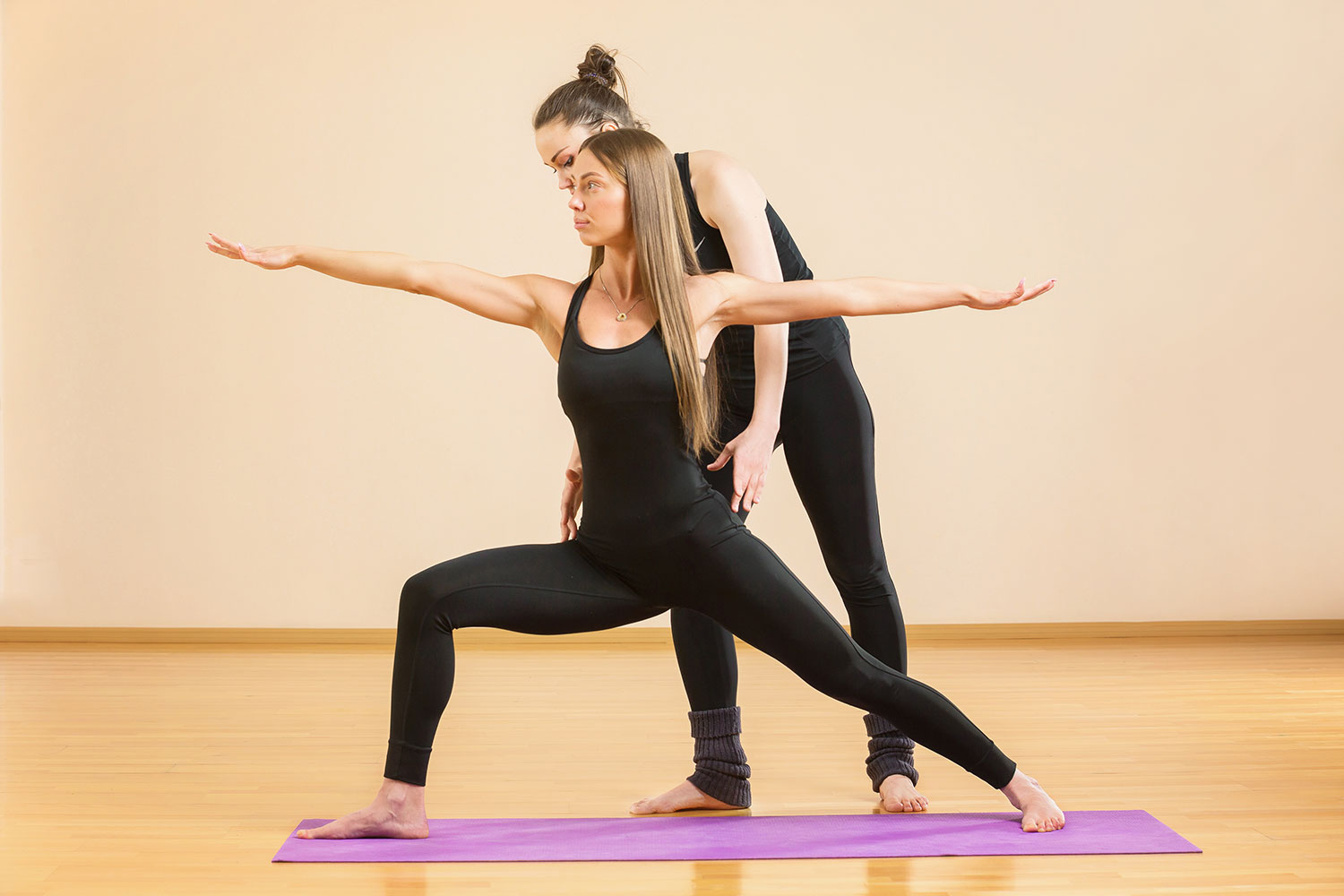 Do you love practicing yoga? Do you find yourself wanting to help guide others through their yoga journey? If so, it is time to consider getting your yoga teacher license. There are many different yoga teacher training programs around the world and online.
Where Can I Get Certified?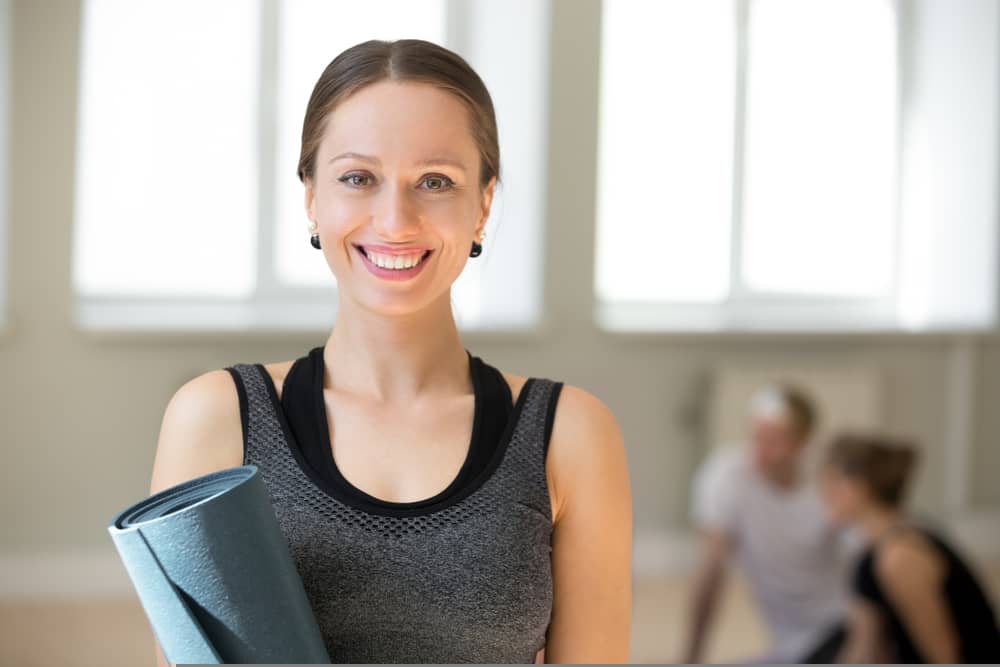 The first step to getting certified as a yoga teacher is to find a program to do your training with. Yoga Alliance provides a directory of registered yoga schools. You can search schools by city or region to find something nearby. If this is your first ever yoga teacher training, you will want to search for a RYS® 200 (Registered Yoga School). This is the foundational level of yoga teacher training. Once you have become a certified 200 hr. RYT (Registered Yoga Teacher), you can gain more certifications.
During the COVID-19 pandemic, many yoga schools are now offering training online. Research virtual yoga teacher training options. This is a great way to get trained while being safe at home.
Yoga Teacher Certifications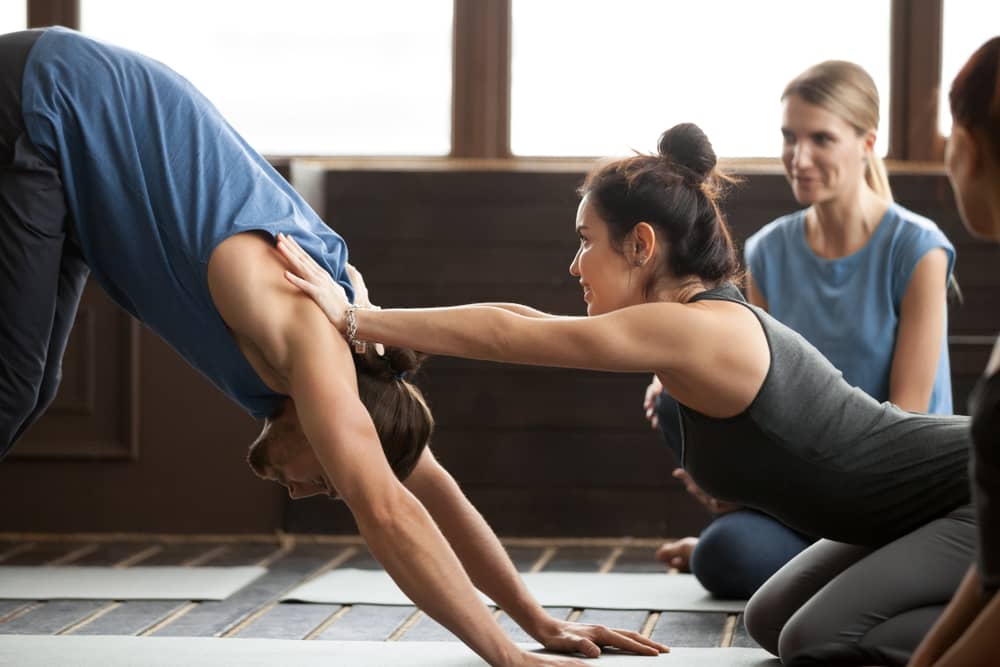 RYT® 200 (Registered Yoga Teacher 200-hr.)
As mentioned above, this is the foundational level of yoga teacher training. Teachers go through 200 hours of training. They learn about yoga philosophy, anatomy, teaching methods, and more.
RYT® 500 (Registered Yoga Teacher 500-hr.)
Typically, teachers complete their 200 hour training and then take time to teach. Next, they sign up for the additional 300 hours of training. Once completed, they will be 500-hour certified. To get 500-hour certified, teachers need to complete at least 100 hours of teaching on their own.
E-RYT® 200 (Experienced Registered Yoga Teacher 200 hr.)
This certification is given to 200-hour certified teachers who have taught at least two years and a total of 1,000 hours. E-RYTs 200 can teach continuing education classes, workshops, and 200-hour teacher trainings.
E-RYT® 500 (Experienced Registered Yoga Teacher 500 hr,)
Teachers who have completed the 500-hour teacher training certifications and have at least 2,000 hours of teaching experience can get this certification. E-RYTs 500 can teach continuing education, workshops, and 200, 300, and 500-hour teacher trainings.
Specialty Certification
Teachers with specific yoga interests can get more certifications. This allows teachers to provide their students with more specialized support.
RCYT (Registered Children's Yoga Teacher)
Interested in teaching yoga to children? This certification is a 95-hour training where you will learn how to share yoga with kids! To take this training, participants must have completed a 200-hour teacher training program. Once the children's yoga training is finished, participants will complete 30 hours of teaching children's yoga.
RPYT (Registered Prenatal Yoga Teacher)
This certification gives teachers the skills necessary to teach prenatal yoga classes. The RPYT program is 85 hours and must be taken after completing a 200-hour teacher training. This certificate requires teachers to complete 30 hours of prenatal teaching.
Other Trainings
There are other areas of yoga that teachers can take classes in that don't lead to a certificate. Examples include Yin Yoga, Pranayama, and trauma-informed yoga.
What Will I Learn in a 200-hour Yoga Teacher Training?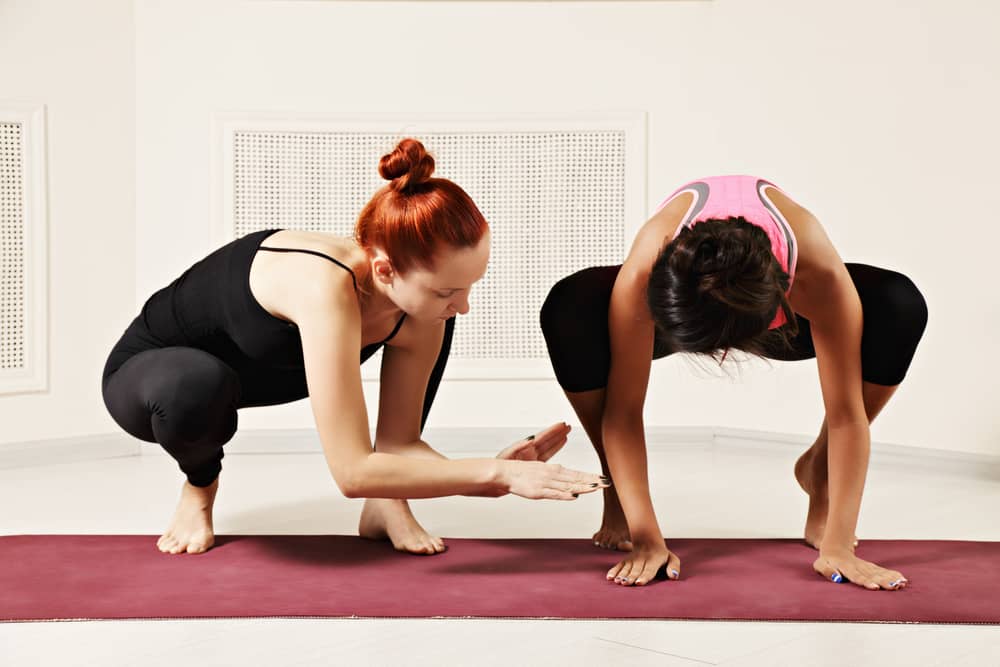 A 200-hour training may seem like a lot of time, but rest assured it will fly by! Yoga teacher trainings are full of information! Each program provides students with the skills needed to step into the seat of the teacher.
History
Yoga has a deep, rich history. The practice originated in India thousands of years ago. Throughout time it has adapted and transformed. Today, yoga is practiced by millions all around the world. During yoga teacher training, you will learn about the history of yoga. You will discover its ancient roots and learn how it has become westernized. Yoga teacher trainings also explore the different types of yoga that have emerged throughout history.
Philosophy
Many people practice yoga for both the physical and spiritual benefits. Yoga has a deep philosophy that is embedded in the asana practice. During a traditional teacher training program, students will learn about the philosophy of yoga. They will also learn how they can incorporate it into their future classes. Books like the Bhagavad Gita and The Yamas and Niyamas are often recommended.
Anatomy
Did you take an anatomy class in high school or college? If not, have no fear because a 200-hour yoga teacher training contains a crash course in anatomy. Students learn about the muscles and bones. They also learn about which parts of the body strengthen in each pose.
Poses
If you are a seasoned yogi, you might already know every yoga pose. A yoga teacher training takes it a step further than knowing what each pose looks like. Students will spend time learning about each yoga pose in great detail. This includes alignment, anatomy, and modifications/adjustments specific to each pose. As a future teacher, it is important that you have in-depth knowledge about each pose. This will help you guide all students no matter their experience with yoga. It will also help you address potential yoga injuries of your students.
Cueing
One of the most important parts of yoga teacher training is learning how to cue. Cueing is how you will get your students in and out of poses as well as explaining what to do once they are in them. Yoga teachers must learn how to cue breath and movement. They also will learn how to embed anatomy and philosophy principles into their cues. It is important that yoga teachers develop clear cues while teaching. Otherwise, students might feel lost or confused.
Meditation
Meditation is an important part of any yoga class. At the end of class, students get to enjoy savasana and sometimes a brief seated meditation. During yoga teacher training, you will learn tips for guiding your students through meditation at the end of class. The meditation process is a significant part of yoga. It is important that yoga teachers are knowledgeable about the practice.
Pranayama
Pranayama is the breathing exercises done during yoga classes. During yoga teacher training you will learn how to guide practitioners through Pranayama. Methods learned include Nadi Sodhana and Ujjayi.
Interacting with Students
Another important aspect of yoga teacher training is how to interact with students. It is important for the yoga teacher to create a clear teacher/student boundary. It is also important that the yoga teacher knows what to do when a student comes to them asking for advice. Students often come to their teachers about an injury or emotional issue in the body. Some yoga studios allow yoga teachers to make hands-on adjustments to the students. Other studios do not allow this practice. If this is something your yoga studio does, you will learn how to make adjustments safely. It is important that the teacher always asks permission before touching a student. Also, all adjustments need to be safe so that the student doesn't get hurt.
The Yoga Business
Many yogis who go through a teacher training end up working at a studio or gym. Others teach private classes or even open up their own studios. During yoga teacher training, students will learn the ins and outs of the yoga business. Topics learned include how to get insurance and how to form an LLC. After teacher training, you will have the knowledge needed to work for yourself or at a studio.
Cost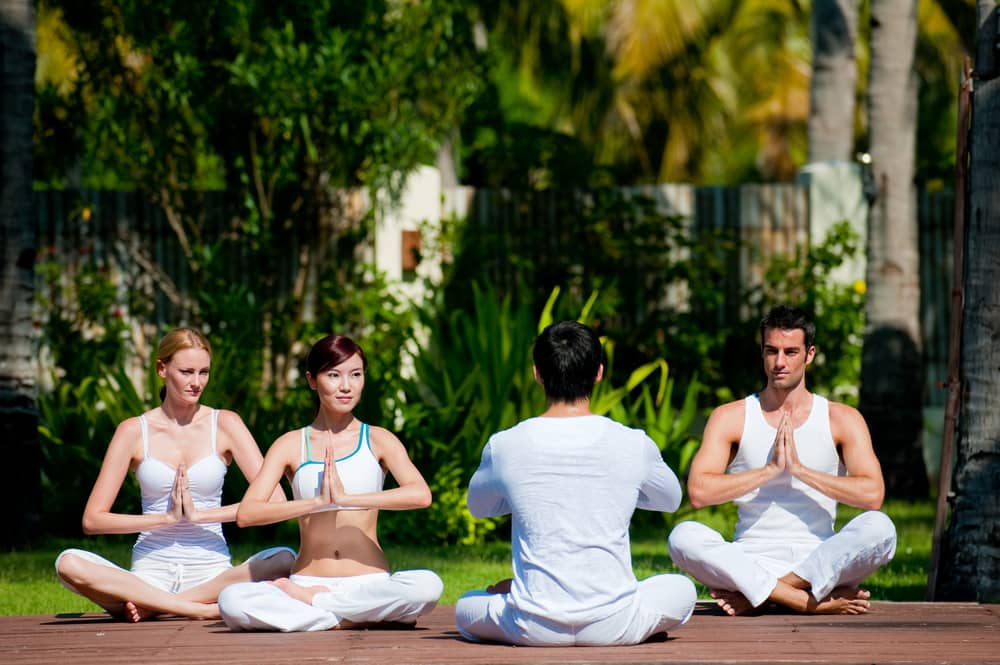 One aspect that stops many yoga practitioners from becoming a teacher is the cost. According to Siddhi Yoga, a teacher training can cost anywhere from $1,500 to $20,000. Most local yoga teacher trainings will fall somewhere in the range of $2,500 and $3,500. The more expensive trainings are usually at a destination like Bali or Costa Rica. The trainings charge extra expenses for things like airfare and accommodations. Even though teacher training is an investment in yourself rather than a sunk cost, it is still a lot of money.
Many studios offer scholarships or work-study programs to help with costs. Before signing up for a teacher training program, talk to the school to see if financial aid is available.
Once you finish the program, you can start teaching and earning money. This will help you pay off your teacher training. According to ziprecruiter.com, yoga teachers can make anywhere from $22 to $30 per hour. The hourly rate will depend on your experience and where you live.
What You Will Need to Become a Yoga Teacher
Computer to research programs and sign up for one!
Money saved up to pay for program or a payment plan
Yoga mat and props (blocks, blanket, strap)
Books required for teacher training
Notebook and pen for taking notes.
Step by Step Instructions to Becoming a Yoga Teacher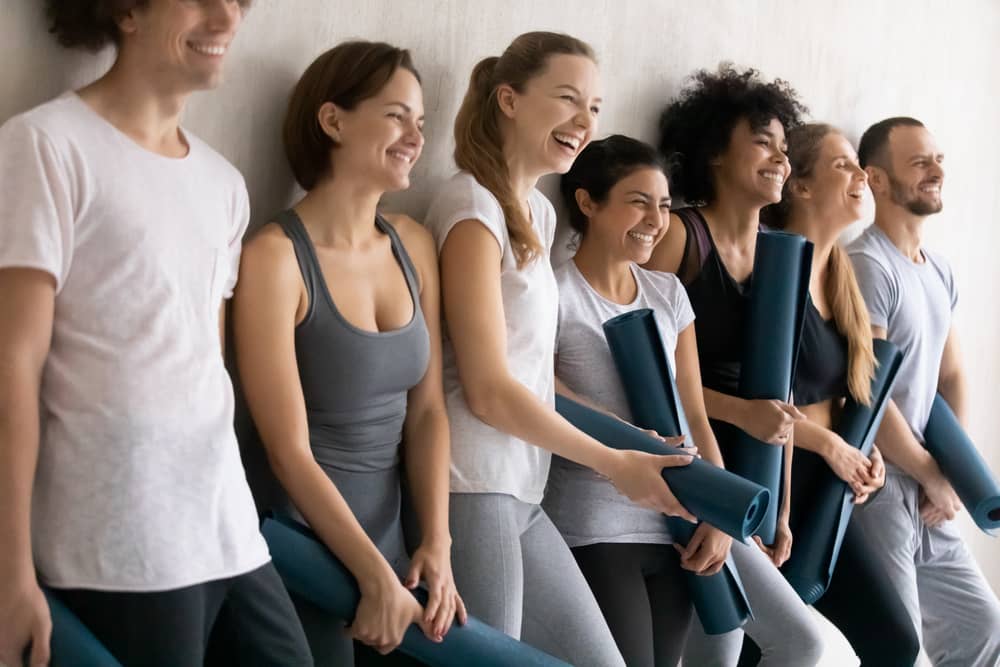 Step 1: Research different programs in your area. Determine if you want to complete a program in-person or online. If possible, talk to former students of the yoga school to learn more and find out if it seems like a good fit.
Step 2: Sign up. Most programs offer monthly installments if you do not want to pay the full cost upfront. Some programs will also give a discount to students who are willing to pay the full amount upfront. Talk to the yoga school about scholarship opportunities if the cost of the program is an issue.
Step 3: Show up to classes! Learn as much as you can. Each class will be full of information. Try not to miss a class. If you do, be sure to find out what you missed.
Step 4: Do your homework. Many yoga schools assign homework such as reading books or journaling. All homework assignments are important to further enhance your learning experience. Make sure you create the time and space to put your energy into these assignments.
Step 5: Build your home practice. Famous yogi, Rodney Yee says "Nothing replaces the home practice. It is a time when you can find your own rhythm, your own breath, and your own revelations. It is where the genuine knowledge arises." A home practice is a great way for future yoga teachers to practice what they have been learning. A consistent home practice is critical to being a successful yoga teacher.
Step 6: Complete your training. A 200-hour teacher training can take anywhere from a few weeks to a year to complete. The duration depends on how intensive the program is.
Step 7: Register yourself as an official RYT with the Yoga Alliance.
Step 8: Get yoga teacher insurance. Yoga insurance is to protect you. Through Yoga Alliance, teachers can get a discounted rate with Alliant Insurance.
Step 9: Begin teaching and seek out mentors. Once you are a teacher it is important to keep learning. Seek out experienced teachers to mentor you and provide you with advice. Take a class from your mentor. Have them take a class from you. Feedback from an experienced teacher is a great way to learn.
Step 10: Continuing Education. All yoga teachers must take continuing education courses. Yoga Alliance provides many courses on various yoga-related subjects.
Becoming a yoga teacher is a wonderful journey. Students get to learn how to guide others through their yoga journey. Also, their own personal practice will grow and transform. The first step is finding a teacher training program that feels like a good fit. Research yoga schools near you or find an online program. The next step is signing up. Also, determine your payment plan, and inquire about financial aid if necessary. Then, get ready to learn so much interesting and new information! You will deepen your own practice and learn the skills necessary to be a successful yoga teacher.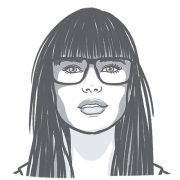 Alexandra Mackenzie
Former nutrition specialist Alexandra Mackenzie knows what it means to support the body and mind through food. She's passionate about sharing her wealth of knowledge with anyone willing to listen.