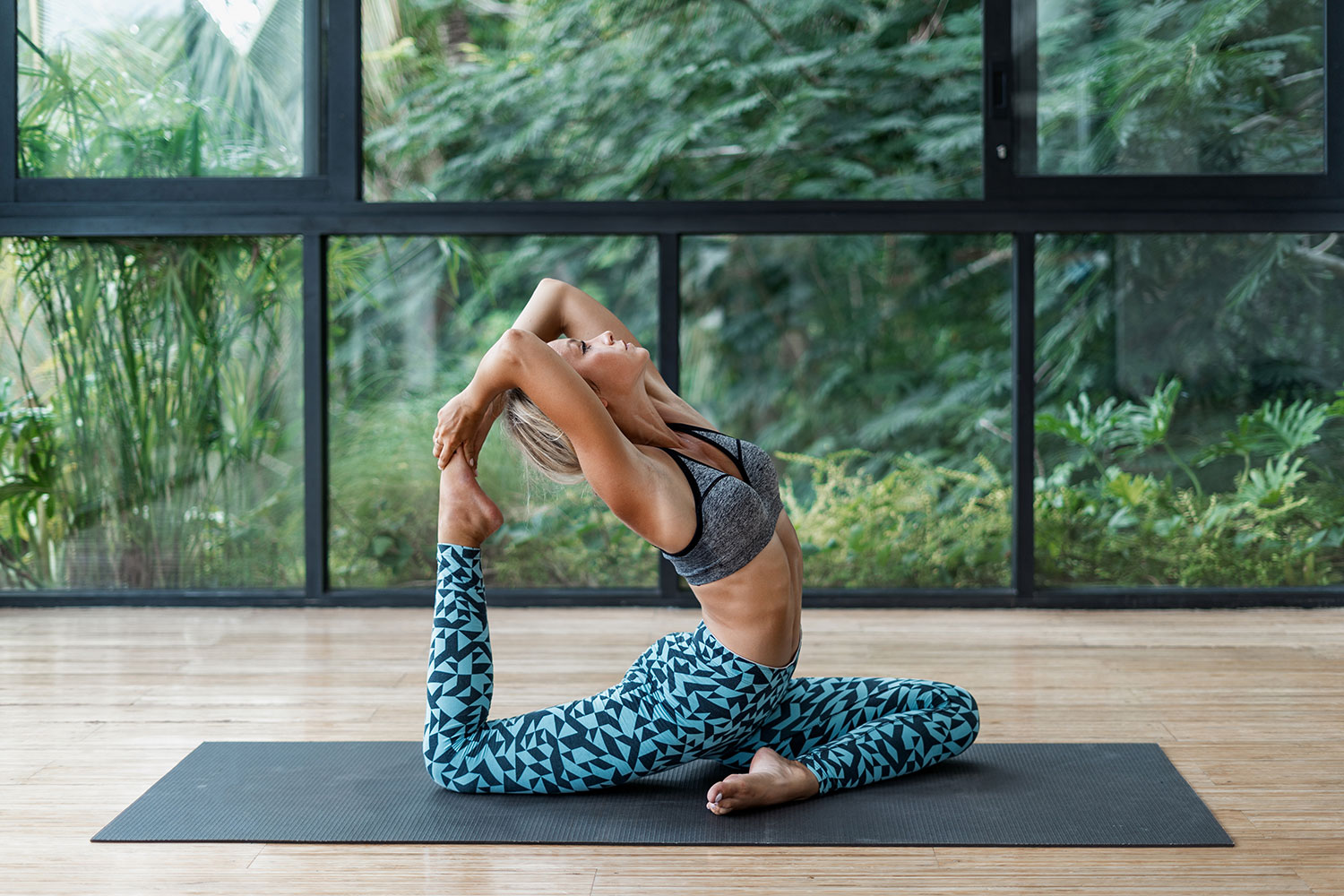 There are many reasons you might consider adjusting your yoga practice with modifications. Perhaps you are healing from an injury, have a chronic trouble area, or just feel tired on any given day. These are the times to take advantage of the unique versatility that yoga offers. The important thing is that you have come to your mat and are dedicating time and energy to yourself. Practicing yoga is about so much more than how deep you can stretch or how advanced your flow is. It is about connecting with your body in the here and now and creating a plan that suits you in that moment. Modifications are the gateway to a long and sustainable practice. Use them to find balance or to try new ways of experiencing old favorites. The beauty of yoga is that no session is the same. Embrace these modifications and find a whole new way to embrace your yoga lifestyle.
Bend Your Knees
Whenever you feel a tight pull along your hamstrings, feel free to bend your knees slightly. Many of us spend so much time sitting at a desk or in a car and this can lead to tight hamstrings and calves. Whether it's in mountain pose or downward dog, allowing the knees to bend a little will help you get the most out your session and will prevent you from feeling sore or getting an injury down the road. This is an appropriate modification for anyone – seasoned yogis to beginners, 20-somethings to 90-somethings. Listen to your body and work towards your goals gently and consistently.
Try it out: Some of the best poses to allow a bend in the knees are forward folds, half-moon, dancer, and anytime you feel an uncomfortable pull behind your knees or along the backside of your legs.
Drop Your Knees
Dropping your knees is another way to protect your back, shoulders, and wrists in some poses. Most poses that could be modified with dropping the knees are those that rely upon the upper body for strength. Dropping the knees will take the pressure off the upper body (i.e. Shoulder girdle, elbows, wrists) to hold the body and allow for a more even distribution of weight until you are ready to take on the full pose.
Try it out: Plank pose is the perfect pose to use this modification with. Plank pose can be very strenuous on the upper body if those muscles aren't ready to take on the weight of the body. Don't push through – you will set yourself up for injury. By dropping the knees, you will help your upper body build the strength to do a full plank pose confidently and safely.
Chaturanga Modification
If you have ever pushed yourself through a tough vinyasa class, you are likely familiar with the aching, searing pain that can result from a few too many chaturangas. Anyone who is relatively new to yoga might also benefit from this chaturanga modification, as it helps support the body through a similar movement, rather than pushing the body when it isn't ready.
Try it out: Instead of a traditional chaturanga, we will start with plank pose and drop the knees as in the modification above. Lean forward and slowly drop your chest and chin to the ground, with elbows bent and hugging the rib cage on each side. This transition, knees to floor, chest to floor, chin to floor, still achieves a similar flow as the chaturanga, but is much easier on the body.
Use Cobra Pose Instead of Upward Facing Dog
Both Cobra and Upward Facing Dog are great poses to open the chest and heart. Upward facing dog, however, takes some practice and a strong upper body. If you are still working on building your core strength, upper back, arm, or wrist strength, switch out your upward dogs for cobra pose. Cobra pose is still a great challenge with tons of benefits. This is the best way to train your muscles to attempt an upward facing dog in the future. This modification is great for anyone who is new to yoga, or needs to rest and heal their upper body or build strength.
Try it out: Start face-down on your mat, keep your legs together, extended behind you. Bring your hands to chest level with palms firmly on the ground. Engage your legs muscles, roll your shoulders back. Take a deep breath in and, engaging your upper back muscles and legs, lift your chest off the ground and pull up towards the ceiling. Exhale, lowering the chest back down slowly. Repeat several times and feel your back strengthening.
Put Your Knee Down in Side-Plank
Side planks can be tough! And they can take quite a bit of practice to master. Rather than trying to overcome the balance and physical challenges of this pose, start with this knee down modification and work your way up to conquering this amazing pose. If you have trouble with shoulder joints, wrists, or hips, this modification can be a game-changer.
Try it out: Starting from downward dog, lower your right leg to the floor. Then, with your right palm firmly planted on the ground, twist your torso and the left leg outwards, while keeping it extended. Make sure your right hip is stacked directly above your knee. Raise your left arm up toward the sky, focusing your gaze on your left hand. Rest here for several breaths, then lower and repeat on the opposite side.
Use a Low Lunge Instead of High Lunge
Lunges are an integral part of any yoga practice and for good reason. They have so many benefits, including strengthening the quads and glutes, psoas, and piriformis muscles. Your upper body is also engaged as your chest, heart, lungs, and shoulders expand. Both high and low lunges are also important balancing poses that help to maintain your focus and improve your overall stability. That being said, sometimes it is in our best interest to use a low lunge instead of the high version. This will prevent your legs from tiring too soon or stretching the muscles too much. Anyone can benefit from starting with low lunges at the beginning of a session or if you need to take it easy.
Try it out: Start in downward dog and, on an exhale, bring your right foot up in between your two hands and stabilize it directly over your right heel. Slowly drop your left leg to the ground, sliding back to a comfortable position that still gives you a stretch. Inhale and lift your torso up, swooping your hands overhead with fingertips pointing to the sky. Alternatively, bring your hands to prayer position and gaze ahead. Rest here for several breaths, then drop your hands to the ground and return to downward dog. Repeat on the opposite side.
Use A Figure-Four Instead of Pigeon Pose
If you need a hip opener, these are the poses for you. Pigeon pose can be an excellent way to stretch, open, and strengthen the entire hip girdle, but can prove to be pretty uncomfortable or difficult for those with tight hips. While pigeon can be excellent to increase your flexibility in this area, many who suffer from low back pain, knee pain, or sciatica will be better off starting with this modification. The figure-four is the perfect alternative.
Try it out: Begin lying flat on your back, then bring your knees towards your chest. Raise your left left and cross the left ankles over your right knee. Grasp your hands behind the right knee and bring both knees close to your chest. Make sure to keep your neck elongated, feet flexed, and the shoulders down.
Use Legs Up the Wall Instead of Shoulder Stand
Shoulder stands are a great way to get some inversions in your practice, but can be hard on the shoulders, neck, and low back for some. The legs-up-the-wall pose is a perfect way to take on a more restorative session or to ease into a shoulder stand. This pose is fantastic for stretching the entire back and increasing blood flow to all the organs.
Try it out: Lay on the floor and position your buttocks close to a wall. Lift your legs to lie flat against the wall and scoot your bottom up as close to the wall as you can. You can rest the legs straight up together, or slowly open the hips to a wide angle for a different stretch.
Blocks & Blankets
One of the most versatile ways to modify your practice is to invest in a few blocks and a blanket. These props can help you achieve poses that you might struggle through or injure yourself without the added bit of support. Don't feel like reaching for your block or blanket is a bad thing – you are supporting your own body through your own practice. In fact, these props can even be used by seasoned yogis to delve deeper in their practice and find new depths in poses.
Try it out: Blocks can be used in tons of different ways. To ease up on a lunge, lay a block next to you for your arm to balance on to give you some extra space. Place one under your buttocks to extend your seated forward fold. Rest your lower hand on a block during triangle pose. Lay one under your back while in fish pose to open the chest. You can also use them with balancing poses like half-moon, tree, and lunges to work on building balance and stability.
Retreat To Child's Pose
You may have heard your yoga instructor suggest returning to child's pose anytime you need to rest during the session. Even when they aren't reminding you to do this when you need a break, you can always take the opportunity to tune into your body and retreat for a moment of rest. By giving yourself a few extra breaths in this restorative posture, you will support rather than stress your body. Child's pose itself has plenty of it's own benefits so finding yourself here a few times during an intense class is still making the most of your practice.
Your Practice, Your Way
At it's heart, yoga is a personal practice. It is about using movement to connect to your heart, mind, and body. Unfortunately, it's far too easy to compare ourselves to others or hold expectations for ourselves and our bodies. Using these modifications is the perfect way to make your yoga practice your own. They will teach you more about yourself and your progress. In any class, make sure to talk with your instructor on how to best adjust the practice to your own personal needs as well. Yoga is never a competition, but always connection.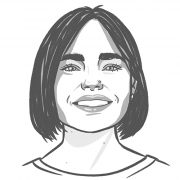 Jacqueline Roberts
Paving the way for yogic living in Nebraska, Jacqueline Roberts is adored by her students as a constant source of support and inspiration. A knack for writing allows her to share what she has learned with the world.