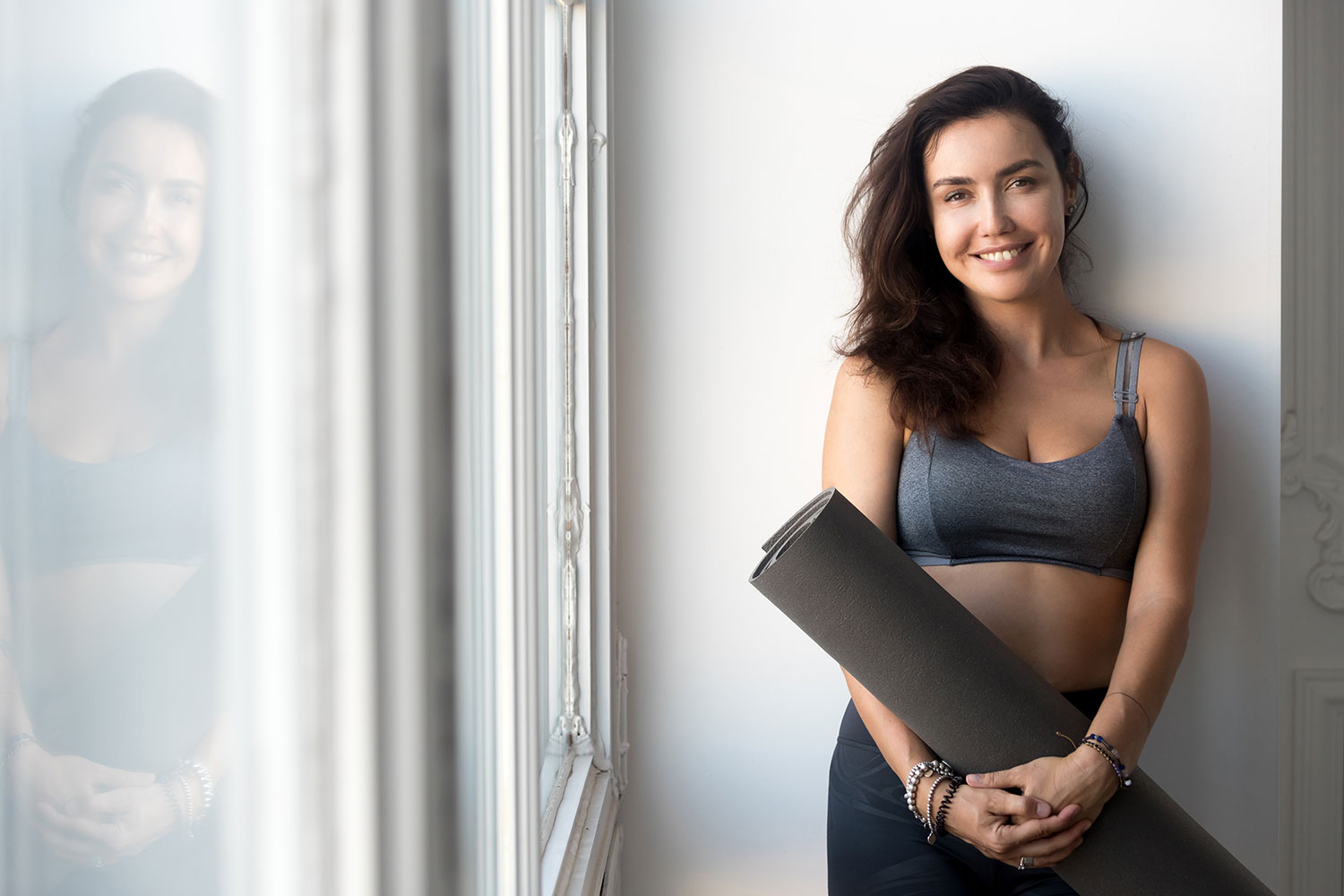 Yoga mats are an essential part of your yoga practice. They support you and separate you from the ground. They are a soft place for your body to rest while you're practicing yoga. They can even be a source of comfort and security when you're trying a new class or studio for the first time.
Yoga mats are personal and can reveal a lot. Your favorite color, a phrase you like, or a Sanskrit symbol that resonates with you. But your yoga mat's appearance can give something else away: how often you clean it.
Just like you clean your body and clothes after yoga, it's important to clean your mat too. Yoga studios are often heated, leaving your mat damp and sweaty after class. Together with the grime from the floor and your bare feet and hands, these conditions make yoga mats the perfect breeding ground for germs.
Fungus, bacteria, viruses, and mildew can collect on a dirty mat. These microbes can cause skin infections like ringworm, athlete's foot, plantar warts, and staph infections. Yikes! But don't throw away your mat and vow to practice in socks and gloves. A quick clean after each practice and a monthly deep clean will keep your mat fresh and free of germs.
Cleaning your mat is easy, and there are lots of options. Organic cleaner? Wipes? Disinfectant? DIY? This guide will help you decide which cleaner is the best for you and your mat.
Cleaning vs. Disinfecting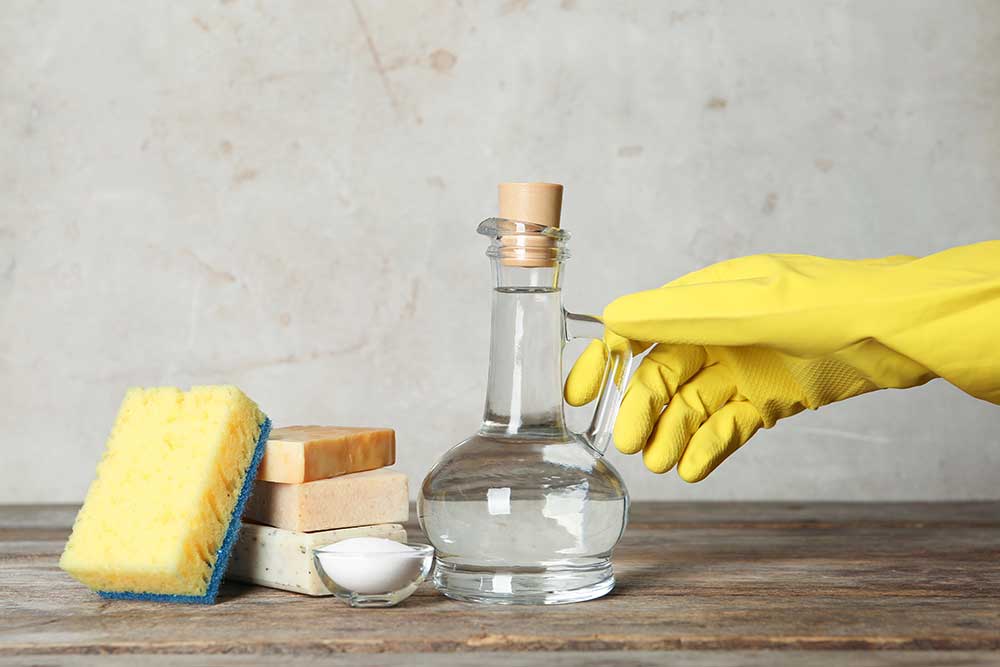 Germs are a big concern these days, whether you're practicing outdoors, at home, or in a studio. How can you make sure you're keeping your mat clean without exposing your skin to harsh chemicals?
First, understand the difference between cleaning and disinfecting. Cleaning removes dirt, sweat, and germs from your yoga mat. Disinfecting kills the germs on your mat. Taking good care of your mat means doing both regularly. Disinfect after every use and deep clean once a month. If you take heated or outdoor classes, deep clean your mat more often.
You can use household disinfectants like Clorox wipes or Lysol on some types of synthetic mats. Tea tree oil, vinegar, and witch hazel are good alternatives to the harsher disinfectants. They won't harm your mat or irritate your skin.
What's Safe for Your Mat?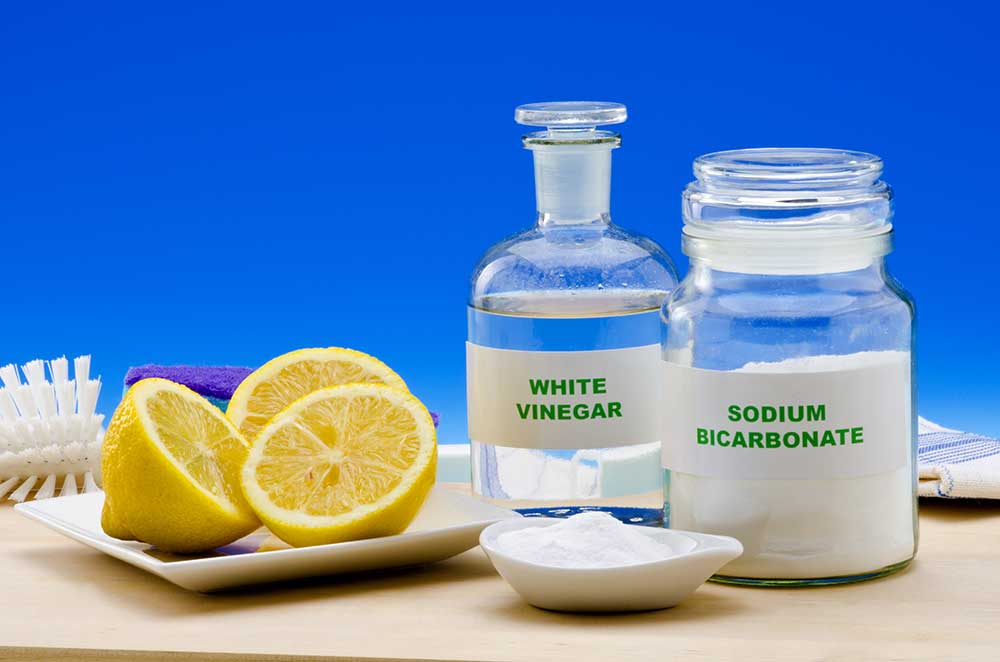 Do some research to find out what products are safe for your yoga mat. Using the wrong product (or too much of a product) can leave behind odors and residue, or make your mat slippery. Scrubbing too hard can strip your mat of its naturally sticky surface. It's never fun to inhale a chemical odor during child's pose or slip off your mat.
Get to know your mat and find out what it's made of. Yoga mats are either open-celled or closed-celled, depending on their material. Open-celled means the material is porous and will absorb liquids and sweat. Closed-celled mats are slicker and water-resistant. Check the manufacturer's website to find out what kind your yoga mat is.
Natural rubber mats are open-celled and are great for hot yoga classes. They absorb sweat and keep your hands and feet in place. Synthetic materials like PVC and eco-friendly TPE are often closed-celled. These mats won't absorb sweat and odors. Cork is also a closed-cell material and requires a special cleaning process.
Cork mats are naturally antimicrobial and antibacterial, so they don't need to be cleaned after every use. Cleaning a cork mat is simple: wipe the mat with a soft towel soaked in cold water. Let the mat air dry after you've cleaned it. Don't use cleaners with lots of essential oils, because they can damage the mat. A weekly wipe down will keep your cork mat in good shape.
If your cork mat is really sweaty and grimy, you should deep clean it. Spray the mat with a mixture of water, vinegar, and a few drops of essential oil. Wipe the mat with a soft, damp cloth–microfiber cloths work great here.  Always make sure to let your mat air dry completely before rolling it back up.
Natural rubber mats also require a gentle cleaning process. The best products for these mats are water-based and organic. Whenever you buy a new mat cleaner, check the bottle. It will say if the product is safe for natural rubber mats. A DIY mixture of vinegar and water will do the trick too.
To deep clean a natural rubber mat, mix warm water with a few drops of a gentle fabric detergent or dish soap. A few drops is key–too much soap can damage your mat! Soak a towel in the water/detergent mix and gently wipe the mat. Scrubbing too hard can damage the mat's natural stickiness, making it harder for you to grip the mat.
Rinse the soapy mixture off the mat with warm water, and dry the mat with a cloth. Once it's completely dry, repeat the process on the other side. Make sure the mat is completely dry before rolling it.
Synthetic closed-cell mats are easier to clean. Most yoga mat cleaners, disinfectants, and wipes are safe to use on these mats. Just spray the mat and wipe it off! Disinfect after every use and give it a monthly deep clean with water and gentle dish soap.
We made a list of some of the best yoga mat cleaners. Find what works for you and your mat, and make regular cleaning part of your yoga practice.
Natural and Organic Cleaners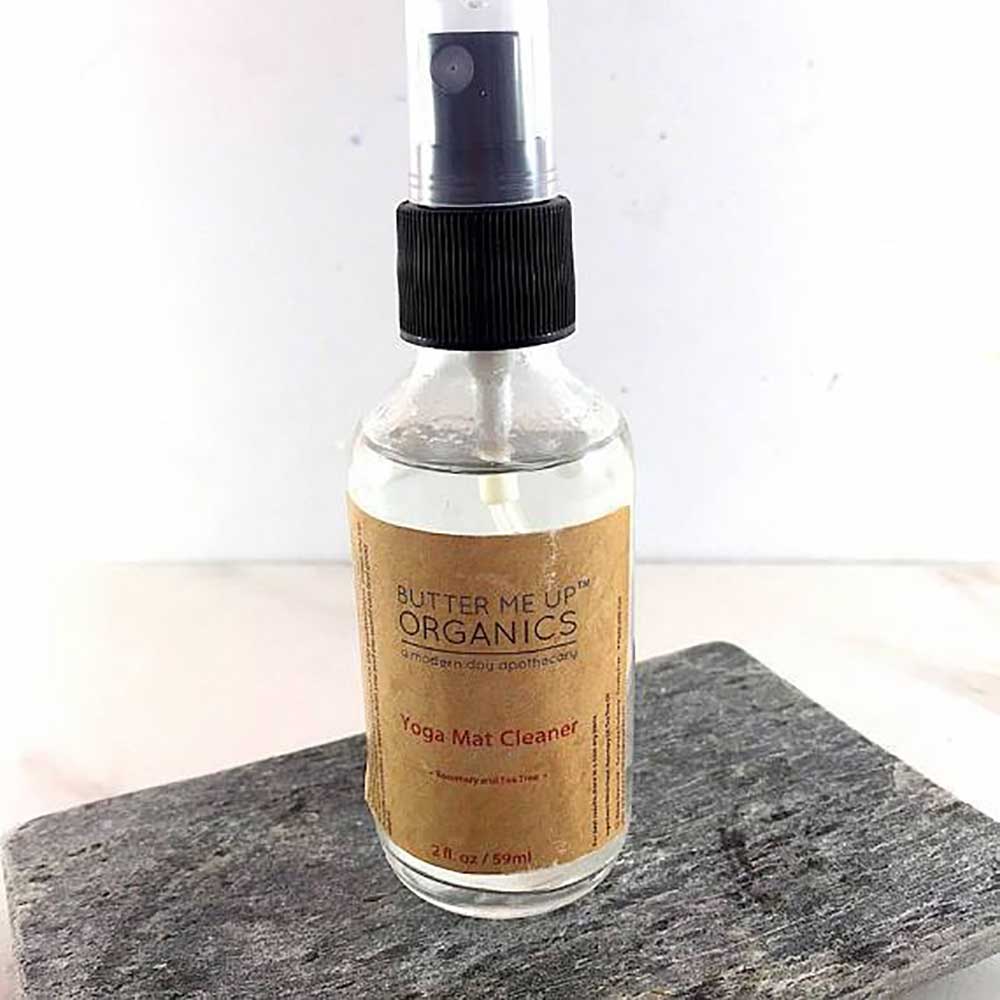 Natural and organic cleaners are the best for yoga mats. They don't contain harsh chemicals that will damage your mat or irritate your skin. Many natural cleaners are made with tea tree oil, an essential oil that is naturally antibacterial.
The Asutra All Natural Yoga Mat Detox Cleaner is biodegradable and comes in seven refreshing scents. The ingredients are all-natural: water, essential oils, coconut oil, and witch hazel. To use, spray a damp cloth three times, wipe your mat down, and air dry.
Aurorae's Organic Yoga Mat Cleaner is another great option. It's organic, biodegradable, and comes in a recyclable travel-size spray bottle. The cleaner comes in four varieties, including unscented. The cleaner does not contain phosphate or alcohol, so it won't damage your mat. Spray this cleaner directly on your mat, let it soak for a few minutes, then wipe the mat clean.
The Mind Over Lather Yoga Mat Cleaning Spray is good for natural rubber mats. The scents are exotic and beachy: yuzu, bamboo, papaya coconut, and summer rain. The ingredients are simple: water, witch hazel, and tea tree/eucalyptus essential oils. This cleaner won't dry out your mat or leave it feeling slippery. Spray directly on your mat and wipe clean.
Unscented Cleaners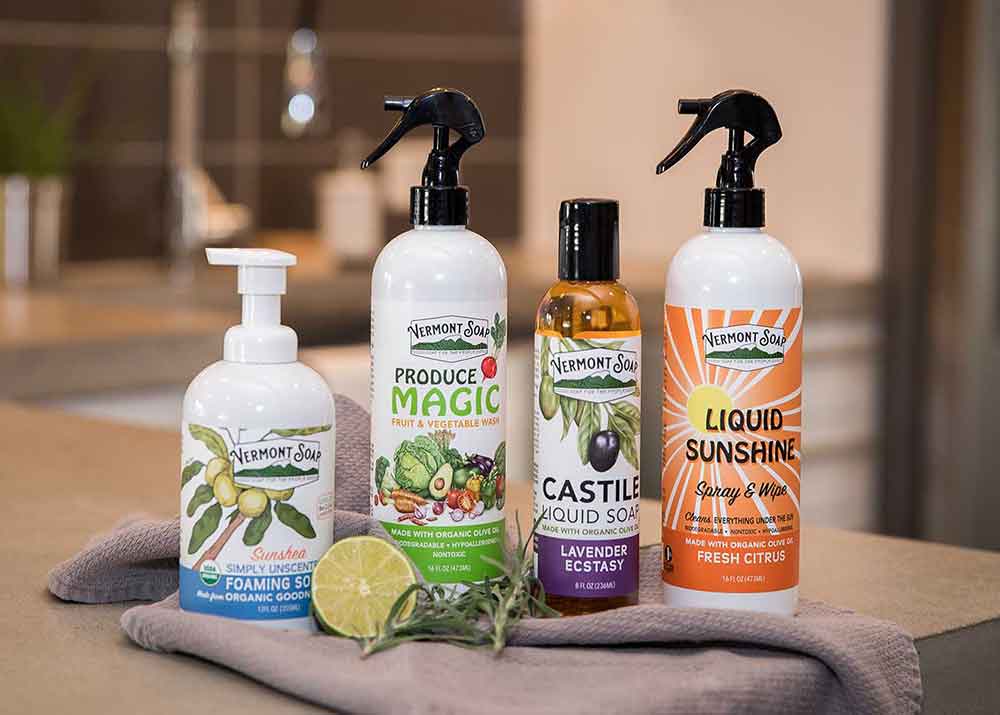 If you're sensitive to fragrances or want your mat to smell fresh and neutral, unscented cleaners are the way to go. These have the same germ-fighting ingredients as most other cleaners and are fragrance-free. The popular Asutra All Natural Yoga Mat Detox Cleaner comes in an unscented variety.
The Manduka Everyday Mat Cleanser is made for their GRP mats and any other open-celled mat. If you like heated yoga, this unscented cleanser will preserve the grip of your mat. Pump the foam onto a sponge or damp cloth and wipe the entire surface of your mat. Wipe again with water and let your mat air dry completely.
Vermont Soap's Organic Yoga & Exercise Mat Cleaner is safe for water-resistant closed-cell mats. This unscented cleaner is great for daily use and deep cleaning. The ingredients are organic vegetable oils (coconut, olive, and jojoba) and essential oils. It's free of alcohol, artificial fragrances, and detergents, which is perfect for sensitive skin and delicate mats.
Cleaning Wipes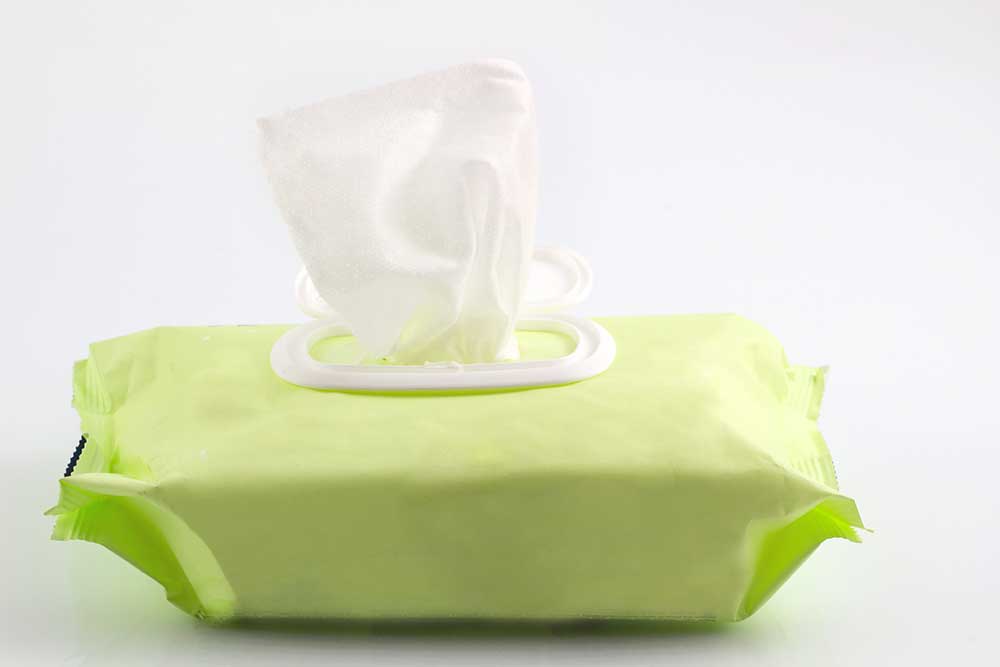 Disposable mat cleaning wipes are perfect for yogis who need to make a quick exit after savasana. There's no need to carry towels or spray–just wipe your mat and head out! These are also great to have on hand at yoga studios for shared mats.
The Herban Essentials Yoga Towelettes are lavender-scented and individually wrapped. You can use them to clean your mat, and your hands and feet, so everything will smell fresh for your commute home or back to the office. The ingredients are simple: water, high-quality lavender oil, and natural emulsifiers/preservatives.
Tidy Mat Yoga Mat Cleaner Wipes are best for closed-cell rubber mats. The ingredients are all-natural and have a relaxing lavender scent. The wipes are designed to remove dirt and sweat, so they are great if you practice outdoors or somewhere with a grimy floor. Best of all, they are biodegradable, so you don't have to feel guilty about throwing them away.
Jo-Sha Wipes are essential oil-based towlettes, free from alcohol and harsh chemicals. There are five scents to choose from, including peppermint, lavender, tea tree, eucalyptus, and tangerine. The towlettes are available in a resealable package of 50 or in individual packets. Both are great options, depending on how frequently you'll use them. The outer packaging is 100% recyclable, so either choice is environmentally friendly.
Homemade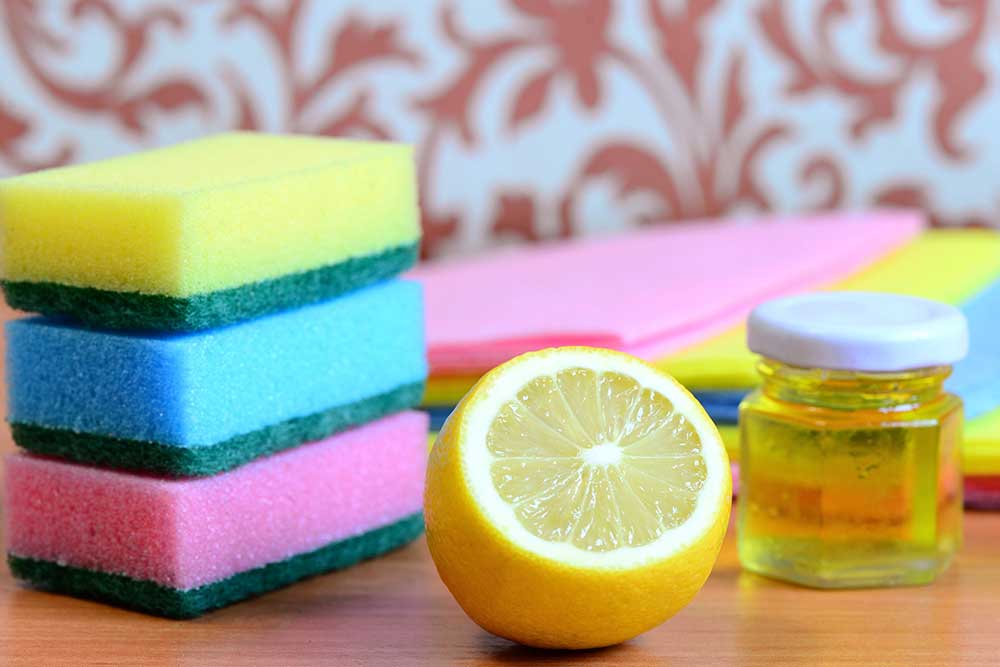 DIY yoga mat cleaners are ideal for so many reasons. You know exactly what the ingredients are, so you don't need to worry about harming your skin or mat. You can experiment with different essential oils and find the fragrance you like best. The ingredients are inexpensive and can usually be found at grocery stores or drugstores.
If you have a zero-waste lifestyle, DIY is the way to go. Homemade mat cleaners don't generate as much waste as store bought cleaners or wipes. You can reuse the same spray bottle every time you make more solution, eliminating plastic waste.
Yoga Journal published a simple homemade cleaner recipe. Combine equal parts white vinegar and water, and add a few drops of tea tree oil. Tea tree oil and white vinegar are natural disinfectants, so you know your mat will be germ-free. Pour the solution into a reusable spray bottle, spritz your mat, and wipe it clean.
Yoga Journal also recommends using a gentle dish soap for the monthly deep clean. This will remove any dirt and grime left after using the vinegar and tea tree oil cleaner. Soft microfiber cloths are gentle and won't damage your mat, but will still get it squeaky clean.
Witch hazel is an alternative to vinegar. It has the same disinfecting properties and also removes grease. Yogi Approved has an easy recipe of three parts water, one part witch hazel, and a few drops of tea tree and lavender essential oils. You can buy witch hazel online or at grocery stores.
Cleaning Towels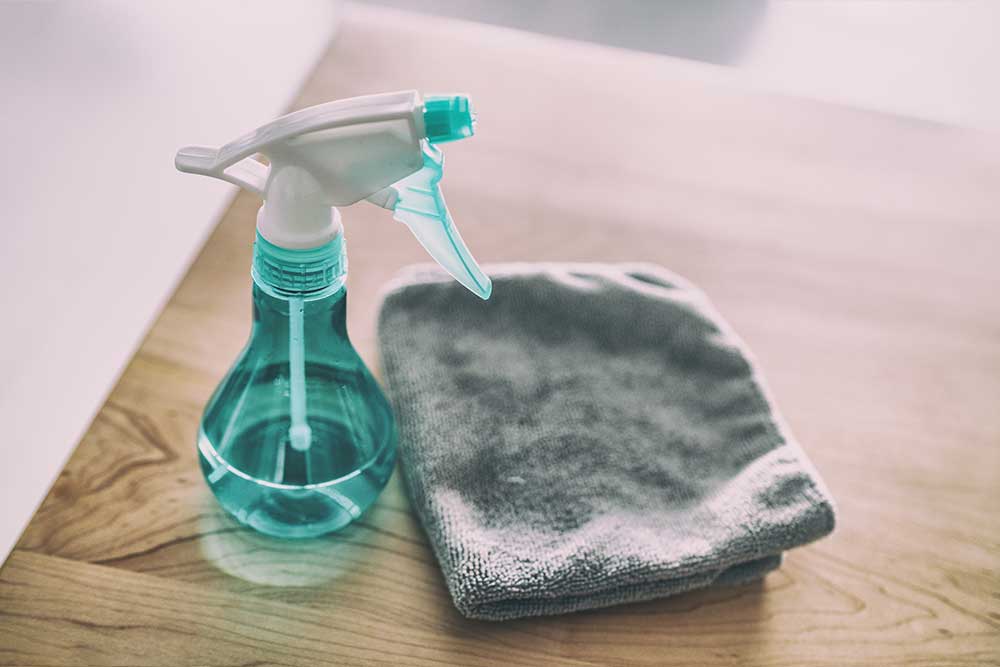 The towel or cloth you use to clean your mat is almost as important as the cleaner itself. Soft microfiber towels are non-abrasive and gentle on your mat. They're versatile and can be washed and reused hundreds of times without wearing out.
If you want a towel just for cleaning your mat, the 4-ounce bottle of Austra Yoga Mat Detox comes with a free microfiber cloth. The small bottle and towel are just the right size to stash in your yoga bag. Saucha Natural Yoga Mat Cleaner is a similar option. It is lavender scented, made from essential and plant oils, and includes a microfiber cloth.
This Hot Yoga Hand Towel from Yoga Outlet can double as a mat cleaning cloth in a pinch. You should always use a clean towel to wipe down your yoga mat, so you don't mix sweat with the cleaning solution. If you're in a hurry and plan to give your mat a better cleaning at home, use this hand towel to quickly dry your mat.
Conclusion
Regular cleanings are so good for you and your mat. Removing germs, bacteria, mildew, dirt, and grime protects your body from skin infections. Taking good care of your mat will make it last longer and preserve its natural grip.
The next time you're in child's pose or downward-facing dog, look carefully at your mat. Observe the clean surface. Breath in the fresh, clean scent. Thank yourself for making time to take care of your mat, and of yourself.
Try these cleaning methods and products, and leave comments about your favorite ones. Share this list with other yogis and let us know if you find other cleaners you like!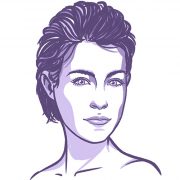 Donna Wallace
As a trained yoga professional and Ayurvedic practitioner, Donna goes far beyond just writing about holistic concepts. With your health and wellness in mind, she happily provides an abundance of thoughtful and well-written information.