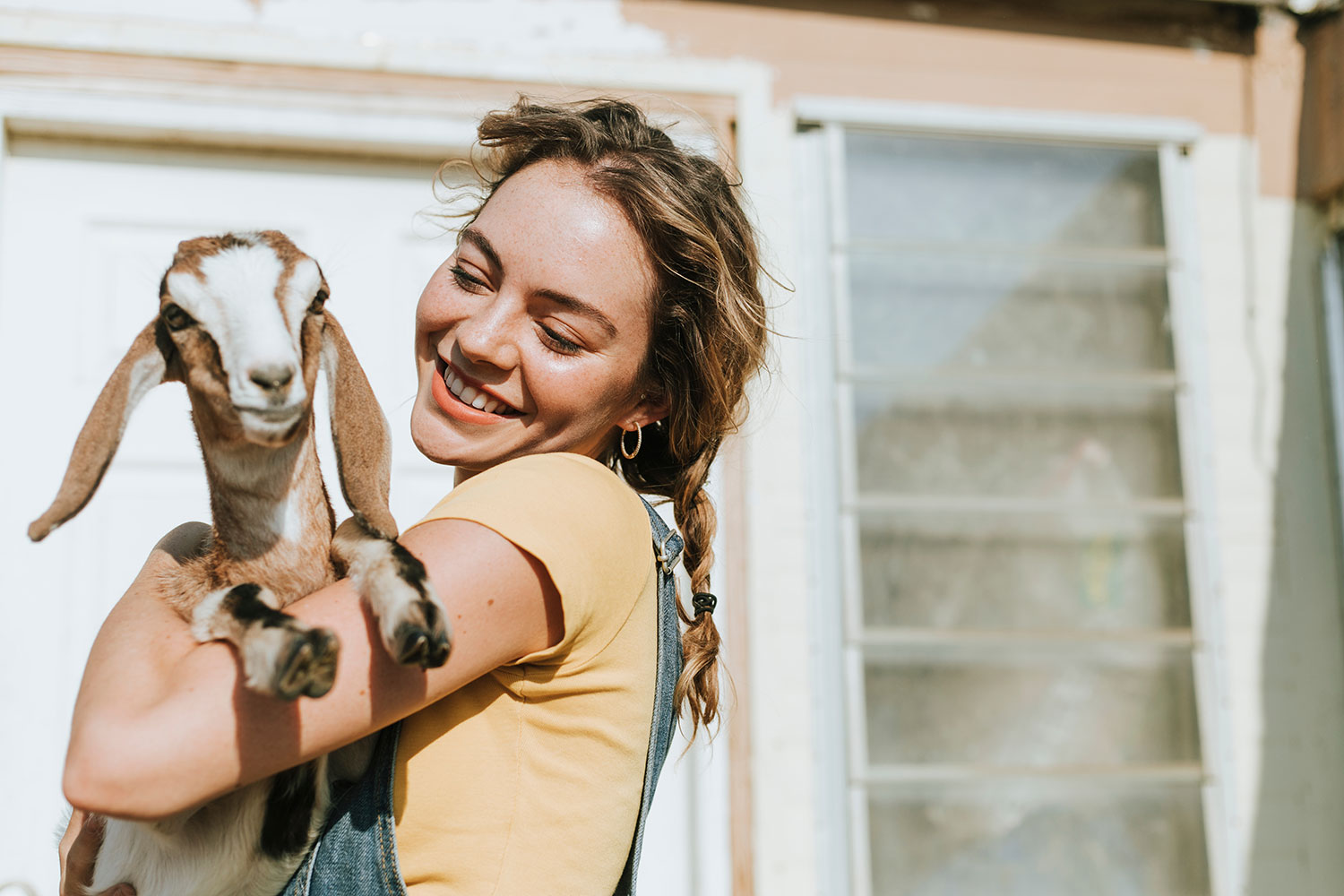 Yoga contributes to our physical and mental help especially with continual practice. Yet, sometimes it even helps us on an emotional level. At least that's the idea about incorporating goats into the practice. These adorable goats come to check-in on your posture. And may help you leave with a better peace of mind.
Goat yoga is as it sounds; the practices of yoga alongside live goats.The design of this class is for students who want to experience something different. The idea of a surprise goat adding some weight to your plank, does the trick!
Although it sounds unusual, most leave the classroom feeling lifted.
Reminding us to be present in the moment, especially, within an hour of cuddling and playing with baby goats. This class not only helps the physical body with exercise. By putting life into perspective and to escape the day-to-day. You'll want to experience the class for the reset alone in the scenic farm setting.
How Did Goat Yoga Get Started?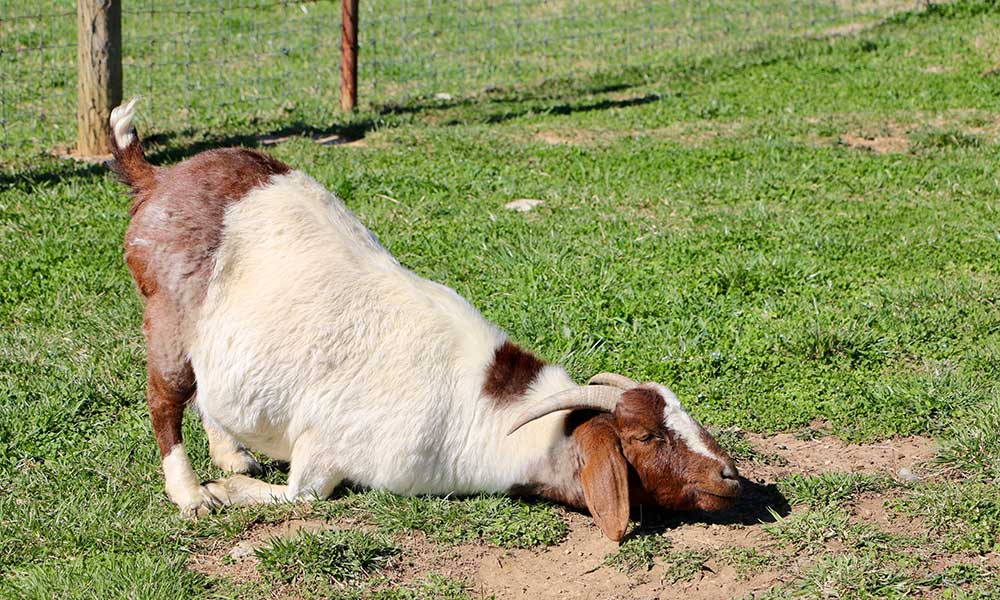 The creation of goat yoga was a matter of chance, as Oregon native, Lainey Morse explains. It starts with people visiting her farm to spend time with the animals. During one of these events she's asked by a yoga instructor, Heather Davis, if she had thought to blend the two. This merger brought yoga to the outdoors and more time spent with the goats.
But, why goats you may ask? Besides the fact that goats are adorable creatures! They also don't need large amounts of time to develop a bond. Goats become comfortable with someone establishing an immediate connection. This is what makes goats perfect animals for yoga.
They serve as an excellent therapy animal and provide added emotional support. By this, they help contribute to increasing oxytocin. This increase is the reward neurotransmitter in the brain that influences dopamine levels. While dopamine is increasing cortisol levels, or the 'stress' hormone, begin to decrease. This decrease also aids in reducing blood pressure. While also the improvement of psychological conditions.
These conditions include depression, anxiety, and even post-traumatic stress disorder.
But, you may still wonder, why goats? Well, there is an evolutionary bond between goats and humans. Goats were the first domesticated animals. There's research suggesting they know how to read our emotions. Goats have learned how to interpret emotion to survive. So, we can say goats are pretty in tune with our expressions. As our expression serves as a reward of affection instead of reward with food like other animals. Goats are a lot of love in a small package and offer plenty of humor and personality. So, the reason why goats are the perfect fit? They're all around the optimal choice.
What Happens During A Goat Yoga Class?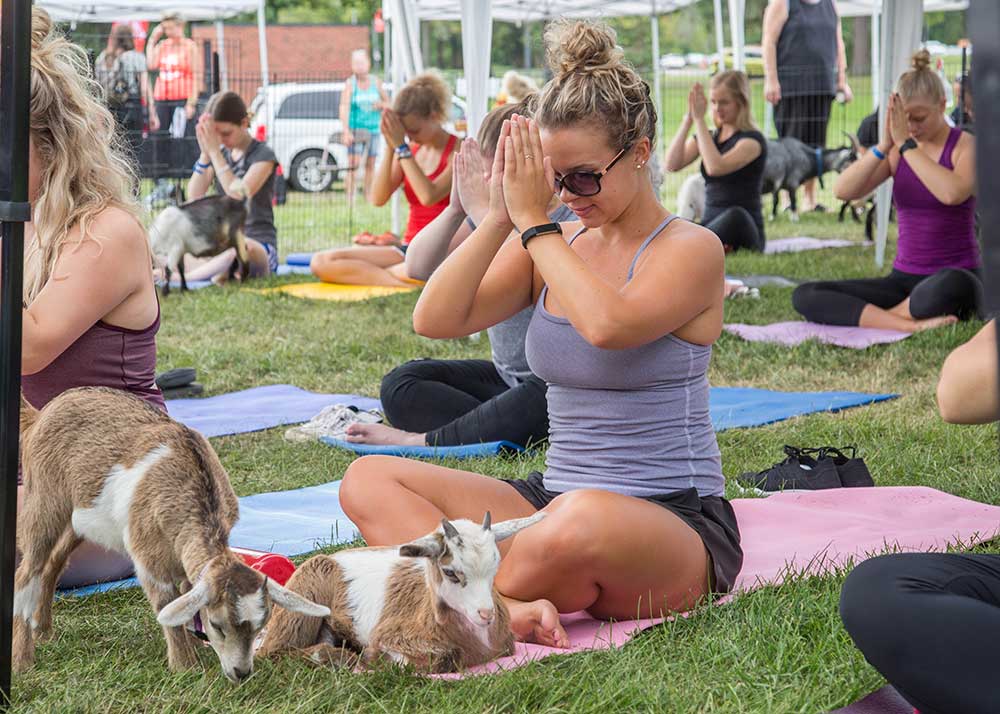 When you go to a goat yoga class you can expect up to eight goats ranging from only a few weeks old to two years. They wander beside you (and sometimes on you) during the class. Classes take up to 30 minutes and you can expect familiar postures and moves. All while taking in the beautiful scenery.
Generally, the studio is an enclosed or fenced outside area with fresh air for students and the goats. Yet, some locations will offer an alternative for weather when it is too hot or cold.
Where Can I Practice Goat Yoga?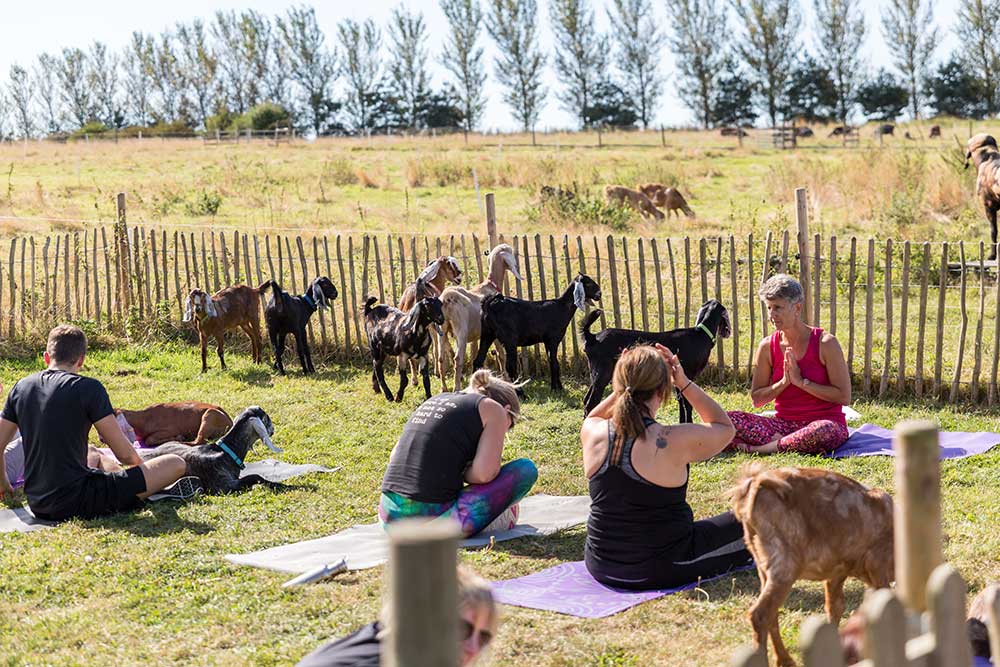 Right now, there are only a handful of places where you can get started. To attend the class that first started it all, you will have to travel to Oregon City, Oregon. This farm has everything necessary to enhance your experience. To ensure comfort they offer an indoor space and is where the story all began.
There are other locations in the Pacific Northwest, such as:
Moses Lake, Washington:This farm offers a beautiful scenic view. Bring loved ones for a class and an unforgettable experience.  Also, if you forget your mat, they will have mat rentals!
Morgan Hill, California: 10 Acres off the grid on a ranch in Santa Cruz mountains. Their goats play a critical role in their farm and love to meet new people!
For Goat Yoga on the East Coast, there are locations in:
Cedar Point, Illinois: On a 100 acre ranch. This location sits only 15 minutes away from Starved Rock State Park. They offer goat yoga, a petting zoo, and horseback tours and have an onsite restaurant.
New Castle, Kentucky: This ranch also offers indoor and outdoor events. They cater to private parties and open for goat yoga! Not to mention an onsite winery that offers wine tastings, you can make this an all-day outing!
Williamston, Michigan: This five-acre farm overlooks beautiful fields and pasture. There was a comforting spirit to the area that felt inviting. They started adopting goats and creating a welcoming and lively environment.
Carlisle, Pennsylvania:  This farm aims for a healing experience. The goats help contribute to a unique transformative experience.
Germantown, New York: This farm strives to embrace the love of nature and local farming with yoga. Adorable friends cruise around attendees during peaceful mediation.
Mims, Florida: This four acre land is close to Orland, Cape Canaveral, and Daytona beach. This land nestles within the countryside and is close to the most renown beach in Florida.
How To Prepare For A Goat Yoga Class?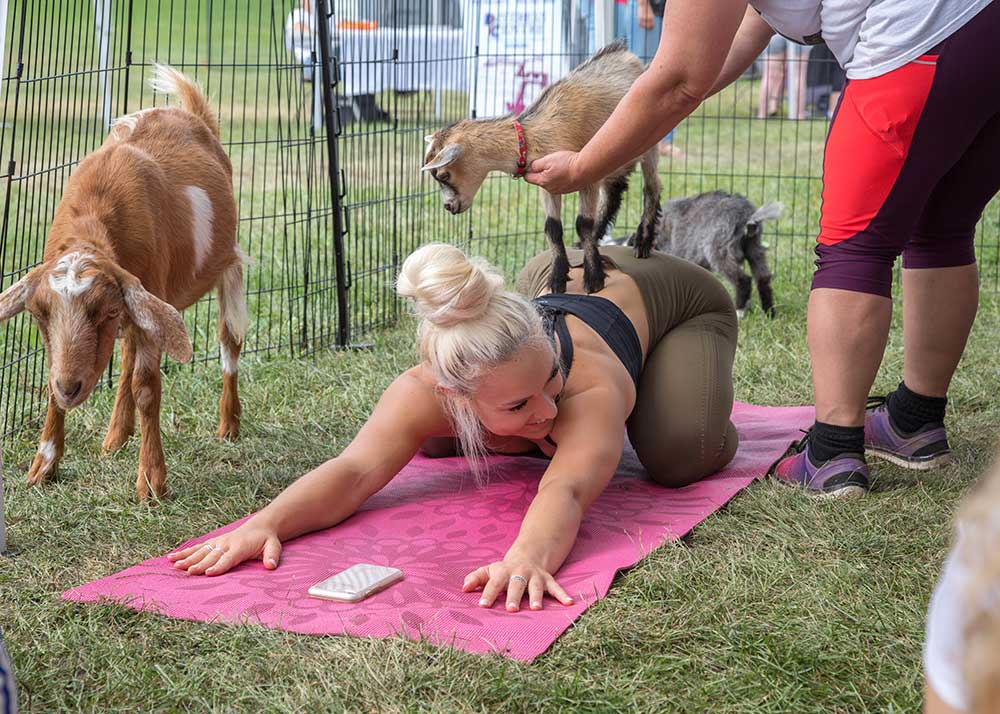 It may feel intimidating to try something if you're unsure what to expect. Luckily, goat yoga doesn't differ in poses. You can expect the typical poses despite the location. Expect to bring the usual things you would bring to a yoga classroom, i.e., a yoga mat, foam blocks, towel, and water bottle. Suppose you're a man or woman with long hair. In the case of long hair, you may want to pull it back. This is a safety precaution in case any goats are a little too nosey. Also, make sure to bring a camera in case you can't resist a picture of your new friend.
As you're practicing with live animals, relish in the uncertainty of the experience. There may be some random moments from the goats. They may nuzzle your neck during corpse pose, or hop on your back during plank. Expect some dirt. And, the possibility of relocating your yoga mat incase of one relieving themselves. It's nature, and these are goats outside after all.
Animal Assisted Therapy Benefits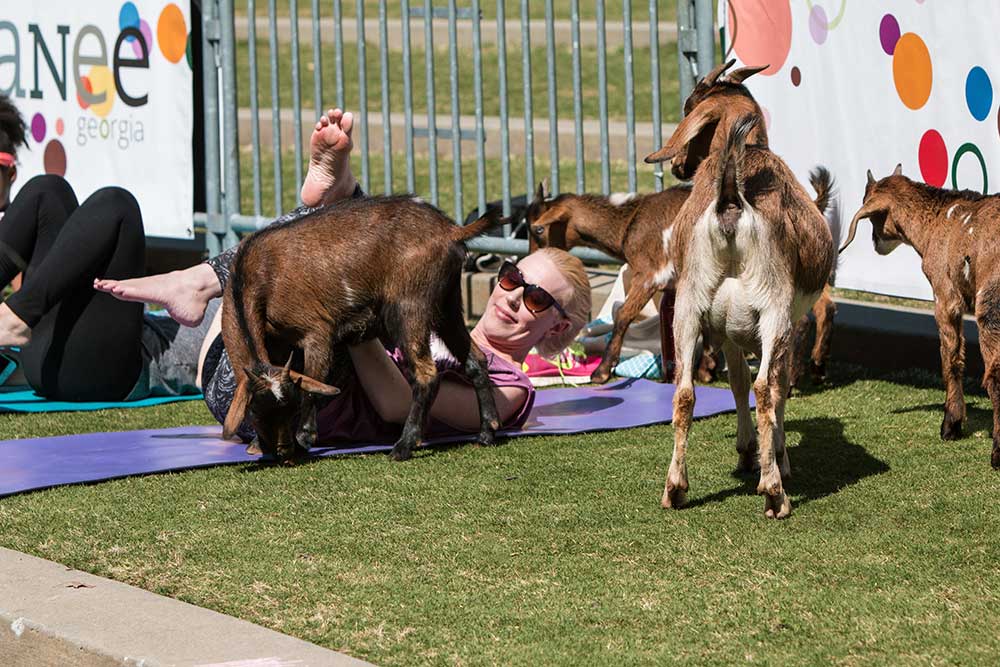 Animals benefit humans and help to overcome uncertainties. Here are a couple examples to gain a broader insight into how animals can help benefit you.
Animals help increase relaxation. By interacting with animals the hormones involved in bettering your mood release. These include serotonin, prolactin, and oxytocin.
Animals provide comfort and reduce feelings of loneliness.
Animals increase mental stimulation and provide a distraction. That can act as a way to reduce anxiety and help to be a common subject or topic in interacting with other attendees.
Animals help with physical health, participants often feel more relaxed. They also feel more motivated and can get the most out of the exercise session.
Children with autism may enjoy goat yoga. As they may be able to develop a deep bond.
Animals provide comfort. Individuals with anxiety may experience a reduction in anxiety. Some students say they feel more relaxed during exercise.
Animal assisted therapy benefits in a variety of ways that affect our health. For instance, animals who help in hospitals livening the spirits of recovering patients. Animals also help children with their literacy by providing a companion when reading. For seniors, animals help in motor skills and movement. Within this context, it is easy to see why animals are welcome in yoga. They're a unique bond with humans, giving a therapeutic element to the experience.
Is Goat Yoga Right for You?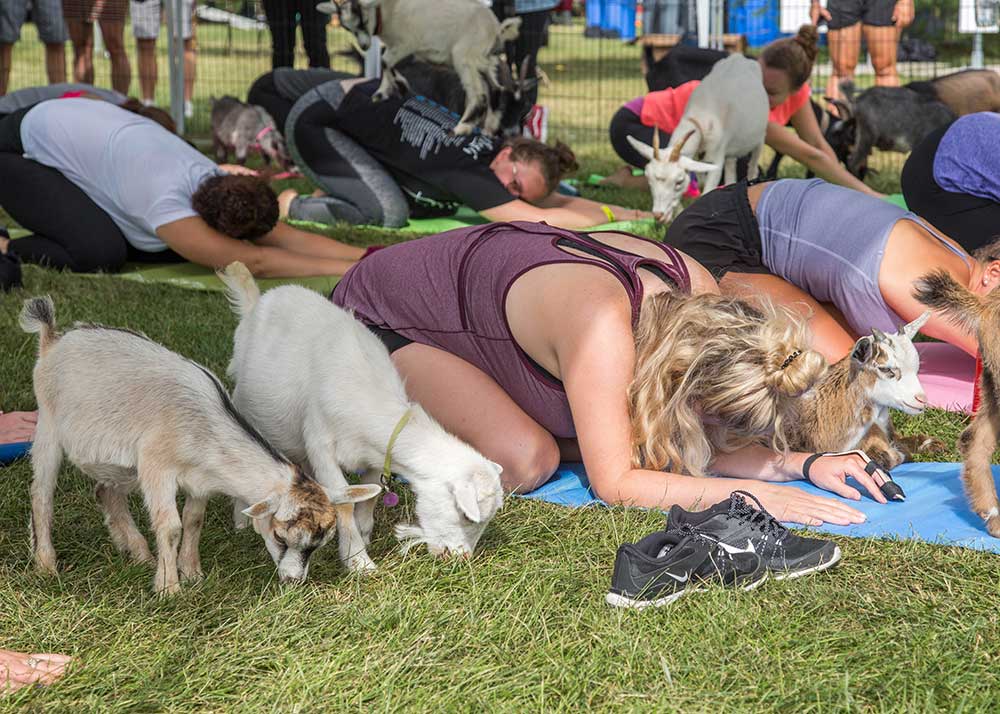 Those who don't enjoy working alongside animals may want to avoid this class. Animals are very up close and personal, and you should avoid this class if you have allergies. If you're someone who prefers a controlled environment, you may not care for this class. Goat yoga thrives on the unexpected. So, if any of the above resonate with you – you may not enjoy this class.
But, goat yoga is an opportunity to change up the pace of things. While still offering benefits to the physical body and to the mind. Goat yoga provides something that you won't experience in other classrooms. It offers an emotional component where one can connect with the outdoors. While enjoying the company of other sentient beings that are all there to meet you in the same place. In the present and with compassion.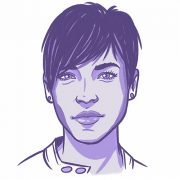 Lauren Howard
Lauren Howard holds a master certification in reiki, or energy healing, and has been practicing yoga for over 20 years. She began freelance writing as a means of spreading her truth and knowledge with a broader audience.