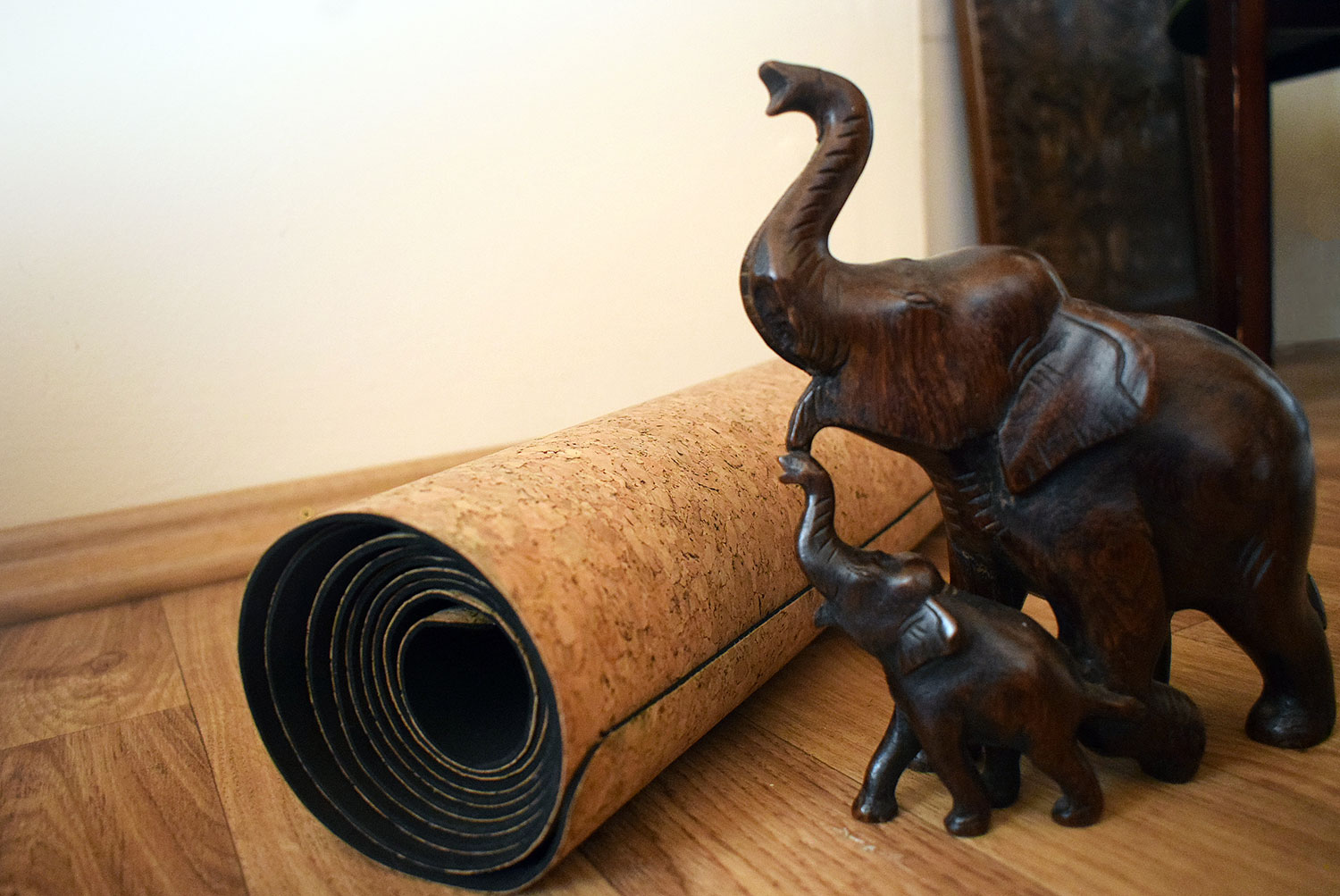 Being earth conscious is becoming increasingly more important. We're learning more ways that our products cause harm to the planet. But, that also means we're receiving information on creating more sustainable products. That includes an array of items, even down to our selection of yoga mats.
That's one reason why cork mats have become so popular recently. Cork mats are generally 100% biodegradable and recyclable. They're made with natural tree rubbers and premium cork. Individuals who buy cork yoga mats are confident in being sustainable.
Yoga mats come in a wide variety of colors, thickness, and material. So, if you're someone who is trying to adjust your lifestyle or to leave a smaller footprint, you have options. These choices may be overwhelming in your practice of being earth-conscious. But are they the best for sustainability, and how do they compare to their counterparts? Let's take a look at some of the main factors to consider before purchasing any yoga mat.
Factors To Consider When Purchasing A Yoga Mat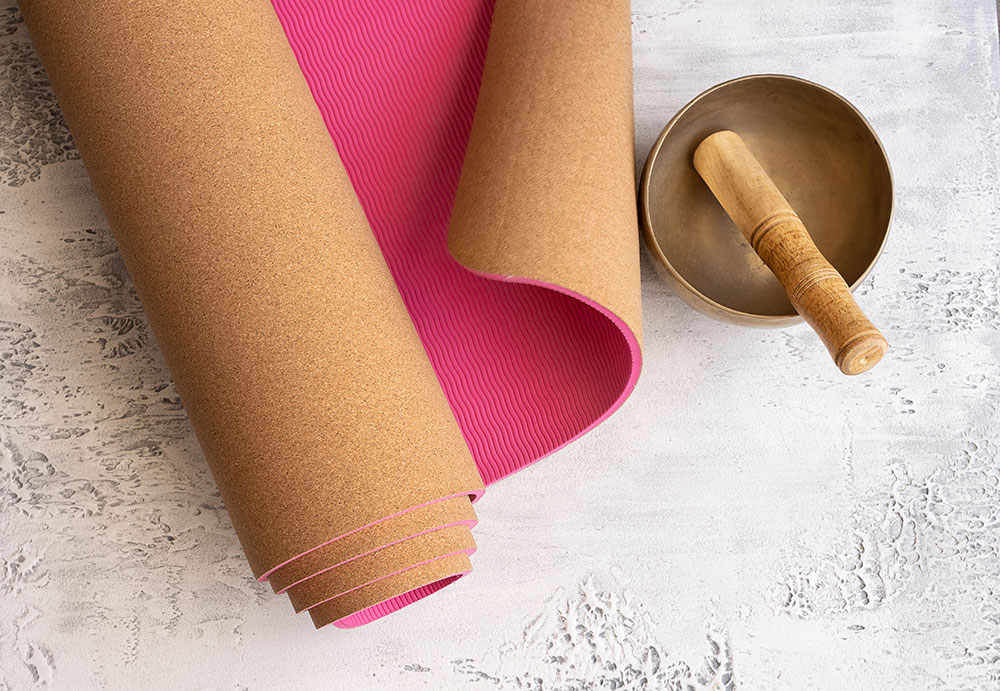 When purchasing a yoga mat, there are several materials that you may come across, though not all them are earth-conscious. Here's a list of some of the most common materials. And the factors to pay attention to when selecting a yoga mat that works best for you.
Materials:
Rubber: Some of the pros mentioned for purchasing a rubber yoga mat are that it's a traditional choice. That is not too hard and that the material is easy to mold. Yet, if an individual has sensitivity to latex, it's advised to stay away from mats made with this material as they may react to the mat. Another complaint to rubber is from travelers or on-the-go yogis as this material proves to be very heavy and uncomfortable to carry.
Thermoplastic Elastomer (TPE): This option is also another popular material for yoga mats. It is a human-made material but is biodegradable and lightweight. But, some of these mats material complain that it seems to dry out over time. Some complain that it doesn't appear to have much durability.
Poly-Vinyl Chloride (PVC): Mats made with PVC often have a sticky surface. This works wonders for practicing yogi's, as it's extra support and grip when performing a posture. Yet, this material is not environmentally conscious, and it cannot be recycled and is not biodegradable. In fact, during the manufacturing process of these mats, it releases harmful toxic chemicals and carcinogens. These mats may have good traction. But, may not be the most earth-conscious. If this is something you're trying to lean into this isn't the best option for you.
Polymer Environmental Resin (PER): This option is like PVC mats. But, without the chemical softener, Phthalates. It has satisfied tests that measure its biodegradability. But, the long-term effects of the material and the chemicals are still unknown.
Ethylene-Vinyl Acetate (EVA): These mats are less toxic than it's a competitor. But, some yogis are still on the fence about the validity of its chemicals.
Hemp: Hemp yoga mats are earth-conscious. But, the largest complaint is they're sometimes uncomfortable. They're material can sometimes cause itching.
Cotton Rug: Cotton rugs are absorbent and can also double as a typical house rug. But, their fibers can be slippery, which isn't the best attribute when nailing a yoga move.
Thickness
Thick Mats ( 6-7mm): These mats can help provide shock absorption; but, they can be a little too "squishy."
Thin Mats ( 1.5-2mm): Folds and ideal for travel but may not support enough for hands and knees.
Density
Performance Mats: These mats tend to be firmer as they improve the balance of athletes. But, their hard surface may not shock-absorb as well as a typical Pilates or exercise mat.
Exercise (typical) Mats: These mats are for exercise and made for comfort. They help with easing shock absorption. It's challenging to perform standing postures on these mats due to balancing challenges.
The Cork Yoga Mat In Comparison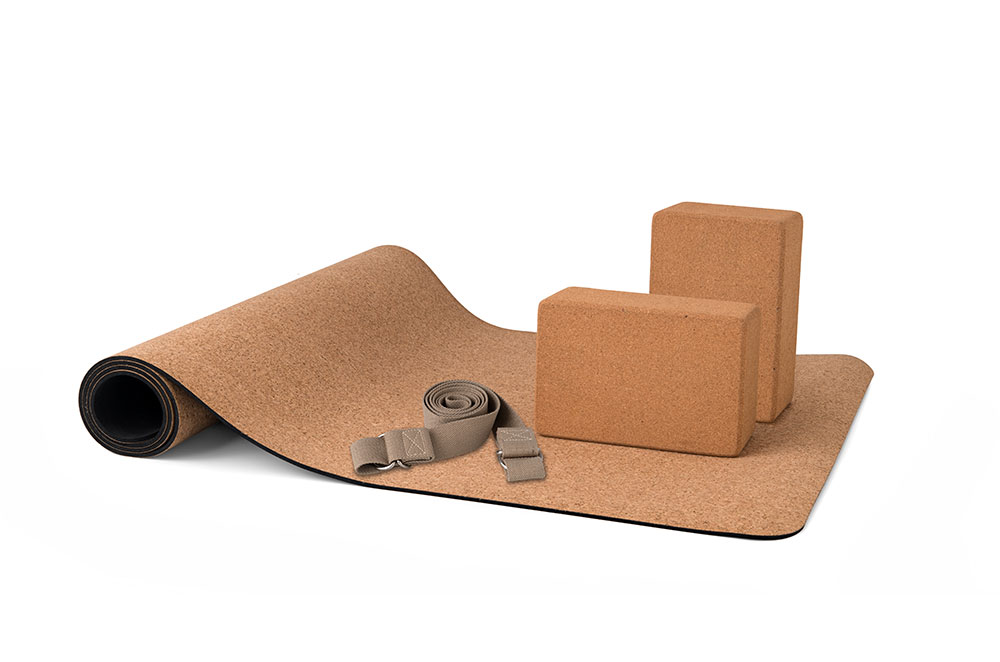 As with the notes above, there are many areas to consider when introducing new material. It may be a comparable option but is it the best of both worlds? How does the cork mat live up in comparison to its counterparts? We break down the most significant factors and see how it measures up.
The Price
A quick search online may yield results for less than 15 dollars. They are not made sustainably. Often made from cheaper alternatives, as mentioned in the materials above. Cork yoga mats can range from 40 – 120 dollars, depending on the mat's thickness and design.
 The Grip
The cork yoga mats reviews state that they have an excellent grip in either wet or dry circumstances. This is great because we want to make sure it fits traditional classrooms and hot yoga classes. In this case, it appears that cork is comparable. It has a sturdy grip like it's competitors. And supplies enough cushion depending on the thickness. Which is a matter of preference to the participant.
The Weight
These mats may appear like they should be heavy, but surprisingly they're lightweight. Depending on the desired thickness size, these mats can keep up with travel to-and-from a yoga studio or out to a location. They're able to move along with you and keep durability. Yet, they're not foldable and generally best kept by rolling and unrolling the mat.
The Maintenance
The cork material is straightforward to clean and is naturally antimicrobial and antibacterial. All that a cork mat needs is a quick wipe down with water. Participants encourage other yogis to air dry they're mats before rolling up. As they've forgotten to clean after a class and remaining sweat is on the mat. A few minutes of air after a quick wipe down and it was as good as new.
The Best Cork Mats On The Market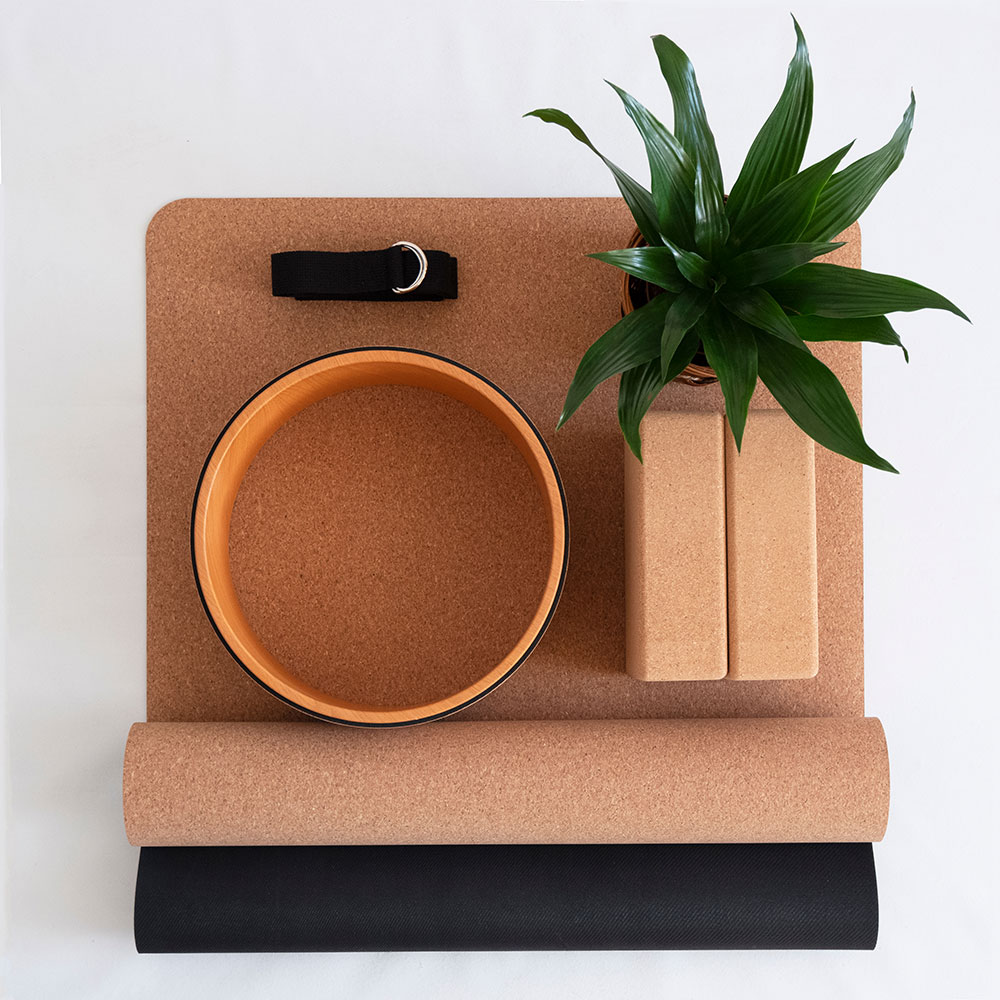 Is A Cork Yoga Mat Right For Me?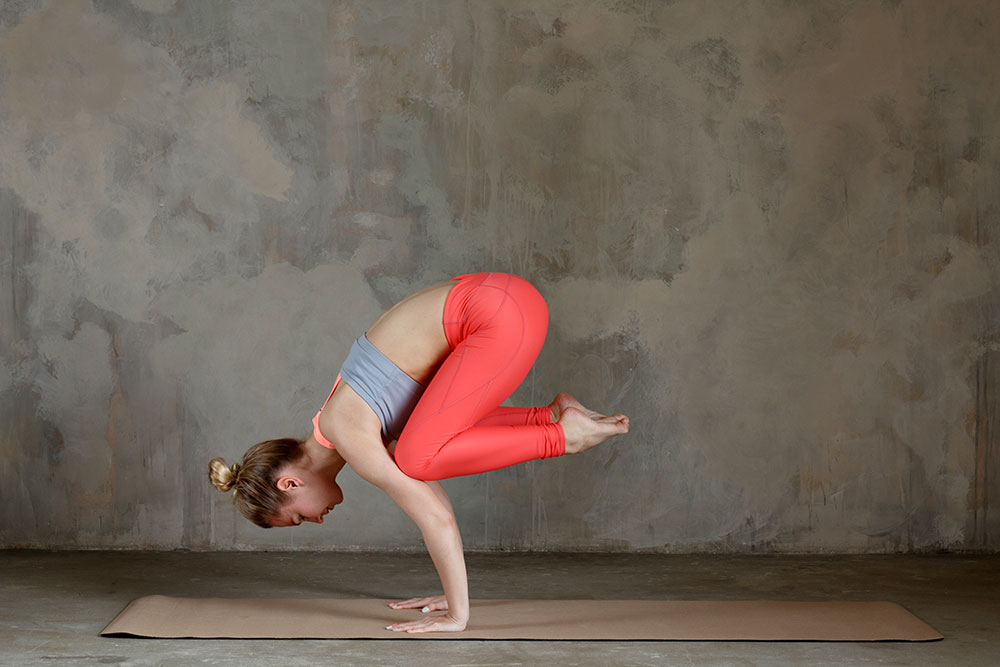 From our breakdown of cork yoga mats, they appear to be a fantastic material all in all. There's only one negative that we found about yoga mats compared to sustainability. Some companies incorporate a secondary material. This is to help with shock-absorption. But, it can also make the mat more comfortable and affordable. There are plenty of options where the mats are 100% recyclable. Many only come from natural tree rubbers and premium cork.
So, these mats have proven not only to be a fantastic material for yogis sustainability. These mats also hit the mark when it comes to durability and function. The cork mats provide a solid grip, thickness, and anti-bacterial and anti-microbial properties. Despite its appearance, it is also lightweight. Making it easy enough to carry to-and-from studio's and for travel. But, if you prefer folding your yoga mat instead of rolling, you may want a mat with a different material.
Cork as a material for yoga mats is pretty comparable to what's on the market today. It provides comfort and durability when we need it the most. So, if you're in the market for a new mat, especially for individuals who desire to lead an eco-friendly and inspired lifestyle. This may be a good purchase for you!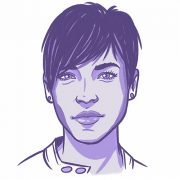 Lauren Howard
Lauren Howard holds a master certification in reiki, or energy healing, and has been practicing yoga for over 20 years. She began freelance writing as a means of spreading her truth and knowledge with a broader audience.