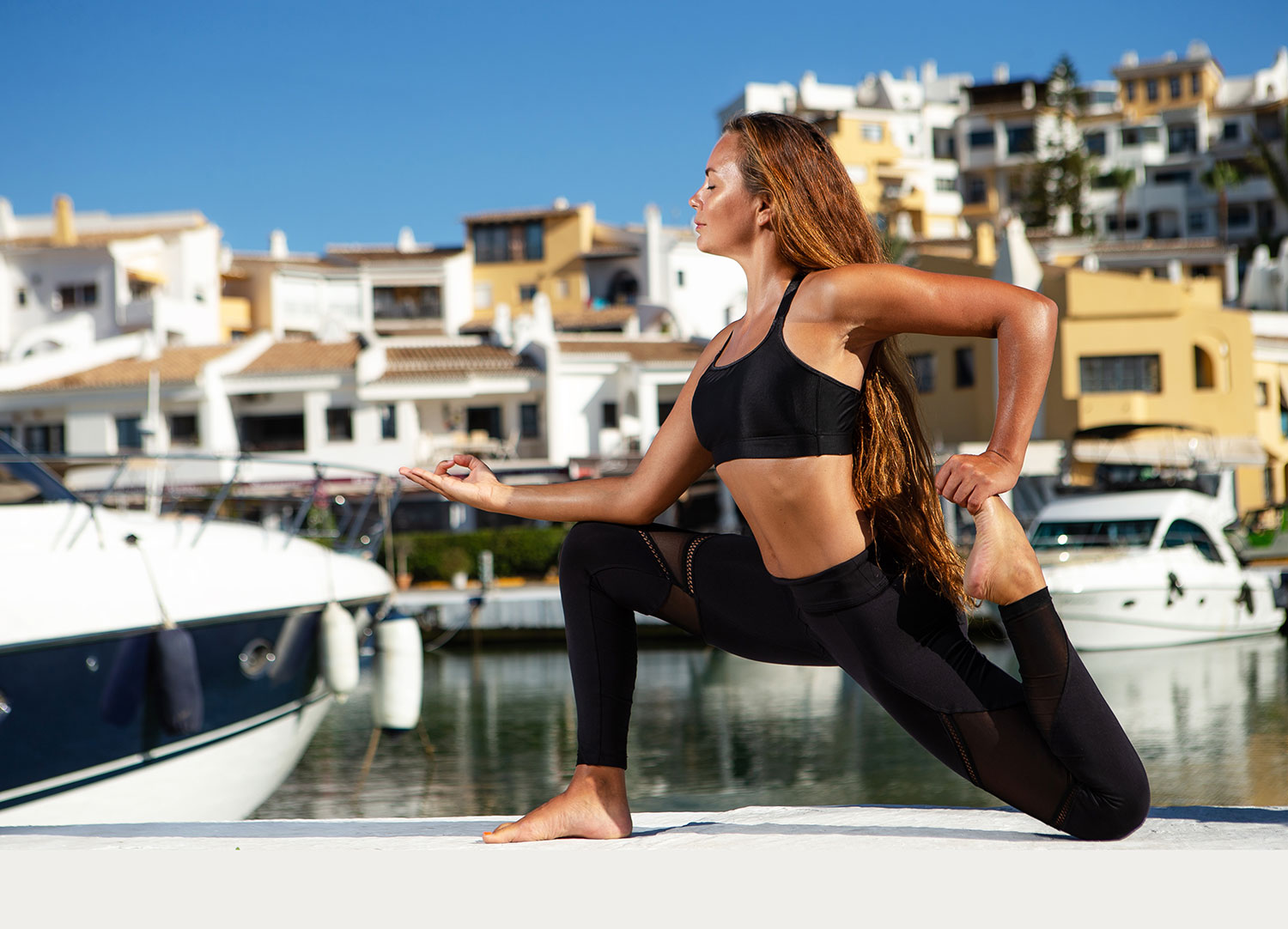 Ah, Italy! The food! The wine! The history! The…yoga?
That's right. Italy has emerged as a leading destination for getaway yoga retreats and it makes a strong case for being the best place in Europe to get away from it all.
In a lot of countries the yoga scene can get confined to very specific areas that become like little yoga disneylands. In Indonesia it's Ubud, in Portugal it's the riviera north of Lisbon, in Thailand it's Chiang Mai. These places are amazing but it can sometimes get a little crowded with yoga tourists all trying to get their little slice of enlightenment.
Italy is different. There are retreat centres scattered all over the country, in all sorts of natural environment, offering all sorts of retreat styles. There are traditional ashrams, surf and yoga camps, luxury tuscan getaways, country farmstays, even island-hopping sailboat cruises; all offering daily yoga.
Some of them are intensive, some are casual. Some of them are luxurious, some are rustic. Some offer privacy, some offer community. Every yogi can find their niche here.
All this is against the backdrop of a civilization with a tangible, visible connection to tradition, history and spirituality that goes back thousands of years. Italy is a land of mythical glory and secret serenity. A land of epic monuments and hidden jewels.
Experience it for yourself!
Here is our list of the top the yoga retreats for 2019: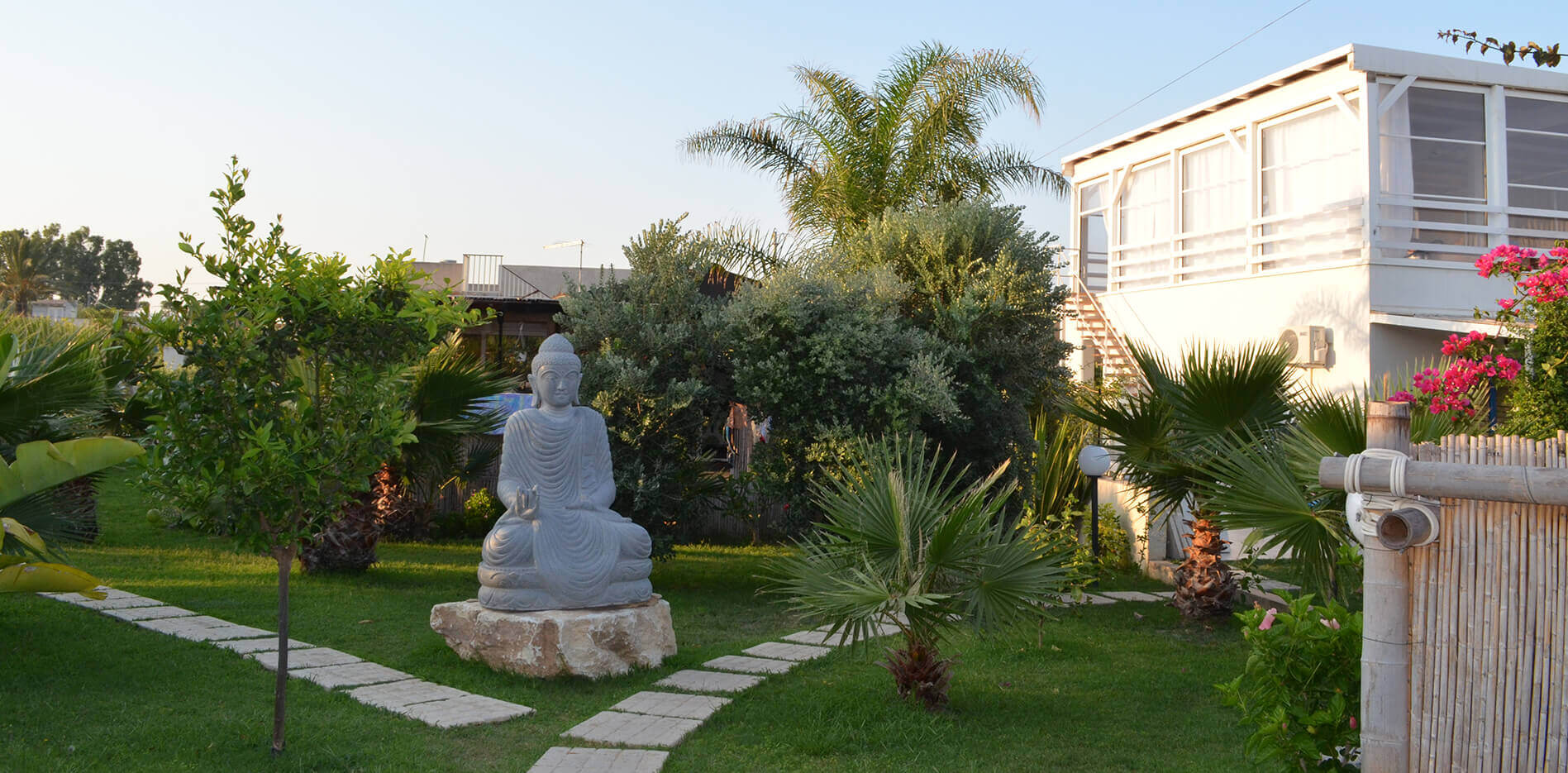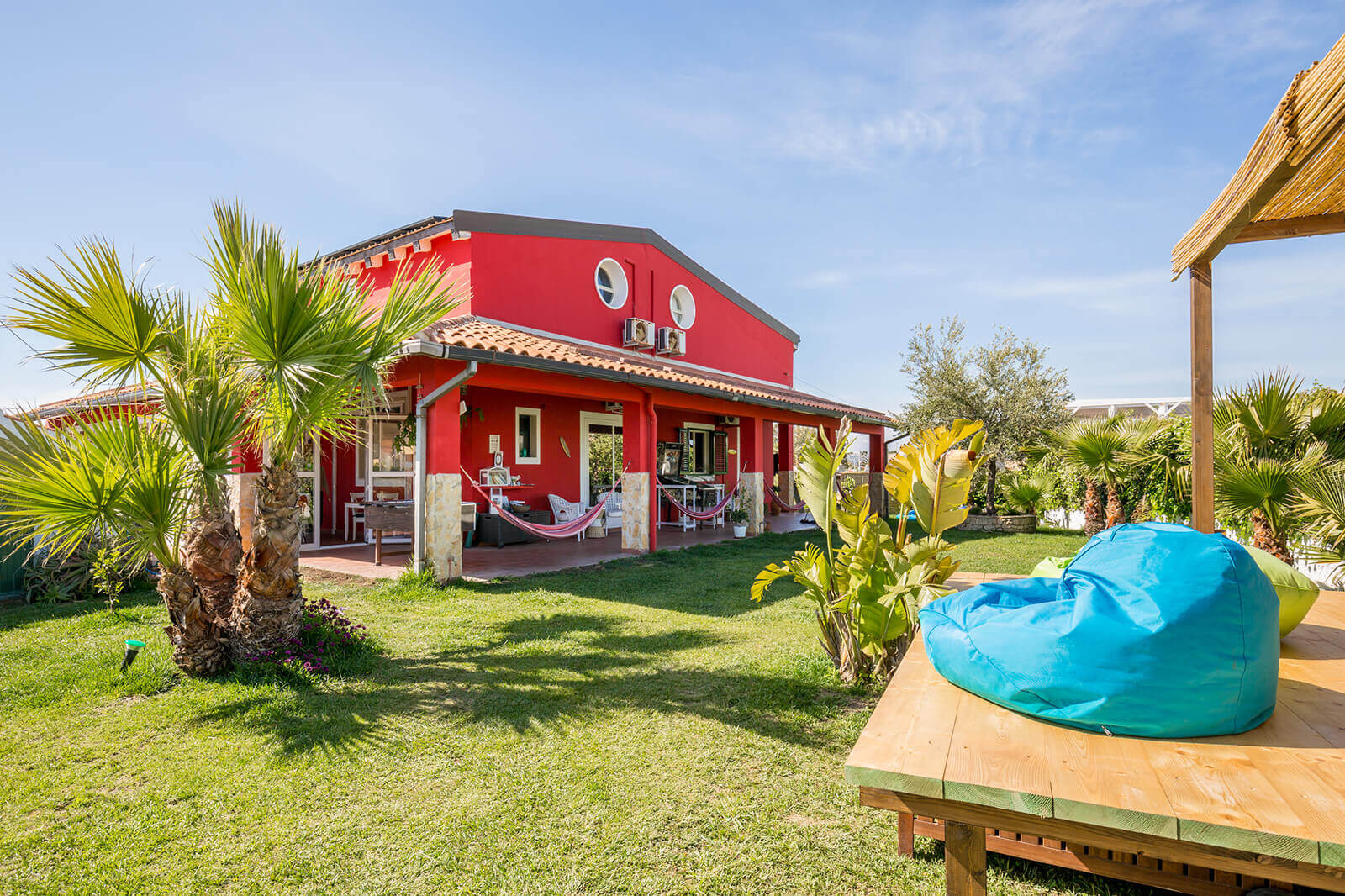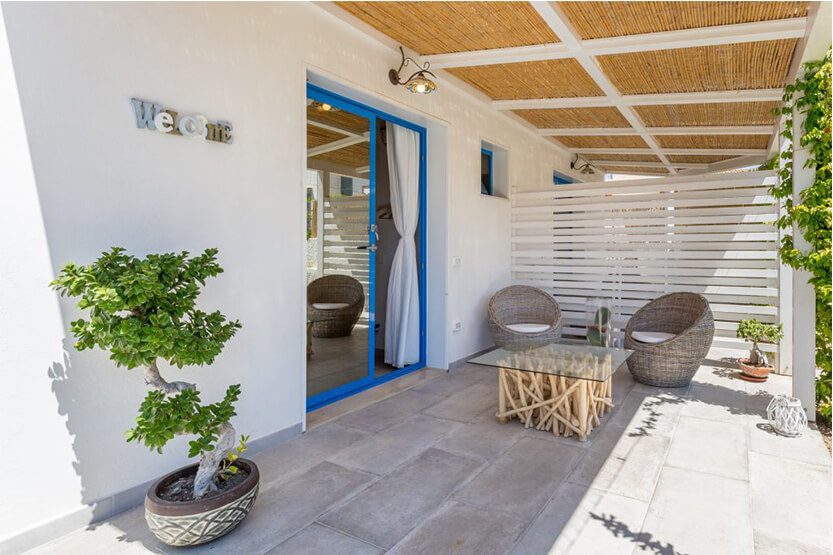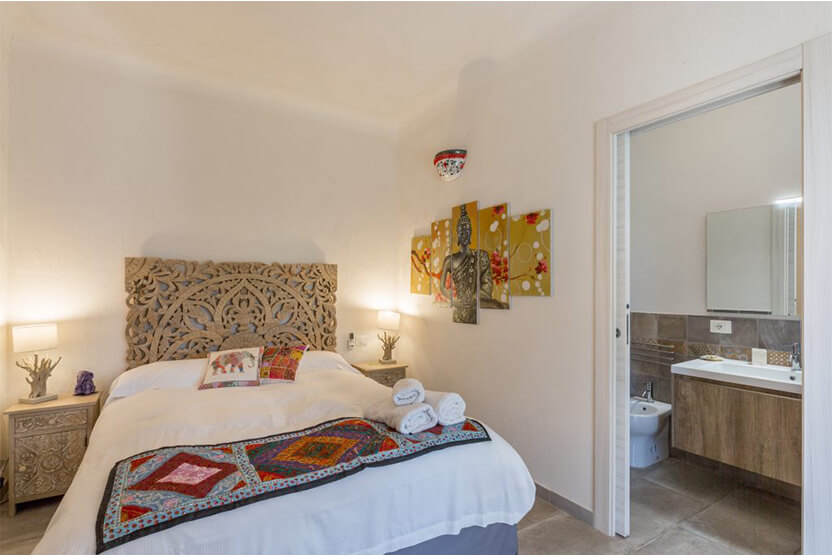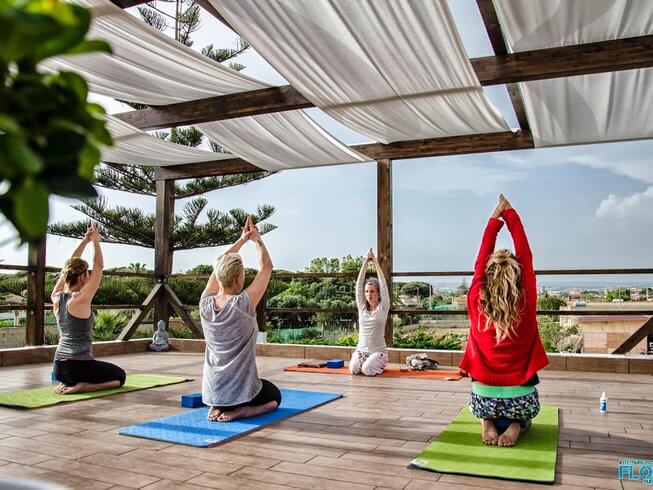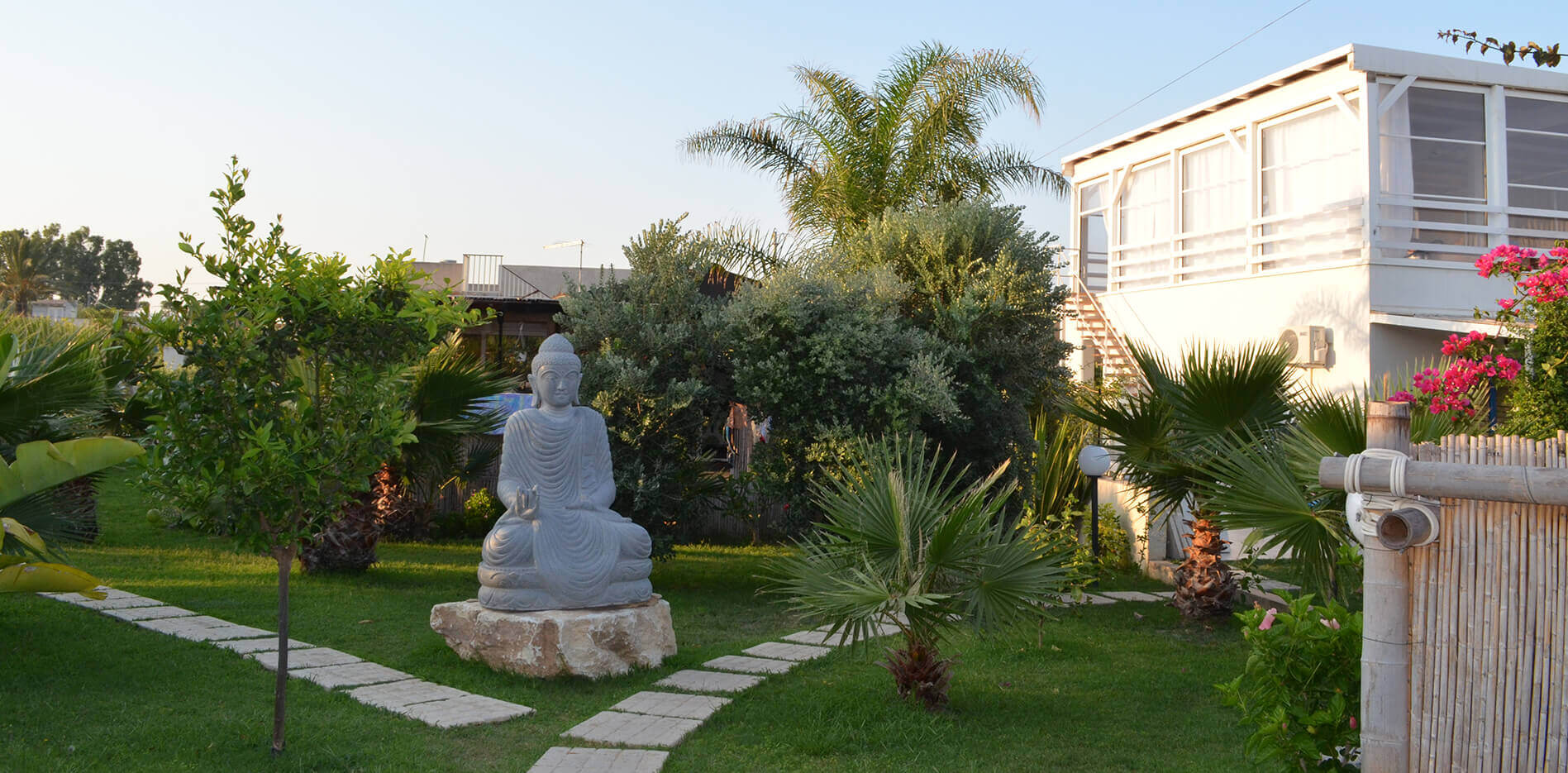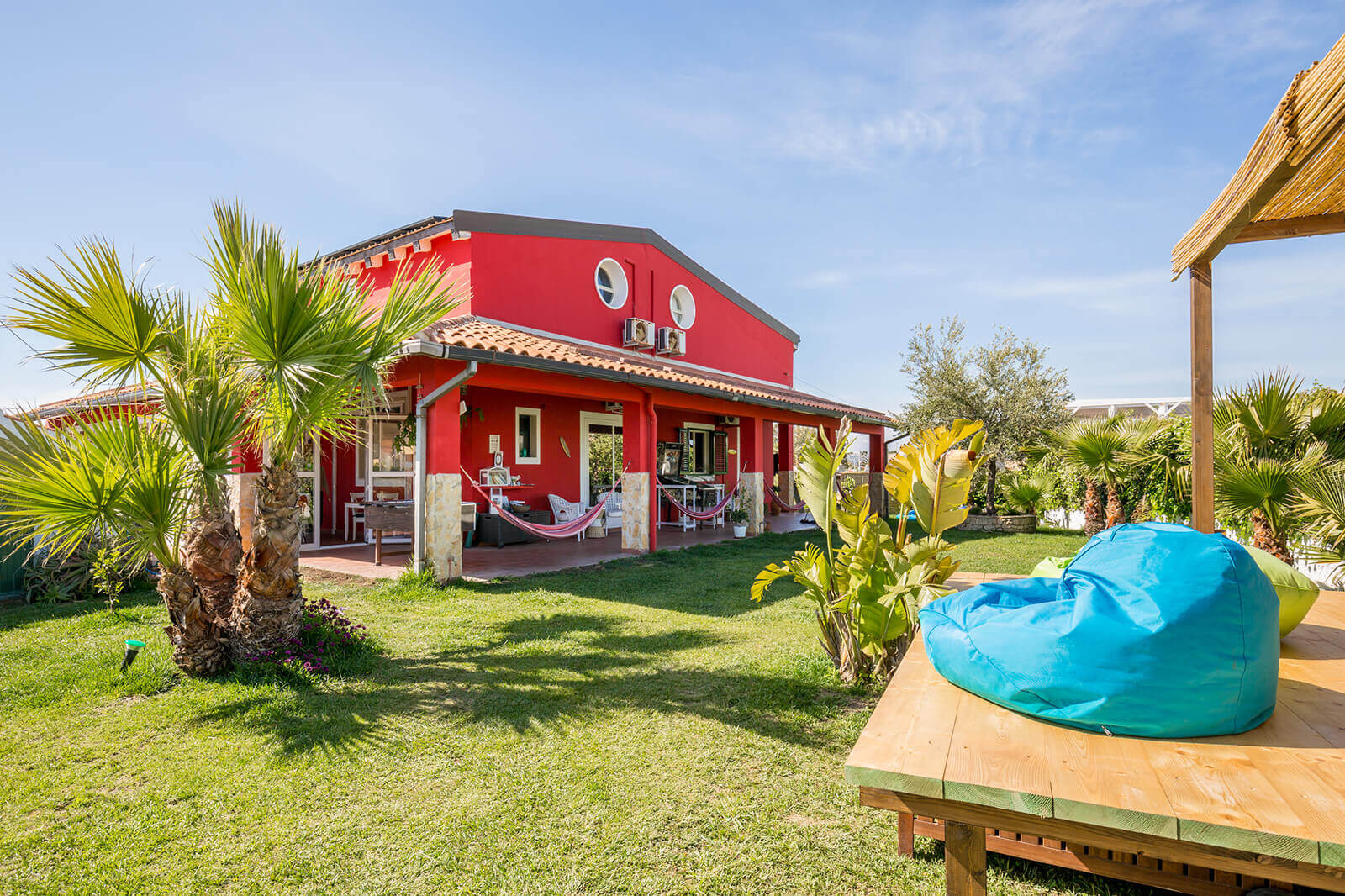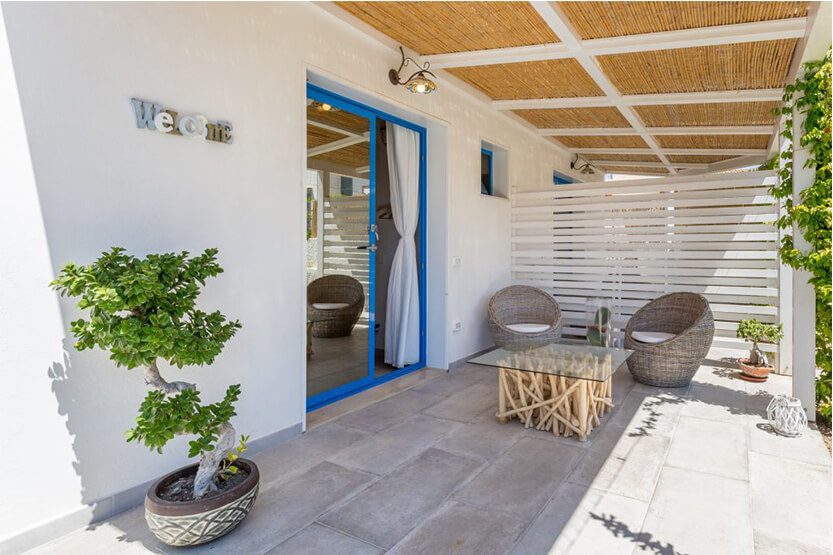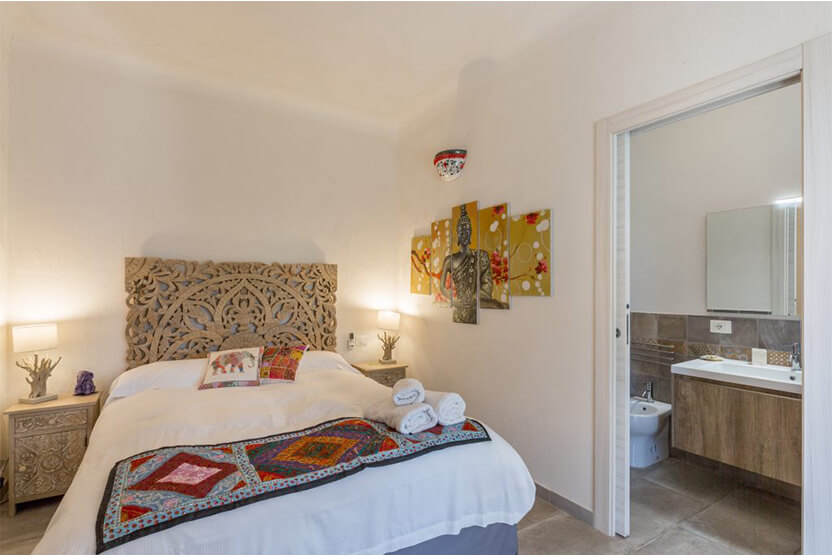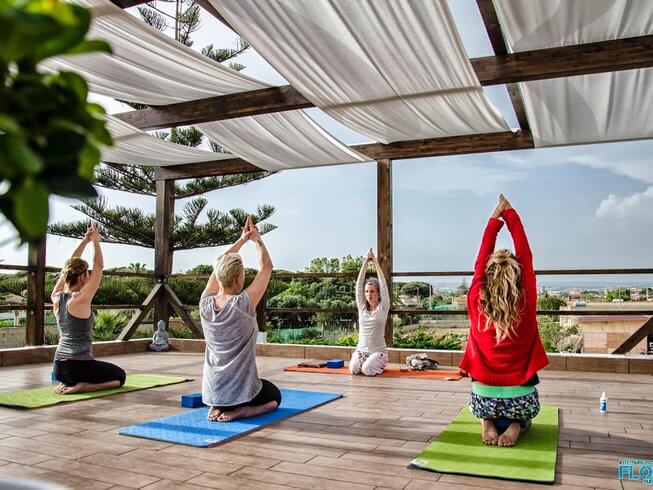 Taking a hint from the wildly successful combination-yoga-and-surf-camp scene in the Portuguese Riviera, Floripa Yoga and Kite Surf House has become the leader of that winning formula in Italy and is giving them all a run for their money.
Located on the South Coast of the island of Sicily, not far from Syracuse, Floripa sets itself apart by placing a high standard on their yoga instruction, not only offering daily yoga classes for their surfing and kite-surfing clients, but also serving as the venue for their own rigorous and well developed teacher training methodology.
The yoga taught here is a blend of Ashtanga and Mandala style Vinyasa, with elements of Yin interspersed throughout. They also have a dedicated teacher of Stand Up Paddleboard Yoga, a fascinating way to develop balance and core stability by performing yoga poses on the unstable surf of a paddleboard!
Accommodations are spread out through 3 separate houses, The Yoga House, The Kite House and The Surf House. Rooms in The Yoga House are well-appointed, each with their own private veranda. Every morning they serve up a big breakfast buffet that guests often enjoy together after the morning yoga classes.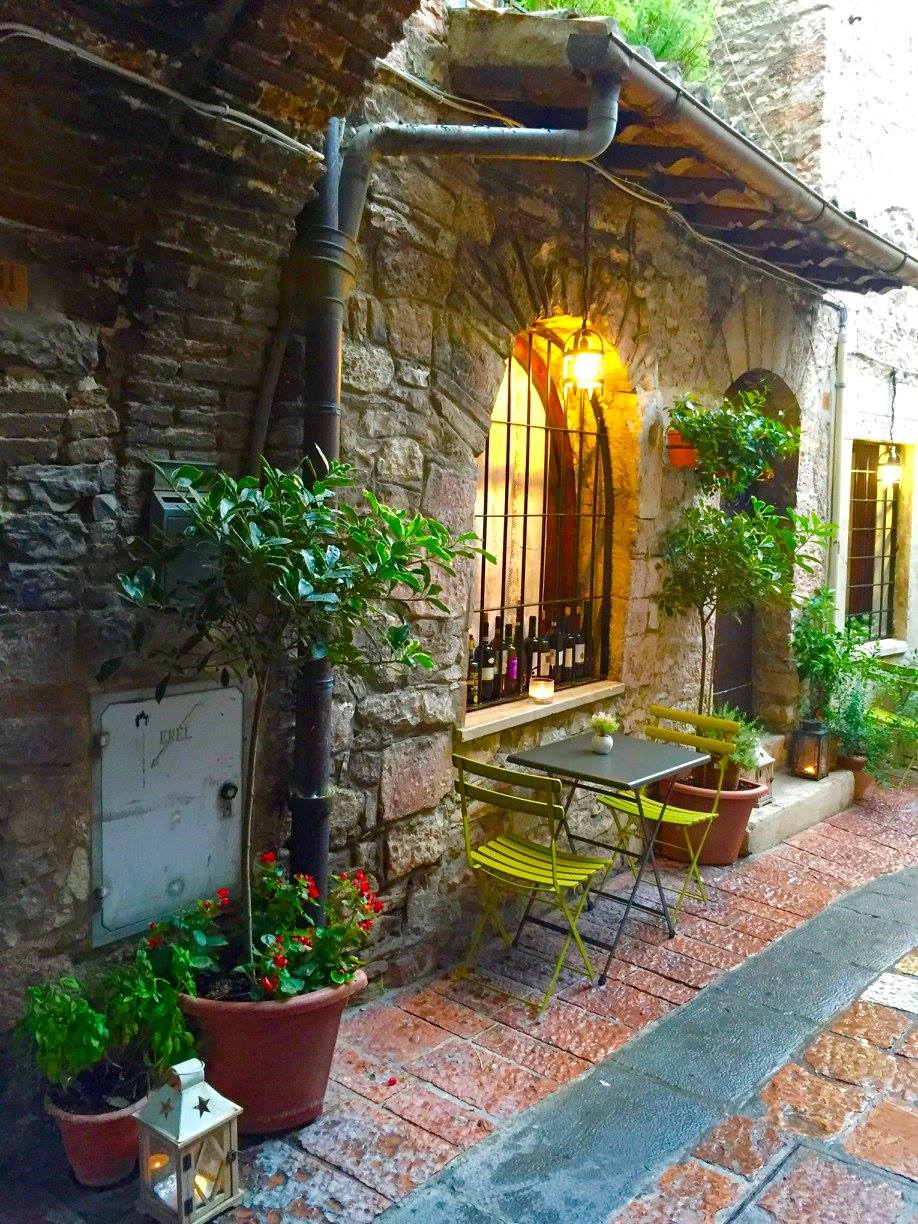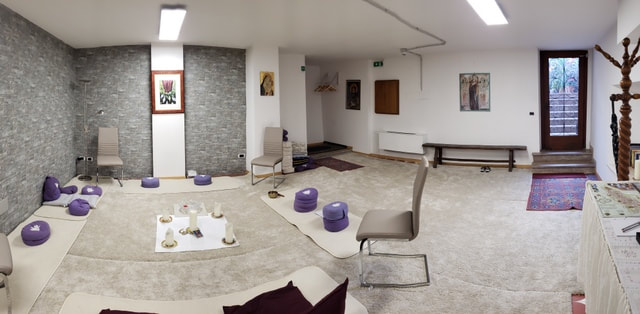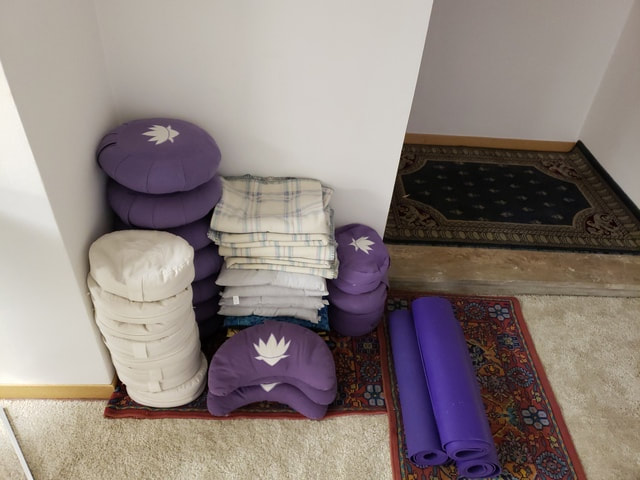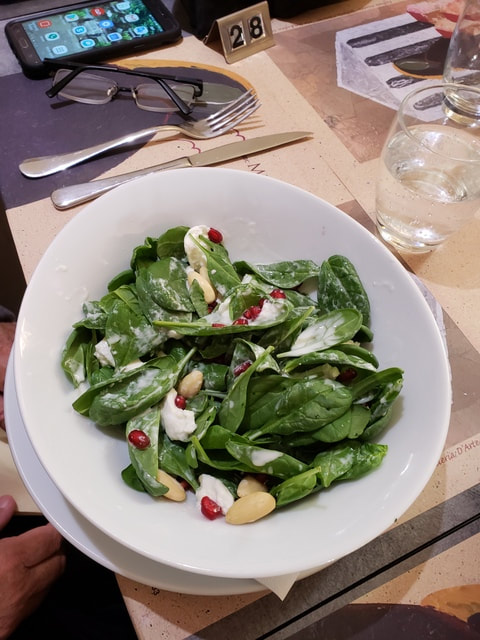 20181023-090115-001_1_orig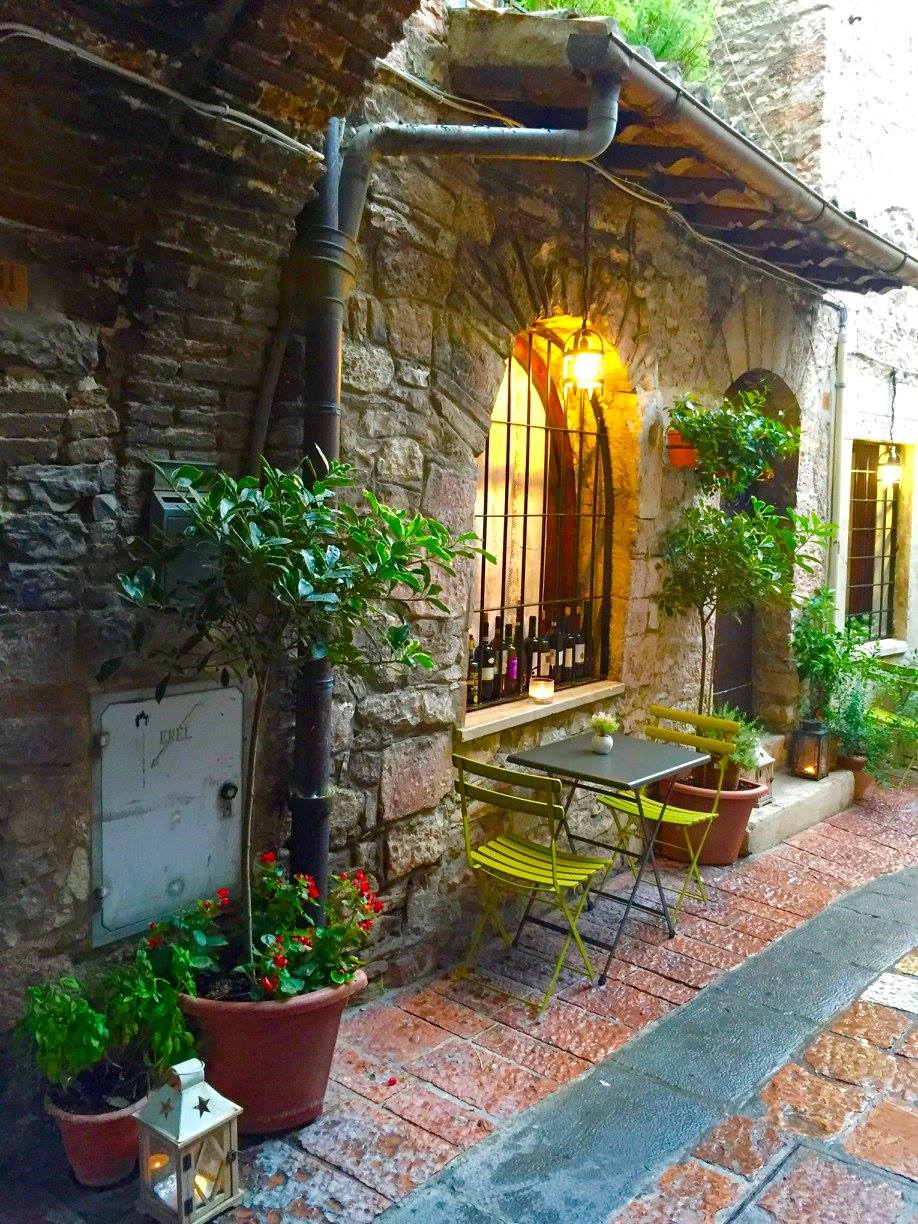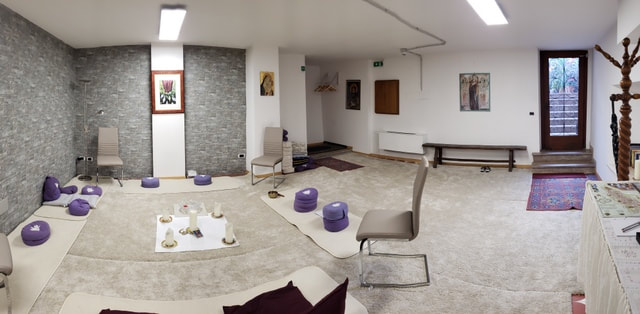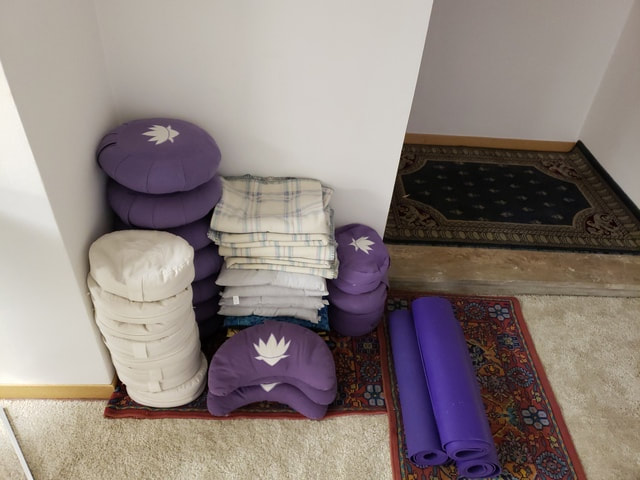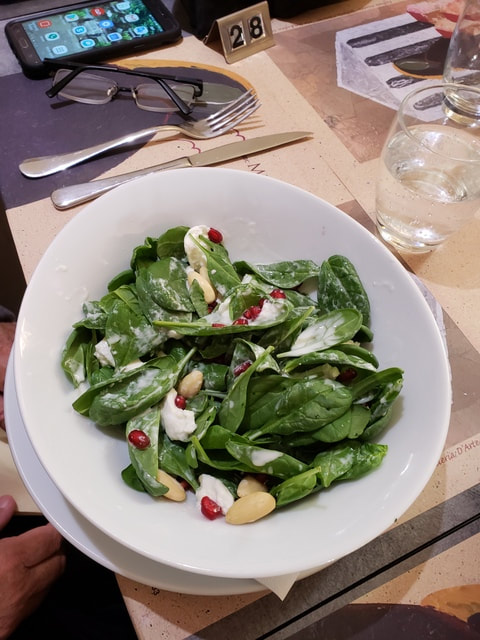 The town of Assisi has long been a centre of spiritual pilgrimage. It was the home of Saint Francis Of Assisi, one of the most popular christian saints worldwide, whose remains are interred in the Basilica that bears his name. The Basilica is the town's main tourist attraction and in 2000 it was named a UNESCO world heritage site.
Assisi Retreats is a unique retreat centre that offers an East meets West approach to spiritual life. They teach a form of heart-centered meditation that has it's roots as much in the Christian contemplative tradition as it does in the Yoga or Buddhist traditions. They honor all religious traditions and use the story of Saint Francis as a devotional metaphor to encounter the divine that lives in every human being.
They lead quiet, meditative walks to the nearby sacred sites and allow guests plenty of time relax and reflect. The focus of these retreats is mainly on meditation and pilgrimage, however Yoga mats are available and there is space to practice in the afternoons.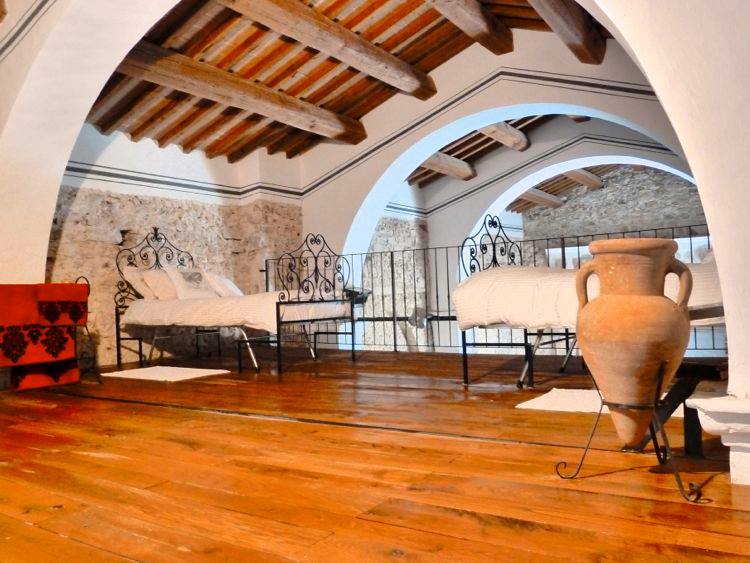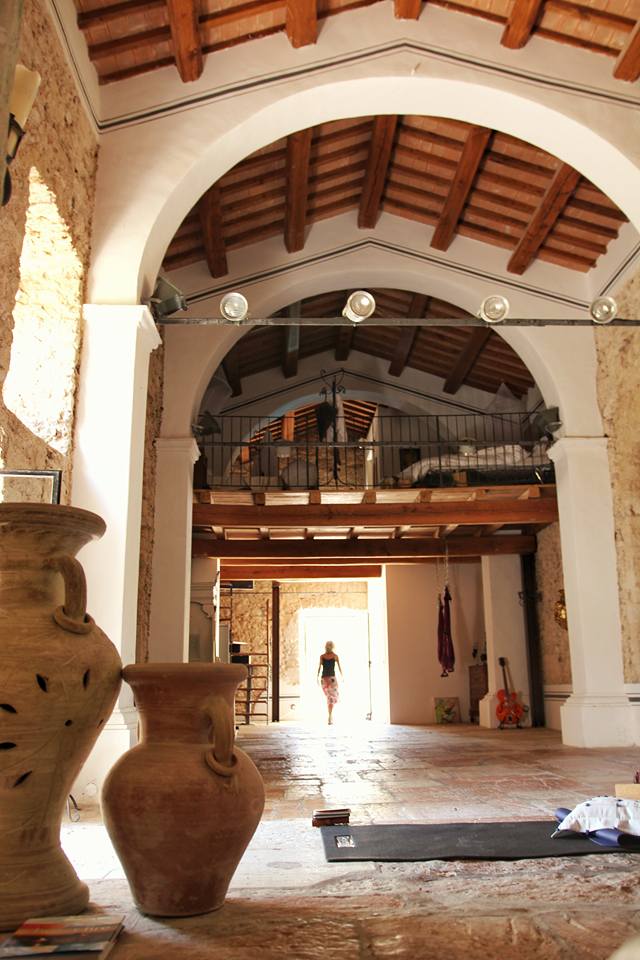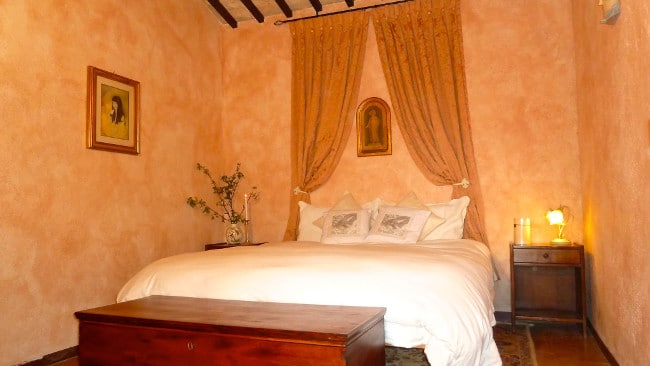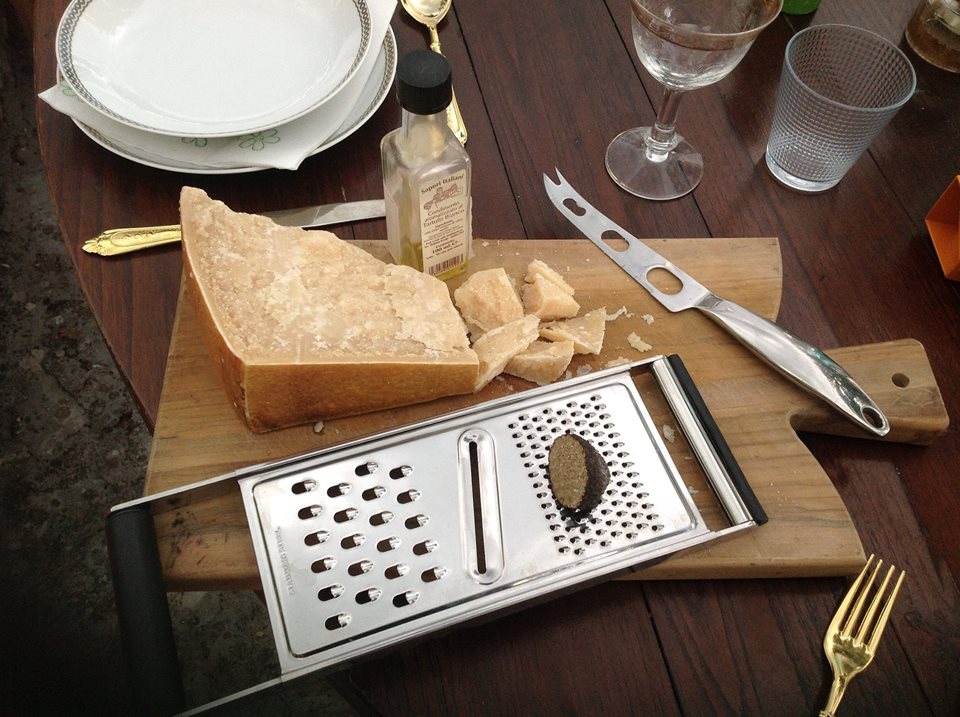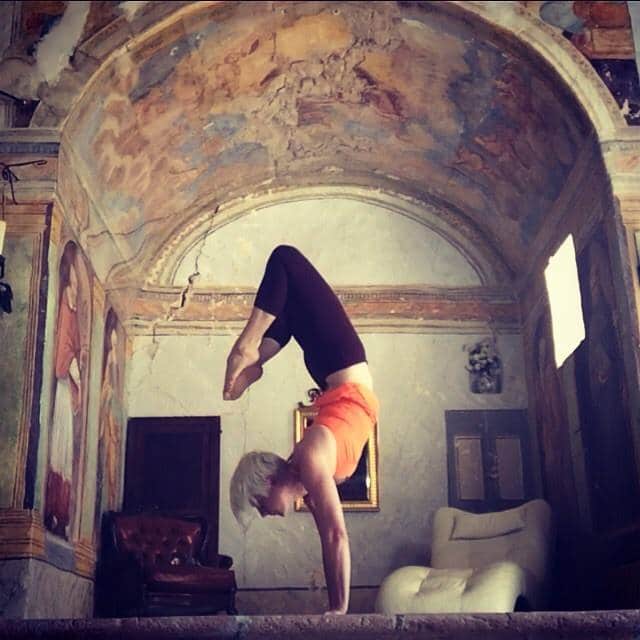 12400445_1237283396286968_2262680769297084841_n
San-Flaviano-Spiritual-Awakening-Retreats-99-copy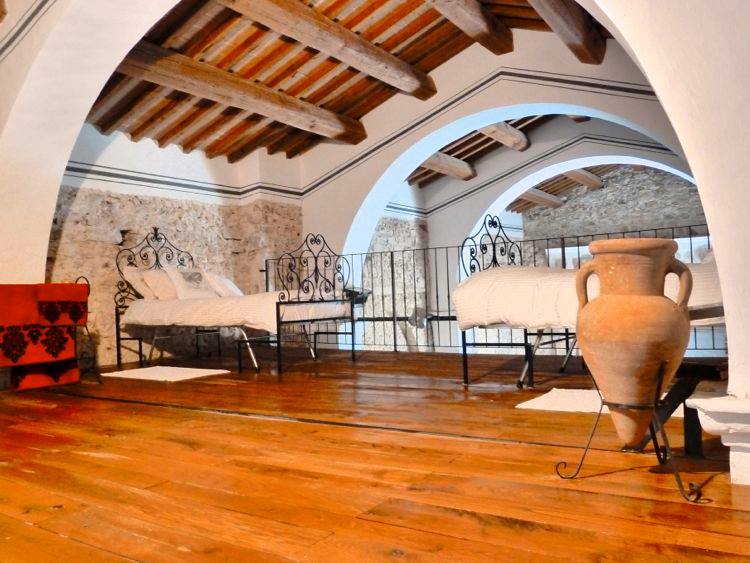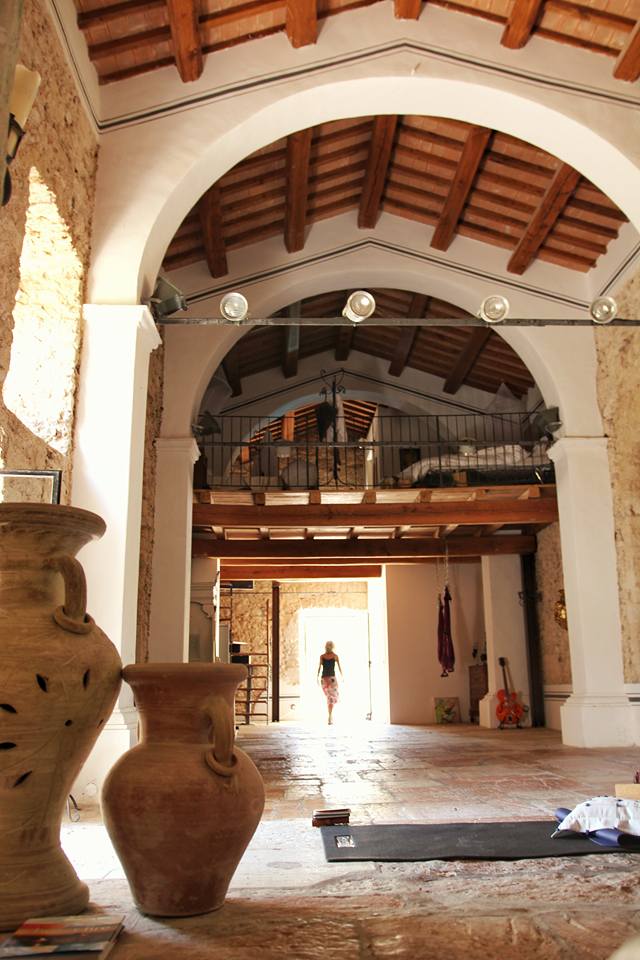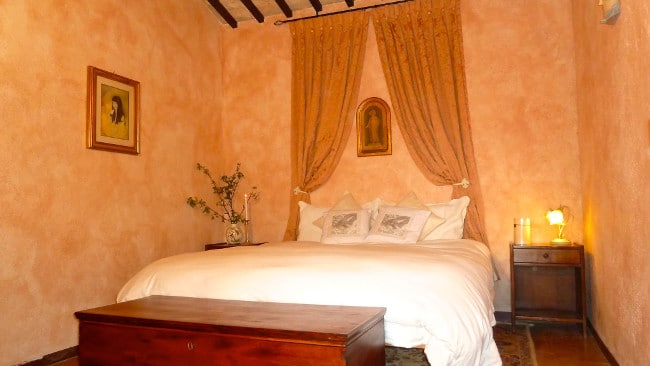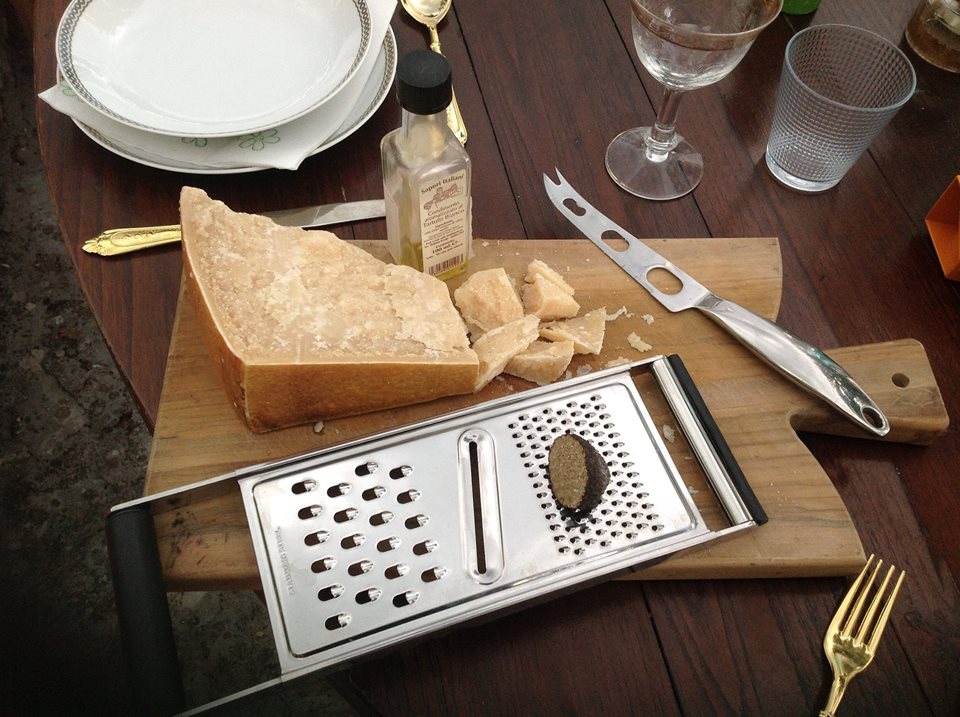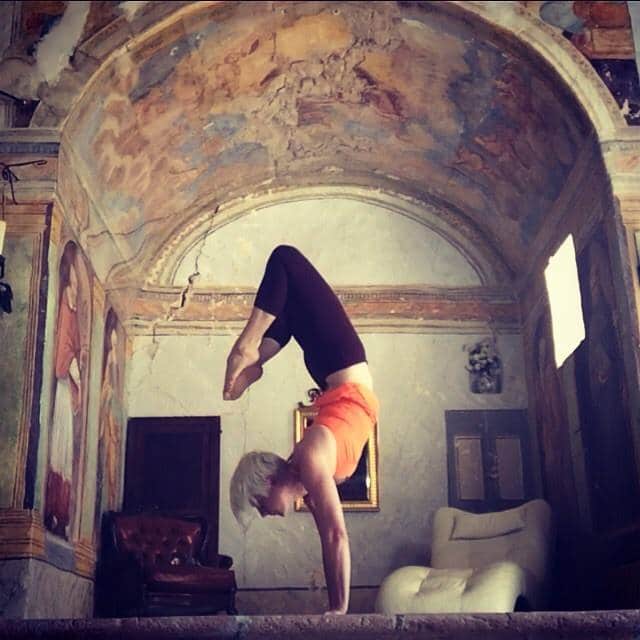 In some ways doing a yoga retreat in Italy is a lot like doing one in India. For one thing, everything around here is so old! Just as there are temples and ashrams all over India that give you a real sense of connection to their ancient spiritual heritage, there is also a wealth of medieval churches and monasteries all over Italy, many of which have been renovated to allow people to stay in them.
Abundance Yoga Retreats offers accommodation in a 15th century San Flaviano monastery. According to their website, that monastery was built on the ruins of an Etruscan Temple that dates back to 750 BC. So this place has been in almost constant use as a centre for spiritual introspection for almost 3000 years! Where else in Europe would you get that but Italy!
Abundance offers gentle, accessible yoga retreats with a strong focus on breathing and meditation. They include 3 home-cooked meals of local Umbrian cuisine, a cooking class, and, in true Italian fashion, plenty of fine red wine, Prosecco and chocolate.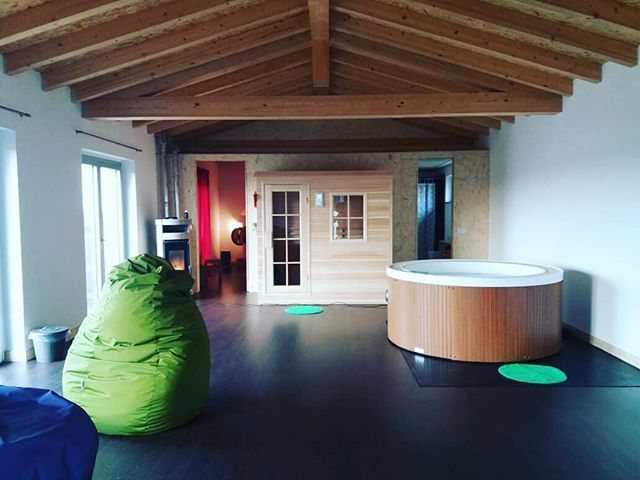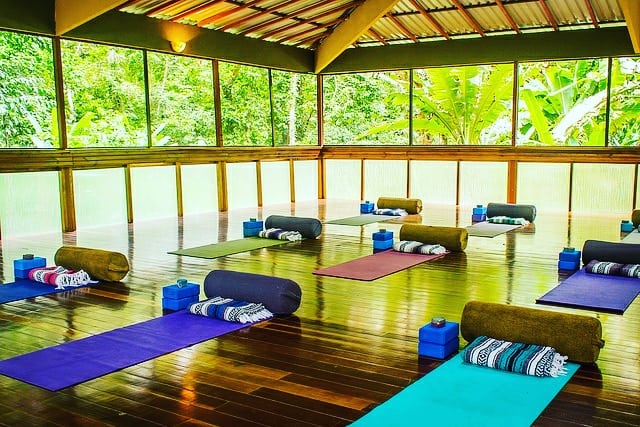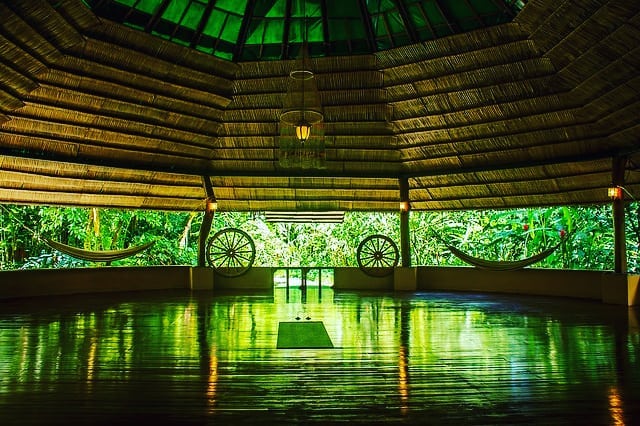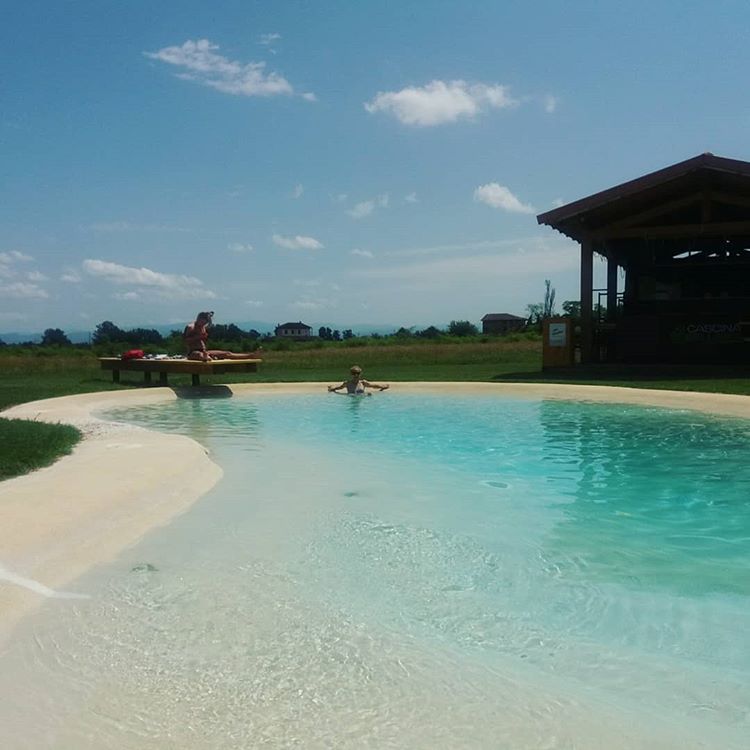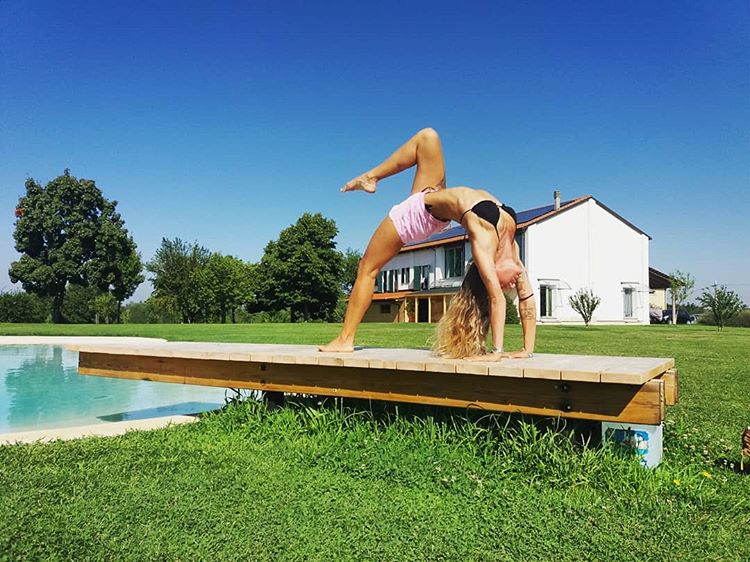 26065827_881026965355602_5643078167808704512_n
30602477_1696620353758072_3355744135473528832_n
30603404_189048438557329_8089064821724545024_n
61509222_2193030000816343_7229396742213698693_n
66795203_116593539664494_403458124431347279_n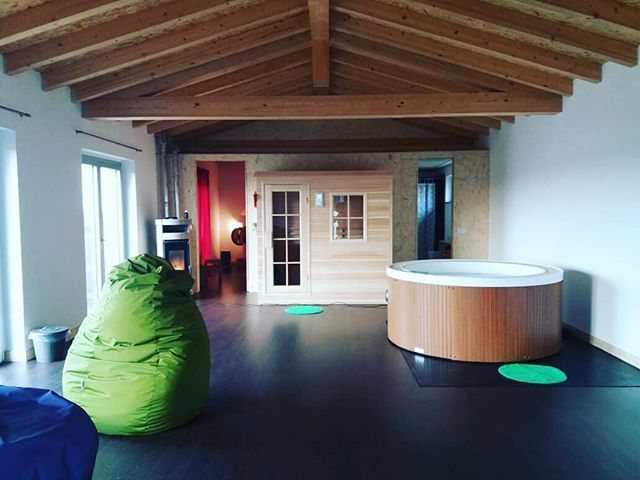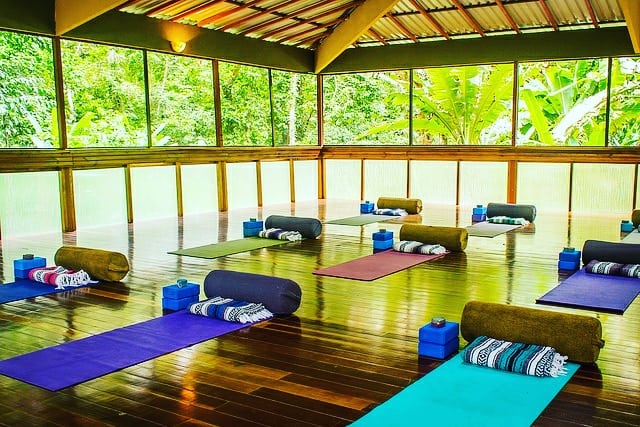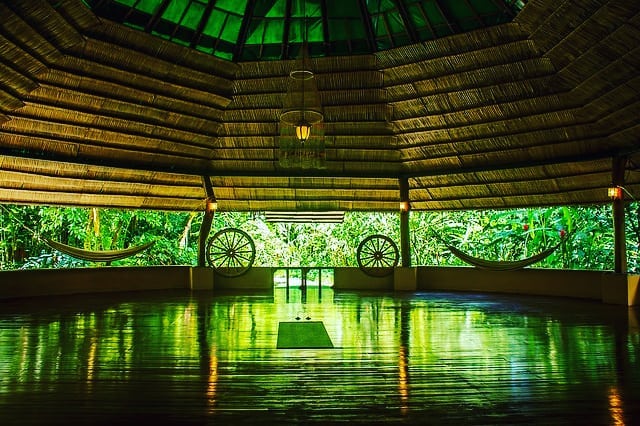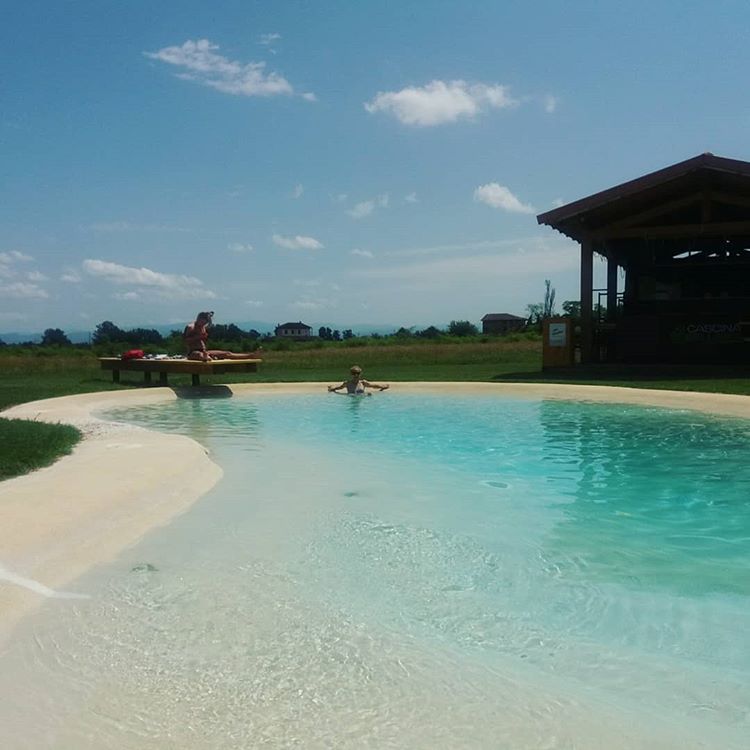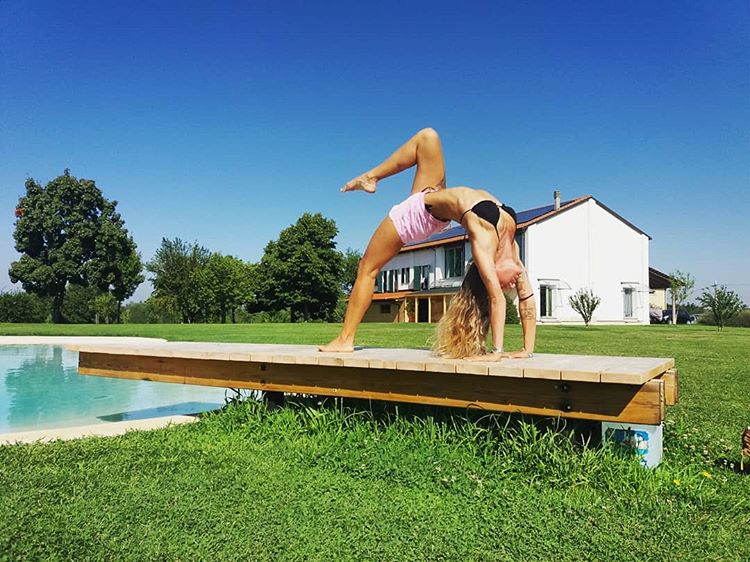 Hari Om is a yoga school that prides itself on taking a holistic and experimental approach to the practice of yoga. Though they are well-grounded in the classical tradition of Indian yoga, they also integrate various modern approaches to movement and meditation, as well as the techniques of other cultures. In their own words, they strive to be "a laboratory aimed at developing human potential."
Their teachers have extensive experience, not only in Yoga, but in modern dance, martial arts, natural movement and psychology. Their trainings focus mainly on applying the insights gained from multiple approaches on a traditional Vinyasa practice, but they also hold many retreats throughout the year on other movement and introspective modalities. These include Acro Yoga, Dynamic Meditation and Sound Healing.
Over the years they have certified over 1000 teachers and have become a proven leader of yoga education in Europe.
Their main Italian facility is located in Sezzadio, a village in the region of Piedmont, an area of Northern Italy famous for it's food and wine.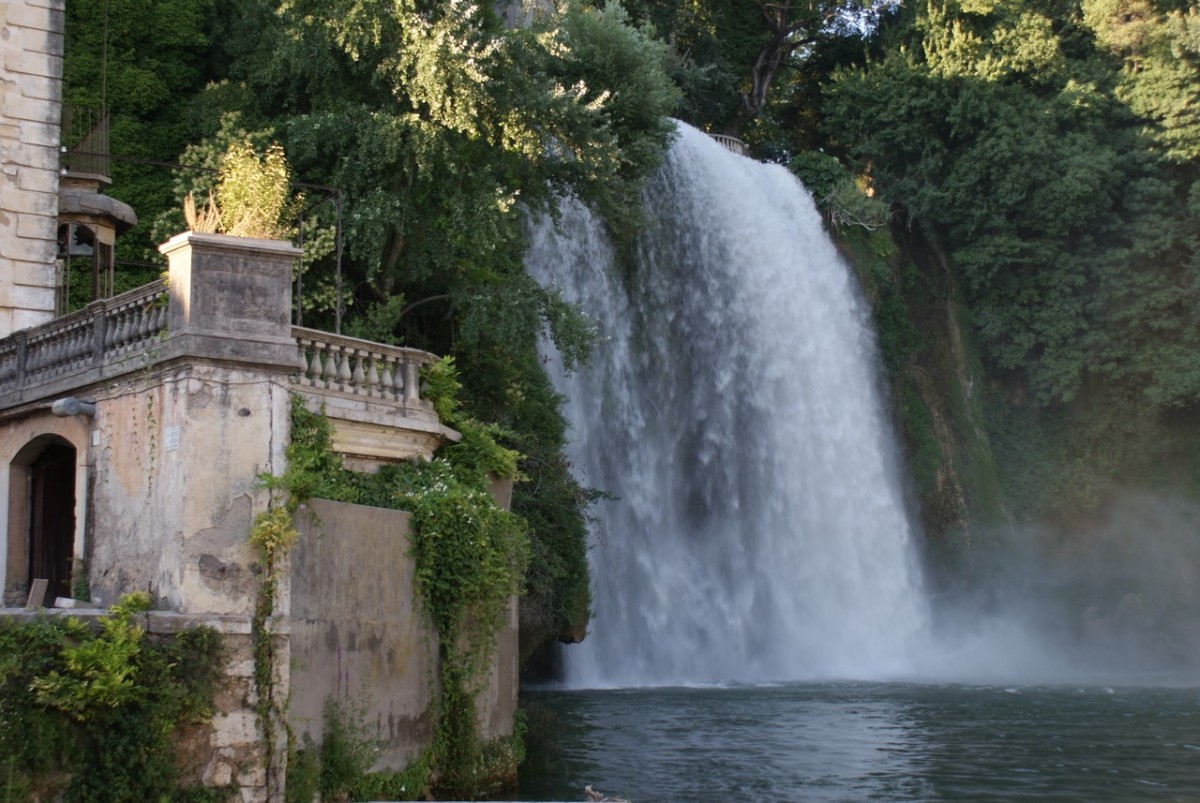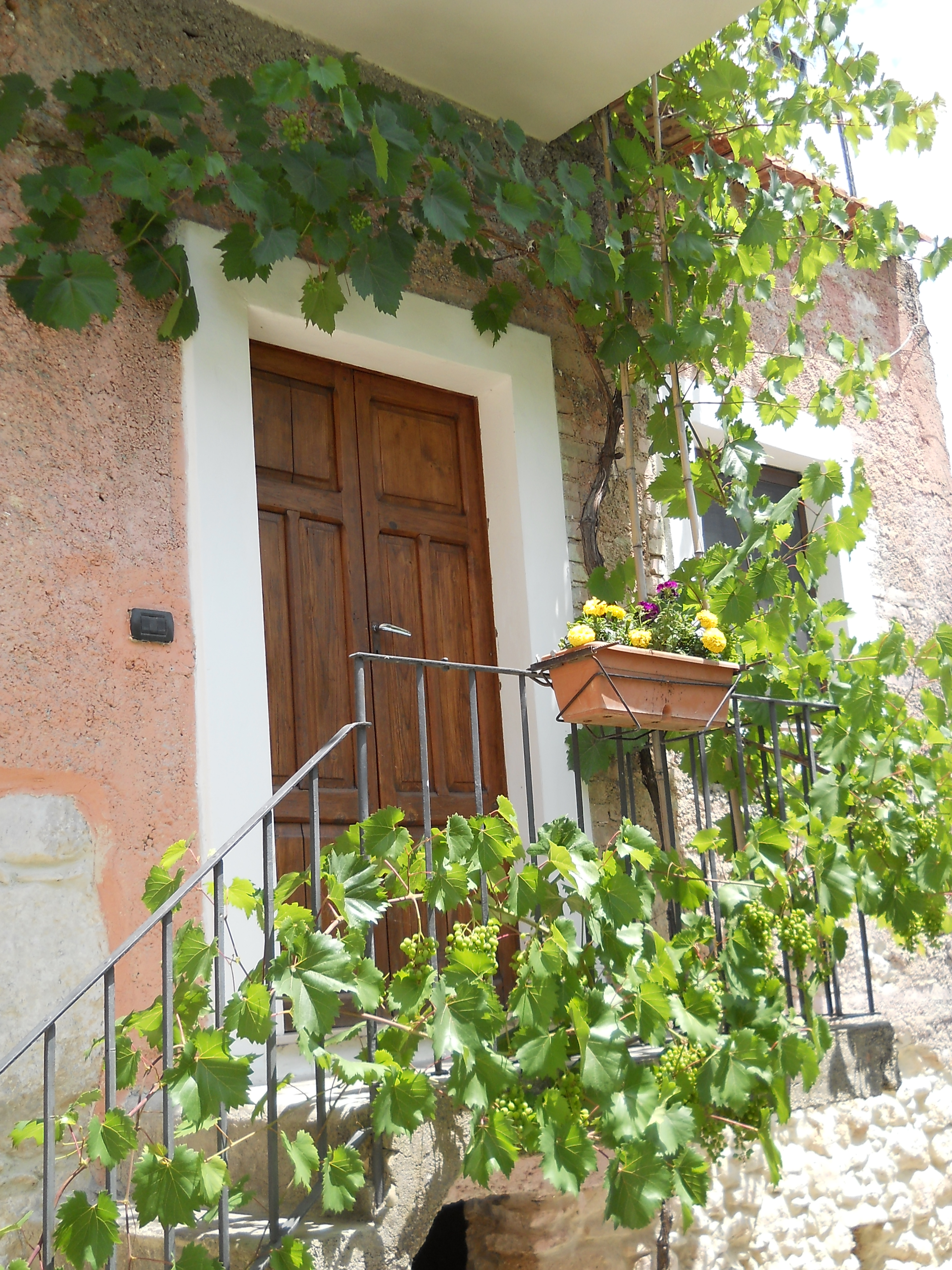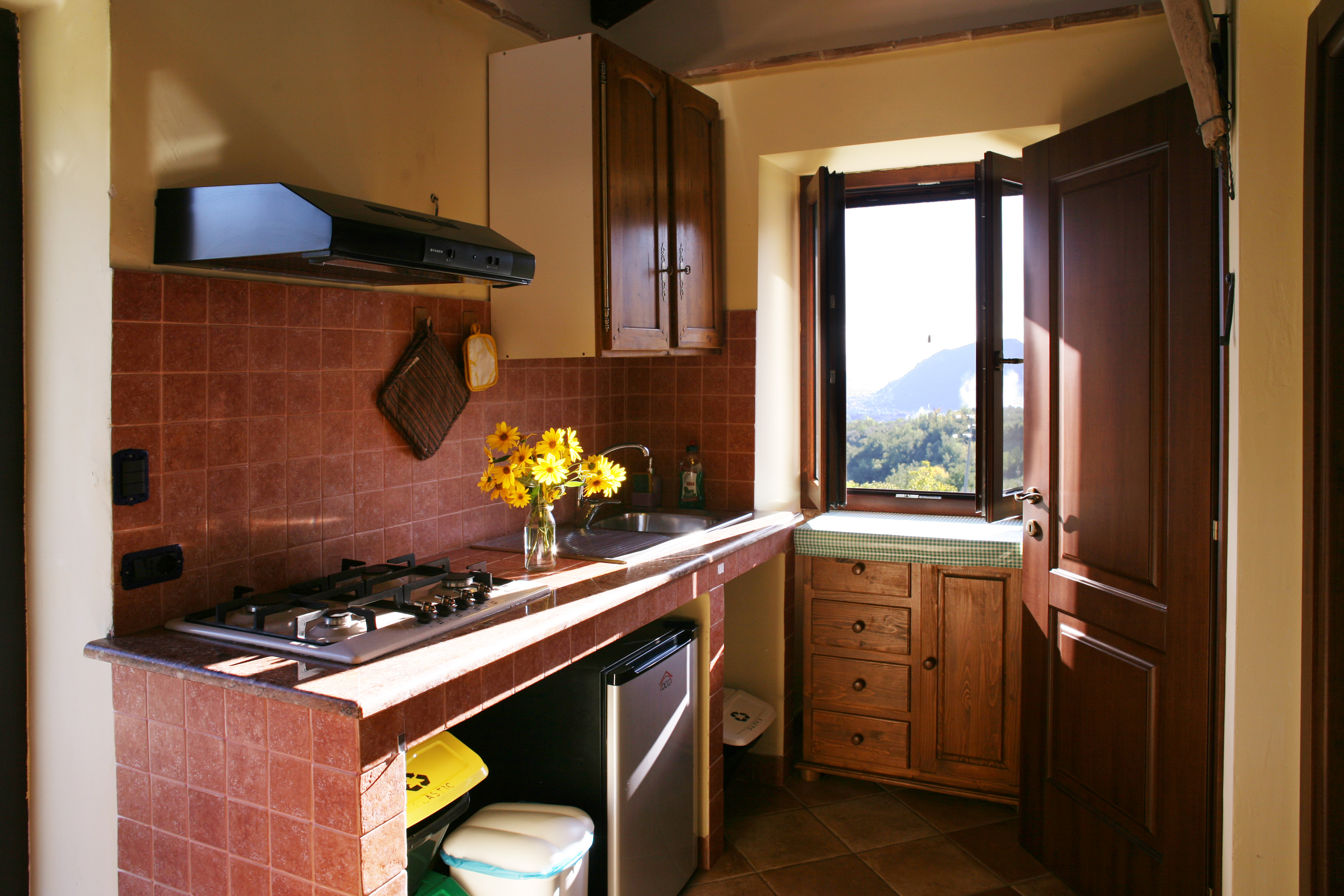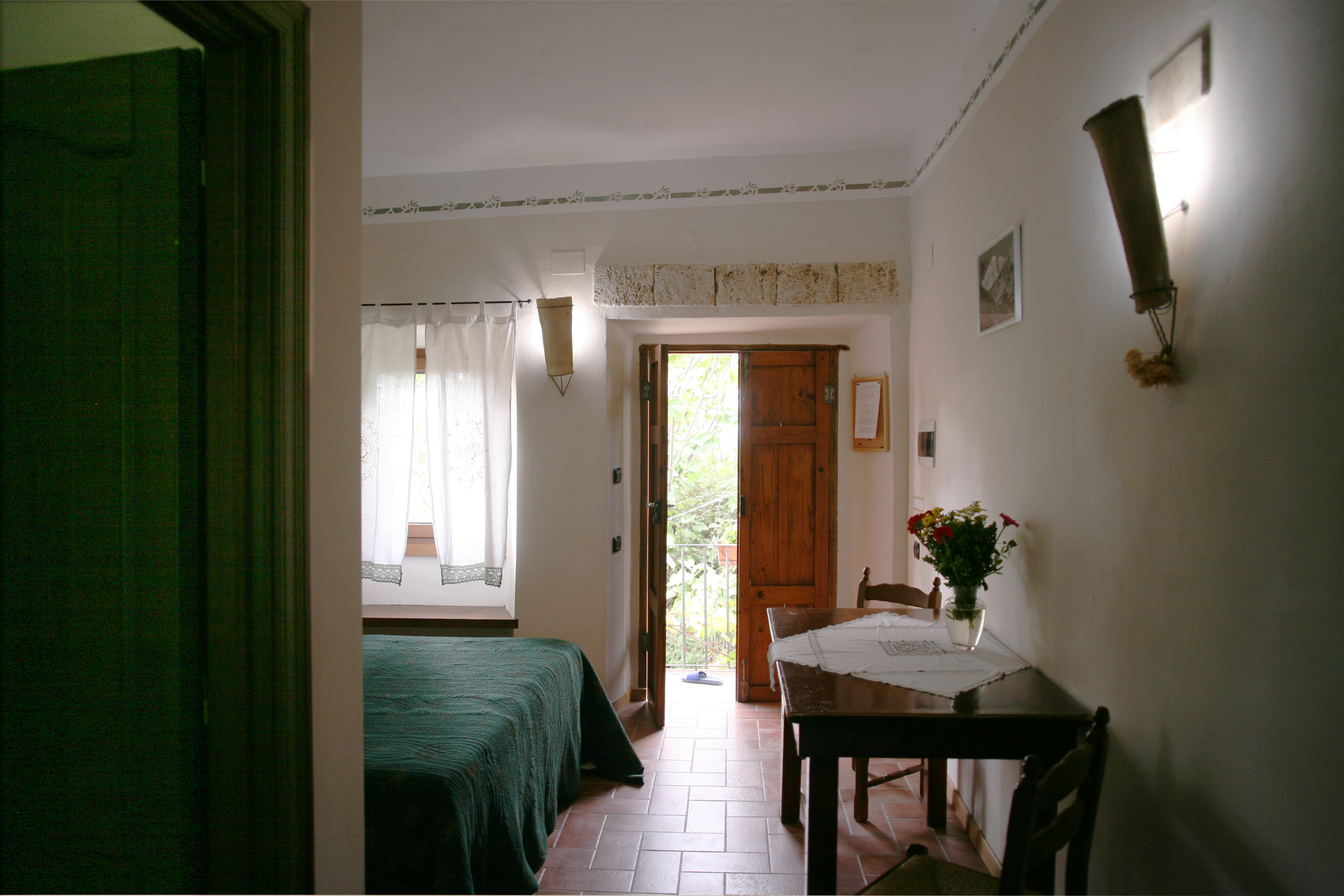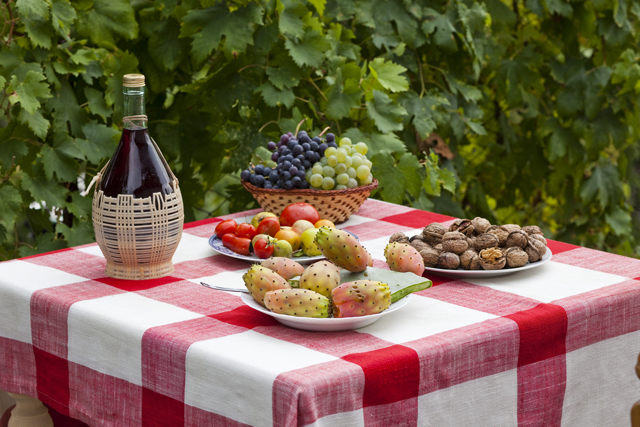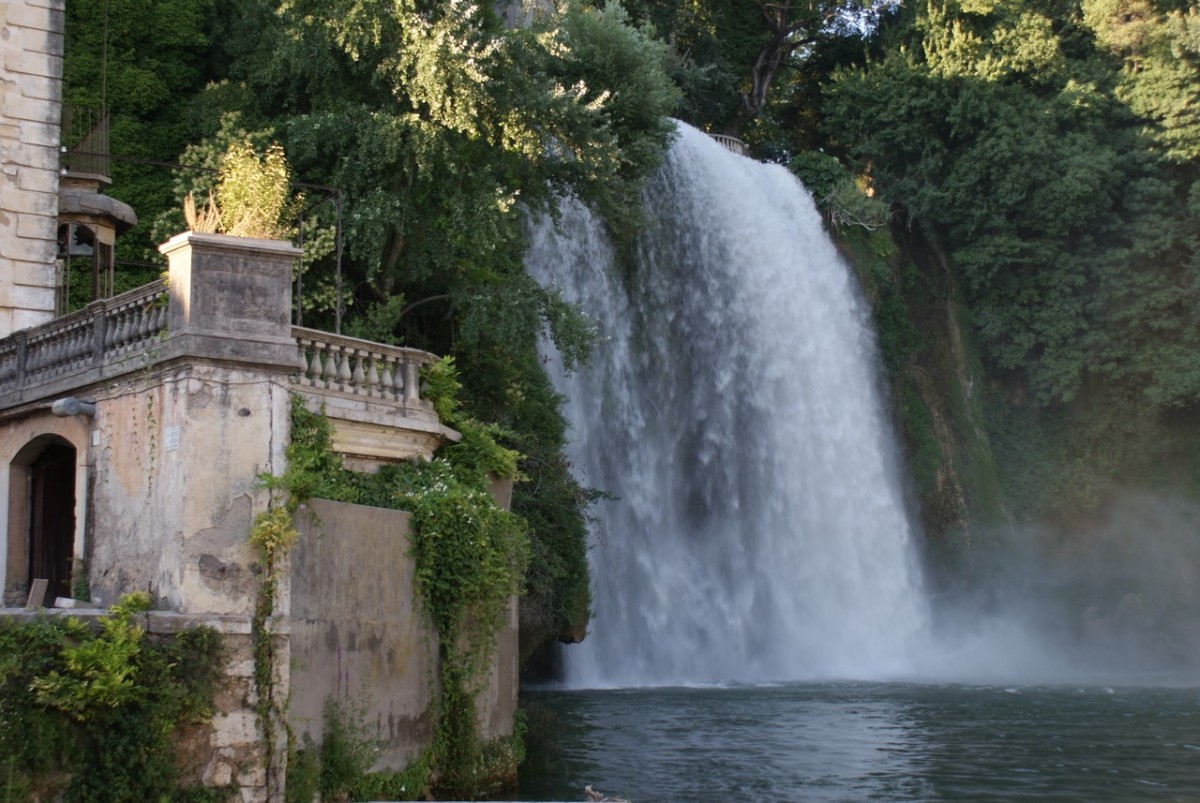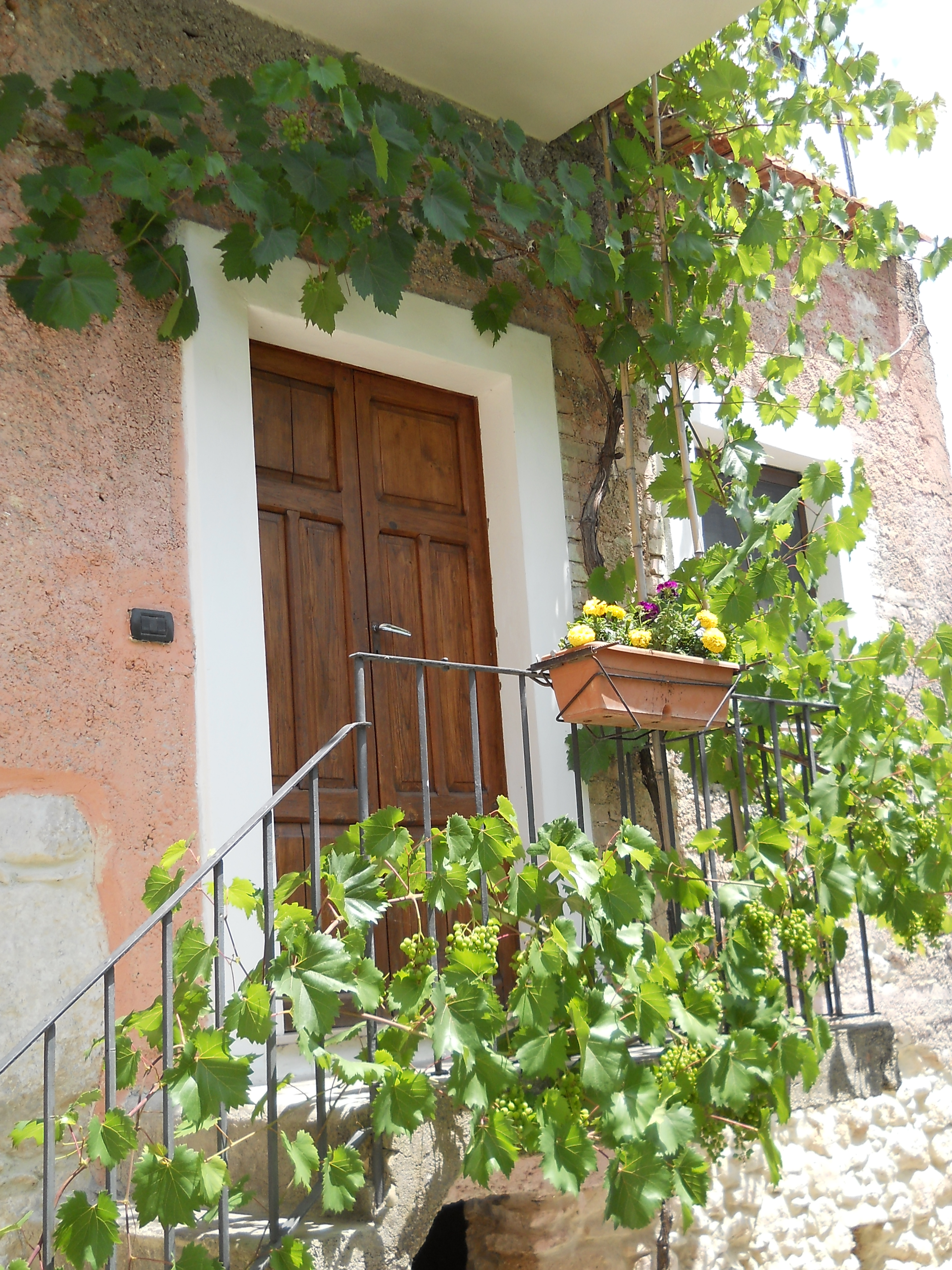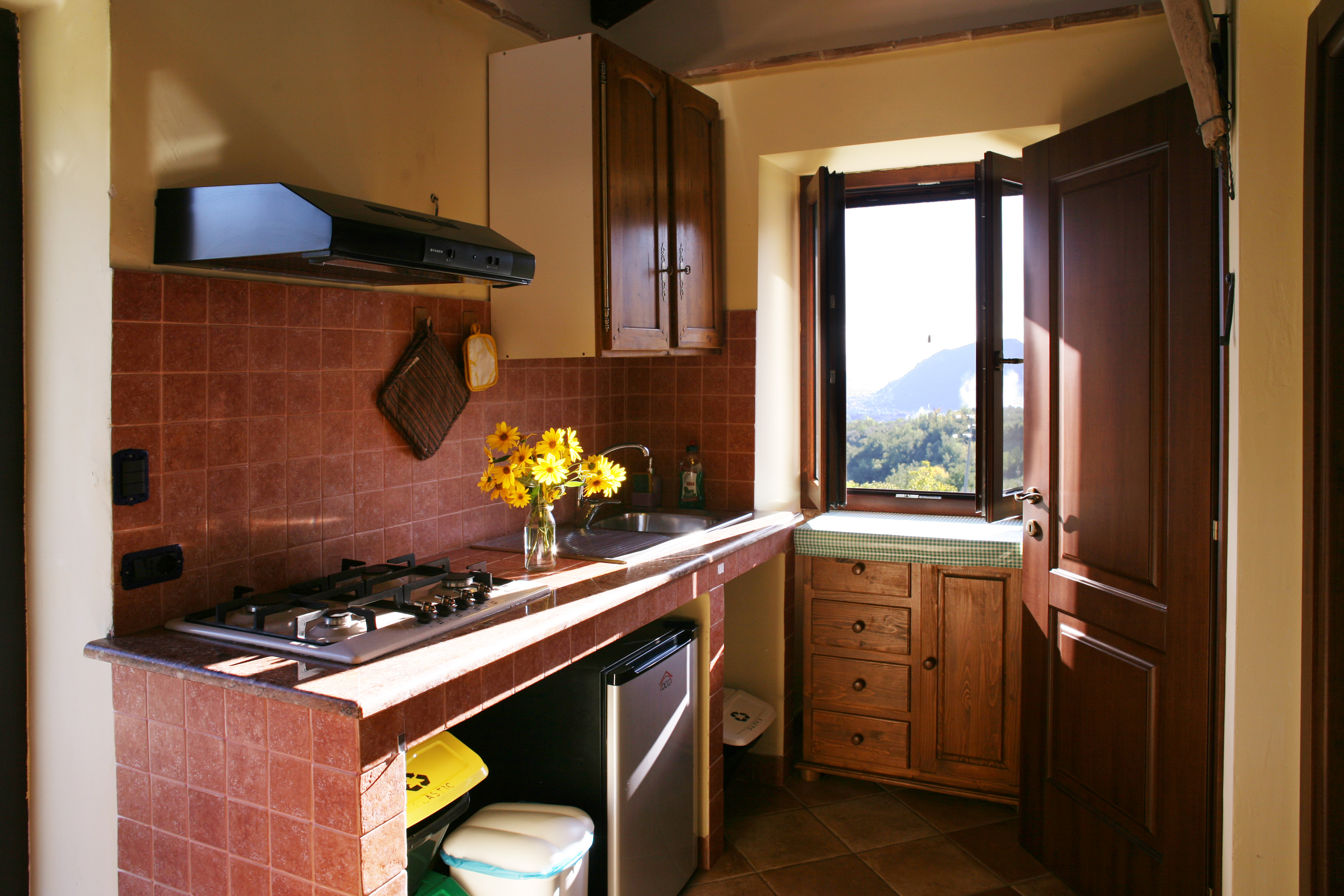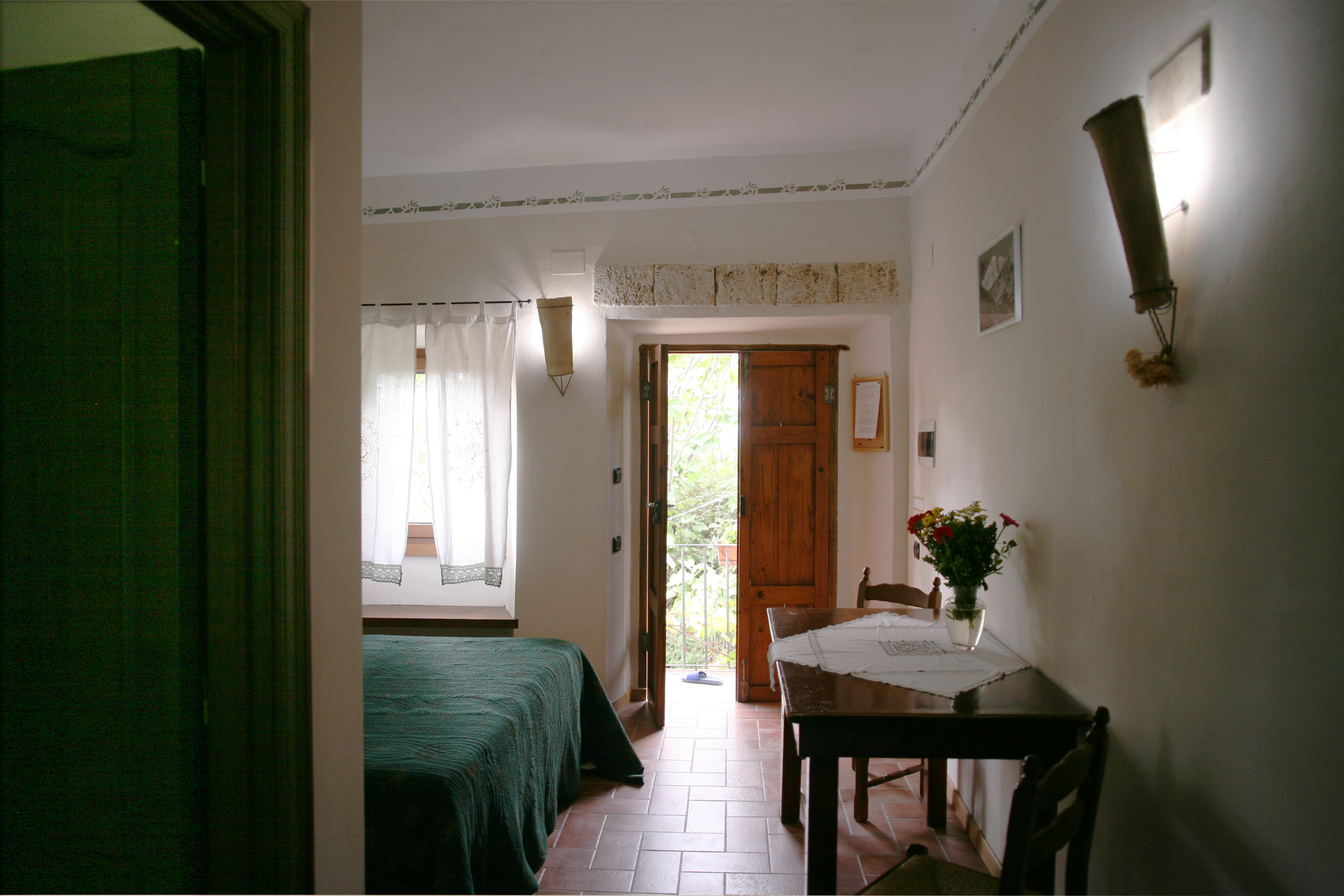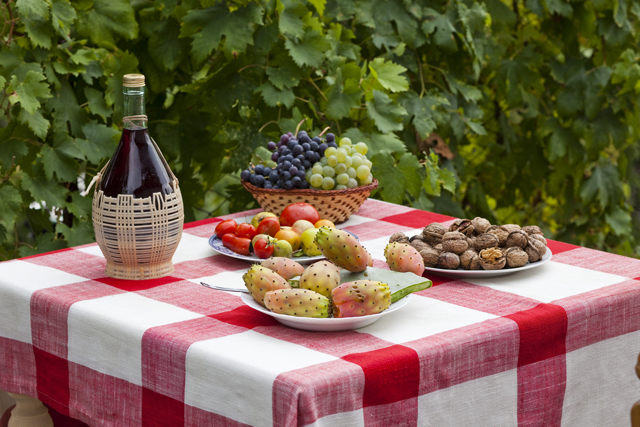 Via Piana is a traditional Italian farmstay guesthouse that also plays host to numerous Yoga retreats and tranings throughout the year. They are located on the outskirts of the Abruzzi National Park, the oldest park in the Apennine Mountains, known for it's miles of untouched Beech forest and protected populations of Italian Wolf, Roe Deer and Brown Bear.
Hiking trails are easily accessible from the property itself and much of regions natural heritage can be accessed without the need of a vehicle. Horseback riding is also available for those who are keen.
Retreats here feature daily yoga classes as well as daily walking meditation and include 2 vegetarian meals a day.
Their website needs some updating, so if there's no information on their retreats simply google "Italy Country Stay Yoga Retreat" and several options to book with 3rd party sites will come up. Don't be discouraged, their retreats all receive rave reviews and you'll have the opportunity to do a retreat in a beautiful area with relatively few tourists before everyone else catches wind!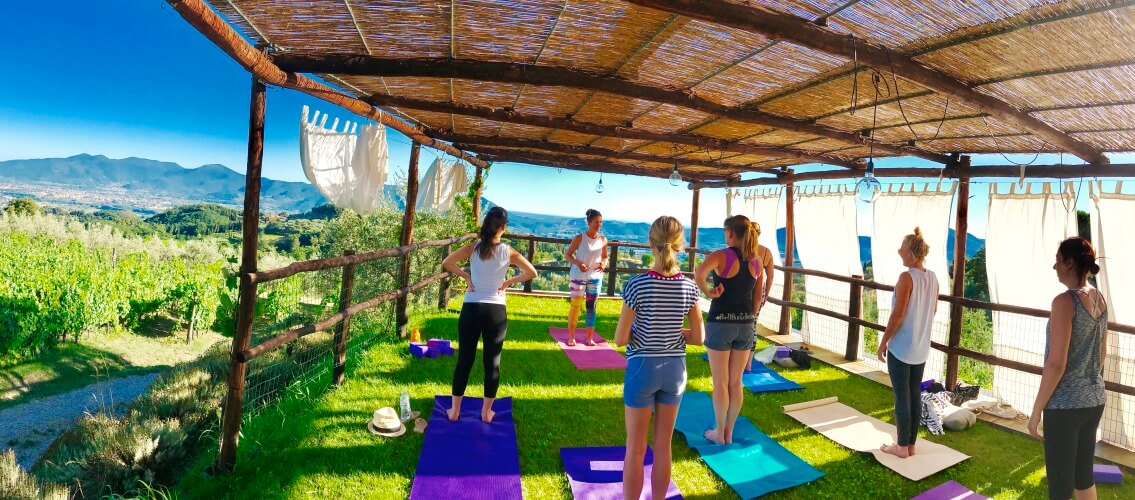 Borghino-I-Nespoli-Rosa-Twin-beds-or-Double-1135-x-450-1135x430
Borghino-Melograno-Verde-Twin-beds-or-Double-1135-x-450
Borghino-Wisteria-1135-x-450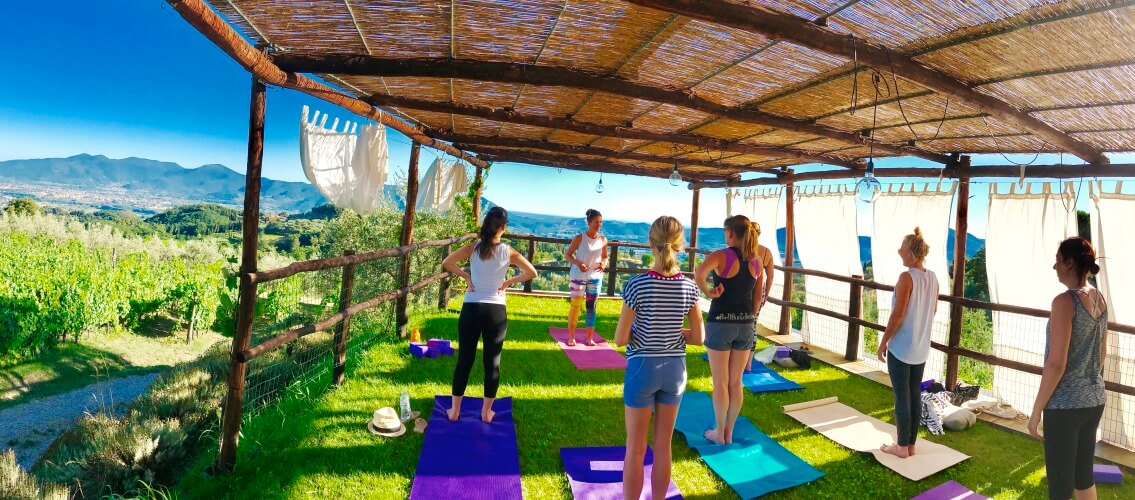 Yoga In Italy offers wide-ranging yoga retreats and holidays with teachers from around the world at their famous retreat centre, a secluded eco-village of restored heritage farmhouses nestled into a hilltop overlooking the forests, vineyards and olive groves of Northern Tuscany.
Their rooms are simple yet spacious, with breathtaking views from every window, and open onto a large communal area with a wood-fired oven and an outdoor terrace. There is a saltwater swimming pool and a steam room on-site.
Yoga retreat styles change depending on the teacher leading them. They range from powerful Vinyasa Flow and Mindfulness Meditation to Pilates and Therapeutic Movement. Some of them focus on diet and detoxification, while some are full-on food and wine extravaganzas.
Il Borghino has emerged as one of the most sought after retreat facilities in Italy for international teachers, and is easily the most popular one in Tuscany. Regardless of the sort of retreat you choose, you can rest assured that the facilities will be world class.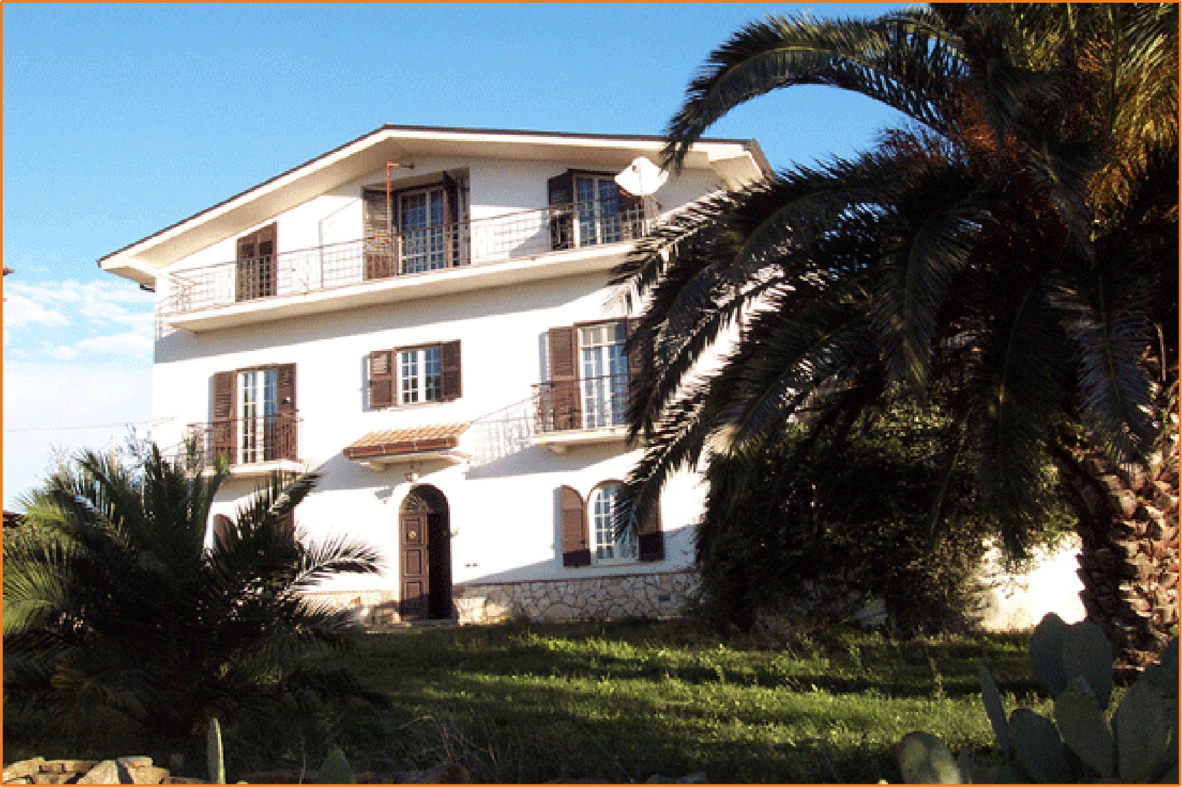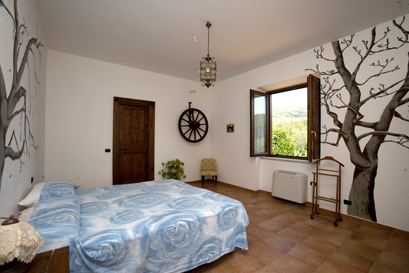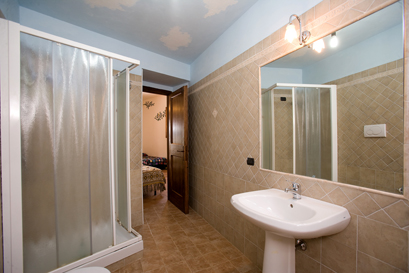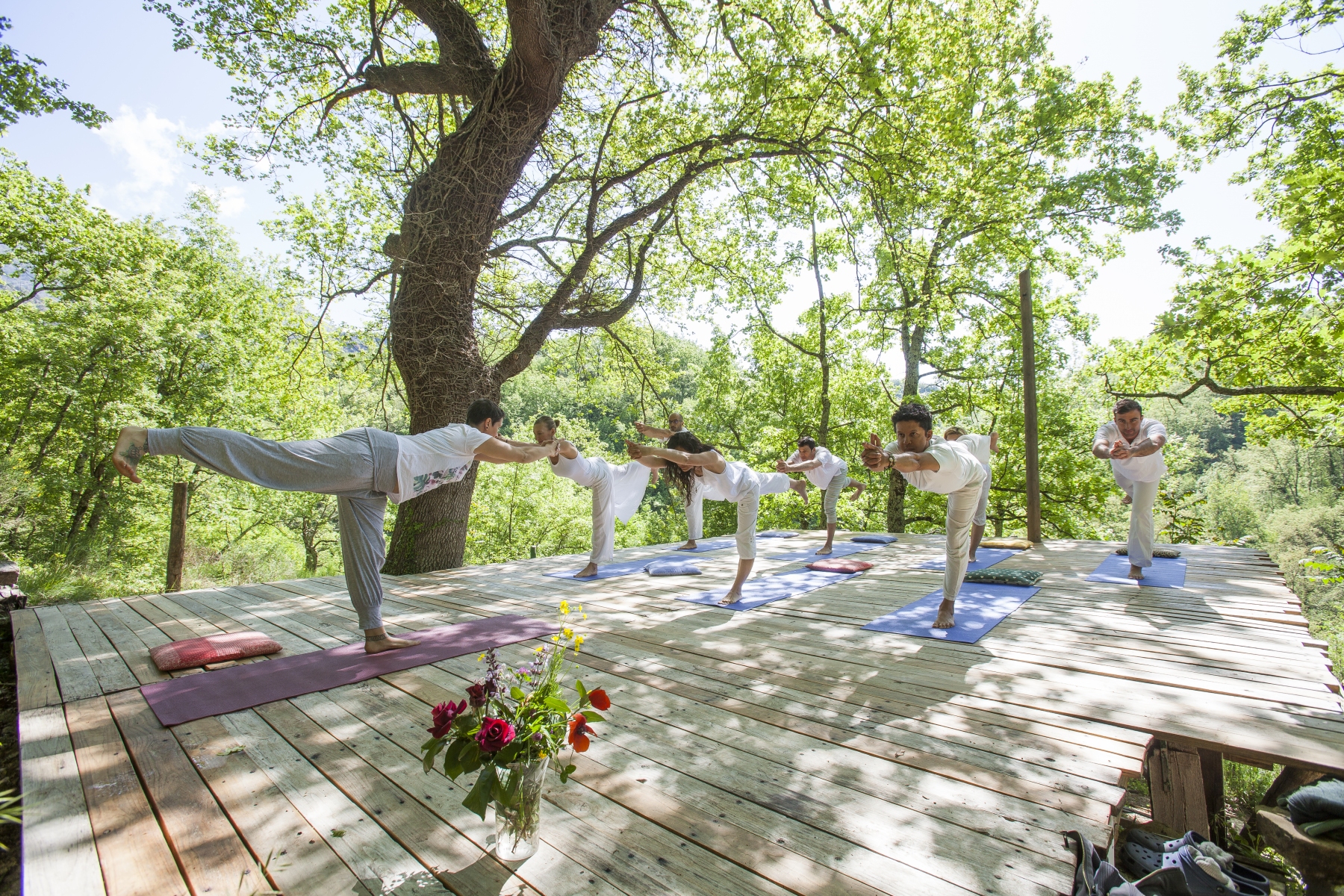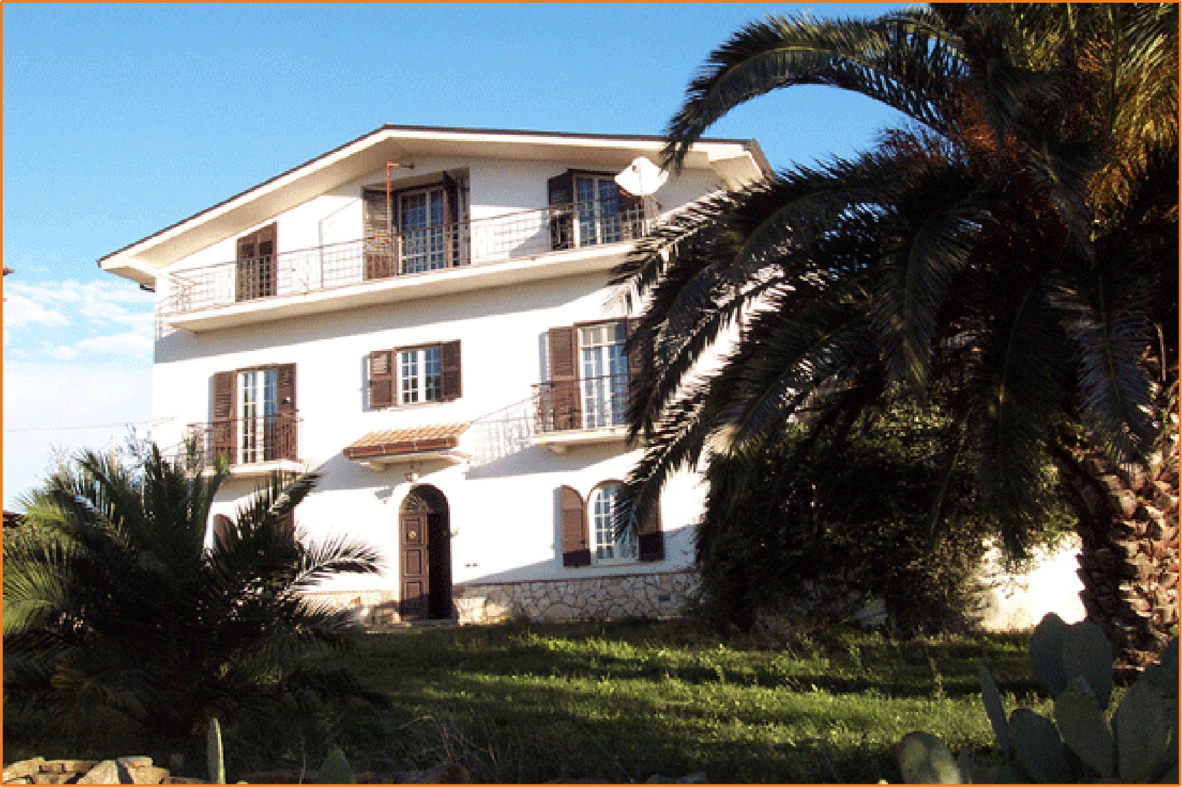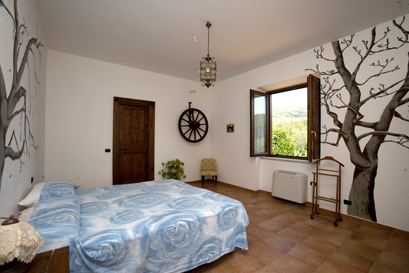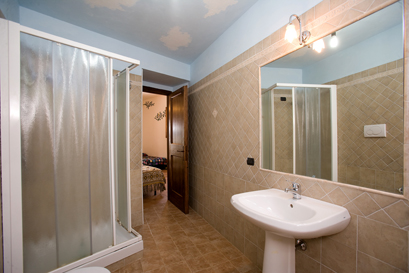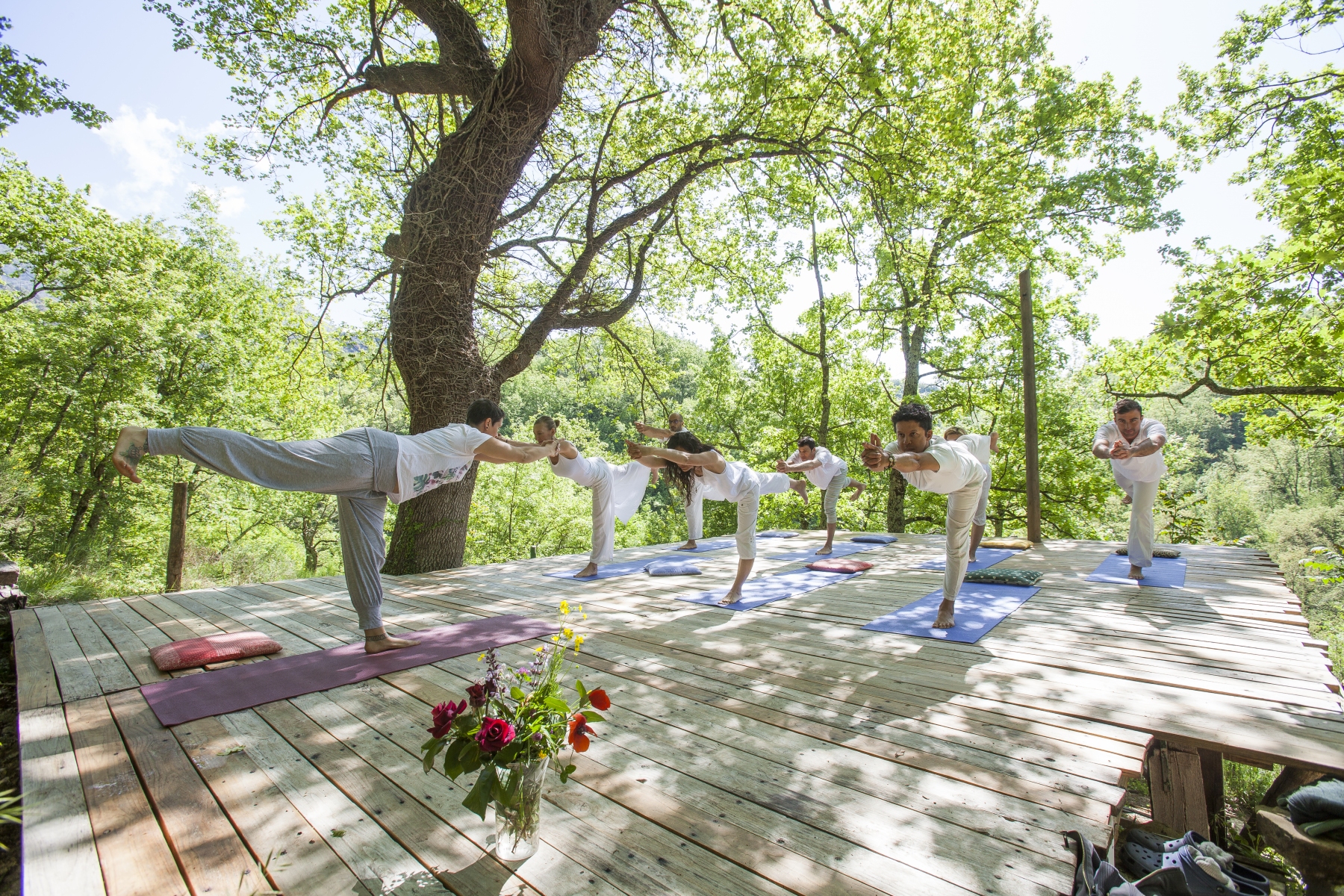 Italy Farmstay is another in a very small handful of…well…Italian farmstays that offer yoga and meditation retreats in quaint rural settings far from the tourist treadmill. This one is on an organic farm located in Sora, a small town 2 hours from Rome on the border between the regions of Lazio and Abruzzo.
They offer a taste of old-fashioned Italian farm-life with horseback riding, cooking and bread-making classes, truffle hunting hikes and wine tastings. Recently they've begun to combine all this with yoga and meditation for a complete holiday as rejuvenating as it is delightful.
Like some of the other farm-based retreats on this list, their website is a little bit out of date, so either check out their retreats through a 3rd party website by googling "Italy Farmstay Yoga Retreat," or contact them directly.
Upcoming retreats include immersions into Reiki and Walking Meditation.
Vedaguru is a yoga retreat company that organizes retreats in both India and Italy.
They have 2 Italian locations. One is on the seaside in Puglia; Italy's heel, known for it's spectacular architecture, ancient olive groves and delicious seafood. This retreat focusses on a combination of yoga and the traditional Indian science of Ayurveda, offering bodywork and detoxification treatments to purify the body and mind.
Participants also get to attend Mediterranean cooking classes while on retreat, so they can learn how to integrate Ayurvedic principles with the fabulous local maritime cuisine. Eating healthy never tasted so good!
The other retreat location is in Sardinia, known for it's beaches and laid-back island life. This retreat is for the adventure loving yogi and combines daily surf lessons with heart-opening yoga classes and horse-riding along the beach.
Accommodation in Puglia is in a traditional country farmhouse that features a 14th century tower called "Le Torre Del Brigante." Rooms are comfortable and equipped with all modern conveniences including WIFI, AC and Television.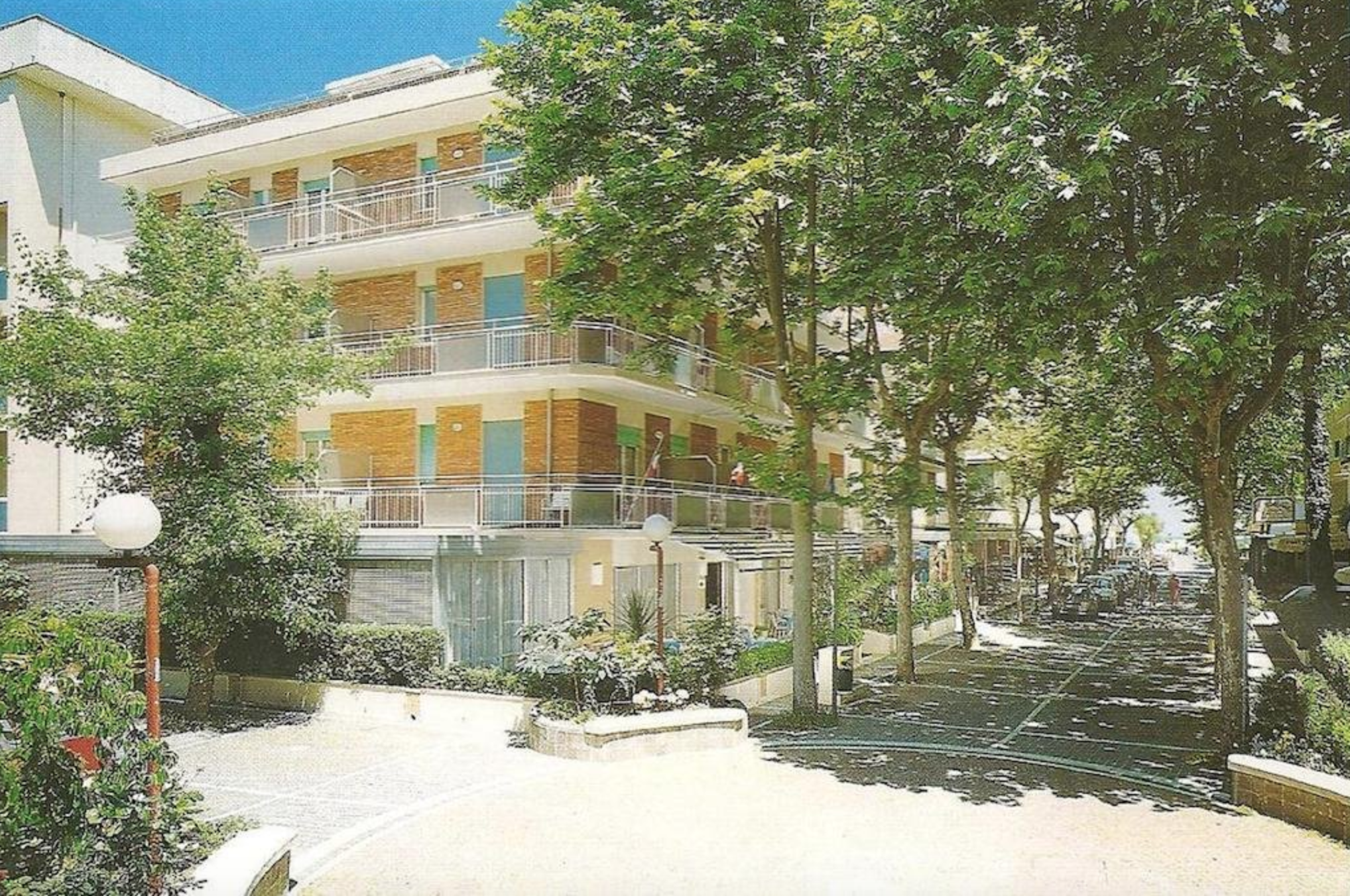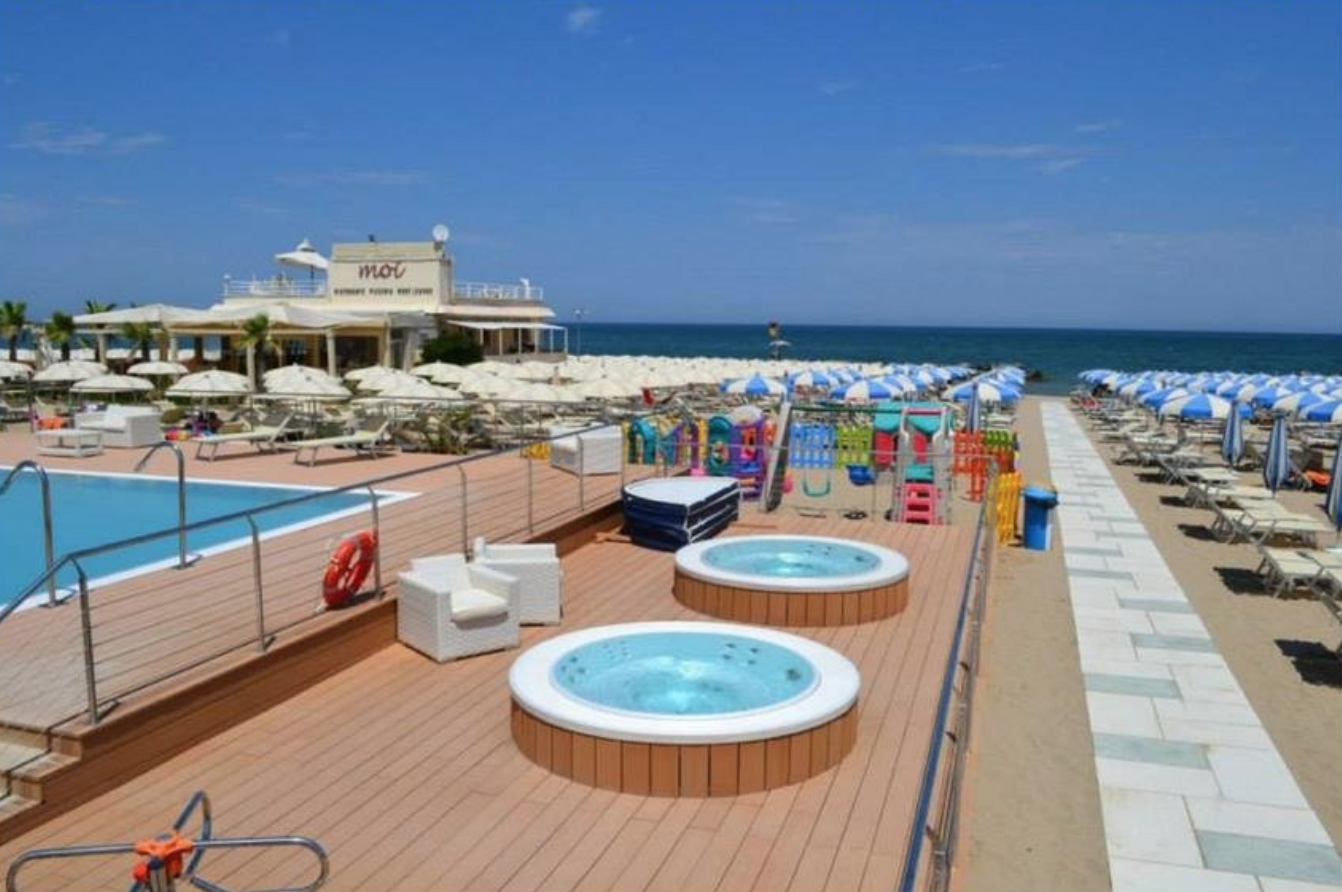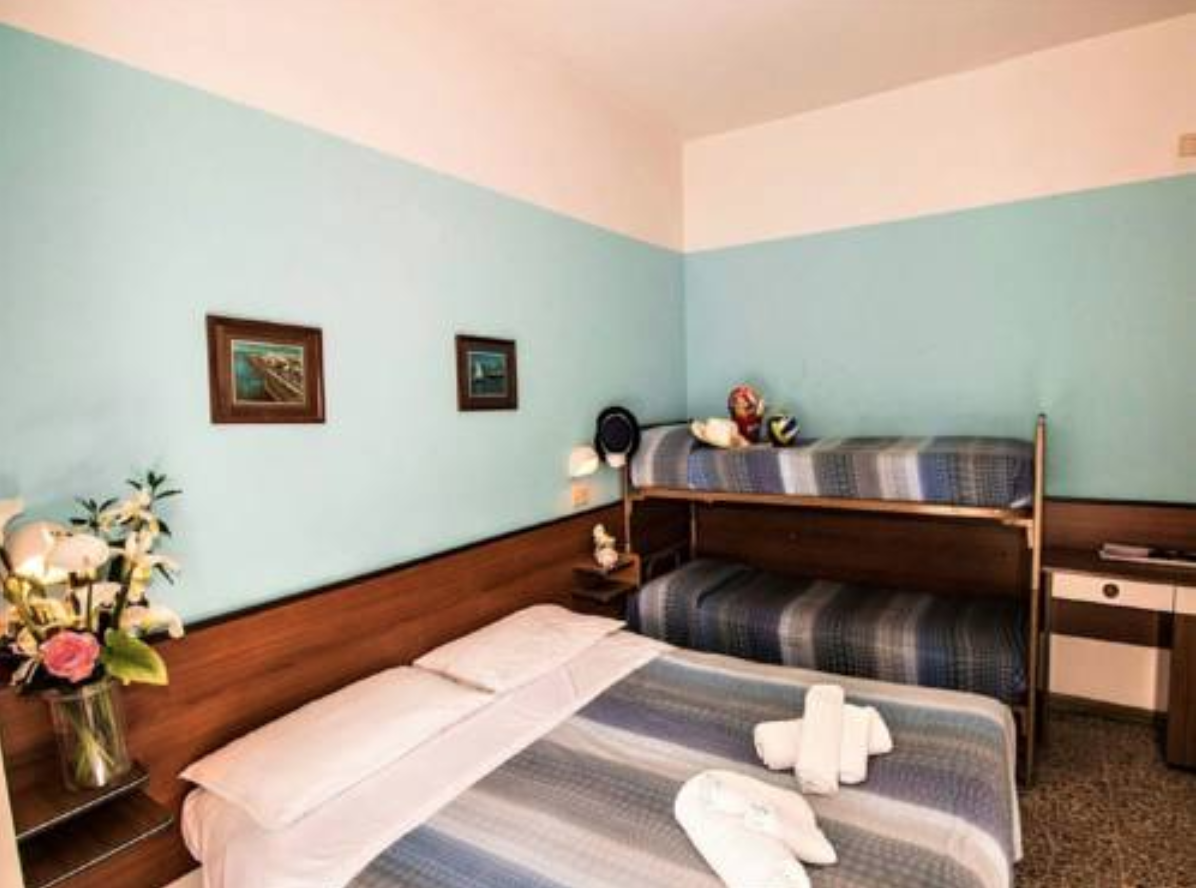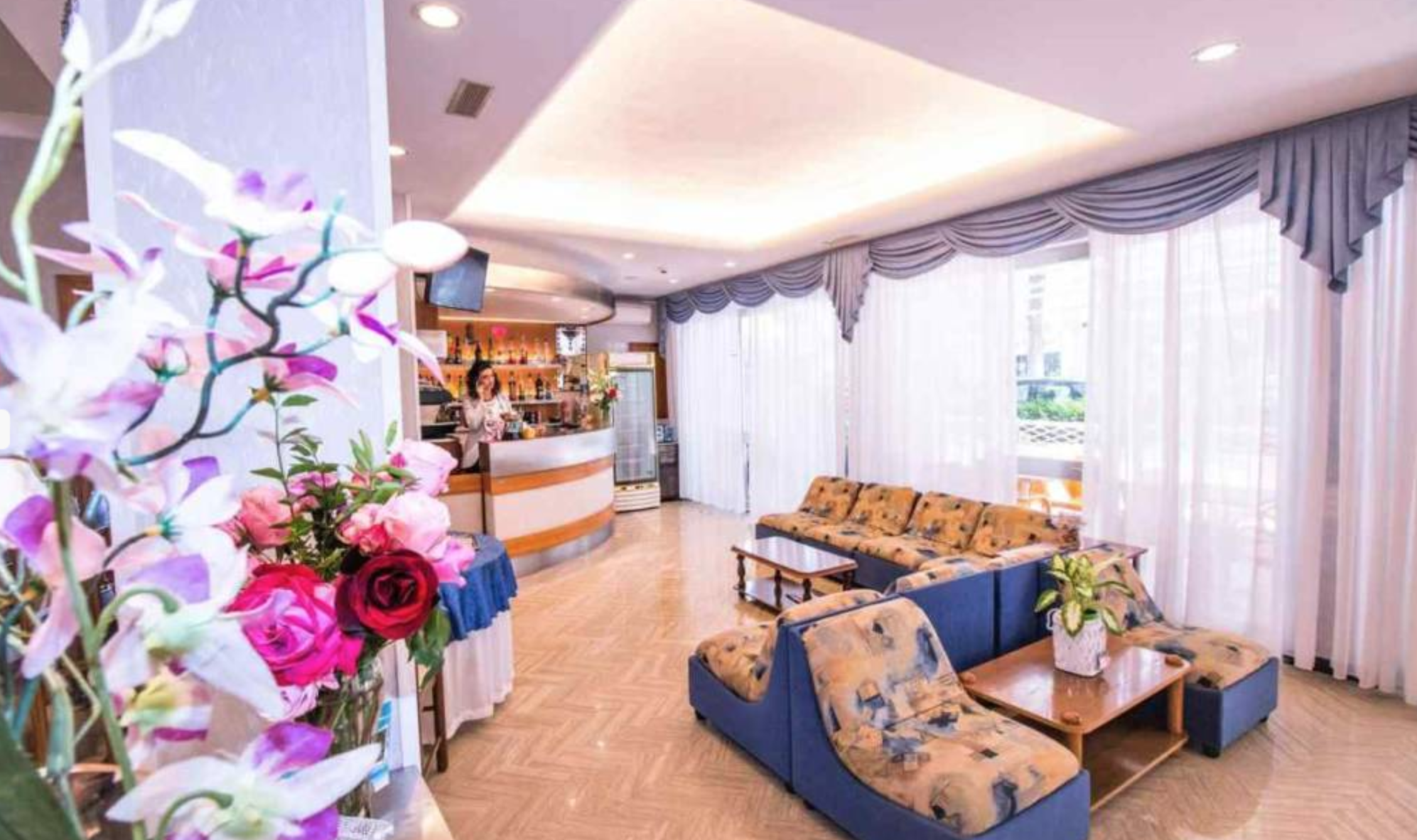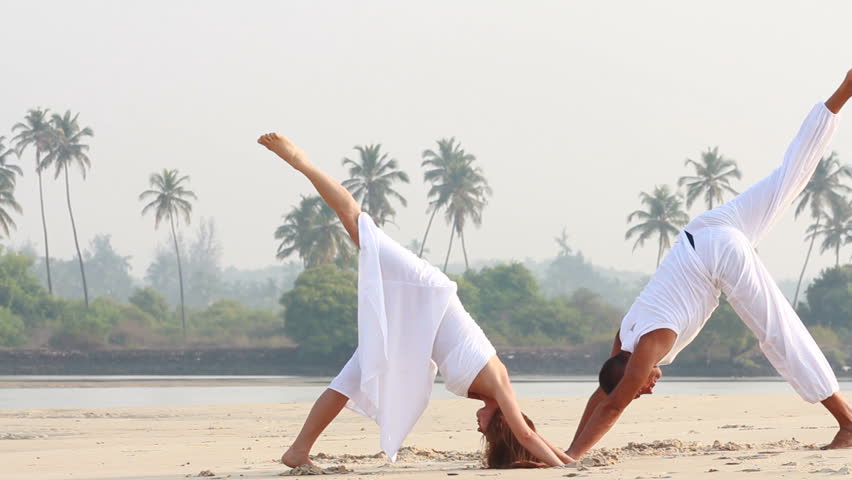 Yogamea-Yoga-TTC-Italy-13-1
Yogamea-Yoga-TTC-Italy-6-1
Yogamea-Yoga-TTC-Italy-11-1
Yogamea-Yoga-TTC-Italy-12-1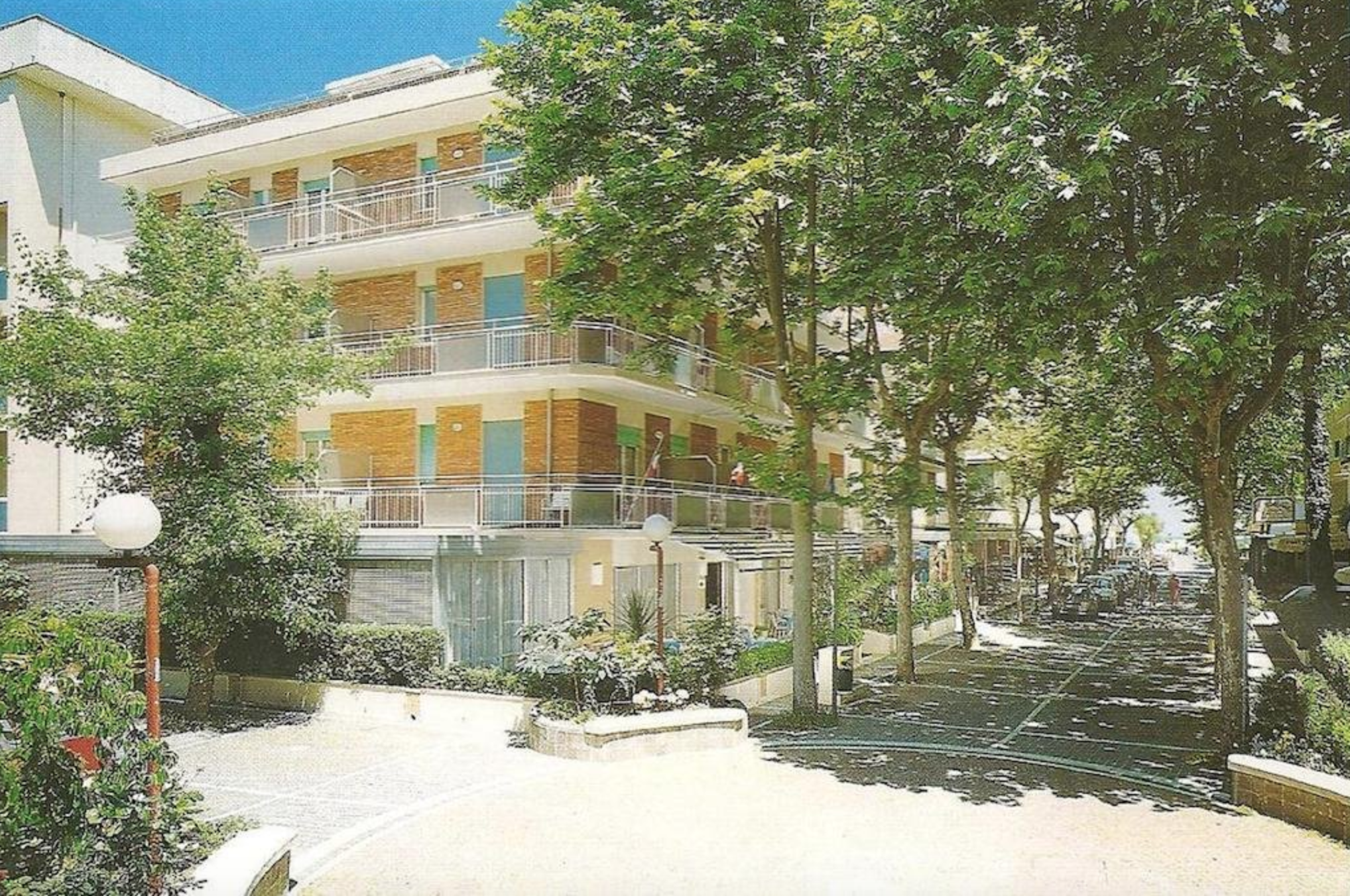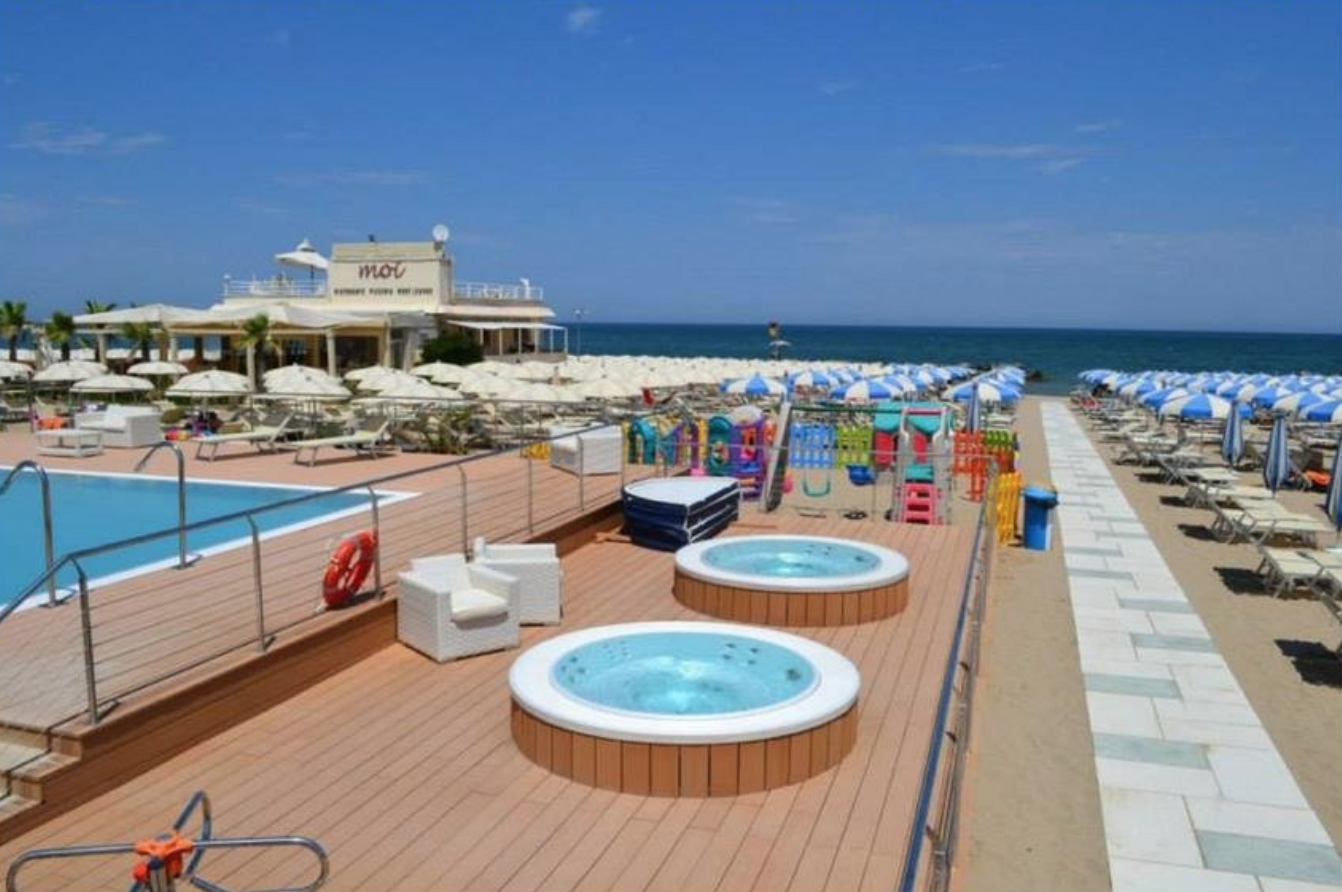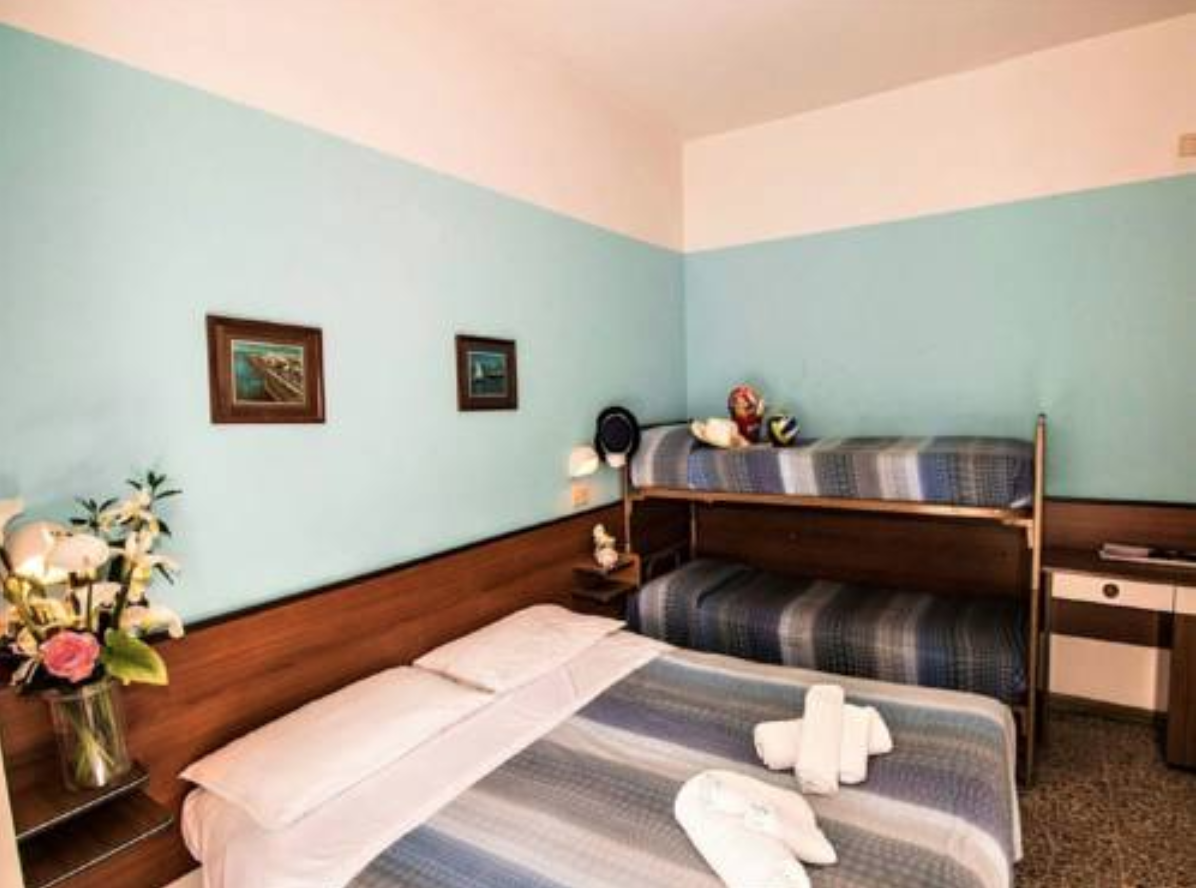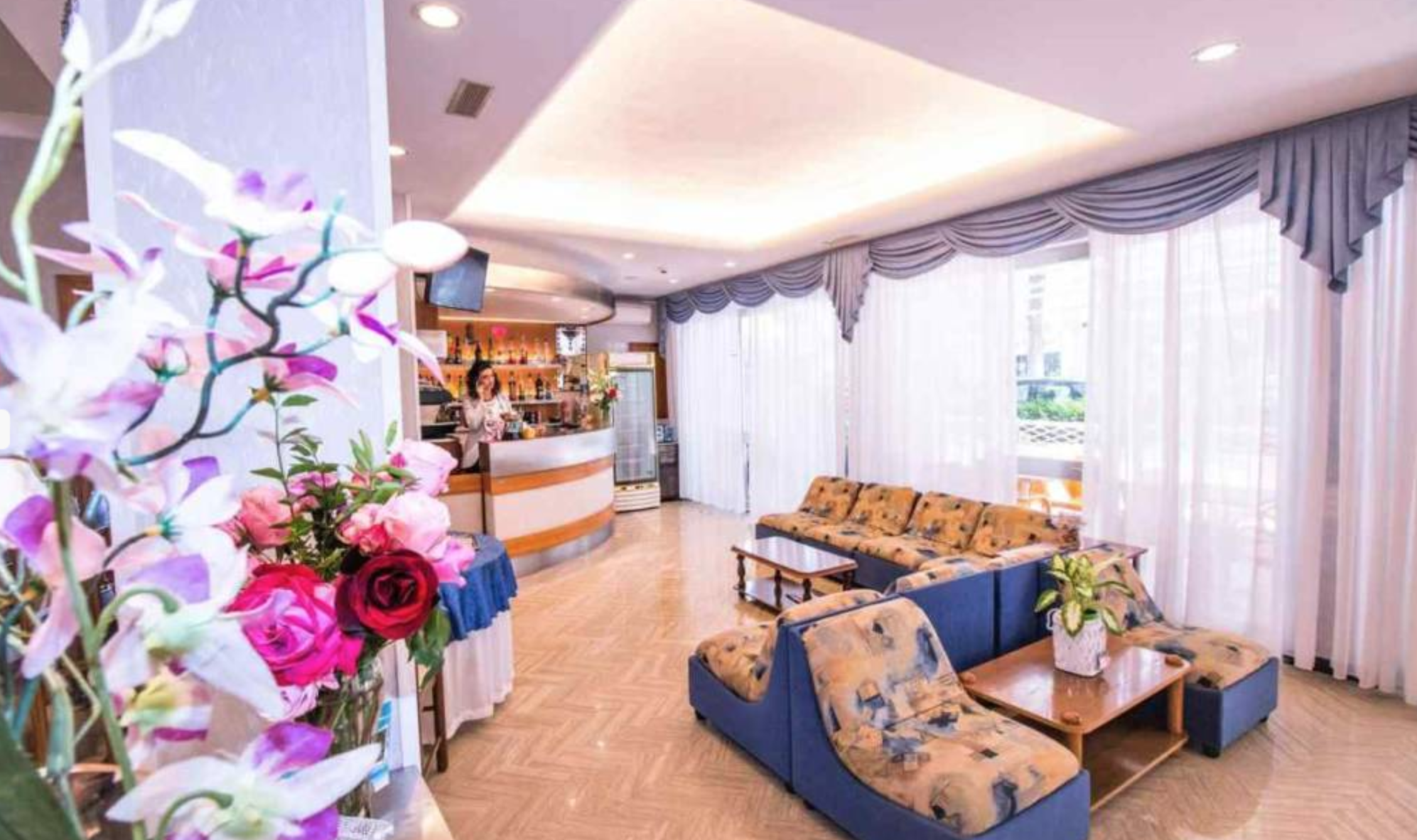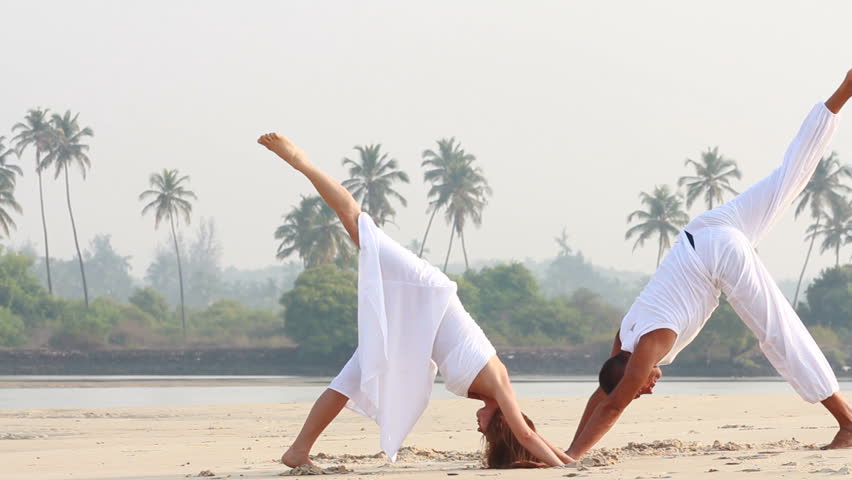 Yogamea is a yoga school based in Italy that has ties to a traditional ashram in Rishikesh, India. They organize trips to India every year, and also offer an extensive program of retreats and teacher trainings at their home base of Misano Adriatico, on the Adriatic coast outside of Bologna.
Their aim is to provide an authentic Himalayan yoga experience for those who can't make it all the way to India. The styles taught are a mix of Classical Hatha Yoga and Ashtanga, with a great deal of attention paid to the philosophy and purification practices of ancient India.
Morning classes are vigorous, with a focus on building strength and stamina, while evening classes are more meditative, allowing participants to wind down and explore their inner world.
Accommodations are available in both shared and private rooms and each retreat features 3 freshly prepared vegetarian meals a day and complimentary use of a bicycle with plenty of free-time to explore the local countryside and enjoy the miles of sandy beaches that stretch along the coast.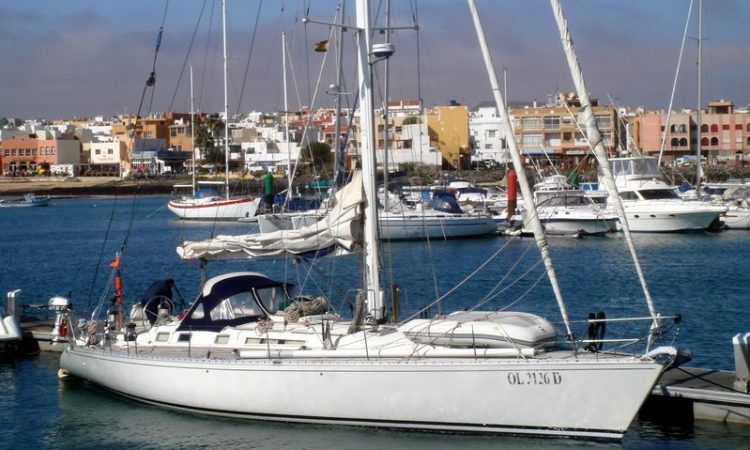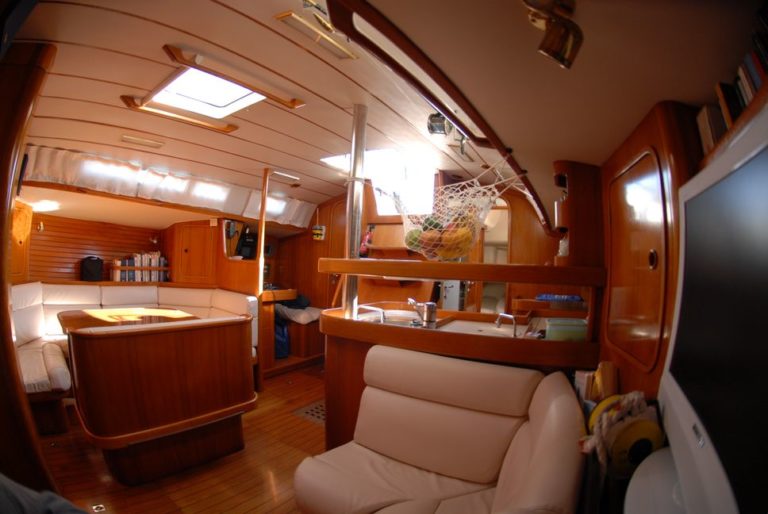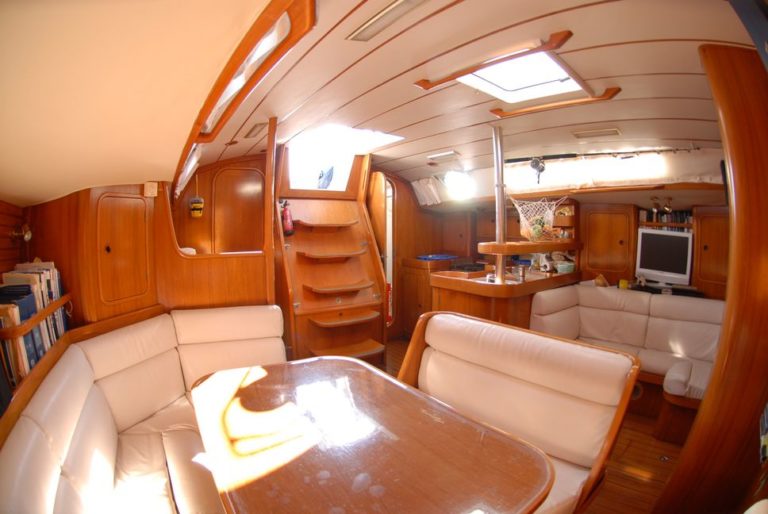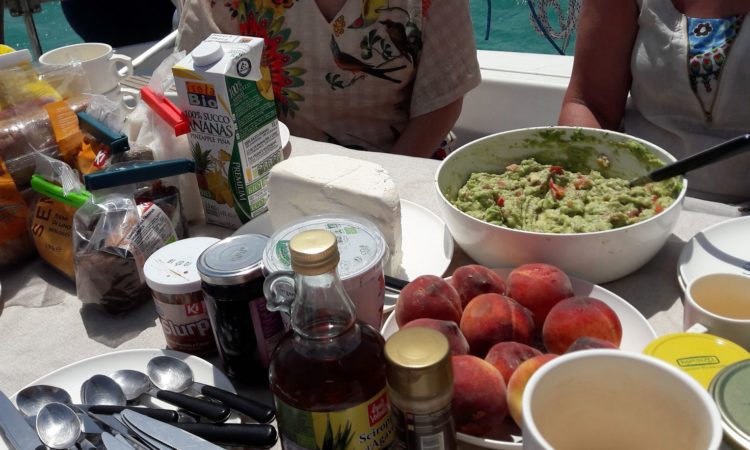 Jep-VI-interior1_light-768x514
Jep-VI-interior2_light-768x514
Brunch-with-sea-view-750x450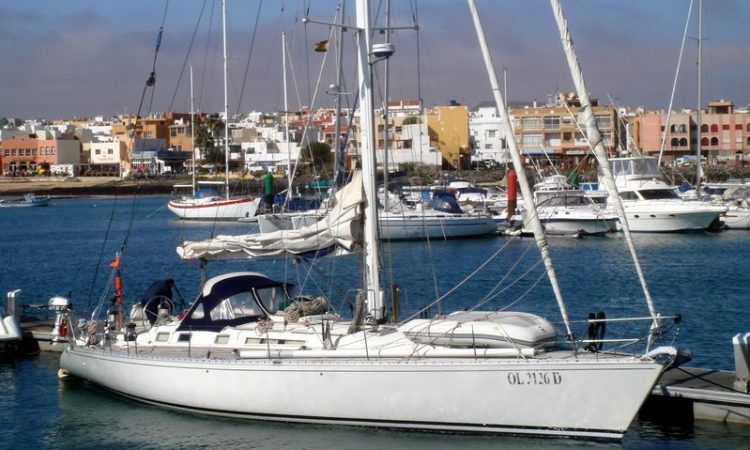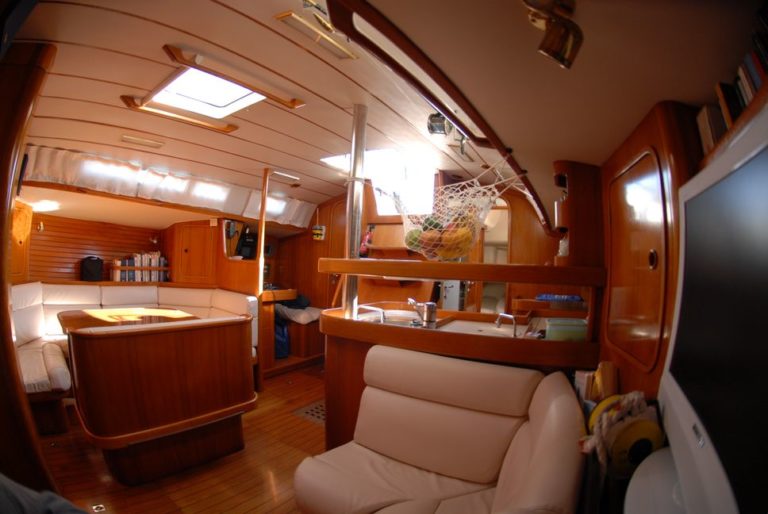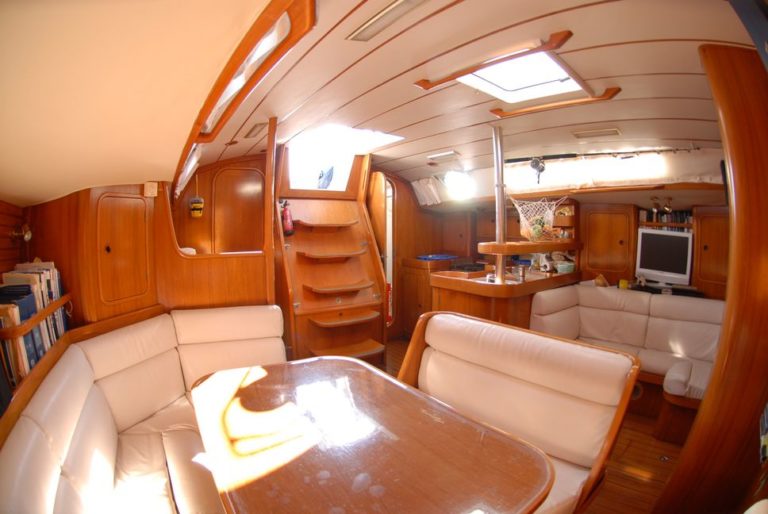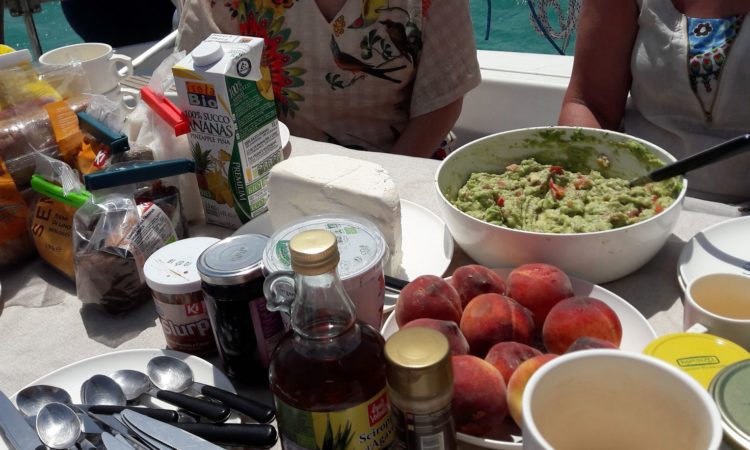 If you're looking for a totally one of a kind yoga retreat experience then look no further then Yogaandsailing.
Equal parts Mediterranean cruise and yoga holiday, Yogaandsailing offers guests the opportunity to explore the islands between Corsica and Sardinia on a 52 foot sailboat while practising yoga every day with an experienced teacher. Every morning the boat moors in a sheltered bay off of a deserted beach and everyone rows or swims ashore for their daily yoga class.
Since the retreat is located on a boat, accommodations are fairly basic, although the boat does boast 3 double cabins with private bathrooms, leather sofas, a television and a fully equipped kitchenette.
It's not exactly full-service, and guests are expected to help out a little as needed, but if you're looking for a bit of adventure, and something truly unique for your yoga getaway, check out Yogaandsailing. It's definitely one of a kind.
There's something to suit every yogi's taste in Italy, so check them all out and let us know what you think!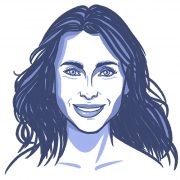 Shirley Hill
Meditation coach by day and writer by night - Shirley has perfected the art of finding a healthy balance in life. She's eager to spread calm energy and share her zen tips through conscious writing.