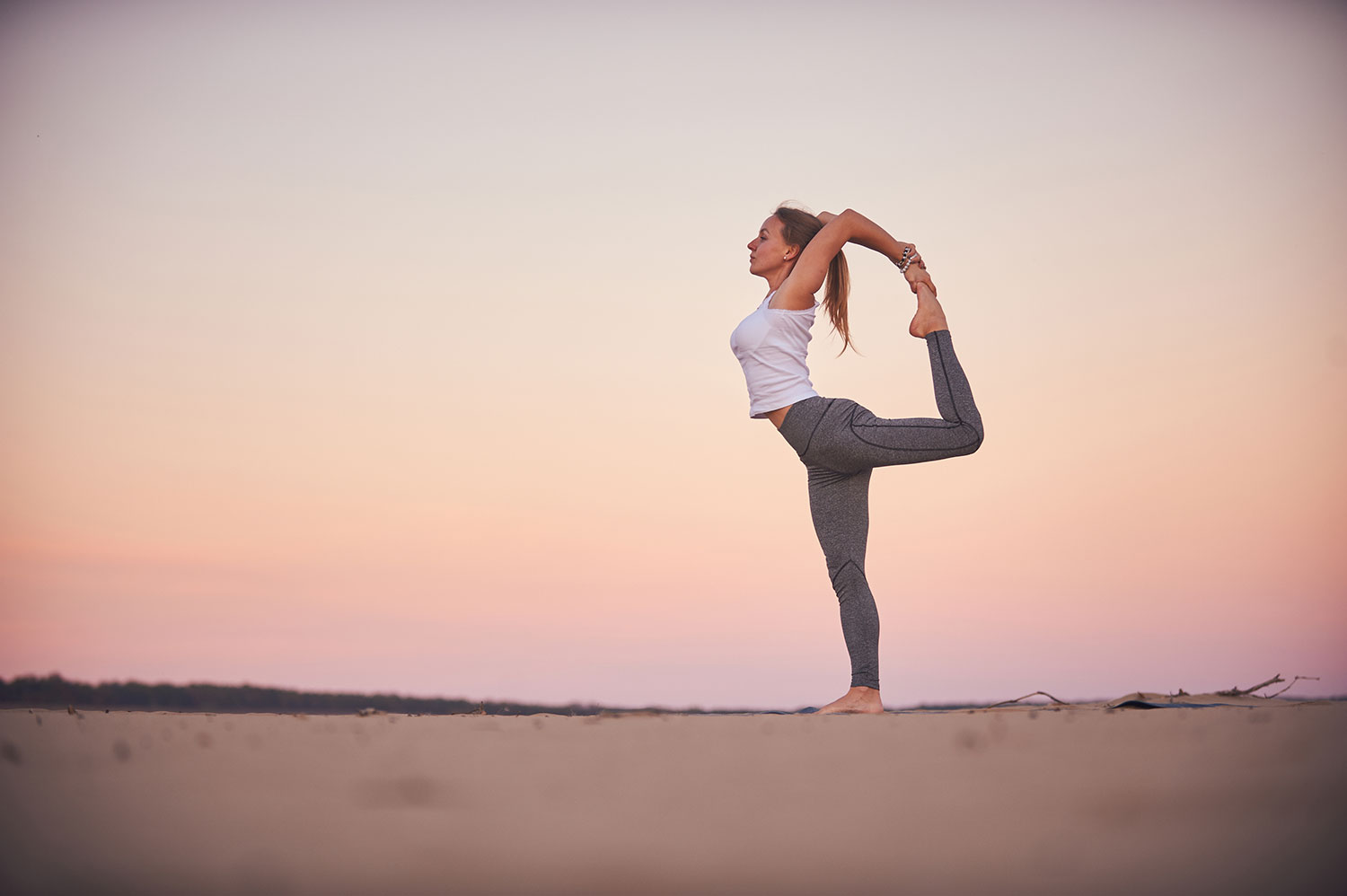 It's 2019 and about high time all women started to feel empowered and confident by honoring their inner goddess. Feminine energy is a powerful force that should be celebrated through the practice of yoga postures. Certain shapes, such as the ones listed in this article, help us connect on a more profound level to the goddess within. Explore the poses outlined below to inspire your unique femininity and embrace the fierce woman you are!
Utkata Konasana — Goddess Pose
Alright, so of course we had to put Goddess Pose on the list! This shape invites strength to step forward and femininity to shine through. Just like a true goddess, the pose is powerful – It requires a strong will and stamina to maintain. The goddess Kali represents divine feminine energy, or Shakti, and liberation from ego. Kali is also associated with creativity, fertility, and sexuality. It only made sense to evoke this goddess by using Kali mudra.
Start in a wide stance with feet dialed out slightly and hands on your hips. On an exhale, bend the knees and slide the tailbone down. Keep the knees in line with the toes and the spine straight as you settle deep into the hips. Raise your arms overhead and interlace all fingers except the index. Cross the left thumb over the right and point the index fingers with purpose and intention. Hold for five full breaths and relish in your power.
Virasana — Hero Pose
A large part of owning your goddess means letting go of negative emotions and physical tension. This restorative pose helps release stress in the body and bring space to the hips flexors.
For a gentler variation, remain seated with sit bones between your heels and knees at hip-width. Take it to the next level by laying all the way back and clasping opposite elbows overhead. Try to rest in this therapeutic pose for ten full breaths before slowly making your way back up. If you chose to remain seated, keep the hands pressed together at your heart and breathe through a straight spine.
Vrksasana — Tree Pose
Sometimes it's hard to find balance in life, even for a goddess! All of life's demands pile up and the stress starts to get real. Fortunately, tree pose helps restore harmony and bring back a sense of calm. Challenging our physical sense of stability strengthens our mental balance and brings overall peace of mind. Make like a tree and endure whatever life throws your way with grace.
Stand tall with weight slightly shifted into your left foot and hands on your hips. Inhale your right foot to your left ankle, calf, or inner thigh. Bring your hands to your heart and let your right knee draw behind you to open the hip. If you need a little extra challenge, try raising the arms overhead or move your gaze towards the sky. Take five full breaths here before slowly lowering the right foot back to the mat.
Urdhva Dhanurasana — Wheel Pose
There's nothing like a deep backbend to shake off the cobwebs and connect us to our innate strength. Wheel pose should be navigated with caution as it's a more advanced posture – Try taking some mild backbends to warm up. In addition to being mentally and physically stimulating, it also activates the pituitary and thyroid glands to relieve anxiety, stress, and depression. All of this 'feel good' energy pairs perfectly with the heart-opening aspect of this posture, which allows us to shed love on ourselves and those around.
Start lying on your back with knees bent and feet planted firmly. Bend your elbows and bring your palms down beside your head with fingers pointed towards the feet. On an inhale, root down through the feet and hands as you press the pelvis towards the ceiling, leaving the top of the head connected to the floor. Support the lower back by activating the abdomen and glutes as you maintain the position. As you exhale, press through the palms to straighten the arms and lift the head from the floor. Reach your chest towards the wall closest to your head and breath here for thirty seconds. Slowly roll the spine back down to the mat and bring your knees in towards your chest for a sweet counter stretch.
Virabhadrasana I — Warrior I Pose
Time to make some power moves in Warrior I featuring a spicy arm variation to really crank up the heat! As the name suggests, this pose demands courage and stamina. Ground down to rise to the occasion and get ready to feel the powerful warrior woman within!
Starting in a downward facing dog pose, breathe your right knee forward and plant the foot between your hands. Turn your left toes out slightly and inhale your arms overhead with palms facing. Lunge deep into the front knee to make a 90-degree angle with your leg while keeping both hip points facing forward. Light up your back leg by pressing through the edge of the left foot. The arms to your sides on an exhale, driving the backs of the hands behind you and scooping the elbows down and forward. Stay here for five breaths before moving to the other side.
Virabhadrasana II — Warrior II Pose
Ignite your inner and outer strength while connecting to your passion in Warrior II pose! The archer arm variation represents setting your sights and fiercely hitting the mark on any goals. As you hold this shape, think about your intentions and what you'd like to achieve – Physically breathe them into existence.
Start in a downward facing dog pose and step your right foot between your hands. Turn your left foot flat, matching the front heel to the back arch. Inhale your arms up in a T-shape with a deep bend in the front knee and shoulders relaxed. Keep bending in the front knee as you inhale the right arm up and the left elbow back for the archer arm variation. Find your mark and stay focused on realizing your dreams!
Malasana —  Garland Pose
This low squat is all about stretching the thighs while relishing in the strength of your entire body. You'll definitely feel the cultivation of space in the lower body while your legs are hard at work supporting the position. Garland pose is also fantastic for soothing symptoms associated with menstruation – Hallelujah!
Find a low squat position with toes dialed out and hands pressed together at your heart. Use your elbows to help widen the knees while you keep the chest lifting up. Enter a place of calm and quiet as you breathe here for thirty seconds or longer.
Apanasana — Knees to Chest Pose
This grounding posture, also known as Apanasana, is equivalent to giving yourself a big hug. In order to celebrate our feminine energy, we must first love ourselves, and that's what this pose is all about!
Lie flat on your back and find a connection to the earth below. Inhale both knees in towards your chest and grab ahold of the shins or backs of the thighs. Ground down through the tailbone and follow the length of the spine with your breath. Stay here as long as you'd like and envision yourself surrendering deeper to gravity with each exhalation.
Eka Pada Rajakapotasana — Mermaid Pose
Alright, can we all just finally agree that there's some part of us that's always wanted to be a mermaid? This deep hip-opening pose evokes playful energy while stimulating our heart chakra to improve our self-love and compassion. Discover your playful side and express your femininity in this beautiful posture.
This deep hip-opener starts as a one-legged full king pigeon on the left side with hips squared and torso upright. Use a block under your left hip if necessary to maintain balance in the pelvis. Bend your back knee and reach your right hand back to grab your foot. If this feels like an intense stretch, stay here – Otherwise, try to get the right foot into your elbow crease. Reach your left arm overhead and bend at the elbow to link fingers with the right hand. Take ten full breaths and then mindfully move to the other side.
Supta Baddha Konasana — Reclining Bound Angle Pose
In addition to being an excellent hip and heart opening posture, the reclined bound angle is also wonderful for calming menstruation symptoms. So lay back, relax, and treat yourself to this restorative posture.
Lie on your back and bring the soles of the feet together. Use blocks under the knees for extra support as needed. Let the arms lay heavy on the mat or bring one hand to your heart and the other to your belly. Follow the breath in and out by noticing the rise and fall of the belly. Stay here as long as you need.
Camatkarasana — Wild Thing Pose
An open heart is fundamental for embracing the feminine power within and nurturing ourselves in the way we deserve. Wild thing is a huge heart-opener and an excellent way to practice self-expression through graceful movement.
Come to a downward facing dog pose and bring weight to your right hand while rolling to the outer edge of your right foot. Inhale to lift your hips skyward, and exhale to step your left foot behind you. Stay on the ball of your left foot and keep a soft bend in the knee. Inhale your left arm overhead as you continue to open the whole front line of the body. Stay here for five to ten full breaths before slowly moving through downward facing dog to the other side.
Prapadasana — Toe Stand Pose
Accepting our femininity is to acknowledge what makes us feel sexy in our skin and owning that confidence. Toes stand is a delicate, sexy posture that brings us back to earth while simultaneously lifting our spirits. It doesn't look like it, but this pose requires a great deal of balance and strength!
This modified toe stand starts in mountain pose at the front of your mat. Bring the big toes together and leave about an inch between the heels. With hands on your hips, take a deep inhale and lengthen the spine. As you exhale, sink the hips while keeping the chest open. Stay high on the balls on the feet and let your gaze rest on a fixed point. Rest your hands on your thighs as your tailbone descends and your heart lifts. If you're craving an extra balancing challenge, try bringing your hands to heart center. Hold for five breaths.
Natarajasana — Dancer Pose
In this balancing pose, we reach back for the foot like an archer drawing back a bow. We use the body's resistance to open the back, shoulders, and quads while remaining aimed and focused on the target ahead. Dance your way to whatever goals you have set for yourself!
Stand tall at the head of your mat with weight shifting into your left foot. Keep a soft bend in the left knee as you bend your right leg and reach back with your right hand. Grab the outside edge of your right foot and send your left arm straight ahead. Exhale and press your right foot into your hand to open the heart and drop the chest. Continue to use this resistance to dive deeper into the backbend. With a fixated gaze, go through three to five cycles of breath before switching sides.
Salamba Sirsasana — Headstand Pose
Inversions work wonders for women – Not only do they reduce the symptoms of menopause, but they also stimulate hormone production. It can be hard to feel like a goddess when menopause kicks in, but luckily headstands offer a whole new perspective – Literally!
Depending on where you're most comfortable, there are a few different arm variations available for headstand. Whether you choose a tripod configuration with hands flat and elbows bent at a 90-degree angle, or the traditional approach with fingers interlaced behind the head, make sure your core and legs stay activated. Discover the arm placement that works for you and bring the top of your head to the floor. Start to walk your feet in as close to your head as you can. If it feels good, let the feet float off the ground or tuck the knees in towards the chest. Only go where you feel comfortable and listen to your body. As you go upside down, make sure to keep the breathing calm and the gaze focused.
Viparita Virabhadrasana — Reverse Warrior Pose
Combining a standing backbend with a deeply rooted base, Reverse Warrior challenges us to open our heart while remaining grounded. From this space of radical self-acceptance, the feminine energy emits outward and inspires all in its wake.
Come back to Warrior II pose with your right leg forward and inhale your right arm overhead. Reach your left hand down your back leg as your right fingertips extend towards the wall behind you. Feel the space being created in the right side body and waist. Stay here for three to five breaths before turning to the other side.
Conclusion
There you have it – 15 potent poses to connect to your inner strength and power. Revisit this guide anytime you need a reminder of just how amazing you are or if you're looking to harness your feminine energy. Namaste, goddesses!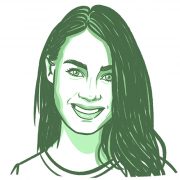 Patricia Brooks
After spending nearly two decades as a relationship therapist, Patricia journeyed down the path of writing as a vehicle for sharing her wisdom. Her work reflects a sincere interest in readers' wellbeing and is abundant with helpful advice and fascinating insight.